39+ Black Cabinets with White Backsplash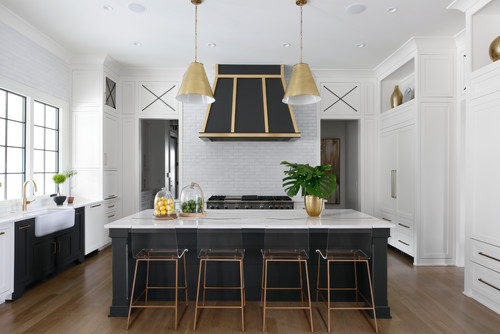 ID# 133115 | Houzz.com – Credit | © Grove Park Construction
---
Brass Details for a Beach Style Kitchen Design with White and Black Colors
You can gain a spacious look with the help of the high ceilings and white walls. The fresh and bright look is balanced by the black cabinets. The contrast of the black cabinets and white surfaces bring a stylish look that is supported by the brass details. The medium-tone wood floors add a warm atmosphere.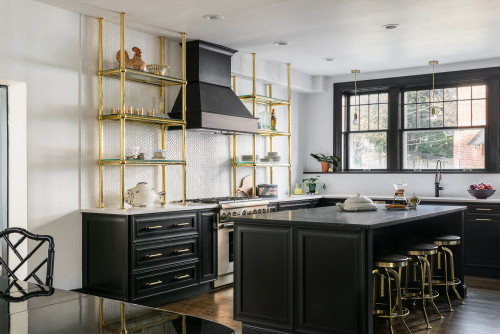 ID# 133121 | Houzz.com – Credit | © Karen Korn Interiors
---
Luxurious Look with Brass Shelving System for a Traditional Kitchen Design Style
If you like to go beyond the limits, you can use a brass shelving system rather than using upper cabinets. The black raised-panel cabinets and the brass create a rich and luxurious appeal together. The white herringbone tile backsplash and the white soapstone countertops bring a chic look to the kitchen.
Black Cabinets with White Backsplash
As a neutral and sophisticated color, the black cabinets can bring a deep impact on the kitchens. You may hesitate to use them since the possibility of making an interior look darker and moody. However, thanks to clever design ideas and the internet, you can create clever daylight sources for the kitchen and enlighten your black cabinets. Black cabinets with a white backsplash are also a perfect idea to boost up the daylight. You can create a striking contrast with white tiles by using them with black cabinetry, which is a stylish plus. If you want to learn more about these contrasting designs, keep reading and find stylish kitchen ideas with black cabinets and a white backsplash!
Generally, you can see black cabinets in contemporary, urban, and industrial design styles. On the other hand, it is possible to use black cabinets with other design styles, too. Whether it is a sleek flat panel with black paint or a classic black shaker cabinet, black kitchen cabinets are the key to sophistication. However, using black color for your cabinets might make the space feel smaller and can create an overwhelming atmosphere. To find a solution to this problem, incorporating white accents is a perfect way to balance the design. And, to achieve this balance, a white backsplash will be the perfect addition to your black cabinets. You can go with classic subway tiles or giant white marble slabs.
Whatever your choice is, a white backsplash will help you to create a timeless look with your black cabinetry. So, the black kitchen cabinets with white backsplash idea is a new way to create bold, bright looks and sleek sophistication!
Black Cabinets with White Chevron Tile Backsplash
You may be amazed by the zig-zag or V pattern of the chevron tiles. Each side of the tile meets at one point. The kitchens can have a beautiful style with those patterns! You can use black cabinets with a white chevron tile backsplash to bring both contrast and a dynamic look. The combination of the zig-zag movement and the white and black contrast will add a stunning appeal to your kitchen designs.
Tile Materials for White Backsplash
Once you decide on the colors and styles for a kitchen design, the materials come forward for the second phase of the design mission, the materials. When it comes to the kitchen backsplashes gain importance, of course, Their colors, patterns, and finally materials can change a lot of things about the design style. Tile materials for white backsplash have a large variety of options such as marble, quartz, ceramic, etc. Each material can bring a stylish and elegant look with its surfaces.
Black Cabinets with White Marble Backsplash
Do you like down-to-earth feelings? If so, a marble backsplash will do an amazing job for your kitchens. The natural look and the familiar atmosphere of the marble material add a chic and harmonious look with a rich appeal. You may want to go with black cabinets and a white marble backsplash to have both a natural and stylish contrast look.
Is White backsplash good for kitchens?
A lovely focal point may be created by a nice backsplash that quickly elevates the overall design of the kitchen. When it comes to selecting a backsplash color, white is a traditional, beautiful, and timeless option.
Black Cabinets with White Quartz Backsplash
Man-made materials can bring natural looks, too! Since it contains waste stone materials such as porcelain, ceramic, etc. and it contains plastic resins quartz can have a variety of color and pattern alternatives. Quartz materials are extremely durable, these engineered materials never have to be sealed, they have resistance to stains. Thanks to their large range of pattern and color options, you can create amazing kitchen designs! If you like to go with black cabinets with quartz backsplash, the kitchen can amaze you with its stylish look!
Black Cabinets with White Ceramic Tile Backsplash
If you do not want to think about that much what material type you will use for the backsplash, you can go with ceramic materials without any hesitation. Ceramic tile backsplashes are the most popular among other backsplash materials. They are cheap, easy to install, durable, and have endless color and pattern options. Ceramic tile backsplashes may offer visual appeal and beauty to your kitchen while also protecting your walls from unattractive and potentially damaging food splatter. If you want to go with black cabinets with a white ceramic tile backsplash the kitchen will gain a stunning appeal.
Is white backsplash hard to clean?
Scrub the filth, grease, and stains from the backsplash using warm water, a clean cloth, and a decent grade tile cleaner. Clean the backsplash with a clean cloth and warm water, and repeat if stubborn stains remain. For a glossy professional finish, dry the kitchen backsplash with a clean tea towel.