20+ White Quartz Backsplash And Countertop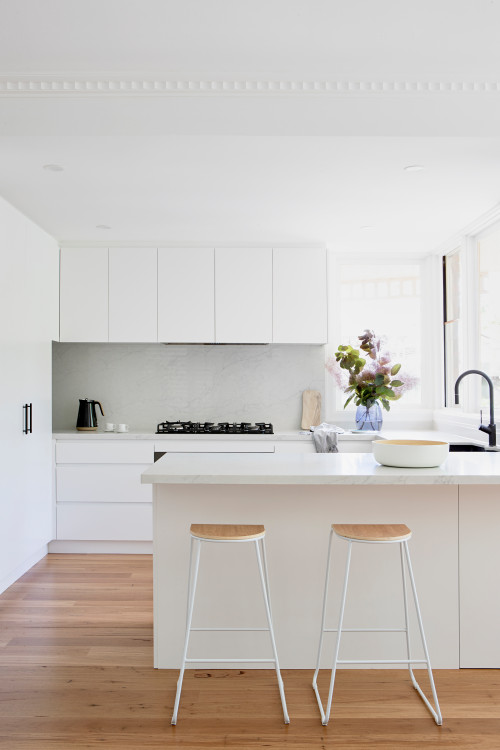 ID# 147406 | Houzz.com – Credit | © Lisa Cannon Interior Design
---
Contemporary Kitchen with White Quartz Backsplash and Countertop
In this kitchen, white flat cabinets and white quartz backsplash and countertop harmonize, creating a clean and elegant appearance that pervades every area! The resulting design pleases the eye and stands out with its useful details. White is used in different textures and areas, spreading its effect throughout the room and creating a spacious and livable feeling. Wooden details on the floor and chair heads add warmth and texture to the kitchen, making it a warmer and more comfortable space. This integration of elements creates a lively and inviting atmosphere, allowing the user to be a part of a higher-quality experience.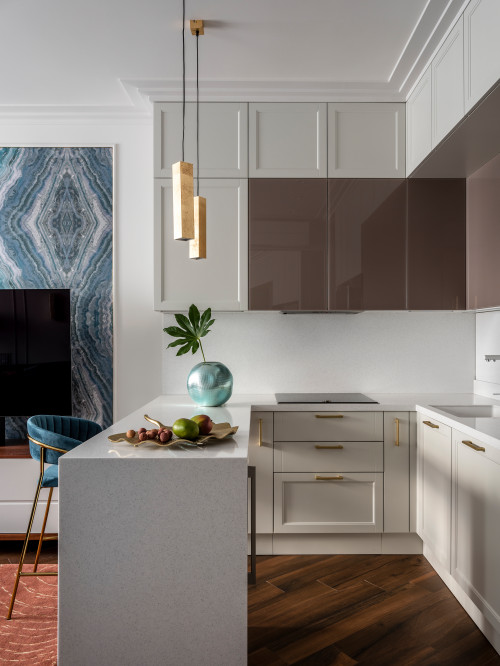 ID# 147413 | Houzz.com – Credit | © ANDdesign / Александра Дашкевич
---
Small Open Concept Kitchen with Beige Cabinets and Gold Hardware
This kitchen, dominated by tonal transitions adorned with cream and coffee cabinets, gets a stylish look with its white quartz backsplash and counter. The design, in which cream and tones dominate in every area, created a warmer and more spacious space by using more natural tones instead of harsh transitions. Contributing to the design in which natural tones are even more dominant with the wooden covering on the floor, the designers succeed in reflecting everything necessary for a warm and comfortable environment in the kitchen. While adding a glow to the soft transitions with gold-toned cabinet handles and lighting, a more elegant and luxurious feeling is achieved, and the resulting kitchen shines like a jewel. In this way, the kitchen, as a whole, remains both a stylish and warm place, creating a clear and understandable design.
White Quartz Backsplash And Countertop
Imagine stepping into your kitchen and feeling an instant sense of sophistication and elegance. That's the kind of transformation a white quartz backsplash and countertop combination can bring to your space. The pristine white color of quartz exudes a sleek and seamless look, resulting in an elevated aesthetic throughout the room. Not only that, but the surface of white quartz is reflective, helping to brighten up your space with ease. Suddenly, your kitchen feels open, inviting, and oh-so-stylish. And the durability of quartz ensures that it retains its pristine appearance for years to come, with minimal maintenance needed to keep it looking its best.
Durable & Visually Appealing Quartz
The beauty of white quartz is that it has the flexibility to complement various cabinet colors and styles, making it an all-around option for both the traditional and modern aesthetics that we all love. Its malleability allows it to blend seamlessly with white cabinets to create a harmonious, monochromatic look that exudes timeless elegance. At the same time, it has the power to create a striking and bold contrast when paired with dark-colored cabinets, adding an edgy and contemporary touch to your space. Adding to its appeal is the smooth and sleek surface that gives any kitchen a luxurious and sophisticated feel, creating an overall aesthetic that is pleasing to the senses. Homeowners who prioritize both aesthetics and functionality in their interior design will find that white quartz is the smart and stylish choice!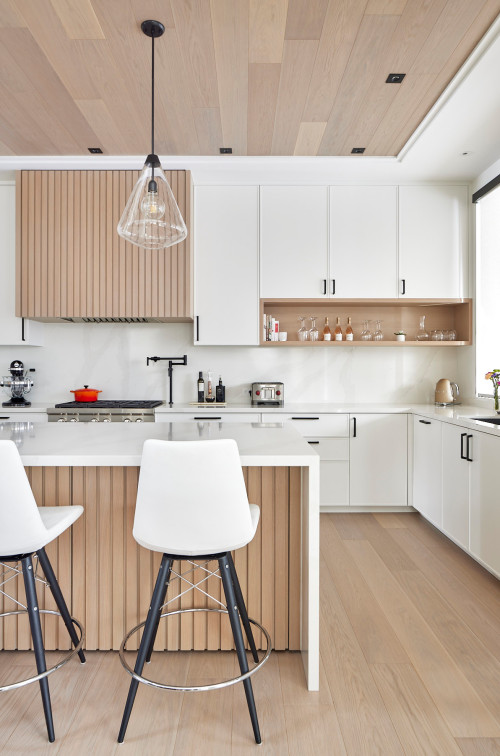 ID# 147401 | Houzz.com – Credit | © New Age Design
---
Contemporary Kitchen Design with White Flat Cabinets and Wood Island
This kitchen features a modern and simple design inspired by the Contemporary style, with a white quartz countertop and backsplash as the focal point. The plain white cabinets and wooden details on the floor and ceiling add warmth and create a clean appearance. The black handles and detailed kitchen elements provide a calm contrast, while natural light sources brighten the space. With ample storage areas and workspaces, this kitchen is well-equipped to meet the needs of users. The balance of colors, quality feel and attention to user needs to make it a welcoming and functional area for cooking and entertaining, showcasing the versatility and beauty of white quartz backsplash and countertops in a contemporary kitchen.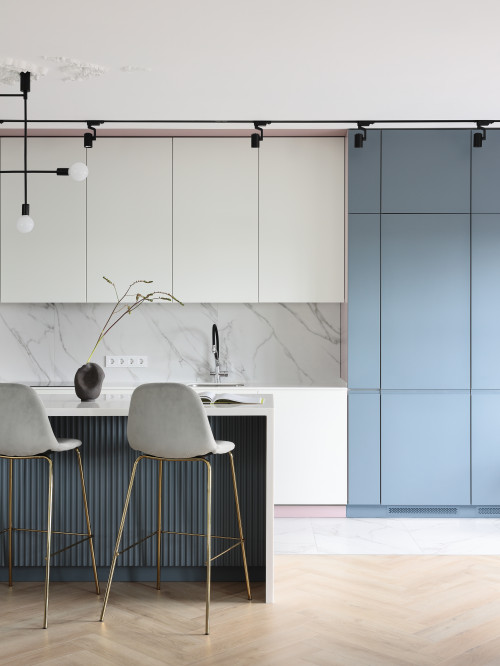 ID# 147402 | Houzz.com – Credit | © Maxim Maximov
---
Blue and White Cabinets with Wood Herringbone Flooring
The kitchen features white and blue cabinets with quartz backsplash and countertop, creating a simple and elegant look. The island stands out with its quartz countertops and blue-slatted design. The floor has clear transitions with movable parquet and ceramic materials.The white quartz countertop and backsplash enhance the overall aesthetic, offering a magnificent view and an unforgettable experience for users in this inviting kitchen!
Are white quartz countertops a good idea?
Of course yes! If you're looking for durability and longevity, quartz may be the perfect option for you. Not only are quartz countertops popular for their non porous nature but their stylish appearance and range of colors make them a great choice for any home. They offer both practicality and beauty, making your space both healthy and stylish. Why settle for less when you can have the best? Treat yourself to the beauty and functionality of quartz countertops today!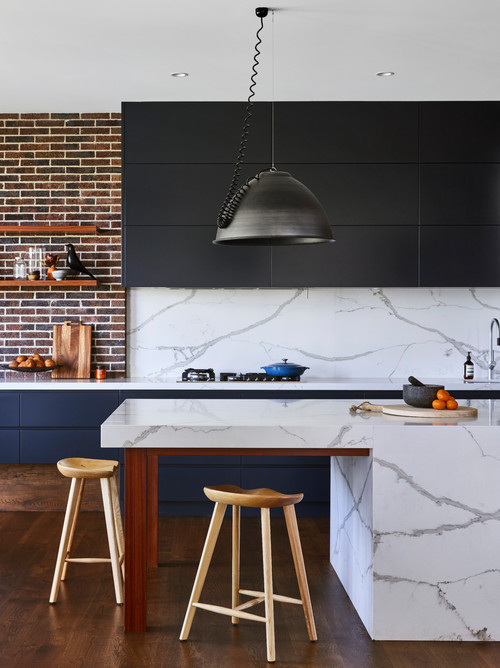 ID# 147403 | Houzz.com – Credit | © Smartstone | Quartz Benchtops, Engineered Stone
---
Two Tone Kitchen Cabinets with Quartz Island
The stunning design of this kitchen features a white quartz countertop and backsplash, creating a sense of balance amidst the different colors and textures in the space. The contrasting lower and upper cabinets in various hues add depth to the kitchen, while the warm-toned wooden floor and brick wall covering create a cozy and inviting atmosphere with earthy tones. The addition of shelves enhances the kitchen's functionality, providing ample storage and workspace. The generous use of quartz material throughout the kitchen creates a clean and saturated look, with the white countertops and backsplash making a striking impact. Not only does the design satisfy visually, but it also caters to the users' needs with its functional layout.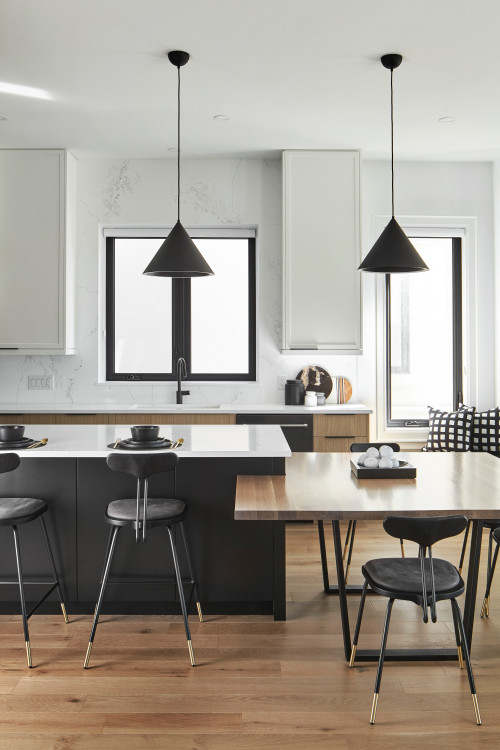 ID# 147404 | Houzz.com – Credit | © avenue design inc
---
Black and White Kitchen with Wood Accents
This kitchen in the contemporary design language offers a wonderful visual feast by harmoniously combining white quartz countertops and backsplash with black and wood tones. While the wooden and black cabinets integrate with the white countertops, they have a clean look and harmonize with the upper part of the kitchen. While the kitchen illuminated by the windows adds life to the room with a pleasant and warm light, the space offers a pleasing impression with its countertop and backsplash. The wooden dining area is used adjacent to the island, it leaves a visual impact with its independence from the island and the difference in materials and shows how the form is formed in harmony with the function. While the floor and wooden cabinets add both a natural texture and warmth to the space, pendant lighting creates a clearer and more understandable kitchen by separating the space according to function.
Cabinet Options for White Quartz Backsplash And Countertop
The choice of cabinets can completely transform the look and feel of a kitchen. Simple and plain cabinets create a different atmosphere compared to more intricate and detailed cabinets. Understanding the type of kitchen you want to create and designing accordingly will result in kitchens with clear and well-defined shapes. White quartz is a popular choice in kitchen designs due to its versatility and compatibility with almost every color. Its ability to harmonize with different cabinet styles and types allows for freedom and creativity in design. Designers and users can create more daring and innovative kitchen designs, knowing that white quartz will complement their vision.
The versatility of white quartz in kitchen designs enables it to be a frequent choice for both traditional and contemporary styles, adding a touch of elegance and sophistication to any kitchen space.
White Quartz Backsplash and Countertop with White Cabinets
White designs are known for their timeless appeal, and incorporating white quartz backsplash and countertops with white cabinets can create a stunning and elegant kitchen space. The purity and clean aesthetic of the white color add a touch of nobility to the overall design. The use of white quartz in the backsplash and countertops creates a jewel-like feel, making the space appear brighter and more spacious. The calming and relaxing effect of white color adds to the livability and attractiveness of the kitchen. The timeless and versatile nature of white designs makes them appealing to all eyes and they can create a sense of sophistication and comfort in any kitchen environment!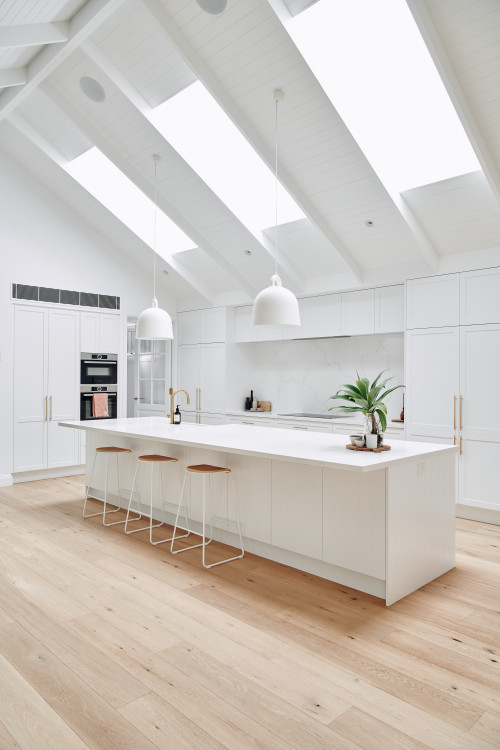 ID# 147405 | Houzz.com – Credit | © BD Building Design
---
Contemporary Kitchen in White with White Quartz Countertop and Backsplash
This kitchen is a sight for sore eyes with its combination of white backsplash, countertop, and flat cabinets. The result is a clean and tidy look that feels incredibly refreshing. The cabinets' white volumes strike a harmonious balance between fullness and emptiness while brightening up the spacious kitchen. The white quartz countertop and backsplash add to the overall clarity of the atmosphere, creating a highly-organized and enjoyable kitchen space. The wooden floor helps bring warmth to the area, making it feel more cozy and inviting. The island is a multifunctional centerpiece in this kitchen, designed to accommodate all of your cooking and dining needs with its prep and work areas and seating arrangement. This kitchen is not only practical but also highly stylish, catering to users who want both functionality and beauty in their home design.
Should the backsplash and countertop be the same color?
The backsplash and counter do not have to be the same color. However, for some materials to be more useful and stylish, it may be necessary to repeat the same material in two areas. Other than that, there is no rule that the backsplash and the counter are the same material. It may vary according to the designs and materials used.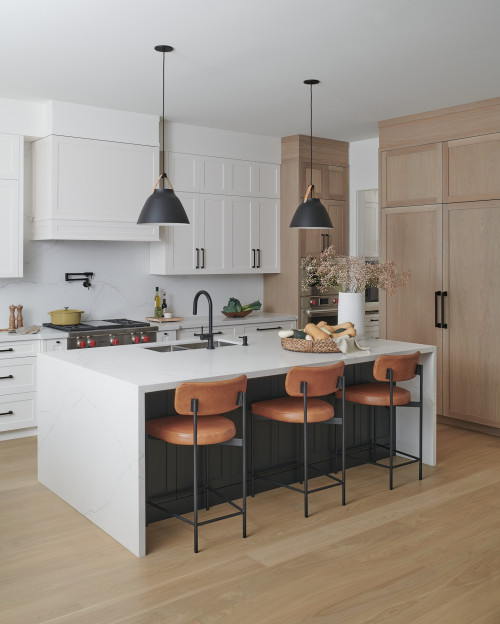 ID# 147407 | Houzz.com – Credit | © Diana Bastone Designs
---
Harmony of White Cabinets with White Quartz Backsplash And Countertop
The combination of white-framed cabinets with white quartz backsplash and countertops creates a dynamic element in the space while the smooth and seamless surfaces of quartz contribute to a clean and organized kitchen aesthetic. The resulting design is visually pleasing, while also providing ample storage and workspace for practical use. The use of white and wood-colored cabinets adds contrast and visual interest, dividing the space with different colors and creating a more cohesive look. The white backsplash and countertops refresh the kitchen, and the groove design above the eye level adds a unique touch to the overall design. The result is a relaxing and spacious kitchen that exudes elegance and functionality!
White Quartz Backsplash and Countertop with Black Cabinets
The harmony of white and black is a general rule that does not need to be explained. The kitchens' beauty consists of white quartz and black cabinets combined with the distinguished textures of the materials, the kitchens create appeal to the eye in every sense. These kitchens combine quartz's strengths with black cabinets and create clear and stylish designs; thus, kitchens that achieve visual satisfaction are offered to users.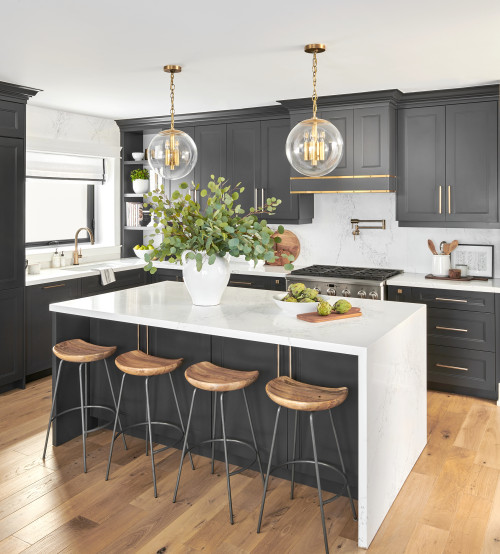 ID# 147408 | Houzz.com – Credit | © Staci Edwards Design Inc
---
Black Shaker Cabinets with Glass Pendant Lights
As you enter this breathtaking kitchen, your eyes are immediately drawn to the mesmerizing blend of airy white quartz countertops and the glossy black cabinets. The striking contrast between these two colors is well-maintained, offering an aesthetically delightful and harmonious atmosphere that feels both contemporary and cozy. It's not just about the contrasting hues that make this kitchen special, though. The wooden flooring provides a touch of comfort and organic charm, resulting in a seamless connection between the opposing colors of pristine white and sleek black!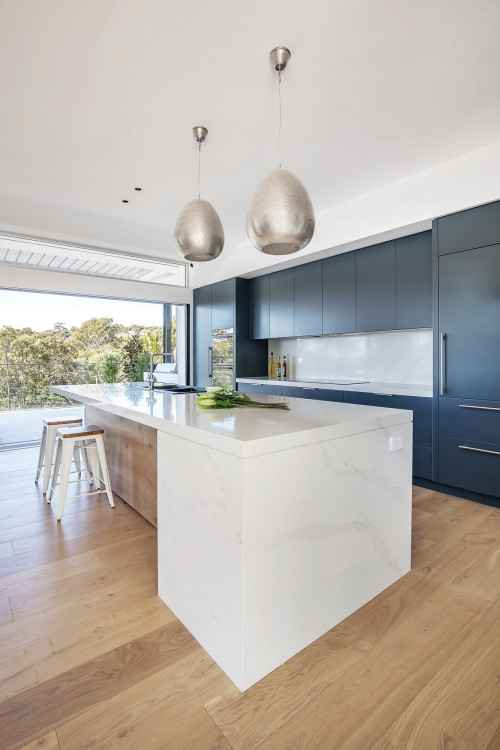 ID# 147409 | Houzz.com – Credit | © Dan Kitchens Australia
---
Black Flat Panel Cabinets with Large White Island
In this modern kitchen, where black cabinets surround the backsplash like a frame, the white quartz material between the black flat cabinets appears as both a countertop and a backsplash. The design, which also uses quartz material in the island coating, takes into account the functional properties of the stone as well as its visual properties, thus obtaining a more meaningful and useful space. While the top of the island is illuminated by the lighting hanging from the ceiling, the space is illuminated naturally by the large windows, so the materials show themselves more naturally.
The harmony of the wood texture on the floor and the black cabinets is reflected in the white quartz, which is the backsplash and countertop material, creating a design with a more balanced color palette. The design with plenty of storage space, besides its visual quality, provides easy answers to user needs, making it a more pleasant and useful kitchen.
 Is quartz backsplash a good idea?
Quartz backsplash is a very beautiful idea visually with its simple and stylish look. In addition, quartz, which is easier to clean thanks to its non-porous structure, can stand out as a very suitable material for backsplash with its hygienic and easy use.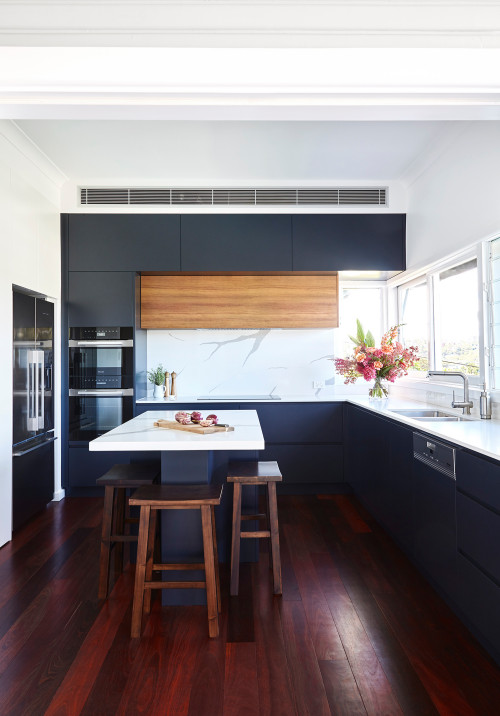 ID# 147410 | Houzz.com – Credit | © Collaroy Kitchen Centre
---
Modern Kitchen Design with White Quartz and Black Cabinets
The design of this kitchen combines black cabinets with a white backsplash and countertop, creating a warm and inviting space with its modern lines and ample natural light! The simplicity of the design, with minimal textures other than the wood used in the floor and some upper cabinets, is its strength, resulting in a stylish and uncomplicated aesthetic. The white quartz countertop and backsplash brighten the space, while the dark textures of the black cabinets provide a balanced contrast, breaking the monotony of black and white and creating a more visually pleasing design. This combination of light and dark elements results in a kitchen design that is not only visually appealing but also functional for everyday use.
White Quartz Backsplash and Countertop with Gray Cabinets
Gray kitchen cabinets can create more stylish kitchens, and when combined with white quartz backsplash and countertops, they can result in pleasant and functional spaces. Different shades of white can be used in combination to create beautiful and cohesive spaces. The white countertops and backsplash in these kitchens stand out due to their harmony with the gray cabinets, elevating both the design and the overall space to a higher quality and more lively impression.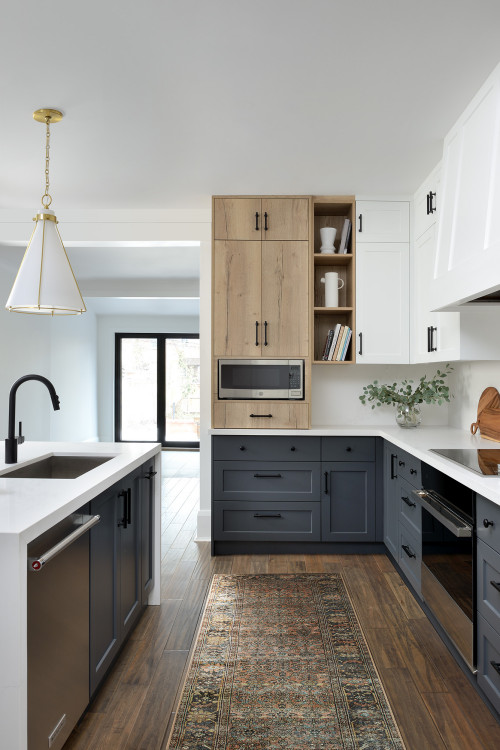 ID# 147411 | Houzz.com – Credit | © AMANDA SHIELDS INTERIORS
---
Gray Cabinets with White Quartz Countertop and Backsplash in Modern Kitchen
This kitchen has modern gray cabinets paired with a quartz countertop and backsplash for a simple yet stylish look. The warm wood floor adds warmth, and ample storage and workspace meet user needs. Pendant lights illuminate the island, enhancing the modern and stylish feel of the space. The overall design balances style and functionality with its contemporary aesthetic.
What backsplash looks best with white quartz?
Choosing the right materials to pair with white quartz can be a tricky task. While many materials can work well with it, there's no denying that quartz looks particularly stunning in large pieces. For this reason, combining white quartz for both the backsplash and countertop can create a more cohesive and visually pleasing look. However, don't be afraid to experiment with other backsplash materials as they may surprise you with their beauty and complement the quartz perfectly.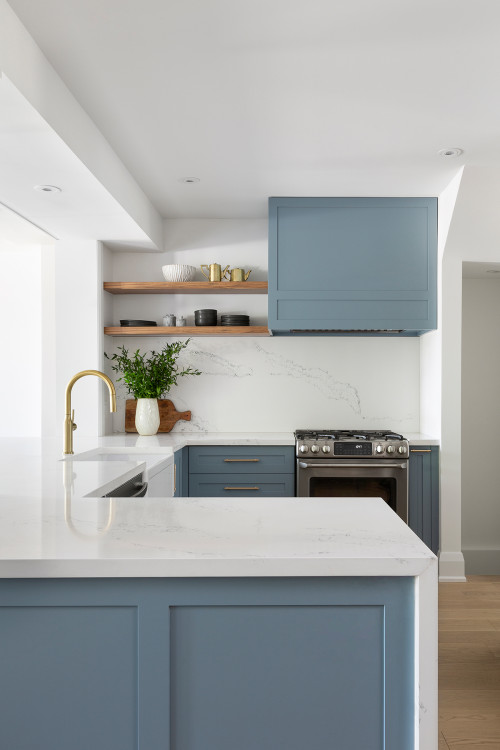 ID# 147412 | Houzz.com – Credit | © AMANDA SHIELDS INTERIORS
---
Gray Shaker Cabinets with Wood Floating Shelves
As you enter the kitchen, you are greeted by a sense of refinement and contemporariness that engulfs you. The marriage of the blue-gray cabinets and white quartz countertops and backsplash invokes a composed and tranquil atmosphere. The warmth emanated from the gold-toned handles emanates a feeling of comfort and familiarity. The wooden floating shelves provide a practical and functional storage solution, permitting enough space to store all your kitchen necessities. The inviting warm wood tones of the flooring elevate the kitchen's overall appeal. The pleasant combination of blue cabinets and yellow flooring creates a cordial and alluring ambiance reminiscent of a day at the beach.
White Quartz Types
White quartz stone is available in many different textures. Although these materials are structurally the same type, they present a different and variable scheme in appearance. White quartz is generally divided into three pure white, Carrara white, and Calacatta white, and each has visually distinct features. Thanks to their rich textures and tones, these quartzes set an example for different designs and looks.
Pure White Quartz Backsplash And Countertop
Are you in search of a kitchen surface that will cater to your requirements for being attractive as well as convenient? Look no further than the Pure White Quartz backsplash and countertop! The amazing and flexible material offers a flawless white shade that will immediately enhance the beauty of your kitchen. The surface of this material is smooth and glossy radiating an atmosphere of classiness and excellence. With this beautiful combination in your kitchen, you'll feel delighted and content, as it adds a new dimension of style and convenience to your beloved space!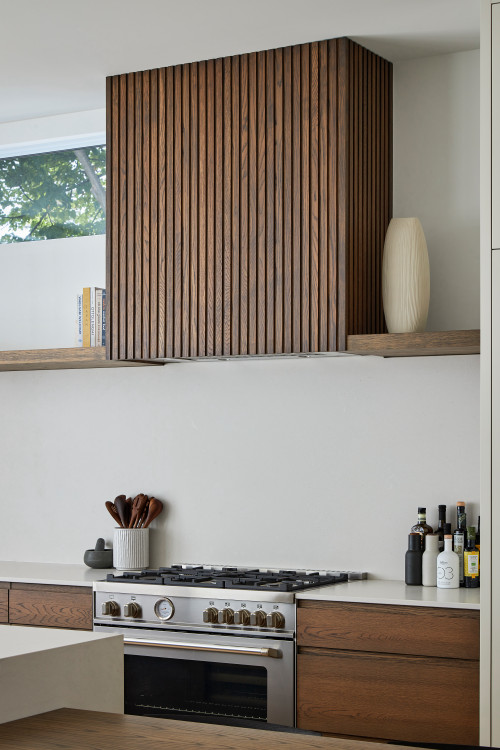 ID# 147414 | Houzz.com – Credit | © Art & Stone Group
---
Scandinavian Kitchen Design with Natural Wood Cabinets
This kitchen is a masterpiece of simplicity and elegance! Its Scandinavian-style design is highlighted by the perfect combination of pure white backsplash and natural wood. The clean and welcoming atmosphere is achieved by using only two textures in a creative and lively way. The white quartz countertop and backsplash give off a fresh and clean feel while the raw natural wood forms provide a warm and organic impression!
Carrara White Quartz Backsplash And Countertop
With Carrara white quartz, you can effortlessly elevate the elegance of your spaces, infusing them with a sense of luxury that exudes sophistication. This exquisite material boasts a pristine white hue that complements almost any color and texture, making it a versatile choice for various design styles. It's visual quality and ease of use have made it a frequent preference among homeowners and designers alike. Moreover, Carrara white quartz is known for its durability, ensuring that your spaces will maintain their luxurious appearance for many years to come. Its ability to resist stains, scratches and heat makes it a practical choice for high-traffic areas such as kitchens!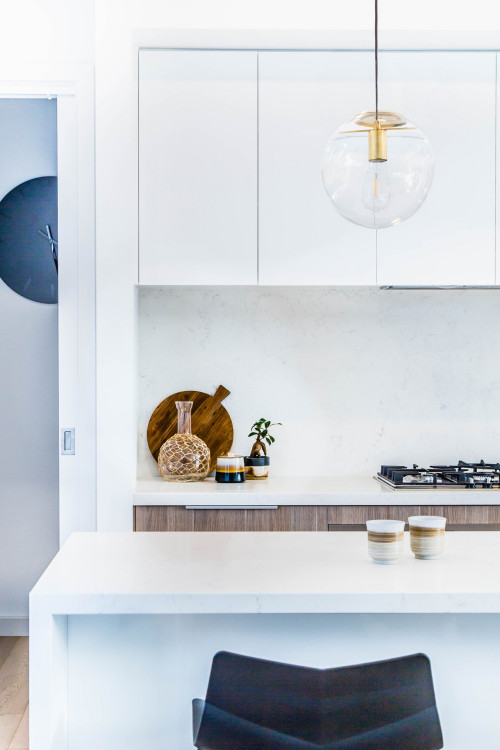 ID# 147415 | Houzz.com – Credit | © Sketch Building Design
---
White Kitchen Design with Carrara White Quartz
The kitchen design, featuring a combination of white and wooden cabinets with Carrara white quartz, exudes elegance and invites warmth with its simple yet refined materials! The straight lines of the design are visually pleasing, creating a clear and uncomplicated aesthetic that adds a touch of quality and attention to detail to the space. The exquisite texture of Carrara white quartz adds to the kitchen's charm, with its veined structure creating a calm and dynamic appearance. The visual feast offered by the quartz material leaves users impressed, while the functional solutions provided by the kitchen meet all their needs.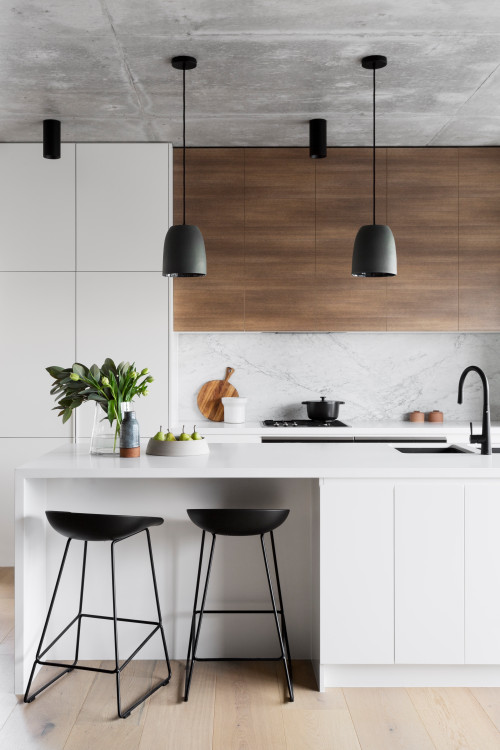 ID# 147416 | Houzz.com – Credit | © Heartly
---
Modern White Kitchen Design with Wood Cabinets
As you step into the kitchen, you can't help but feel a sense of modern sophistication. The clean lines and sleek design of the white and wooden cabinets, paired with the luxurious Carrara white quartz countertops, create an impressive and calming atmosphere. The abundance of white in the design carried through to the countertops and backsplash gives the space a pristine and fresh feel. However, just when you thought the uniformity of white was too much, the gray concrete appearance of the ceiling enters the scene, bringing a balanced color scheme to the equation.
As you take a closer look, the warmth of the wood flooring adds a touch of coziness to the overall design. It softens the space, making it more welcoming and homey. You can easily imagine spending time in the kitchen, cooking up a storm and enjoying meals with those you love. This kitchen is not only visually stunning but also functional and livable.
What are the negatives of quartz countertops?
While quartz countertops are a popular choice for their sleek and modern look, it's important to keep in mind that they do come with certain drawbacks. Some potential downsides include needing to invest more money due to their higher cost, being vulnerable to heat damage and staining, often having slight variations in color and pattern, and being more brittle than other countertop materials. Additionally, quartz countertops are not typically recommended for use outdoors and must be professionally installed. When making a decision about whether to go with quartz countertops or another type of material, it's important to do your research and carefully weigh all of these factors!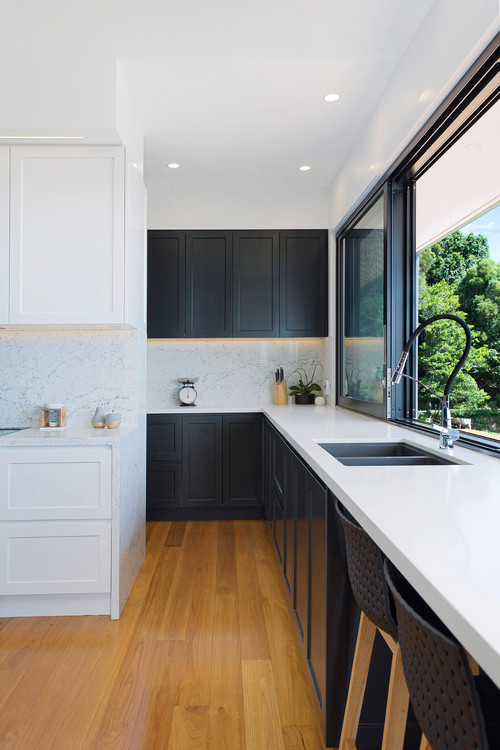 ID# 147417 | Houzz.com – Credit | © Unique Building & Carpentry
---
Contemporary Kitchen Design with Carrara White Backsplash and Countertop
As soon as you step into the kitchen, you'll feel its big and inviting atmosphere. The use of Carrara white showcases a wonderful texture that is both elegant and inviting, whilst the combination of black and white cabinets create depth and contrast that is breathtaking. As natural light floods the kitchen through the windows, it illuminates the space with a beautiful and awe-inspiring glow, bringing warmth into the area. What's more, the kitchen has ample storage and workspace ensuring that it's not only beautiful, but practical too. The warm wooden parquet flooring makes the kitchen feel alive and homely, exuding a sense of welcoming warmth, and creating a vibrant energy in the room. Altogether, the combination of Carrara white, black and white cabinets, and warm wooden flooring creates a visually stunning kitchen that is both functional and visually appealing, making it a true joy to be in.
Calacatta White Quartz Backsplash And Countertop
Calacatta white quartz is a material known for its stylish and luxurious feel, boasting a quartz white base with a magnificent veined texture! This stunning material easily complements various design styles and serves as a versatile and decorative product whether used as a countertop or backsplash. Its adaptability to different design aesthetics makes it a highly useful and aesthetically pleasing choice. The veined texture of Calacatta white quartz adds a touch of elegance and sophistication to any space, elevating the overall aesthetic appeal. It's versatility and decorative features make it a popular choice among designers and homeowners alike.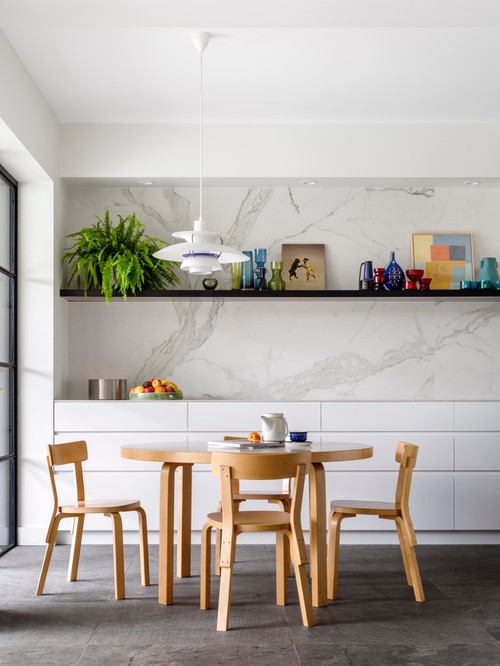 ID# 147418 | Houzz.com – Credit | © ANNA CARIN Design
---
Contemporary Dining Room with Calacatta White Quartz and Warm Furniture
The dining area boasts a contemporary design language that is enhanced by the stunning appearance of Calacatta white quartz. The use of Calacatta white quartz as a backdrop for the sleek and elegant cabinets creates a visually satisfying result, while also creating a contrasting relationship with the floor for added visual interest. The area is further accentuated by the white ceiling and spotlighting which highlight the beauty of the Calacatta white quartz. Warm-toned wooden furniture adds a cozy and inviting atmosphere, making the dining area a comfortable and enjoyable space to dine and entertain in!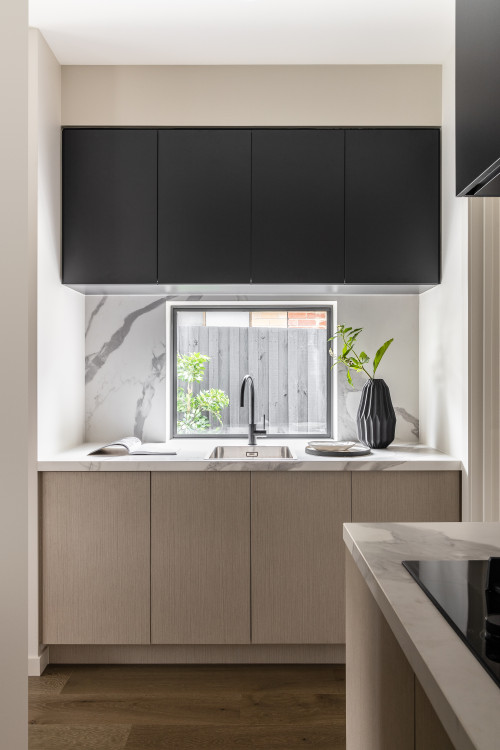 ID# 147419 | Houzz.com – Credit | © Collection by Glenvill Homes
---
Black and Light Wood Cabinets with Window Backsplash
The kitchen design showcases the harmonious blend of black and cream cabinets with Calacatta white quartz countertops and backsplash, illustrating how warm and cool materials can create a delightful space together. The design features a seamless transition from white quartz to black with cream tones from the floor, creating a contemporary aesthetic with clean lines. The Calacatta white quartz material acts as a unifying element for the color tones in the space, combining with both the lower and upper cabinets to create a precise and clear result. The clean and sleek appearance of the white quartz adds to the overall aesthetic of the design, resulting in a visually appealing and cohesive kitchen space.
How to maintain quartz backsplash and countertops?
You will usually need nothing more than a mild detergent solution to keep quartz countertops clean. Generally, it is best to use a mild dishwashing liquid that does not contain abrasives or harsh chemicals.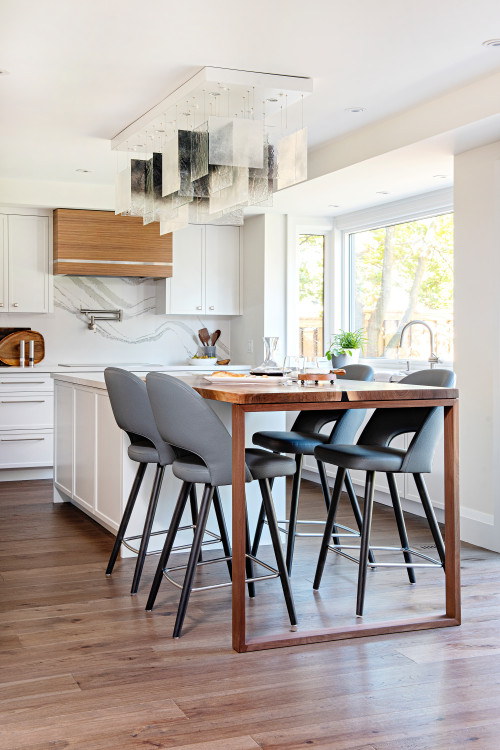 ID# 147420 | Houzz.com – Credit | © Frahm Interiors – Burlington ON
---
The Perfect Harmony of White Cabinets and Unique Lighting Fixture
The kitchen design is breathtakingly beautiful and purposeful, all thanks to the exceptional qualities of Calacatta white quartz. The veined structure of the quartz used as a seamless backsplash is a feast for the eyes and a thrilling focal point in the room. The atmosphere of the space is lively and inviting, owing to the infusion of vibrancy and energy that the material imbues. The white cabinetry is tastefully paired with elegant lighting, which perfectly completes the aesthetic of the room, creating a tranquil and calming ambiance. Altogether, the kitchen is a spectacular work of art resulting from the thoughtful blend of various elements, not only pleasing to the eye but also perfectly fit for everyday use.