39+ Scandinavian Home Decor Ideas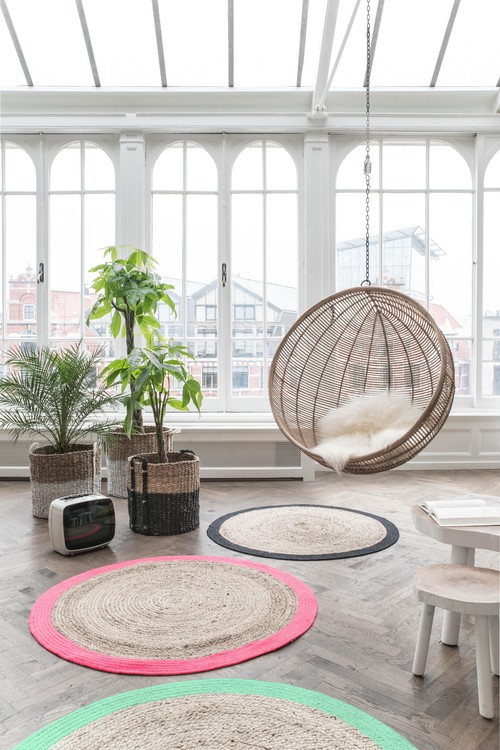 ID# 158305 | Houzz.com – Credit | © insideout
---
Scandinavian Home Decor Ideas with Plants and Wicker Baskets
When designing a Scandinavian living room, you don't need big pieces of furniture. Instead, just small tiny additions can make the entire room pop. Here, for example, plants placed in wicker baskets and round-shaped rugs with colored rims bring enough warmth and color. To enjoy their company, all you need is a ceiling-mounted swing chair made extra comfortable with a sheepskin throw.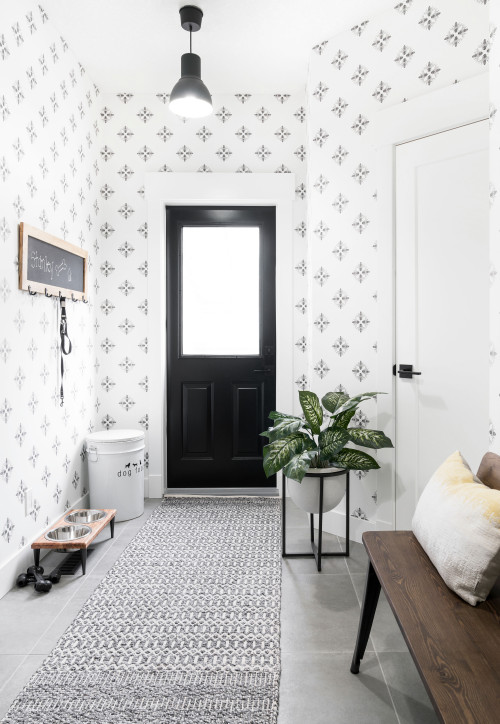 ID# 158321 | Houzz.com – Credit | © SmithErickson Designs
---
Scandinavian Entry with Scandinavian Home Decor Ideas
This Scandinavian entryway is characterized by a graphite wallpaper that makes the entrance instantly homey. Also, a wood bench made extra comfy with accent pillows just adds to it as a welcoming gesture. By the door, a small blackboard brings a fun twist but is quite functional too if you want to leave a welcoming message for your guests. Complementing them is an industrial-style lighting fixture and a gray runner that play it minimalist. And finally, what brings this muted off-white palette to life is a green plant adding a splash of color.
Scandinavian Home Decor Ideas
Not all kitchen designs can manage to be both minimalist and homey but Scandinavian designs do, thanks to Scandinavian home décor ideas that channel warmth and bring the right amount of texture in their own subtle ways.
Championed for their clean looks, decluttered lines, and soft and high-contrast color palettes, Scandi designs are also famous for merging functionality with aesthetics. Yet, sometimes they may look too neutral, which is warmed up with Scandinavian home décor ideas to keep monochromatic and high-contrast schemes alive and homey.
In this round-up, you find multiple Scandinavian home décor ideas and get the chance to explore what Scandinavian design is all about. Read on to get familiar with the most common strategies to incorporate a Scandinavian feeling into your home.
What is considered Scandinavian decor?
Scandinavian design is minimalist in its own way with a focus on ordinary life. By that, we mean that a Scandinavian décor has a well-defined focus on daily utility objects and home decorations. Its respect for natural materials and elegance of form finds its way through these home decors, which are evident in carpets, pillows, sheepskin throws, and kilim rugs. These texture-rich decorations are championed by Scandi homes as they bring life by adding color, pattern, or texture to monochromatic and high-contrast Scandi rooms.
In addition to those, handcrafted items and ergonomic designs are also key features of these looks. Keep in mind that Scandi decorations also aim to merge functionality with aesthetics. For example, they improve the mood and functionality of rooms with biomorphic ceramic vases and lighting fixtures with adjustable arms that offer convenient use. Additionally, graphite artworks, wood accents, and tapestries could also be added to this rich list of Scandinavian home décor ideas.
How to Decorate Your Home Scandinavian Style?
To create a fully-fledged Scandinavian look, home décor ideas play a significant role. Since Scandinavian designs love natural materials, light color palettes, and textures, decorations also stay loyal to these design principles. A great combination of wood floors, rugs, carpets, faux fur blankets, pillows, plants, and subtle artwork can give you a well-curated Scandi look. A mixture of different styles and elements borrowed from different eras also come together in Scandi home designs. Put better, without going over the top, you can also act a bit eclectic.
Natural Materials
From nesting wood tables to rattan chairs, wicker baskets, rattan rugs, and more, natural materials are popular in Scandinavian homes. In each corner, you can find something related to the wood or another natural form. Terrazzo and marble can also be included in this category. Perhaps not as popular as wood, they also promise longevity and sustainability.
What are Scandi colors?
Neutral, soft, and monochromatic color palettes are heavily used in Scandi homes. These neutral and soft hues cover taupes, off-whites, grays, sepias, and wood. Additionally, high-contrasts are also a hallmark of Scandi designs, letting pops of black furnishings make a counterpoint to the all-white walls, which add depth to the room.
Surely, there is also room for pops of vibrant hues, though to a very modest degree. They are generally introduced by accent pieces, such as lighting fixtures, artwork, and accessories. Yellows, oranges, and blues are especially popular. Of course, warm earthy palettes -as they feel more natural-are also quite popular for those looking for extra coziness and warmth.
Organic Shapes
Curvy shapes, archways, oval accent mirrors, round nesting tables, globe wall sconces, and many more. These are only some of the most popular organic shapes used frequently in addition to biomorphic ceramic vases. These nature-inspired soft aesthetic features boost the mood of the space, imparting calmness.
Earthy Color Palette
Given Scandi designs love natural materials and warmth, surely, an earthy color palette is also embraced. From green plants to wood cabinets, light sandy shades, and beige-brown rugs, each warm touch helps sculpts a natural design.
Where to buy Scandinavian home décor?
IKEA, Design Within Reach, Connox, Houzz, and Urban outfitters are popular places where you can buy Scandinavian home décor online.
Different Textures
Linen, wool, knitted and wicker accessories, faux sheepskin rugs, carpets, and pillows. All of them are used in different compositions to make a Scandi home cozier and homey.
Black & White Contrast
High-contrast color themes are as popular as monochromatic and warm color palettes in Scandinavian designs. Generally, the pitch-black couches and dining tables with dining chairs paint a sharp contrast to the plain white walls. While some designers soften it with warm accents or sheepskin carpets, some keep it as it is and use statement pendants.
Greenery Elements
Scandinavian designs love creating a seamless transition between indoor and outdoor spaces. And the best way to achieve that is to introduce the interior space to plant life. Small or big, get many indoor plants, such as Monstera or the so-called Swiss cheese plant. You can even use them in abundance in bathroom designs to add splashes of color to neutral Scandi designs. Plus, getting plants also help boost your mood, adding a new dynamic to the interior.
How do I add color to Scandinavian design?
Scandinavian designs basically live for neutral color schemes and calmness. So, they don't like bombarding their users with bursts of color. Rather, they prefer to integrate them in subtle and unexpected ways and mostly through decorations. For example, accent pillows, art prints, plants, rugs, and other accessories are the best ways to add color to Scandinavian designs.
Different Wood Tones
Using natural elements, yes, is a significant part of Scandi designs. But integrating different wood tones is also beneficial to bring further depth and dimension to a space. Mixing dark and light tones with white oak, walnut, and pine furnishings, curate a very Scandi feel.
Pops of Color
We are all accustomed to seeing neutral and muted color schemes in Scandinavian home designs. But this doesn't mean that there is no place for pops of colors. When introduced as accent pieces, pops of colors are also welcomed to enliven the interior.
Statement Lighting
Oversized pendants, modern chandeliers, and ergonomic mid-century-inspired fixtures are popular statement lighting designs. They help create visual focal points, especially popular in dining rooms.
What is Scandinavian-style furniture?
Emerging in the 20th century, the Scandinavian style is a design movement that focuses on functionality and simplicity without sacrificing aesthetics. Its main focus is to create calm designs that are light-filled, mostly monochromatic, and fitted with clean-lined furnishings. So, Scandinavian-style furniture refers to ergonomic and modern designs devoid of any ornate details. Rather, it adopts a clean approach that seeks functionality, ease of use, and simplicity.
Another definitive asset of Scandinavian design is the use of organic forms. In Scandi homes, curved and soft-edged pieces of furniture populate dining rooms, living rooms, and bedrooms. Mostly carved out of wood, these furnishings also take their cues from nature and emulate organic patterns found in nature. This way, a seamless transition is aimed between inside and outside.
So, don't only look for extremely geometric, minimalist, and angular forms. Soft and curved designs also count as Scandi furniture, especially when they are presented in organic materials.
That being said, it is also important to mention that Scandi designs borrow from different designs such as Mid-century-modern given their principles share a lot in common. The same goes for Boho-Scandi designs as well. In that sense, Scandinavian design is very inclusive in the way it incorporates different elements from different styles as well.
Minimalist Details
A minimalist detail could be a wall ledge used as storage instead of a wall rack. Or a bathroom can go with integrated sinks rather than vessel sinks. The reason why such minimalist details are favored in Scandi designs is that they prefer a clean and sleek-lined look. With practical and smart storage solutions and well-integrated pieces, they support their minimalist furnishings. One reason to avoid ornate details is that they are regarded as excessive as they interrupt the energy flow in the room.