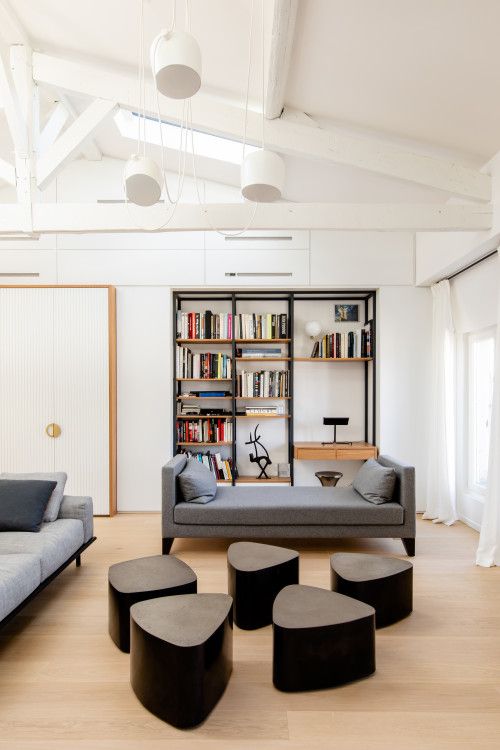 ID# 115522 | Houzz.com – Credit | © Joanna Pera Duvocelle
---
Mid-Sized Minimalist Living Room Ideas with Contemporary Style
This bright and spacious minimalist living room features an exposed beam white ceiling, white walls, light wood floors, contemporary furnitures which adds an enjoyable twist to a minimal setting.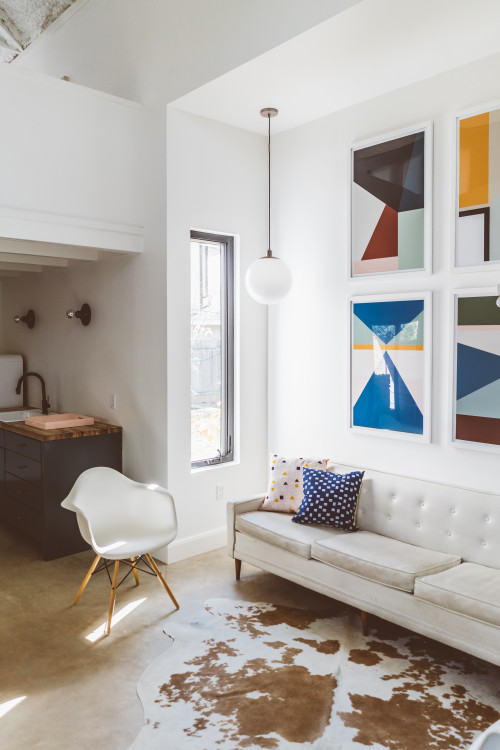 ID# 115501 | Houzz.com – Credit | © Moontower
---
Colorful Minimalist Living Room Ideas with Concrete Floor
This mid-sized open concept living space is a serene, colorful spot with its white walls, concrete floors, and trendy contemporary room furniture.
'Less is More'! Gorgeously Minimalist Living Room Ideas
There is no limit when it comes to creating a living room with clean lines of minimalist décor. If you are thinking the outcome will be cold, you will be pleasantly surprised- the minimal look is simple, beautiful, and as colorful or neutral, bold and calm you want it to be! Check out these minimalist living room ideas with fewer but impactful elements! 
Chose the right color palette!
The minimalist living room does not have to be basic or boring. With so many options for wall surface, furniture style, lighting, and flooring, you can design a minimalist living room with unique elements that also add to the overall style of the room. Experiment with natural textures and pops of color to make an inviting and cute living room.
Curious about how to pull off a minimalist space? This beautiful selection will give you all the possibilities of a minimalist approach.