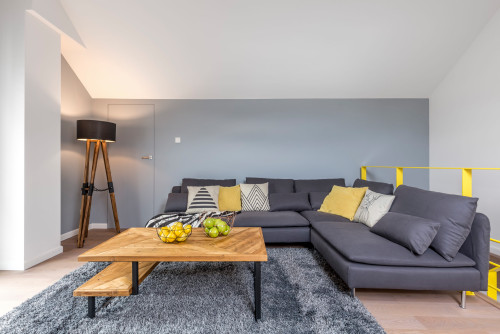 ID# 115401 | Houzz.com – Credit | © Domo Home Staging
---
Scandinavian Living Room with Gray Sofa and Yellow Details
A comfortable sofa, pillows, and a coffee table. These elements are enough to create a beautiful and welcoming living room. In this Scandinavian design, the gray l-shaped sofa provides a comfortable seating area with its dozens of pillows. Yellow pillows contrast with the gray sofa to create an impactful look. The wooden coffee table is placed on the gray curly rug and it brings warmth to the atmosphere.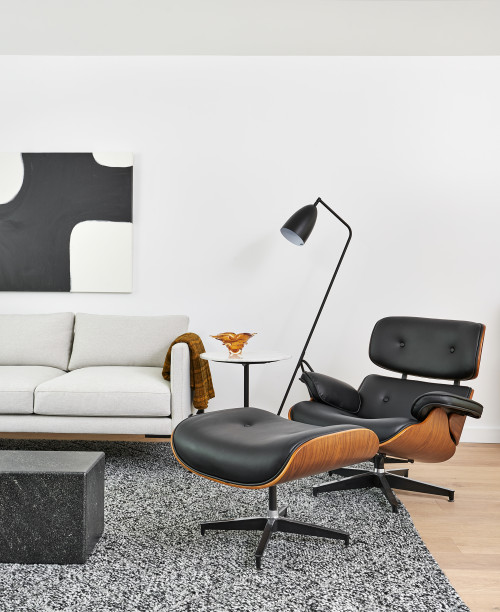 ID# 115416 | Houzz.com – Credit | © Homekin
---
Black and Wood Lounge Chair with Black Floor Lamp
The black leather and wood lounge chair is a statement maker! It offers a comfortable and elegant resting nook in the modern living room with a gray sofa, black coffee table, gray curly carpet, black and white piece of art, black floor lamp, and light wood floor.
Plain, Minimalist, and Simple Living Room Ideas
Living rooms are one of the places where we spend the most time at home. However, it does not mean you have to fill the room with a lot of stuff. You do not have to use complicated designs to create a welcoming and charming living room. You can design clean and calming living rooms without being boring. Here are some simple living room ideas to show you the beauty of minimalism.
Make big impacts with minimal design elements
As a result of the modern age, our living spaces began to shrink as the apartments rose. Naturally, we started to make simpler and more needs-oriented designs in our homes as well. But it doesn't mean minimalist designs have to be boring. You can also make a big impact with minimalist and simple designs. Whether your living room big or small, too much furniture and design elements can be overwhelming, and it can destroy the relaxing atmosphere we want in living rooms. In the same way, using fewer items than you need can break the design. So, you just need to find a balance between simplicity and functionality.
'How do I create a simple living room?' If you want to find an answer to this question, scroll down and get check some inspirational simple living room ideas.