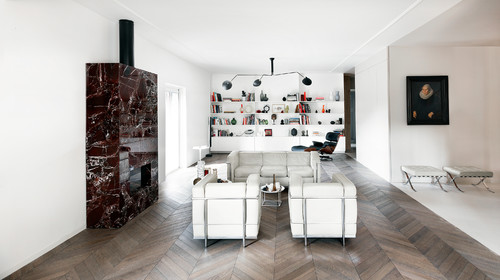 ID# 114825 | Houzz.com – Credit | © Mohamed Keilani
---
Modern Monochrome Living Room with Herringbone Parquets
A prime example of a modern living room that harmonizes the classic elements including medium tone wood floors and a ravishing brown ribbon fireplace with sophisticated modern furnitures and white walls.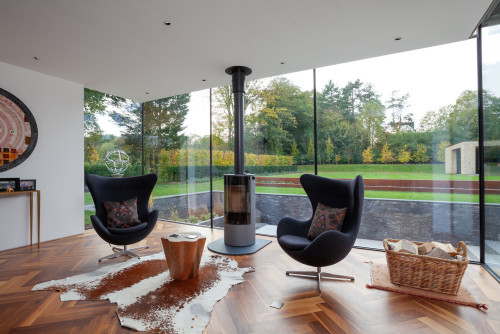 ID# 114834 | Houzz.com – Credit | © Tye Architects
---
Black Armchair with Metal Fireplace and Animal Rug
This sunroom has a minimalistic approach in creating a cozy atmosphere completed with bold dark wood parquet floors, glass walls, white walls, and carefully selected furnitures including a wood stove and modern chairs.
Modern Living Room Ideas
Living rooms are one of the most used areas in our houses and definitely considered as the most important to showcase your personal style. It is hard to narrow down our personal style and pick a design complementing our life. However your preferences vary, there is definitely a solution within the modern interior design! Although it is associated with many of the recent trends, modern style can extend beyond the repeated design elements that make our living areas the same as any other house.
Go with clean and simple lines for your modern living rooms!
So whether you think for a large family or a single user; a laid-back ambiance, cozy nook, or a more practical design- you can find inspiration here! You may have lots of space for you to fill with stylish modern furnitures, mix different materials and place bold focal elements.
Or, you may be considering adding some personality to your smaller room. Clever layouts with carefully chosen furniture, materials that will expand your space and increase the amount of light will broaden your perspective before deciding your final design. You are welcome to dive into a variety of modern alternatives for your ideal living room.