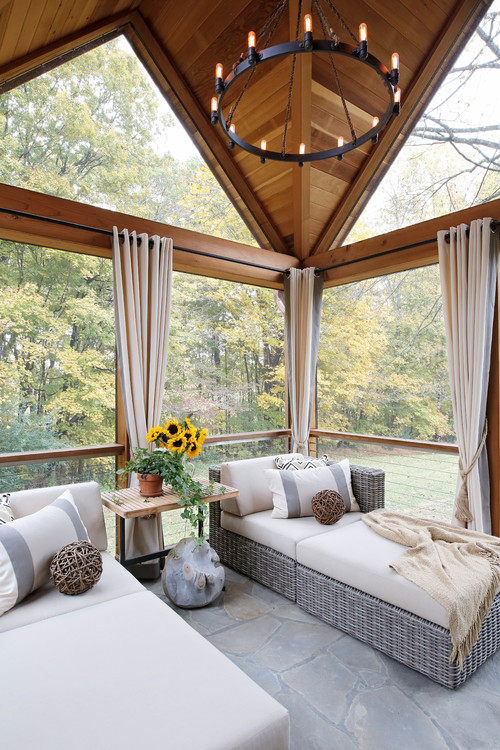 ID# 111127 | Houzz.com – Credit | © Vernich Interiors
---
Bamboo Lounge Chairs with Beige Curtains and Stone Floor
In the cozy sunroom area with wooden carriers designed on the gray stone floor, the seats that can also be used as beds were preferred for the users to rest and have a pleasant time. Curtains in beige tones were used to ensure privacy in the space.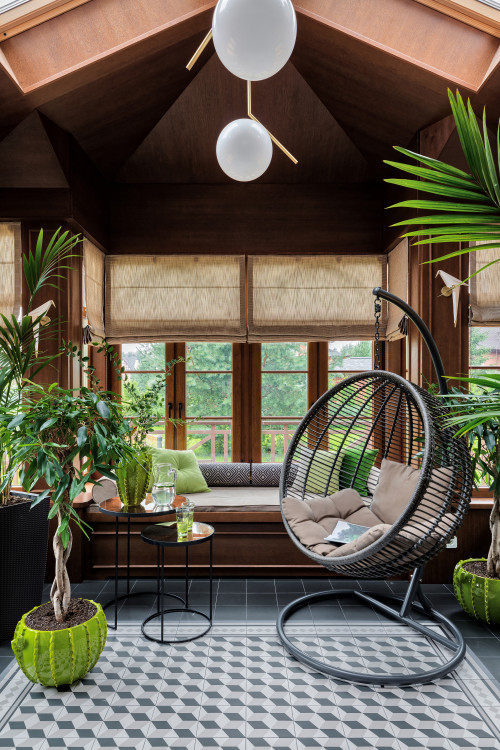 ID# 111110 | Houzz.com – Credit | © M_Astafyeva
---
Wood Window Seat with Swing Chair and Beige Curtains
To emphasize the center of the space in the cozy sunroom area, tiles of different patterns are preferred in the middle of the floor. Wood dominates throughout the Sunroom. The elements that energize the space are various ones used. The swings and coffee tables in the middle are selected from items designed with a minimal design approach.
Spacious, Modern, Scandinavian, Beach Style, and Also Stylish Cozy Sunroom Ideas
Cozy sunroom design is not as difficult as it seems. To design these areas, there are many design types according to your style and budget in line with the size of the area you have and the purpose of use. Scroll down and find inspiration in cozy sunroom ideas!
Choose the right purpose of use and the right style for your cozy sunroom
A cozy sunroom is one of the main spaces in your home where you can connect with the outdoors at the maximum level. In this case, you have to make some decisions to be able to design this area. To give examples of some of the issues you should decide: – Your purpose of use, your need for privacy in the area, what kind of design you want, and the amount of budget you want to allocate for this design. Test out some of our sunrooms, below, to get the look in your own home!
Below you can find plenty of ideas in many different styles which you can create your own stylish cozy sunroom that suits your style and the mood you have.