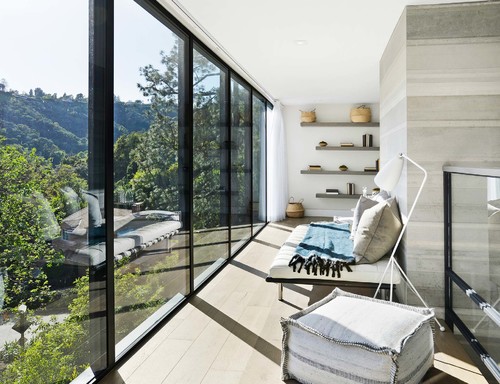 ID# 110631 | Houzz.com – Credit | © Rees Studio
Cozy Reading Nook with White Bench and Wood Floating Shelves
For the modern sunroom designed in beige tones, light wood material is used on the floor. The seating area has been directed in this way to watch the nature in this place where the lush nature view is integrated with the interior.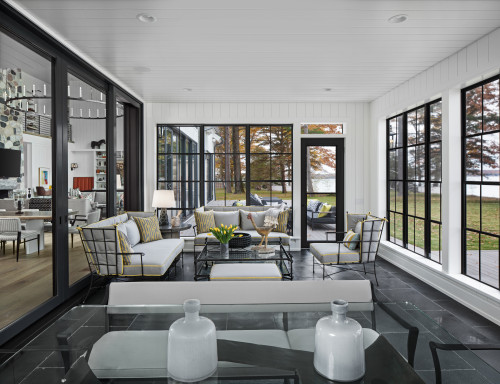 ID# 110640 | Houzz.com – Credit | © Saroki Architecture
---
Modern Sunroom Ideas with the Harmony of Black and White
In the place where black, white, and gray, which is an intermediate color, are used extensively, dark rente tiles are used on the floor. For this reason, white and colored furniture was chosen to make the furniture in the space stand out.
Peaceful, calm, minimalist, stylish modern sunroom ideas
The important thing for a modern sunroom design that is much simpler than it seems or thought is that you know how to go. In this way, you do not have an obstacle to access the modern sunroom in your dreams.
Choose the right colors and the right material for your sunroom
For a modern sunroom, you should decide for what purpose you will use the space with the dimensions of the space you have. He says that you have started to design a modern sunroom that suits your budget and dreams with the right color and material choices. Test out some of our modern sunroom designs, to find some inspiration for your house!
Below you can find several ideas in many different styles where you can create the space that suits your style and the mood you have.