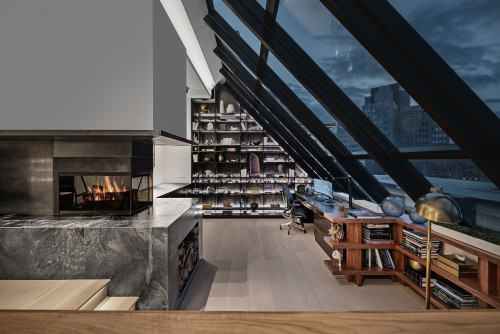 ID# 110104 | Houzz.com – Credit | © Armina Stone
---
Tree-sided Modern Fireplaces for a Clean Aesthetic
Tree-sided fireplaces or peninsula fireplaces has clean aesthetics that can lend a modern appeal to any room. These modern fireplaces are getting more popular day by day and these corner units are the most practical use of space. In this example, the fireplace is a focal point in the space, accentuated by the surrounding gray marble tiles and gray paint.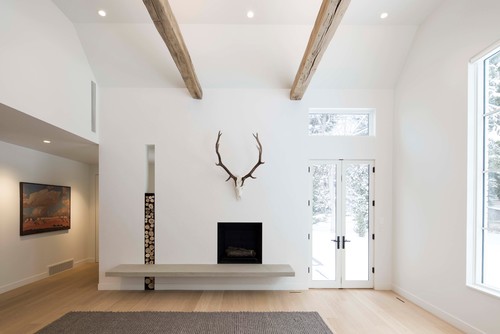 ID# 110116 | Houzz.com – Credit |  | © Atelier 93
---
Scandinavian Living Space with Modern Fireplaces and Concrete Shelf
The cozy living room is decorated in a minimalist style with white walls and a ceiling. The accent wall features, small fireplace, deer head artwork, a concrete floating shelf, and a recessed niche for wood logs. The combination of wood, concrete and bright whites perfectly reflect the calm beauty of the Nordic style. Exposed wooden beams bring a dose of a rustic vibe.
Cozy and Sleek Centerpieces: Modern Fireplaces
Whatever its style is, a fireplace can add an aesthetic to any space. However, modern designs come to the fore today with their clean and sharp lines and replace traditional fireplaces. If you are looking for some inspiration, scroll down and find the 26 beautiful modern fireplaces.
Clean lines, sharp edges, modern appeals
Fireplaces are decorative yet functional design elements. However, the look of the fireplace can make or break your overall design. So, choosing a style is one of the most important decisions you need to make. In recent years, modern designs increase their popularity. Modern fireplaces are notable for their clean lines and futuristic appeal and offer endless customization opportunities. Their aesthetic appeals look like a piece of art. Also, you can place a non-working fireplace only for decoration. It will still be the centerpiece of the room. Whether it is working or non-working, modern fireplaces can create a gorgeous focal point to a room.
If you are looking to update your old and dusty fireplace or build a new one, check these modern fireplace design ideas that can elevate your design!