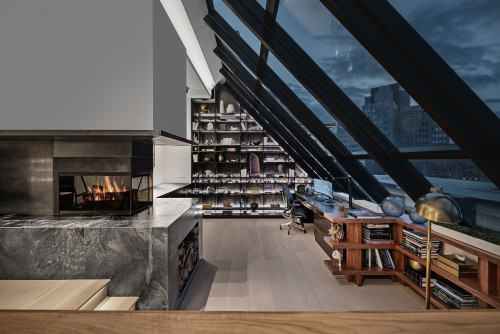 ID# 110104 | Houzz.com – Credit | © Armina Stone
---
Tree-sided Modern Fireplaces for a Clean Aesthetic
Tree-sided fireplaces or peninsula fireplaces has clean aesthetics that can lend a modern appeal to any room. These modern fireplaces are getting more popular day by day and these corner units are the most practical use of space. In this example, the fireplace is a focal point in the space, accentuated by the surrounding gray marble tiles and gray paint.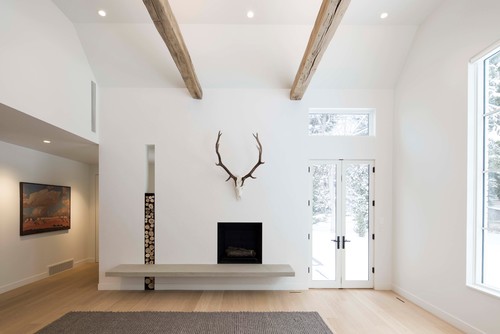 ID# 110116 | Houzz.com – Credit |  | © Atelier 93
---
Scandinavian Living Space with Modern Fireplaces and Concrete Shelf
The cozy living room is decorated in a minimalist style with white walls and a ceiling. The accent wall features, small fireplace, deer head artwork, a concrete floating shelf, and a recessed niche for wood logs. The combination of wood, concrete and bright whites perfectly reflect the calm beauty of the Nordic style. Exposed wooden beams bring a dose of a rustic vibe.
Cozy and Sleek Centerpieces: Modern Fireplaces
Whatever its style is, a fireplace can add an aesthetic to any space. However, modern designs come to the fore today with their clean and sharp lines and replace traditional fireplaces. If you are looking for some inspiration, scroll down and find the 26 beautiful modern fireplaces.
Clean lines, sharp edges, modern appeals
Fireplaces are decorative yet functional design elements. However, the look of the fireplace can make or break your overall design. So, choosing a style is one of the most important decisions you need to make. In recent years, modern designs increase their popularity. Modern fireplaces are notable for their clean lines and futuristic appeal and offer endless customization opportunities. Their aesthetic appeals look like a piece of art. Also, you can place a non-working fireplace only for decoration. It will still be the centerpiece of the room. Whether it is working or non-working, modern fireplaces can create a gorgeous focal point to a room.
If you are looking to update your old and dusty fireplace or build a new one, check these modern fireplace design ideas that can elevate your design!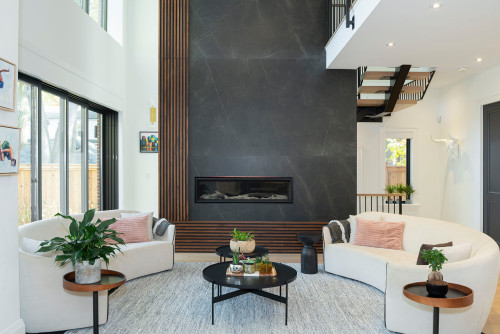 ID# 110101 | Houzz.com – Credit | © Designtheory Inc.
---
Contemporary Living Room with Black Fireplace and White Sofas
Clean minimalist lines and textural richness of the black stone fireplace make a statement in this contemporary living room. The fireplace centralizes the room and pops against the white sofas which complement the contemporary style. Wooden details of the fireplace, side tables, and potted plants bring warmth to the atmosphere.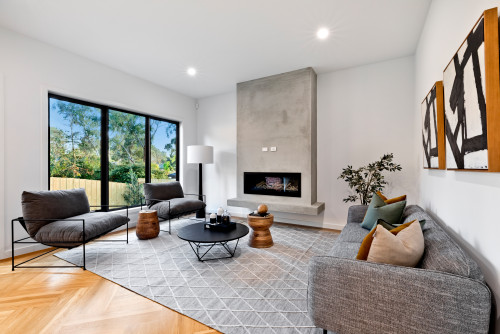 ID# 110102 | Houzz.com – Credit | © Striking Constructions Pty
---
Concrete Modern Fireplace Design with Gray Sofa and Armchairs
If you are lucky enough to have a fireplace, you can make it the centerpiece of the room and place the other furniture around it. In this contemporary family room, a concrete fireplace creates a focal point and provides a cozy yet sleek look. The gray sofa and two matching armchairs are facing each other with black and gold coffee tables between them. The gray and white patterned rug brings a nice texture and provides a soft floor space on the hardwood floor.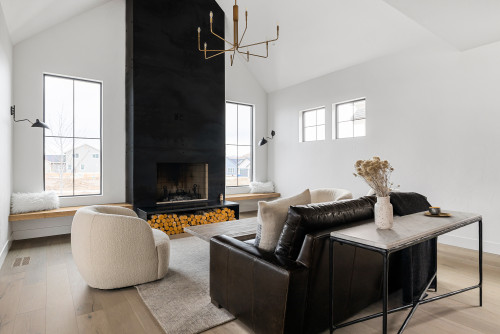 ID# 110103 | Houzz.com – Credit | © Kentwood Floors
---
Scandinavian Living Room with Black Leather Sofa and Window Seats
Clean lines and a modern aesthetic characterize this Scandinavian living room. Thanks to the high ceiling, the black fireplace serves as an art piece and stands out between the white walls. Wood logs under the fireplace give a cozy feeling and this feeling is complemented by wooden benches under the windows. The black leather sofa and white armchairs are placed against the fireplace with a wooden coffee table between them.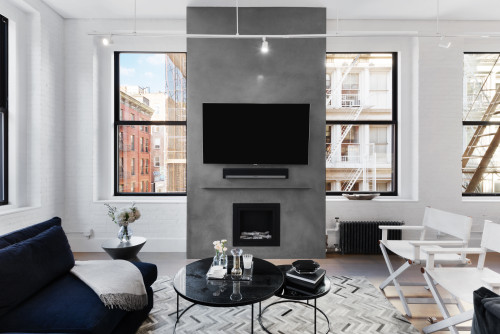 ID# 110105 | Houzz.com – Credit | © Michal Mufson Design
---
Industrial Family Room with Small Fireplace and TV
For the small spaces, using a fireplace can distract the compact sizes of the room and create a cozier atmosphere. In this industrial family room, a concrete accent wall features a small fireplace and a wall-mounted TV and takes the stage. With the beautiful city view behind the large windows, it provides a sleek backdrop.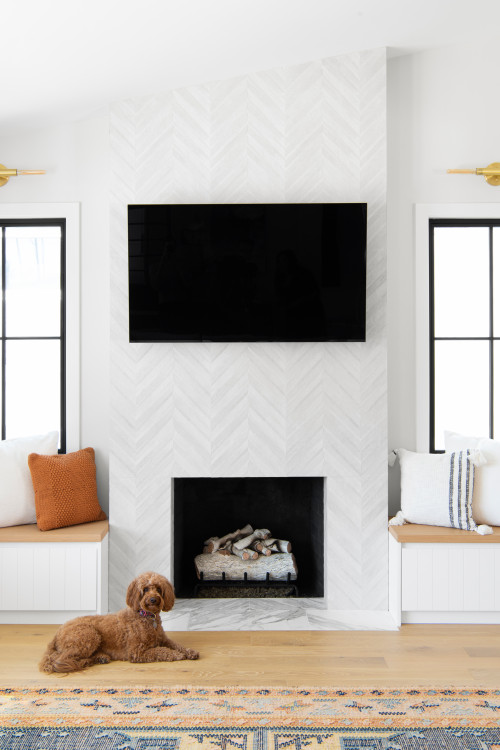 ID# 110106 | Houzz.com – Credit | © Well Done Building & Design
---
Modern Fireplaces with Chevron Tiles and Window Seats
Placing a fireplace is a great way to create a cozy resting nook. In this beach-style family room, the marble chevron tiles are used as a fireplace surround and completed with a TV above it. These fireplace tiles highlight the design and add a visual interest between the white walls. White and wood window seats provide a cozy resting nook with comfortable pillows.
Natural Stone Mosaic Tiles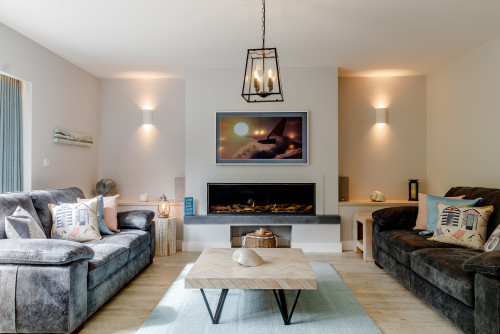 ID# 110107 | Houzz.com – Credit | © TFQ Architects
---
Farmhouse Living Room with Calm County Feel
This farmhouse living room offers a calm country feel with mixed contemporary materials and tones with country rustic textures. The wood-burning fireplace and painting centralize the room and create an accent wall. Clean lines of the fireplace stand against the rustic materials and create a modern design.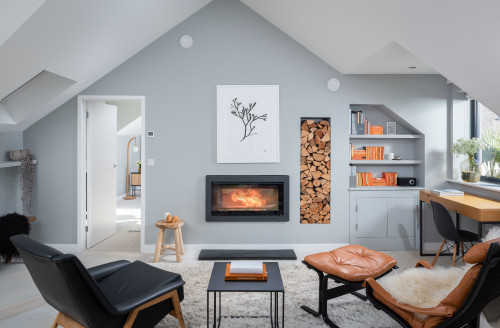 ID# 110108 | Houzz.com – Credit | © Unique Homestays
---
Attic Room with Black and Brown Leather Lounge Chairs
Using recessed niches is a great way to maximize the functionality of small spaces. In this family room, wood logs are placed in the recessed niche, and it creates a compact yet stylish look with the fireplace and the painting. Black and brown lounge chairs are facing through the fireplace and provide a comfortable seating area.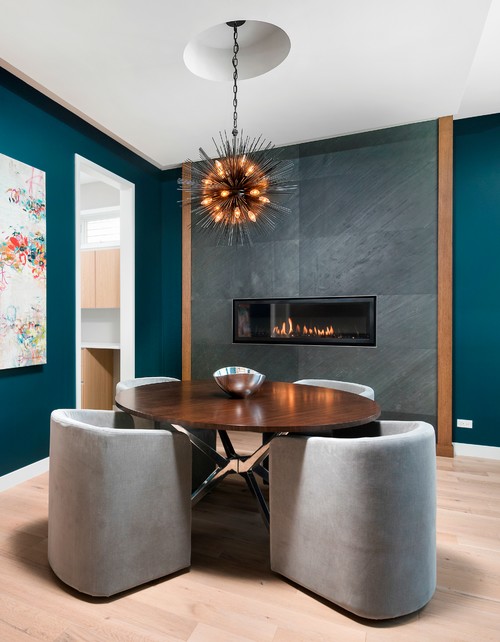 ID# 110110 | Houzz.com – Credit | © Carla 1 Design
---
Contemporary Dining Room with Wood Table and Gray Velvet Chairs
Fireplaces are not only good for living spaces. They also can be a beautiful adjustment for dining rooms. In this contemporary gray dining room, the modern fireplace is accentuated by black stone tiles that provide a sleek backdrop. The wood dining table is paired with gray velvet chairs and highlighted by a starburst chandelier.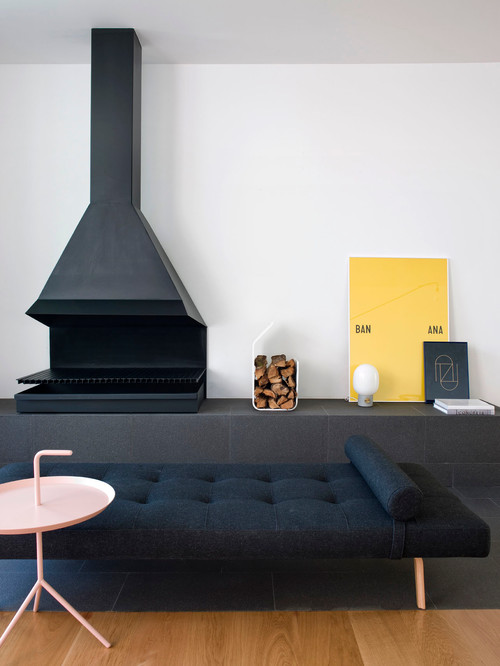 ID# 110112 | Houzz.com – Credit | Suite Home Interiors | © Montse Garriga
---
Contemporary Living Room with Black Fireplace
Even a small fireplace can make big differences in interior designs. This black fireplace serves as a piece of art with its contemporary design. Unlike the other ones, this fireplace is placed on a black stand. Wood logs are placed into the tiny white box that complements the compact sizes of the fireplace.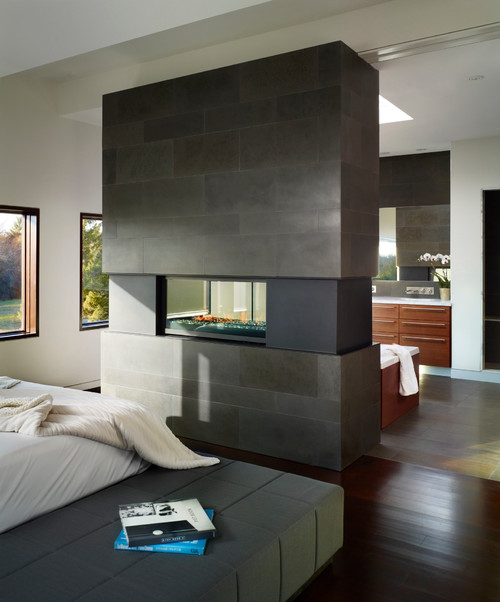 ID# 110113 | Houzz.com – Credit | Boxwood Architects | © Shai Gil
---
Modern Linear Fireplace as a Separation Unit
Thanks to their minimal designs, linear modern fireplaces can be used as a divider between the spaces without overwhelming. In this contemporary master bedroom, the black modern fireplace provides a separation between the bedroom and the bathroom. It creates an open and airy feel while looks stylish.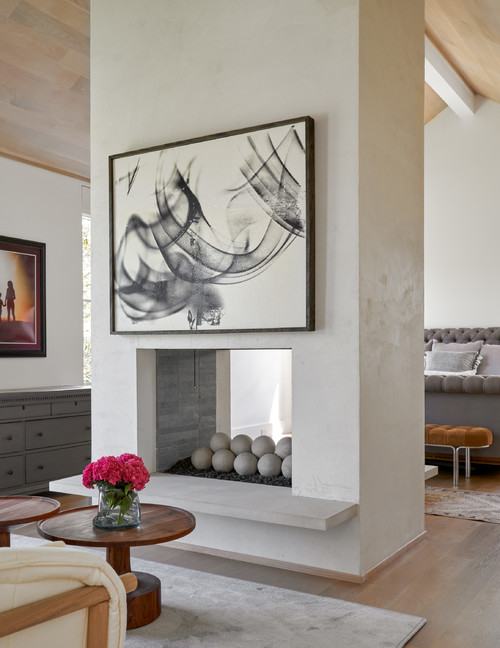 ID# 110114 | Houzz.com – Credit | © Coats Homes
---
Concrete Modern Fireplaces with Oversized Abstract Painting
If you have a large space, placing a massive fireplace is the best way to take advantage of it. And look at this fireplace, it is definitely a statement maker! The concrete and frameless glass material of the fireplace offers a contemporary appeal. The oversized abstract painting enhances the fireplace design and creates a focal point.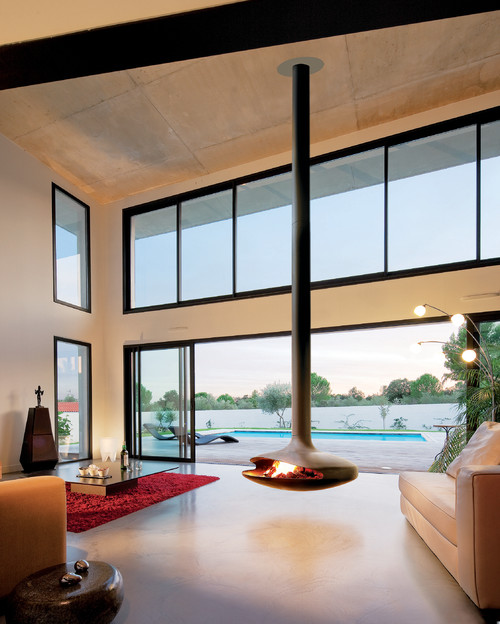 ID# 110115 | Houzz.com – Credit | © European Home
---
Floating Modern Fireplaces for Futuristic Appeal
The black hanging fireplace takes this living space to the next level. It floats above the ground and also spins 360 degrees that complement the spacious feel of the design. Thanks to the high ceiling the impact of the fireplace design is enhanced.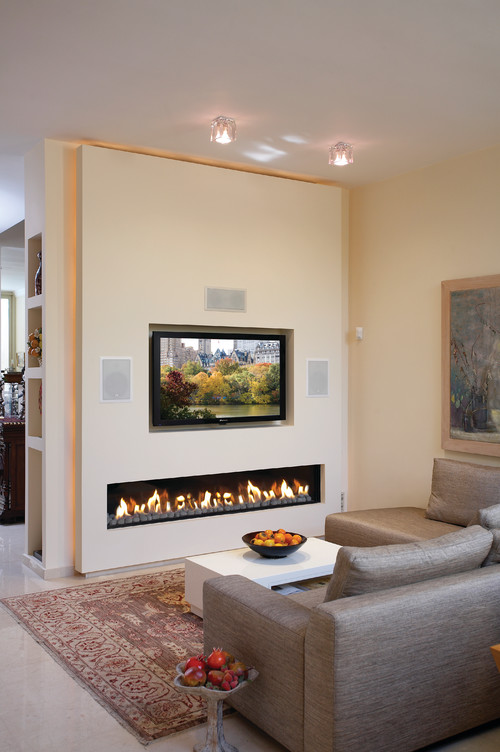 ID# 110117 | Houzz.com – Credit | © Home and Hearth Outfitters
---
Cozy Family Room with Gray L-shape Sofa and White Coffee Table
Small and cozy yet elegant. This small minimalist living room offers a space that you can spend time with your family or get relaxed after a long day. The linear electric fireplace and nature view on the TV enhances the coziness level of the room. The gray l-shaped sofa, white coffee table, and gray rug provide a comfortable seating area.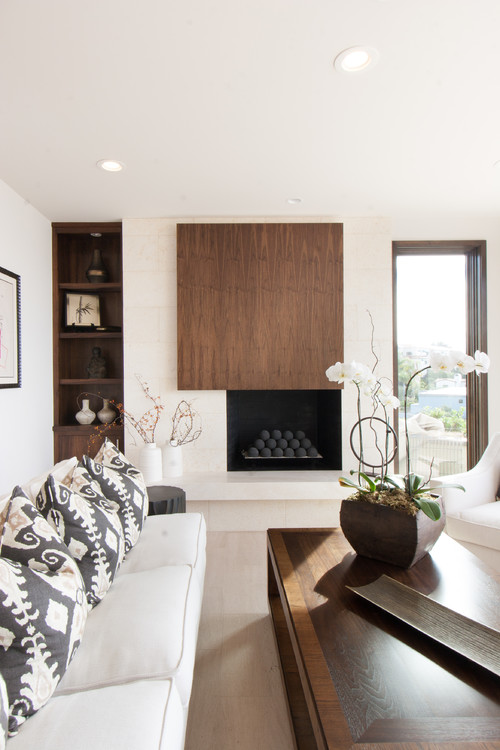 ID# 110118 | Houzz.com – Credit | © Jodi Fleming Design
---
Modern Family Room with White Couch and Wood Built-in Cabinets
Natural wood textures stand against the bright whites and balance the warmness of the room. The white sofa and patterned cushions give a comfy feel while the black fireplace brings a modern appeal to the design. The built-in cabinets are recessed into the wall that enhances the spaciousness of the atmosphere.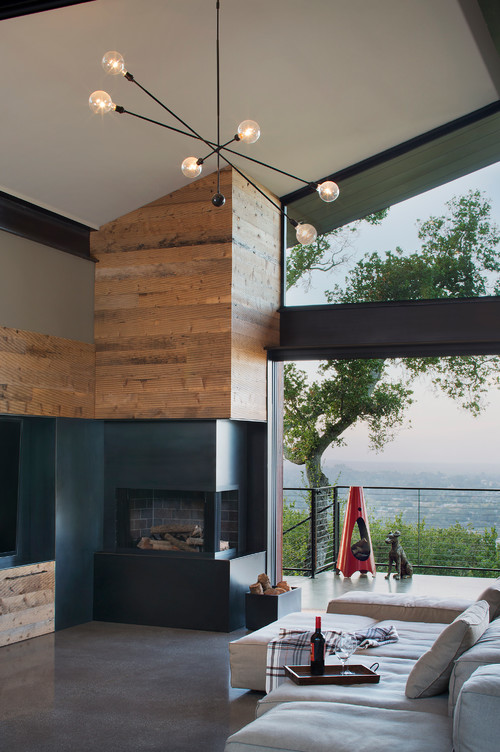 ID# 110120 | Houzz.com – Credit | © Vivian Soliemani Design
---
Corner Modern Fireplaces with Wooden Wall Panels
The fireplace and the spectacular views serve as joint focal points of this modern living space. Wooden panels and the fireplace bring warmth while a white l-shape sofa creates a comfortable seating area. Thanks to the high ceiling and generous glazing, space has a bright and spacious atmosphere. The black chandelier highlights the seating area and complements the modern appeal with its plain structure.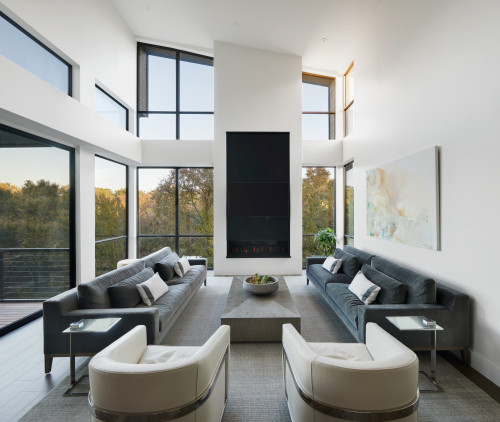 ID# 110121 | Houzz.com – Credit | © J Square Architecture
---
Modern Fireplaces in Vertical Placement
The layout of this minimalist and formal concept is placed around the black fireplace that creates a powerful statement. The vertical shape of the floor-to-ceiling fireplace makes space feel longer and offers a beautiful sleek backdrop with the stunning nature view behind the windows. Two gray sofas and two white armchairs provide plenty of seating area with a wooden coffee table between them.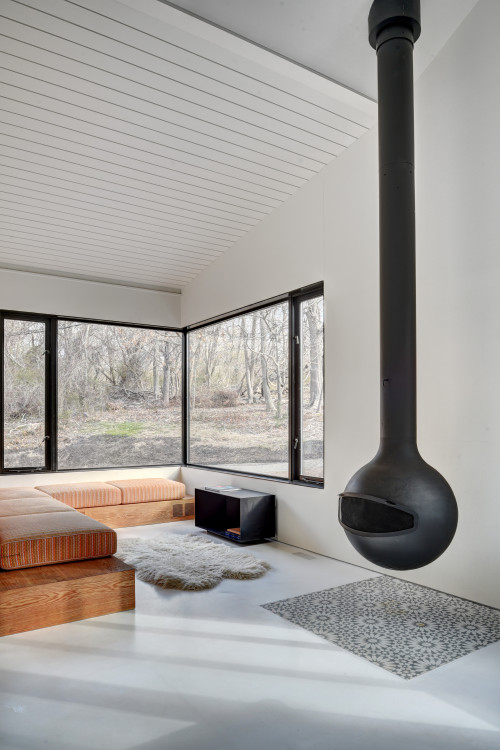 ID# 110122 | Houzz.com – Credit | © FD Building Company
---
Wood Window Seat with Colorful Cushions and Hanging Fireplace
A simple yet striking living space design with white wood-paneled vaulted ceiling, white walls, concrete floor, wood bespoke furnitures, and a hanging black fireplace as a statement piece. Flower patterned tiles under the fireplace enhance the impact of the design and defines the area of the fireplace.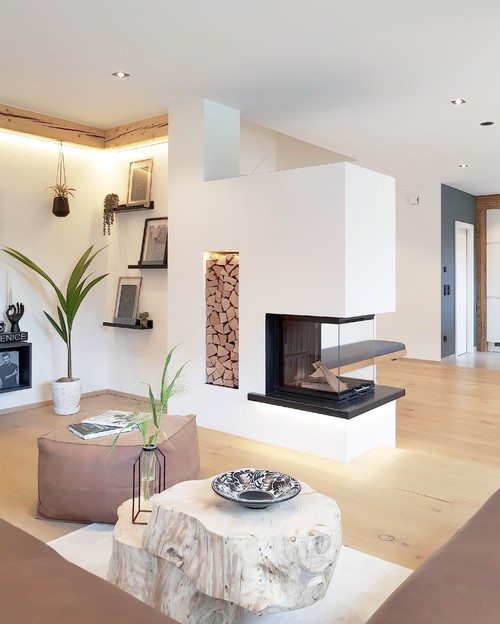 ID# 110126 | Houzz.com – Credit | © Kokosnussal
---
Two-sided Fireplace with Wood Logs in Recessed Niche
The two-sided fireplace is positioned between the living room and the entry. The minimalist design of the fireplace creates a seamless look. Wood logs in the recessed niche serve as an art piece and complemented by wood floating shelves.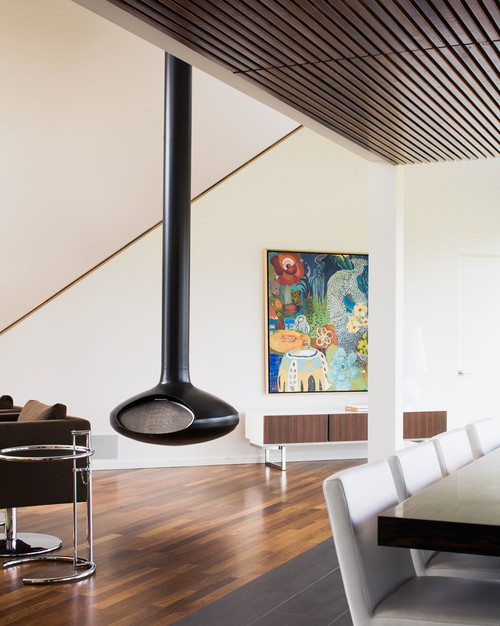 ID# 110109
---
Hanging Modern Fireplaces for Aesthetic and Function
This black hanging fireplace offers both aesthetic and function and looks like something right out of The Jetsons! These hanging modern fireplaces are a perfect way to create an open and airy feel and they definitely take any design to the next level.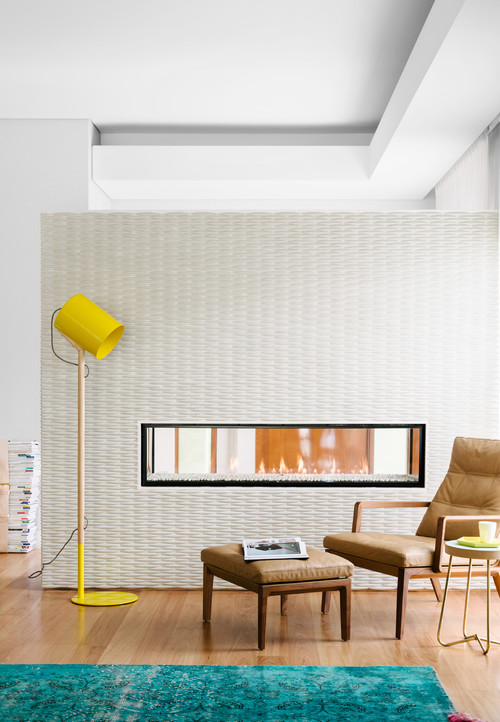 ID# 110111
---
Linear Modern Fireplaces with a Seamless Look
Linear fireplaces are one of the most sought-after fireplace trends of 2021 and these fireplaces were built flush with the wall without a mantel at all that creates a seamless look. In this contemporary interior design, the linear fireplace offers a modern aesthetic with its clean lines and sharp edges. It is surrounded by white tiles that bring a nice texture to space.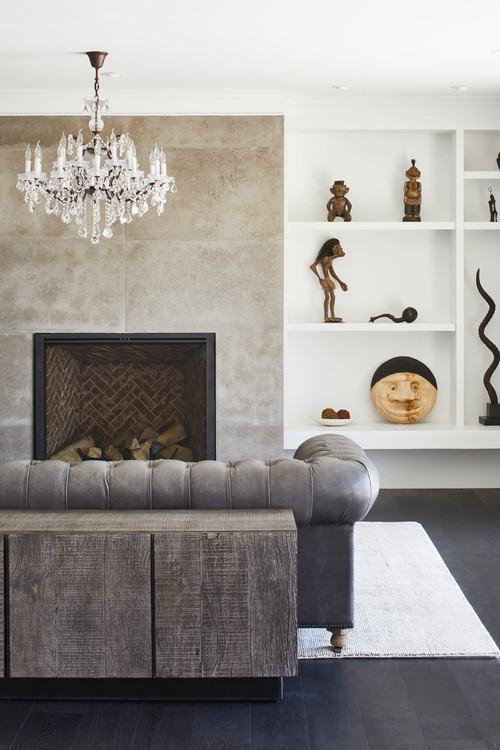 ID# 110119
---
Gray Chester Sofa with Crystal Chandelier and White Shelves
If you want to get more attention to your fireplace, you can use eye-catching tiles to enhance the design. In this modern living room, the concrete fireplace is accentuated by brown herringbone tiles that directly pull the attention at the first sight. Beautiful decorations stand out on the white shelves. The crystal chandelier makes a luxurious twist and adds a dose of sparkle to the design while the gray Chester sofa complements this luxurious feel.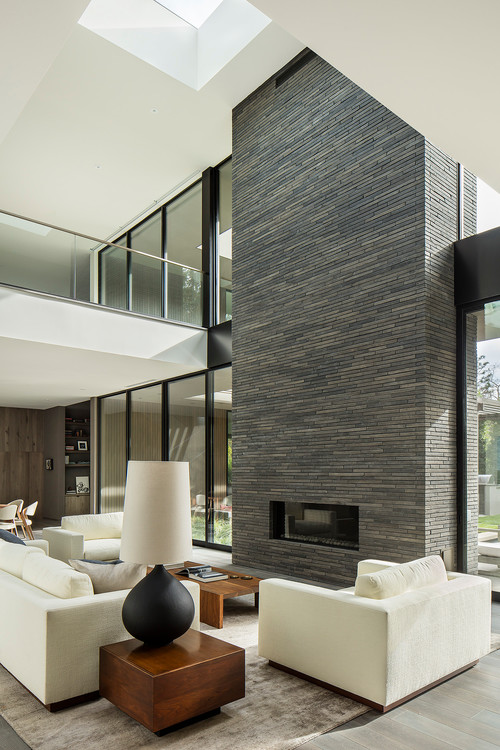 ID# 110123
---
Double-Sided Fireplace with White Sitting Group
The modern living room features a double-height ceiling, white sitting group, wood coffee table, side tables, and a fireplace. Gray tiles of the fireplace create a focal point in the living room. The double-sided fireplace provides both indoor and outdoor usage.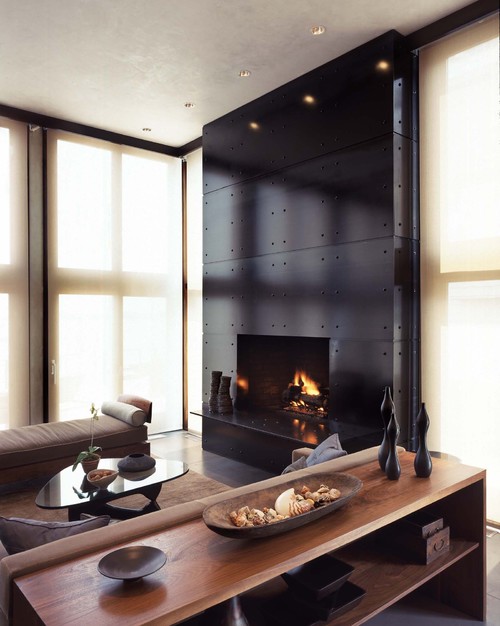 ID# 110124
---
Black Steel-Clad Fireplace with Accenting Screws
The black steel surrounding and accenting screws of the fireplace creates a unique look and brings a modern industrial appeal to this modern living room. The fireplace design is a beautiful statement decor feature. The spotlights on the ceiling enhance the dramatic atmosphere created by the fireplace.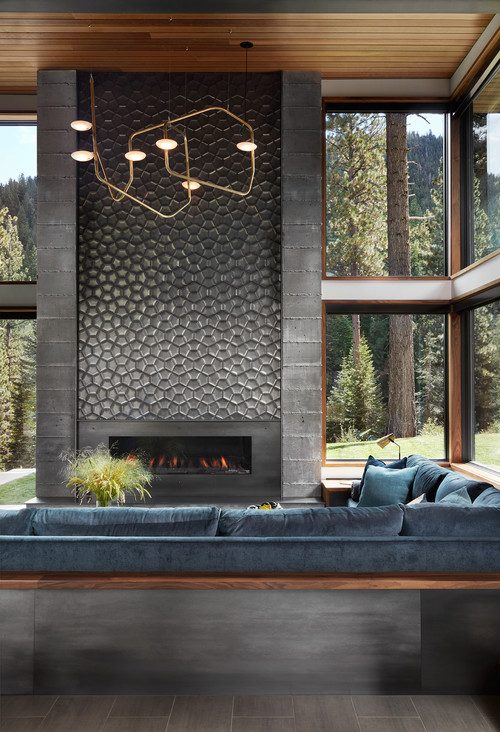 ID# 110125
---
Gray Ceramic Fireplace with Wood Ceiling
The long vertical column of gray ceramic creates an ideal placement for a fireplace in this luxury living room. Thanks to the wood used in the ceiling, a warm space was formed. The blue sofa set contrasts against the gray vertical wall and softens the space. The wooden sill used in the large windows is a continuation of the ceiling. The finishing touch is the use of modern lighting made of copper.