12+ Marble Chevron Backsplash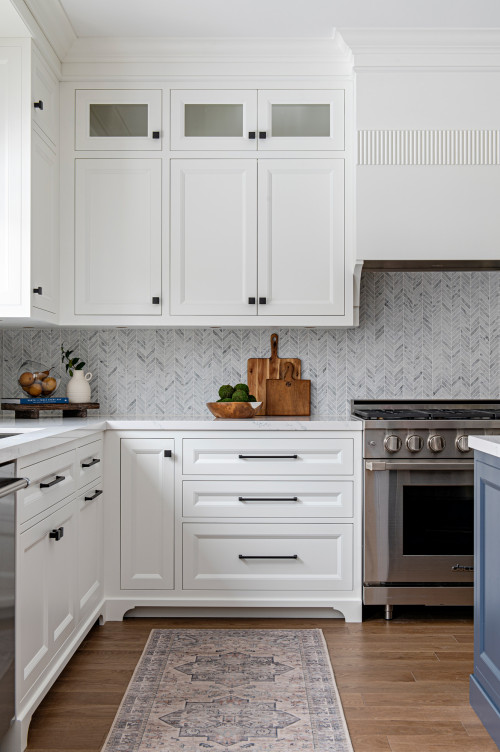 ID# 163101 | Houzz.com – Credit | © Cambro Contracting
---
White Shaker Cabinets with Gray Marble Chevron Backsplash
Enriched by white cabinets, marble backsplash and black hardware, this transitional kitchen serves an elegant and classic look! The white shaker cabinets dominate the room and create a clean and sleek appeal with the white quartz countertops. The gray marble chevron backsplash creates a harmonious look with the white cabinetry and adds a sense of luxury. The matte black hardware enhances the modern vibes while the wood flooring breaks the monochrome color scheme and adds a warm feel to the room.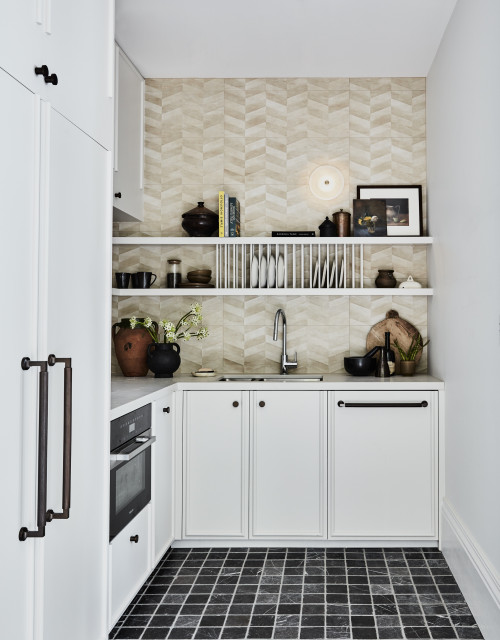 ID# 163110 | Houzz.com – Credit | © Kate Nixon
---
White Kitchen Cabinetry with Black Square Floor Tiles
The gorgeous marble chevron backsplash instantly creates an eye-catching appeal and elevates this otherwise ordinary small kitchen. The simple and clean look of the white kitchen cabinets and floating shelves allow the backsplash to be the star of the room. The black floor tiles, hardware and appliances contrast against the white cabinets while the white grout of the black floor tiles highlights the grid pattern that adds a retro vibe.
Marble Chevron Backsplash
Here you are after a long search on the internet for the backsplash types, colors, styles, layout, or designs. Thanks to the tile industry, there are plenty of alternatives that you can choose from them for your designs. Today we are going to help you with marble chevron backsplash ideas that you will find fantastic design solutions and types to get inspired by.
Sharp and Clean Lines with a Perfect Angle with the Marble Luxury
Chevron is comparable to a herringbone tile pattern in that it's frequently used in kitchen backsplashes, bathroom tiling, and hardwood flooring. It varies, though, since it has a "V" pattern, in which each tile joins in a "V" form. A chevron design is perfect for individuals who love more conventional patterns but yet want an up-to-date aesthetic that will last with the marble's timeless luxury. Scroll down to see some of the stylish and timeless examples of the marble chevron backsplash ideas.
Because of its porous and soft character, marble is a divisive issue in the kitchen design industry. While it has a beautiful appearance, it is more susceptible to scratches and staining than most other stone alternatives. Using marble for your kitchen backsplash rather than the countertop, on the other hand, allows you to enjoy the incomparable beauties of marble without the risk of harm. Despite the fact that marble requires a little more upkeep, the creative choices and visual boost it provides are unparalleled. The material and layout combinations can change many things, you can go with a marble hexagon tile backsplash or a marble chevron backsplash.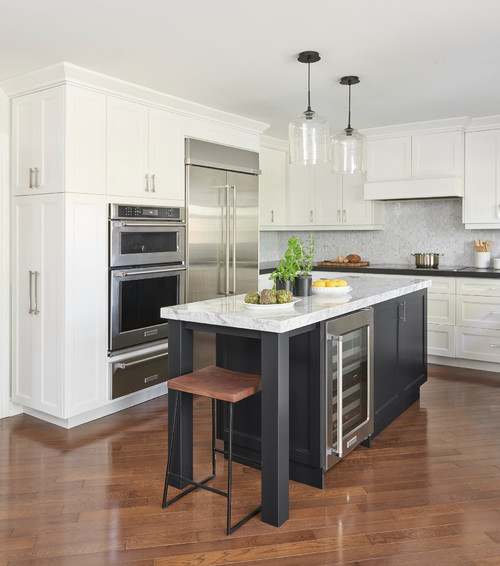 ID# 163102 | Houzz.com – Credit | © One Three Design Inc.
---
Transitional Kitchen with Black Island and Marble Countertop
Between the white features, the black kitchen island with a marble top commands attention. While the black countertop complements the island and creates contrast with the white shaker cabinets, they also give a crisp and modern backdrop that lets the island stand out! The historic components are made more contemporary by the stainless steel appliances and chrome hardware.
Is chevron tile out of style?
Chevron tiles will quickly brighten up your kitchen walls between your white cabinets with their elegant attractiveness, especially if there is marble! Chevron tiles are made of a number of materials, including ceramic and glass, but the sumptuous elegance of marble complements this design so beautifully that these lovely tiles never go out of style.
Color Options for Marble Chevron Backsplash
Nothing is more enticing and tempting than a stunning kitchen backsplash that greets you as soon as you enter the room. While there are several utilitarian benefits to installing a backsplash in your kitchen, homeowners are increasingly viewing this feature as an aesthetic addition that improves the kitchen's ambiance. The fact that many homes are now enthusiastically embracing the open floor plan is one of the reasons for stylish and hip kitchen backsplashes. Think about a marble chevron backsplash that greets you with a luxurious and stylish view! To complement your kitchen cabinet and countertop design there are many color options for marble chevron backsplashes.
The backsplash is now much more than simply a method to protect the wall from spatter, with kitchens needing to merge in with the design and color palette of the living room! Though there are countless options and materials to choose from, we've compiled a list of the color options for marble chevron backsplash ideas from across the design world.
White Marble Chevron Backsplash
When the idea of "designing a kitchen" comes to mind, at first everyone can think of a white kitchen design. Since the white color makes the interior bright and airy making even the tiniest kitchen appear more spacious. You can go with a monochromatic technique which is fantastic for creating a sense of coherence, but a stand-out white marble backsplash may provide a bit more visual appeal. Plus thanks to the "V" patterns of the chevron, there will be an energetic atmosphere with the sleekness of the marble material.
You do not have to all-white kitchen design when you go with a white marble chevron backsplash. It is possible to create strong contrasts and contemporary views with it. For instance, you can go with dark flat-panel cabinets and countertops with a white marble chevron backsplash to make a strong statement. It is possible to use gray cabinetry to increase the monochromatic view. Even the rustic design style can have a white marble chevron backsplash with its signature design elements such as rough wooden and natural surfaces. Scroll down to see some of beautiful examples of a white marble chevron backsplash!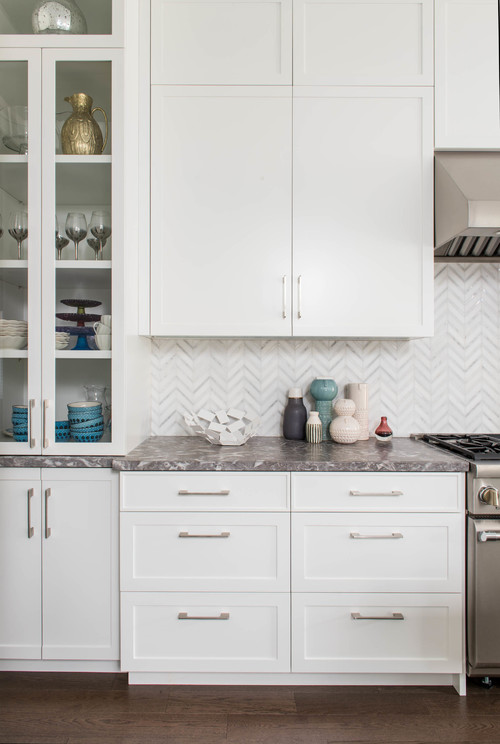 ID# 163103 | Houzz.com – Credit | © Shirley Meisels
---
White Kitchen Cabinets with Mosaic Tile Backsplash
The pristine white shaker cabinets, which exude an ageless elegance that is the epitome of any kitchen style, are where the heart is. The gorgeous marble chevron mosaic backsplash enhances the attractiveness of the cabinets while the sturdy and aesthetically attractive gray granite countertop makes the ideal gathering area for preparing meals. The transitional style is given a contemporary flair by the chrome hardware which also adds a subtle modern touch to the white cabinets.
What is the difference between chevron and herringbone backsplash?
To understand the difference between chevron and herringbone backsplash, let's try to understand them in terms of cutting, optical, durability, and cost factor.
-They are Cut Differently
To make the zigzag design, purchase narrow tiles that are cut into rectangular forms with a slight variation. Perfect rectangles are carved out of the herringbone tiles. The chevron tiles, on the other hand, have single-direction slanted ends. The professional handymen will align the edges of the tiles during installation to give you that peaked tip appearance that stretches from one end of the room to the other. When installing the herringbone tile, however, they'll position the tile's end below the far border of the previous tile to produce a zigzag but uneven pattern.
-Different Optical Effects
You can choose between chevron tile and herringbone tile based on the size of the space you're working on. The herringbone pattern may make the rooms appear smaller if the room is tiny. If you pick the chevron design, however, you can expect the tiles to create the appearance of space in the room by guiding the eye from one end to the other in a smooth flow.
-Durability
Are you concerned about the chevron tile's durability compared to herringbone? Tilers press the boards against each other when laying the herringbone pattern. In this configuration, they lock each other in place, ensuring that the planks do not move in the future. When it comes to chevron tiles, you can simply use stronger glue to keep them in place and prevent them from slipping in the future.
-The Cost Factor
The amount of money you have set aside for your kitchen backsplash might also affect your decision between chevron and herringbone tile. Chevron tiles often have higher waste in terms of tile pricing and installation since the edges are cut at an angle. You'll also measure the backsplash's measurements and purchase two types of tiles with varying angles cut on the edges. You'll only be able to get them to make the precise V-shape if you do it this way.
The chevron design takes longer to install and requires additional skill and ability to produce that beautifully aligned look. If you've picked a color combination of chevron tiles, placing them may also need specialist knowledge. As a result, you may need to engage expert tilers to handle the installation of your chevron tile projects. That's how you'll end up paying more for labor. Herringbone tile installation, on the other hand, takes less time and produces less waste.
Except all of these, to sum up we can say that the main distinction between chevron and herringbone tiles is that the chevron is a continuous zigzag design. The herringbone, on the other hand, is a zigzag pattern that has been broken.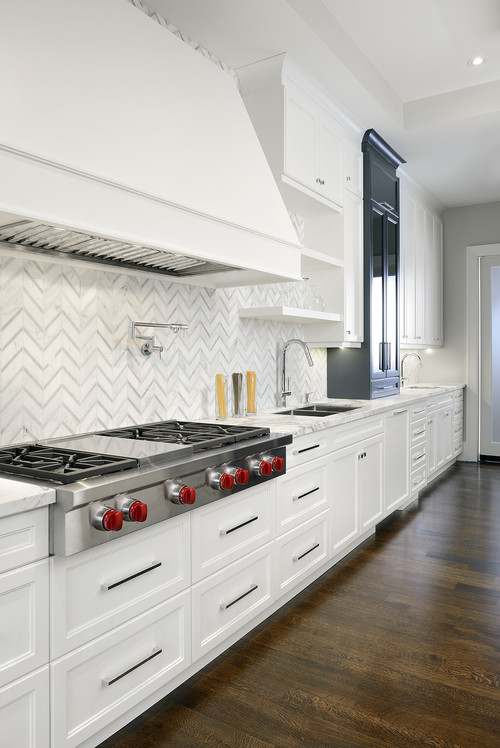 ID# 163104 | Houzz.com – Credit | © Evelyn Eshun Design Inc.
---
All-White Kitchen Design with Wood Flooring
Luxurious, timeless, classic, yet absolutely current and contemporary! The white shaker cabinets are a perfect canvas that offers a bright and spacious atmosphere while the marble chevron backsplash perfectly completes this sleek look while adding a nice texture without overwhelming it. The chrome hardware and fixtures enhance the contemporary feel while adding a dose of sparkle.
Is marble good for a kitchen backsplash?
Definitely, yes! Marble has been a well-liked material for kitchen backsplashes for hundreds of years, and it still is. Any kitchen is instantly elevated and given a touch of luxury with a marble backsplash. Perhaps the permeable surface worries you! Although it is the marble's worst defect, you can simply maintain the material's stunning, opulent beauty by regularly sealing and cleaning.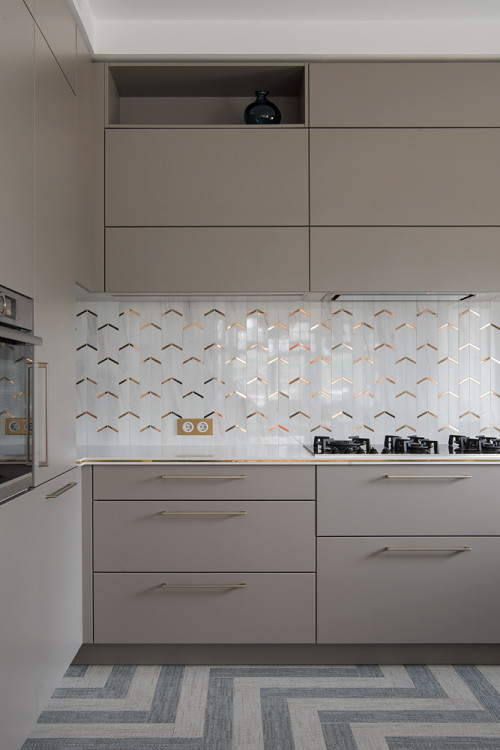 ID# 163105 | Houzz.com – Credit | © ItalProject
---
Gray Kitchen Cabinets with White Backsplash and Gold Accents
Adorned by a silky texture and subtle tone, these gray kitchen cabinets ooze refinement! The white marble chevron backsplash with gold accents matches the exquisite cabinets while the marble's exquisite veins emanate timeless beauty. The elaborate herringbone floor design gives visual intrigue and depth to the kitchen and links the entire environment together!
Is marble backsplash hard to maintain?
You won't have to worry about how to maintain the marble backsplash. Yes, it is a porous material that may absorb liquids, but sealing the marble gives it an easy-to-clean surface. Warm water, dish soap, and a microfiber cloth will do for daily cleaning. You can make a mixture of baking soda and water to remove particularly tenacious stains. However, you must avoid using harsh cleaning agents. These compounds have the potential to permanently harm marble surfaces.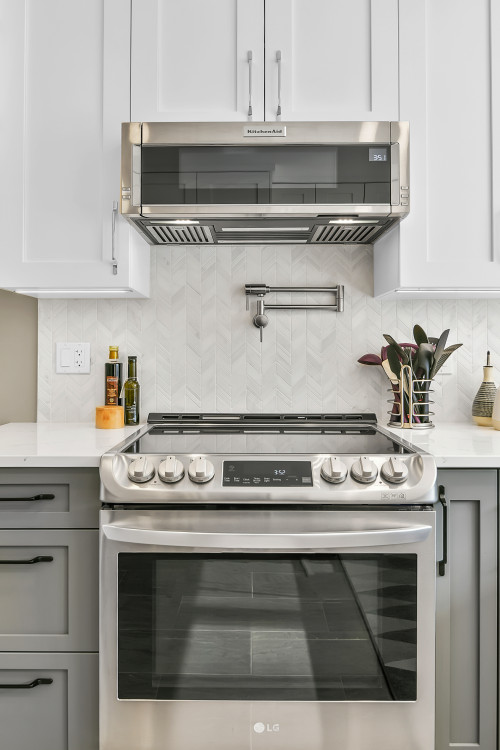 ID# 163106 | Houzz.com – Credit | © Design Wise Interiors
---
Two Tone Cabinetry with White Quartz Countertop
The white upper cabinets create a bright and fresh look while the dark gray base cabinets create contrast to adddepth to the space. The white marble backsplash and white quartz countertop perfectly complete the clean look of the upper cabinets. The stainless steel appliances create a focal point between the cabinets!
How often does marble backsplash need to be sealed?
Despite the fact that marble backsplash tile is a vertical service and hence less prone to damage, it does require some maintenance, such as daily cleaning and sealing:
Weekly maintenance: Wipe off your marble backsplash tile with a soft sponge or towel and a mild cleaner at least once a week. This eliminates dust as well as any splatters or dirt you may have missed, preventing them from becoming harder to remove later.
Once a year: Your marble backsplash tile and grout will need to be sealed once a year to maintain it water and stain-resistant. Because it isn't your countertop, there is no need to wait for it to cure for 24 hours before using the kitchen again.

Gray Marble Chevron Backsplash
Your home's lifeblood is the kitchen. It's a place where people can get together to celebrate and debate life's changes. This room should be clean and appealing rather than sterile or cold. It might be difficult to create a friendly workplace that is also easy to maintain. You shouldn't have to settle with a less-than-ideal tile backsplash simply because it's difficult to keep clean. What is the solution? Use a gray marble chevron backsplash design. It's welcoming, warm, and immaculate, plus you can have a luxurious view thanks to the marble, exactly like a kitchen should be, and when you use a gray marble backsplash whatever the color your cabinets will have they will create a stunning view.
Gray may be drab and unappealing when applied poorly. When done correctly, gray, on the other hand, may be utilized to highlight any style, kitchen, or house. This color will look great with light or dark counters and cabinets. There are also a plethora of patterns to choose from, giving you virtually limitless options when it comes to selecting the perfect color for your home. Let's try a gray marble chevron backsplash for kitchen cabinets and see what we can come up with!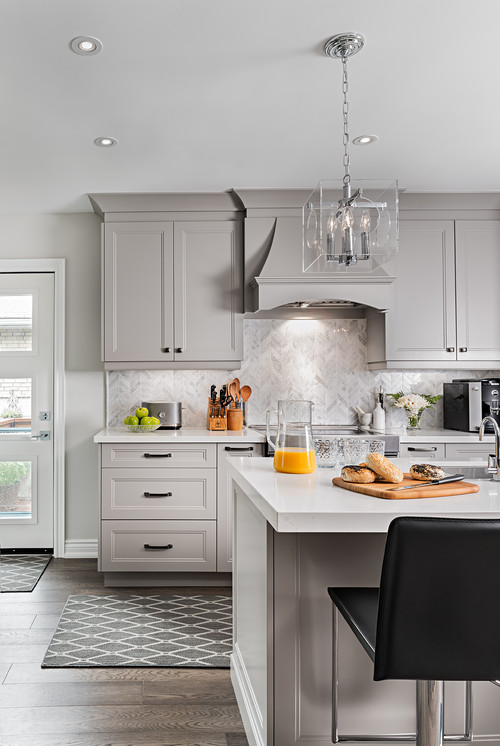 ID# 163107 | Houzz.com – Credit | © Jane Lockhart Design
---
Transitional Kitchen with Gray Marble Chevron Backsplash and Black Hardware
The elegant and sleek shades of gray dominate this transitional kitchen and offer a refined look! The gray shaker cabinets and the marble chevron backsplash create a cohesive look at the back while the white countertop completes this clean look perfectly. The LED lights under the range hood highlight the beautiful zigzag pattern of the chevron tiles, adding visual interest.
Marble Chevron Mosaic Tile Backsplash
An indication of mosaic tiles' ongoing appeal is its lengthy history which stretches back to the third millennium. Ancient Greek and Roman cultures quickly adopted these tiles from Mesopotamia, where they were first utilized largely for artistic purposes. Their enduring appeal has been influenced by their innate capacity to produce fascinating and distinctive designs! The marble chevron mosaic tile backsplash continues to be a popular choice among the numerous available styles.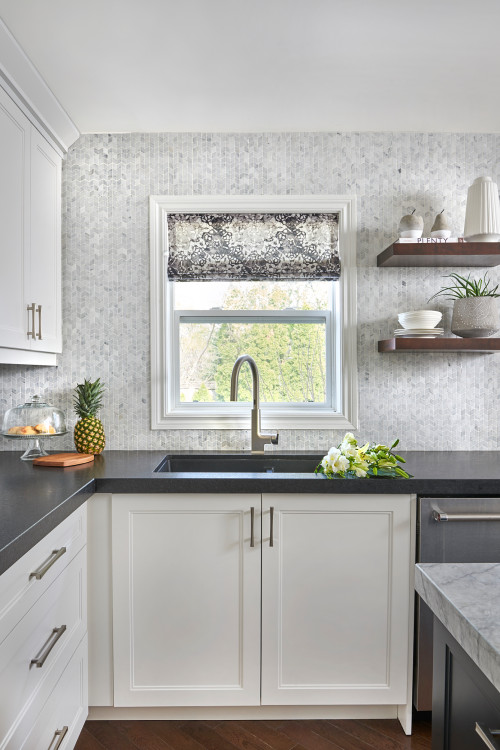 ID# 163108 | Houzz.com – Credit | © Shore and Co.
---
White Cabinets with Black Granite Countertops and Floating Shelves
If you want to create a nice patterned look for your backsplash, mosaic tiles are the way to go! In this contemporary kitchen, the marble mosaic tile backsplash offers an eye-catching backdrop and adds a dose of luxury! The white shaker cabinets provide a plain and straightforward appeal to highlight these backsplash tiles—the black granite countertop contrast against the lighter shades to add visual interest. Using floating shelves instead of uppe cabinets enhances the backsplash's impact to addan open and airy feel.
How do you degrease marble backsplash?
Need to clean oil from a marble backsplash? Try a cleaning solution with baking soda, vinegar, and lemon juice. Alternatively, a bar of light dish soap could also do the trick. For tougher grease stains, heavy-duty cleaning solutions are available.
Finish Options for Marble Chevron Backsplash
Working with a marble chevron backsplash is a one-of-a-kind experience. In newer house designs, it may be employed to produce a timeless, historical elegance while simultaneously seeming sleek and modern. People get used to the idea of a backsplash which is not only to protect the walls but is for to create an aesthetic design look also. Did you know that there are finish options for marble chevron backsplashes that can change the overall design look?
Thanks to the different options for marble chevron backsplashes you can create unique design looks. For instance, think about a polished marble chevron backsplash with white countertops and cabinets accentuated by the brass hardware. With these, you can have a glamorous and luxurious appeal or you can use a honed marble chevron backsplash that can bring a rustic touch to your kitchens. Let's look at some of the different finish options for marble chevron backsplash ideas to learn more!
Polished Marble Chevron Backsplash
A polished marble chevron backsplash is a popular option among marble enthusiasts since it produces a high-gloss finish that adds a touch of elegance to any marble surface. This precise option results in a smooth, reflective surface that highlights the stone's uniqueness and nuance. Polished marble is treated with a protective coating that makes it less stain-resistant. As a result of the highly shiny surface, scratches are more evident. Because polished marble is so smooth, it's a risky choice for flooring in high-traffic areas like bathrooms because it's extremely slippery when wet. However, a polished marble chevron backsplash is a timeless option for kitchens.
Even though a polished marble chevron backsplash needs maintenance, the result will satisfy you. Polished marble is the most preferred marble treatment because of its clean, gleaming surface. Diamond discs, as well as various buffers and polishes, were used to finish the stone, giving it a high sheen. Polished marble is suitable for both modern and classic settings. The polished gloss not only makes the marble more adaptable but also makes it less porous and simpler to maintain than other backsplash treatments.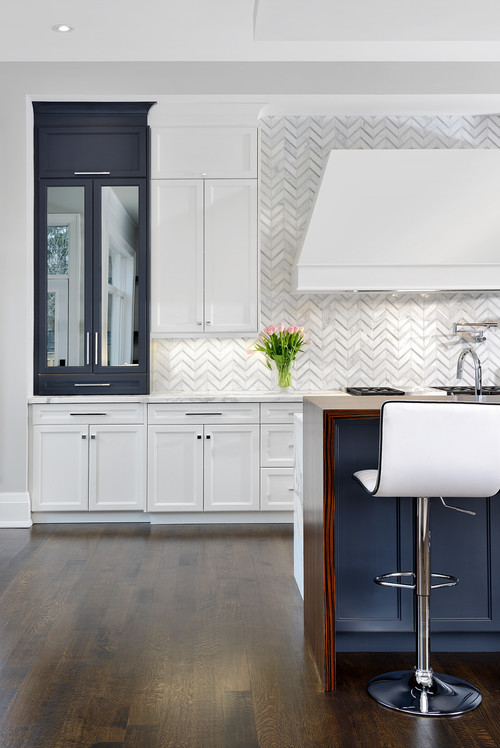 ID# 163109 | Houzz.com – Credit | © Evelyn Eshun Design Inc.
---
Monochrome Kitchen Design with Marble Chevron Backsplash
The polished marble chevron backsplash harmonizes with the white cabinets while the white shaker cabinets dominate the room to create a light and airy ambiance. The contrast between the white cabinetry and the black kitchen island gives the room depth.
Honed Marble Chevron Backsplash
Because the honed marble chevron backsplash has a matte appearance, it is more scratch-resistant. Even if honed marble is damaged, it will be less obvious than polished marble since the scratch will not be as visible when light bounces off it. Honed marble, on the other hand, is more prone to stains, thus spills should be cleaned up very away.
With a honed marble chevron backsplash, you can simply create a rustic design with an old-world appearance and almost buttery texture. Honed marble has a flat or matte polish that only reflects a minimal amount of light. Honed marble, unlike polished marble, is not buffed once it is sanded. The sleek honed marble has a flat surface that is more porous than polished marble since it is not buffed. As a result, they are more prone to stains.
Natural Stone Mosaic Tiles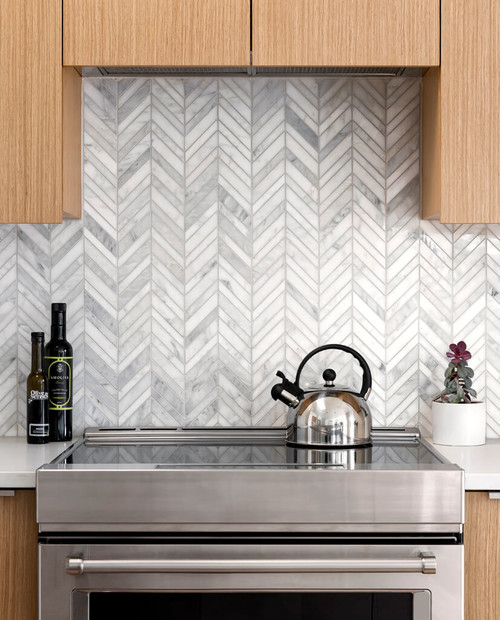 ID# 163111 | Houzz.com – Credit
---
Wood Cabinets with Marble Chevron Backsplash
Adorned by an eye-catching zigzag pattern, the gray marble chevron backsplash stands as the central point of this contemporary kitchen! Natural wood cabinets beautifully frame the backsplash, and the stainless steel appliances are the ideal finishing touch for the contemporary, chevron-inspired design!
How much does it cost to install a marble backsplash?
The cost of installing a marble backsplash ranges from $900 to $3,500. The price of marble tile and slab backsplashes ranges from $7 to $300 per square foot. Removal of old material, cutting, finishing, and installation are all included in labor charges. Marble tile can be installed by oneself, but not a marble slab backsplash.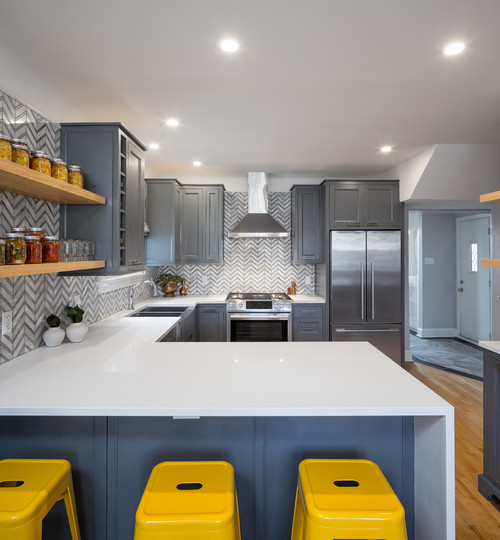 ID# 163112 | Houzz.com – Credit | © Grassroots Design
---
Blue-Gray Kitchen Cabinets with Yellow Stools and Wood Shelves
The elegant appeal of the gray shades surrounds this transitional kitchen and offers a classic yet very stylish space. The blue-gray shaker cabinets and the honed marble backsplash create a cohesive look together while the crisp white quartz countertop makes a fresh and bright touch against the darker shades. The yellow stools of the peninsula create contrast with the gray shades, adding a fun and joyful look. The wood floating shelves provide additional storage space.
How to install marble chevron backsplash?
Whether you're dealing with little marble tiles or a large marble slab, you'll need to prepare the backsplash area first. Cleaning and sanding the region will result in a smooth, solid surface that is suitable for installation. After cleaning, use painter's tape to outline the backsplash area and remove the electrical switches.
Lay the tiles on the counter to determine the arrangement if you're working with them. In this manner, you can avoid pieces that don't match and figure out which tiles need to be chopped. Because marble is a natural stone, it cannot be cut with a standard tile cutter. A wet saw with a diamond blade is required. Since the chevron pattern needs more attention you may need help from a professional. Installing the chevron design takes longer and needs more expertise and aptitude to get that perfectly matched look. If you've chosen a color scheme for your chevron tiles, placement may also need expert understanding. As a result, you may need to hire professional tilers to complete your chevron tile tasks.
After you've completed the preparation, it's time to put the tiles in place.
Apply the thin-set mortar in tiny portions using a notched trowel, then begin laying the tiles on top of it. To fix the tiles, place spacers between them. Repeat these processes until all surfaces are covered. Set the tiles in place for at least one night. Remove the spacers when the mortar has dry. Because marble is a natural stone, it must be sealed before grouting. Using a cloth, apply the stone sealer. The grout is then applied with a grout trowel at a 45-degree angle. To eliminate the haze, wait 10 seconds and wipe the tile surfaces with a moist cloth. Wipe clean the surfaces after the grout has cured completely. Finally, caulk the joint between the backsplash and the counter to prevent discoloration.