22+ Marble Hexagon Backsplash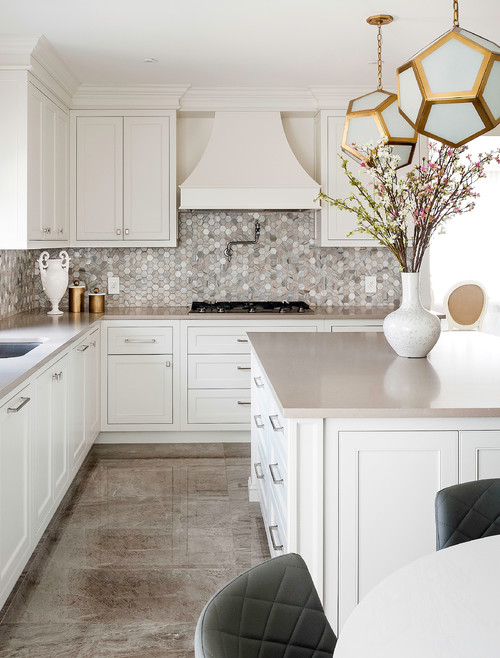 ID# 141514 | Houzz.com – Credit | © Leona Mozes Photography
---
Kitchen Design With Earth Tones Transitions, Marble Hexagonal Backsplash, and White Cabinetry
This kitchen design, in which color tones soften the space, combines white with earth tones to achieve a warm feeling. The tonal harmony of the marble hexagonal backsplash, countertop, and floor changes the cold feeling of the white cabinets, making the kitchen warmer. Color and movement are provided to the plain-looking kitchen with the Marble hexagonal backsplash texture and pattern, while its relationship with the counter and the floor complete the design of the kitchen. The kitchen, where the effects of the marble hexagonal backsplash application with earth tones on the kitchens are seen, is at the forefront with elegance, while the backsplash shows a complementary feature.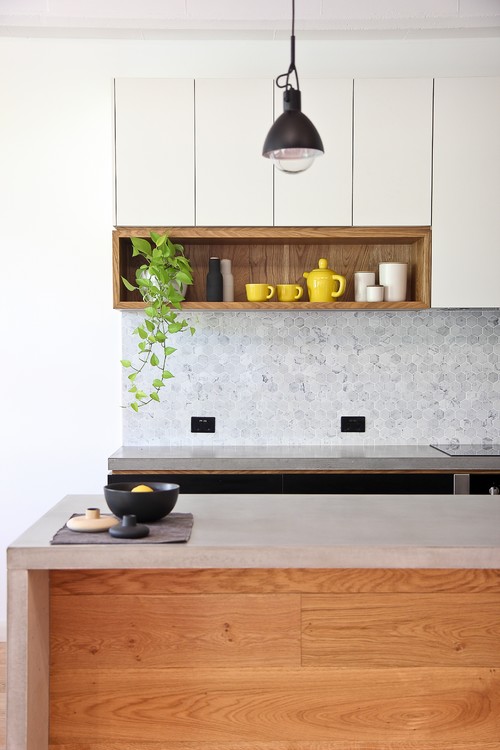 ID# 141523 | Houzz.com – Credit | © Greener Kitchens
---
Combination of Gray Marble Hexagonal Backsplash and Wooden Detailed İndustrial Kitchen
Another kitchen becomes beautiful with the harmony of different tones together. White cabinets and a gray hexagonal marble backsplash combined with a wood-detailed shelf and island complete the kitchen and materials. The backsplash, dominated by gray details, adds movement to the space with its tonal pattern and adds visuality to the kitchen it is in. It softens the harsh color transitions in the gray countertop and black and white cabinet choices while influencing the design of the space and nicely integrating the kitchen. Influencing the industrial-style kitchen with its soft touch, the gray marble backsplash responds to the needs of the user by offering visuals and quality together.
Marble Hexagon Backsplash
Marble is a material that is always available for use and has a place in kitchens. However, when it comes to kitchen and marble, the general uniform designs that come to mind are moving away from fashion day by day, causing us to look for new searches. The marble hexagon backsplash, which emerged as a reflection of this, not only continues to use marble but also allows us to use marble in new ways in designs by adding a new breath to it.
In addition to the simplicity and elegance brought by its texture and shape, having the features of marble makes the hexagonal marble backsplash an indispensable material for the user. Cut marbles, which are cut in the form of hexagons and then applied as a backsplash, suit the spaces very well and pave the way for new designs. So, with a marble hexagon backsplash, you can create as timeless an appeal as a subway tile backsplash and bring a sense of luxury to your kitchen. Scroll down and find these stunning kitchen backsplash ideas that will inspire you for your next design projects.
Are hexagon tiles too trendy?
Hexagonal marble backsplashes, which can adapt to almost any design, are very popular in general use. The quality of the material and what it offers to the user show that it will be a frequently used material in the future.
Do you need spacers for the hexagon tile?
Spacers are not needed. However, spacers can be used within the framework of decorative factors and upon the forethought of the design. There is no harm in using spacers for a more decorative appearance or to give the material another appearance.
Marble Color Options for Hexagon Backsplash Tile
While marble hexagonal backsplashes find their place in new designs, they show themselves in designs with different colors and textures. Hexagonal marble backsplash, which can be used in almost every design with different color tones and options, is preferred because of its ease to use and long-lasting. Thanks to the different options of the natural marble texture, it appears in many different styles. With the classic white veined marble texture or countless variations of earth tones, marble hexagonal backsplash offers variety. With countless variations from white to gray, brown to blue, the marble hexagonal backsplash appeals to every design and every user.
White Marble Hexagon Backsplash
The place of marble in kitchens is an unchangeable fact. The texture of the stone and its easy use ensure that it always finds a place in the kitchens. White marble is one of the most preferred shades of marble. The hexagonal marble backsplash is also the most popular option of such materials. The white marble backsplash, which is frequently used in designs, shows why it is one of the most preferred materials with its visual features and harmony with most designs. Adding color to spaces with simplicity and elegance, the white marble backsplash stands out in kitchens and completes the designs.
What are the hexagon tiles called?
There is no special name for hexagonal tiles. Terms that may occur with material differences such as hexagonal tile or hexagonal ceramic give information about the structure of the material.
Carrara Marble Hexagon Backsplash
Carrara marble, which takes its name from the Carrara region in Italy, is a type of marble that has made its name known to the world with its white color and gray veined structure. It is one of the most popular marble types with its unique patterns and gray background. It has no harm in terms of health and can be used in almost any desired area. Carrara marble stands out with its decorative stylish appearance and variety of uses. It has a rich look and offers a stylish solution to your needs.
How do you lay out a hexagon tile?
Depending on the hexagonal tile dimensions, the laying process may vary. The smaller ones come in knit form with a mesh back and are laid piece by piece. Large-sized ones are laid one by one, like normal ceramics.
Is marble backsplash OK for the kitchen?
Marble stone is a very useful material as a backsplash. Being healthy, clean, and durable makes it a material that meets the needs of the users and offers visuality.
Black Marble Hexagon Backsplash
Black is one of the first colors that come to mind when it comes to elegance and black marble is the elegance itself. Therefore, the use of hexagonal-cut black marble as a backsplash is one of the most common and easy-to-use products. Black marble hexagonal backsplash, which gives shape to spaces with its sense of elegance and strong visual, takes its place by adapting to any style of design. It is a material that designers and users use stylishly with its ease of use and decorative features.
Gray Marble Hexagon Backsplash
The materials that stand out do not always have to be different. Gray marble hexagonal backsplashes, which capture the flamboyance in simplicity, stand out as proof of this. Gray marble backsplashes that are suitable for every design and time, stand out with their texture and color but can find their place in every field of design. It can fit all different color combinations and different materials, and also offers answers to the needs of the user with its ease of use.
Marble Hexagon Backsplash Tile Sizes
Although hexagonal marble backsplashes can be produced in any shape and size, they are generally produced in small and medium sizes. Marble hexagonal backsplashes, which can be used in every area, especially indoors, can meet every need. Regardless of small or large size, its decorative effect and usefulness allow it to be included in designs. This material, which has a wide variety of colors and patterns, allows different combinations in spaces when combined with the hexagonal shape.
Small Marble Hexagon Backsplash
Small marble hexagonal backsplash, which is very easy to use and can adapt to any design, is a material that is frequently used among designers and users. The ease and elegance of its application give the space a sense of elegance and quality. The material combined with the color and texture diversity of marble can adapt to any color and design with its different options. The small-sized marble hexagonal backsplash, which can be found in kitchens, bathrooms, floors, cafes, and almost every similar place, is frequently mentioned today.
Is a marble hexagon backsplash expensive?
Hexagonal marble backsplashes are priced at the price of marble. In other words, just like marble prices, they may vary according to the material class. However, there is almost no price difference between the hexagon over the type of marble.
Elongated Marble Hexagon Backsplash
Elongated marble hexagonal backsplash is a different material that comes up when different designs and shapes. This material, which designers and users like and enjoy using, is a special material that you can create variations within itself with different application forms. This long-lasting and healthy material, which offers a variety of colors and textures with all the features of marble, finds its place in many areas of architecture. Extended marble hexagonal backsplashes, which can be used in most areas from the floor to the backsplash, come in different colors and textures.