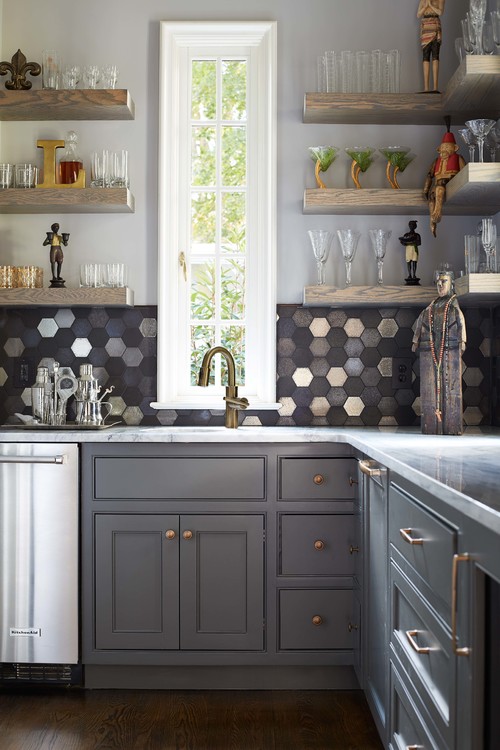 ID# 124308 | Houzz.com – Credit | © Ivy Hill Tile
---
Black Shaker Cabinets with Stainless Steel Backsplash and Marble Countertop
In this transitional kitchen, the stainless steel hexagon backsplash adds a nice texture to the design and completes the dramatic and elegant appeal of the black shaker cabinets. The marble countertop contrasts with the black cabinets to emphasize the look while the black faucet complements the cabinets.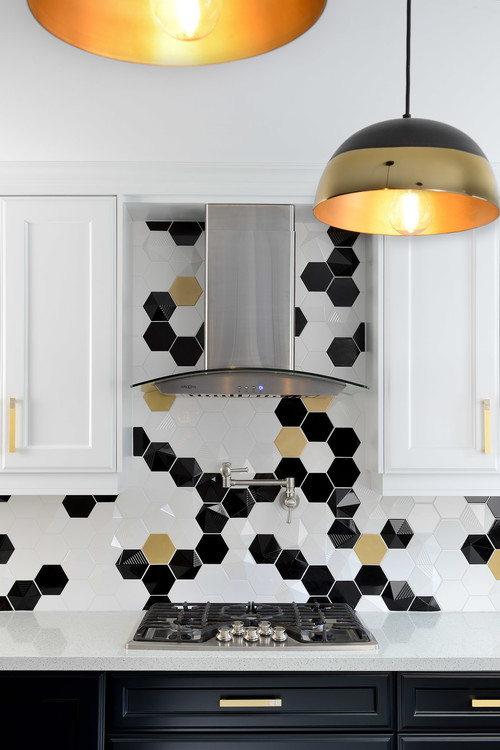 ID# 124335 | Houzz.com – Credit | © ADM Design Inc.
---
Two-tone Cabinetry with Multicolored Backsplash and Brass Handles
The black, white, and gold hex tiles blend perfectly as a kitchen backsplash and create an eye-catching focal point with their beautiful irregular pattern. Also, backsplash tiles complement the black and white cabinets and brass hardware.
Hexagon Backsplash
In today's market, hexagon tiles are one of the most popular options for homeowners and interior designers. With their sleek beauty, hexagon tiles can be used anywhere from the bathroom to the entryway, shower floor to fireplace surrounds. In this article, you can find the kitchen backsplashes, which are the most popular area of usage for hexagon tiles. Scroll down and check the most popular design possibilities for hexagon backsplash!
The geometrical shape of the hexagon or honeycomb tile backsplash offers timeless and chic appeals for kitchens. From marble to copper, white to black, these tiles come in a wide range of material, color and size options. This endless array of hex tiles allow you to incorporate this material into any kitchen. You can create a clean and fresh look with a white hexagon tile backsplash and complete the overall look cohesively or make an unexpected twist with contrasting hex tiles and create a distinctive focal point between your cabinetry. Whatever your choice is, a well-installed hexagon backsplash will help you to create your dream kitchen by making a statement
Marble Hexagon Backsplash
Marble is one of the most popular materials for interior design projects and it is a great way to create a timeless and elegant look with o dose of luxury. When the luxurious look of this natural stone meets with the classic look of the geometrical hex tiles, the result is undeniably beautiful. The sleek combination of marble hexagon backsplash looks sensational and effectively elevates the overall look of kitchens.
Stainless Steel Hexagon Backsplash
With its splendid brilliance and easy-to-clean surface, stainless steel is a great material for kitchen backsplashes. The combination of this sleek beauty and hexagon tiles offers a super modern look for kitchens. Using a stainless steel hexagon backsplash will help you to create a one-of-a-kind kitchen.
Glass Hexagon Backsplash
Glass is a durable material that is very popular for kitchen backsplashes and serving this material with hex tiles is a great way to add visual interest to the design. From classic whites to iridescent blues, a glass hexagon backsplash is available in every color that allows you to customize your kitchen. Also, glass tiles require low maintenance that means you can easily maintain their fresh look with routine cleaning.
Copper Hexagon Backsplash
If you are looking for a visually interesting and at the same time durable material, copper might be your solution. And if you want to create a modern appeal, check these copper hexagon backsplash ideas. With its warm allure and unique look, a copper hexagon backsplash is a great way to add texture and create an eye-catching focal point.
Hexagon Backsplash Colors
Just like the material options, hexagon tiles also offer a wide range of color options. According to your taste, you can add a bright look with white hex tiles or add dramatic appeal with darker shades like black. If you are working on a small space, brighter shades like white, light gray, or beige might be a better option to enhance the spaciousness of the atmosphere. If you are bored with classic colors and looking for something different, blue, green, or red hexagon tiles will be perfect for your kitchen.
White Hexagon Backsplash
With the rise of all-white kitchen designs, white backsplashes gained popularity and have become the trendiest option in recent days. The pure elegance of white and sleek appeal of the hex tiles which are the most popular design features perfectly blend and offer a timeless look for kitchens. With its simple elegance, a white hexagon backsplash will never fail you down.
Black Hexagon Backsplash
There is no doubt that black is the most sophisticated color and a well-chosen black backsplash can instantly elevate the design.A black hexagon backsplash offers a bold and characteristic look and it can work well with different design aesthetics from modern to transitional.
How to install hexagon tile backsplash?
Before the installation, you need to measure all areas to be tiled and calculate square footage and you need to ensure that the back of the backsplash and walls are clean. If there are some cracks or holes on the wall, and the roughness and patch the holes on the wall and clean it with an all-purpose cleaner. Define the boundaries of the backsplash with painter's tape and prepare the layout of your tiles. Now, you are ready for the installation.
Apply a thin-set mortar with a notched trowel then apply the tiles on the mortar and press on them with the trowel. If you need to cut tiles, you need to use a proper cutting tool according to your material. Wait 24-48 hours to mortars dry. Generally, this time is the same for all mortars but it's better to check the instructions for the product. After it dries, sweep the grout over the tiles with a float using a 45-degree angle and make sure to fill all the spaces and wipe the tiles with a wet sponge. Repeat this process until filled all the spaces between the tiles
For the final part, you need to finish the edges of your backsplash. Some kinds of materials, don't need to be finished with another material and this type of tiles, you can apply a thin line of caulk down the outside edge of the tiles where they meet the wall and counter. But, if you want to create a more clean and finished look, you can use metal strips. Metal strips are approximately 1/4 to 1/2-inch wide and come in a wide range of metal finishes such as copper, nickel.
Blue Hexagon Backsplash
Blue is the reminiscence of the sky and sea which brings a relaxing feel to any space. Using ablue hexagon backsplash is a great way to create a distinctive focal point with a serene atmosphere. From light blues to bold navy blues, these tiles come I an array of color option that allows you to blend your overall look of the kitchen.
Gray Hexagon Backsplash
Gray is a versatile color that can be suitable for different color schemes and design aesthetics. When it comes to the backsplash, grey hex tiles offer a sleek and timeless appeal for kitchens. You can bring a refined touch to the kitchen with a gray hexagon backsplash.
Green Hexagon Backsplash
Emerald, mint, forest, pastel, and more. Green is a natural shade that brings a relaxing and calming feeling to the spaces. Using a green color on the backsplash will make an unexpected twist to your kitchen.So, if you are looking for something a little adventurous, a green backsplash is the way to go.
Beige Hexagon Backsplash
You might think that beige is a boring color, but with the right approach, a beige backsplash can be the centerpiece of your kitchen. A beige hexagon backsplash can be suitable for different colored or styled kitchens. Beige looks good with neutral color schemes, white and gold accents.
Hexagon Backsplash Grout Colors
When it comes to backsplash design, choosing a grout color is one of the most important decisions that you need to make. First of all, you need to decide how prominent you want the pattern created by the tiles to be. If you want to create a cohesive look, matching grout and tile colors is the best way. But, if you want to highlight the stunning pattern by the hexagon tiles, you can choose a contrasting color for your grout.
Hexagon Backsplash with White Grout
White is the most popular grout color for all backsplash tiles. Whether your hexagon tiles are white or black, green or gray, white grout helps to create a clean and fresh look. The greater the contrast between the tile and the joint, the more obvious the pattern created by the tiles will be.
Where should I start my hexagon tile?
Generally, hexagon tiles come with a mesh, especially the small ones. If you are installing this type of material, you can start on one side of the wall. If you are working with individual tiles, starting from the first row next to the counter might be better. This way your tiles will match perfectly. However, these suggestions may not be suitable for your kitchen. It depends on the size of the backsplash area and tiles. So, the best way is to define the layout to see which direction you want them laid before the installation.
Hexagon Backsplash with Gray Grout
Gray is a neutral color that can be used with different colored tiles. That means, whatever your tile color is, a gray grout will create a cohesive look for the tiles. But, if you want to create a sleek backdrop, there is no better option than a gray hex tile backsplash with gray grout.
Hexagon Backsplash with Black Grout
Black is a bold choice for grouts but when it's well-installed, the result will be perfect. Generally, black grouts are used for black or white backsplash tiles. Using a black grout for white hex tiles provides a strong characteristic look. On the other hand, a black backsplash with black grout is a great way to create a dramatic backdrop for kitchens.
Hexagon Backsplash Styles
Although hexagon tiles have a standard shape, you can create different patterns with a little adjustment on the tile sizes. If you want to create a dense pattern, smaller hex tiles will do the job or, you can use bigger tiles for a bigger impression. If you are looking for something different, elongated hex tiles might be perfect for you.
Elongated Hexagon Tile Backsplash
Elongated hexagon tiles are stretched in length only and kept the characteristic internal angles of the original hex shape. These tiles look outstanding themselves. Whether you use bold colors or not, an elongated hexagon tile backsplash will create a big impression on your kitchen.
Small Hexagon Tile Backsplash
Hexagon tiles have always been popular in mosaic form. Small hexagon tile backsplash brings geometry and texture without overwhelming and is a great way to create a timeless backdrop for kitchens.
Large Hexagon Tile Backsplash
Yes, smaller-sized hex tiles are popular but these tiles have also become fashionable in larger sizes. You can create a brighter impression with different shades of large hexagon tile backsplash.
Is hexagon tile too trendy?
Although hexagon tiles have a modern geometrical shape, these tiles tend to mirror their environment. So, a hexagon tile backsplash can blend with every design aesthetic and according to the overall look of the kitchen, it can look both modern or traditional.