103+ White Backsplash Ideas – (Absolutely Stunning) White Tile Ideas!
You love the crisp and clean feeling you get when surrounded by brilliant whites. Why look any further for your next kitchen project than our white backsplash tile ideas? You'll find the perfect shade of stunning white for a polished and pristine space to fall in love with white backsplash ideas.
White Backsplash Ideas
White is ideal for contemporary to modern spaces, with its bright and natural color choices. You can select from any number of patterns and designs to complete your dream kitchen:
Highly polished and refined subway tiles create simple movement and pattern for extremely modern abodes.
White marble backsplashes create simple and classic contemporary kitchen backsplashes that are easy to imagine.
Mix it with metal mosaic tiles for a glittering and gleaming space that dazzles your guests.
Add pops of color by pairing it with black mosaic tiles for a retro chic effect that will set your kitchen apart.
Why White Kitchen Backsplash Tile Ideas?
What can you do with white backsplash tile ideas? They can transform even the drabbest space into a gleaming and classic kitchen. Make it feel modern backsplash and clean with a stunning surface that will reflect all of your light. It will glitter and dance to make small spaces feel instantly more spacious.
Durable and low-maintenance!
With the mixture of materials available for Ice white shaker kitchen cabinets backsplash ideas, you're sure to find a durable and low-maintenance surface to keep your kitchen clean. Most of these materials from glass to metal to marble backsplash will wipe clean instantly with a damp cloth or sponge.
They're also water-resistant and strong to endure the toughest messes. You won't need to search anymore to make your design dreams come to life. White kitchen backsplash ideas will create dazzling décor that will make you seem like a professional designer. Don't hesitate another minute – dive right into our white backsplash mosaic tile ideas to make your design dreams come true.
White Kitchen Backsplash Ideas 2021
A good backsplash can instantly elevate the overall look of the kitchens and create a beautiful focal point. When it comes to choosing the color of backsplash, white color offers a classic, elegant, and timeless appeal. White backsplashes are among the most popular and preferred backsplash colors in 2021 as in all times. Whether your style is modern or traditional, rustic or contemporary, from glossy white subway tiles to distinctive herringbone tiles, there are plenty of ways to incorporate a white backsplash into your kitchen.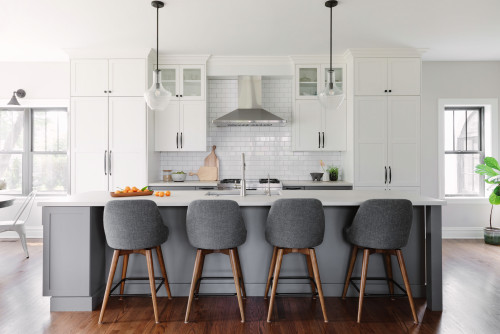 ID# 124801| Houzz.com – Credit | © Ember & Brune
---
Transitional Kitchen with White Subway Tile Backsplash
Subway tiles are classic for kitchen designs. With their sleek beauty, a subway tile backsplash offers a timeless look like this design. Here, a white subway tile backsplash creates a clean and fresh look with the white shaker cabinets and adds a nice texture. The gray kitchen island and counter chairs complete the timeless look perfectly while the wooden floor brings warmth to the atmosphere.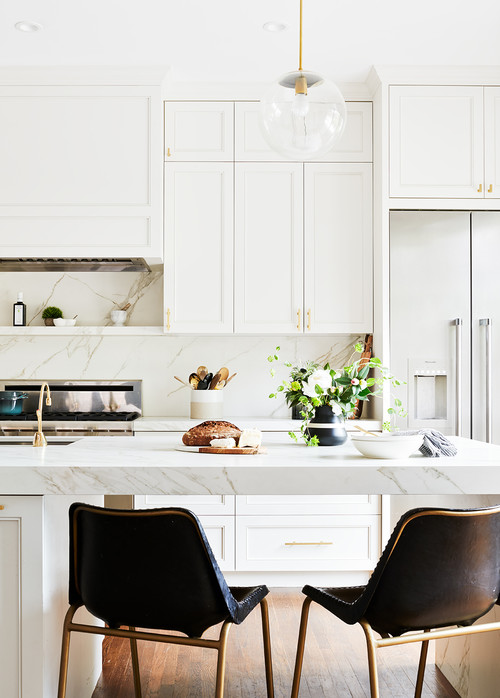 ID# 124802| Houzz.com – Credit |  © kimberly ayres
---
Modern Luxury Kitchen with Marble and Brass Accents
In today's market, all-white kitchens are top of the trend lists. That's why white backsplashes become more popular elements. This transitional kitchen serves the pure beauty of the white while giving a luxurious feel. The beautiful veining of the marble backsplash and countertops add a nice pattern to the kitchen while brass accents like handles, faucet and the finish of the glass pendant lights enhance this feel.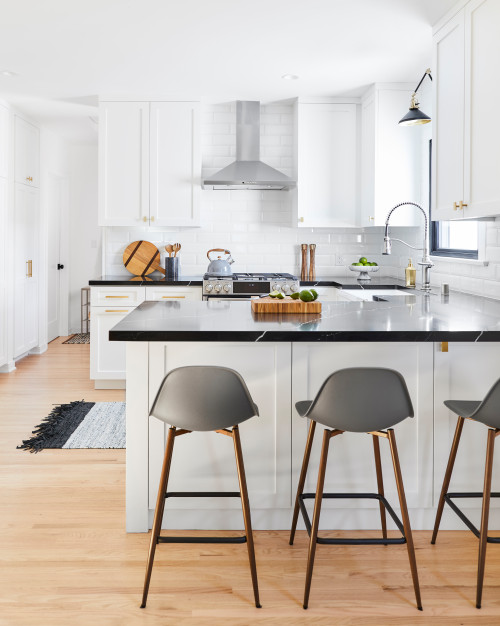 ID# 124803| Houzz.com – Credit | © KrimsonHAUS
---
Black and White Modern Kitchen with Brass and Wood Accents
This black marble countertop is definitely a statement maker! It instantly lends sophistication and takes this otherwise ordinary kitchen to the next level. White cabinetry, beveled subway tile backsplash, and stainless steel appliances create a modern and minimal look while the black countertop makes a luxurious twist. Brass handles complement the luxurious feel of the marble.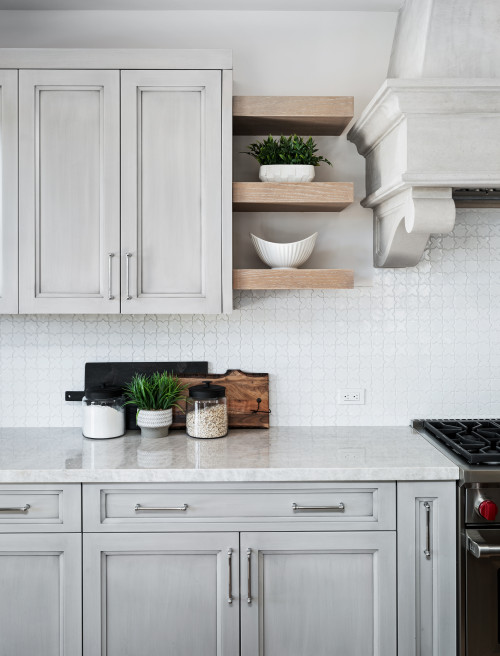 ID# 124804| Houzz.com – Credit | © Attractive Interiors Home Staging
---
White Backsplash Ideas with Light Gray Shaker Cabinets
The timeless elegance of the white and gray is balanced with a touch of wood. Light gray cabinets are paired with a white quartz countertop and white tile backsplash which add a nice texture to the design. The upper cabinets are fitted with wood floating shelves which give an open and airy feel and a cozy look. Metallic handles are in a harmony with the traditional style of cabinetry.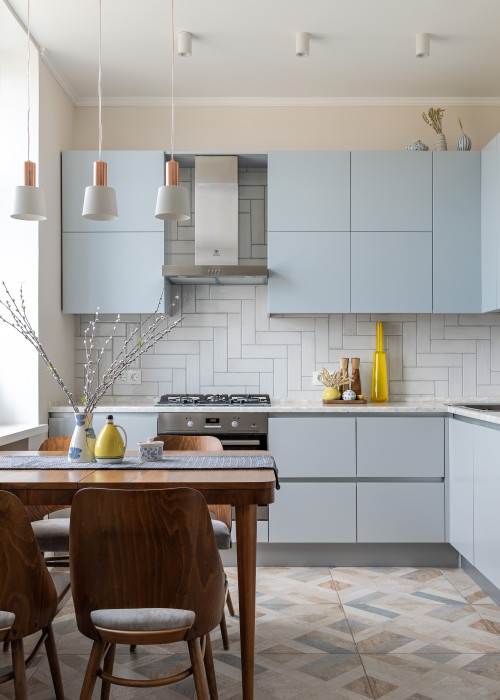 ID# 124805| Houzz.com – Credit | © Tipaev Kostenko
---
Contemporary Kitchen with Herringbone Backsplash and Multicolored Floor
This kitchen gives a warm and cozy feel! The light gray cabinets are paired with a white herringbone backsplash and marble countertop which add another layer of texture. Stainless steel appliances enhance the modern feel while wooden dining tables and chairs bring warmth by the natural texture and grains of the wood. The multicolored floor tiles compliment the wood accents.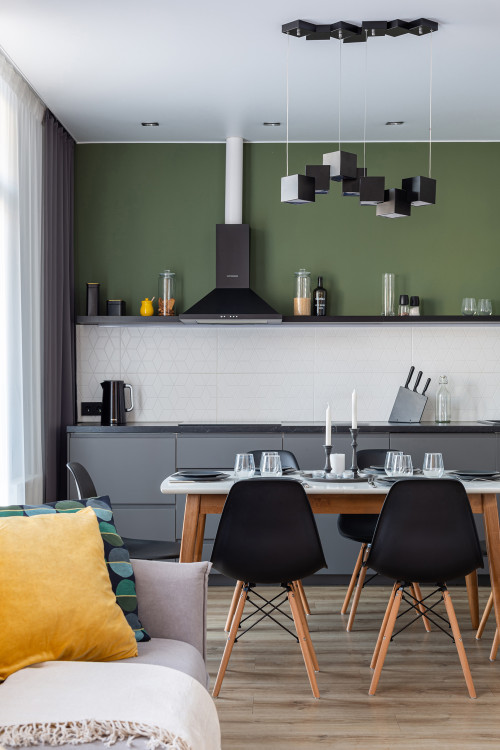 ID# 124806| Houzz.com – Credit | © Boldysh
---
White Backsplash Ideas with Green Wall Paint and Black Shelf
The bold green color of the upper walls gives a unique appeal to this contemporary kitchen. The white kitchen backsplash creates a clean and bright look between the green wall and the gray kitchen cabinets. The black countertop and floating shelf define the backsplash area and emphasize the impact of the tiles which add a slight texture to the design. Wooden dining table complete the natural look of the green color.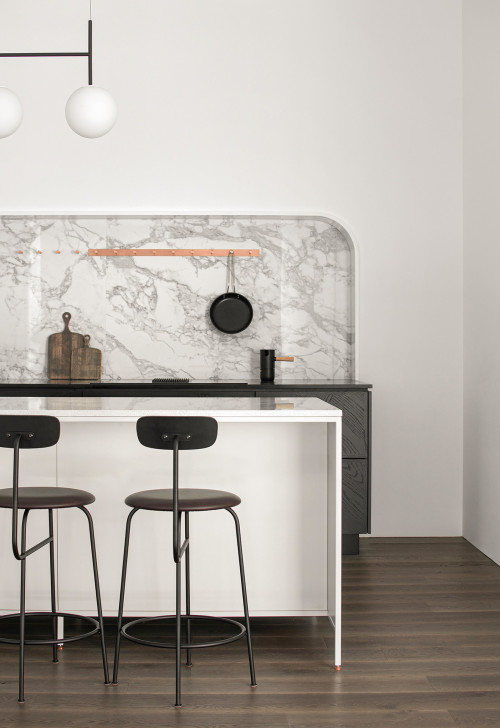 ID# 124807| Houzz.com – Credit | © INT2architecture
---
Contemporary Kitchen with Marble Backsplash Design
The marble backsplash design acts as a piece of art.The curved edges of the backsplash contrast with the sharp edges of the cabinetry to softens the look. Black leather and metal counter chairs bring an industrial vibe while dark wood flooring completes the elegance of the design.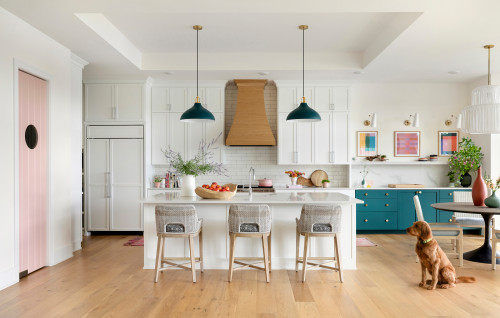 ID# 124808| Houzz.com – Credit | © Zawadski Homes Inc.
---
White Shaker Cabinets with Wood Range Hood and White Backsplash
The wooden range hood pulls the attention at the first sight with its sculptural shape and creates a focal point between the white shaker cabinets. White subway tile backsplash creates a clean and fresh backdrop for the hood while wicker counter chairs complement the hood with their wooden legs.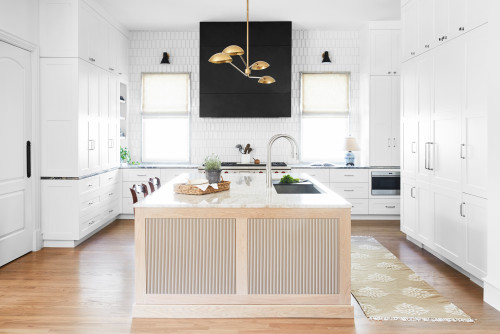 ID# 124809| Houzz.com – Credit | © Yates Desygn
---
Wooden Kitchen Island with Quartz Countertop and Gold Lighting Fixture
The wooden kitchen island makes a statement in this transitional kitchen and provides both style and function with its large worktop. The black range hood stands out in front of the white kitchen backsplash and creates a beautiful backdrop for the brass lighting fixture.
Grout Colors for White Kitchen Backsplash
Choosing a grout color is important to finalize the look of the backsplashes. If you want to create a fresh and minimalistic look, bright colors like white is a perfect choice for white backsplashes. But, if you want to highlight the pattern which is created by the layout of the tiles, using a darker shade of grout like black or gray will help to create a distinctive focal point.
White Backsplash Tile with White Grout
The best way to create a clean, fresh, and spacious look is to finish the white tiles with white grout.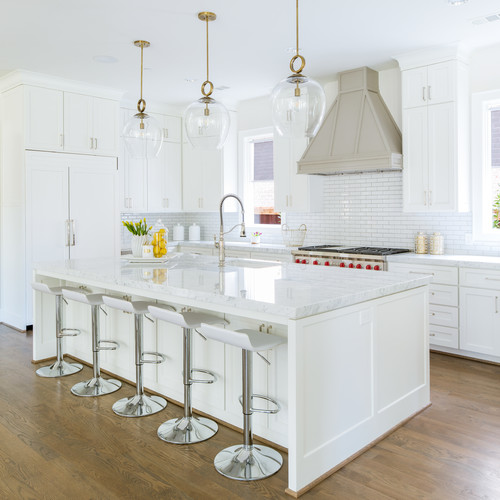 ID# 124810| Houzz.com – Credit | © Mohment
---
All-white Kitchen with Gray Range Hood and Wood Flooring
This elegant kitchen perfectly represents the cleanliness and pureness of the white. The gray range hood comes forward between the white shaker cabinets and white subway tile backsplash. Glass pendant lights are in a harmony with the bright atmosphere. Quartz countertops add a layer of texture while providing a luxurious appeal.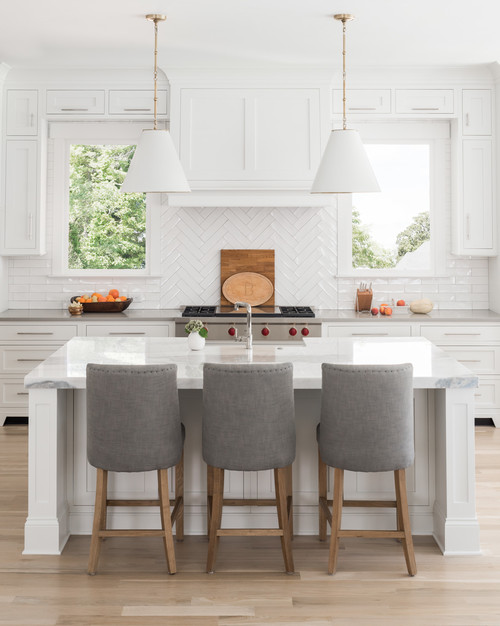 ID# 124811| Houzz.com – Credit | © Ram Construction, Inc./Ram Design-Build
---
White Backsplash Ideas with Gray and Wood Accents
The symmetrical layout of the kitchen offers a luxurious feel in this transitional kitchen. The white subway tile backsplash is laid in a herringbone pattern behind the stove to add visual interest to the kitchen. The gray countertop of the white shaker cabinets and wood accents make the atmosphere warmer while white pendant lights complete the design.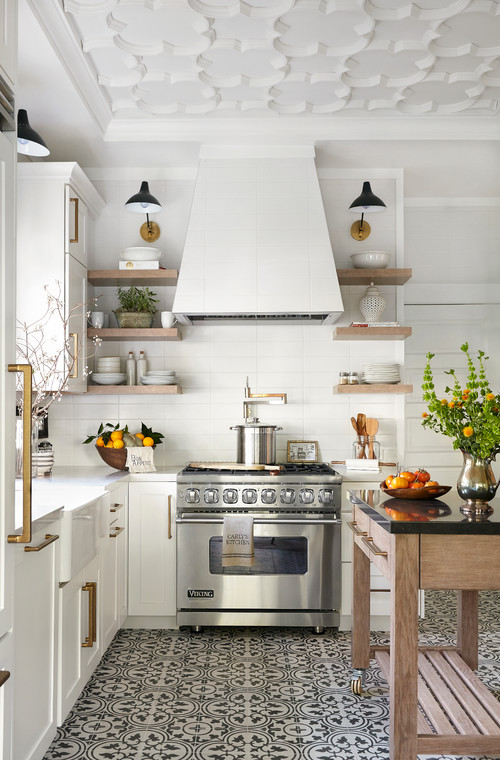 ID# 124812| Houzz.com – Credit | © Patrick Lau Photography
---
Scandinavian Kitchen with Two Tone Blue and White Cabinetry
In this Scandinavian kitchen, each feature acts as a piece of art and offers a one-of-a-kind kitchen design. The beadboard style of the kitchen cabinets creates a nice textural look while the light blue color of the perimeter cabinets gives a romantic look to the kitchen. The white ceramic tile backsplash with white grout adds another layer of texture and creates a clean and fresh look with the white upper cabinets.
White Backsplash Tile with Grey Grout
The combination of the white tiles and grey grout creates a cohesive and sleek focal point for kitchens.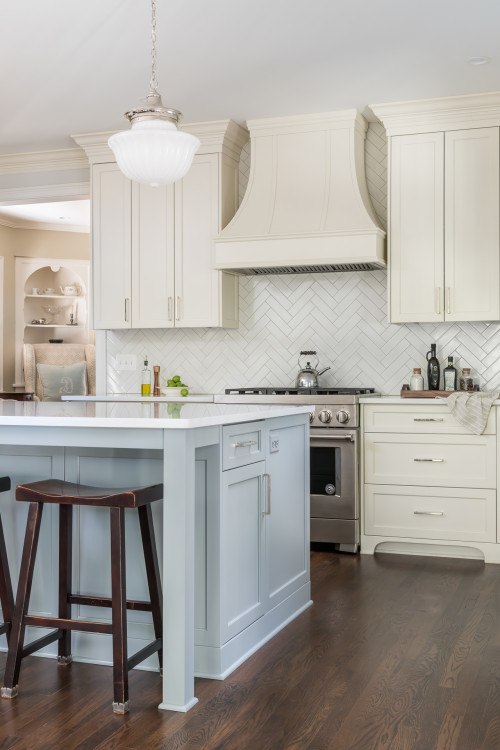 ID# 124813| Houzz.com – Credit | © Innovative Construction Inc.
---
White Cabinetry with Light Gray Kitchen Island and Dark Wood Floor
The clean lines of this transitional design offer a timeless appeal. White shaker cabinets, range hood, and herringbone backsplash provide a fresh backdrop while light gray kitchen island creates a cohesive look. The dark wood flooring and counter chairs enhance the elegance of the atmosphere. The white pendant light with metallic finish is in a harmony with the traditional vibe of the cabinetry.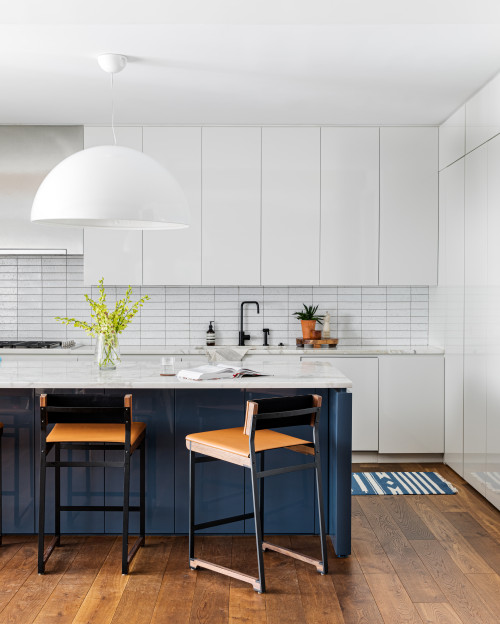 ID# 124814| Houzz.com – Credit | © Broderic Design
---
Black Island with Quartz Countertop and Oversized White Pendant Light
The black kitchen island with quartz countertop breaks the white domination of the atmosphere which is created by the white flat-panel cabinets and white backsplash. The stacked layout of the white subway tiles completes the ultra-modern look of the flat-panel cabinetry. Black and wood counter chairs complement the wooden flooring while oversized white pendant light makes a statement above the island.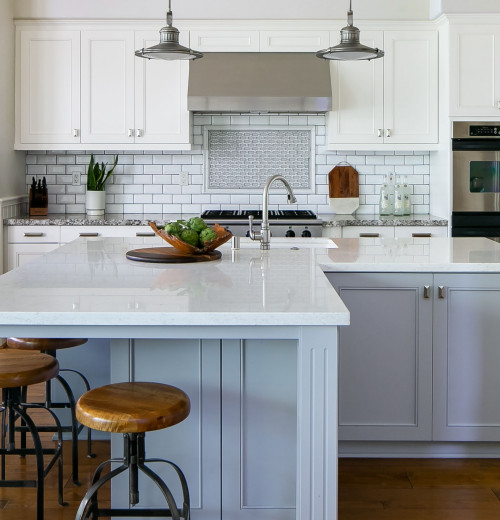 ID# 124815| Houzz.com – Credit | © Cynthia Prizant – Prizant Design, LLC
---
White Subway Tile Backsplash with Gray Grout and Metal Appliances
In this transitional kitchen, the blue-gray island with white perimeter cabinetry is complemented by a white subway tile backsplash with a touch of gray grout. The large kitchen island provides plenty of space for both working and dining. Wooden accents like stools, chopping board complements the flooring which makes the atmosphere warmer. Metallic pendant lights make an industrial touch.
White Backsplash Tile with Black Grout
The greater the contrast between the tiles and the joint, the more the pattern emerges, and a more distinct focal point occurs.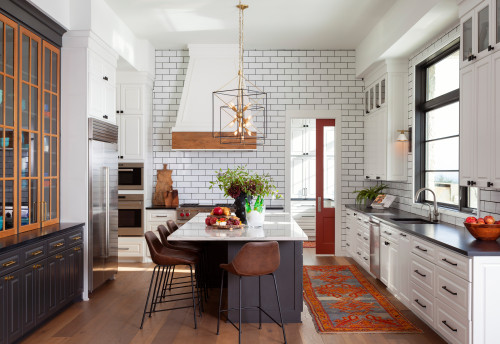 ID# 124816| Houzz.com – Credit | © Butter Lutz Interiors, LLC
---
Contemporary Kitchen with Small Modern Bohemian Accents
The black grouting of the white subway tiles creates a strong accent wall and provides an eye-catching backdrop for the large white range hood. Also, black grouts complement the black countertops of the white cabinets, black island, and black hardware.Little bohemian accents like a traditional rug and leather counter chairs make this kitchen more liveable and welcoming.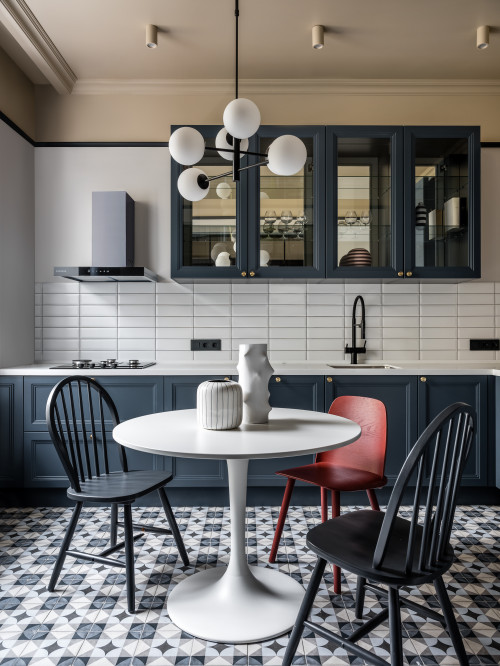 ID# 124817| Houzz.com – Credit | © Зуева Анна
---
Black and White Kitchen with Beige Ceiling and Patterned Floor
In this contemporary kitchen, the dark gray shaker cabinets serve an elegant and sophisticated look while the stacked white subway tile backsplash makes a modern twist against the traditional style of cabinetry. The circular white dining table, colorful chairs, and bubble chandelier add a quirky vibe to the atmosphere. Multicolored floor tiles add another layer of texture. The beige ceiling paint softens the sharp contrast between the white and black and brings warmth.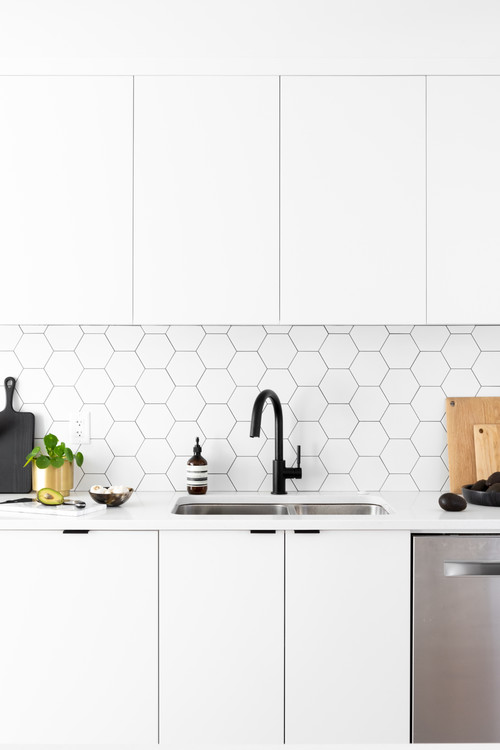 ID# 124818| Houzz.com – Credit | © SHIFT Interiors
---
White Ceramic Hexagon Tile Backsplash with Black Grout
Clean, fresh, and timeless! This white kitchen design offers a suer modern look with its flat-panel cabinets. Black hardware and faucet contrast with the white features to give a luxurious feel. White hexagon tile backsplash brings a texture to the design without disturbing the simple beauty f the overall look. The black grout of the backsplash tiles emphasizes the beautiful pattern.
What is the best grout color for white backsplash tile?
When it comes to the white backsplash, white grout is the most popular and safer option. The all-white look offers a clean and fresh backdrop for kitchens. Especially, if you have a small kitchen, a white backsplash with white grout can enhance the spaciousness of the atmosphere. But, if you want to highlight the pattern more, you can also use grey or black grout for white tiles. Darker grouts give more characteristic looks to backsplash tiles.
How to clean white tile backsplash?
White backsplash tiles are absolutely beautiful, but it is important to maintain their beautiful appearance thorough cleaning. As scary as it may seem, cleaning backsplash tiles is very easy and if you do this cleaning regularly, your white tiles will look as new as the first day. All you need is warm water, dish soap, and a sponge. Grab a sponge, soak it with warm water and soap, and clean all surfaces with circular motions. Then take a dishcloth or microfiber cloth and wipe down the tiles. You can do these steps for everyday cleaning. However, if you have stubborn stains, you can make a mix with lemon juice, vinegar, and baking soda and apply this paste onto the stains. You can use this paste also on the grouts. Use a toothbrush and scrub the stains on the tiles and grout then wipe them with a clean cloth.
What is the best material for white kitchen cabinets?
When choosing a backsplash, you need to consider its cost, maintenance, style, and functionality. Glass, porcelain or ceramic, and marble are popular materials for the backsplash. And the white color is always a good choice for them. Ceramic and porcelain tiles are manufactured materials that can be whatever you want them to be. And these materials are budget-friendly. Glass backsplash tiles are an easy-to-clean and cheaper alternative for kitchens. With their endless array of patterns, glass tiles offer visual interest and a distinctive focal point. Also, glass is a non-porous material that never needs to be sealed. These features make the glass tile is a perfect material for backsplash. Last but not least, marble. Marble is a natural stone that can lend luxury and sophistication to any kitchen. It is pricer than the other materials but you will never regret investing in marble.
Why is white backsplash is the most popular choice for kitchens?
White backsplashes have a clean and fresh look that is timeless, classic, and versatile.And white backsplashes become more popular with the rise of all-white kitchens. Also, the other advantage of the white backsplashes is they can work well with any color, style, and material and create a beautiful appeal between the cabinetries. You can go with an all-white kitchen to create pure beauty or contrast with black cabinets to a monochromatic look or add a fresh feel into a rustic kitchen. Whatever your choice is, white backsplashes are the safest option for kitchens, and you will never go wrong with them. Besides their visual beauty, white backsplashes have a wide range of prices. From affordable subway tiles to high-end custom waterjet cuts, there is a white tile for every budget. After all, no wonder why the white backsplash is so popular!
What color backsplash with white cabinets?
White cabinets serve as a black canvas that can work well with different colors. However, the elegance of the white backsplash will always be the best and beautiful option for white cabinets. Also, with the rise of modern style, all-white kitchens have gained popularity in recent days, which means white backsplashes are also getting popular day by day. Whatever your cabinet style is, this fresh and sleek combination never fails you down.
Does white backsplash get dirtier?
Compared to other colors, white is always a color prone to contamination. However, it doesn't necessarily mean that it will get dirty. Wipe your backsplash every day with a cloth, warm water, and soap, and clean the liquid and food spills immediately. With this regular cleaning, you can keep your white backsplash clean and shiny.
How to keep white backsplash grout clean?
Much like the white backsplash tiles, regular cleaning is the key to keeping the grouts clean. Otherwise, the unpleasant look of dirty grouts affects the overall look of the kitchen. To cleaning the grout, you can purchase restoration products or make a solution with baking soda, vinegar and water then scrub with a toothbrush. The other way to maintain the grout is by sealing them. A sealant will create a barrier between the backsplash and spills and provide water resistance.