32+ White Backsplash With White Countertop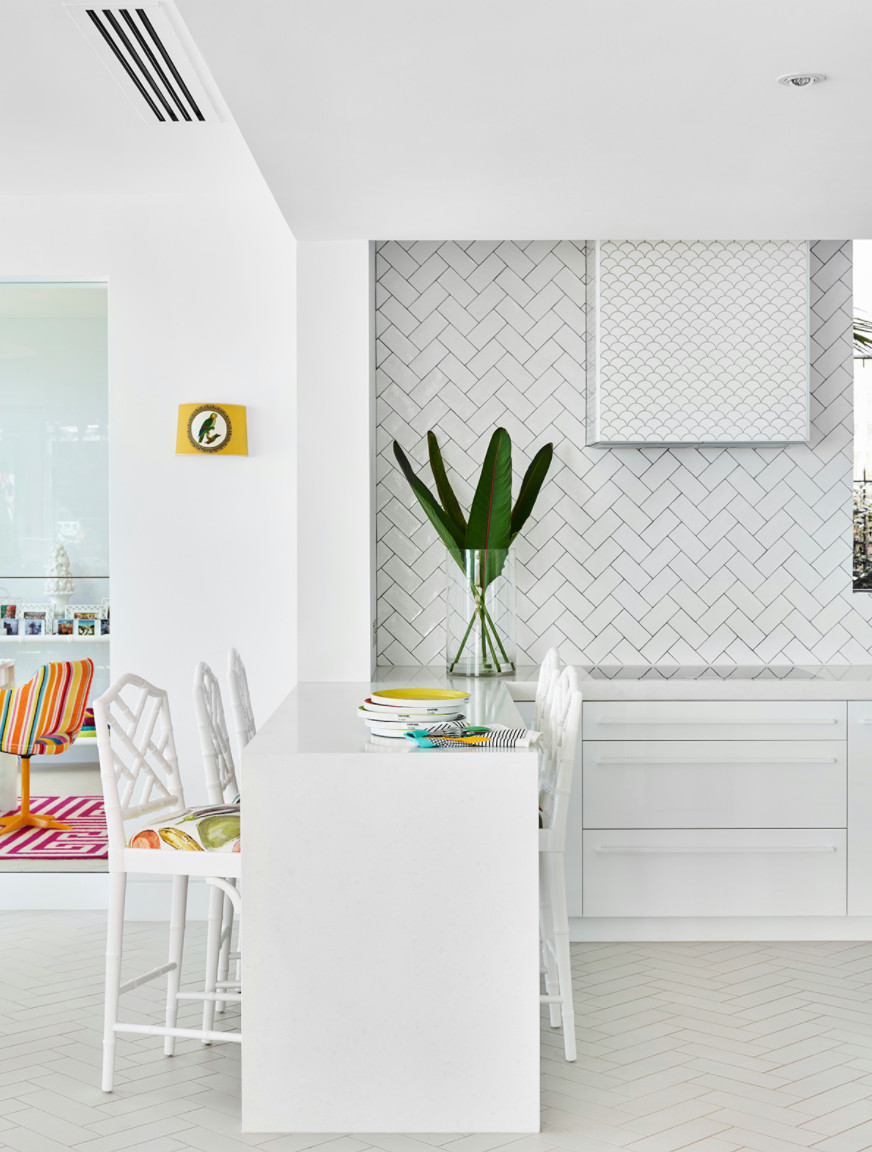 ID# 172505 | Houzz.com – Credit | © Langlois Design
---
Full-height Herringbone White Backsplash with White Countertop
Even though it has an all-white color scheme, this kitchen has an amazing texture! Look at these stunning herringbone tiles! Reaching through the ceiling, the white herringbone backsplash directly draws attention with its eye-catching fishbone pattern. Choosing a white backsplash with white countertops gives a balanced and spacious look. The crisp white color of the flat panel cabinets cooperates very well with the white backsplash and white countertops. The same herringbone pattern is also used for the floor level to create a continuous look while the fish scale tiled range hood adds another layer of texture.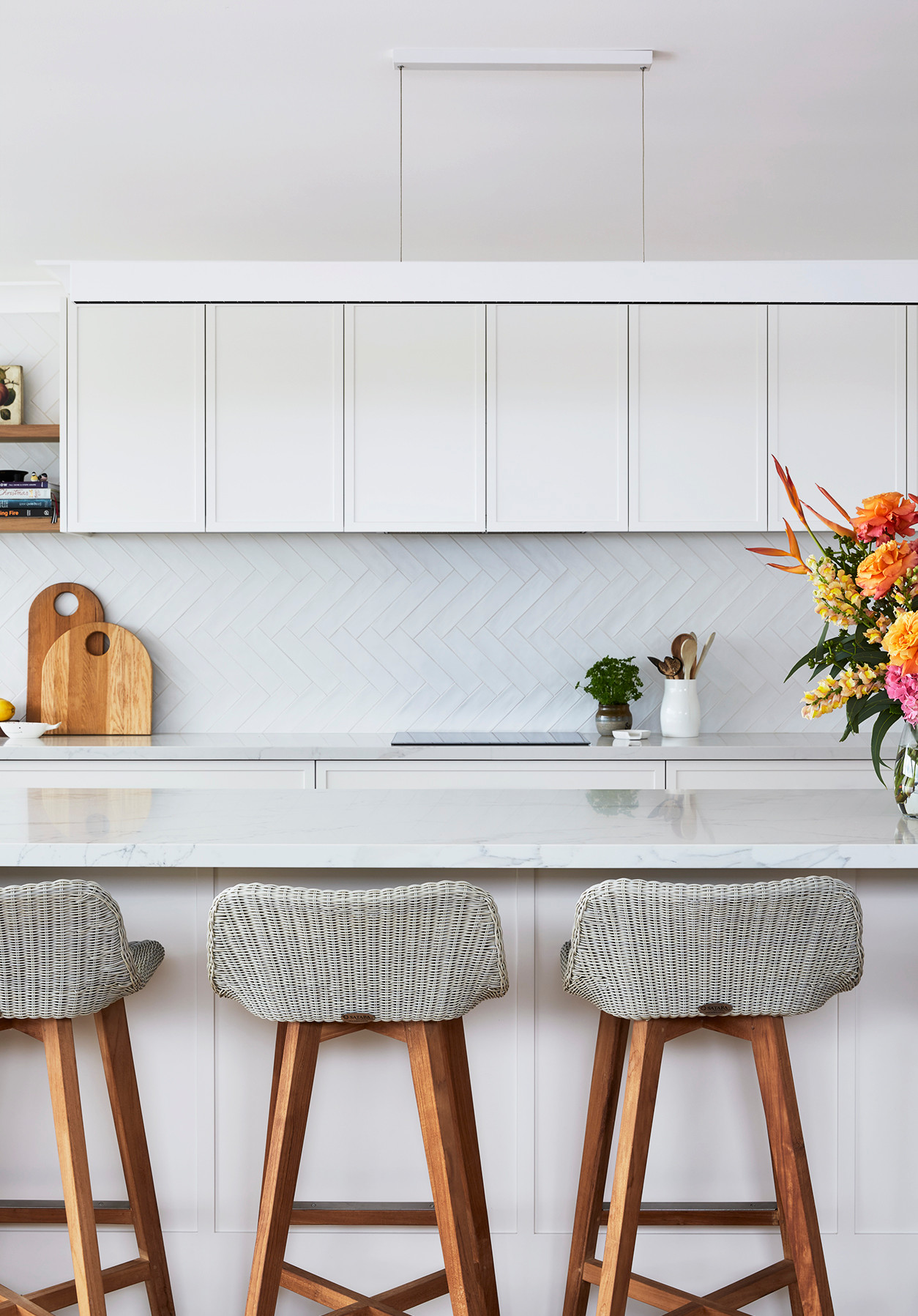 ID# 172527 | Houzz.com – Credit | © Collaroy Kitchen Centre
---
All-white Kitchen Design with Wooden Accents
In order to increase visual appeal in an all-white kitchen design, textures and patterns must be used! This transitional kitchen's white quartz worktops and white herringbone backsplash work together to provide a subtle texture. The rest are given a clean, fresh basis by the stark white cabinets while warmth is added by the wooden legs of the counter chairs.
White Backsplash With White Countertop
Nowadays, a white backsplash with a white countertop is one of the most popular kitchen combinations. Using them together helps us to create light, fresh, and multifunctional kitchens. Especially for small kitchen spaces, a white backsplash with a white countertop widens the space and gives the room a spacious feeling. For bigger kitchen areas, you can build an L-shaped or U-shaped layout that has a white backsplash and white countertop. These types of kitchens provide more space to use kitchen cabinets and countertops. Also, you can add a kitchen island that matches with a white backsplash and white countertop!
Timeless and Stylish Combination with a Bright Appeal
Designing a kitchen that has a white backsplash and white countertop is easy and fun. You have plenty of options while working with these classic features that serve as a blank canvas. Since white matches every color, you can create colorful kitchens. Using pastel colors on the cabinets, or the kitchen island gives a romantic vibe to the kitchen. You can also choose darker colors on the cabinets with gold, copper, or silver metal pieces to have an industrial-style kitchen. Also, designing a white monochromatic kitchen would give a minimalist, modern, and trendy look. You can never go wrong with a white backsplash and white countertop in the process of building a fabulous kitchen.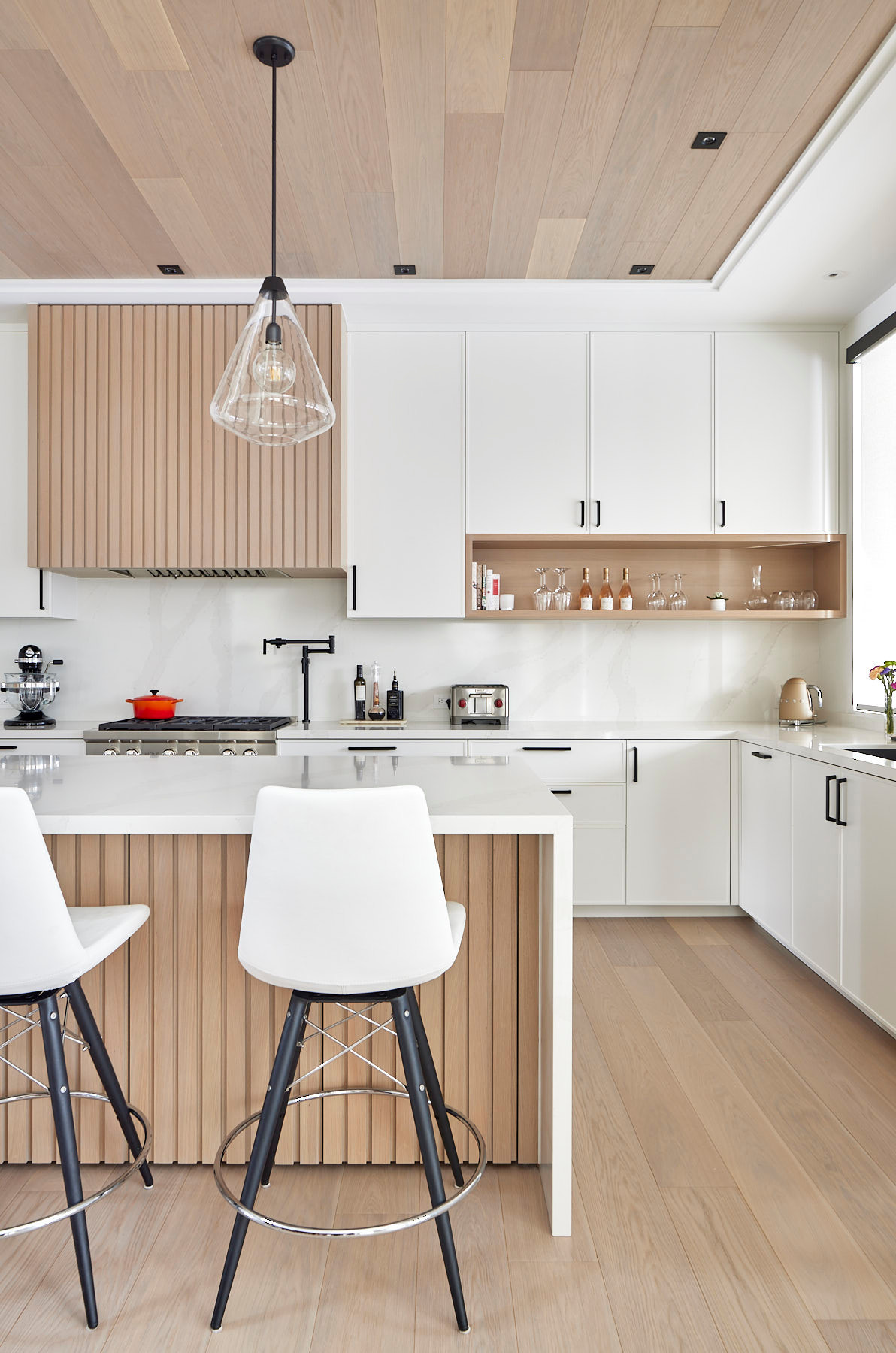 ID# 172501 | Houzz.com – Credit | © New Age Design
---
White Subway Backsplash with White Laminate Countertop
The basic style of the white countertops, backsplash and cabinets together produces a straightforward but fashionable kitchen look! However, how about adding some natural wood textures to warm up this combination? As you can see in this modern kitchen, the quartz countertops and backsplash help the white cabinets create a light and airy feel but the wood accents—like the range hood, the main body of the kitchen island and the open shelves—break up the white dominance and add warmth to the room! The ceiling panels and the light wood floor go beautifully with the other wood decorations. The black cabinet hardware completes the design by creating a striking contrast that heightens visual intrigue.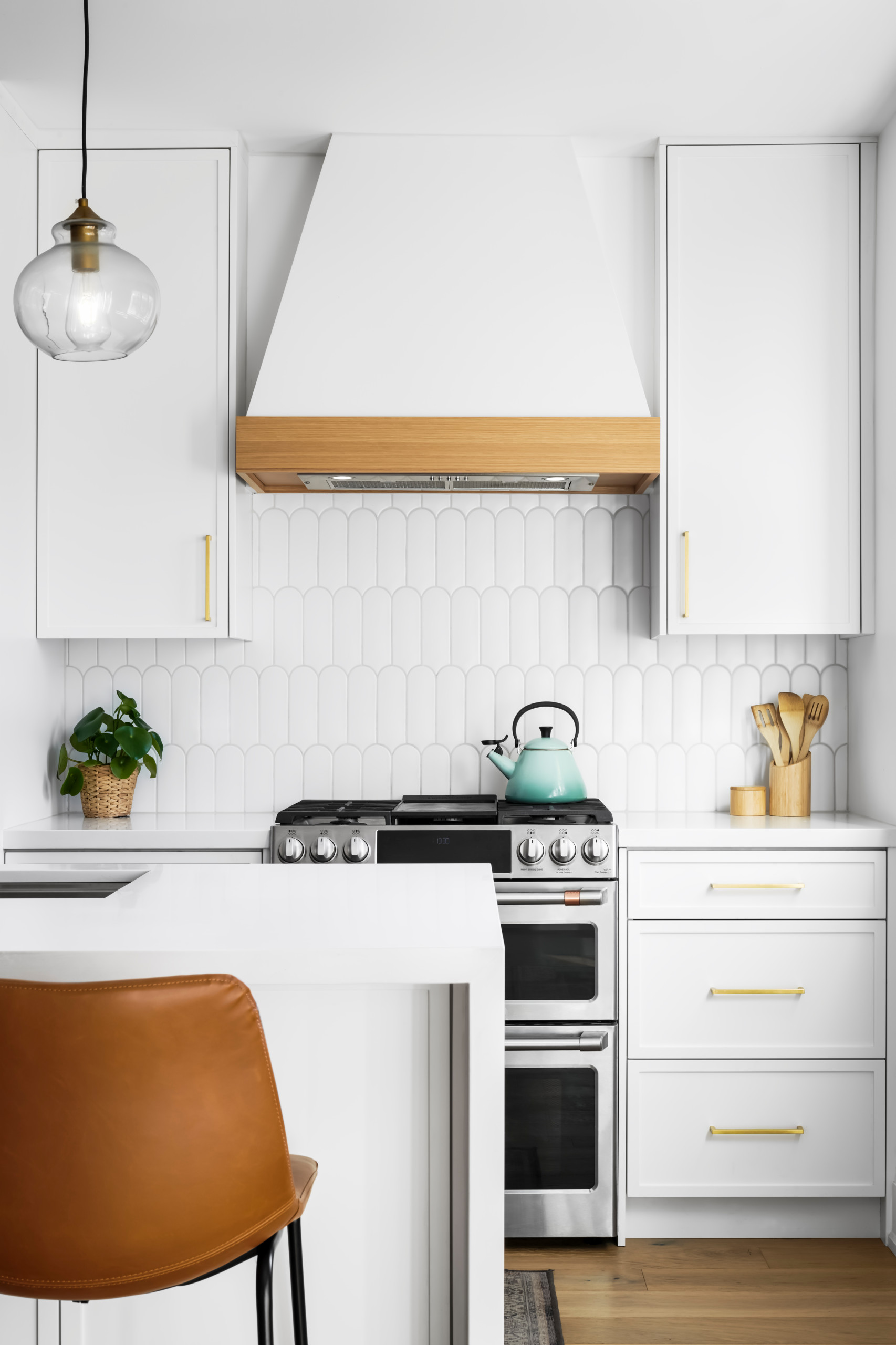 ID# 172502 | Houzz.com – Credit | © Ace of Space
---
Scandinavian Kitchen with Unique Backsplash and Brass Hardware
Encircled by the light and airy sense of white, this Scandinavian kitchen exudes a bright and spacious space! The white shaker cabinets serve as a classic foundation, while the wood range hood trim and brass hardware bring some warmth to this otherwise stark kitchen. The curving edges of the vertically arranged mermaid backsplash tiles lighten the overall design flow.
Should your backsplash match your countertop?
While your countertop and backsplash don't have to match exactly, they should be in the same style family! To achieve that flawless harmony in your kitchen, your countertop and backsplash should complement each other. Consider them the dynamic pair that sets the tone by cooperating. Remember the flooring and accessories as well!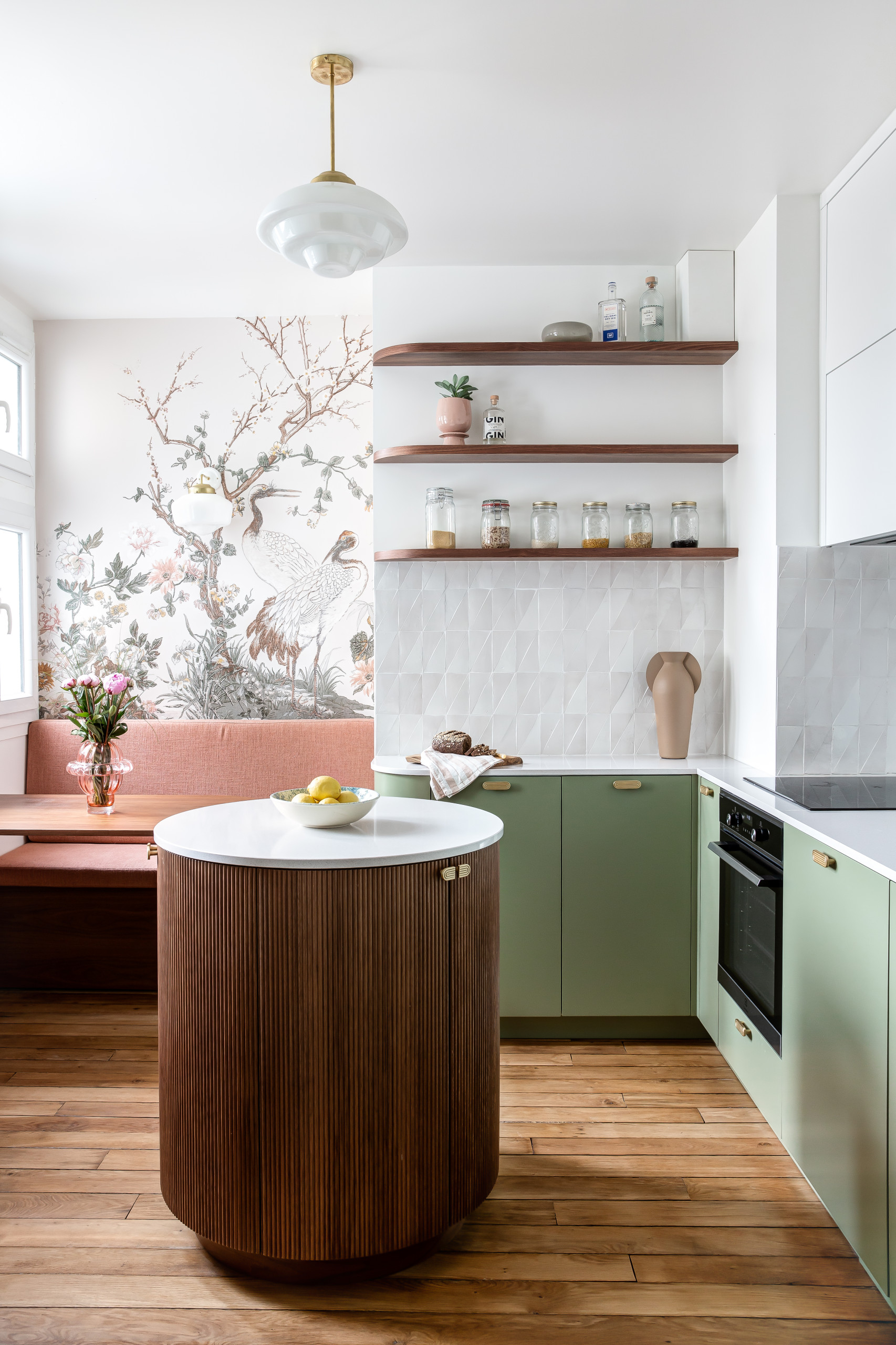 ID# 172503 | Houzz.com – Credit | © Murs et Merveilles
---
Sage Green Cabinets and White Backsplash with White Countertop
Adorned by the warmth of the natural shades, this Scandinavian kitchen offers a welcoming atmosphere with a rustic flair. The sage green cabinets provide a sleek and elegant base for this space while the white geometrical backsplash tiles with a 3D effect create a nice textural look. And of course, the unique kitchen island. This beautiful kitchen island design is proof that even tiny spaces can have an island when designed carefully! The wood floor and floating shelves perfectly complete the warm appeal of the island. Last but not least, the floral mural behind the breakfast nook adds a bunch of character to this stylish kitchen.
ID# 172504 | Houzz.com – Credit | © South Park Design Build
---
White Subway Backsplash with Black Kitchen Cabinets and Wood Floating Shelves
A strong focal point is skillfully created in this Toronto transitional kitchen with a subway tile backsplash and floating wood shelves around the white range hood fixture. Here, a classic backsplash and earthy tones combine to create an atmosphere that never goes out of style. The perimeter counters are arranged in an I configuration, and the kitchen island runs parallel to them. Three black pendants dangle over it, giving the kitchen a more upscale appearance and directing attention upward. Depth and dimension are added by the rose gold pulls and knobs, and the gold-yellow faucet. They give the design life with subtle accents. The area is cohesive and resonant with the entire color scheme thanks to the hardwood herringbone tiles with gray undertones.
White Backsplash Materials
Choosing the right white backsplash materials is essential to designing distinctive and glamorous kitchens! So, you need to choose white backsplash materials for your kitchen very carefully to prevent an unappealing look in your kitchen. To choose the right one for your kitchen, knowing the white backsplash materials advantages and disadvantages is necessary. Thus, you should pay attention to the installation process, price, style and other features of the white backsplash materials!
The most popular white backsplash materials are ceramic, glass and marble tiles! When deciding which white backsplash materials, you want to use, it is necessary to focus on their properties such as functionality and durability. If you want your white backsplash to last longer, prefer ceramic or porcelain tiles. In order not to spend energy and time to keep your beautiful white backsplash clean, it would be wise to choose glass tile!
White Ceramic Backsplash with White Countertop
In the realm of kitchens, ceramic tiles are like superheroes—they're almost unbreakable, water-resistant and reasonably priced. The white ceramic backsplash, however, is what really changes the game! When your countertops are likewise clothed in pure white, it seems like a breath of fresh air. Your kitchen seems spacious, airy, and ready for your own touch all of a sudden. What's best? White is a good team player! It goes with warm wood for a pleasant atmosphere, add gold or silver for some glam or use any color you choose!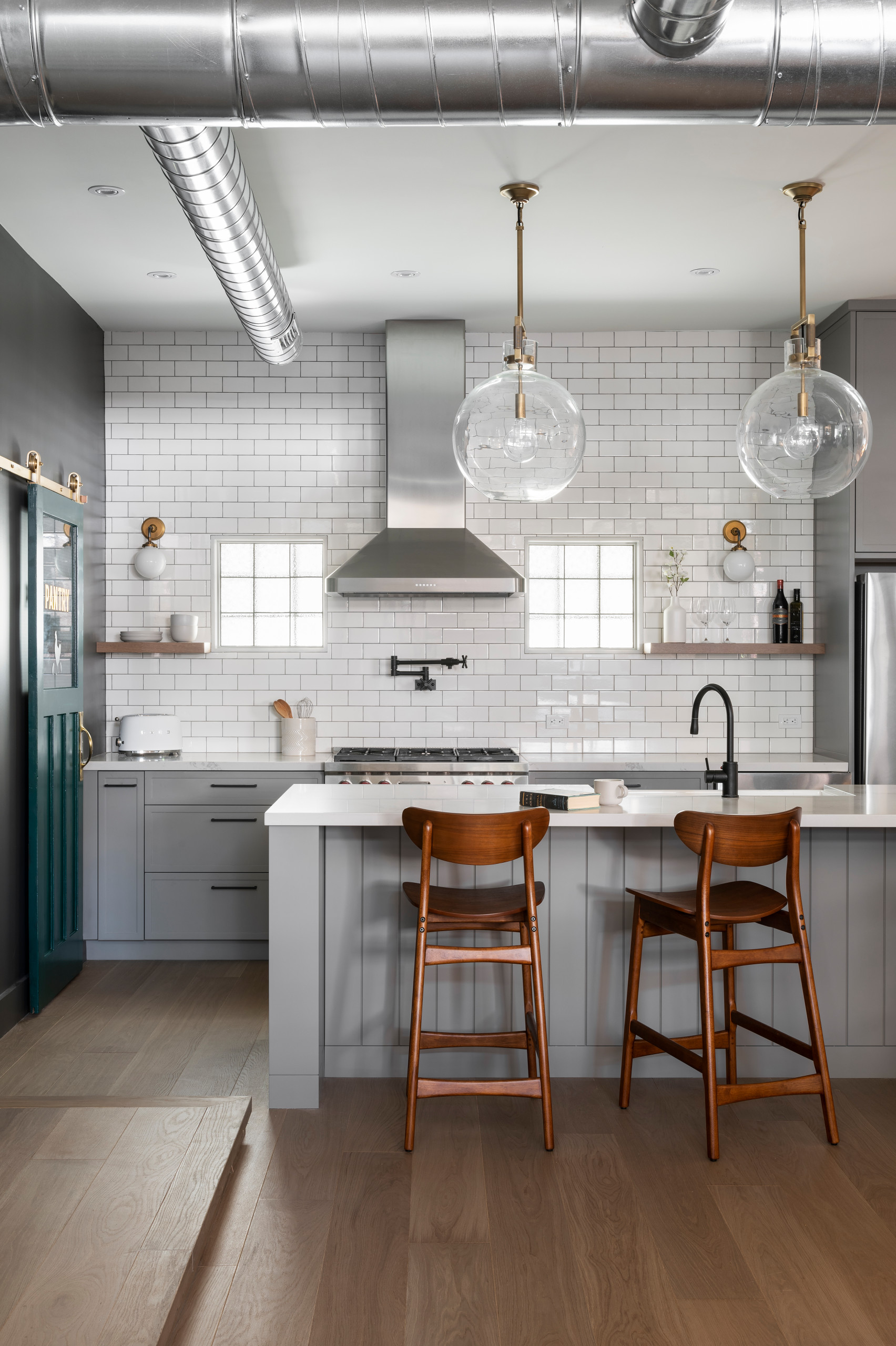 ID# 172506 | Houzz.com – Credit | © Studio Z Design
---
Full-height Subway Tile Backsplash with Gray Shaker Cabinets and Stainless Steel Appliances
The white subway tile arrangement placed at full height, adds to the industrial flair and makes for an eye-catching plan! The exposed pipes and brick-like wall tiles draw attention to the industrial design even further. However, the stainless steel range hood expertly accentuates the industrial theme. Lastly, the kitchen's light gray cabinetry and peninsula contribute to the room's overall brightness.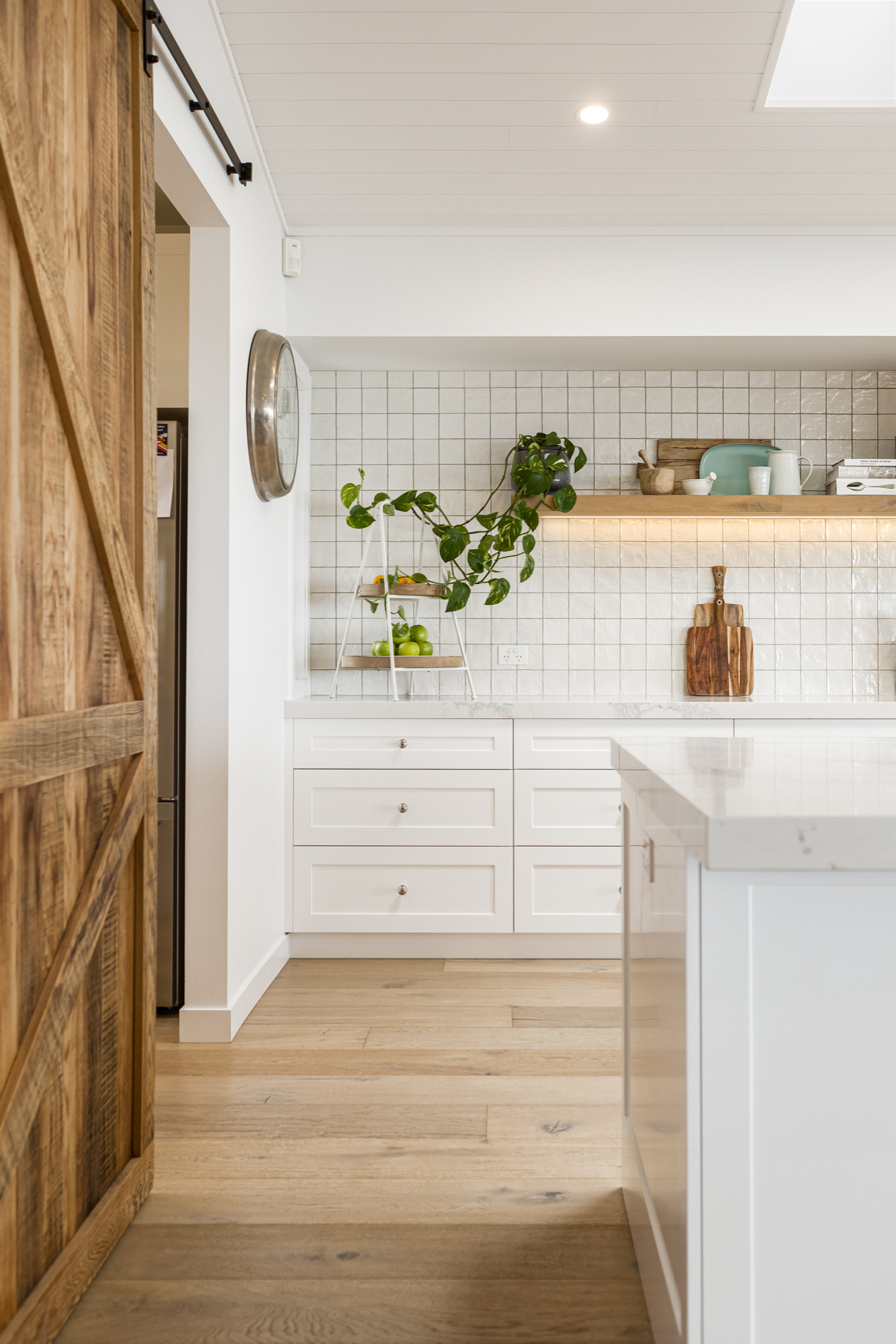 ID# 172507 | Houzz.com – Credit | © Roger Thompson
---
White Ceramic Subway Backsplash with White Cabinets and Wooden Shelves
For minimal and simple kitchens, a white ceramic backsplash with a white countertop is a good choice. The white square tile backsplash in this transitional kitchen provides a clean backdrop with a nice grid pattern. To add some opulence, the marble-look texture of the white quartz countertops blends perfectly with the tiles and shaker cabinets. The wood floating shelf and potted plants inject a dose of warmth. Also, it is the right choice to use a parquet to maintain the wooden atmosphere in the space. This option gives color and warmth to the otherwise white kitchen space.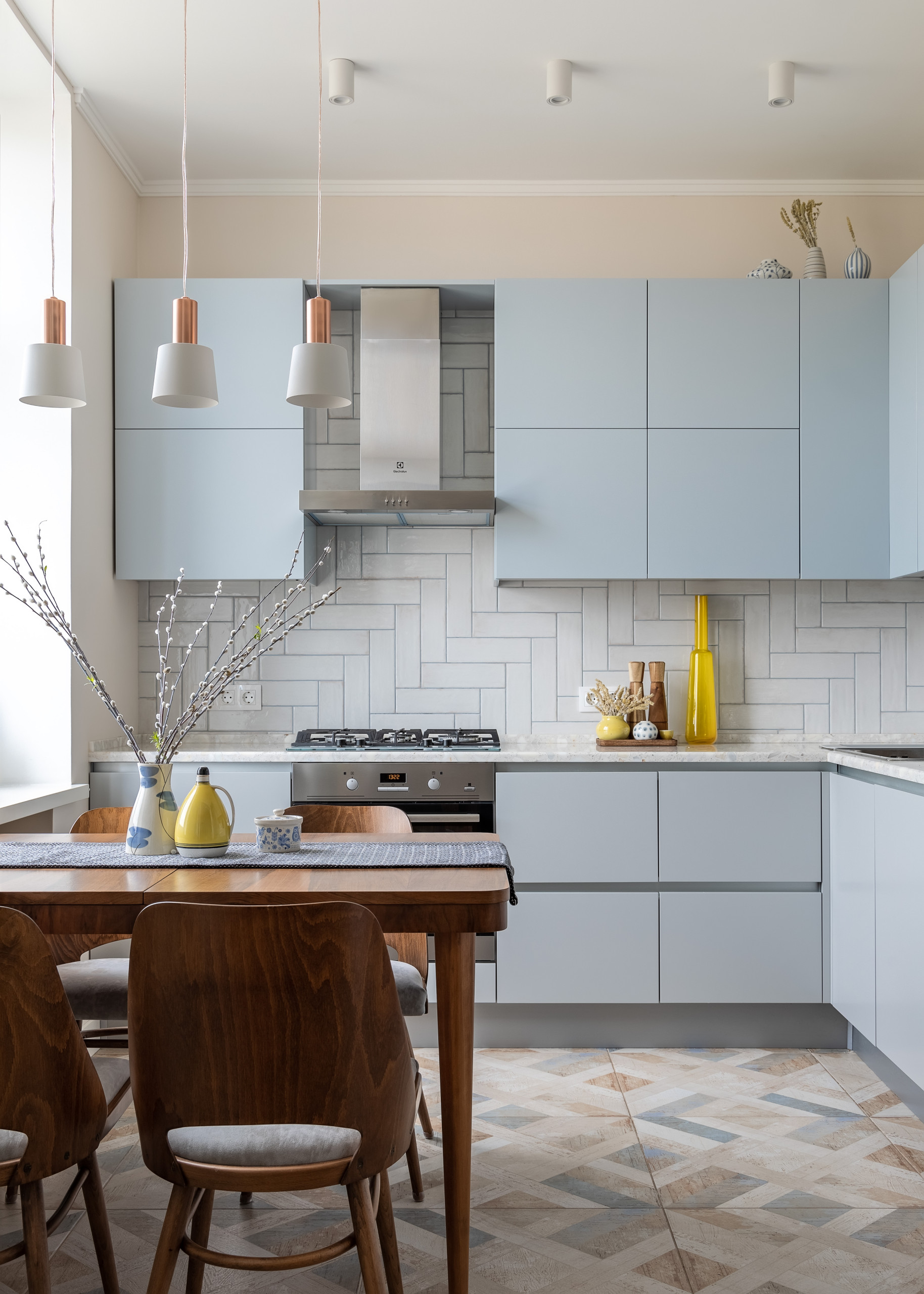 ID# 172508 | Houzz.com – Credit | © Tipaev Kostenko
---
White Ceramic Herringbone Backsplash with Light Blue Cabinets
For relatively small kitchens, preferring a white ceramic backsplash with a white countertop is genius to enhance the space feel. Light blue cabinets and white ceramic herringbone backsplash with white marble countertops are the heroes of this kitchen. They blend perfectly and they add character to the space. To give this stylish kitchen a vibrant look, the multicolored floor tiles make an unexpected twist without overwhelming the light color scheme.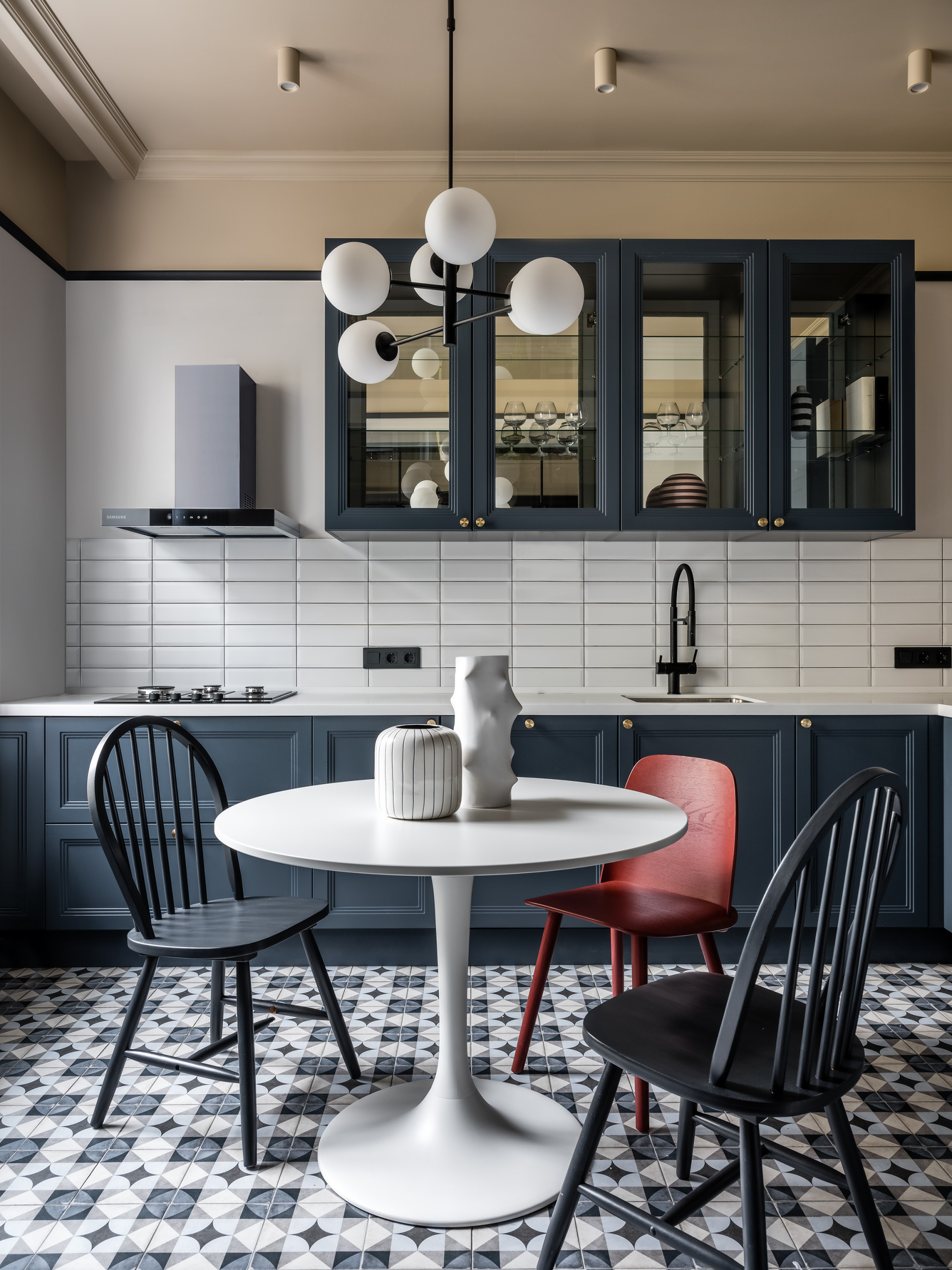 ID# 172509 | Houzz.com – Credit | © Зуева Анна
---
Dark Gray Cabinets and White Backsplash with White Countertop
This modern kitchen demonstrates how stacking the classic subway tiles, as opposed to placing them in a running bond pattern, provides the space with a more sleek appearance. The white countertop complements the tiles perfectly, and the dark gray cabinetry provides a sophisticated look. The multicolored floor tiles and the globe lighting fixture give a whimsical appeal that considerably increases personality as a finishing touch.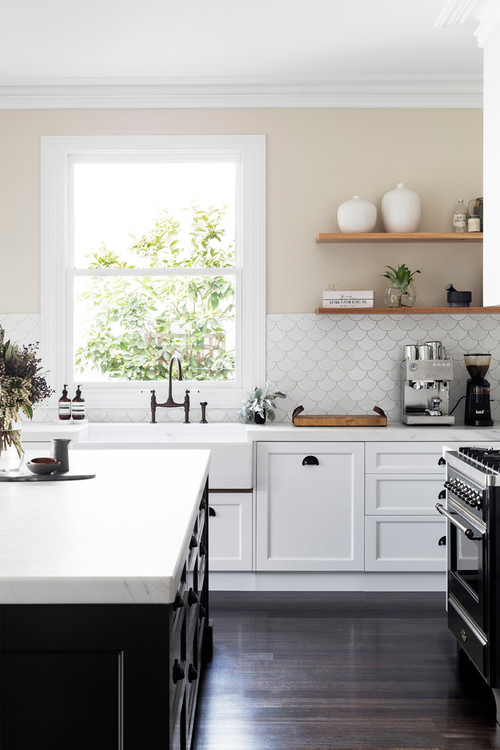 ID# 172510 | Houzz.com – Credit | © GIA Bathrooms & Kitchens
---
Traditional Kitchen with White Shaker Cabinets and Dark Wood Floor
This traditional kitchen is fashionable and spectacular. The use of white ceramic fish scale tile backsplash with white quartz countertops gives a balance to the coloring of the kitchen. It is neither too dark nor too light. The white ceramic backsplash also adds a pattern to the space while the white shaker cabinets shine brightly among the dark wood floor. To finish the overall look, the wood floating shelves break the monochrome color scheme and bring warmth to the atmosphere.
ID# 172511 | Houzz.com – Credit | © Provincial Kitchens
---
Beveled Subway Tiles with Chrome Hardware and Marble Worktops
This is an additional example of a conventional kitchen with gentle, clean lines and a monochromatic color palette. It mostly includes white shaker cabinets, a white subway tile backsplash, and white counters and is designed to be functional and pleasant. The black island creates a dramatic contrast when combined with bigger chrome cup pulls, and the chrome knobs and plumbing fittings give the shakers a lustrous appearance. In this way, the medium laminated parquet flooring adds just the appropriate amount of warmth to make the design feel cozier and less remote, while the island draws all attention to it.
White Glass Backsplash with White Countertop
A glass backsplash is a wonderful way to add shimmer to your kitchen. It is eco-friendly, heat-resistant, and dirt-repellent. Being resistant to splashes and stains allows you to save time on cleaning. Glass backsplash has lots of color options. The colors do not fade over time, and no discoloration on the backsplash occurs.
One of the best options to create a roomy and minimalist kitchen is using a white glass backsplash with a white countertop. They add sleekness, modernism, and beauty to your kitchen. To have the texture you can choose a white glass hexagon or mosaic backsplash. Or, if you fancy a modest kitchen space, a white glass subway backsplash would be an amazing option. These backsplash types with white countertops are great for cool kitchens.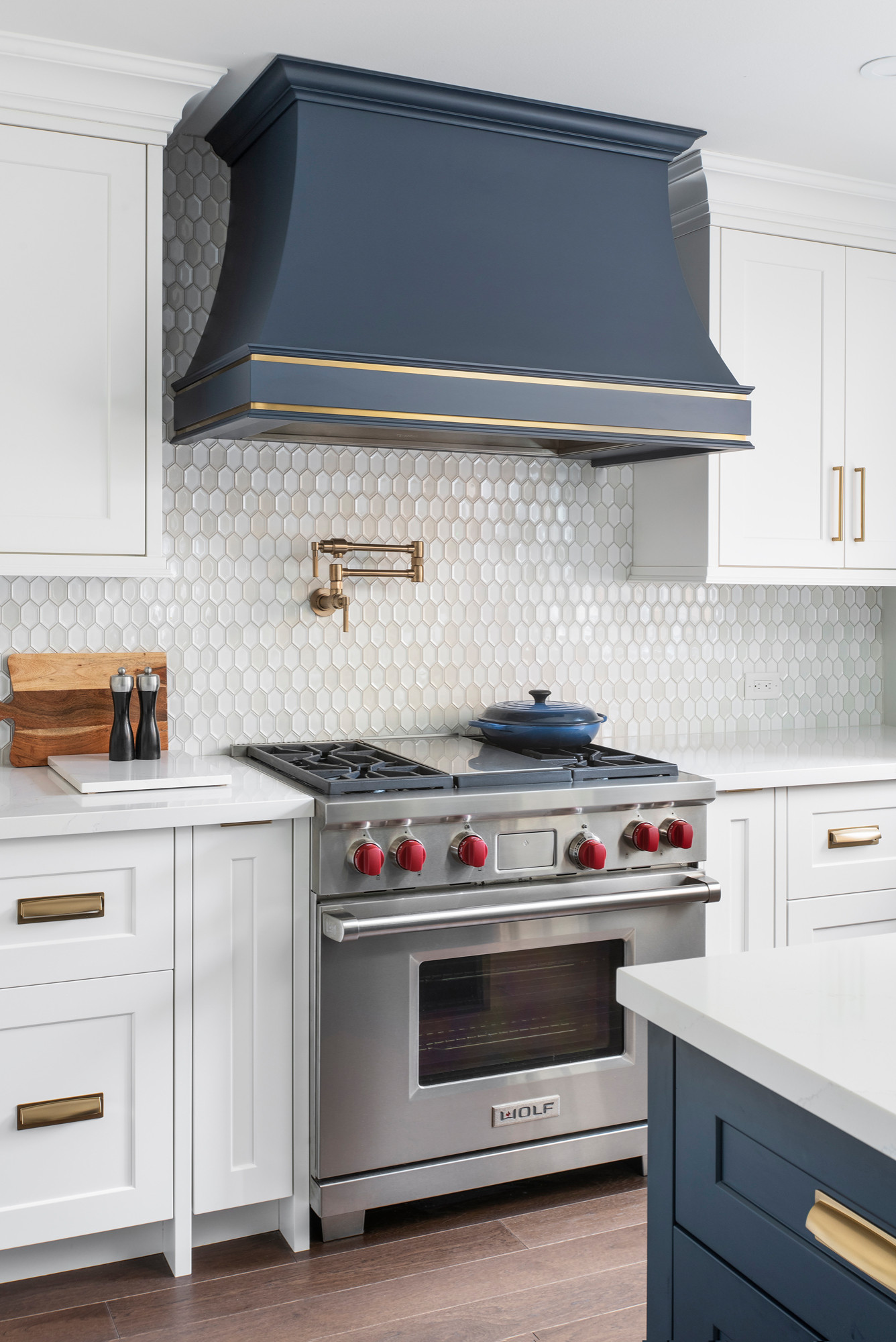 ID# 172512 | Houzz.com – Credit | © Ryan Fung
---
White Glass Backsplash with White Shaker Cabinets and Dark Blue Range Hodo
White glass backsplash with white countertops is very popular these days! In this traditional kitchen, white glass hexagon backsplash and white laminate countertops are combined to complete the clean and fresh look of the white shaker cabinets. The dark blue range hood and the kitchen island create a striking contrast against the white features to bring depth to the space while the brass accents make an opulent final touch with a touch of glam.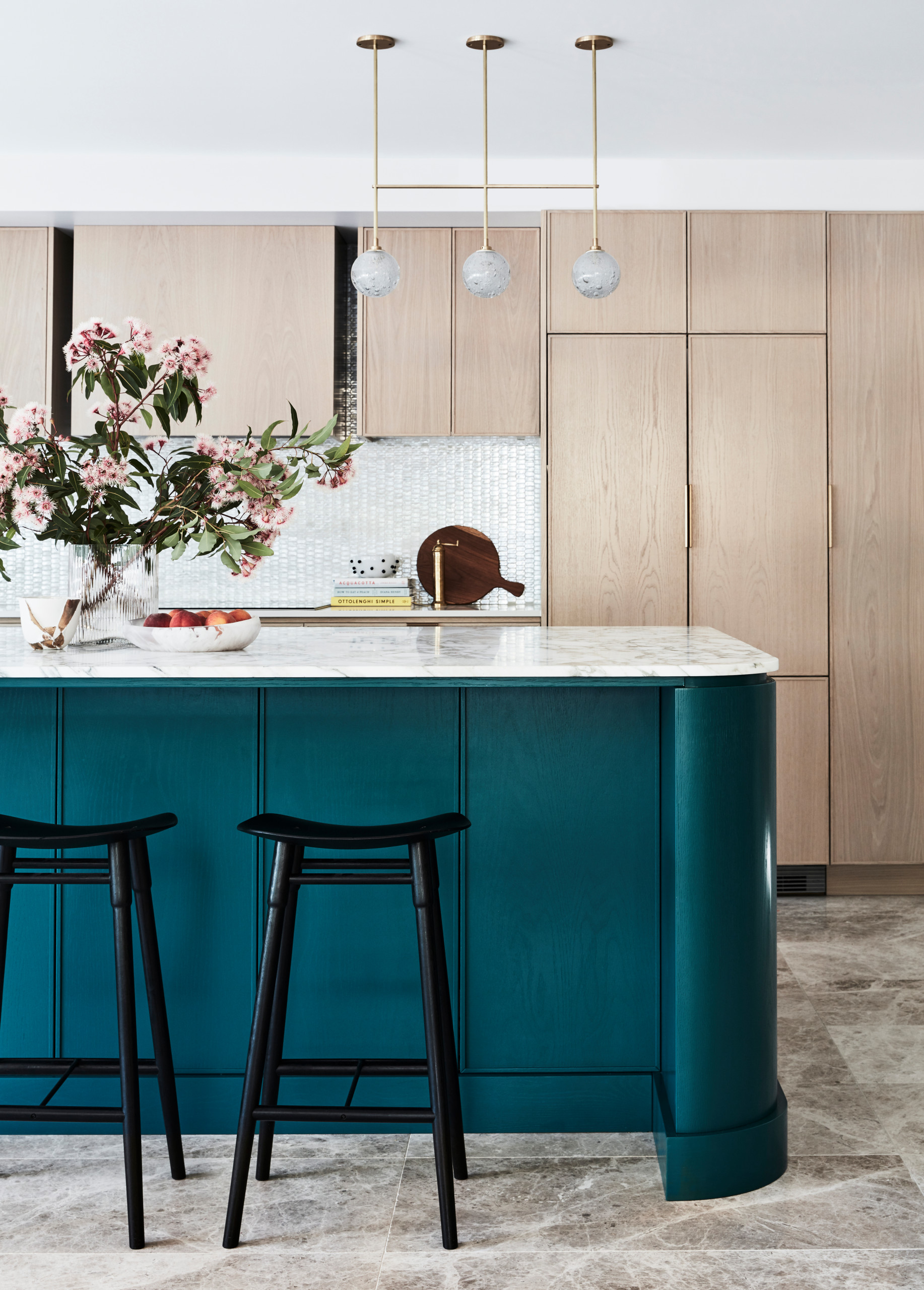 ID# 172513 | Houzz.com – Credit | © Catherine de Meur Interiors
---
Contemporary Kitchen with Light Wood Cabinets and Green Island
To boost the lightness in the kitchen, a white glass backsplash with white countertops provides a clean and fresh backdrop. Playing the natural light the tiny glass hexa tiles make the environment bright and luxurious. The white quartz countertops with a marble texture help to draw attention to this amazing backsplash. The light wood kitchen cabinets provide a sleek and elegant frame for the tiles. In contrast, the kitchen island is preferred in a stunning green shade that enhances the visual interest.
White Marble Backsplash with White Countertop
It's like adding a dash of magic to your kitchen when you decorate it with a white marble backsplash and a spotless white countertop. Those veins of marble? They create a story of grace and complexity akin to that of the artwork found in nature! The simplicity of this space is what makes it so beautiful; the all-white aesthetic infuses your kitchen with a feeling of spaciousness and purity that is like a breath of fresh air. Your kitchen will be genuinely distinctive because of the natural variances in the marble, which provide character and depth whether you choose larger marble slabs or the traditional subway tile pattern.
ID# 172514 | Houzz.com – Credit | © Bella Vie Interiors
---
Bright Kitchen Design with White Cabinets and Black Island
White marble backsplash with white countertops is one of the key elements for a minimalist kitchen look with a dose of opulence! In this fresh and airy kitchen, the white marble backsplash and countertops create an elegant and contemporary look. To have a monochromatic theme, the walls and the ceiling clad with shiplap panels, create a seamless look with the white shaker cabinets. To highlight the ceiling length, the upper cabinets are removed above the window. In contrast, the black kitchen island and stools stand out between the white features while the dark wood floor complements the sophisticated appeal of the black accents.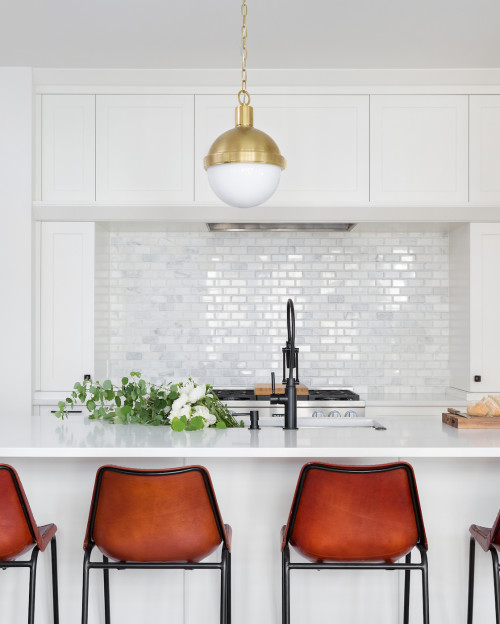 ID# 172515 | Houzz.com – Credit | © Reena Sotropa In House Design Group
---
Marble Subway Tiles with Quartz Countertops and White Cabinetry
In this small minimalist kitchen, a white marble subway backsplash paired with Silestone quartz countertops creates a nice textural backdrop. The plain and clean appeal of the white kitchen cabinets allows the backsplash tiles to stand out while the globe pendant light with brass details and the leather counter chairs break the white color scheme to enhance the overall look with a warm touch.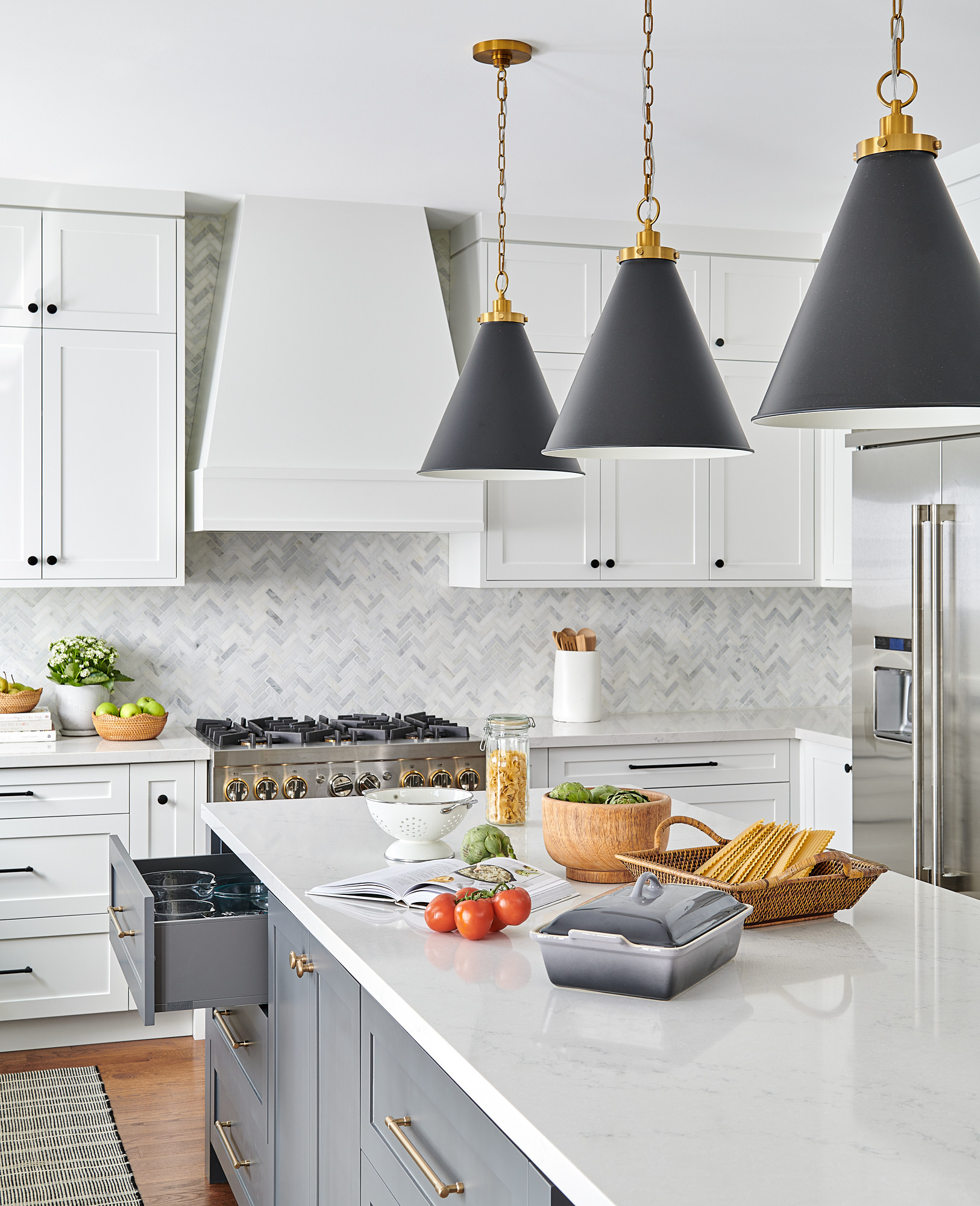 ID# 172516 | Houzz.com – Credit | © Erin Interiors
---
Transitional Kitchen with White Cabinets and Gray Island
A classic and timeless atmosphere is created by the white shaker-style cabinets, white countertops and white marble backsplash! The white quartz countertops complete the cabinetry's simple style while the marble backsplash's herringbone pattern adds richness to the space. The black cabinet hardware and the pendant lighting above the kitchen island update the space.
ID# 172517 | Houzz.com – Credit
---
Traditional Kitchen Design with Cacalatta Gold Marble Backsplash Tiles
Crisp white shaker style and glass front cabinets provide a classic look for this kitchen while the addition of the marble tiles instantly elevates the overall look. Adorned by gold and gray veins, the Calacatta gold marble backsplash tiles perfectly complete the traditional style of cabinetry. The marble mosaic tiles behind the stove create a focal point without overwhelming it.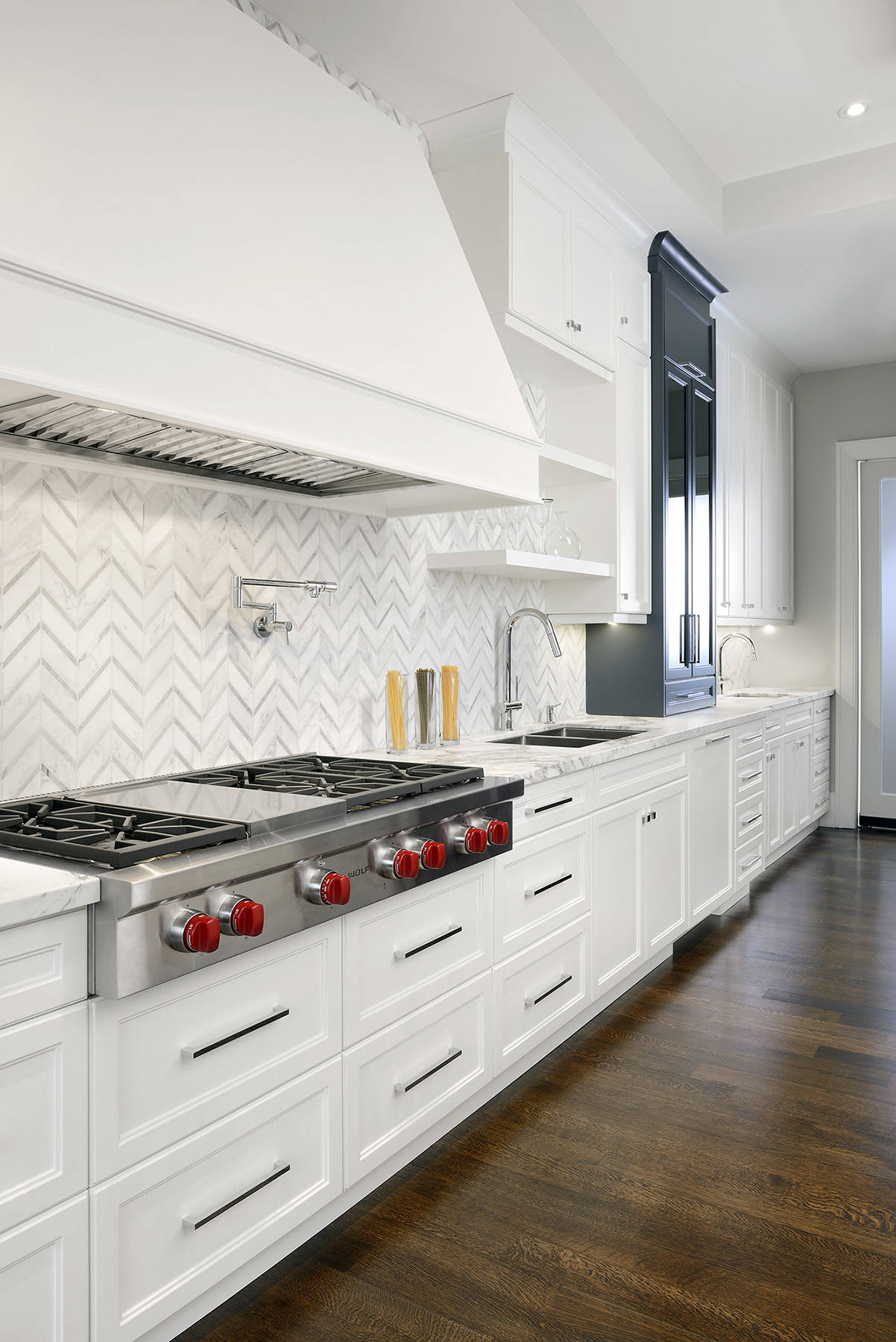 ID# 172518 | Houzz.com – Credit | © Evelyn Eshun Design Inc.
---
Marble Chevron Tiles with Traditional Shaker Cabinets
Opulent, ageless, traditional, yet very modern and up to date! The white shaker cabinets serve as a blank canvas that creates an airy and light environment, and the marble chevron backsplash finishes off this clean design flawlessly while providing a pleasing texture without taking over. A touch of bling is added to the modern vibe by the chrome fixtures and fittings.
ID# 172519 | Houzz.com – Credit | © BiglarKinyan Design Planning Inc.
---
Modern White Kitchen with Marble Backsplash Tiles and Wood Floor
This modern kitchen is not only the epitome of elegance, but it also perfectly embodies mid-century minimalism. Marble subway tiles given a traditional polish not only respect the stone but also elevate it to the center of attention in the kitchen. To guarantee that the marble backsplash glows in the remaining spaces, white flat-front cabinets surround it. In addition, the low-profile hob and the integrated appliances and chrome hardware accentuate the kitchen's streamlined appearance. Finally, the floor covering honors the love of wood seen in mid-century modern kitchens by providing an instant warmth to break up the monochrome design. The finished product maintains its utility while feeling beautiful, timeless, and contemporary.
White Countertop Materials
These days, white countertops are very in because of their classic style and modern appeal. For a sophisticated aesthetic, pair them with white backsplash and dark cabinets; alternatively, go for a simple yet stylish kitchen by combining them with light-colored cabinets and white backsplash. Given how prevalent white countertops are, it's crucial to discuss their materials. You may create a kitchen that is neater, lighter, and colder by using a variety of white countertop materials.
White Backsplash With White Marble Countertop
You can see white backsplash with white marble countertops in every interior design magazine or blog. Because they are extremely popular in the interior design world. White backsplash with a white marble countertop can give you a dreamy and fancy kitchen. The price of the marble causes people to hesitate to use it. However, there are affordable marble options in the market. Choosing a white backsplash with a white marble countertop is the right option to have a luxurious and stylish kitchen. The biggest advantage of marble countertops is being durability and heat resistance. Thus, you can use white marble countertops for many years.
ID# 172520 | Houzz.com – Credit | © Maxim Kashin
---
Contemporary Kitchen with Mirrored Cabinets and Black Accents
The combination of white marble backsplash and countertops gives this kitchen an elegant and stylish look! The luxurious marble texture looks beautiful with the white flat-panel cabinets. It is a wise choice to keep the cabinets simple to highlight these fashionable marble slabs. Above, the mirrored upper cabinets complement the bright and spacious atmosphere of this all-white kitchen and bring dimension to the space! To add color and coziness to the area, the wooden cabinet is placed between the mirrored ones.
ID# 172521 | Houzz.com – Credit | © Room By Room
---
Full-height White Backsplash with White Countertop and Blue Cabinets
Using a white backsplash with a white marble countertop is a great choice for kitchens to create a bright and spacious atmosphere, especially reaching the tiles through the ceiling. White stacked tile backsplash and white marble countertop help to highlight the baby blue cabinets and white open shelves. Playing with the natural lights, the glossy backsplash tiles and marble countertop give texture and richness whereas blue cabinets invite a coastal breeze into the space.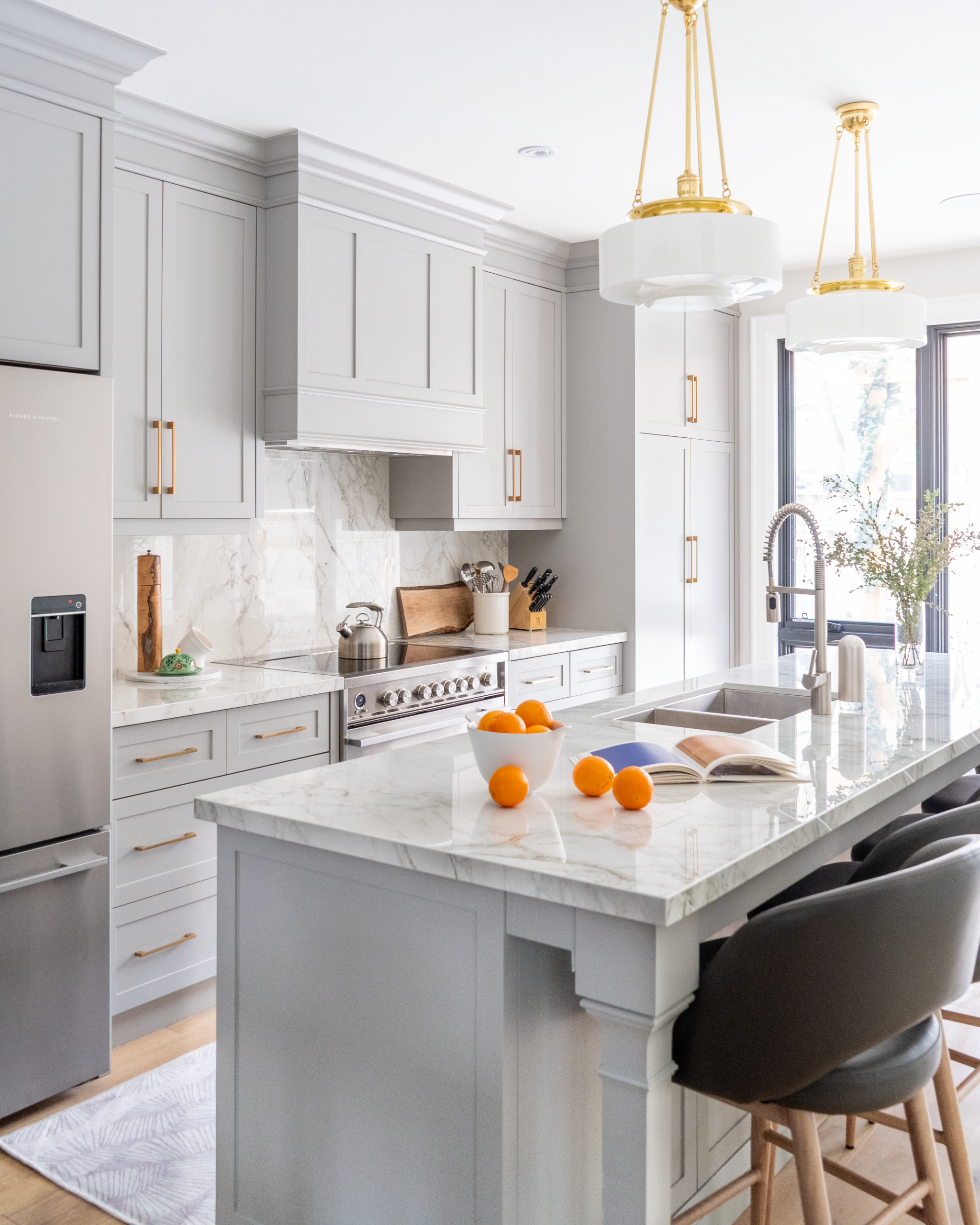 ID# 172522 | Houzz.com – Credit | © Alair Homes Lorne Park
---
Light Gray Kitchen Cabinets with Marble Slab Backsplash and Brass Hardware
You can never have too much marble. This stunning white kitchen is elegant due to its white marble backsplash and countertops. The light gray kitchen cabinets make the kitchen area open and refreshing and provide a sleek frame for the marble slab backsplash. Mirroring the base cabinets, the kitchen island provides an additional counter space and with its expansion, it serves as a dining area. For a final touch, the brass hardware and the lighting fixtures increase richness.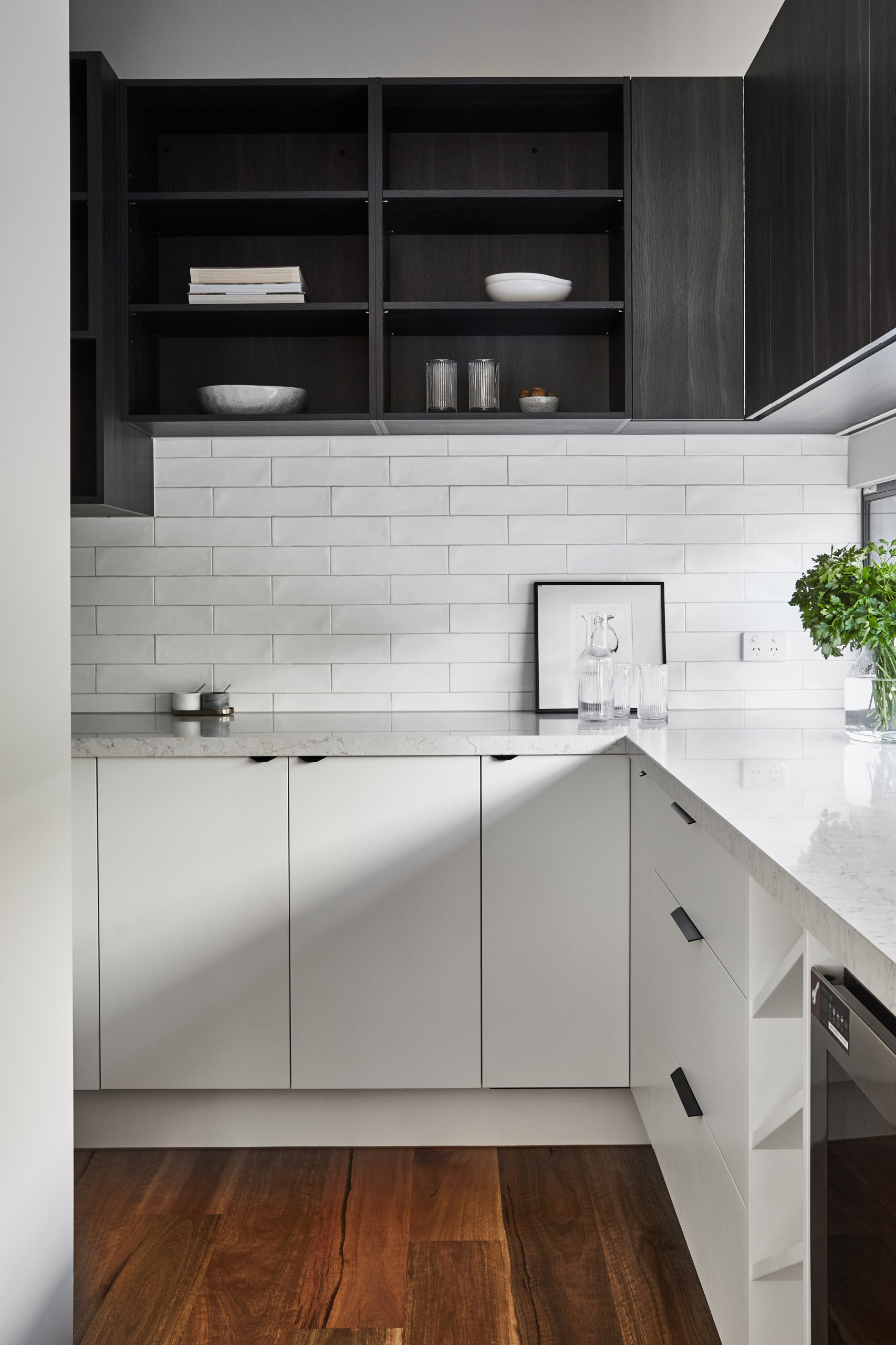 ID# 172523 | Houzz.com – Credit | © Sherbrooke Design and Construction
---
Two-tone Kitchen Cabinetry with Wood Floor and Modern Hardware
This modern kitchen divides its volume into two halves using black and white tones, giving you the best of both worlds. The base countertops are maintained white, but the upper cabinets on the top half are black. To create movement in the kitchen along the horizontal axis, the handmade white ceramic subway tile backsplash is placed in an offset pattern in between. The white-and-black color scheme is nicely complemented by the marble surfaces scattered with feathery designs. The medium wood floor finish and the kitchen plant, which provide a breath of warmth and freshness, respectively, provide life to the contrasting kitchen layout.
White Backsplash with White Quartz Countertop
Quartz is an easy countertop material due to its customizability. You can have your dream kitchen by customizing your quartz countertop. Quartz is a resilient material that does not chip or break easily. Among other colors the most popular color for quartz is white. Also, white quartz countertops are in trend. You can combine them with a white backsplash to have a perfect stylish kitchen. Besides white backsplash with a white quartz counter makes the kitchen look bigger and fresh. You can match the white quartz countertop with a white marble backsplash, white subway backsplash, or white hexagon backsplash for a stylish and modern kitchen space.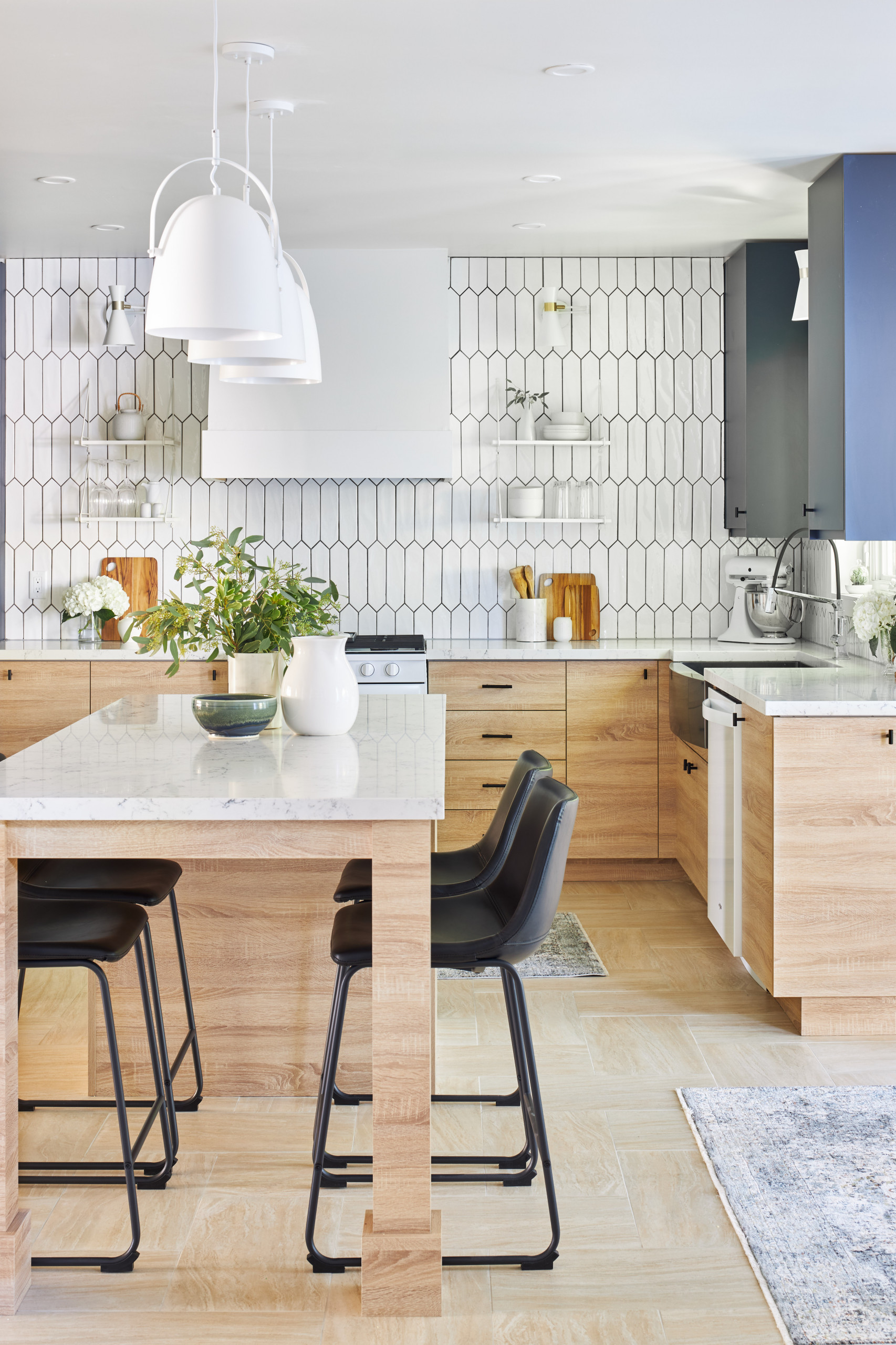 ID# 172524 | Houzz.com – Credit | © PULSAR DESIGN INC.
---
Hexagonal White Backsplash with White Countertop and Black Grout
If you want to incorporate the light and airy feel of the white through a backsplash but still want to spice up a little bit, then you will love this design! As you can see in this modern kitchen, the elongated hexagon tile backsplash reaches through the ceiling and creates an eye-catching backdrop for the natural wood kitchen cabinets. Using a black grout for white tiles highlights this gorgeous honeycomb pattern while the white quartz countertops complement the bright look of the tiles.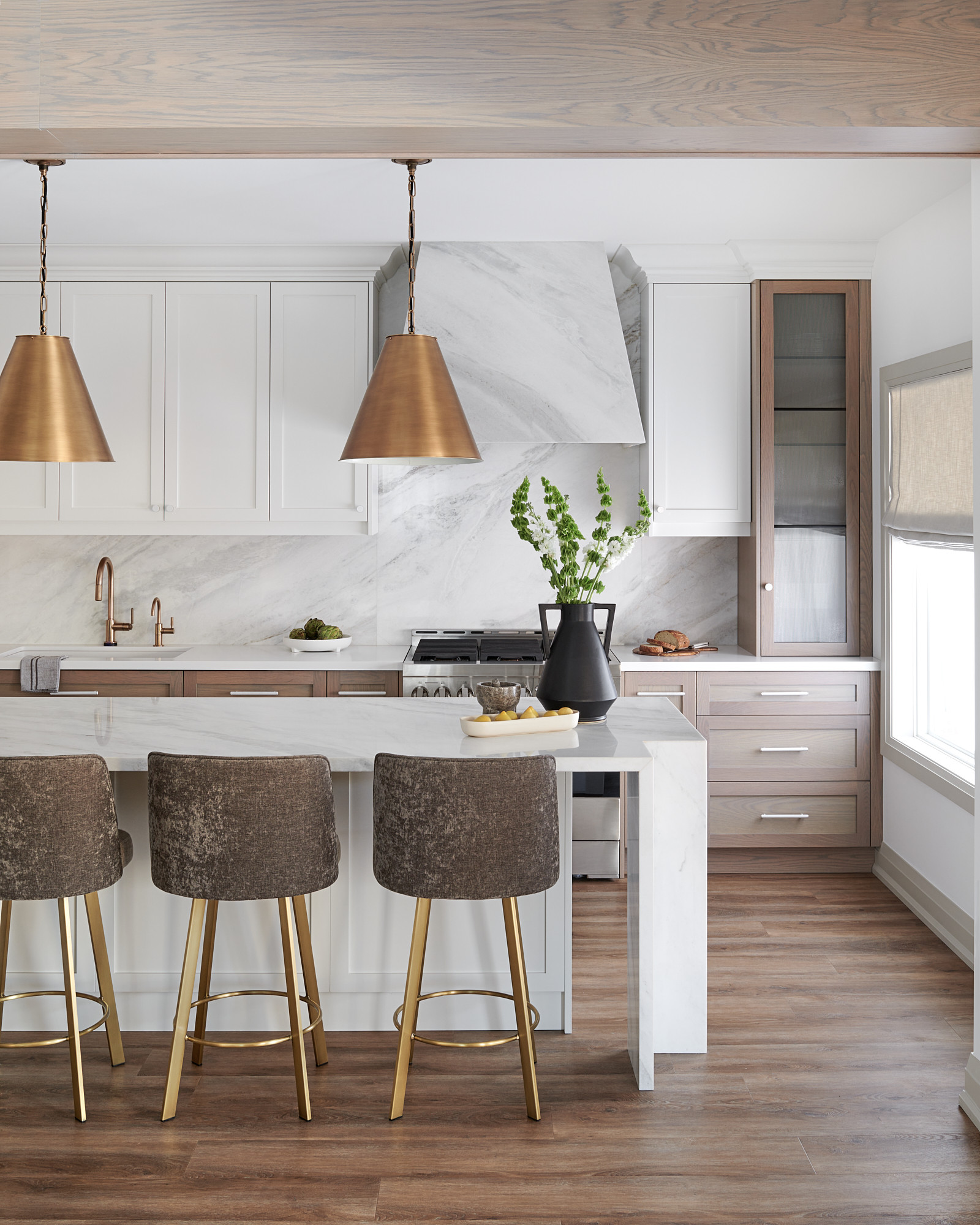 ID# 172525 | Houzz.com – Credit | © Carriage Lane Design-Build Inc.
---
Two-tone Kitchen Cabinetry with Quartz Backsplash and Range Hood
Consider utilizing two-tone cabinets, as shown in this transitional kitchen, to add some depth to an all-white kitchen! The white quartz countertop and backsplash complete the room's fresh look which is set against the backdrop of the white upper cabinets. To provide a continuous appearance, the range hood is also constructed using the same quartz slabs. The gold pendant lights above the island create a warm glow that gives off a midcentury atmosphere and the addition of the wooden base cabinets improves the entire design and goes well with the wood floor!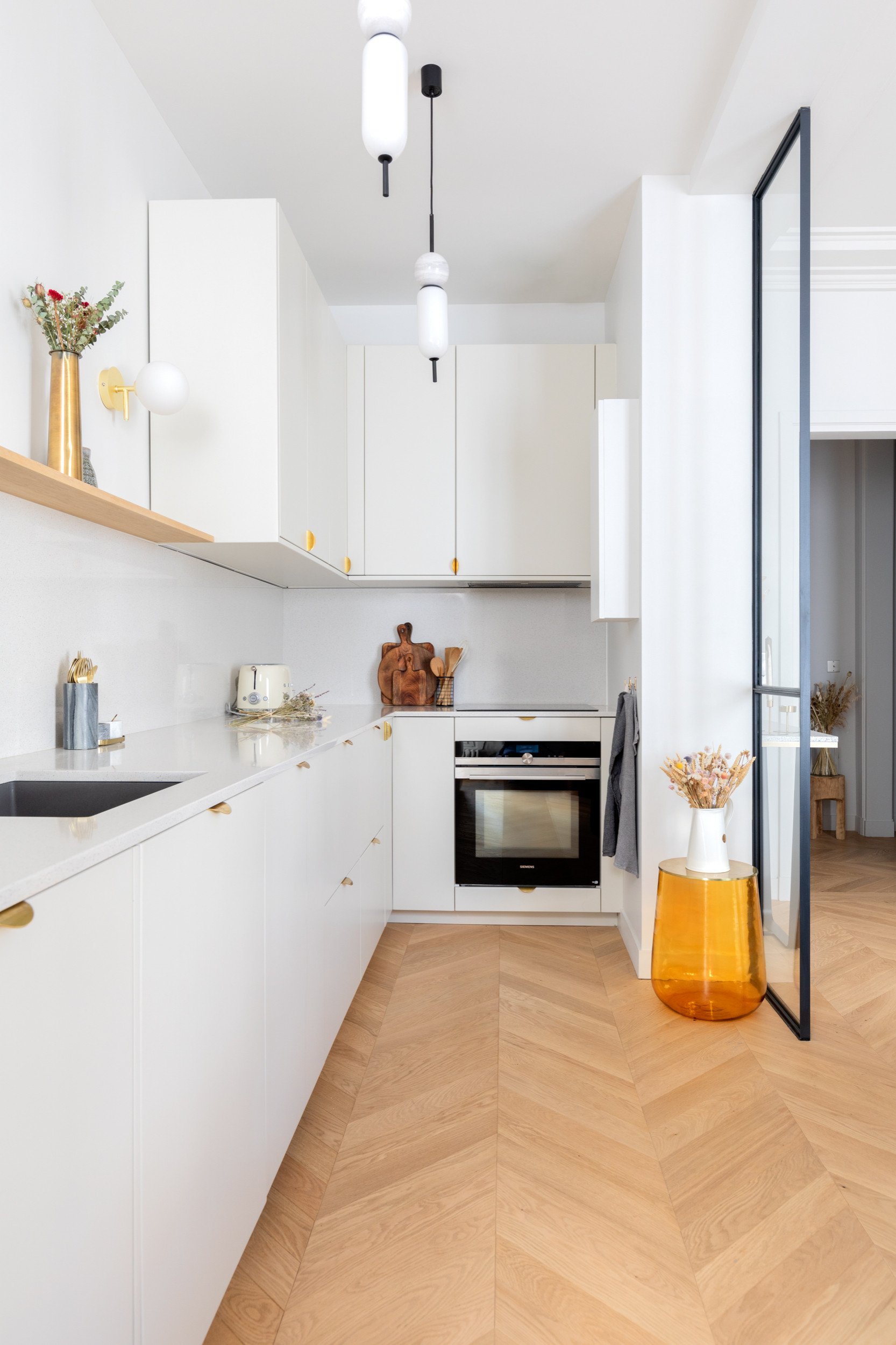 ID# 172526 | Houzz.com – Credit | © The Cool Republic
---
Modern Minimalist Kitchen with White Cabinets and Wood Floor
The key element of achieving a minimalist and modern kitchen look is a white backsplash with white quartz countertops! White flat panel cabinets with white quartz backsplash and countertops provide a minimalistic effect on the kitchen. The wood chevron floor, wooden floating shelf and the tiny bras cabinet hardware bring coziness and elegance into the kitchen
How do you match a white countertop to a backsplash?
If you are looking for a fail-safe option, then you can consider matching your white countertops with a white backsplash. This classic combo will provide a blank canvas that always chic and versatile! To jazz up the plain appeal of your white cabinets, you can also play with some textures and patterns.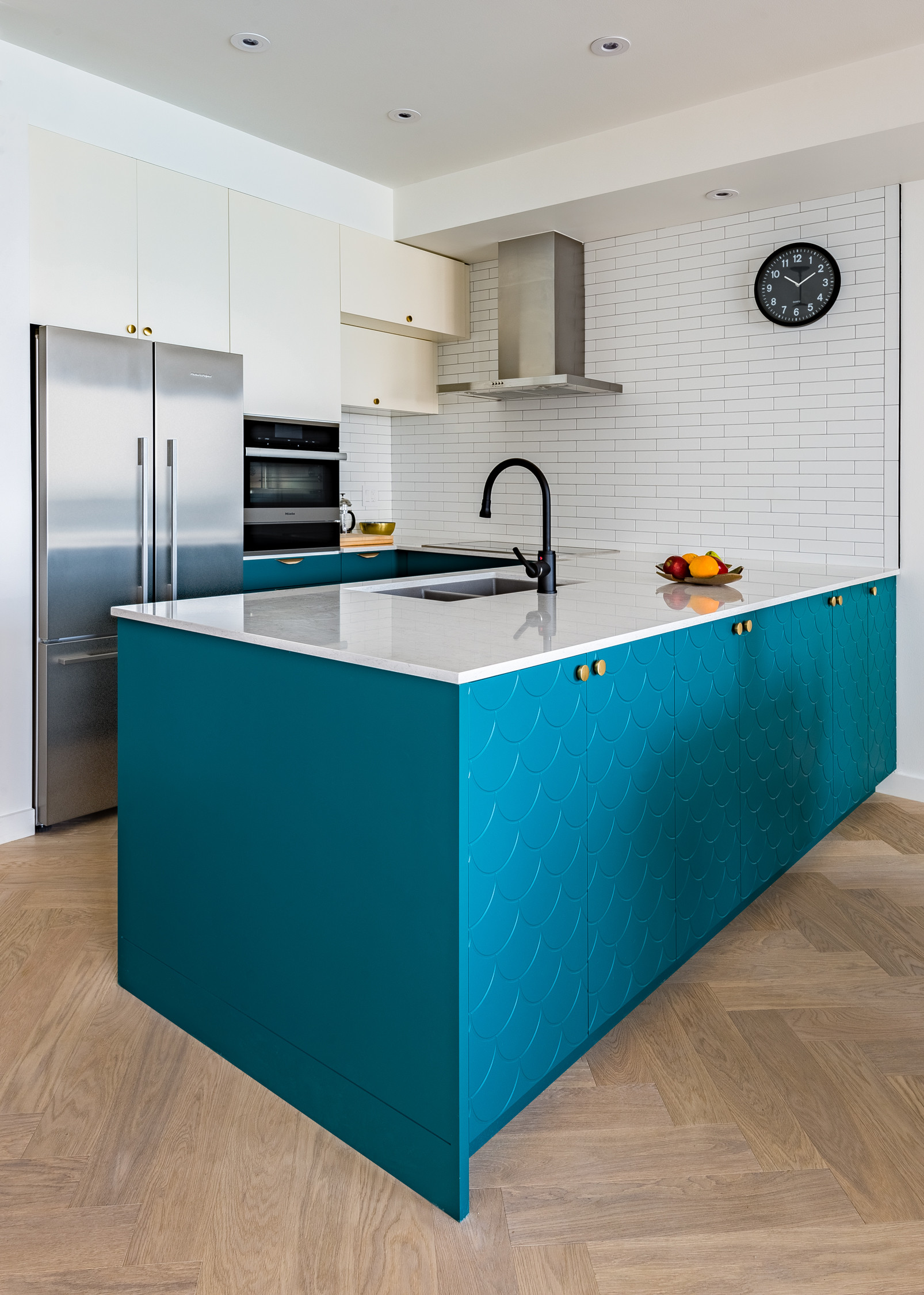 ID# 172528 | Houzz.com – Credit | © Jason Fung Architect Inc.
---
Scandinavian Kitchen with Blue and White Cabinets and Wood Floor
The light wood herringbone floors, white upper cabinets, and blue base cabinets give this Scandinavian-style kitchen a somewhat beachy feel! The white countertops lend an elegant touch while the black faucet and brass accessories offer contrast. The kitchen seems contemporary with stainless steel equipment, and it's cheery and bright with white walls, a white ceiling, and a white backsplash. The most distinctive feature of this open-concept kitchen is the fish scale patterns on the peninsula that enhance the beachy feel.
White Backsplash With White Laminate Countertop
Laminate is a budget-friendly countertop material. Although it is not heat and water-resistant, laminate is a suitable countertop material for kitchens. It consists of plastic resins which provide stain-resistant cooking and prep areas in the kitchen. Also, laminate countertops have color and design options for homeowners with a unique style. White backsplash with white laminate countertop is the most preferred interior design option for kitchens. They look wonderful together and are easy to style, especially for homeowners who have a limited budget. To have a stylish and unique kitchen area you can use white honeycomb, herringbone, or chevron backsplash with white panel laminate counters. If you want to highlight the countertops, you can use white Carrara or white Bardiglio laminate countertops with white panel backsplash.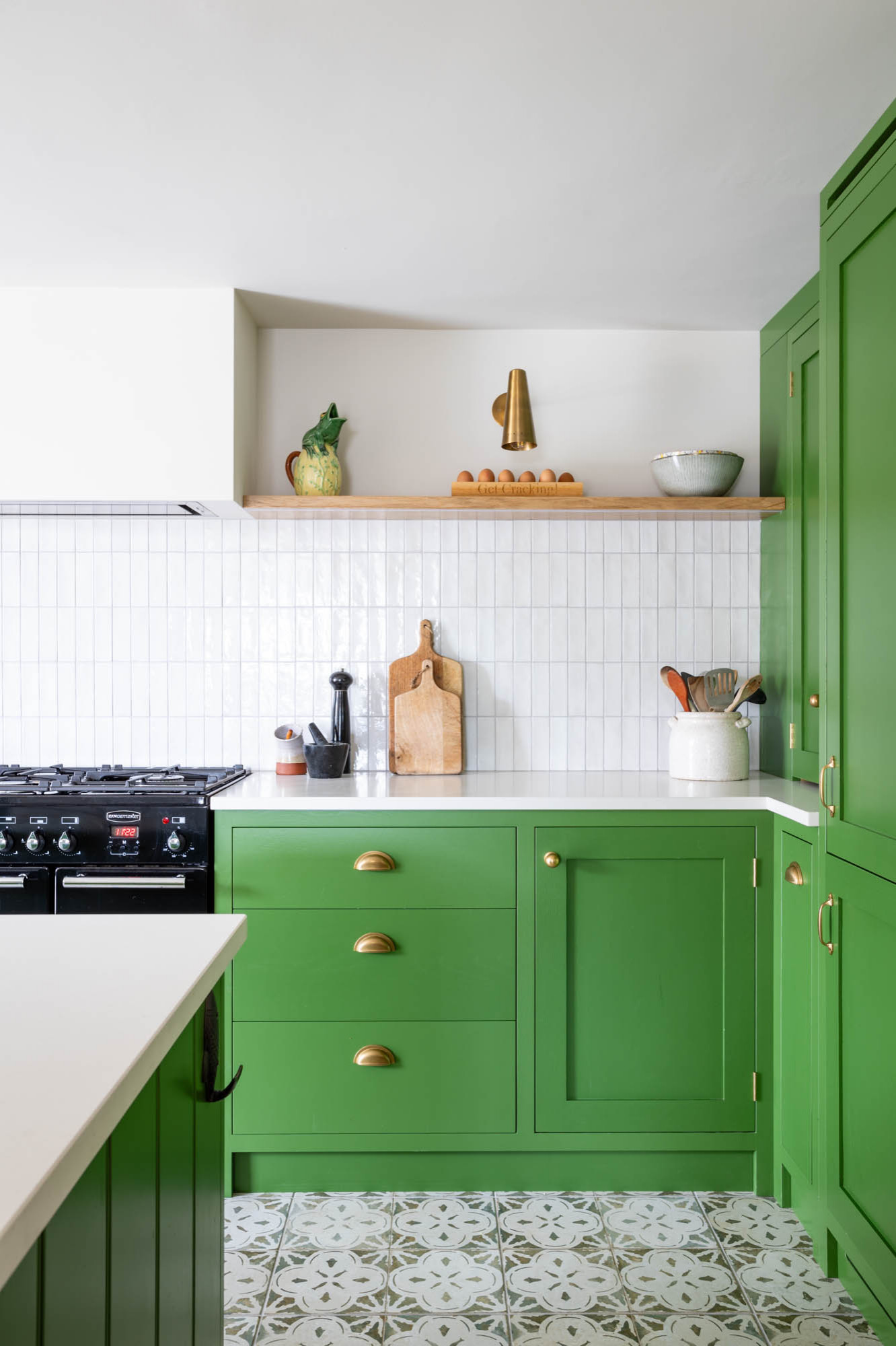 ID# 172529 | Houzz.com – Credit | © Frome Interiors
---
Green Shaker Cabinets with Patterned Floor Tiles
This modern kitchen looks phenomenal thanks to its green cabinets! Adorned by a vibrant shade of green, the shaker-style cabinets provide an eye-catching base for this kitchen while the combination of white vertical stacked tile backsplash with white laminate countertops bring a bright and airy look to the space. The backsplash gives texture whereas white laminate countertops dance with the cabinets. The wood floating shelf and antique brass hardware complement the warm sense of the green while the patterned floor tiles add another layer of texture to enhance the overall look.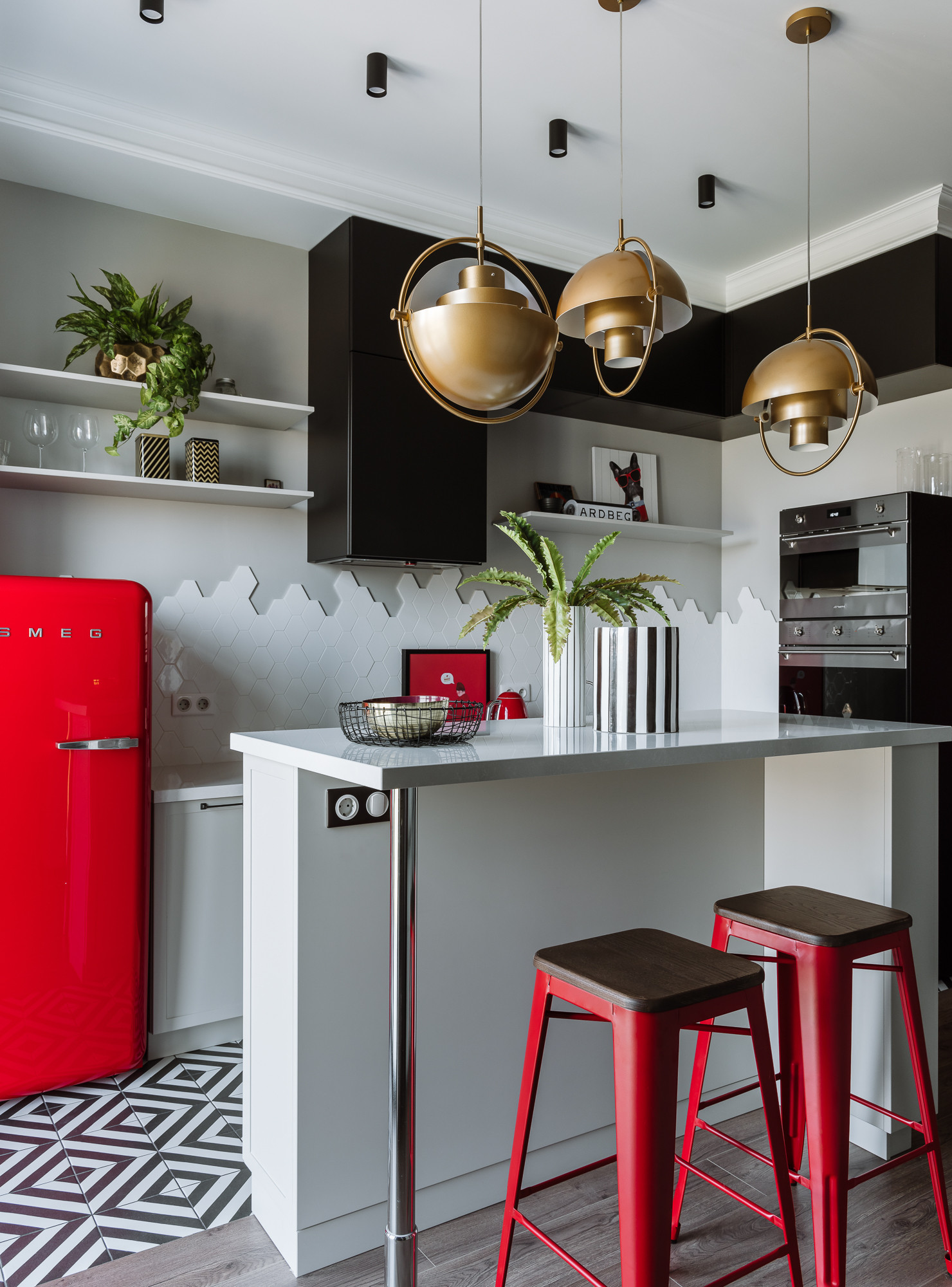 ID# 172530 | Houzz.com – Credit | © Анна Моджаро
---
Black and White Kitchen Cabinets with Red Accents
If you are going to use the combination of white cabinets and countertops, but want to spice up their plain looks, then this contemporary kitchen will inspire you! Even though the white hexagon tiles and laminate countertops create a seamless look, finishing the upper part of the tiles unevenly adds a bunch of character to this design. White tiles and laminate countertops look coherent with off-white base cabinets while the black upper ones bring depth to the space by creating contrast. To add color to the monochrome design, red accents such as the fridge and counter stools make a quirky touch.
Can you use a white backsplash with white cabinets?
Of course, you are… A classic pairing of white backsplashes and countertops produces a polished and uncluttered appearance! A tasteful and aesthetically pleasing white-on-white kitchen requires careful consideration of color and texture combinations.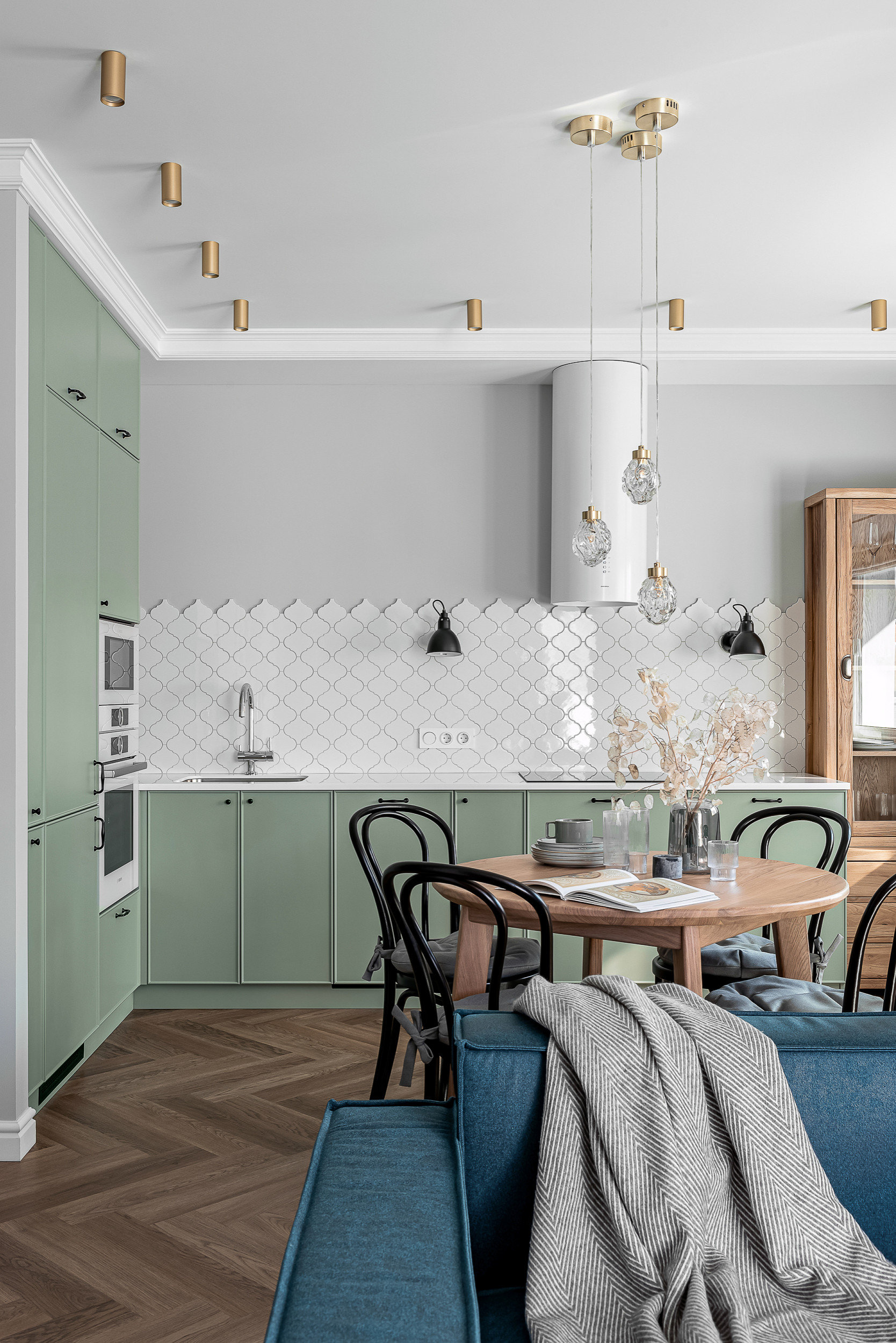 ID# 172531 | Houzz.com – Credit | © Михаил Косачёв
---
Sage Green Kitchen Cabinets with Arabesque Backsplash Tiles and Black Hardware
Sage green cabinetry offers a streamlined foundation for this minimalist kitchen while white arabesque tiles and laminate counters make the space feel airy and light. The black sconces and cabinet hardware accentuate the contemporary style. To add to the warm charm of the green cabinetry, add brass ceiling lighting fixtures and a wooden dining table!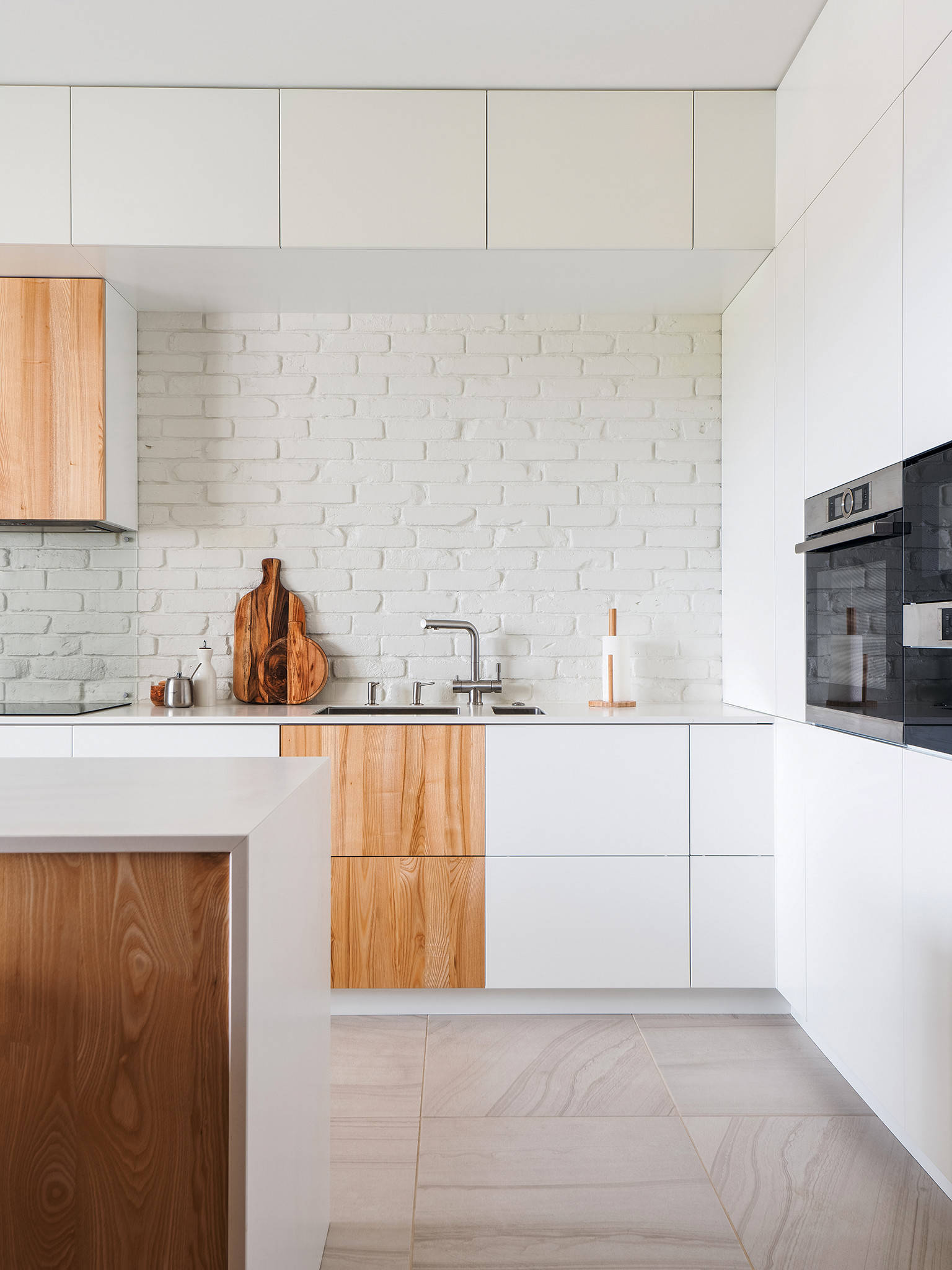 ID# 172532 | Houzz.com – Credit | © Line Design Studio
---
Contemporary Kitchen with White Brick Backsplash and Wood Details
There's something sleek and contemporary about the white kitchen cabinetry paired with the white brick backsplash! In addition to offering a neat backdrop, the brick backsplash's uneven surface creates a pleasing textured effect. Simple white flat-panel kitchen cabinets avoid having an overly cluttered appearance and draw attention to the backsplash. The range hood and the cabinets' wooden elements break up the white dominance and provide warmth to the space. The porcelain floor tiles with a beige stone appearance provide a touch of luxury and flawlessly complete the style!