27+ Vertical Tile Backsplash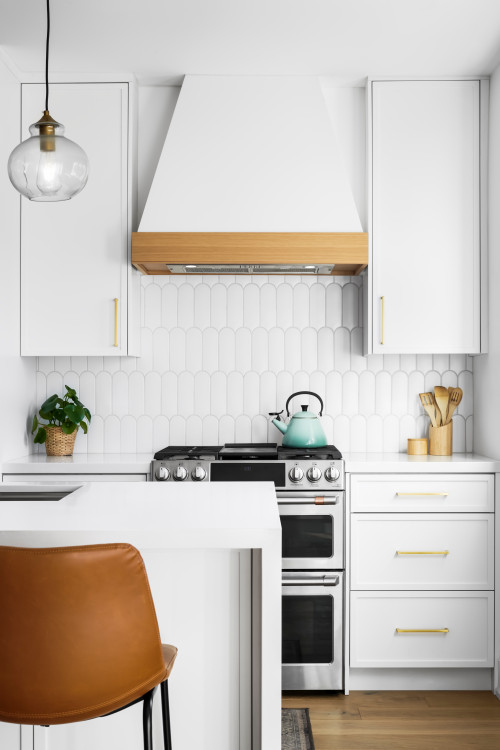 ID# 170703 | Houzz.com – Credit | © Ace of Space
---
White Scandinavian Kitchen with Wood and Brass Accent
Surrounded by the bright and airy feel of white, this Scandinavian kitchen offers a spacious atmosphere! The white shaker cabinets provide a timeless base while the brass hardware and the wood trim of the range hood add a sense of warmth to this otherwise white kitchen. The vertically laid mermaid backsplash tiles soften the design flow with their curved edges.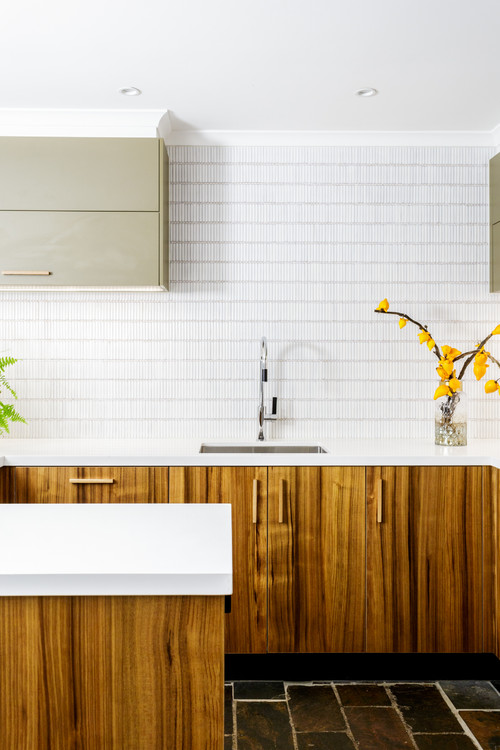 ID# 170718 | Houzz.com – Credit | © smarterBATHROOMS+
---
White Kit Kat Tile Backsplash with Two-Tone Cabinets
The white Kit Kat tile backsplash provides a wonderful textural backdrop and the white quartz countertops go well with the backsplash's light and airy feel. With their individual textures, the base cabinets made of natural wood improve the entire appearance. However, the gray upper cabinets complete the contemporary look! The stone floor tiles add an unexpected finishing touch by giving the room a rustic feel.
Vertical Tile Backsplash
Would you like to give your kitchen a modern spin only by changing the layout of the tiles? A vertical tile backsplash can do it for you. Recently, vertical tile backsplashes have become a fad that gives the kitchen a modern uplift while still preserving its timeless look. You can achieve a vertical arrangement with many tiles, including matchstick, subway, elongated picket tile backsplashes or anything that resembles a rectangular at least with longer and shorter sides!
Make the Space Feel Higher with Vertical Tiles
A vertical tile backsplash introduces a new aesthetic value with a modern appeal but can be transferred to the kitchens with a classic look as well! They can be laid out in stacked or running-bond style, depending on the homeowners' taste and the look they aim for. For rustic kitchen lovers, for example, stone-looking subway tiles such as hand-made terracotta and zellige tiles can be aligned vertically as their protruding edges will clash with each other and create layers of texture and authenticity. As such, it doesn't come as a surprise that versatile vertical tile backsplashes are popular and widely used as part of home improvement projects. In this blog, we share multiple design examples to give you a more solid background on how vertical tile backsplashes could be incorporated with other elements and achieve harmonious integrity.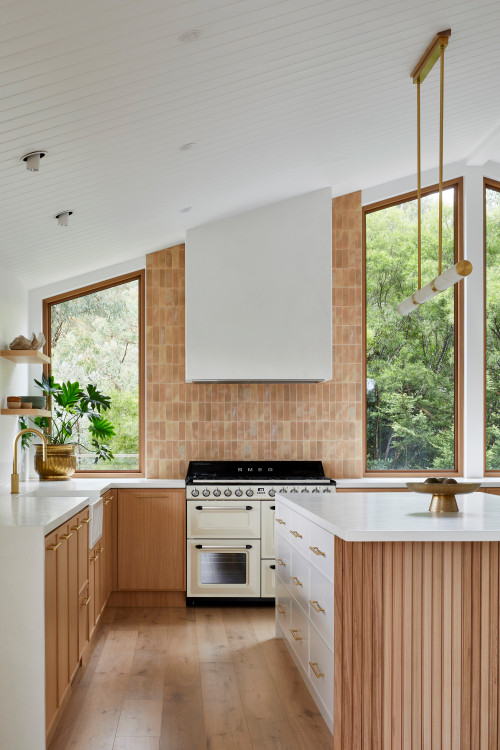 ID# 170701 | Houzz.com – Credit | © Demardi
---
Wood Cabinets with Beige Vertical Tile Backsplash and White Countertops
The protagonist of this contemporary kitchen is without a doubt the beige backsplash laid out vertically to make a statement. It not only introduces a sense of order and clarity but also enriches the ambiance through its subtle tonal variations. It is flanked by wood cabinets and a sloped shiplap ceiling that frames it beautifully. To lend a sense of airiness, white countertops, ceiling, and range hood come in to lighten up the kitchen. The white island clad with wooden panels adds another layer to function as a utility object within the u-shaped layout. It feels at home and well-coordinated with the perimeter cabinets by mirroring the wood and white combination. Lastly, the lighting fixture featuring brass details composes a delightful visual scheme with a reinterpretation of a midcentury element in modern lines.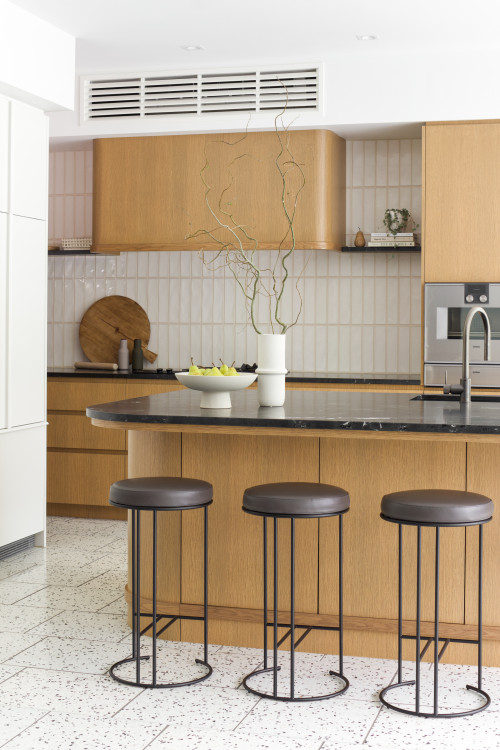 ID# 170702 | Houzz.com – Credit | © Shane George Design
---
Midcentury Kitchen with White Tile Backsplash with Black Countertops
The midcentury kitchen feels as light as a feather! It is composed of wood cabinets with black countertops and a white backsplash. The vertical tiles of the background add a sense of movement and interest to the walls while the quartzite countertops delicate veins bring subtle beauty to the design. The black counter stools complement the contrasting look of the black counters while the white terrazzo floor tiles add another layer of texture to finalize the design!
How to install tile backsplash vertically?
Installing backsplash tiles vertically is not different or challenging at all. All you need to do is to flip the tiles and lay them out accordingly. However, the complex part is to align them on the same line to achieve consistency and leave even space between the tiles, which makes the spacing part complicated. But don't worry as this can be made easier with tile spacers. Below, we also will be explaining how to put a tile spacer.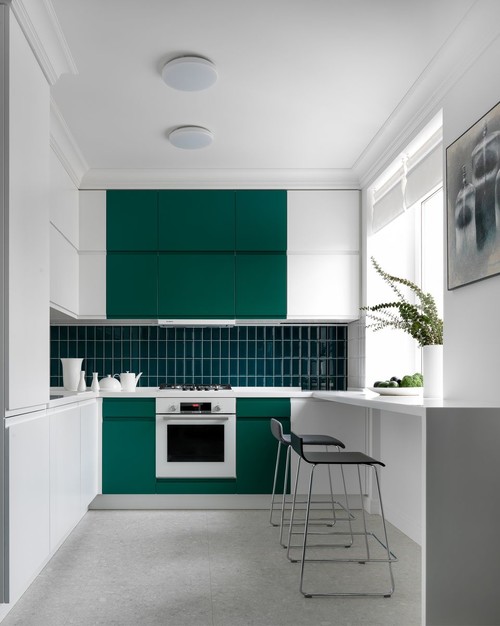 ID# 170704 | Houzz.com – Credit | © «Точка дизайна»
---
Green and White Kitchen with a Contemporary Style
Dark green and white make a striking contrast that gives a modern kitchen a sleek and refined appearance! The dark green cabinets and backsplash offer a wow factor while the white countertops and cabinets create a clean and basic appearance. The green tile backsplash's white grout harmonizes with the white accents and draws attention to the grid pattern of the tiles. In order to offer more counter space, the white peninsula is placed up against the window.
ID# 170705 | Houzz.com – Credit | © Room By Room
---
Blue and White Kitchen Design with Marble Countertops
White backsplash tiles with a glazed finish extend through the ceiling to provide a crisp and cheery backdrop! The use of the same tiles for the range hood cladding creates a cohesive appearance while the vertically stacked layout of the tiles gives the room the appearance of height. To add to the opulent feel, marble countertops are placed on top of the sky blue base cabinets.
Tile Types and Materials
Tile types and materials for backsplashes are almost limitless. Among the most popular materials, we can count marble, glass, ceramics, porcelain, and metal, which can have a wide array of pattern designs and are moldable to any shape with a high level of customizability, especially ceramic and metal tiles. Not only that they fit classic design kitchens but also make for immersive designs with a modern appeal.
Vertical Subway Tile Backsplash
Subway tile backsplashes have been the most popular tiles for their universal aesthetic value. They date back to 1940s London, thus suiting industrial, farmhouse, transitional, modern, and traditional, styles of designs, regardless of the function of the room, whether it be a kitchen, bathroom, showroom, or powder room. They can be laid out in many different forms, for example, vertically or horizontally stacked and diagonally or running-bond style. Each layout accomplishes a stylish and characterful design to caress the walls.
For instance, if you are looking for an authentic look, you can use handmade subway tiles, which have their imperfections. Terracotta tiles especially are great for achieving this sort of authentic look with protruding edges, sticking out, and not homogeneously blending for the sake of texture and visual richness. Additionally, the vertical layout also plays with the proportions of the room, creating optical illusions and making the kitchen look taller. So, you can lay the subway tiles vertically to benefit from them as a space-enhancing factor if you have a low-ceiling kitchen.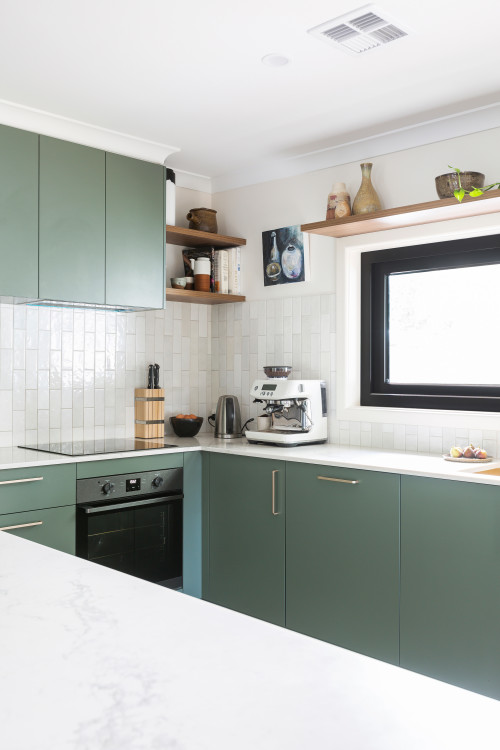 ID# 170706 | Houzz.com – Credit | © Build Professional
---
Eclectic Kitchen with Sage Green Cabinets and Floating Shelves
Though the main materials are kept simple in their most elementary forms, the layout styles and color variations make all the difference to draw attention! As the vertical subway background tiles are vertically laid out cleverly, they draw the eyes upward both as a space-enhancing factor and to make sure that its voyeurs look up and see every little product on the wood floating shelves. Secondly, the use of color contrasts such as dark green cabinets creates a striking design to evoke curiosity. Though not to make the space daunting and dark, lighter shades are scattered throughout the wall for diversity and to soften the dark look.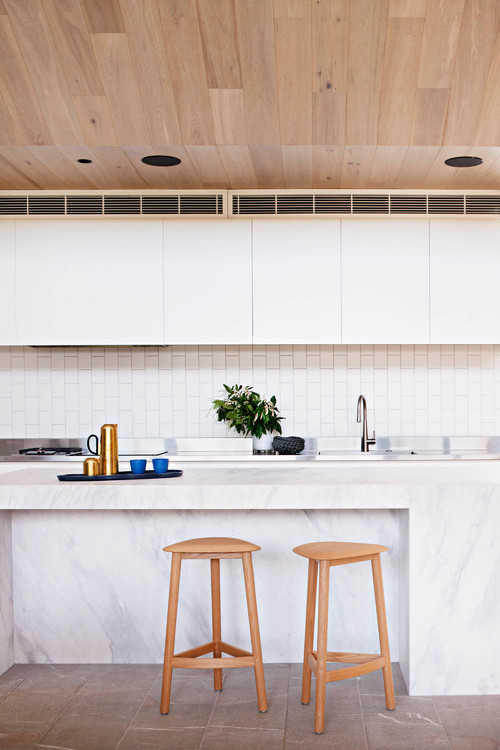 ID# 170707 | Houzz.com – Credit | © Bower Architecture
---
White Cabinets with Marble Island and Wood Stools
In this modern kitchen, the white-gray palette with wood touches channels soothing vibes to speak to the soul and mind of the homeowners. At the rear, the white subway tile backsplash creates a nice textural look between the flat-panel cabinets. As it is vertically laid out, it makes the kitchen look taller while white cabinets punctuate the backsplash and lighten it up. The wood ceilings, stone floor tiles, and wood counter stools bring a pocket of warmth to color the kitchen a bit more through organic language. Lastly, the white marble texture of the island lands gently on the dark floor tiles highlighting the modern character of the design.
How to put tile spacer on the vertical backsplash?
Tile spacers are small and reusable plastic items ( if kept in good condition) that are used to install tiles evenly and achieve consistency. Thus, they are one of the essential materials to be used during the tile application process both by professionals and DIY lovers. However, there are a couple of nuanced details to consider. Let's see what they are.
The size of tile spacers: The spacers can be cross or T-shaped, and their sizes vary from 1/8-inch to 3/8-inch. In this case, the grout line determines the size of the spacer. It is better to keep it thin so that there won't be much space for dirt and stains to accumulate.
Installation part: After deciding the spacer size, you can start installing. The first tile is the most important part. To make things easier, you can start by the wall side and benefit from the cues of the wall line. Then you can start with the second layer after applying the adhesive to the wall. Put at least two spacers as the vertical tiles are much longer. You can even put more to ensure consistency. Lastly, let the spacers stay there until the adhesive completely dries up to prevent any misalignment, which will take up to 20- 30 minutes.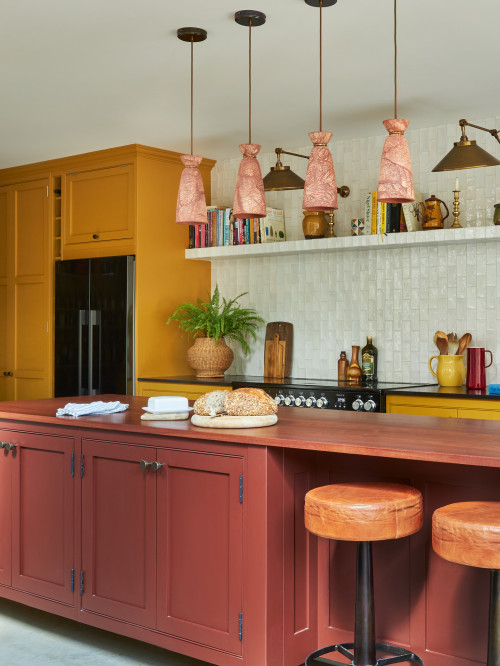 ID# 170708 | Houzz.com – Credit | © Boffe Design
---
Yellow Kitchen Cabinets with Red Island and Vertical Tile Backsplash
The yellow shaker cabinets give off a lovely warmth that fosters a pleasant and familiar ambiance. The kitchen is made more captivating by the island's unusual dry-rose color. As a result, these cabinets give off a cozy vibe similar to complementary-colored countertops. The brilliant white glossy kitchen backsplash tiles are paired tastefully with the energizing color scheme to complement the black worktops!
Vertical Hexagon Tile Backsplash
Hexagon tile backsplashes, also known as honeycomb tiles, are very popular patterns. Due to their intriguing and geometric shapes, modern and contemporary kitchens benefit from them a lot to create impressive and eye-catching backdrops. Also, as their shapes are nature-inspired, they are incorporated as biophilic design elements into the spaces.
There are various ways of engaging with these tiles. In some designs, they are treated as puzzle pieces to make for impactful asymmetric looks. Secondly, for contrast lovers, white hexagon tiles with black grout or vice versa are highly favorable. Thirdly, ombre is another style of engaging with hexagons. As such, hexagon tiles are very versatile, allowing homeowners to experiment and act free with no restraint.
Aside from these features, they have their subcategories, including picket tiles, which are more eligible to be laid out vertically due to their elongated shape. They orchestrate an eye-catching background and make a statement effortlessly. White, black, blue, and gray hexagon tile colors are the most popular options that you can employ in mid-century, beach-style, contemporary, and transitional kitchens.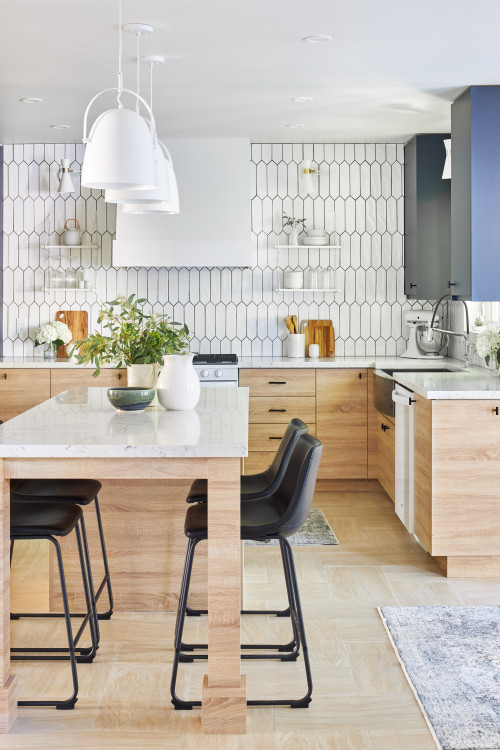 ID# 170709 | Houzz.com – Credit | © PULSAR DESIGN INC.
---
Transitional Kitchen with White Picket Tile Backsplash and Wood Cabinets
This beautiful transitional kitchen saturates the old elements through a modern architectural vocabulary, offering a smooth transition from classic to modern. The ceramic picket tile backsplash, quartz countertops, and white pendant lights offer modern appeal while the wood base cabinets add a sense of warmth which is contrasted by the inset stainless steel appliances. The navy blue upper cabinets and the black counterchairs create a contrasting look with the lighter shades to bring depth to the space.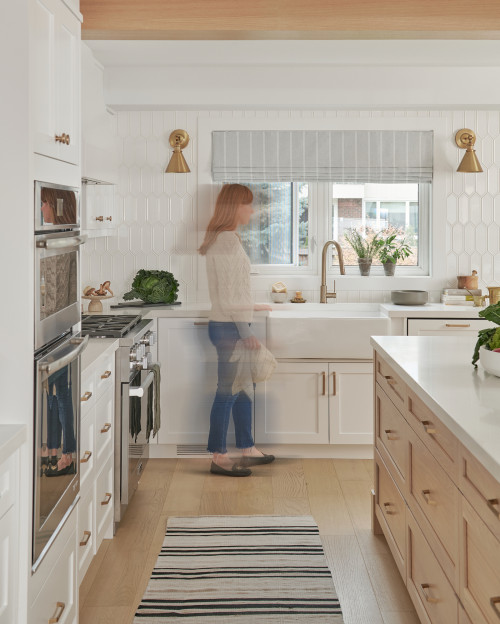 ID# 170710 | Houzz.com – Credit | © Rüme Design
---
White Cabinets with Wood Island and Brass Accents
The white countertops and shaker-style cabinets have simple lines that will never go out of style, and the brilliant white color gives off an airy, fresh vibe that beckons you to stay here longer! The full-height hexagon backsplash makes a striking statement that improves the entire design while the deep basin and apron front of the sink give the space vintage charm. The kitchen has a beautiful wood island in the middle of the space to give it a more natural feel. The island's cozy and welcoming colors go well with the white and wood furnishings, and the farmhouse style is furthered by the brass accessories.
Vertical Glass Tile Backsplash
Glass tiles may be just what you need if you get sloppy while doing kitchen work! They are one of the finest materials for treating kitchen walls because of their strong stain resistance, non-porous skins that do not need to be sealed and simplicity of upkeep. Not to mention their glistening features and sparkly appearance!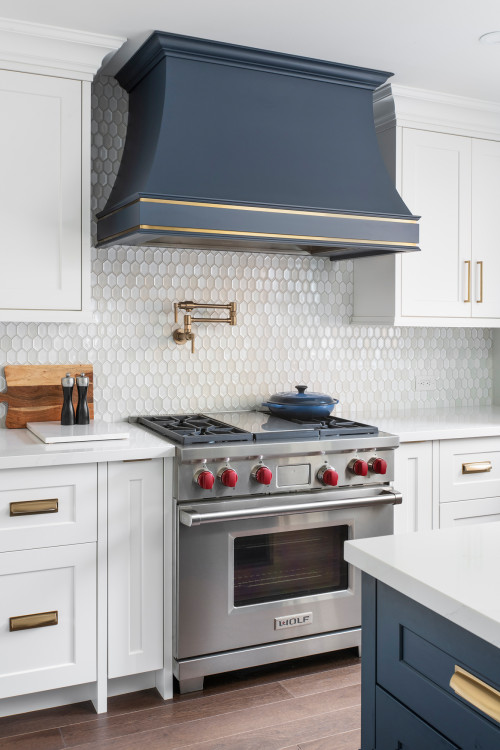 ID# 170711 | Houzz.com – Credit | © Ryan Fung
---
Traditional Kitchen with Glass Hexagon Backsplash and Blue Range Hood
With its white shaker cabinets, this traditional kitchen radiates timeless appeal and gives off a light airy feel. The eye-catching navy blue range hood with gold embellishments becomes the room's fascinating focal point, while the magnificent glass hexagon backsplash provides texture and visual intrigue. Glass tiles are the best option if you're seeking backsplash ideas that are simple to keep clean. The range hood's gold embellishments are complemented by the brass hardware which gives it a sense of elegance.
Vertical Marble Tile Backsplash
Marble tile backsplashes exude elegance and bring sophistication to the design. If you want the marble to become the centerpiece of the design, you can take it up to the ceiling and lay out the tiles vertically. This, in return, will draw the eyes upward. You can additionally apply brass wall sconces or wood floating shelves to accentuate the marble tile backsplash!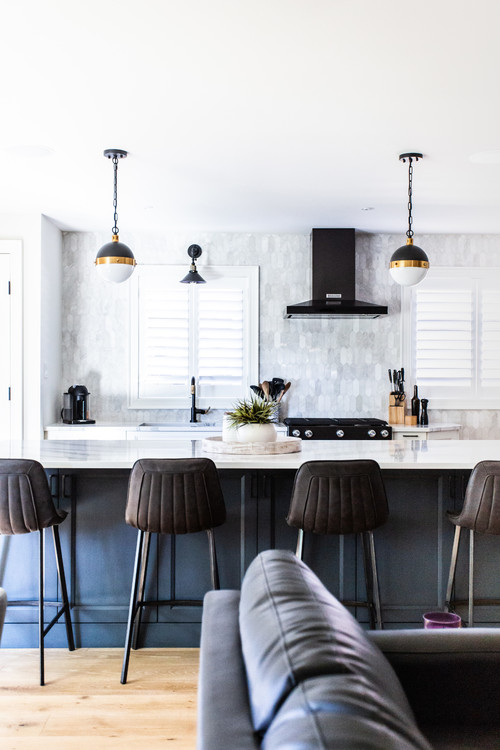 ID# 170712 | Houzz.com – Credit
---
Full-Height Vertical Tile Backsplash with Black Stainless Steel Appliances
The full-height white picket tile marble backsplash creates an unusual backdrop and imposes a smooth transition and elegance in this lovely contemporary kitchen as a swarm of sunlight dives into the kitchen through the zebra window curtains and imparts a sense of playfulness. The base cabinets are painted blue, adding a splash of color to the kitchen's white quartz worktops. Together with black counter stools with seashell-shaped backs, the blue island sits peacefully in conversation with the rest of the kitchen. Along with the picket tile backsplash, these stools also add an intriguing geometric design. Light wood flooring softens the contrast between the black appliances and the picket tile backsplash.
Vertical Ceramic Tile Backsplash
One of the timeless design elements is without a doubt ceramic tiles! What has kept them favorable all this time is their durability, resistance, and easy formulation which is simple clay that keeps things easier. What is better, ceramic tiles are budget-friendly and you can achieve any look you desire for your kitchen effortlessly as they are available in a wide array of colors, patterns and designs! But if you are asking about the most trending ones, ceramic subway tiles are the most popular ones. To give a modern lift, you can flip the tiles and install them vertically either in a stacked or running-bond style which enriches the look of the space immediately.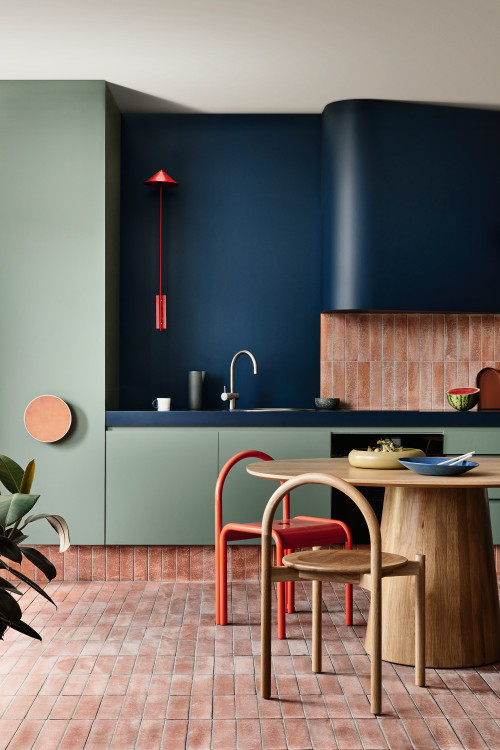 ID# 170713 | Houzz.com – Credit | © Laminex Australia
---
Pink Vertical Tile Backsplash with Sage Green Cabinets
Visually striking and well-balanced, this contemporary kitchen hooks its voyeurs at first sight and possibly leaves them asking how a pink ceramic tile backsplash could look this peaceful! The excellence of the glossy finish of the tiles is what endows the backsplash with a sense of soothing energy, which feel at home without a doubt. To contrast with the soft pink shades, the dark blue painted walls, and range hood come into play and get coordinated with black countertops. To preserve the consistency and enrich the color palette, sage green cabinets are integrated into the below, blending into the environment harmoniously.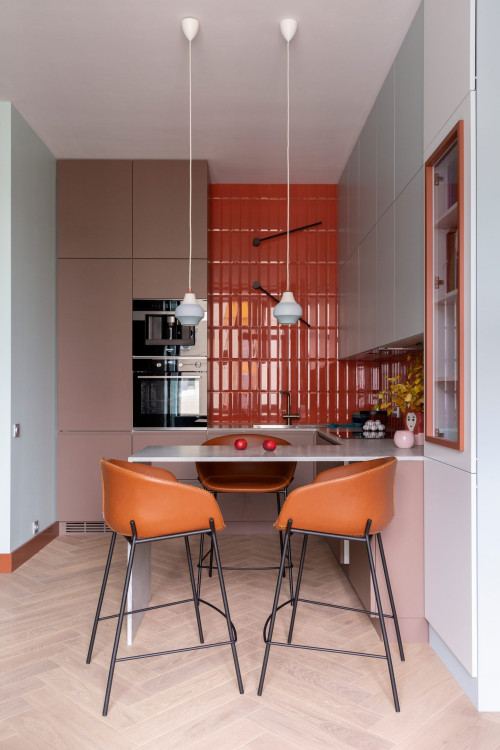 ID# 170714 | Houzz.com – Credit | © Константин Малюта
---
Contemporary Kitchen with ORange Backsplash and Two-Tone Cabinetry
Adorned by a color scheme of beige, gray and orange, this modern kitchen makes for an unforgettable design! The orange backsplash tiles laid in vertically accentuate the walls while this vibrant orange hue adds a splash of color between the beige and gray cabinets. The modern wall-mounted black lighting fixtures and white pendant lights get blended with the rest of the design to add extra character to the kitchen.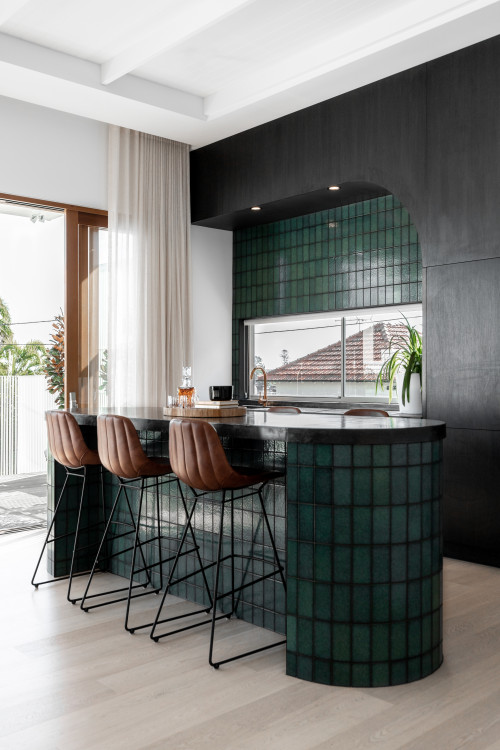 ID# 170715 | Houzz.com – Credit | © ABI Interiors
---
Contemporary Home Bar with Green Vertically Stacked Tiles
Dark green and black will create the effect you want in your kitchen if you're seeking an exquisite color scheme! This contemporary home bar's backsplash and island are covered in heaped dark green subway tiles which give the space an opulent and dramatic feel. The black flat-panel cabinets which elegantly frame the backsplash, complete the drama. The black granite counters and leather counter stools offer a polished finishing touch that enhances the appearance overall.
Vertical Tile Color Options
Choosing colors is one of the best and most entertaining parts of home improvement projects, especially when you have countless options for backsplash tiles. However, it gets complicated and harder to decide as too many options might leave you dazzled. From black to blue, green, white, gray, yellow, brown, and red, you have countless colors and shades to choose from. If you ever feel confused, while deciding, you can ask yourself a couple of questions such as which color keeps you more motivated. Or, what kind of mood do you expect your kitchen to reflect? Depending on the answers, you can choose what will suit your interests best.
However, if your focus is on vertical tile color options and are looking for a change and diverse look, you can try ombre, which is the gradual application of various colors of the same pattern and works well with vertically laid tiles. It not only expands the kitchen vertically but also creates an eye-catching and memorable design. Especially, for cinematic effects, you can give it a try. With the right tiles, you can even accomplish a look that will make you feel in a simulation game or matrix.
White Vertical Tile Backsplash
White is a timeless color that will never go out of style as it suggests purity, cleanliness and peacefulness! It can naturally carry summerish vibes and freedom, making the space look larger than it is. And it has something to contribute to the overall look of every design whether it be a sense of airiness, light ambiance, a softening contrast, minimal aesthetics, Scandinavian flavors or a sense of serenity. More importantly, it charges the kitchen with positive vibes and upgrades the mood of the space and its users without a doubt!
White can be integrated into the kitchen through a backsplash and white cabinets or both as the main defining bones of the design. The best part of the white backsplashes is that they offer a perfect backdrop for everything to blend harmoniously. But just because it is plain white, it doesn't mean that it looks boring or too naked. You can always add movement and character through textural organic materials such as terracotta, marble, and granite and intriguing patterns such as hexagons, diamonds, herringbone, and more. Thirdly, you can benefit from the vertical layouts of the tiles, which will energize the background and introduce order and movement. Below, we share some examples of white vertical tile backsplash that perfectly showcase the white's soothing and exciting impact.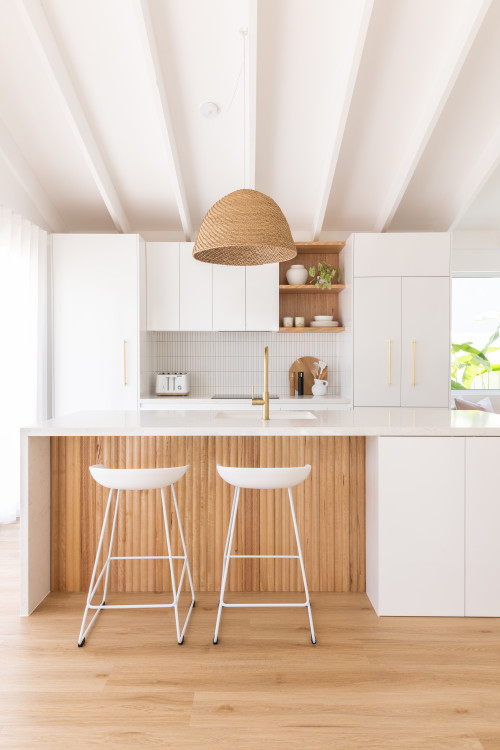 ID# 170716 | Houzz.com – Credit | © Tile Touch
---
Sophisticated All-White Contemporary Kitchen with Wood Waterfall Island
This contemporary kitchen abounds in white that executes elegance while its clutter and pattern-free design delivers a sense of airiness, emphasizing the geometric forms. Clad in all-white materials, the kitchen oozes peacefully while the wood panel of the island torso. The white porcelain tile backsplash communicates a sense of airiness in the background, delicately complemented by white quartz countertops. Its vertical layout mimics the rectangular cabinets that reach the ceiling. The wood waterfall island adds a gentle touch, paired with minimalist counter stools. An oversized pendant replaces the accent lighting to keep consistency with the clutter-free look and leaves eye-level empty.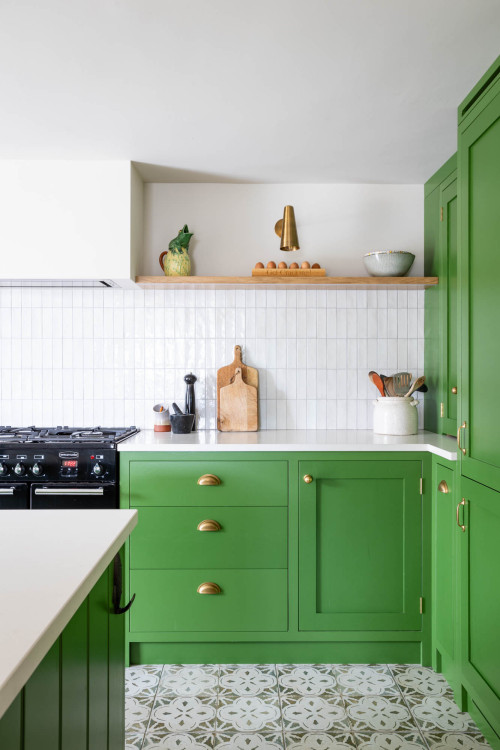 ID# 170717 | Houzz.com – Credit | © Frome Interiors
---
Green Cabinets with White Vertical Tile Backsplash and Quartzite Countertops
In this contemporary kitchen, a sense of warmth and intimacy is accomplished through a white tile backsplash and green cabinets. Thus, this design offers a sanctuary of sorts that activates your imagination as the light and airy tones of the vertical tile backsplash expand the kitchen visually while the green cabinets achieve a sense of playfulness. Since the white color also envelops the range hood and countertops, it almost remains out of sight so as not to break up the uniform look. The patterned floor tiles are in synchrony with the green cabinets, complementing the overall design harmoniously.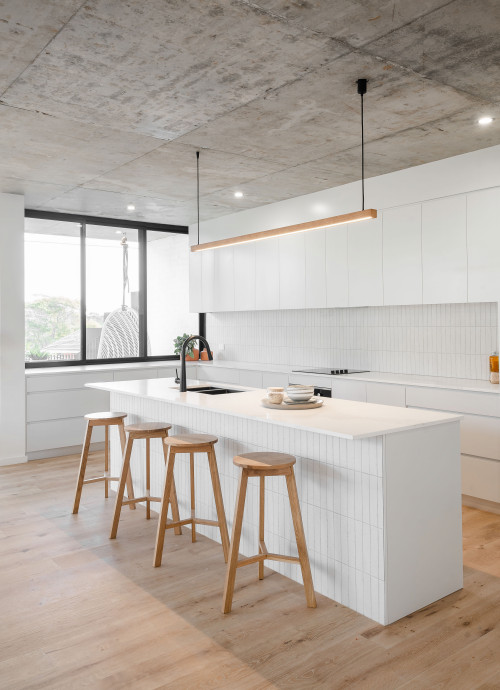 ID# 170719 | Houzz.com – Credit
---
Contemporary Kitchen with Concrete Ceiling
Enriched by an exposed concrete ceiling, this contemporary kitchen has a distinct industrial vibe! White worktops and a backsplash made of white porcelain tile add to the pleasant and cheery mood created by the kitchen's brilliant white flat-panel cabinets and light wood floors. It's a great place for gathering and cooking because of the white island, light wood stools and overall sense of harmony it exudes.
Blue Vertical Tile Backsplash
As the color of the backsplashes is an essential feature to dictate the overall ambiance of the space, it is always better to be familiar with the language of the colors. Therefore, before deciding on the color, you can think about which color motivates you most and choose accordingly. Since blue is associated with outdoor spaces, the sky, and the sea, it also connotes freedom even when it is incorporated indoors. So, why not try a blue vertical tile backsplash to upgrade the mood of the space and give your kitchen a modern spin?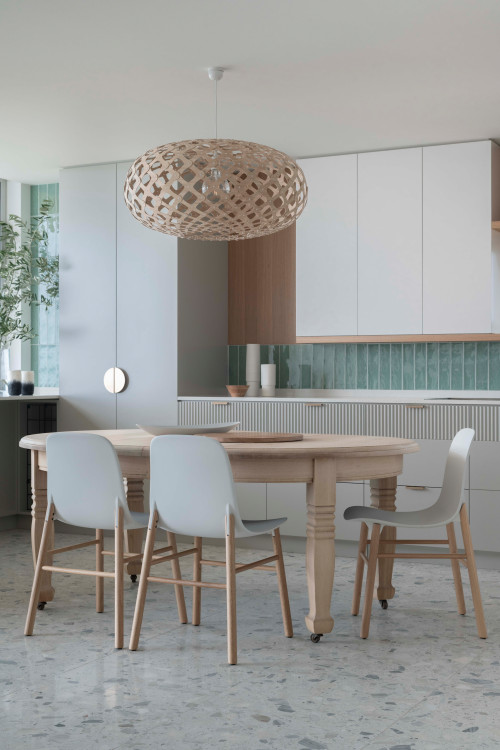 ID# 170720 | Houzz.com – Credit | © D'Cruz Design Group
---
White Kitchen Cabinets with Oversized Lighting Fixture
In this contemporary kitchen, every element is well-coordinated to offer sleek and comforting aesthetics! The blue vertically stacked single-row backsplash becomes the visual focal point, bringing serenity to the design. The white grout between the tiles feels in synchrony with white sleek countertops and beautifully harmonizes with white flat front cabinets. The wooden details of the cabinetry add dimension and interest to the wall while the oversized lighting fixture above the dining table adds a wow factor!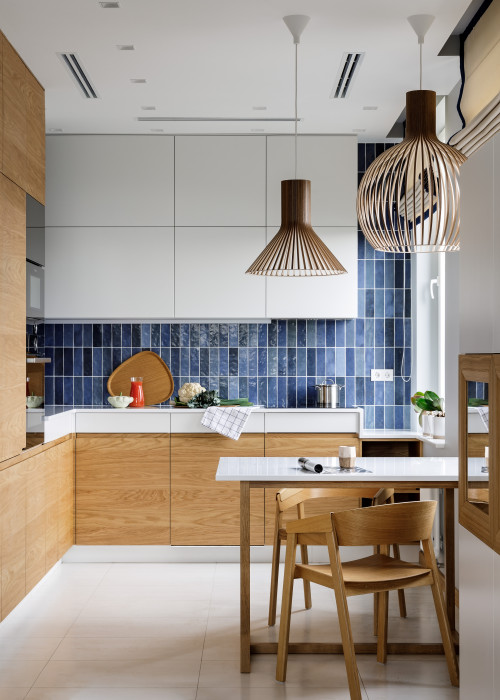 ID# 170721 | Houzz.com – Credit | © Anna Koroleva
---
White and Wood Cabinets with White Countertops and Vertical Tile Backsplash
The contrasting colors of dark blue and white achieve a stylish look in this sleek kitchen design! While the white flat-panel upper cabinets compose a delicate and crispy background image, the blue vertical tile backsplash introduces a bold color to add interest and contrast. Additionally, the wood base cabinets and chairs of the dining table enrich the color scheme with warming elements.
Is vertical tile a fad?
Though vertical tiles have been around for some time, they earned their popularity more or less recently. And, yes, vertical tiles have become a fad and are perfect to give a modern uplift to the design, creating an "elevator shaft" effect and optical illusions easily. These vertically oriented tiles aligned on top of one another also exhibit a profile in total synergy and coordination creating eye-appealing, symmetrical, and linear patterns.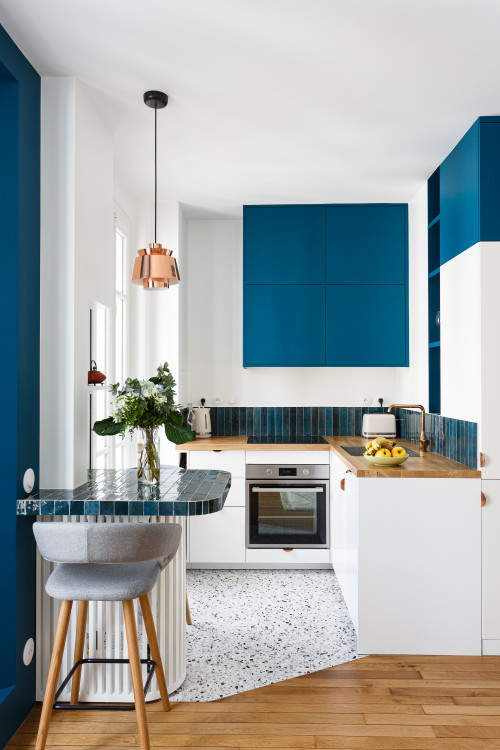 ID# 170722 | Houzz.com – Credit | © Emilie Melin architecte DPLG
---
Blue Cabinets with Copper Fixtures and Butcher Block Countertops
This small yet cozy kitchen speaks through the bold blue backsplash and upper cabinets that color the kitchen. The same blue tiles are also used for the top of the kitchen peninsula to create a continuous look. The unexpected touches of copper finish lighting fixtures in contrast to the modern elements synthesize nostalgic feelings cocooned in modern features. While the butcher block countertops douse the design with organic softness, the resulting scheme the design feel luxurious yet quotidian with a high-end look.
Gray Vertical Tile Backsplash
For sophisticated and elegant looks, gray is one of the favored colors with a high capacity to adjust to any style and neutralize bold colors effortlessly including mustard yellow cabinets that come with a masculine flair! If you would like to get your kitchen design closer to a natural look, you can choose materials that can imitate a stone or marble look such as gray porcelain tiles to achieve a more natural look rather than man-made.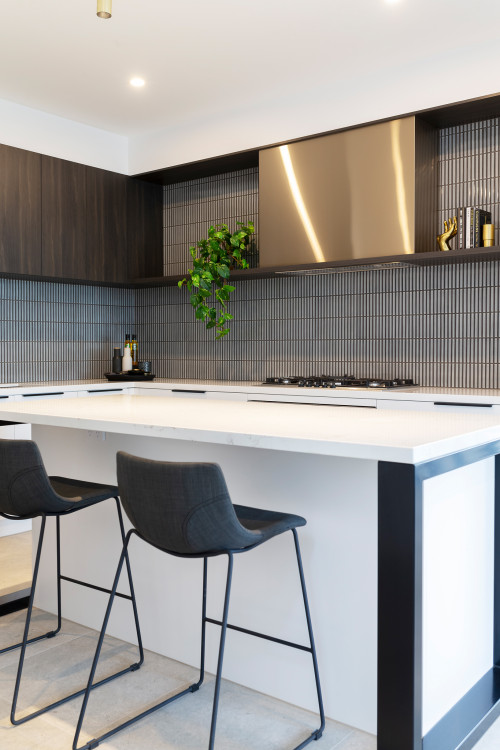 ID# 170723 | Houzz.com – Credit | © Studio Black Interiors
---
Wood Cabinets with Gray Vertical Tile Backsplash and White Countertops
This fabulous contemporary kitchen dialogues with nature through its natural wood cabinets and greenery plants. This natural scene translates into dark wood cabinets, wood floating shelves, and gray backsplash with black grout. The oozing shelves with potted plants mimic the forest outstretching a little further, which captures a timeless design encoded with natural elements. The white countertops lighten the space up while the gray backsplash adds sophistication that gives simplicity and elitist minimalism. Last but not least, the gold range hood makes an unexpected twist that enhances the contemporary aesthetic.
Should I lay tiles horizontally or vertically?
Conventionally, the tiles are laid out horizontally. That's why in traditional and cottage-style kitchens, you mostly come across horizontally laid out tiles. Nowadays, both are used prevalently, and the answer to this question depends on the impact homeowners aim for. While horizontal tiles expand the visual scheme on the horizontal axis, vertical layouts give the illusion of a taller space. If you have a space with a low ceiling that feels too enclosed, installing the tiles vertically will be a strategic and clever use of space. But, aside from all these, in case you would like to use both, you can consider crosshatch, aka the basketweave patterns, to create a versatile and well-blended look.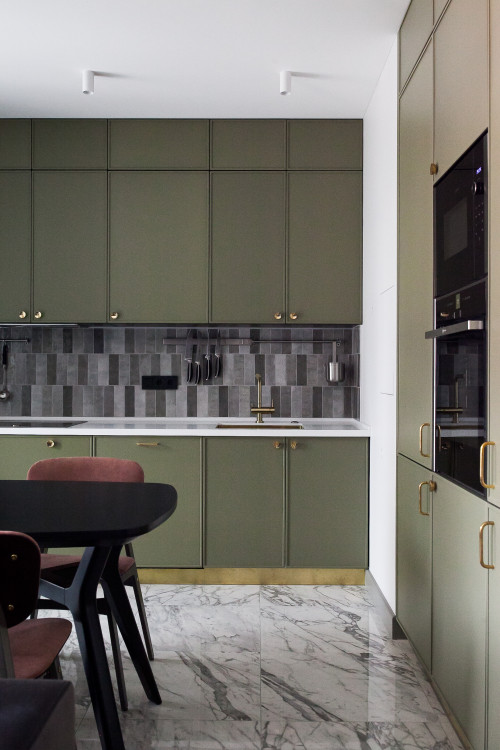 ID# 170724 | Houzz.com – Credit | © BW buro
---
Green Cabinets with Multicolored Backsplash Tiles
Various shades of gray and green unfold that dominate the interior design! The gray backsplash tiles with tonal variations add nice texture and modern flair to enrich the overall look. The same straightforwardness comes with green cabinets that reflect the kitchen's and its owners' true identity. Lastly, the marble floor completes the overall look with a dose of opulence while the brass hardware brings some vintage essence!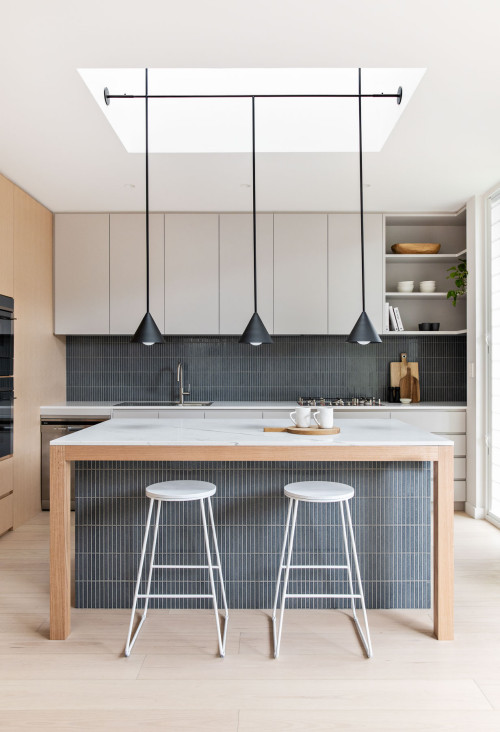 ID# 170725 | Houzz.com – Credit | © Hearth Built Pty Ltd
---
Scandi-inspired Kitchen with Gray Cabinets and Tiled Island
In recent years, Kit Kat tiles have become one of the most widely used design elements! Dark gray Kit Kat tiles are utilized for the backsplash and island front in this Scandinavian kitchen. The grid design is highlighted by the white grout of the tiles, which also increases their effect. The light green cabinets' simple design makes the tiles the focal point of the room while the contemporary black lighting fixture over the island adds a polished finishing touch and emphasizes the island.
Black Vertical Tile Backsplash
Black backsplashes are characterful and strong additions to affirm a sense of strength. Even though black seems to be a daunting color and concerns homeowners about whether it will make the space darker and feel smaller, it is more successful at achieving depth. Thus, with black backsplashes, particularly, you generally get the illusion of a receding wall, which in return creates the illusion of depth. It is also safe to go all black and create a monotonic theme, which will result in a satisfying design. In case you want to soften the black, you can incorporate pastel tones, light wood, and white cabinets.
Furthermore, matte finishes are great for revealing the authenticity of the black tiles, which is especially impactful for terracotta and soapstone tiles. But for a more sleek and eye-catching look, you can use tiles finished with gloss. Or, if you want a contrast, you can use white grout to highlight the patterns, which is popular with hexagon, square, and subway tiles. The same applies to the black vertical tile backsplashes which are great to add movement and expand the visual scheme vertically.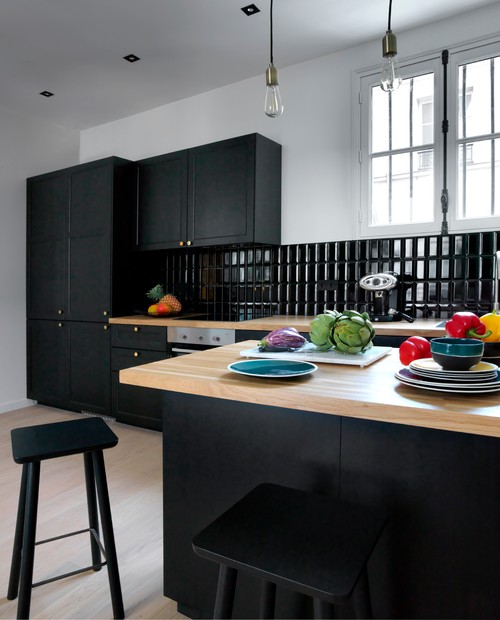 ID# 170726 | Houzz.com – Credit | © Atelier Maureen Karsenty
---
Black Vertical Tile Backsplash with Black Cabinets and Wood Countertops
Sophisticated yet approachable, edgy yet cozy. This transitional kitchen feels enriched with black backsplash, shaker-style cabinets and wood countertops that bring a sense of earthiness. Leaving the backsplash intact and in its elementary form hints at the free spirit of the kitchen, not necessarily cultivated but nourished with basic elements. To subdue the impact of the dark tiles, white walls and light wood countertops are brought in to make a counterpoint against the dark.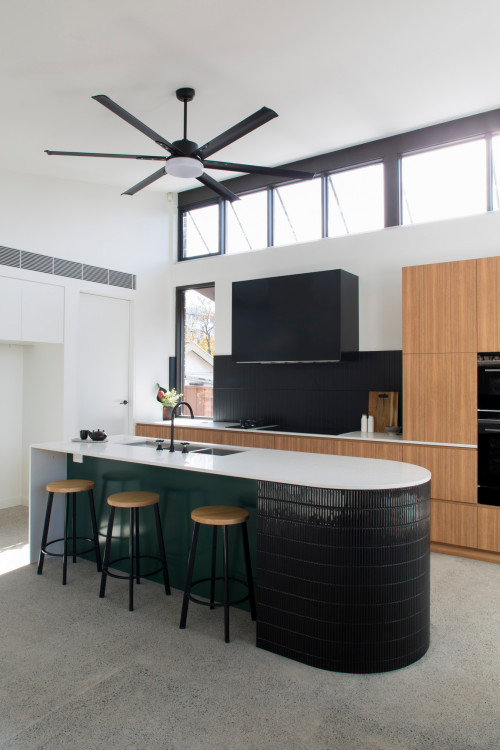 ID# 170727 | Houzz.com – Credit | © Danny Broe Architect
---
Modern Kitchen with Two-tone Cabinetry and Black Tile Backsplash
The combination of white, black, green and wood conveys the design's closeness to natural tones and soft contrasts that characterize the design skillfully! Firstly, the black backsplash gives the illusion of a dazzling waterfall effect that promotes engagement with the space while the white countertops and wood flat-front cabinets bring clean and sleek lines. The backsplash's vertical alignment creates a better movement as if the patterns were falling. It is mesmerizing and the visual focal point that ties all the pieces together and it continues on the cladding of the kitchen island. Additionally, to complete the overall theme, green painted island torso adds dimension to the space while the concrete-look floor makes a cohesive final touch.