9+ Outdoor Kitchen Island Ideas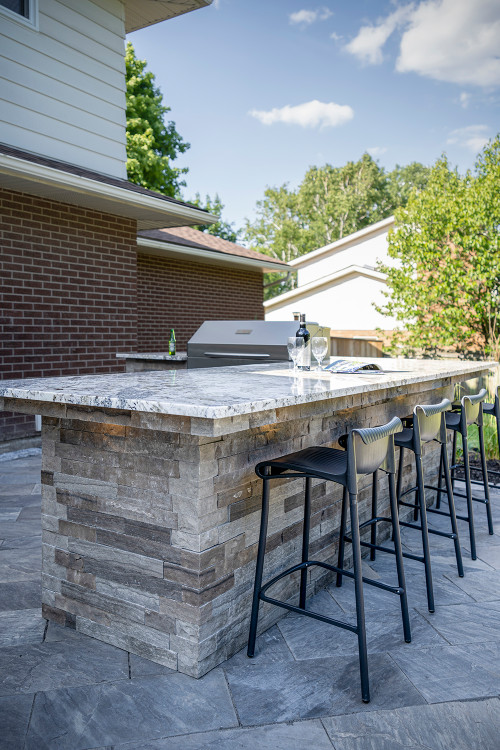 ID# 157104 | Houzz.com – Credit | © Soares Landscaping Inc.
---
Rustic Style Outdoor Kitchen Design with Stunning Island
As you draw nearer to the house, you'll be spellbound by the perfect interplay of cozy brown brick walls and verdant, lush-green foliage. Stepping inside, your gaze will be magnetically drawn to the understated and effortlessly coordinated natural stone floor, a beautiful gray shade that brings the outside in. In the heart of this well-appointed abode awaits a kitchen that is as beautiful as it is functional. A stunning marble topped kitchen island, boasting earth-toned hues, adds understated elegance and sophistication that is echoed throughout the home. Additionally, the luxurious choice of sleek marble pairs perfectly with the floor, uniting the home in perfect harmony.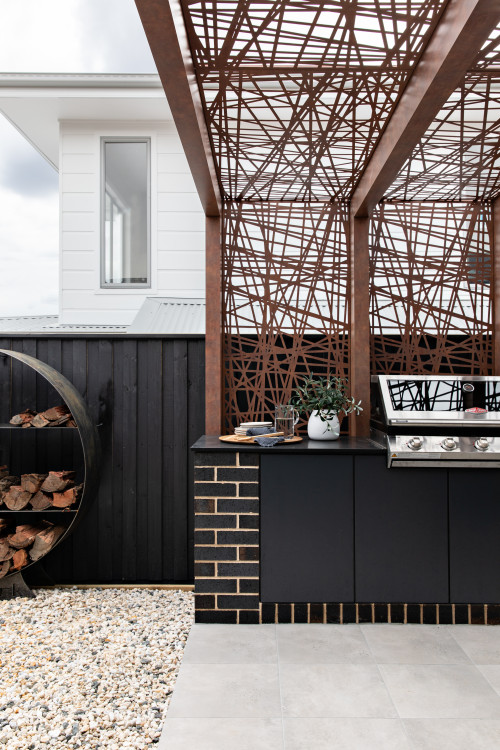 ID# 157105 | Houzz.com – Credit | © DECO Australia
---
Outdoor Grill Kitchen Island And Modern Pergola Combinations In The Gardens
Combining black and dark colors in outdoor designs evokes a sense of sophistication and modernity. The elegant brown pergola provides ample space for the outdoor kitchen, lending it a distinct charm. In the island kitchen layout, the clever use of varying shades of dark hues is further accentuated by the yellow seam detail between the bricks, adding to the overall style quotient. The choice of black for the counter and cabinet doors enhances the one-of-a-kind design of the Outdoor Grill Kitchen Island, in harmonious contrast to the gray grill unit. Moreover, the lidded storage design is a thoughtful and practical solution that ensures the island kitchen stays clutter-free with enough space to keep everything organized.
Outdoor Kitchen Island Ideas
Outdoor kitchen island ideas have become a popular trend among homeowners who crave the ultimate outdoor cooking and entertaining experience. These functional and stylish additions to outdoor living spaces offer a multitude of design possibilities. Imagine a sleek and modern outdoor kitchen island with a built-in grill, prep station, and seating area for guests to gather around. Or picture a rustic and charming island made from natural stone or reclaimed wood, complete with a wood-fired pizza oven and a cozy dining nook. The options are endless!
Outdoor kitchen islands can also be customized to suit specific cooking preferences, such as a teppanyaki grill for Japanese-style grilling, a smoker for slow-cooked barbecue, or a built-in sink for easy food prep and cleanup. Some outdoor kitchen islands even come with built-in refrigeration, allowing you to keep your ingredients fresh and chilled without having to run back and forth to the indoor kitchen. In addition to their functional benefits, outdoor kitchen islands can also elevate the aesthetic appeal of your outdoor space. So, of you want to learn more about outdoor kitchen island ideas, scroll down and find some inspirational designs that can be helpful for your project!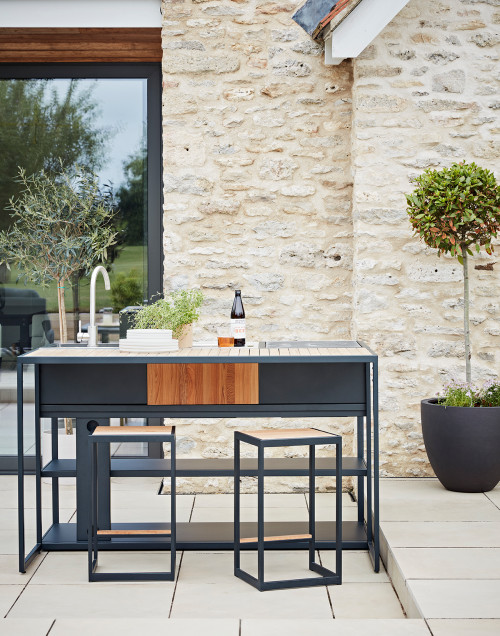 ID# 157101 | Houzz.com – Credit | © Kitchen Architecture Ltd
---
Island kitchen Designs With Wooden Countertops
It is possible with an outdoor kitchen island to maximize the relaxing and pleasant effect of fresh air and the spacious garden. The stylish island kitchen, which harmonizes aesthetically with the natural stone walls, creates an effect that enriches the activities carried out in this area. The use of wooden materials on the seating units and the counter gives the island kitchen a friendly look and makes the garden experience integrated with nature. The outdoor kitchen island, which offers a limited but efficient usage area, is a functional choice as it has an integrated faucet set. When designing garden areas, outdoor kitchen islands in colors compatible with products such as furniture and flower pots in the garden, also create a modern appearance.
Outdoor Kitchen Island with Bar
Users who want to get in touch with nature turn to ideas that will make their outdoor designs most enjoyable for individual or group activities. In areas planned to allow for different activities, outdoor kitchen islands offer users the comfort of a home outdoors.
Relaxing and entertaining activities in areas such as gardens, pools, and patios are possible with kitchen islands. An outdoor kitchen island with a bar is the perfect choice for users who want to add a bar experience to their outdoor activities. The kitchen island, which has bar designs compatible with the natural environment, gives an aesthetic appearance to the gardens with different bar chairs and material usage. Outdoor Kitchen Island with Bar designs creates a perfect outdoor experience for users who want to bring fun and cool beverage preparation experiences to their time outdoors.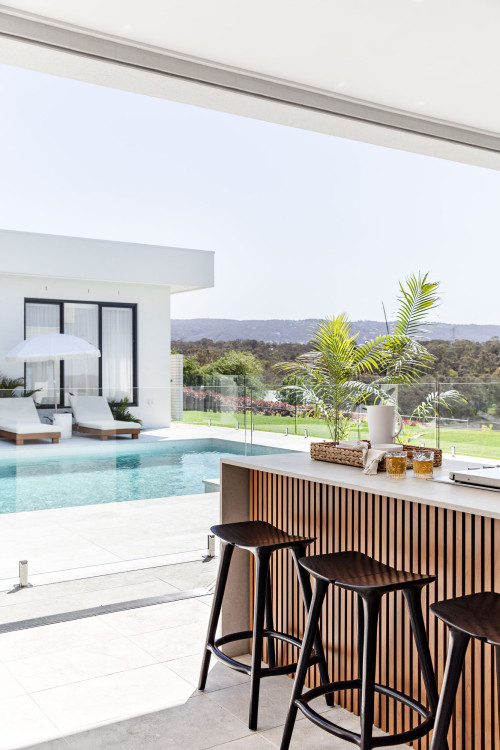 ID# 157102 | Houzz.com – Credit | © DECO Australia
---
Bar Chair Recommendations For Outdoor Kitchen Islands
The pure, serene white color choice engenders a tranquil and rejuvenating atmosphere in the garden area that overlooks the expansive natural view beyond the pool. The outdoor kitchen island, strategically positioned adjacent to the pool, integrates seamlessly within the poolside activities. Adorned with wooden accents, the kitchen island bar complements the area's rustic and natural environment, providing an invitingly hospitable space for recreational activities. The capacious kitchen island counter, with its ample surface area, furnishes a convenient and pleasurable locale for preparing and serving beverages. Additionally, the bar section, accentuated by the sleek, contemporary black chairs, firmly anchors the outdoor space, also presenting a remarkably appealing and engaging bar design.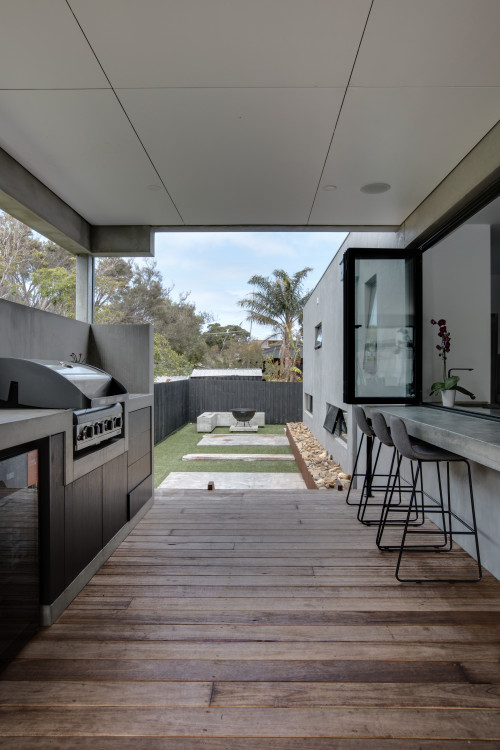 ID# 157103 | Houzz.com – Credit | © Mt Martha design + drafting
---
Functional Outdoor Kitchen Island With Bar Designs
Imagine waking up to a kitchen that seamlessly blends indoors and outdoors. The kitchen island with a bar is the perfect transition point, with its large window opening to the veranda. You can now embrace garden activities as a part of your daily life! As you step outside, you'll notice the wooden decking that creates a natural path between the patio and the garden. The choice of wood and gray color enhances this modern outdoor look that perfectly complements the black cabinet surfaces.
The concrete island kitchen is where the magic happens, providing ease of use for activities such as meal preparation and barbecue in the open area. Its harmonious wooden floor strengthens the outdoor style and provides a useful bar area for all your activities. The island kitchen with a bar has a simple and modern look with gray chairs, creating the perfect activity area to experience the relaxing effect of the open air. This is where you can truly connect with nature, relax and enjoy the simple things in life.
What is a must for an outdoor kitchen?
As an outdoor adventurer, there's nothing quite like the joy of gathering with loved ones in the fresh air to savor a delicious meal together. That's why outdoor kitchen designs have become so popular; they provide the perfect setting to create unforgettable memories while embracing the pleasures of the great outdoors. The beauty of these customizable designs is that they can be tailored to perfectly meet the unique preferences and requirements of each individual user. Plus, using durable and weather-resistant materials ensures low maintenance and long-lasting performance so that you can enjoy your outdoor kitchen for years to come.
These outdoor kitchens aren't just functional; they also add an exceptional touch of beauty to your outdoor spaces. By blending your personal preferences with the surrounding environment, your outdoor kitchen can become a cohesive and inviting place to relax and dine. Whether you're a fan of sleek modern designs or natural rustic looks, there's an outdoor kitchen for you! Made with resilient materials like stainless steel, stone, or wood, these kitchens can withstand the elements while providing all the amenities of indoor cooking. Grills, sinks, refrigerators, and other conveniences are available to bring all the comforts of home outside to enhance your outdoor living experience.
How to build an outdoor kitchen island?
Outdoor kitchen islands, which will be used in areas independent of the interior such as gardens and terraces, are positioned in line with the units that make up the design and their functional features. To carry out activities such as food and beverage preparation and consumption independently in the island kitchen area, it can be fixed in a certain position or design with the advantage of mobility can be preferred. In areas where the usage area is sufficient, the designs that need connections such as electricity and water must be built safely and resistant to outdoor conditions.
How deep of a foundation for an outdoor kitchen island?
As you plan to build your outdoor kitchen island, it's important to consider both function and style! The location where you'll place it will dictate some necessary features, such as ensuring durability and proper water drainage. To accomplish this, the foundation of your outdoor kitchen island should be at least 7-14 mm deep, depending on the unique design features you choose. By taking these factors into account, you can build an outdoor kitchen island that not only looks great but also meets your practical needs for years to come.
How much does an outdoor kitchen island cost?
When it comes to designing your outdoor kitchen, the type and quantity of materials you choose can have a big impact on the cost. While choosing high-end grills and fancy cooking equipment can definitely drive up the price, there are also more cost-effective options available. Overall, outdoor kitchen islands can vary greatly in design and function depending on your location and specific needs, with an average price range of $1000 to $3000. It's important to find the right balance between your wallet and your culinary dreams!
What is the best countertop to use for an outdoor kitchen?
Are you on the hunt for outdoor kitchen counters that not only look good but also withstand harsh weather conditions? Look no further! The top picks for outdoor kitchen counters are materials that marry durability with aesthetics. Think marble – a natural choice that has become increasingly popular for outdoor styles. You could also consider other options such as wood and concrete that blend natural and composite materials to suit your personal style. When it comes to creating an outdoor kitchen that makes a statement, it's all about finding materials that tick both the practicality and design boxes!
Outdoor Grill Kitchen Island
Grilling and barbecuing outdoors are simply irresistible for those who have gardens and patios. And with outdoor grill kitchen island designs, you can now bring these activities to life in a whole new way. These designs take outdoor dining to the next level, providing users with options that will cater to their aesthetic concerns and expectations!
Outdoor grill kitchen islands are typically used outdoors, as part of your living space and can be a great addition to make the time spent with loved ones even more enjoyable. With options such as benches and grill units, preparing meals and providing easy access to them are made convenient. And when it comes to designing your outdoor kitchen, you have a range of color and material options to choose from to reflect your personal style. Additionally, these kitchens are designed to have functional features like storage, ultimately providing you with a perfect outdoor grill kitchen experience that you'll simply love.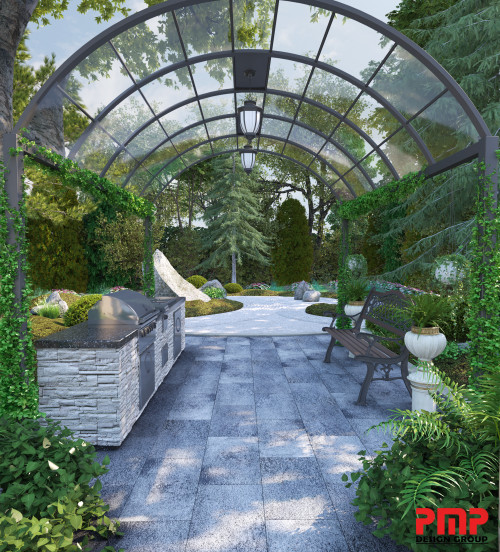 ID# 157106 | Houzz.com – Credit | © PMP Design Group
---
Alternative Materials For Island Grill Kitchen Island Designs
Step outside into the refreshing embrace of nature, surrounded by a lush abundance of greenery and trees for the ultimate outdoor sensory experience. The transparent glass pergola allows for natural light to flood the kitchen area, perfect for illuminating your cooking creations. With its gray natural floor, the kitchen area becomes a distinct space within the great outdoors. The combination of natural stone and luxurious marble, along with the sleek Inox grill unit, brings a touch of class to the outdoor grill kitchen island design. A covered grill and generously sized surface area, ensure both convenience and durability for al fresco dining. Additionally, the lidded design guarantees that your grill stays clean and ready whenever inspiration strikes, making it a versatile and efficient space for preparing and savoring your culinary delights on its ample countertop surfaces.
Modern Outdoor Kitchen Island
Imagine stepping outside on a beautiful day, ready to whip up some delicious grub in your very own outdoor kitchen. With modern outdoor kitchen island designs, that dream can become a reality! By blending contemporary material preferences with time-honored materials, these designs create an irresistible mix of style and function that will make your outdoor space a joy to use. One key to modern outdoor kitchen island designs is finding the perfect balance between aesthetics and functionality. By creating a space that effectively interacts with the natural environment, you can maximize your comfort while enjoying outdoor activities. And with a clever combination of natural and processed materials, you can create a sleek, modern look that will impress your guests every time.
But what really sets modern outdoor kitchen island designs apart is their ability to be personalized to fit your unique needs. Whether you're looking for the perfect spot to prepare and serve food and beverages or simply need extra storage space, these designs can be tailored to meet your every requirement!
So why settle for a drab, uninspiring outdoor space when you can have a modern, functional oasis right in your own backyard? With modern outdoor kitchen island designs, you can create a beautiful comfortable living space that's perfect for any occasion.
Natural Stone Mosaic Tiles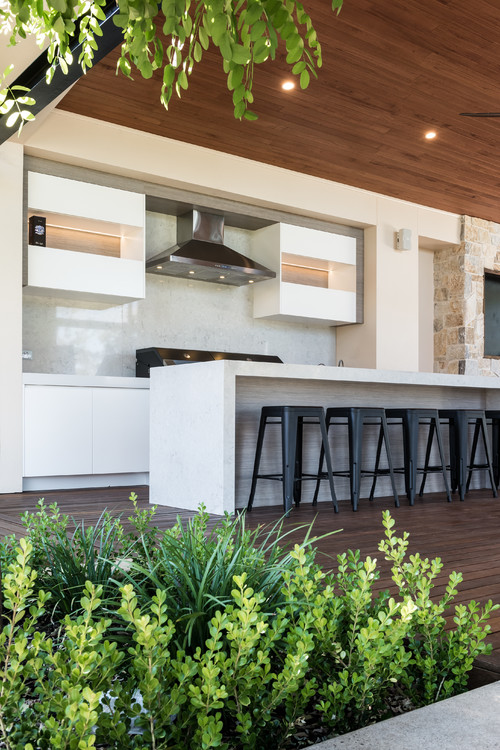 ID# 157107 | Houzz.com – Credit | © Qbic Living
---
Trend Stools In Modern Outdoor Kitchens
In the outdoor area with minimal and modern design lines, the use of white smooth surfaces on the outdoor kitchen island surface creates a hygienic and simple area of use with white cabinets and wall tiles. The plain appearance becomes a detail that integrates the outdoor area and the island kitchen design by gaining a natural look with the choice of wood material used on the floor. Additionally, independent of the area reserved for preparing food, the island kitchen design provides a comfortable space for outdoor dining activities.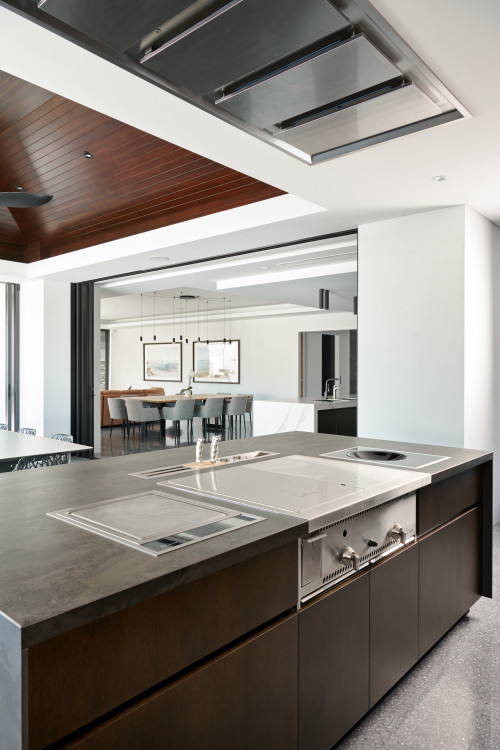 ID# 157108 | Houzz.com – Credit | © Western Cabinets
---
Functional and Modern Outdoor Kitchen Island Design Ideas
The modern outdoor kitchen island design exudes sophistication and class with its stylish and elegant appearance, showcasing a perfect blend of dark gray and brown hues. The dark colors set against a spacious and bright environment adorned with wooden ceiling details truly elevate the island kitchen design. The flat surfaces and cabinet doors bring a sleek and contemporary feel. What's more, the ample storage space in the outdoor kitchen island creates a sense of order and simplicity that's bound to delight!! Additionally, the presence of specialized areas for waste and other needs makes the stylish outdoor kitchen island surface more hygienic and useful.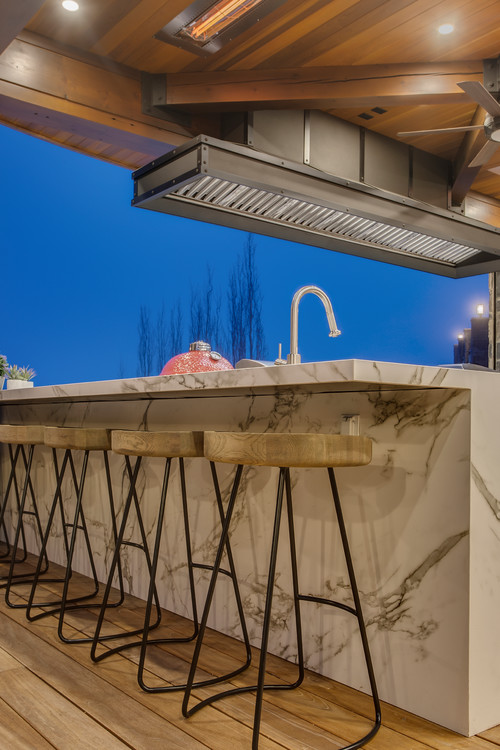 ID# 157109 | Houzz.com – Credit | © Diamond Valley Custom Homes
---
Marble Surface Usage Alternatives In Outdoor Kitchens
Imagine stepping outside into an oasis of warmth and friendliness, where outdoor activities become moments of pure enjoyment. Modern outdoor kitchen island designs bring us closer to nature by featuring natural materials, such as wood and marble, as the forefront of their design. The wooden flooring adds a cozy touch, while the wooden stools in the seating area reinforce this effect. The marble surfaces in the kitchen area provide a modern feel with their natural and irresistible texture. The brass faucet adds functional and dynamic touch which blends seamlessly with the silver fixtures and complements the marble surfaces beautifully. Additionally, the marble island kitchen design offers a convenient and ergonomic space to sit on stools and interact with this welcoming outdoor ambiance.
Should I put a sink on my outdoor kitchen island?
If activities such as food and beverage service and preparation are planned to be carried out completely independently from the interior in outdoor kitchen island designs, the inclusion of elements such as sinks and faucets in the design offers a functional solution. Users, who prioritize the needs such as easy washing of the objects that need to be washed with the sink to be integrated into the counter, obtain a useful and hygienic area in their outdoor kitchen island designs with sufficient space.