37+ Kitchen Cabinet Door Ideas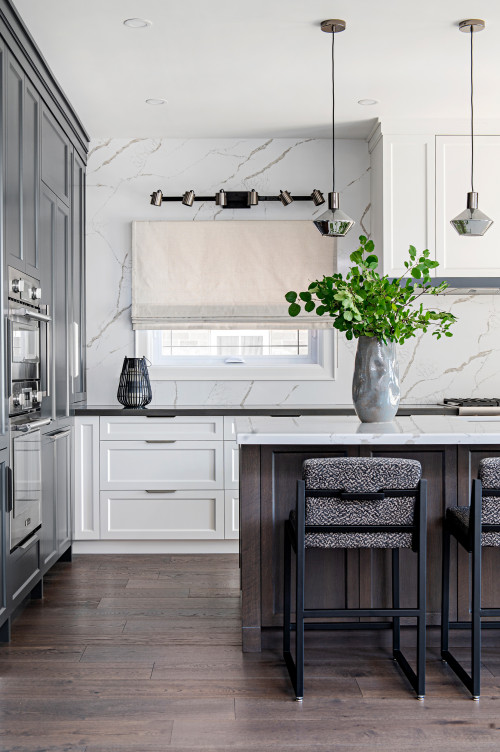 ID# 159203 | Houzz.com – Credit | © Pizzale Design Inc.
---
Black and White Shakers for Kitchen Cabinets Door Ideas
This kitchen features a lovely fusion of traditional and modern design elements, resulting in a room that is both fashionable and practical. Black countertops give the room a sense of refinement, and the white and black shaker cabinets provide a striking contrast that is both eye-catching and elegant. The backsplash made of a white marble slab gives the space a great focal point while also providing texture and intrigue. For the black shaker cabinets, the marble's inherent veining adds depth and complexity, giving a stunning backdrop. A clean, crisp appearance that helps to balance the space's rich textures and vibrant colors is provided by the white roman shade on the window along the backsplash wall.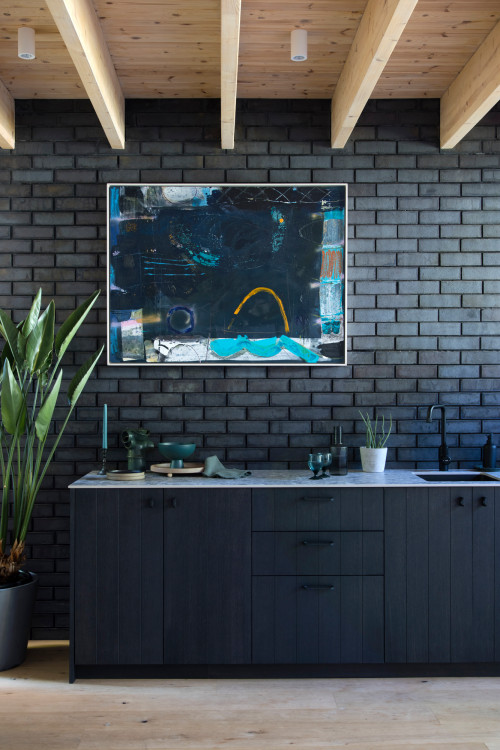 ID# 159225 | Houzz.com – Credit | © Plank Hardware
---
Black Beadboard Kitchen Cabinet Doors with Black Hardware
This kitchen is a modern showpiece with the use of black beadboard cabinet doors to craft a contemporary atmosphere! The black doors are enhanced with black hardware and gray terrazzo countertops. The addition of a black brick backsplash further amplifies the look with added texture and contrast. To finish, light wood floors and exposed beam ceilings bring a feeling of natural warmth.
Kitchen Cabinet Door Ideas
The kitchen is often thought of as the heart of a home, and kitchen cabinets are an integral part of defining its overall style and function. Kitchen cabinet doors are a key component in creating the desired look and feel of the space and picking the right style can make a huge impact. In this article, we'll explore some creative kitchen cabinet door ideas to help you design the perfect kitchen for your home!
There are numerous kitchen cabinet door options to choose from that can have a major impact on the overall look and feel of your kitchen. From traditional shaker-style cabinet doors to modern, slab-style doors, glass-fronted cabinets and open shelving, there are plenty of design possibilities to make your kitchen reflect your personal style and needs!
What are the different styles of kitchen cabinet doors?
There are numerous styles of kitchen cabinet door ideas to choose from, each with its own unique look and feel. From a classic Shaker design to transitional glass-front doors, here are some of the most popular options:
Shaker Style – This timeless and versatile style features a flat panel and frame around the outer edge. It works in both modern and traditional kitchens.
Raised Panel – Raised panel doors have a detailed step-up look with a frame around the outer edge culminating in a raised center panel. Classic, traditional and sophisticated.
Slab Style – Sleek and modern, slab style doors are one flat panel without a frame, giving a clean and modern aesthetic.
Glass Front – Highlight items inside your kitchen with a glass-front door. Transitional and modern in style, the center panel is a glass panel that allows light to wander through the room.
Louvered – Louvered doors bring warmth with a unique look. Horizontal slats or louvers allow ventilation, perfect for beach-inspired and tropical kitchens.
Beadboard – Country and cottage styles opt for this style, featuring vertical panels and a beaded design. It oozes charm.
Open Frame – For a sleek look, an open frame door presents a modern or minimalist feel. With easy access to essentials, these doors bring a sense of lightness and fairness.
Types of Kitchen Cabinet Door Ideas
Kitchen cabinets are an essential feature, not only providing storage space but also helping to create the overall style and ambiance of the kitchen. Choosing the right type of kitchen cabinet door can make all the difference, giving your kitchen a practical yet stylish feel. With a wide range of options ranging from glass fronted doors to modern slab style designs, there are plenty of kitchen cabinet door ideas to meet any individual's needs. Taking the time to select the right type of cabinet door can transform your kitchen, making it a place you will love for years to come. Read on to discover more about the types of kitchen cabinet door ideas available!
Shaker Style Kitchen Cabinet Doors
Shaker-style kitchen cabinet door ideas are a timeless and classic design that evokes feelings of nostalgia, tradition and comfort. Their clean lines, simple details, and minimalistic design make them a perfect fit for any kitchen, traditional or modern. Made of high-quality materials such as solid wood, shaker-style cabinet doors are built to last, offering a cost-effective investment that will last for years. Thanks to their versatility, these cabinet doors can be paired with a range of materials, such as granite or quartz countertops, stainless steel appliances, or colorful tiles, to create a custom look that is tailored to your individual style and needs. With their durability and timelessness, shaker-style kitchen cabinet doors are an investment that will bring warmth and coziness to your home for many years to come.
What is the most popular kitchen cabinet door style?
The timeless and functional appeal of the shaker style has made it one of the most popular kitchen cabinet door ideas. It evokes strong feelings of classic elegance and its clean lines bring a sense of visual interest that can update any kitchen. The flat panel construction is easy to maintain, making it a practical yet stylish option for those with busy lifestyles. For over 200 years, the Shaker style has retained its relevance and remains a classic choice for homeowners and designers, proving that style and function can coexist.
Flat-Panel Kitchen Cabinet Doors
Flat-panel kitchen cabinet door ideas have become increasingly popular in recent times for their streamlined, minimalist look and timeless, classic appearance. They bring elegance and sophistication to any style from modern and contemporary to transitional and all the way back to traditional. Their no-fuss, clean lines bring a touch of serenity and peace to the heart of any home. For those looking for a practical yet beautiful kitchen solution, flat-panel kitchen cabinet doors offer a multitude of advantages. Not only do they offer a hassle-free and fuss-free clean look to kitchens, but their design also offers both affordability and flexibility. With a wide range of finishes and colors to choose from, flat-panel doors can cater to any kitchen's style and look without breaking the bank. On top of that, flat-panel cabinet doors are easy to maintain and keep spotless, and never let dirt and grime build-up in their crevices.
Can I just replace kitchen cabinet doors?
Replacing kitchen cabinet door ideas is an excellent way to upgrade your kitchen without undertaking a full renovation. It can be a budget-friendly and hassle-free way to give your kitchen a fresh, new look while keeping the existing cabinetry intact!
When swapping out cabinet doors, there are a few factors to keep in mind. It's important to make sure that the new doors are the right size and style for the existing cabinets, and it may be helpful to bring along the existing doors and measurements when shopping for new ones. Furthermore, you'll want to make sure the hinges and other hardware match the new doors.
Raised-Panel Kitchen Cabinet Doors
Raised-panel kitchen cabinet door ideas evoke feelings of elegance and sophistication while effortlessly adding a touch of timelessness to any kitchen! These beautiful doors, crafted with a solid wood frame and a raised panel in the center, offer depth and texture with a range of decorative details such as beveled edges and carved details. Seeing the raised panel brings about a sense of warm nostalgia, ideal for traditional and transitional kitchen styles, and can be utilized in more modern designs. With solid wood materials, the doors are incredibly durable and offer long term style, practicality and charm, bringing a special atmosphere to any home.
How can I make my cabinet doors more interesting?
Transform the appearance of your cabinet doors with the following ideas: Include molding, introduce glass panels, update decorative fixtures, paint or stain, and combine various styles/finishes. Adding molding to the edges of your cabinet doors can give them a more decorative and attractive appeal. You can choose from an assortment of trimming designs and colors to harmonize with the decoration of your kitchen. If you're looking to create a more spacious environment, opt to replace some solid cabinet doors with glass panels. Also, switch out your current handles and pulls with decorative hardware for a personalized look. To insert some color or tone into the cabinets, you can choose from a variety of colors and finishes. Lastly, for a unique touch, try combining distinct styles or hues – like using glass-front cabinets for your higher units and solid doors for the bottom ones.
What is the kitchen trend for 2023?
Some ground-breaking designs last for a while, if not permanently, while other time fads and trends come and go. In addition, among the top interior design ideas for 2023 are timeless styles that work in any setting. If you're wondering what the upcoming kitchen trends will be, we can tell you that this year we can expect to see creative cabinetry, painted kitchen islands, stone slab backsplash designs, all-white kitchens, open shelving, statement range hoods, bold backsplashes, mix-and-match materials, earthy colors, and overstated cabinet and hardware ideas. Check out the 2023 kitchen trends by scrolling down!
Beadboard Kitchen Cabinet Doors
Beadboard kitchen cabinet door ideas add a timeless charm and character that can evoke a sense of warmth and comfort. Perfect for modern and classic designs, the vertical grooved lines of beadboard can provide a subtle yet interesting touch that helps to break up a larger space and give it depth and dimension. With a variety of materials to choose from – wood, MDF and PVC – and possibilities to stain or paint to match the surroundings, beadboard cabinet doors are a highly versatile and timeless design element. For any kitchen, an updated and stylish look can be achieved with the right hardware and accessories and beadboard cabinet doors can provide that extra touch of timeless beauty and comfort.
Glass Front Kitchen Cabinet Doors
Adding a personal touch, glass-front kitchen cabinet door ideas are a way to make a small kitchen appear more spacious while providing a unique opportunity to showcase lovely dishware, glassware and decorations. With these striking, luminous doors, the inviting atmosphere of the kitchen will shine through. All the while, items of sentimental value, collected or gifted, stay under the safekeeping of their transparent facade. Making a home feel like a haven of comfort is the wish of all homeowners, and glass-front kitchen cabinet doors bring the perfect sense of sophistication and elegance. Not to mention, with a variety of styles to choose from, these transparent doors are perfectly suited to any kitchen decor. However, more diligent cleaning and upkeep are needed for these special doors, making sure to keep them clear of any smudges or fingerprints.
Where to buy kitchen cabinets doors?
There are a few options available when it comes to finding kitchen cabinet doors to suit your specific needs and preferences. From professional manufacturers to home improvement stores, local carpenters and online retailers, obtaining the perfect fit and style for your kitchen is attainable. When exploring potential options, it is important to be mindful of the size and style of your existing cabinetry. Consider taking accurate measurements and bringing along samples of your existing doors to compare and contrast when shopping. Additionally, be mindful of the overall design and style of your kitchen to ensure that the new cabinet doors will complement this aesthetic.
How to paint kitchen cabinet doors?
Updating your kitchen can be a daunting task, but don't worry – painting your cabinet doors is a great way to revamp the look of your kitchen without spending a fortune! Here's how you can do it in 6 steps:
Step 1: Remove the doors
The first step to painting your kitchen cabinet doors is to remove them from their frames, along with their hardware. Doing this will make it easier for you to paint and get an even finish.
Step 2: Clean the doors
Use a degreaser or a mixture of soap and warm water to clean the doors, scrubbing away any dirt, grease, or grime that may have accumulated over time.
Step 3: Sand the doors – lightly sand the surface of the doors with a fine-grit sandpaper. Doing this will make the paint adhere better and give you a smoother finish. Make sure to wipe away any dust or debris with a clean, dry cloth.
Step 4: Prime the doors
Let's get the painting process started by applying a coat of primer to the doors. Use either a brush or a foam roller for the best results. Priming the doors will make sure that the paint will adhere better and create a more even finish.
Step 5: Paint the doors
Now let's add some color! Grab a paint specifically designed for furniture and cabinets, and apply it to the doors using a brush or foam roller. Allow the paint to dry completely before adding a second coat, if needed.
Step 6: Reinstall the doors
Time to put everything back together! After the paint has dried, reinstall the doors and hardware, making sure that everything is properly put together.
And voilà – the task is done! Don't you feel proud of the result? Your kitchen looks totally different and yet, you haven't spent a lot! All your hard work has payed off!
Open Kitchen Cabinet Doors
When it comes to kitchen design, open cabinet kitchen door ideas have been gaining popularity for their modern and fresh appeal. The biggest perk of open cabinets is being able to easily access kitchen essentials at a moment's notice – a dream come true for cooking or baking enthusiasts! Plus, open cabinets can serve as a personal display space to show off china or decorative plates, adding a unique touch to your kitchen. Beyond style and convenience, open cabinet doors can create a feeling of openness and make a small kitchen seem bigger. While the upside of open cabinets is clear, there are a few downsides to keep in mind.
They require more upkeep, as dust and debris can collect more readily, and can appear cluttered if not organized properly. Whether you decide open cabinets are the right fit for you, they are sure to bring a sense of ease and joy to any kitchen.
How to build kitchen cabinet doors?
Crafting your own personalized cupboard doorways can be a fulfilling Do-it-yourself (DIY) venture which can give the kitchen area a distinctive and modified overall look.
Evaluating and decreasing wood:

Evaluate the particular specifications of your own cupboard opening up and also incorporate a great inch in order to each end for the purpose of an overhang. Using a new stand discovered or possibly a rotary noticed, reduce the hardwood solar panels in order to period.

Reducing frame pieces:

Reduce frame pieces towards the duration, departing an added 1/4 of an inch in each finish intended for overlap. These items will certainly be employed for making the particular frame of your door.

Constructing the frame:

Using hardwood glue as well as clamps, construct the frame from the door. Make use of the clamps in order to maintain the items in the area and also enable the glue to dry out according to the particular maker's directions.

Setting up the panel:

When the particular frame is usually created, placed the particular hardwood panel into the frame. In the event necessary, make use of a router or maybe a stand noticed in order to trim the particular panel to size.

Polishing and finishing:

Utilizing okay-grit sandpaper, make softer just about any tough sides. Implement the coating of the choice such as coloring, stain, or even vanishing.

Setting up the particular hinges:

Exercise guide openings about the knobs as well as attach all of them to the particular door. After that, attach the particular knobs to the cupboard.

Installing the deal with or perhaps control key:

Drill down a new pit for the particular manager or even key and also attach that for the door.