24+ Kitchen Floating Shelves Ideas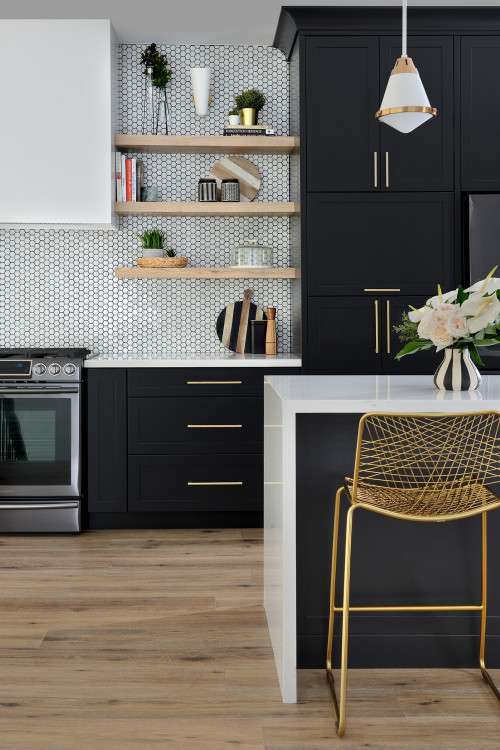 ID# 165811 | Houzz.com – Credit | © Michelle Berwick Design
---
Black and White Kitchen with Wood Flooring
Installing floating shelves is one of the easiest ways to add visual interest to your kitchen! In this modern kitchen, besides their functional aspect, wood shelves are used to bring warmth to monochrome color scheme with their natural charm. The quartz backsplash and countertop act as a piece of art with their marble-look texture and provide a luxurious backdrop for the rest of the kitchen. The navy blue cabinets create a sleek and elegant foundation.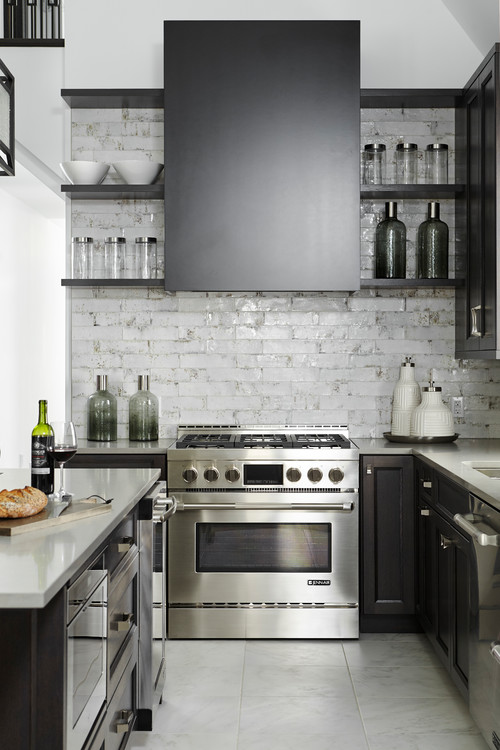 ID# 165822 | Houzz.com – Credit | © Kenmore Homes
---
Monochrome Kitchen Design with Stainless Steel Appliances
The white brick backsplash in this transitional kitchen adds a rustic touch!! The glossy surface of the brick tiles contrasts with the matte black kitchen cabinetry and range hood, giving the area an open and spacious sense. The black range hood is complemented with sleek floating shelves that complement the furniture's modern contours. Finally, the stainless steel appliances offer a modern touch while also adding a sparkling gloss.
Kitchen Floating Shelves Ideas
When designing your home, a kitchen requires a great deal of attention as it demands a lot of work regarding furnishing choices and plumbing and electric adjustments, given the number of appliances is quite high. And that's just the beginning; the must-have pieces of the kitchen are numerous, ranging from the backsplash to countertops, cabinet styles, floorings, and wall designs to synthesize the aesthetic and functional aspects together. But some budget-friendly options always help you organize the space and save time and effort. Floating shelves are one of these key design elements, and this blog will make you familiar with kitchen floating shelves ideas with a focus on material and color options!!
Are kitchen floating shelves still popular in 2023?
To start with, open shelves have been popular in traditional and cottage-style kitchens, allowing easy access to the most used kitchenware. And they remained popular over time and are considered applicable in all kitchen styles, including modern and contemporary designs. With modern approaches, the separate kitchens have turned into open-plan spaces visually connected to the lounge area with an increased level of interactivity. So, the concept of what a kitchen is has evolved significantly to respond to the current needs of homeowners. As such, decorations and efficient use of space has gained a lot more importance on the way. Kitchen floating shelves earned a place of their own during this process.
Affordable and highly customizable, open shelvings can create a focal point in the kitchen while accentuating the backsplash in the meantime. As much as the cabinets, the kitchen floating shelves ideas can set the tone of the kitchen significantly, showcasing the importance of a well-curated design. So, if you are ready, let's take a closer look at some inspiring design projects.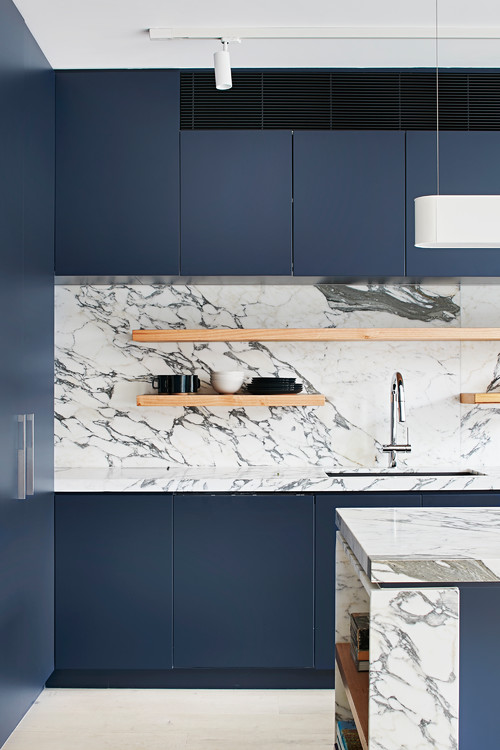 ID# 165801 | Houzz.com – Credit | © Mcmahon and Nerlich
---
Navy Blue Cabinets with Wood Kitchen Floating Shelves Ideas
Installing floating shelves is one of the easiest ways to add visual interest to your kitchen. In this modern kitchen, besides their functional aspect, wood shelves are used to bring warmth to monochrome color scheme with their natural charm. The quartz backsplash and countertop act as a piece of art with their marble-look texture and provide a luxurious backdrop for the rest of the kitchen. The navy blue cabinets create a sleek and elegant foundation while complementing the luxurious sense.
How deep should kitchen floating shelves be?
To safely keep the kitchenware such as plates, big glasses, and decorative elements like glass vases, the kitchen floating shelves generally measure at least 10 inches. Though floating shelves come as small as 4", a depth of 10 or 12 inches is enough to give you the flexibility to place anything you want.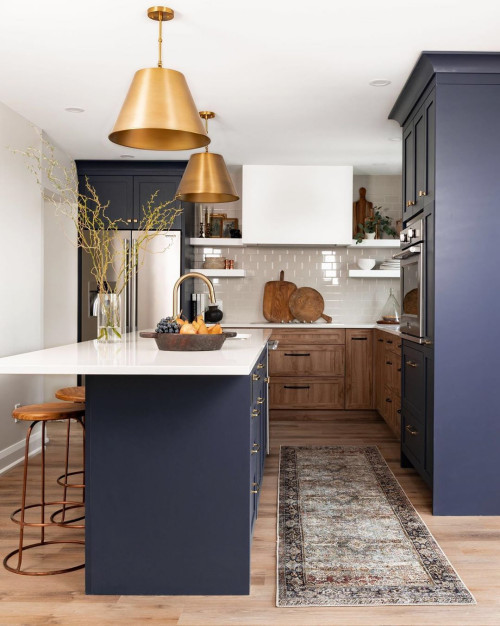 ID# 165802 | Houzz.com – Credit | © Deslaurier Custom Cabinets
---
Blue and Wood Cabinets with Beige Subway Tile Backsplash
When it comes to evaluating small and unused spaces, floating shelves might be your savior! In this transitional kitchen, the white open shelving surrounds a range hood evenly on both sides so the entire look feels symmetrical and balanced. The navy-blue painted cabinets and white countertop give the area a simple elegance, while the over-sized brass pendants and brass fixtures offer warmth. Warm nutmeg base cabinets with black hardware are the right complement to the rest of the space, balancing the cold blue and white palette. The beige subway tile backsplash makes a cohesive final touch, adding a nice textural look.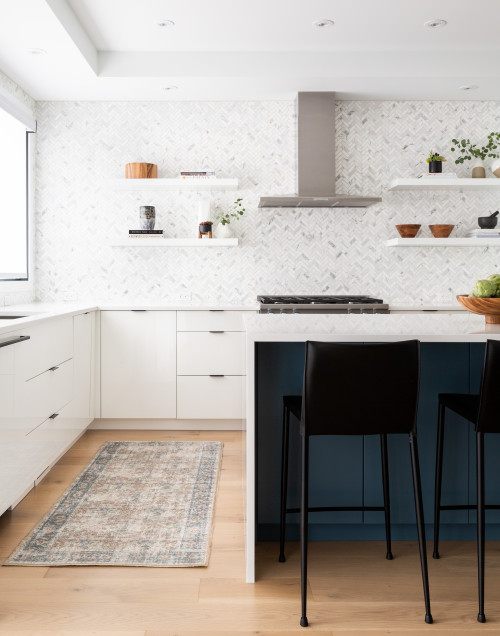 ID# 165803 | Houzz.com – Credit | © Alykhan Velji Design
---
White Kitchen Floating Shelves Ideas with Dark Blue Island
If you are designing a full-height backsplash, using floating shelves instead of upper cabinets might be the perfect way to enhance the impact of the tiles while adding an open and airy feel. In this transitional kitchen, the marble herringbone backsplash takes the stage and create a visually pleasing backdrop. The white floating shelves provide a display unit for some decorations without breaking the clean and fresh look of the backsplash. The white kitchen cabinets create a cohesive look with the other backdrop features. Adding a pop of color, the statement maker kitchen island creates contrast against the white furniture and becomes the centerpiece of the space.
What do you put on floating shelves in the kitchen?
Cutting boards, vases, plates, glasses, ceramics and even pans are just a few examples of the common goods that can be displayed on floating shelves. Additionally, these shelves offer the perfect surfaces for potted plants which breathe organic life and color into your decor. Everyday items and a dash of natural beauty mix to create a warm and useful space that will leave an impact on anybody who comes.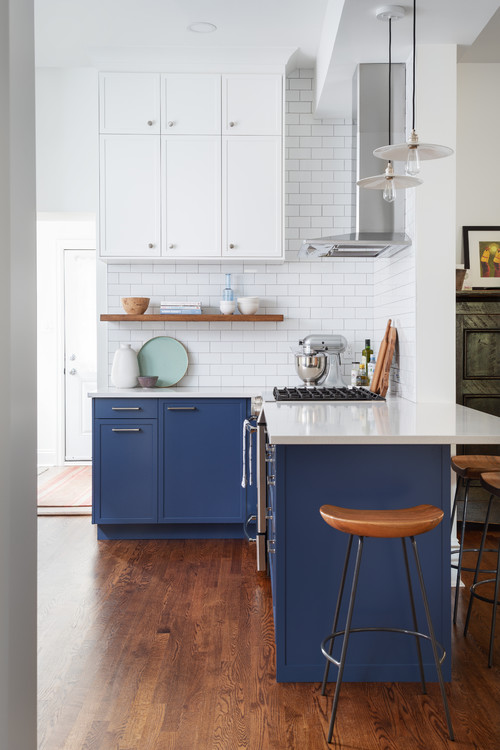 ID# 165804 | Houzz.com – Credit | © Tatiana Wojtan Studio
---
Small Open-Concept Kitchen with Blue and White Cabinetry
This compact open-concept kitchen serves as the room's utilitarian and aesthetically pleasing focal point because of its functional design. Here, the navy blue base cabinets directly draw attention, bringing depth to the room. On the other hand, keeping the upper parts white makes the space feel larger and more spacious. The classic white subway tile backsplash adds timeless elegance while the single wood floating shelf and wood stools bring warmth to the cold appearance of the blue-and-white combination.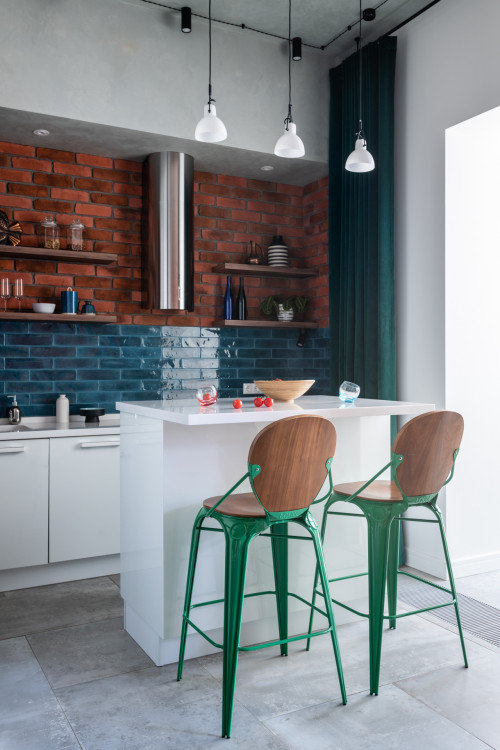 ID# 165805 | Houzz.com – Credit | © Князева Вероника /студия "ProIntDesign"
---
Wood Kitchen Floating Shelves Ideas with Blue Subway Tiles
Due to their open and airy appearance, open shelves will be your savior for small spaces! In this industrial kitchen, the wood-open shelves both provide additional storage space and complete the undeniable charm of the industrial style. Thanks to their sleek and minimalist design, these shelves also allow the unique backsplash design that contains blue subway tiles and brick veneer tiles, to stand out. With their clean and plain appeal, the white base cabinets and small kitchen island provide a sleek and fresh foundation. Last but not least, the stainless steel range hood and the green details of the counter chairs perfectly complete the quirky aesthetic of the overall look!
Material and Color Options for Floating Shelves
Kitchen floating shelves can come in a wide range of materials and color options such as glass, plastic, metal, marble, quartz, and wood. If you are looking for an authentic material to accentuate your walls, you can consider marble and wooden open shelves. One of the easiest and probably cheapest ways to build contrast and create a seamless look is to install shelves of the same or the contrasting color of the walls and the backsplash. For example, if you have a marble or quartz backsplash, you can get custom shelves of the same material to achieve a uniform look. In contemporary kitchens, generally, the range hoods are also enveloped with the same material for a clutter-free look.
Aside from those, glass provides a sense of transparency and adds a natural charm. The metal shelves, on the other hand, offer a firm touch. As they are available in gold and black matte finishes, you can play with the metals to suit the overall theme of the kitchen. Plus, as they are highly customizable, they give homeowners and designers flexibility. In short, you have multiple options when it comes to floating shelves, which will help you create various themes and compositions to make a statement and enrich the overall look of the kitchen.
Wood Kitchen Floating Shelves
One of the most popular materials used in interior designs to create a connection with nature and include a biophilic design feature for a warm and calming effect is wood. Ranging from exposed wooden beams to wood cabinets, countertops and shelves, they come in various forms. If you are low on a budget but still want to integrate wood into your kitchen, the floating shelves are one of the best options to go with. You can easily install them at eye level which will grab your attention easily. They will also enrich the overall look of the design without a doubt.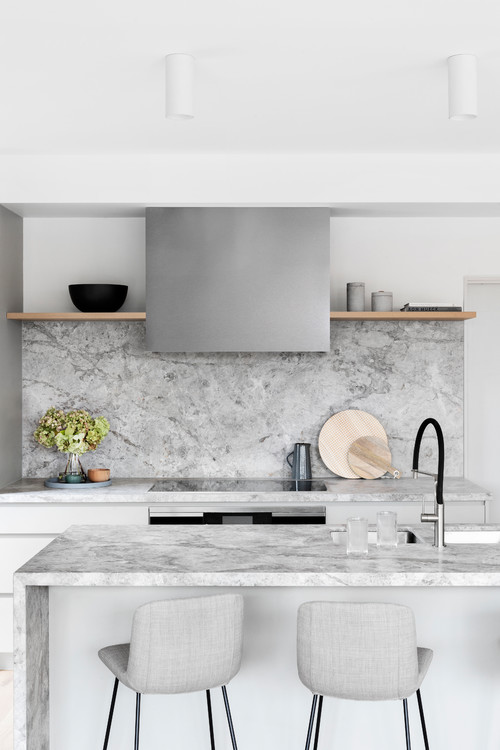 ID# 165806 | Houzz.com – Credit | © Kube Constructions
---
Gray Kitchen Design with Marble Backsplash and Countertops
Many people believe that if they incorporate open shelving into their kitchen, they must install a large number of shelves. This is not true. A few smaller shelves the size of one cabinet will make a major difference in the room, just like in this contemporary kitchen. Here, the plain appearance of the wood floating shelves that accentuate the stainless steel range hood, creates a cohesive look with the elegant and modern lines of the overall design. On the other hand, these shelves come front in this gray color scheme with their natural wood texture.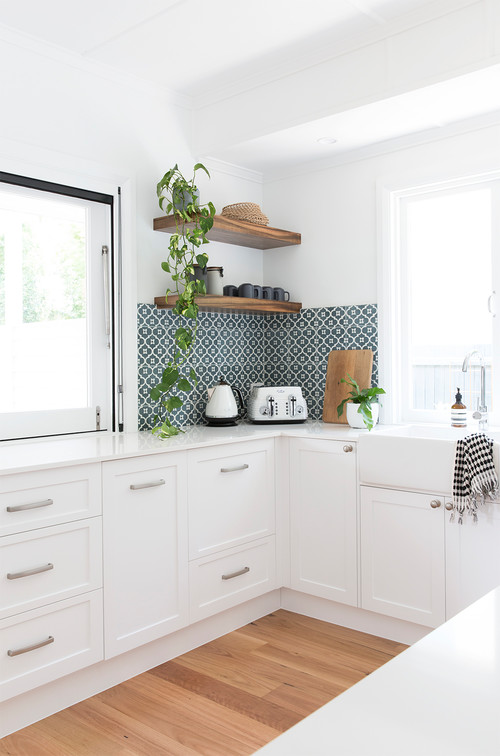 ID# 165807 | Houzz.com – Credit | © The Design Villa
---
White Beach Style Kitchen with Patterned Backsplash Tiles
A few well-selected accents can easily improve the overall appearance of a kitchen that is entirely white. The backsplash tiles with patterns and the wooden floating shelves above them serve as the accents in this instance. Through this combination, the kitchen's corner is given a strong focal point and the space feels livelier. On the other side, the kitchen's all-white cabinets, quartz countertop and farmhouse sink offer a contemporary and classic foundation.
How much weight can a floating shelf hold?
Even though the shelves are perfect and great substitutes for the cabinets, they have a limited capacity in terms of storage and the amount of weight they can hold. For each stud, the floating shelf can weigh 50 Ibs which is approximately 22-23 kg. But if you support them with brackets, then they will hold more weight. But the issue is where the studs are.
Ranging from looking for dimples, using windows as a guide, and tapping the wall, there are various methods to find a stud. Though, the most reliable method is to locate the electric layouts since electric boxes are usually attached to the studs. Then, see the next point 16 inches apart from the location, which is most likely to give you the place of the next stud. Or simply, you can get an electronic stud finder which will make everything easier.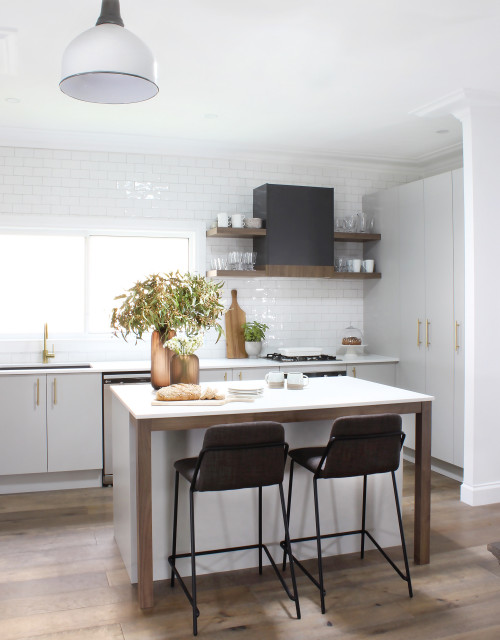 ID# 165808 | Houzz.com – Credit | © Kathryn Bloomer Interiors
---
White Contemporary Kitchen with Dark Wood Accents
With its white flat-panel cabinets, white quartz countertops, and glossy white subway tile backsplash, this contemporary kitchen showcases a timeless elegance!! While the white cabinetry provides plenty of storage space besides its sleek appeal, the subway tiles offer a clean and fresh backdrop with their glossy finish and full-height installation. Dark wood accessories, such the floating shelves next to the black range hood are added to create contrast and make the design stand out.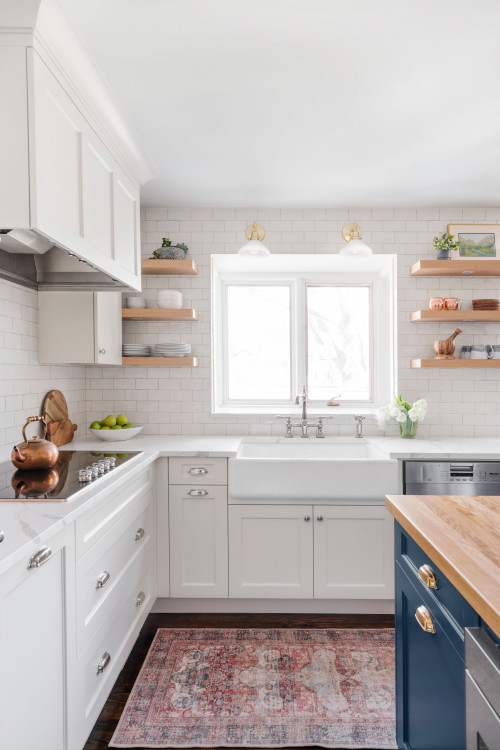 ID# 165809 | Houzz.com – Credit | © Trendsetter Renovations Ltd.
---
Transitional Kitchen with Shaker Style Cabinets and White Backsplash
This kitchen radiates the timeless beauty of the transitional design with its shaker-style cabinets, white subway tile backsplash, and quartz countertops. While the mix of these elements provides a light and airy environment, the chrome hardware and wood floating shelves add aesthetic flair.
Are floating shelves sturdy?
Yes, particularly the stainless steel ones, they are heavy-duty shelves. The shelves' material, size, and thickness all have a role. When purchasing one, bear in mind how much weight it can support and what you intend to store on the shelves. You may also have them created to order.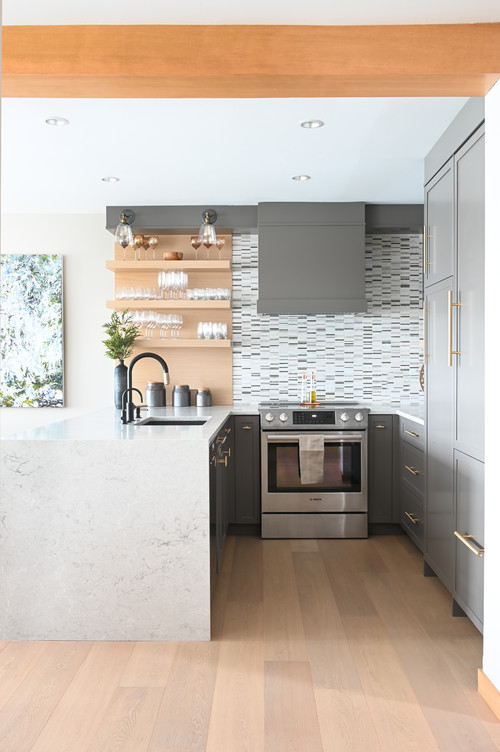 ID# 165810 | Houzz.com – Credit | © Sarah Marie Interior Designs
---
Dark Gray Cabinets with Wood Kitchen Floating Shelves Ideas
This enormous waterfall kitchen peninsula is a show-stopper that instantly raises the overall appearance of this modern kitchen! This peninsula design maximizes practicality without sacrificing aesthetics, thanks to its huge counter area, under cabinetry, and integrated sink. The dark gray kitchen cabinets, on the other hand, have an aesthetic appeal and provide depth to the space. The mosaic tile backsplash adds visual intrigue, while the wood-open shelving completes the look.
Glass Kitchen Floating Shelves
Eco-friendly recyclable material itself, glass is an intriguing material as it refracts light and offers transparency. For the same reason, it looks very aesthetic and eye-appealing without compromising functionality and providing ultimate storage spaces simultaneously. Glass shelves are highly customizable and versatile. To support them you can benefit from brass or matte finish brackets or French plumbing fixtures that give the kitchen a brighter look that is healthy and warm at the same time. If you don't have a wall or backsplash in the kitchen, you can also install them on the cabinet doors.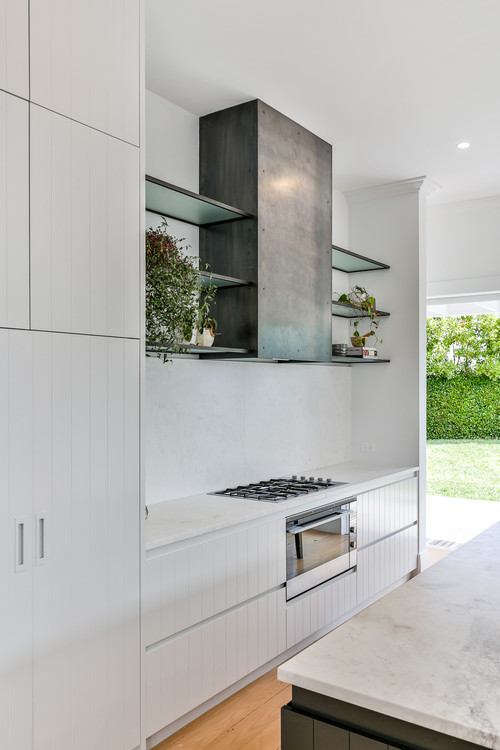 ID# 165812 | Houzz.com – Credit | © Broswick Builders Ltd
---
Paneled Light Gray Cabinets with Carrara Marble Backsplash and Black Range Hood
While the house's classical bones were preserved, the kitchen presents a sleek and modern contrast. Here, the tongue and groove paneled light gray kitchen cabinets create a nice textural look and provide a sleek base. The marble backsplash and countertops create a cohesive look with the cabinetry, adding a dose of luxury. On the other hand, the black range hood which is accentuated by glass open shelving creates a striking focal point that enhances the overall look.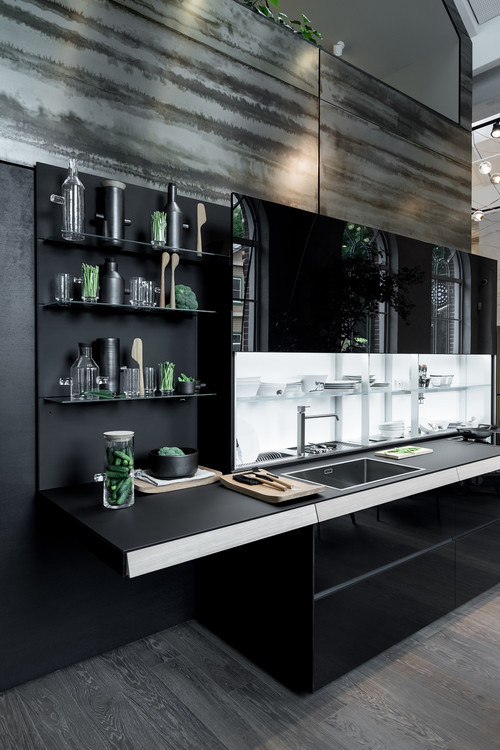 ID# 165813 | Houzz.com – Credit | © Михаил Лоскутов
---
Lacquer Black Cabinetry with Glass Kitchen Floating Shelves Ideas
If you are looking for inspiration to create a statement-maker kitchen design you will love this contemporary kitchen! With its lacquer black cabinets, black countertops, white backsplash and well-chosen details, this kitchen offers an elegant and dramatic atmosphere. The white backsplash area produces a stunning contrast that perfectly encapsulates modern aesthetics against the ominous allure of the black components. In this backsplash area where functionality meets aesthetic, the clever open shelving system offers both convenience and visual appeal. The open shelving concept is continued on the left side with the glass floating shelves that add a touch of modern artistry.
Are floating shelves in the kitchen a good idea?
Coming with both functional and aesthetic benefits, floating shelves are without a doubt a good idea in the kitchen as they make navigation much easier. They allow easy access to the kitchen items, saving you time and effort. In aesthetic terms, they beautify your walls and create cozy corners, adding character to the space.
Additionally, to create ambiance, you could install spotlights or accent lighting to highlight the shelves. Accent lighting added beneath the floating shelves could be another way to emphasize them.
Metal Kitchen Floating Shelves
Metal floating shelves have ergonomic and lightweight designs, which make them easy to work with. Offering a stable and firm look, they are great alternatives to wooden shelves. Especially for those looking for rustproof heavy-duty industrial modern shelves, stainless steel shelves will give you what you need without a doubt. However, if you find the steel too cold or clinical, for a more sleek and sophisticated version, matte black open shelves are also available in the market. Those looking for a sense of warmth can also get the (brushed) gold metal shelves.
Above all, perhaps the best part of the metal shelves is their unparalleled quality and contemporary appeal. So, if you have an exposed stainless steel range hood without a dressing or a fixture to keep it out of sight, why not try metal kitchen floating shelves? You can create a symmetrical setup by installing them on both sides of the hood.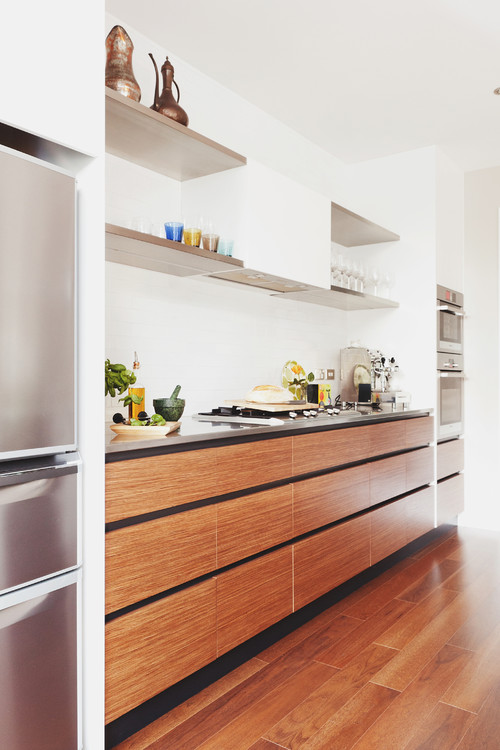 ID# 165814 | Houzz.com – Credit | © Well Hung Kitchens
---
Metal Kitchen Floating Shelves Ideas with Wood Cabinetry
Creating a coherent space in your kitchen requires you to consider balance. Although open shelving has several advantages, its location and the goods displayed might make it appear cluttered rather than handmade. That's why symmetrically installing the open shelves might help you to find this balance. As you can see in this modern kitchen, the metal floating shelves that accentuate the range hood create a visual feast with their symmetrical layout and perfectly complete the modern lines of the overall design.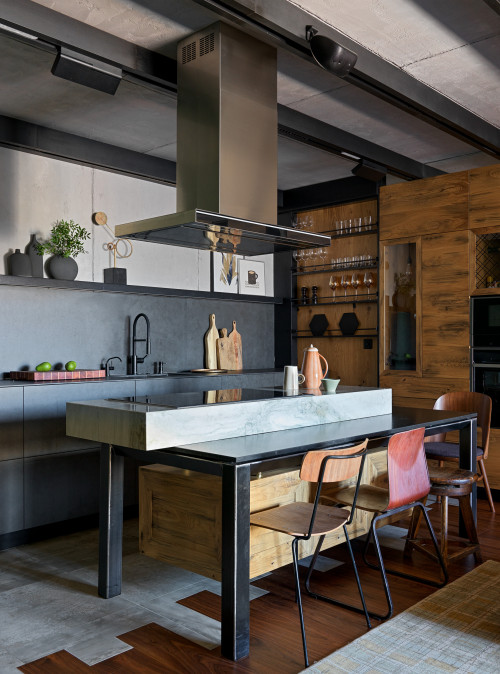 ID# 165815 | Houzz.com – Credit | © Totaste.studio | Виктор Штефан
---
Industrial Kitchen with Neutral Color Scheme
Open shelving is not confined to the farmhouse style, and there are numerous ways to design it to match your personal taste. Consider using matte black metal shelves for a more modern and sophisticated design, as shown in this industrial kitchen. The open shelving system here acts as a display unit for lovely glassware, and its placement is a perfect illustration of how to evaluate underutilized areas.
White Kitchen Floating Shelves
The addition of white floating shelves to any room is amazing! They have the ability to instantly fill your space with light and a breath of fresh air. For instance, if you have white walls or a white backsplash, adding white floating shelves can give the space more depth and a lovely multi-layered appearance. Moreover, you don't just have to attach white floating shelves above your standard lower cabinets. In some designs, these shelves turn into accent walls that distinguish, let's say, a dining area, an island, or perhaps a peninsula.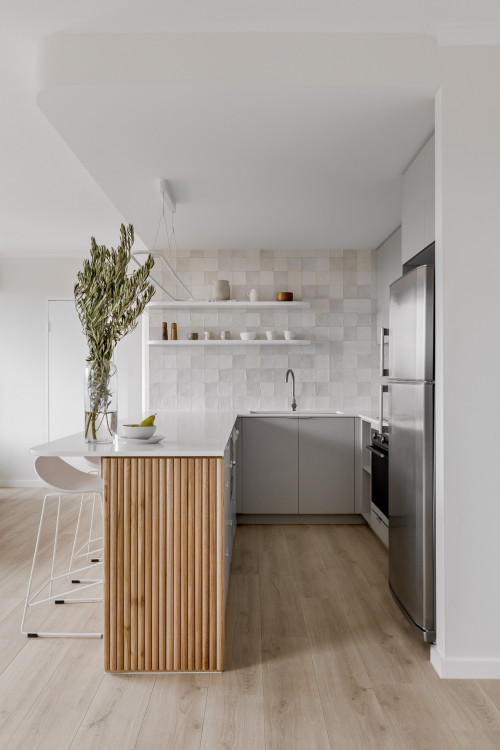 ID# 165816 | Houzz.com – Credit | © TP Interiors
---
U-Shaped Modern Kitchen with Paneled Peninsula
With its white, gray, and wood color palette and simple lines, this modern kitchen exemplifies the Scandinavian aesthetic's everlasting charm. The white handmade tile backsplash becomes the space's appealing main point, creating a great tactile aesthetic. The white floating shelves and white quartz worktops complement the unsophisticated charm of the backsplash tiles well. The wood paneling on the kitchen peninsula break up the room's white supremacy and provide warmth.
How do you arrange 3 floating shelves?
It is recommended to install a shelf with a depth of over 40 centimeters and leave around 12 centimeters of height between the floating shelves. The second detail to consider is the height of the homeowners. For instance, assuming that the homeowners' height is an average of 1.70 meters, the top shelf shouldn't be higher than 1.95 cm. But if that's the case, the solution is easy too. Just keep a short-legged stool around to use when needed. The stool will also serve as another aesthetic detail. Plus, as long as you place the least used items on the top shelf, it shouldn't be a big concern!!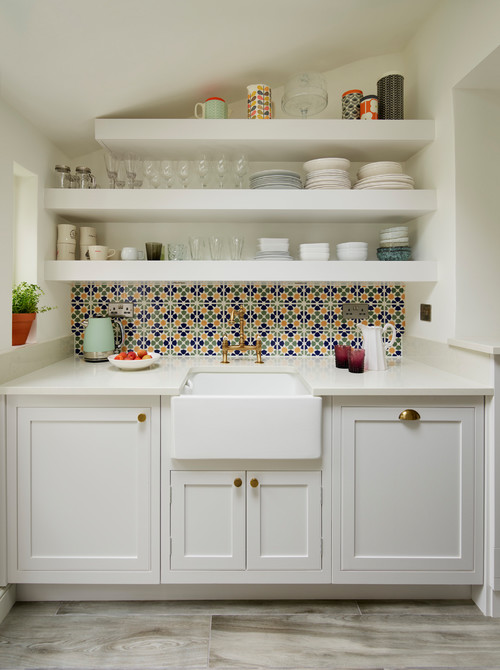 ID# 165817 | Houzz.com – Credit | © Harvey Jones Kitchens
---
Multicolored Backsplash with White Kitchen Floating Shelves Ideas
There is no secret that small spaces require more practical storage solutions, and floating shelves are one of the most effective ways to maximize the functionality of your design!! In this tiny kitchen space, the white floating shelves perfectly fit the area above the multicolored backsplash and eliminate the disadvantages of the sloped ceiling. For the rest, the white shaker cabinets provide a timeless appeal while the colorful backsplash tiles enhance the overall look by adding a pop of color and texture.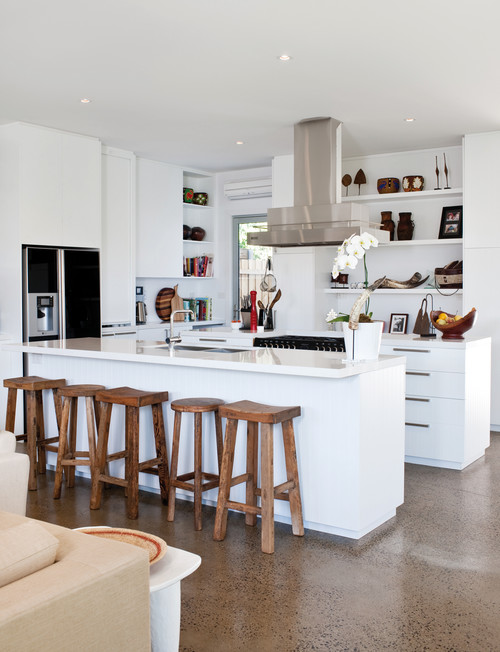 ID# 165818 | Houzz.com – Credit | © Beaumont Concepts
---
All-White Contemporary Kitchen Design with Eye-catching Accents
Displaying your valuable decor items on floating shelves is an excellent idea to create a visual feast for your kitchen walls. The set of white floating shelves in this contemporary kitchen already provides plenty of storage while creating a visual feast with the accessories on them. Acting as a playful decor, these shelves instantly enhance the otherwise ordinary white space.
Can I put a microwave on a floating shelf?
As long as your floating shelves can handle the weight of a microwave, sure, you can put a microwave on a floating shelf. Well, it is also suggested that you can slide the microwave between two floating shelves that will share the weight of the microwave. To take extra precautions, you as well support the shelves with brackets or suspend them for a change.
Above all, moving your microwave to your countertop will save you more space on the countertop. PS: Free-standing door-free cabinets installed next to the floating shelves also provide a great place for a microwave.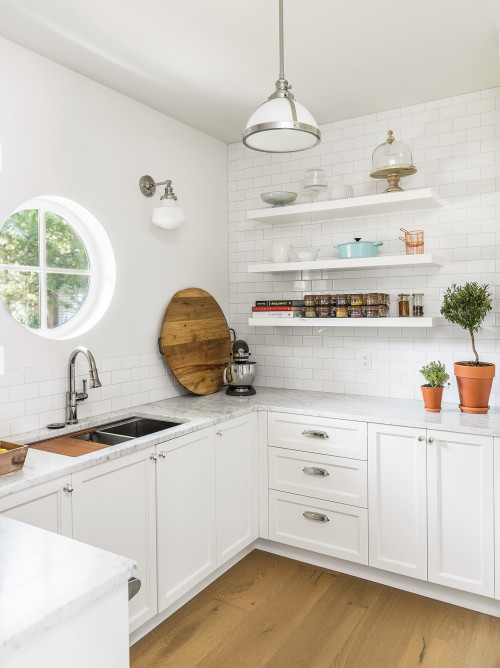 ID# 165819 | Houzz.com – Credit | © Enmark Construction Ltd
---
White Full-Height Subway Tile Backsplash with Marble Countertop
Floating shelves can easily be used to complement almost any decorating style. Try mixing white shelving with white tile for a decidedly modern look—the results are classic yet completely modern! In this transitional kitchen, the combination of white full-height subway tile backsplash and white floating shelves makes a modern twist against the traditional style of the white shaker cabinets, creating a timeless aesthetic. The marble countertop and chrome hardware make a cohesive final touch that enhances the traditional style.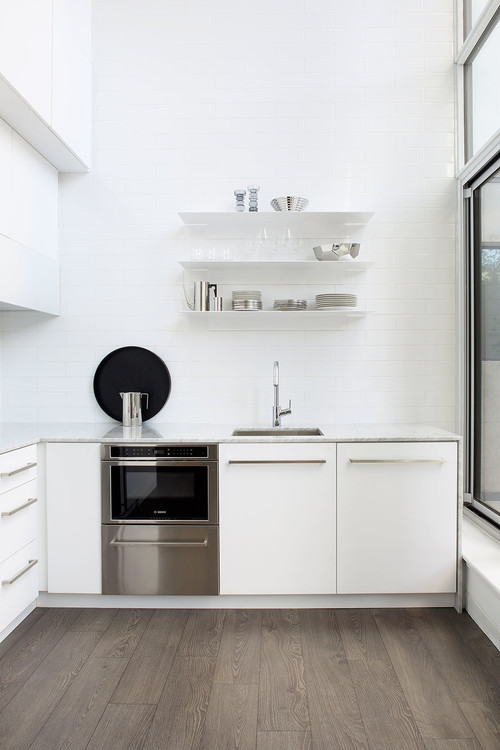 ID# 165820 | Houzz.com – Credit | © Dexter Quinto | Aquino+Bell Interior
---
Modern Minimalist Kitchen Design with White Kitchen Floating Shelves Ideas
Thanks to their sleek appearances, floating shelves are one of the most important elements for modern interior designs. Just with the addition of a couple of open shelves, you can easily provide additional storage space without compromising the minimalist aesthetic. In this modern kitchen, the white floating shelves create a continuous look with the white subway wall tiles. Even the naive appeal of the kitchenware on the shelves perfectly complements the modern design of the white flat-panel cabinets and marble countertops.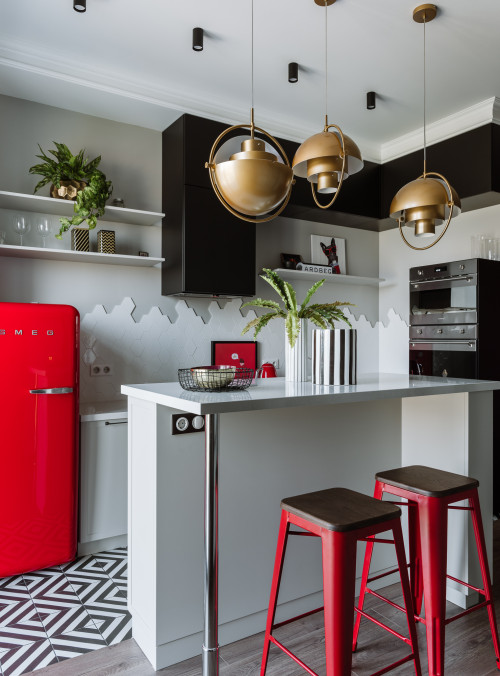 ID# 165821 | Houzz.com – Credit | © Анна Моджаро
---
Black and White Kitchen with Vibrant Red Accents
Here's an example of a kitchen that doesn't appear like usual. This tiny contemporary kitchen is set in a corner and features flat-panel black top and white base cabinets, as well as current retro appliances such as a red refrigerator and oven that resembles a radio. They give the kitchen an antique essence that contrasts with the modern flare. A white island with a bar table leg is coupled with backless stools with red legs that complement the overall design of the kitchen. The white hexagon tile backsplash appears to be an unfinished puzzle. When paired with the toy-like decorative items exhibited on the floating shelves, this modern kitchen takes on a new look!
Black Kitchen Floating Shelves
If you want to create a seamless look, one way is to keep the open shelves the same color as the backsplash. It gives the illusion of the natural extensions of the wall or the backsplash rather than something installed as something extra. When it comes to the black open shelves, they create a character design while bringing depth and sophistication!!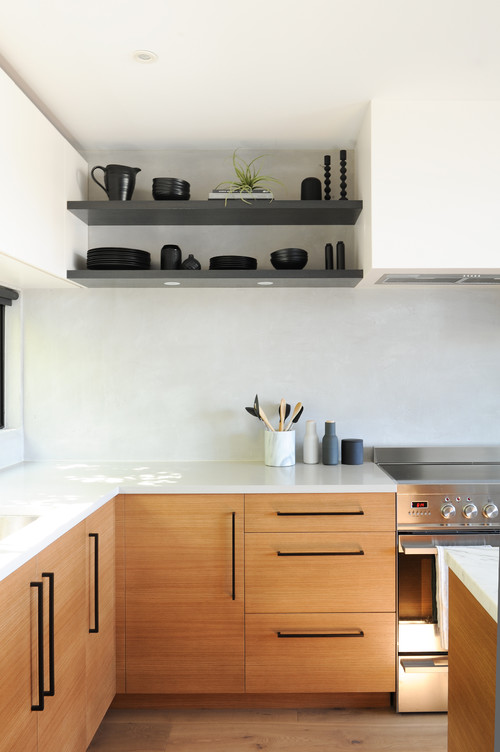 ID# 165823 | Houzz.com – Credit | © SHIFT Interiors
---
Natural Wood Cabinets with Black Kitchen Floating Shelves Ideas
This contemporary kitchen seems timeless because of its simple color scheme! White countertops and a backsplash in this kitchen contrast with the natural wood cabinets to create a bright and airy atmosphere. The floating black shelves and matte black cabinet hardware add visual appeal and enhance modernism.
Colorful Kitchen Floating Shelves
Though we are accustomed to seeing wooden and white floating shelves in most kitchens that bring an organic touch to soften the contrasts, the colorful open shelves are as much as popular as the wooden and white ones. To introduce a pop of color and match the cabinets, the open shelves can catch the rhythm of the counters, helping achieve integrity.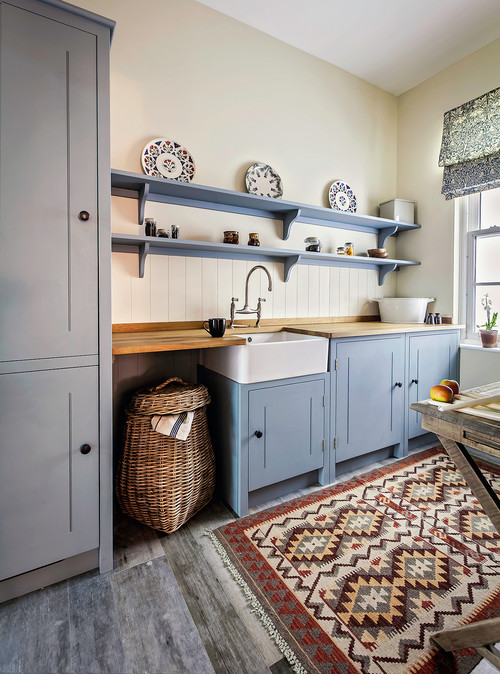 ID# 165824 | Houzz.com – Credit | © British Standard by Plain English
---
Blue Kitchen Floating Shelves Ideas with Wood Countertop
In this farmhouse kitchen design, the cozy sensations are at their peak!! The white beadboard backsplash and wood counters create a cottage-like atmosphere with warm sensations. The blue cabinets and butcher block counters add a sophisticated and visually appealing contrast to the kitchen. The shelving arrangement contributes to the cabinetry's comfortable and cozy atmosphere.
Is open shelving in the kitchen a fad?
Yes, it is. Affordable, customizable, and easy-to-work-with shelves will most likely continue to be a fad in the following years as well. The shelves owe their popularity to a lot of factors. First, they give homeowners a chance to define or accentuate the backsplash. Secondly, homeowners can project their personality while putting their kitchenware or other decorative items on display. Thirdly, they help declutter the countertops. Overall, open shelving has aesthetic and functional benefits that make them favorable and keep popular.