31+ Kitchen Peninsula Ideas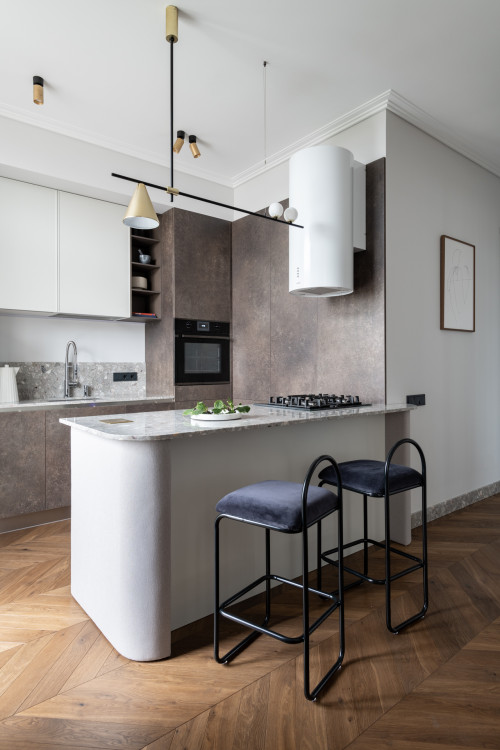 ID# 165713 | Houzz.com – Credit | © Buro 19.23
---
Gray and White Kitchen Design with Granite Backsplash
This contemporary kitchen's upper cabinets are entirely white, creating a lovely mix of various textures and tones. The gray base cabinets' stone-like texture gives the overall design depth and coziness. The alluring white peninsula becomes the center of attention, radiating style and providing a place for enjoyable dining and gathering. The backsplash and sturdy granite countertops add to the kitchen's timeless appeal!!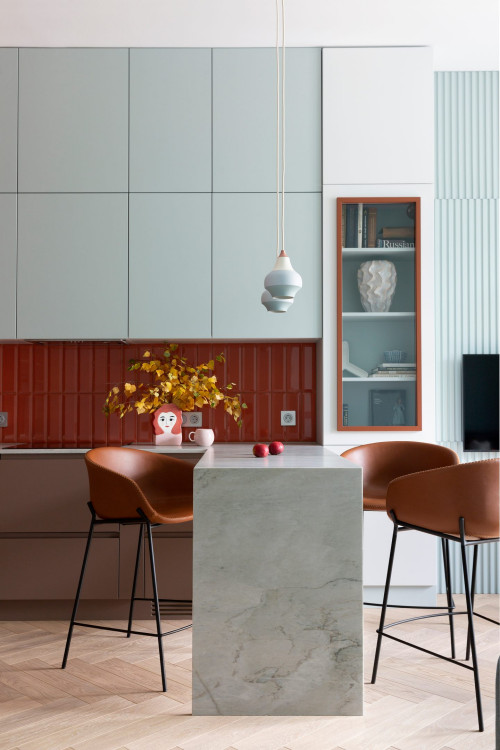 ID# 165720 | Houzz.com – Credit | © Константин Малюта
---
Marble Waterfall Kitchen Peninsula Ideas with Leather Chairs
The beveled subway tiles take the stage and offer a striking focal point. The deep and rich orange color of the tiles brings a warm and inviting feel this otherwise neutral kitchen while the vertically stacked layout of the tiles enhances the modernity of the overall look. The light gray kitchen cabinetry provide a clean and attractive backdrop for the tiles and the marble waterfall peninsula makes a luxurious twist with a natural charm. For a final touch, the leather counter chairs complement the orange shade of the backsplash, making a characteristic touch.
Kitchen Peninsula Ideas
One of the most practical kitchen designs is the peninsula, which is also a common layout for those who want to divide an open area or adopt the broken-plan lifestyle. On a map, a peninsula is a region of land that is almost completely encircled by sea but is connected to the main land mass on one side. Similar, but less flooded, is a kitchen peninsula. A peninsula, which is attached to the wall on one side, is a very practical addition to a broad variety of kitchen layouts and can make a drab kitchen wonderfully convivial. If you want extra storage and countertop place functional kitchen peninsula ideas are some of the layouts that you can go with.
Stylish and Functional Peninsula Designs
Kitchen peninsula ideas give three sides of the workstation as opposed to a freestanding island, with one end joined to a wall or counter area, frequently forming an "L shape" and you can find other layouts such as "U shape." Peninsula designs provide the kitchens with plenty of room and storage and work particularly well as an island substitute in smaller kitchens. However, kitchen peninsula ideas may be a fantastic design solution for any kitchen even when placed next to islands.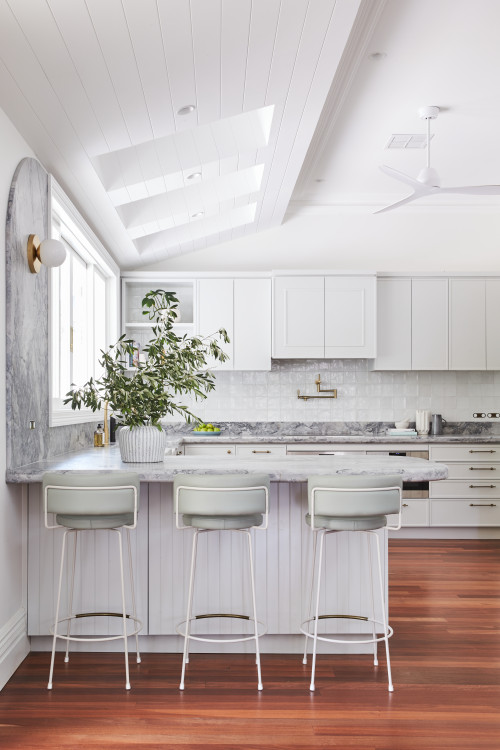 ID# 165701 | Houzz.com – Credit | © Danielle Victoria Design Studio P/L
---
Traditional Kitchen with Square Tile Backsplash and Marble Countertops
If want to create a timeless elegance in your kitchen, an all-white color scheme and a touch of marble will never fail you!! The cleanliness and purity of the white cabinets dominate the space and provide a bright and spacious atmosphere. With its glossy finish, the white square tile backsplash complements this appeal, adding a nice texture. On the other hand, the gray marble 4-inch backsplash and countertops make a luxurious twist and instantly enhance the overall look. The tongue and groove paneled front of the peninsula and the light gray counter chairs make a cohesive final touch to complete the traditional aesthetic.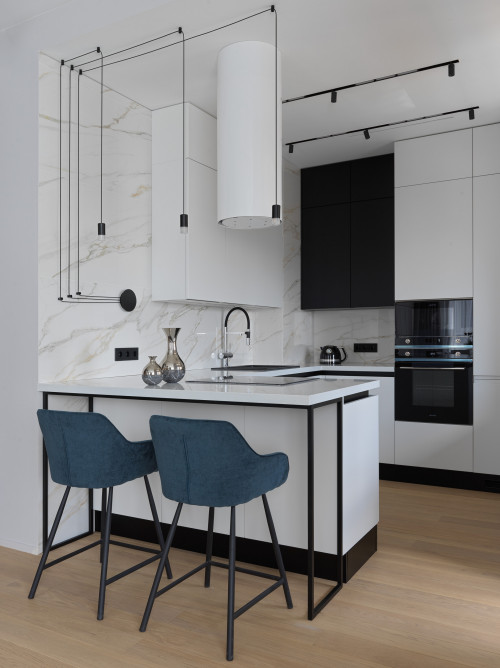 ID# 165702 | Houzz.com – Credit | © Рожкова Полина
---
White Kitchen Peninsula Ideas with Dark Blue Chairs
This modern kitchen highlights the timeless elegance of the modern look with its matte black accents! These black elements give a wow effect by standing out against the white flat-panel kitchen cabinetry and peninsula. Full-height quartz backsplash countertops, on the other hand, combine a feeling of luxury with natural beauty. The light wood floor breaks up the black-and-white color scheme and adds warmth by lessening the stark contrast.
What is a kitchen peninsula?
The kitchen island has grown in popularity in American houses over the past few decades, but not all home designs can accommodate one. A kitchen peninsula is a fantastic solution, especially when space is limited. Smaller houses and flats often include peninsula kitchens. Without taking up the entire kitchen, they offer all the advantages of an island. A kitchen peninsula has three reachable sides and is linked to a wall or nearby countertop. On the inside side, or occasionally on all three, it frequently has lower cupboards and/or drawers for additional storage and offers an additional counter area for food preparation and dining. Additionally, it could have a sink and/or culinary equipment. It is also possible to define space in an open-concept house and create separation between the kitchen and living room by including a peninsula island in the kitchen.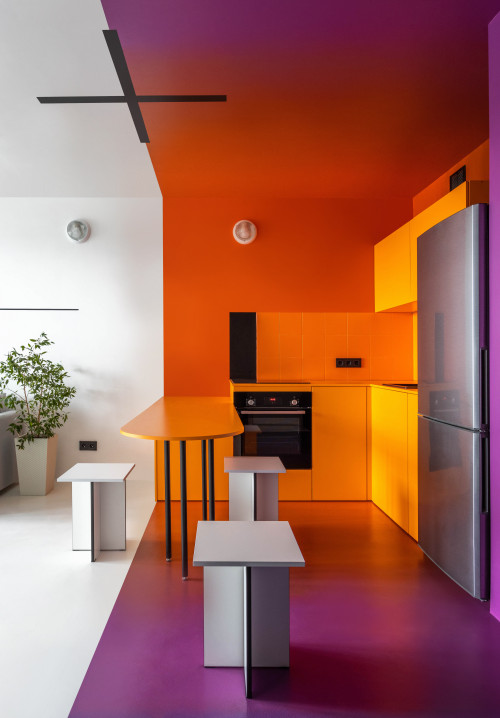 ID# 165703 | Houzz.com – Credit | © Уразметов Рустэм
---
Orange Kitchen Design with Stainless Steel Appliances
Wow!! This kitchen is an excellent example of how a color scheme can make a huge difference! Even though the cabinets, peninsula, and other features serve a simple and plain look, the usage of an orange color instantly transforms the overall look, creating a one-of-a-kind appeal. Using the backsplash and countertops in the same orange shade enhances the impact and creates a soothing appeal.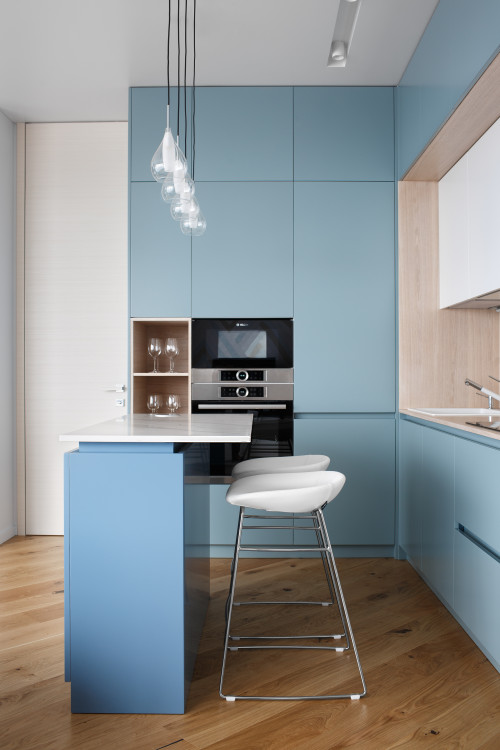 ID# 165704 | Houzz.com – Credit | © Александр Хом
---
Small Contemporary Design with Kitchen Peninsula Ideas
Compact yet stylish and functional!! When it comes to designing small kitchens, a U-shaped layout is the best option for the area of usage, and with the addition of a peninsula, you can maximize the functionality without compromising style. The blue peninsula with white counter stools not only provides an additional counter space but also perfectly completes the sleek and modern design of the blue kitchen cabinets.
Kitchen with Peninsula
Many homeowners' wish lists for their kitchens frequently include a kitchen island. But what if your kitchen doesn't have enough room for a kitchen island? A kitchen with peninsulas is, in our opinion, the next best thing. A kitchen with peninsulas may be the ideal design choice if you want to increase your kitchen's usefulness, storage, and counter space.
In an L-shaped, U-shaped, and even galley kitchen layout idea, a kitchen with peninsulas has long been a well-liked design element. Peninsula cabinet plans may either be an independent run of cabinets that join to a wall expanding the layout or they can be a continuation of the base cabinets along the wall extending the kitchen or creating an L-Shape. The arrangement of your kitchen may easily be changed or expanded by adding a kitchen peninsula. With the aid of a kitchen with peninsulas, a galley or straight-wall kitchen plan, for instance, may be lengthened or changed into an L-shaped layout.
Kitchen Peninsula with Seating
Almost all peninsulas with good planning have bar stools below them. Kids may complete their schoolwork here, and guests can sit here while you work in the kitchen. You might turn a blank cabinet back into a multi-use sitting area by simply extending your countertop by a few inches. A kitchen peninsula with seating may help you to add character to your kitchens with a couple of design tricks, such as complementing design colors or creating contrasts.
Stools that match the color and design of the kitchen are always a smart idea since they not only fulfill their intended use but also enhance the appearance of the room. One option to incorporate modernism into this type of kitchen peninsula is with a contemporary low-back stool. This results in a more comfortable seated position for practically all heights, making it a wise design decision. Scroll down to get inspired by the kitchen peninsula with seating ideas and enjoy!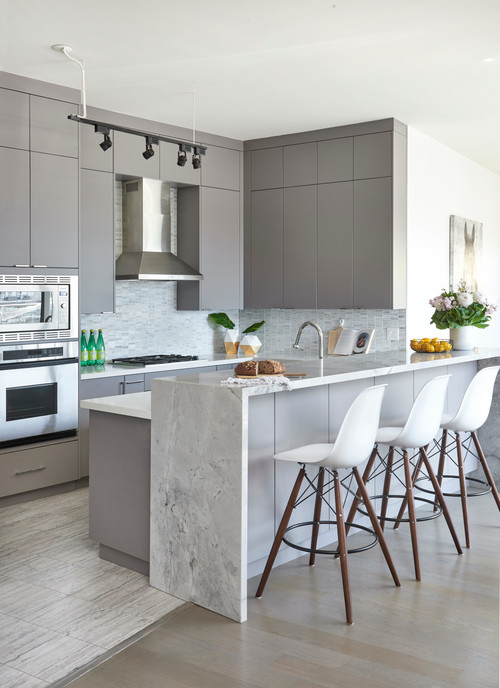 ID# 165705 | Houzz.com – Credit | © Jessica Leigh Interiors
---
Two Tier Kitchen Peninsula Ideas with Waterfall Countertop
The two-tiered structure of the peninsula is eye-catching, establishing it as the focal point of the kitchen!! While the bottom level faces the gray cabinets and provides more counter space, the higher level acts as a breakfast bar and has ample of room for family members. In addition, the peninsula's marble waterfall countertop adds to the opulent feel and compliments the marble backsplash.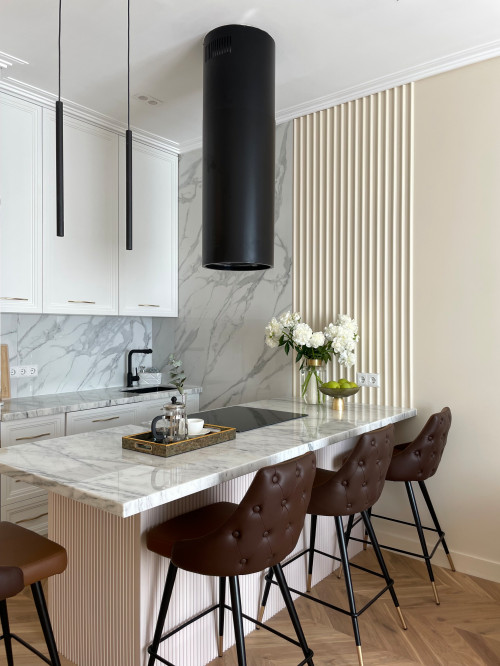 ID# 165706 | Houzz.com – Credit | © Kodi design
---
Transitional Kitchen with Marble Backsplash and Countertops
The layout of the kitchen peninsula takes center stage! Its pink panels and marble top are very exceptional, adding a sumptuous impression. The deep brown leather seats pop against the brighter colors, drawing attention from all around the peninsula. White kitchen cabinets, marble backsplash and countertops provide a clean and classic look.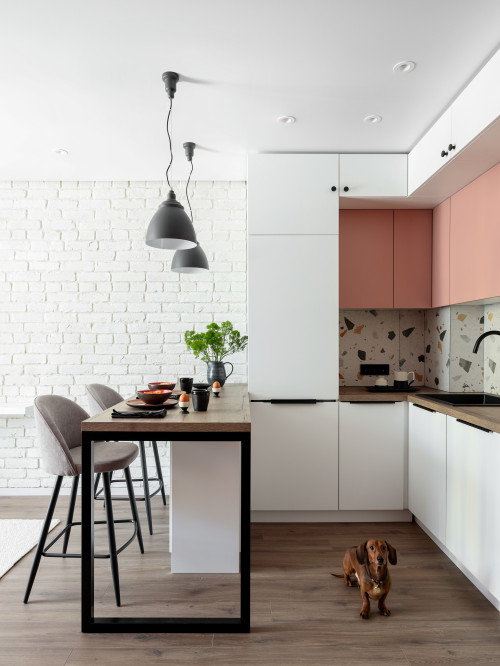 ID# 165707 | Houzz.com – Credit | © Maxim Maximov
---
Pink and White Cabinets with Terrazzo Backsplash and Wood Counter
The pink and white flat-panel cabinetry in this Scandinavian kitchen gives it a quirky and distinct appearance. The wood countertop brings a warm and inviting feel to the atmosphere while serving as a peninsula with gray chairs on the left side. The colorful terrazzo backsplash is the star of this kitchen, providing visual interest!!
Small Kitchen with Peninsula
Islands and large kitchen layouts have been on the stage for many years, however, in today's world we see minimalist design approaches and small kitchen designs more. Designing a small kitchen is already hard work for some of us and thinking of a small kitchen with peninsula designs can be more challenging. This shouldn't make you hopeless in anyways, we found some gorgeous and clever examples of a small kitchen with peninsula designs.
Since you may hesitate to have a small kitchen with peninsula ideas, peninsulas may provide a couple of benefits, such as having extra storage, or a seating area to chat while you are doing your job in the kitchen. Adding a peninsula to your kitchen may be the design trick that you may need indeed because of the lack of storage space in small kitchens. Scroll down to see some of the terrific design tricks of a small kitchen with peninsula design ideas.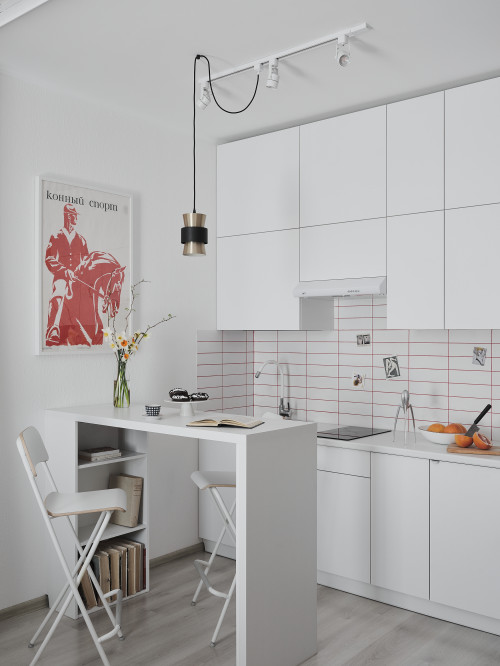 ID# 165708 | Houzz.com – Credit | © AY STUDIO
---
White Stacked Tile Backsplash with Pink Grout
If you are looking for a timeless design, an all-white color scheme will never fail you down!! In this small kitchen, the combination of white cabinets, countertops, and backsplash creates a clean, bright, and spacious atmosphere. Also, using white color is a great way to make the small space feel larger. The pink grout lines of the white stacked tile backsplash add visual interest to the space. On the other hand, the tiny peninsula design not only creates a dining area but also provides additional storage space with its open shelves.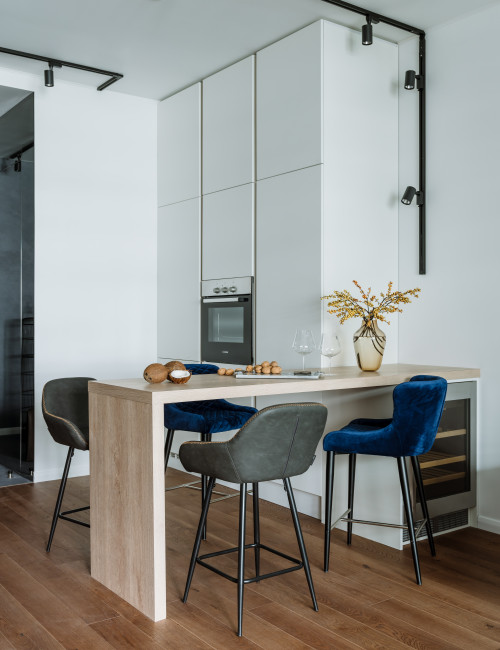 ID# 165709 | Houzz.com – Credit | © Studio DA
---
Open-Concept Kitchen with White Cabinets
This open-concept kitchen combines modern aesthetics with eye-catching elements that compliment the overall design smoothly. White full-height cabinets provide lots of storage space while creating a clean and fresh backdrop. To form a peninsula, the wood waterfall countertop is properly linked to the cabinets. The peninsula's gray and blue seats add an unexpected variation to the overall aesthetic.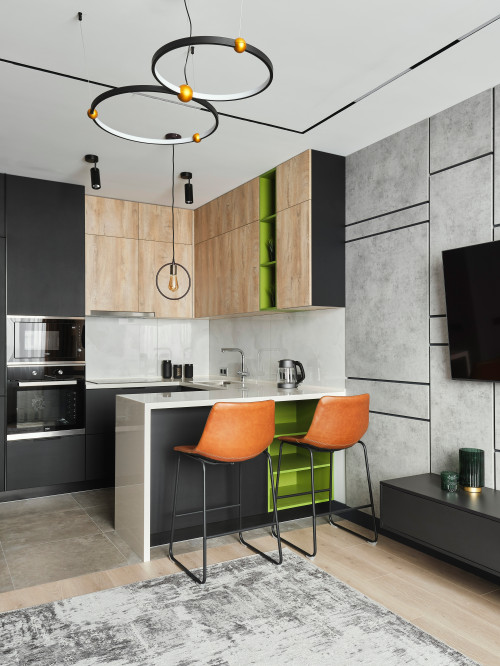 ID# 165710 | Houzz.com – Credit | © "MARIA-ART" студия архитектуры и дизайна
---
Industrial Kitchen with Black and Wood Cabinets
This kitchen embodies the inherent appeal of the industrial style thanks to the blending of various natural textures! The wood upper cabinets add warmth to the space while the matte black lower cabinets lay a sleek and contemporary foundation. The green open cabinets give a splash of color and a surprising touch. Contrasting with the dark colors, the white quartz worktops and large format porcelain tile backsplash give the room a light atmosphere.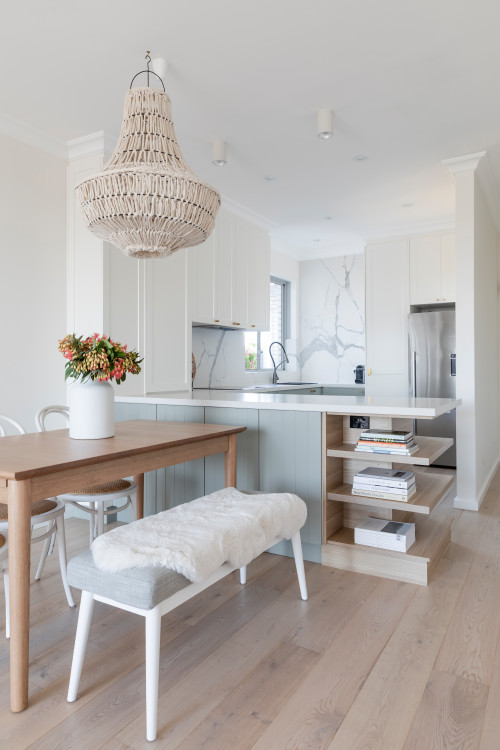 ID# 165711 | Houzz.com – Credit | © Blue Tea Kitchens and Bathrooms
---
Light Blue Kitchen Peninsula Ideas with Wood Open Shelves
In this beach-style design, the light blue kitchen peninsula not only provides an additional counter space but also acts as a separator between the kitchen and dining room. The open shelves of the peninsula add visual interest and complement the beach vibes with their wood texture. Keeping the upper cabinets white creates an open and spacious space feel while the striking full-height marble backsplash brings a sense of luxury.
Peninsula Island Kitchen
Almost every peninsula has a seating area or a bar counter, and if you do not want to use a peninsula in this manner you can try out a peninsula island kitchen. This means that this peninsula works as a peninsula and island, it has three open sides and additional storage. It is possible to have it as a design item in the kitchens for both aesthetic and storage solutions!
If you want only extra storage with an aesthetic appeal in the kitchens and do not like sitting around a peninsula, a peninsula island kitchen design is the best for you. You can scroll down and see what can be done with a peninsula island kitchen design and how you can take advantage of them.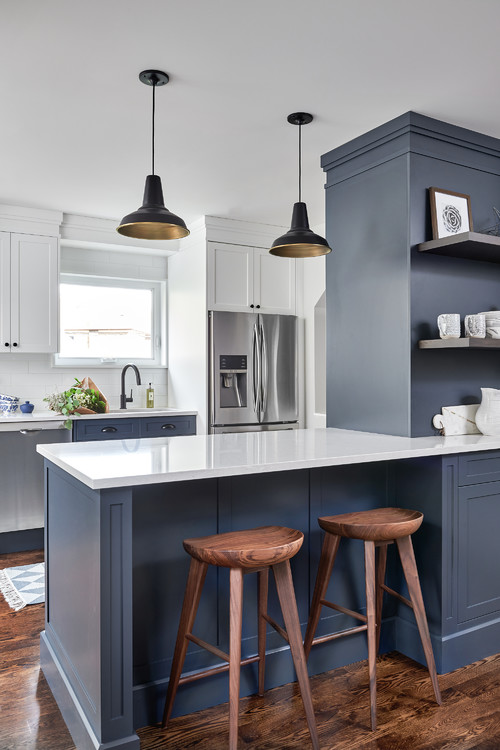 ID# 165712 | Houzz.com – Credit | © Belyea Bros. Ltd
---
Navy-Blue Kitchen Peninsula Ideas with White Quartz Countertop
The sophisticated feel of the navy blue surrounds this transitional kitchen through the base cabinets and peninsula, offering an elegant and stylish appeal. Keeping the upper cabinets white provides a contrasting look and balances the dark deep shade of blue. The pristine white quartz countertops and white subway tile backsplash complement this airy feel while stainless steel appliances make a cohesive final touch to enhance the traditional aesthetic.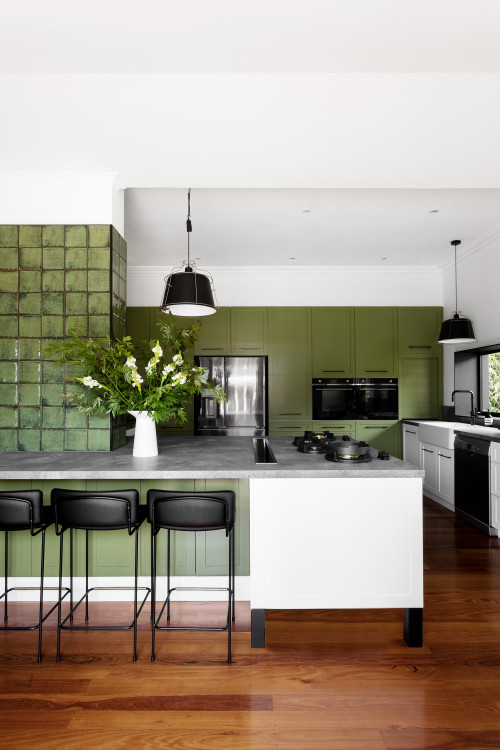 ID# 165714 | Houzz.com – Credit | © Peter Schaad Design Studio
---
Green and White Cabinets with Gray Concrete Countertops
What a soothing and alluring green! If you want a color that shines out in your kitchen, this lovely shade of green can be the ideal choice. Everyone is immediately drawn to the striking green cabinets, creating a spellbinding effect that will undoubtedly generate debate for years to come. For added atmosphere, nostalgia, and retro feelings, the square wall tiles are also tiled in the same wonderful shade of green. The inclusion of elegant gray granite countertops, which lend the finishing touch by introducing an additional layer of texture, perfectly completes the overall appearance and feel of this gorgeous kitchen.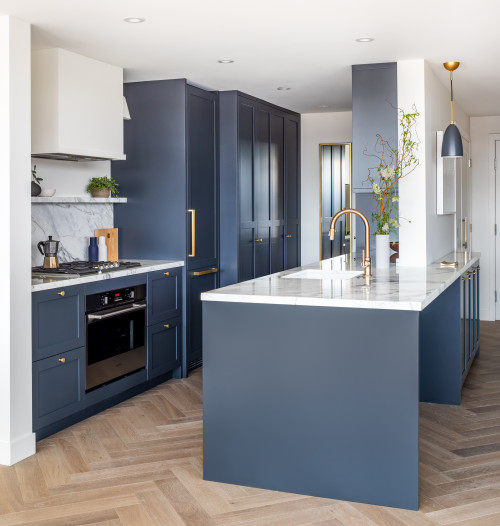 ID# 165715 | Houzz.com – Credit | © Adisa Homes Ltd.
---
Navy-Blue Kitchen Cabinets with White Quartz Backsplash and Countertop
Recent years have seen a rise in the popularity of navy blue kitchen designs, and this transitional kitchen beautifully captures the classic elegance of this deep blue hue! The white quartz backsplash and countertops harmoniously compliment the opulent overall style, which is made up primarily of navy-blue shaker cabinets that command the room and give it a sophisticated appeal. The final touch of glam is provided by the brass hardware, which adds warmth to the environment.
Kitchen Peninsula Attached to Wall
For the kitchens, there are a couple of layouts such as a kitchen with an island or a kitchen with a peninsula if you do not have any space to build an island for your kitchens and if you need extra storage may be with seating peninsulas take the role. For the kitchen peninsulas, there are layouts, too, such as L-Shape, U-Shape, and a kitchen peninsula attached to wall designs.
When you think about a kitchen peninsula attached to wall designs, it may be far away from the cabinetry and only attached to the wall or it may be connected to the main kitchen cabinetry and attached to both wall and the cabinetry. You can mostly see kitchen peninsula attached to wall designs in small kitchens where people need extra storage and seating unit for their kitchens, this does not mean that you can not use a kitchen peninsula attached to wall designs in large kitchens, of course. According to the design idea and the layout of the kitchen, a kitchen peninsula attached to wall designs can be used in any kitchen design layout.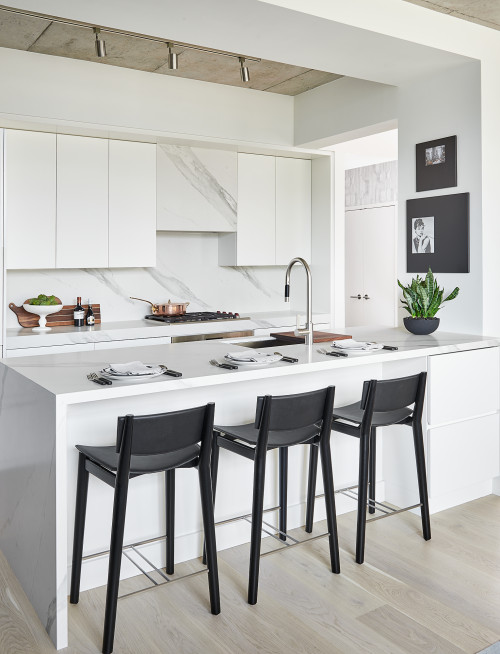 ID# 165716 | Houzz.com – Credit | © GRECO INTERIORS
---
All-White Kitchen with Marble-Look Quartz Slabs
Whether you are preparing food or entertaining with your family members, a kitchen peninsula comes in handy, especially in this size! In this all-white kitchen, the large peninsula design takes the stage and provides plenty of space for cooking and dining. The waterfall quartz countertop adds a touch of luxury and improves the peninsula's modernism. The white features are dramatically contrasted with the black counter chairs which attract focus to the peninsula.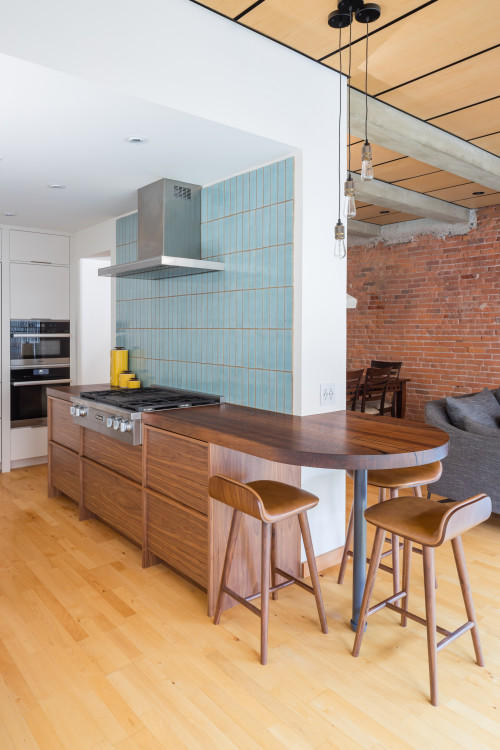 ID# 165717 | Houzz.com – Credit | © Designs by KS
---
Industrial Kitchen with Blue Full-Height Backsplash and Wood Cabinets
This industrial kitchen is excellent proof that there are no limits to interior design! In this open space, the kitchen cabinets are creatively placed on the wall which acts as the separation unit between the kitchen and living space. While the wood texture of the cabinets brings the natural charm inside, the blue full-height backsplash creates a serene atmosphere, adding some beach vibes. On the other hand, the wood countertop extension provides a functional dining area that can be used from both sides of the space.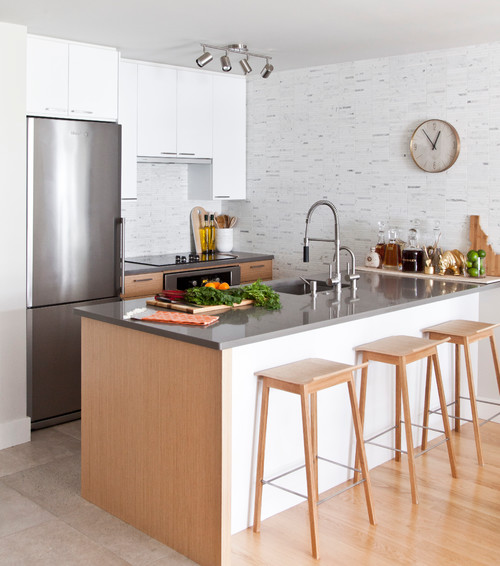 ID# 165718 | Houzz.com – Credit | © Form Collective
---
Galley Kitchen Design with Two-Tone Cabinetry
The white and light oak flat-panel kitchen cabinets and white walls with golden embellishments make this small galley kitchen appear light and airy!! The kitchen peninsula not only makes this compact galley kitchen functional but also adds more room to the kitchen which can be used as extra counter space or as an eating area.
L-shape Kitchen with Peninsula
If your objective is to maximize the space in your kitchen while maintaining as open a design as possible, you should give an L-shape kitchen with a peninsula design careful consideration when you're ready to renovate or build a new kitchen.
Given that they require at least one wall, which often has cabinets and other permanent fixtures like a stove and sink, an L-shape kitchen with peninsulas is especially beneficial for homeowners with small to medium-sized kitchen spaces. To open up the entire kitchen area, provide extra storage, and give the idea that it is a larger space, an L-shaped kitchen with peninsula design ideas sometimes uses one-half of the "L" as an open counter space with a pass-through to a dining or living room. L-shaped kitchens may be exceptionally appealing and practical areas that are just as helpful for gathering, dining, and speaking as they are for cooking and cleaning.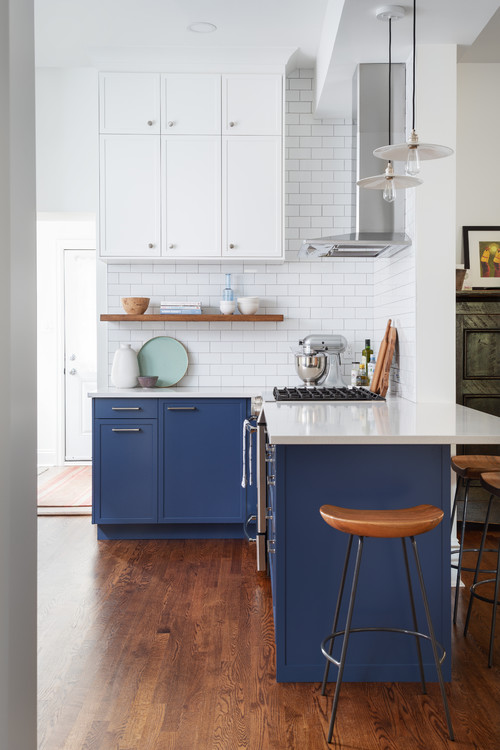 ID# 165719 | Houzz.com – Credit | © Tatiana Wojtan Studio
---
Blue and White Kitchen with Wood Accents
The white subway tile backsplash in this blue and white kitchen provides traditional style and ageless charm. The arrangement of the tiles at full height improves the overall appearance and fosters an airy, open feeling. The blue base cabinets offer a sophisticated appeal and depth to the l-shaped kitchen layout, while the white upper cabinets effectively balance the brilliant appearance of the tiles. While the kitchen's contemporary style is enhanced by the stainless steel appliances, wood accents like the floating shelf give the room a cozy feel.
How to build a kitchen peninsula?
Begin by carefully planning and creating the size and shape of your kitchen peninsula to precisely complement your kitchen space. Gather all of the required items, such as timber, plywood, countertop material, screws, and nails. Using the timber, build a solid and level frame, then attach plywood to construct the sides and back. Add support and bracing as needed to bear the weight of the countertop. Install the chosen countertop material—whether solid surface, laminate, or natural stone—and smooth down any rough edges. Consider introducing seating to improve functionality by either adding a breakfast bar overhang or inserting bar stools. Always obey local building rules and norms, and seek expert advice if you have any questions or lack experience.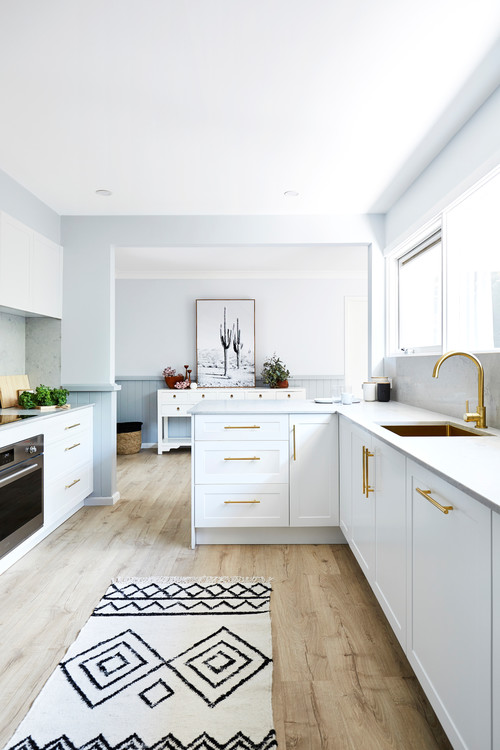 ID# 165721 | Houzz.com – Credit | © Freedom Kitchens
---
L-Shaped Kitchen Peninsula Ideas with Brass Hardware
Even if you don't have space to install a large peninsula, you can give the same effect with a clever cabinet design, like in this modern kitchen remodel. Here, the l-shaped layout of the white kitchen cabinets creates an additional small counter space that serves as a peninsula. This addition also provides a separation between the kitchen and living room. The brass cabinet hardware and other fixtures break the white domination and add warmth to the atmosphere.
U-shape Kitchen with Peninsula
If you want to make your kitchen more large, multifunctional and visually pleasing, a U-shaped kitchen with peninsula ideas might be ideal for you. This style is ideal for bigger kitchens since it provides a surprising amount of surface area and storage options, especially when coupled with a kitchen island. Not only will a well-chosen peninsula design provide adequate room for cooking and cleaning, but it will also allow you to effortlessly entertain visitors or socialize with family members without feeling overwhelmed! Consider a U-shaped kitchen with peninsula ideas for your next home improvement project to upgrade your cooking experience.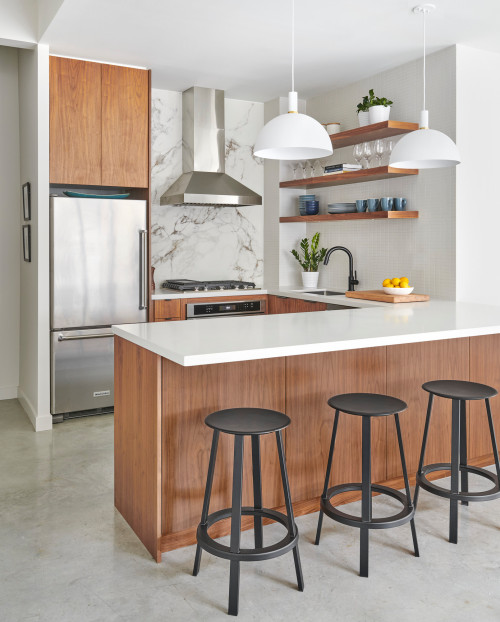 ID# 165722 | Houzz.com – Credit | © FOHR DESIGN STUDIO INC.
---
Mid-Century Kitchen with Natural Wood Cabinets
In this mid-century kitchen, the pristine white tone and the organic beauty of the wood grain work well together. A cozy and welcoming feeling is established in this area by the natural wood kitchen cabinets. On the other hand, the quartz worktops and the white marble backsplash behind the stove add a bright and contemporary appeal that gives the room a roomy feel.
Design tip: Using floating shelves instead of upper cabinets not only provides a visually pleasing appeal but also helps you to create an open and airy feel for your kitchen.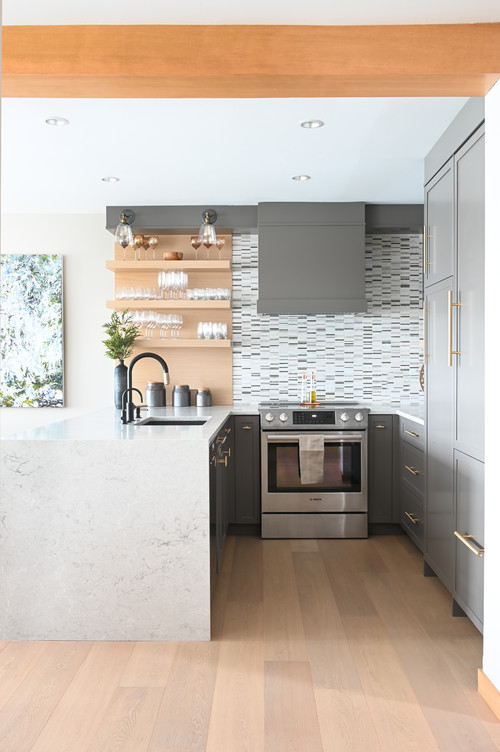 ID# 165723 | Houzz.com – Credit | © Sarah Marie Interior Designs
---
Mosaic Kitchen Backsplash with Wood Open Shelving
This massive waterfall kitchen peninsula is a statement maker that instantly elevates the overall look of this contemporary kitchen! With its large counter space, under cabinets, and integrated sink, this peninsula design maximizes functionality without compromising style. For the rest, the dark gray kitchen cabinets serve an elegant appeal, bringing depth to the space. The mosaic tile backsplash adds visual interest while the wood open shelving makes a cohesive final touch.
Is a kitchen peninsula outdated?
No is the reassuring response. Peninsulas, in our opinion, are still useful and may really help you accomplish the same task as an island in a smaller space. The only significant distinction is that a peninsula is an addition to the current kitchen countertops and cabinets rather than a standalone item.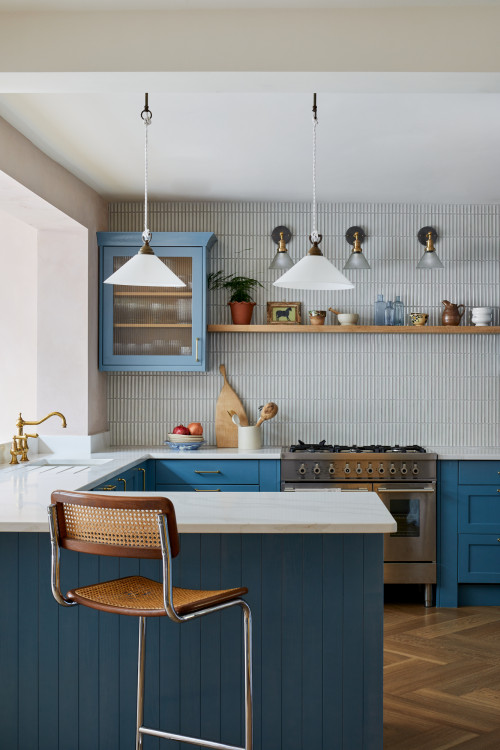 ID# 165724 | Houzz.com – Credit | © Vaughan Design and Development
---
Blue Kitchen Cabinets with White Kit Kat Tile Backsplash
With its dark gray grouting, the white Kit Kat tile in this transitional kitchen creates a visually arresting focal point! These tiles add an attractive grid pattern in addition to serving as a spotless background for the rest of the kitchen. The white tile backsplash contrasts sharply with the blue kitchen cabinetry, giving the room depth. Kitchen cabinets act as a peninsula on one side because of the u-shaped form, boosting functionality.
Kitchen Peninsula with Sink
If you have a tiny kitchen, adding a kitchen peninsula with a sink might be an excellent option for restricted space. Before you decide, first, check to see if the plumbing system is appropriate for a peninsula and if any changes are required. Second, it is critical to handle any water splashes. The sink should be suitably sized for simple cleaning, and a bigger counter surface may be required to avoid reluctance from water spills. Consider these things while shopping for a kitchen peninsula with a sink for your tiny kitchen.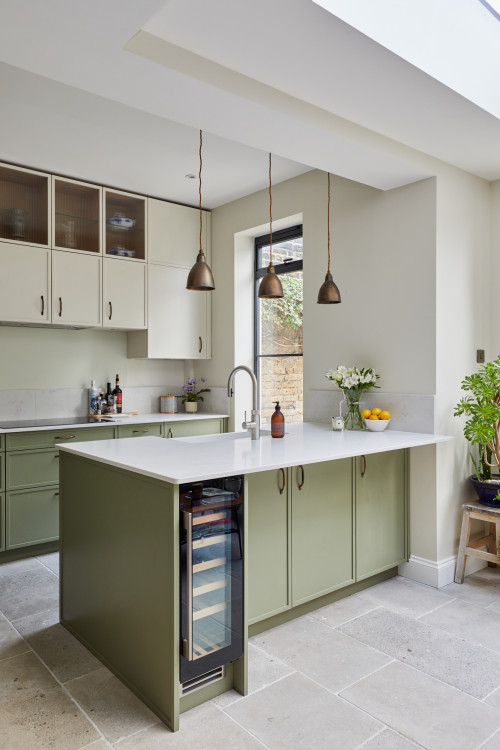 ID# 165725 | Houzz.com – Credit | © piqu
---
White and Sage Green Kitchen Cabinets with Copper Pendant Lights
The cool and calm color scheme offers a clean and uncluttered look for this contemporary peninsula kitchen layout. While the white upper wall cabinets create a bright and spacious atmosphere with the help of the white backsplash and countertop space, the sage green base cabinets and peninsula enhance visual interest by adding a pop of color. Thanks to its functional design, the kitchen peninsula not only offers an additional counter space but also provides storage units with under cabinets and a beverage cooler.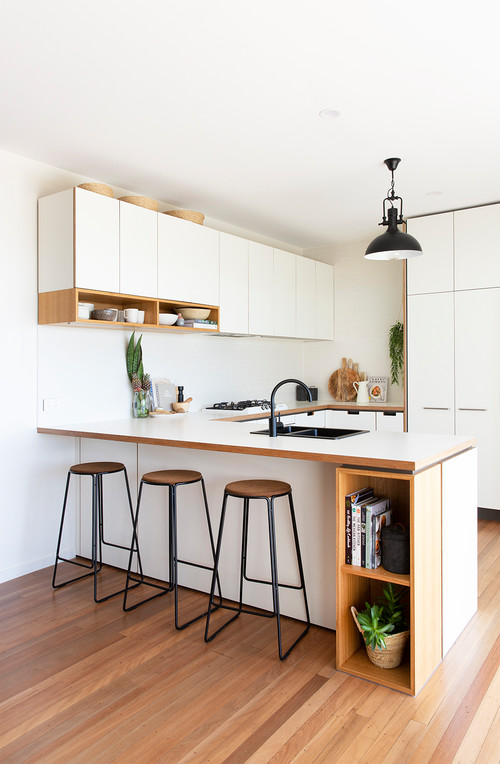 ID# 165726 | Houzz.com – Credit | © Jessi Eve
---
White Kitchen Cabinets and Countertop with Wood Details
The addition of a sink is one of the many ways you can make your kitchen peninsula as functional as possible if you are considering installing one. As you can see in this beach-themed kitchen, you may add more counter space for cooking near to your stove by putting the sink on the peninsula. On the other hand, the white cabinets with their flat-panel door style give this kitchen a fresh and simple look. The warm tones of the wood accents wonderfully counterbalance the bright white cabinets' color.
How big should a kitchen peninsula be?
For an optimal kitchen experience, it is essential to have ample space on the inner perimeter as well as sufficient room to navigate around the peninsula. Typically, peninsula bases come in a standard width of 24 inches, which is congruous with the base cabinets in most kitchens. Likewise, their heights typically measure at 36 inches, aligning with the common height of kitchen base cabinets.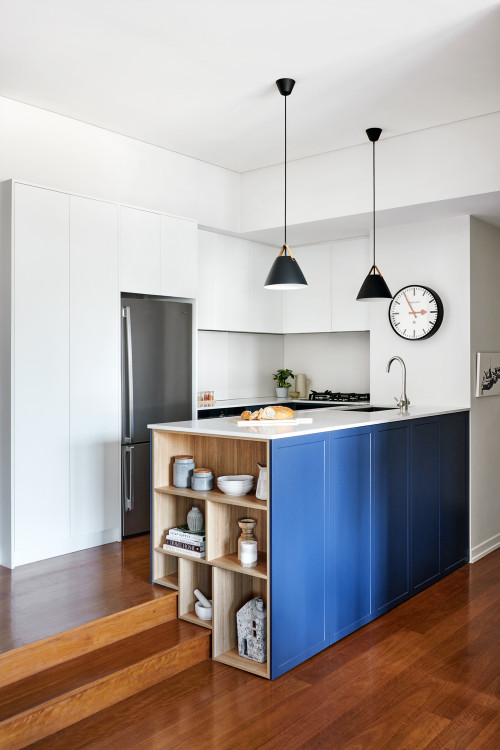 ID# 165727 | Houzz.com – Credit | © Cosentino Australia
---
Blue Kitchen Peninsula Ideas with White Upper Cabinets
If you are designing a kitchen with white flat-panel cabinets and a cozy atmosphere, then choosing a colorful peninsula is an ideal way to add a wow factor to your space! The blue cabinetry of the peninsula and the wooden open shelving exude a modern, stylish feel while adding visual interest to the space. Keeping the upper cabinets and backsplash white balances the dark and rich shade of blue and adds a fresh look. The stainless steel appliances and black pendant lights make a perfect final touch.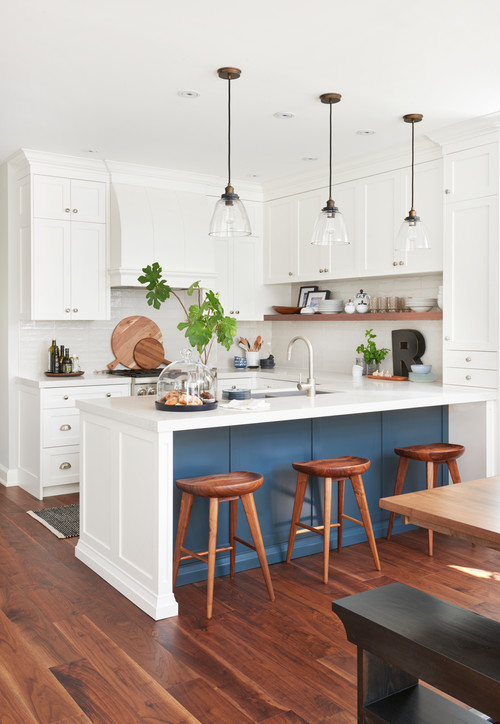 ID# 165728 | Houzz.com – Credit
---
Transitional White Kitchen with a Pop of Blue Color
If you want to highlight your peninsula, painting it in a dark and deep blue shade is an excellent way to do that. The peninsula stands out with its navy-blue paint, becoming a visually striking focal point!! Using the other elements in white allows the peninsula to be the centerpiece of the overall look.
Modern Kitchen Peninsula
Modern kitchen peninsulas have a ton of untapped potential when it comes to kitchen design! Perhaps you have a unique kitchen layout, you might need a little extra storage, you're looking for a casual breakfast bar, or you just want to add something unique to a typical kitchen. Your best option is a peninsula, and we can inspire you with some lovely modern kitchen peninsulas designs. They not only provide a ton of useful surface area and storage, but they also divide the room, serve as the kitchen's centerpiece, catch the modern time's design looks, and serve as a gathering place for food. They simply make sense in many different arrangements!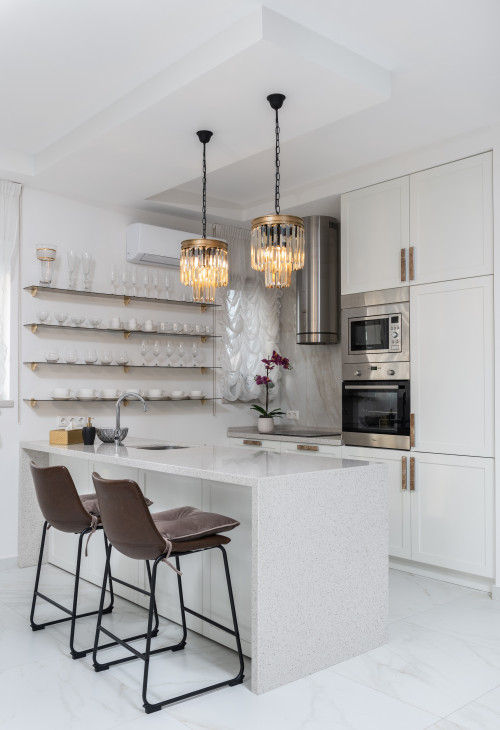 ID# 165729 | Houzz.com – Credit | © Comma Design Studio
---
Small Open-Concept Kitchen with Crystal Chandeliers
The smooth granite countertops and quartz backsplash behind the stove add a rustic touch to the entire design while the white kitchen cabinetry give a tidy and clean backdrop. Beautiful glassware is displayed on the glass shelving system above the peninsula, which also serves as art. The warm glow of the crystal chandeliers above the peninsula makes a nice contrast with the elaborate decor.
What are the disadvantages of a peninsula in a kitchen?
Peninsula kitchens have a lot of advantages, but like everything else, they might have some disadvantages as well.
The following are some drawbacks of peninsula kitchens:
The tendency for traffic jams in peninsula kitchens, particularly around the bottom or corner cabinets, is one of their main downsides. Since there is frequently just one route in or out when utilized as a room divider, they also have a tendency to restrict access to the kitchen. A bespoke house designer can assist in minimizing these possible flow problems. Peninsulas are adaptable, and if your kitchen is well-planned and put out, they may improve the flow rather than obstruct it.
A peninsula might have tight edges since it typically extends from a wall or countertop. Cabinets, storage, and access to such locations may be made challenging by this. With correct design and layout considerations, this is frequently remedied as well. Access can be facilitated by installing a turnstile or carousel in the corner or corner cabinets. It could just require a little creative space planning to get the ideal arrangement that suits you.
Peninsulas can occasionally be less effective in bigger kitchens, even if extra counter space is typically a positive thing, especially in those. They can disturb the environment and obstruct movement depending on where they are positioned. Larger kitchens frequently work better with a typical kitchen island since they have room for one. In bigger kitchens, peninsulas can be useful, but the design arrangement might need a bit more refinement to make the flow feel natural.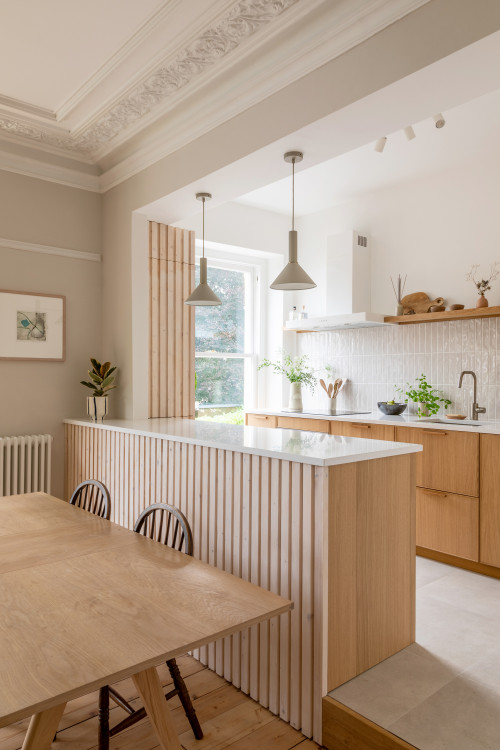 ID# 165730 | Houzz.com – Credit | © E J Studio Ltd
---
Wood Kitchen Peninsula Ideas with Tongue and Groove Paneling
If you are working on an open-concept space, a kitchen peninsula is one of the greatest ways to create a separation between the rooms. The large wood peninsula becomes the center of the space, serving as a separator unit between the kitchen and dining room. At the back, the wood base cabinets create a continuous look with the peninsula while the light gray stacked tile backsplash enhances the open and airy feel with its glossy finish.
How do you decorate a kitchen peninsula?
As you ponder about decorating your kitchen peninsula, you'll be delighted with the ample space available to add ornamental items. It's one of the peninsula's best highlights that you can exploit. Among the embellishments you can add are chandeliers or pendant lights to provide the area with sufficient illumination. Additionally, you can incorporate hanging plants and mirrors, giving your kitchen that personal and homely touch. Your kitchen will feel more like a part of your home when you add these embellishments.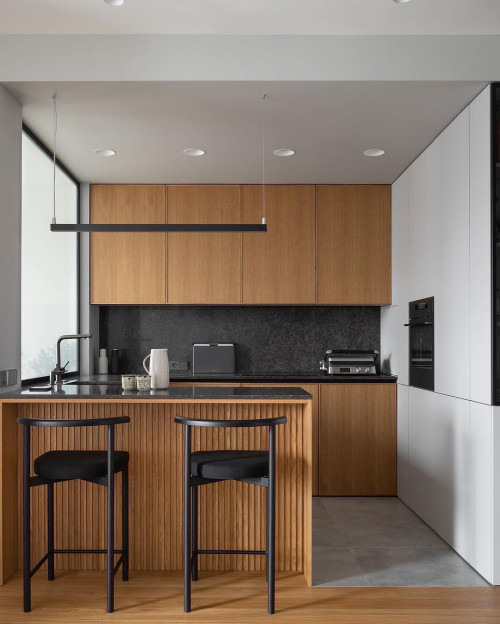 ID# 165731 | Houzz.com – Credit | © Миксон — мебель на заказ
---
Natural Wood Cabinets with Black Stone Backsplash and Countertops
The black stone backsplash is the first thing that catches the eye, providing a dramatic focal point. To maintain a consistent aesthetic, the countertops are made of the same stone type. The natural wood kitchen cabinets create a streamlined frame for the black elements and highlight the eternal beauty of the natural charm.