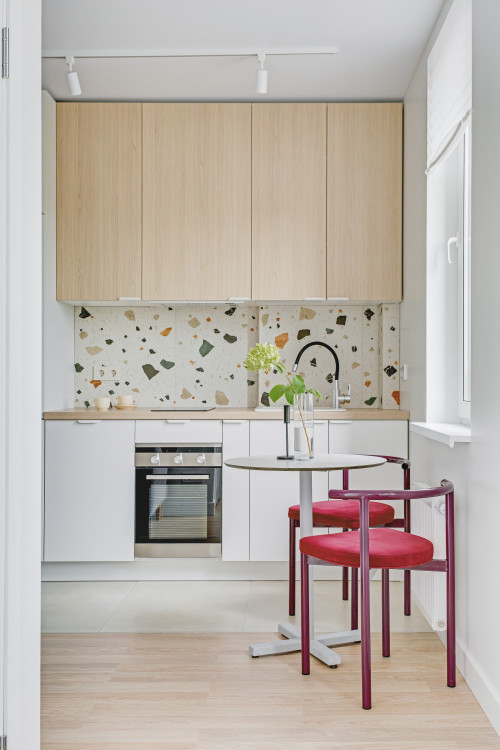 ID# 169403 | Houzz.com – Credit | © Суворова Анна
---
Wooden Cabinets with White Terrazzo Backsplash
The energizing distribution of colorful chips of the terrazzo is softened with wooden cabinets that achieve a timeless balance. To keep things simple and highlight the terrazzo, white base cabinets hold the integrity within the space, dotting the most-used areas to add movement and feel coordinated with the motion of the cooking hands. On the other hand, other slightly stained classic elements, wood counters bring warmth to the space. As wood and terrazzo are destined never to go out of style due to their natural beauty, they make a great couple for those looking for a timeless look.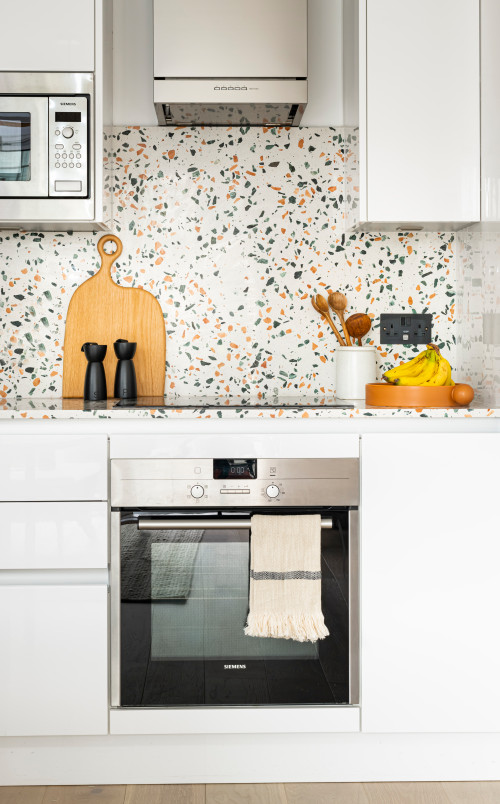 ID# 169409 | Houzz.com – Credit | © Interior Fox
---
White Flat-front Cabinets with Terrazzo Flooring and Brass Pendants
Dipped in white, this contemporary kitchen design feels fresh and airy thanks to its color repertoire. And the geometric forms highlighted through clean and sleek lines colonize the space for a streamlined look. As the cupboards are wide enough to pack all the kitchenware, they declutter the space skillfully. Topped terrazzo countertops and running parallel along terrazzo backsplash, they also expand the visual scheme masterfully. Featuring tiny chips, terrazzo tiles also offer a bold statement finish that breaks the white color scheme, screaming in a contemporary voice.
Terrazzo Backsplash
Having been part of our lives for centuries, terrazzo is creeping back into our lives and gaining its place back in residential, commercial, and industrial spaces. Starting its journey as a grey-based and condensed piece, today it has more of a contemporary voice abundant in bold statement colors and loosely connected chips that rather seem floating and suspended. Hence, as the design flexibility with terrazzo has increased over time, it started to partake in the design of our homes significantly. One of its roles is a terrazzo backsplash, one of the popular wall coatings to provide the kitchen walls with a unique aesthetic value while bringing many functional benefits. To investigate its impact, this article will walk you through the various projects that will help you to find the perfect terrazzo tile inspiration!
What is Terrazzo?
Terrazzo is a composite material made up of quartz, marble, glass, granite, and other aggregates tied together by a binder, which is either cement or epoxy resin. With the binder, terrazzo gains strength and flexibility to create wonderful versatile patterns that not only energize the space but also ooze elegance. The random distribution of the small flecks and large colorful materials can also be navigated by metallic divider strips that result in more purposeful terrazzo patterns.
Apart from those, what makes them more exquisite is that they are eco-friendly and VOC-free (Volatile organic compounds) materials. Mostly available in 400 x 400 x 16mm and 600 x 600 x 20mm formats, it can be used as a tile and slab/ panel just like other natural materials, including marble, granite, and quartzite.
What is the Story of Terrazzo?
Though its origins go back to Ancient Egypt and mosaics, the concept of modern terrazzo appeared in the 15th century in Venice. It particularly appeared when the mosaic workers discovered a way to reuse the remaining strange-sized marble chips. In other words, it emerged as part of a recycling project, which makes terrazzo a "green" material today. In further years, with the immigration of Italians to the USA, the terrazzo started to gain a name and popularity worldwide. This popularity also affected how it looked over time as it turned into a more colorful and bold statement finish piece. Of course, its durability and low maintenance routines helped terrazzo maintain its popularity in the long run. Though originally used as a flooring material and outdoors, now there is no limit for terrazzo.
Living its golden ages in the 1920s, 60s, and 80s, it is back again in our lives and cladding a wide range of objects. Starting from shower stalls to coffee tables, table lamps, accent walls, floors, countertops, kitchen islands, and backsplashes, terrazzo is everywhere and continues to steal our hearts. Before it has been a well-acknowledged face of the Art Deco movement and modern design places. And now, it breathes a contemporary voice into the designs.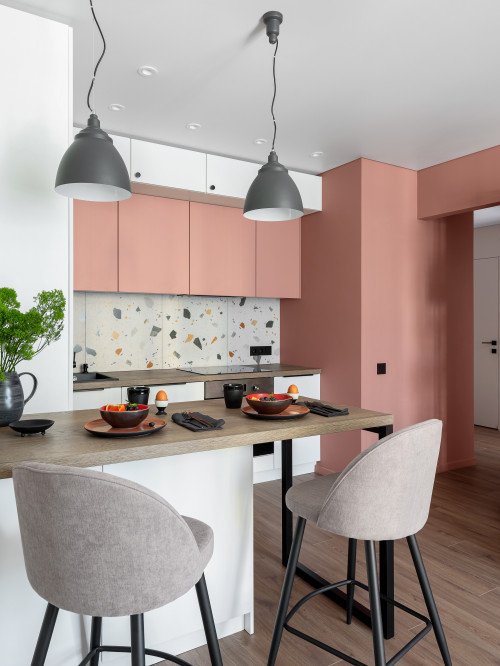 ID# 169401 | Houzz.com – Credit | © Maxim Maximov
---
Modern Kitchen with Terrazzo Backsplash and Pink Cabinets
Sometimes all an interior space needs is a single bold element that will transform the space, and here we have a stunning piece of terrazzo backsplash composed of various elements tied together with white concrete. As such, the colorful chunky pieces add gestures to the white backdrop and assist the muted pink cabinets in creating a sophisticated and dreamy atmosphere. The generous gaps between the chips present a sense of airiness embedded in the material itself. A little below, the wooden countertops provide an extra dimension and bring warmth to the atmosphere. To pull the whole scheme together, ranging from black pendant lights to gray counter chairs, each element is chosen to reflect the colors in the terrazzo backsplash.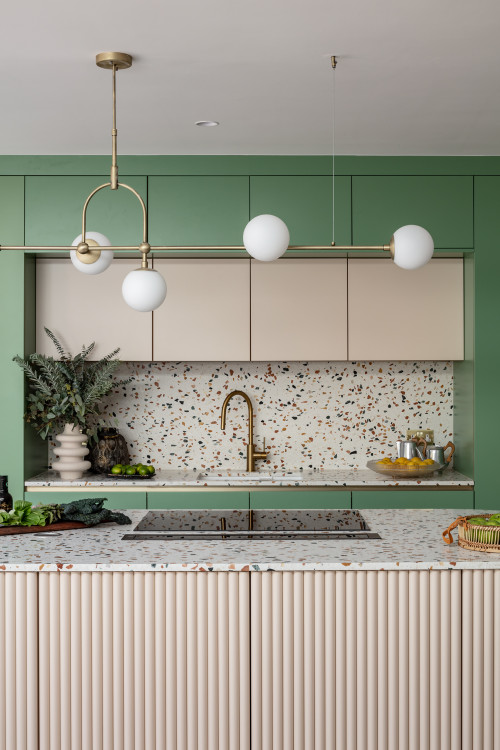 ID# 169402 | Houzz.com – Credit | © Diespeker Terrazzo & Marble
---
Green Cabinets with Pink Island and Brass Lighting Fixture
Brimming with natural textured materials and green and soft pink shades, this interior design opens the doors of a rather utopic-looking world, almost dressed as a cozy café house where you can get a strawberry milkshake with mint leaves! On close inspection, the green and pink flat-front cabinets create a cohesive backdrop while the colorful terrazzo backsplash makes a statement between them, put into a dialogue with the small terrazzo island countertop.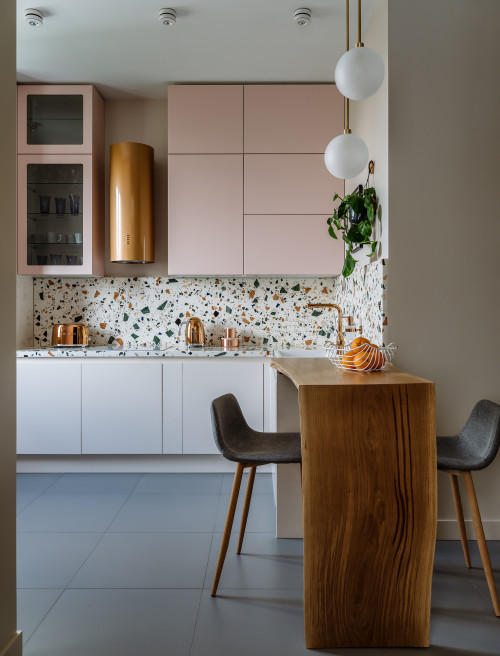 ID# 169404 | Houzz.com – Credit | © SOVA interiors
---
Contemporary Kitchen with Two-tone Cabinetry and Terrazzo Flooring
Impeccably detailed color and material combinations make for a unique look in this contemporary kitchen. To start with, the white cabinets adjacent to the wood countertop of the peninsula provide a natural transition for a sense of neutral frame. The highlighted rigid geometric forms of the cabinets find an expression of freedom in the assistance of the flying chips of terrazzo backsplash that continue on the countertops as well. The suspended position of these colorful chips offers a bright and dynamic backdrop to help two-tone white and pink cabinets settle in.
Can terrazzo be used as a backsplash?
Though in the very beginning, terrazzo was confidently used as an outdoor material in heavy traffic areas for its durability and low-maintenance requirements, nowadays, terrazzo inscribed its name as the new face of contemporary architectural designs and regained its popularity in interior design as well.
Today, ranging from backsplashes to countertops, coffee tables, decorative pieces, and sculptural elements, it is used to accentuate the design pieces and offer a statement finish that is colorful and energizing. That's why terrazzo tiles can safely be used as a backsplash. First, in aesthetic terms, they create color and pattern-rich backdrops, bringing together many different geometric shapes that can hardly be done by other materials. Secondly, terrazzo backsplash, or terrazzo in general has two forms, as tiles and epoxy terrazzo. The latter one is a panel version for seamless transitions.
In functional terms, as kitchens are the most frequently used spaces that get messy, greasy, and dirty easily, terrazzos also provide an easy-to-take-care-of-type background. They are durable, and their durability is so famous that it is frequently said that even if the old buildings dating back to the 15th century get crumbled, it will be the terrazzo that will preserve its form.
Cement Terrazzo or Epoxy Terrazzo?
If terrazzo is championed throughout the world and even ornaments the Hollywood pavements, it owes it to its unparalleled quality and limitless design possibilities. Born in the hands of Venetian marble workers as a cement-based design in the 15th century, it was introduced to the USA in the following centuries. As a result, a drastic change came in the 1970s. The epoxy resin took the place of the cement to give more design flexibility. Eventually, the color palette was expanded since the epoxy resin could be a color of choice, which made the main difference. Additionally, epoxy terrazzo is not suitable for outdoor use, unlike cement terrazzo.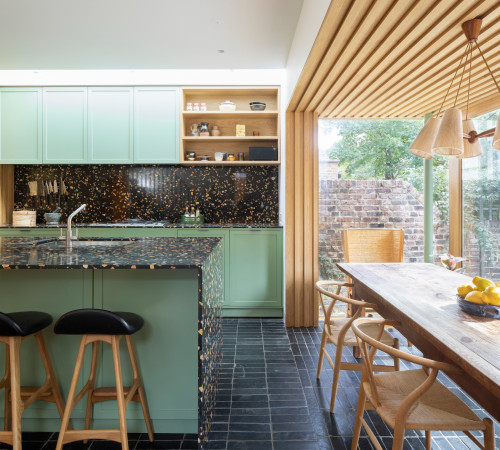 ID# 169405 | Houzz.com – Credit | © YARD Architects
---
Colorful Kitchen with Green Cabinets and Black Floor Tiles
This all-colorful kitchen design exhibits a dramatic profile that speaks to the heart and soul of the homeowners! The black terrazzo backsplash and countertops with tiny speckles draw an eye-catching profile and serve as the visual focal point of the space. Not to overvalue the kitchen with excessive elements, the sage green shaker cabinets perfectly blend into their surrounding. The accompanying elements like wood open cabinets and black floor tiles bring understated, and subtle touches to complement the overall design!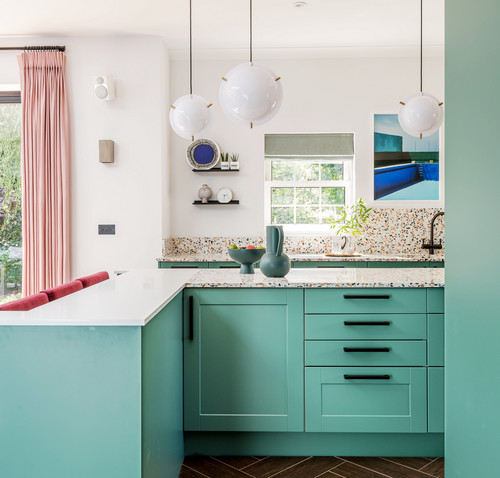 ID# 169406 | Houzz.com – Credit
---
Open-plan Kitchen with Green Cabinets and Colorful Terrazzo Backsplash
This U-shaped contemporary kitchen awash with organic textures hooks you at first sight. While green cabinets invite soothing vibes reminiscent of nature white walls brighten the design. Above the cabinets, the terrazzo backsplash and countertops become the visual focal point that offers a neutral yet statement-finish background. The inlaid aggregates are kept minimal and neutral, feeling suspended on the white background. Apart from those, other noteworthy features include a trio of white pendant lights on the peninsula side and matte black fixtures that brings modern flavors. Lastly, the dark wood-look porcelain tile flooring seals the overall look and material scheme with a heart-fluttering finish.
Make Statement with Colorful Terrazzo Backsplash
Featuring a mottled design with unmatchable patterns that can't be naturally mimicked easily, the terrazzo backsplash transforms the space instantly. Hence, even if all the elements are white and simple, by just introducing terrazzo to the space, you can take the kitchen away from being standard to something luxurious.
If you are using a colorful terrazzo, then not to overwhelm the space, you can pay attention to keeping the other elements plain and pattern-free. But if you like some more movement in the space, you can use the same terrazzo to clad the countertops, kitchen island, and flooring. Plus, such combinations are extremely popular in bringing the design together.
Which cabinets are better to use with colorful terrazzo?
Flat-front cabinets and shaker cabinets are one of the best options to keep a streamlined look for terrazzo to be the centerpiece. But this doesn't mean that you can't act boldly with the color scheme. Blue and green of various shades confidently make for intriguing looks that encourage engagement with the space. However, white and light shades are recommendable if you would like to ensure the relevance of the design in the long term.
As for the overhead cabinets, to open up the space more, you can benefit from floating shelves instead of upper cupboards that might clutter the view. But if you have too much kitchenware to be packed inside the closets, then you can use a lighter shade to feed the spaciousness. Another alternative is the reeded glass-front cupboards to add more interest. Or, you can stick to the wooden cabinets as well that go so well with terrazzo. If you use a light shade of wood, you can get a more airy atmosphere. On the contrary, the dark wood creates visual drama that is strong and sophisticated.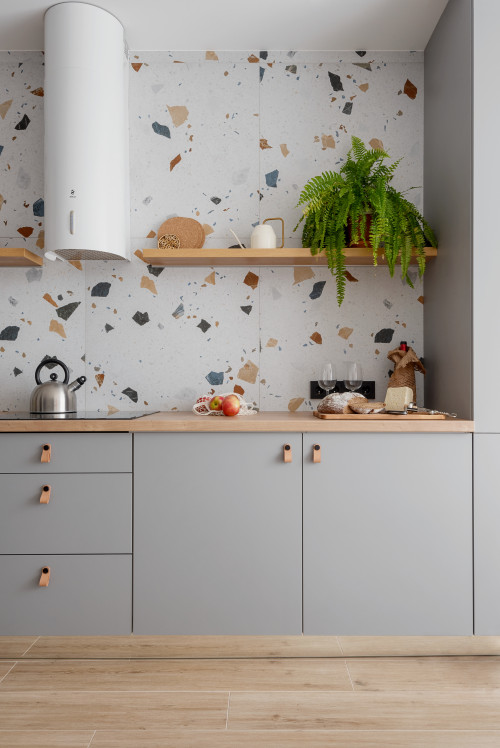 ID# 169407 | Houzz.com – Credit | © KEIS_project
---
Light Gray Cabinets with Floating Shelf and Terrazzo Backsplash
Thanks to the monochromatic gray and white color scheme, this modern kitchen feels light and alleviated which will cater to the needs of the homeowners in the long term. The feeling of spaciousness, openness, and calmness of the design is achieved through light gray cabinets that brighten the interior. The clean and simple lines of these flat-panel cabinets and a long linear shelf feel elongated to expand the visual scheme. Between the cabinets and the floating shelf, the terrazzo backsplash emanates a sense of warmth that gently colors the backdrop. Not to steal anything from the minimalist palette, the backsplash reaches to the ceiling. Lastly, as the shelf is aligned with the bottom of the exposed white hood, the range hood doesn't break up the uniform look.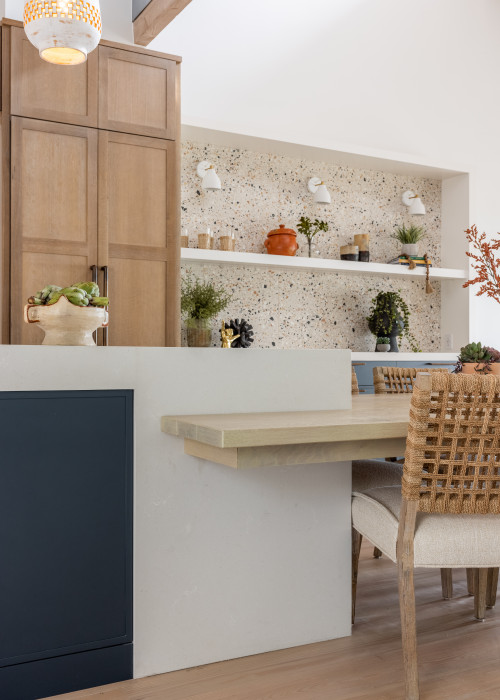 ID# 169408 | Houzz.com – Credit | © Preferred Kitchen & Bath
---
Mediterranean Kitchen with Wooden Cabinets and Quartz Countertops
The Mediterranean kitchen offers a chic layout with lots of wooden textures where the old and contemporary mix! The backsplash is defined by terrazzo which is made of beige epoxy resin and black and white particles. While the navy blue base cabinets and white waterfall island create a stark contrast that brightens the space, the single white floating shelf adds further interest!
Is terrazzo tile expensive?
Infamous for being one of the most expensive tiles on the market, as of 2022, terrazzo tiles sell at $15 and $70 per square foot ( labor excluded). With the labor included, the prices go up to $25 and $80 – 90 per square foot.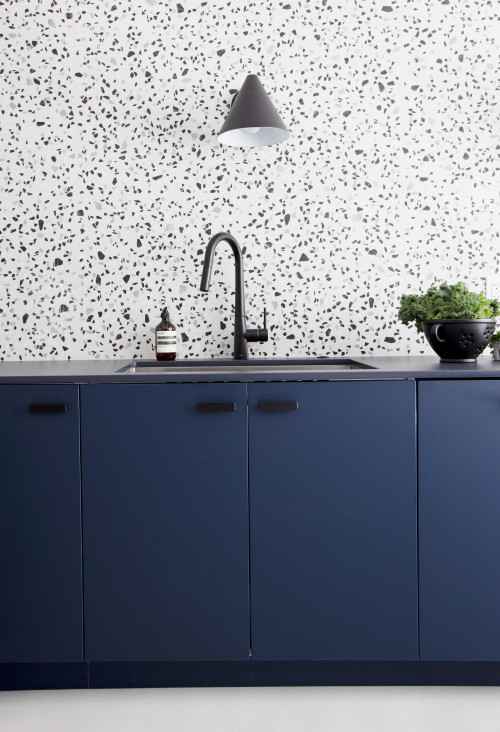 ID# 169410 | Houzz.com – Credit | © Kube/Lunell
---
Matte Dark Blue Kitchen Cabinets with Full-Height Terrazzo Backsplash
To create a backsplash that reaches the ceiling and more open space, removing upper cabinets is still popular in 2023! This modern kitchen chooses a terrazzo backsplash to transform this breathing expanse of the wall into something captivating. To keep one component in tune with the others, it uses dark blue cabinets and black counters, taking color cues from the terrazzo chips. The faucet, wall sconce, and hardware are all finished in black to complete the design theme.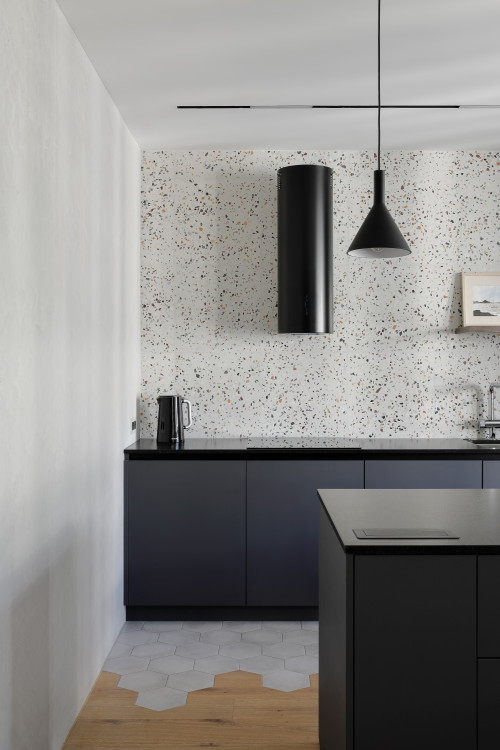 ID# 169411 | Houzz.com – Credit | © ointerior
---
Gray Kitchen Cabinets with Black Countertop and Circular Range Hood
Choose a terrazzo backsplash for your kitchen to make a real statement! The white terrazzo splashback that extends all the way to the ceiling and is covered in tiny black chips commands everyone's attention. It is anchored to the design by the matte gray cabinets and polished black countertops, which complement each other in terms of color. The glossy black range hood also highlights this lovely terrazzo. The wood flooring is made more interesting by the gray hexagonal tiles, which introduce a biomorphic pattern.
Is terrazzo tile outdated?
As trends change at a breakneck speed, homeowners pay attention to the relevance of the materials, colors, and patterns. As the installation process and materials have high costs together, it is always a matter of concern if the design gets outdated soon. Though it seems like everything changes in the blink of an eye, certain things keep their popularity and resurge in the markets here and then for sure. Terrazzo is one of those stunning materials that will never be outdated, and here is why.
Terrazzo matches every style
To start with, be it modern, minimalist, classic, or contemporary, terrazzo tiles are welcomed in every style, bringing a timeless balance. If you are concerned about what the future will bring and make which material more popular and what if your fancy terrazzo tiles look outdated, don't worry. If you choose your terrazzo carefully with rather small chips and neutral and bright colors, they will surely withstand the test of time. However, with bold colors and oversized chips, things get more tricky.
Limitless design possibilities with terrazzo
Secondly, terrazzo gives designers all sorts of flexibility to play with color and scale which has given the material a new contemporary identity. In other words, anything that is imagined could be translated into a real-world piece with terrazzo.
Unique nature of terrazzo
Thirdly, in its essence, terrazzo is a composite material and contains quartz, marble, glass, and granite chips along with other minerals referred to as aggregates. To achieve a rigid form, these small and big chips are given a solid structure with cement or epoxy resin. Serving as a binder, cement, and resin redefine the materials. Yet, the most important point is that designers use a metallic divider strip that allows them to create custom patterns. To put it differently, they can navigate the color and pattern changes to come up with intended logos, artworks, and designs.
Terrazzo Backsplash and Countertop
If there is anything better than a terrazzo backsplash, it is the terrazzo countertop and backsplash combination. For a seamless look and cohesiveness in the space, the book matching terrazzo method creates an excellent and seamless backdrop. Together, they also build up texture and give more movement to the design.
In functional terms, if you are asking if terrazzo is good for the kitchen counter, the answer is yes. The terrazzo countertop provides a durable and heat-resistant worktop that doesn't require much maintenance. If you would like to use it for your outdoor countertops, you can do that well thanks to its resistance to UV rays and its composition of natural elements. Additionally, to clean the terrazzo, warm water and a soft cloth are enough.
Of course, it has its cons too. First of all, terrazzo is pricy, and secondly, hard to repair once it cracks or gets broken. But even though it is much more expensive when compared to other materials, in the long term it compensates for it.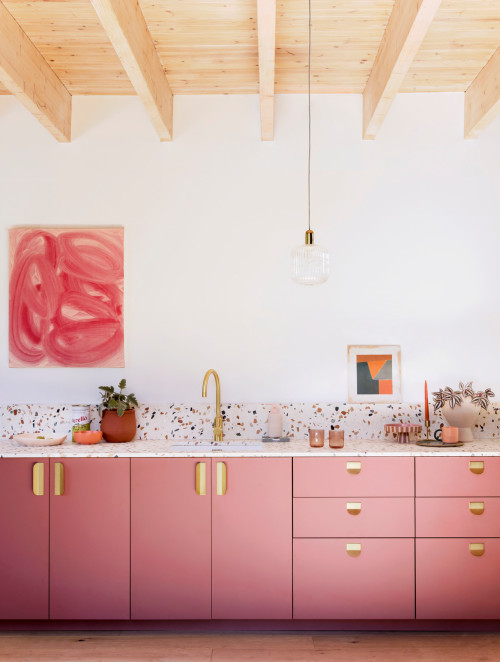 ID# 169412 | Houzz.com – Credit
---
Bold Kitchen Design with Pink Cabinets and Brass Accents
Behaving as the cool kid of the kitchen designs with a funky side to it, this bold kitchen is awash with hot pink shades, not to mention the colorful terrazzo breeze. To give a broad definition to the kitchen with the terrazzo, the pink cabinets serve as the main bones of the kitchen. The brass accents blend perfectly with the overall 'Barbie' theme without breaking up the cohesion. The terrazzo countertops and backsplash support the integrity. On the floor level, wood flooring as a total stranger creates a neutral base to subdue the rush of the patterns and color blasts.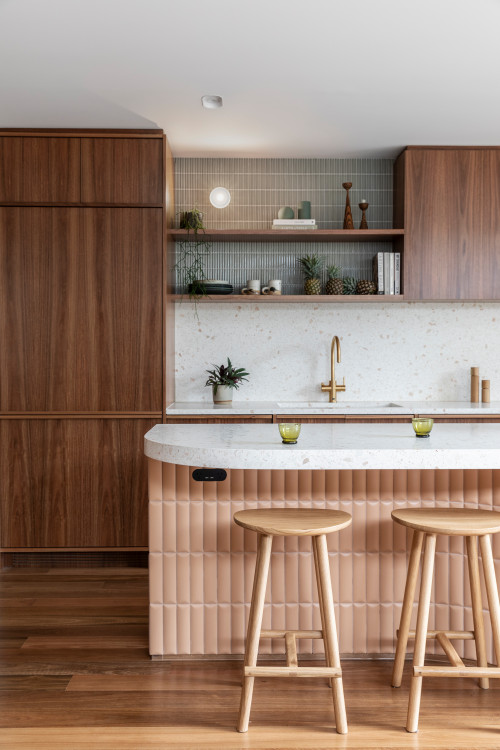 ID# 169413 | Houzz.com – Credit | © Kitty Lee Architecture
---
Nordic Kitchen Design with Display Cabinets and Tiled Island
In this Nordic kitchen design, the wood cabinets exude a sense of calmness, warmth, and softness to propose a heart-fluttering atmosphere. Ranging from display open shelves to wood counter stools and wood floor tiles every gesture of the space oozes opulence and warmth. To complete this serenity, the minimal chips of the terrazzo scattered on a white backsplash take center stage by creating an eye-catching backdrop. The terrazzo not only envelops the backsplash but also the countertops to bring the space together. Lastly, the green Kit Kat tiles create a focal point between the shelves while the tiled kitchen island forms a visually dynamic appeal.
Which is cheaper, tiles or terrazzo?
Terrazzo is known as one of the expensive materials that we dream about. It is mainly because when compared to other materials, terrazzo is much more durable and doesn't harbor bacteria. Not to mention its unmatchable beauty and color and pattern richness! Eventually, it is worth its price and compensates for its high prices in the long term.
If you want terrazzo but it is too expensive, for those interested, faux terrazzo tiles are also available. They are essentially porcelain or encaustic cement tiles that mimic the terrazzo patterns. Thanks to today's advanced technology, they look incredibly realistic and almost as real as the original versions. For a cheaper version, terrazzo also has a peel and stick version which is affordable and easy to install.
Why is terrazzo so special and expensive?
Terrazzo requires professional installation, offering design flexibility and extreme durability. It also meets LEED requirements as a sustainable material, containing at least 20% recyclable material. Once it is sealed, it rarely needs refinishing. Plus, it is hypoallergenic and slip-resistant, which makes it great for hospital settings. Yet, above all, perhaps the best part, it combines all the sophisticated and luxurious materials such as glass, marble, and granite, in a single structure.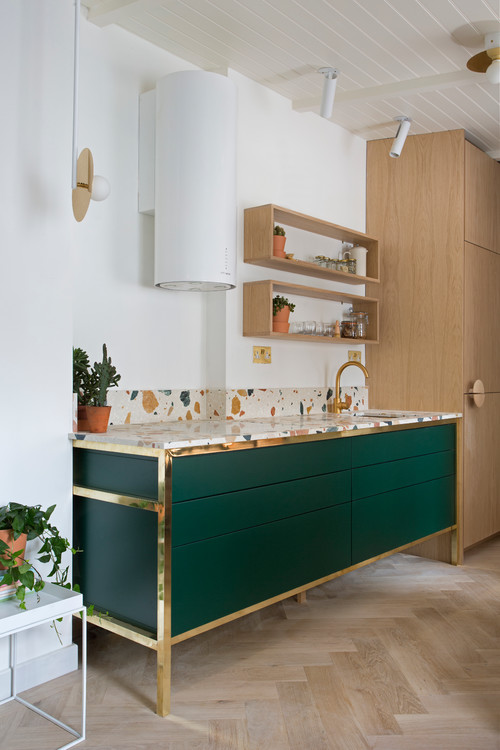 ID# 169414 | Houzz.com – Credit | © Play Associates
---
Green Cabinets with Colorful Terrazzo Backsplash and White Range Hood
In this well-lit and adorable kitchen, warmth is delivered through green cabinets and terrazzo backsplash and countertops, while elegance and retro vibes come with the brass details. The heavily speckled terrazzo features various-sized orange and green chips that coordinate with the green cabinets. To complement the green base cabinets, the wooden open shelves capture movement encapsulated in a cinematic effect.
Does terrazzo scratch easily?
Though impeccable in many ways, terrazzo is prone to staining and scratching unless it is sealed and taken care of. If you don't let the stains build up and accumulate over time and clean terrazzo tiles regularly, they will withstand the test of time!
Is terrazzo hard to maintain?
Terrazzo is easy to maintain, clean, and sanitize. Secondly, it doesn't let the growth of bacteria, mold, and mildew, which explains why terrazzo is also popular in hospital settings where hygiene and sanitization are the top priority. As the chips are bound together with epoxy which is a very durable resin, they become low-maintenance and sustainable flooring materials.