48+ Open Shelving Kitchen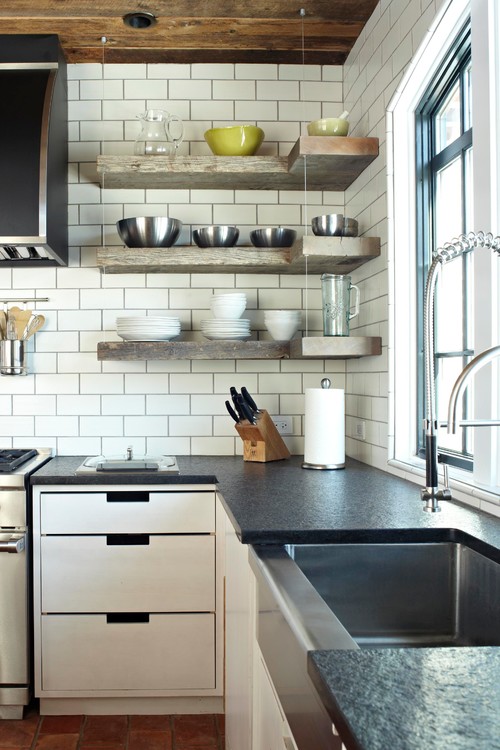 ID# 101801 | Houzz.com – Credit | © Bba Architects
---
Natural Wood Shelves With White Ceramic Tiles
Floating shelves can be a useful choice for a tint kitchen like this! White flat-panel cabinets with black granite countertop! Undermount metal sink fits perfectly with the countertop. Dark Brown wooden floor and ceiling. Lighter wooden color choice for shelves becomes remarkable!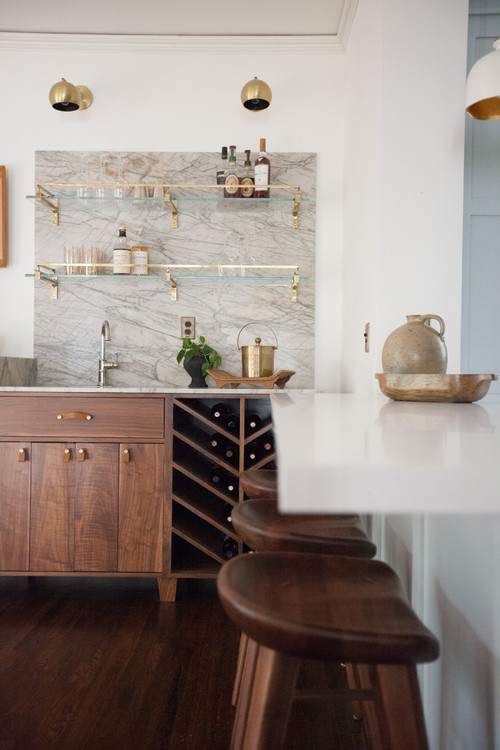 ID# 101832 | Houzz.com – Credit | © Taylor + Taylor
---
Single Wall Kitchen With Wine Cabinet
Flat-panel cabinets with White quartz countertop! A small wine cellar makes a distinguish look. White long shelves give a clean, simple look with a pure white background. Small green touches with the plants create a coziness. Alcohol bottles and some plates can be good decoration elements!
Modern, Neat, and Elegant Open Shelving Kitchens with Gorgeous Accessories
The shelf is an overall leaning towards simplicity. It can look insanely chic and totally contained if done right. Open kitchen shelving gives you plenty of storage space even while turning it into a chic and elegant display without trying too hard.
Merge the shelves with kitchen cabinets.
Shelves give spacious look between the cabinets. The shelf material can be reclaimed or rough-cut wood, glass, or a modern and smooth surface. Shelves can lay on a wall bracket or be floating shelves. You can pop up the shelves with different backsplash materials, appliances even with your kitchen equipment such as plates, jars, products, or recipe books. We are here to offer you all the inspiration you need with open shelving kitchen ideas!
With some creative thinking, you can make open shelves the most remarkable element of your kitchen!