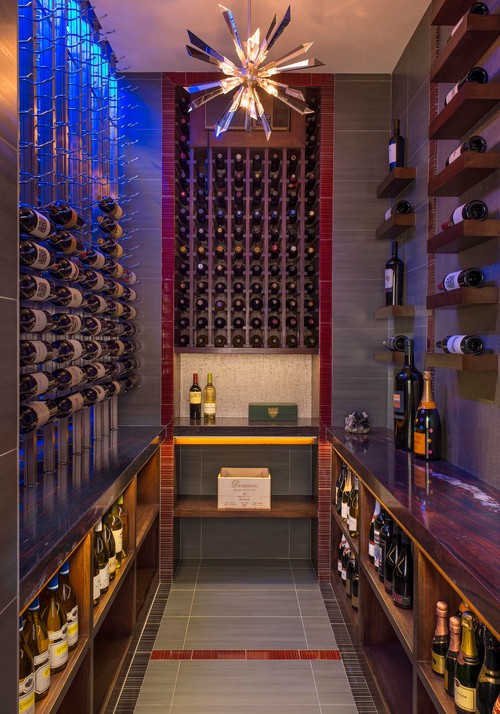 ID# 122124 | Houzz.com – Credit | © Allied Stone Austin
---
Gray Tile Ceramic Floor With Contemporary Wine Cellar
Gray and red color ceramics were used on the floor. It has dark-tone wood countertops. Wooden shelves hanging on the wall. White color is preferred on the ceiling. With a chandelier, space achieves a contemporary appearance to this basement wine cellar.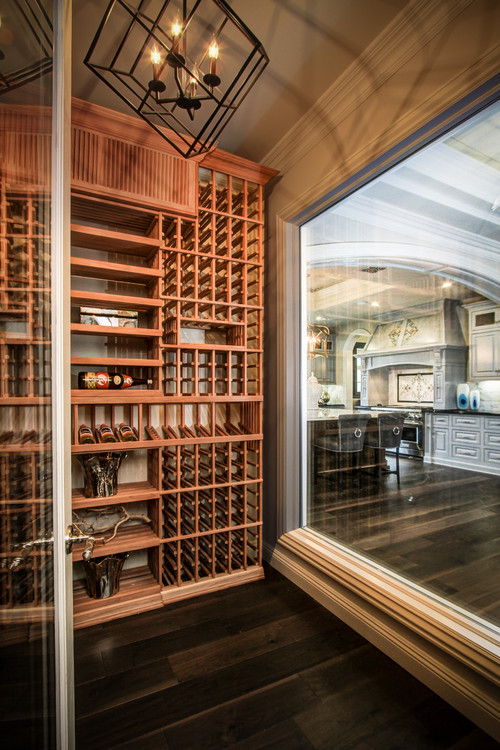 ID# 122155 | Houzz.com – Credit | © Santana Interiors
---
Modern Wine Cellar Ideas With Glass Wall
The dark wood was used on the floor. Wine racks have been preferred in medium-tonewood. The floor contrasts against the walls. The walls are white and rest the space. Thanks to the divider glass wall, the place has modern air.
Modern, Rustic, and Traditional Wine Cellar Ideas!
If you like to drink wine every night or are a wine collector, why not turn the corner in your home into a wine room? All you need is a small area like a closet, pantry, or corner to create your very own small wine cellars. Now, with our wine cellar ideas, you can also create a wine cellar.
Choose glass, stone, wood, and more wine cellar ideas.
Custom wine rooms have a special allure to homeowners. Wine rooms can change your home incredibly in an instant. Are you thinking about building a custom wine room? Now, it's time to turn a corner of your house into a work of art. To incorporate it into your home, you can test our wine cellar ideas.
They are glass, stone, wood, and more wine cellar that are suitable for all styles.