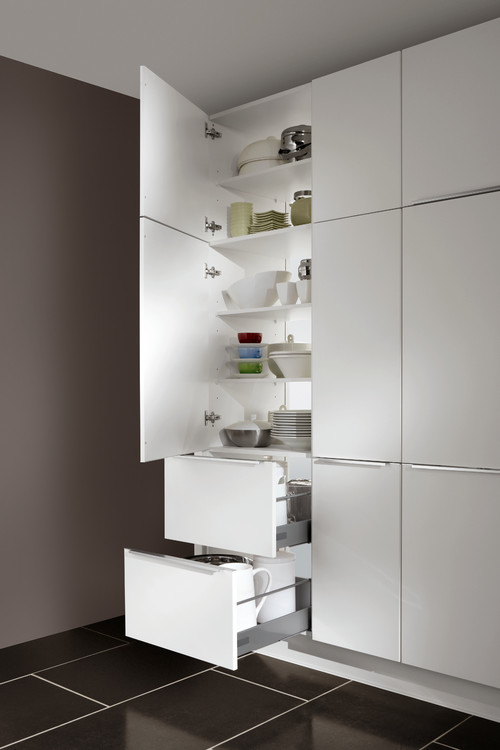 ID# 103111 | Houzz.com – Credit | © Ixina Egypt
---
Modern kitchen pantry cabinet with drawers
This modern-designed white kitchen cabinets pantry has a simple look and it is very stylish. Thin chrome handles create a very modern look and white panel cabinets have a nice contrast with black ceramic floors. It is divided into three parts for drawers and normal inner shelves.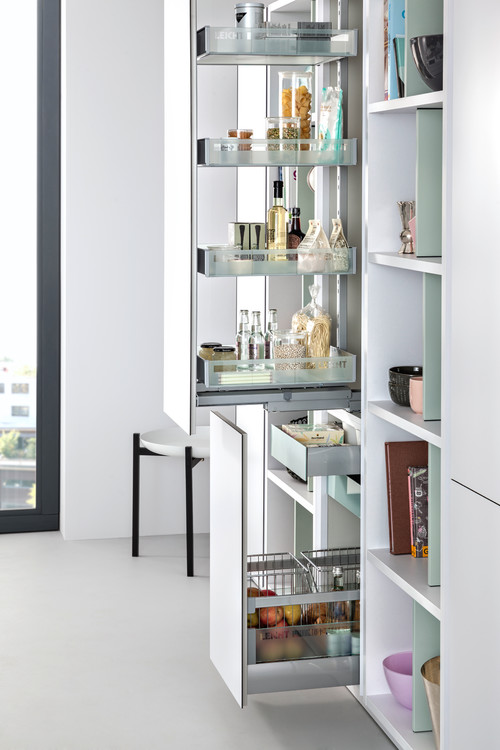 ID# 103109 | Houzz.com – Credit | © Leicht New York
---
Minimalist modern kitchen with storage drawers
Luminous! White colour lifts the daylight. This pull-out storage cabinet has a simple and minimalistic look. White floors white walls white cabinetry adds a fresh and bright look to the interior.
Most Useful Part Of The Kitchen
So we know that pantry usage started before the middle ages we can hide a lot of things in it. But those pantries need a room right? What if we do not have enough room for a pantry? In old times there is room for different storages such as bread, wine etc. It is possible to say that modern times have modern solutions. Technology grows and materials are changing. Now you can hide your fridge in a base cabinet and store beverages or much more a fridge can look like normal kitchen cabinets, right? Check out our white pantry cabinet ideas to explore some inspiration!
No Room For Pantry? Do Not Worry!
As time went by our homes started to become smaller. Population increases and lands to build houses decreases. Tall buildings have a large number of apartments. We need a space to store the crowd stuff that we use in the kitchen but there is not any space for it so here it comes! Pantry cabinets! Designers thought it would be perfect for people to have a cabinet that serves as a pantry room. So as a solution to this they started to design space plannings of a kitchen with a cabinet that has the same duty as pantry rooms.
There is a variety of pantry cabinet design such as pull-out or space-saving ones. Some of them serve like Inspector Gadget's hat! Their colour changes according to kitchen design style and white colour does its duty as an endless solution for every other colour combination with itself.
In summary, we can still have storage for our things even there is not any room for a pantry!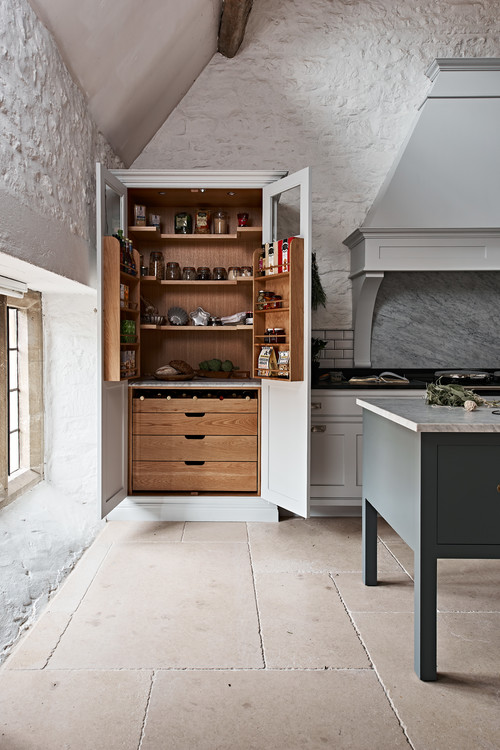 ID# 103101 | Houzz.com – Credit | © Cheverell
---
A cottage kitchen with a white pantry cabinet
Beige travertine floors and white coloured stone walls look perfect and when you add details to a design it becomes more perfect isn't it? For example, a designer could only add a pantry but here we see wooden touches are thought. This pantry is an example of a space-saving idea. It has handle-less drawers and little shelving on the inner face of the cabinet closet. Very clever!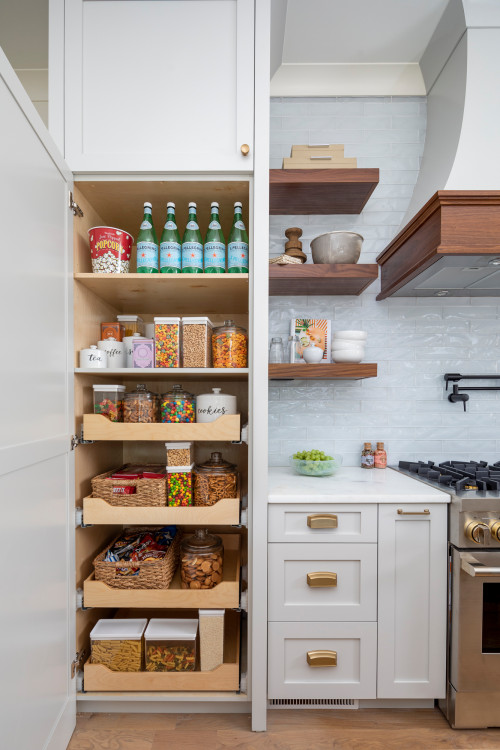 ID# 103103 | Houzz.com – Credit | © Pike Properties
---
White shaker cabinets with white countertop and floating shelves
White pantry cabinet with simple cabinet closets. This pantry has two parts in which you can store your bigger things on top of the cabinet. Inner faces are wooden which creates a soft and natural look. This creates also nice harmony with white shaker cabinets. Shelf heights may vary according to the product sizes.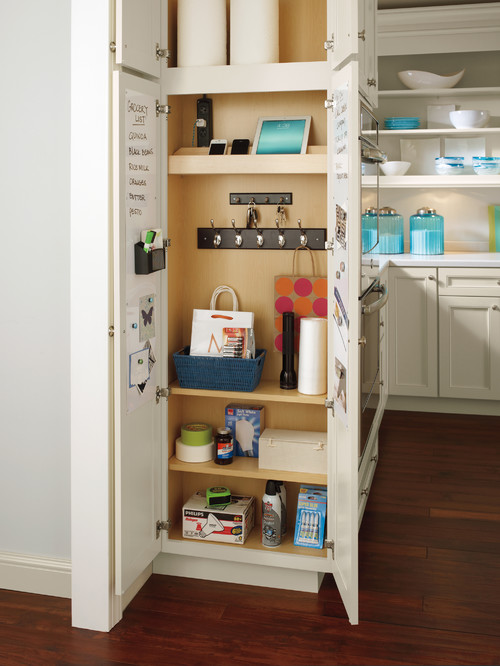 ID# 103106 | Houzz.com – Credit | © Master Brand Cabinets, Inc.
---
Small pantry storage cabinet in a traditional kitchen
This white kitchen storage cabinet looks very cute! It is designed for smaller usage and still very useful. It has two parts which you can store more things in it. Wood application in pantry cabinets really looks nice.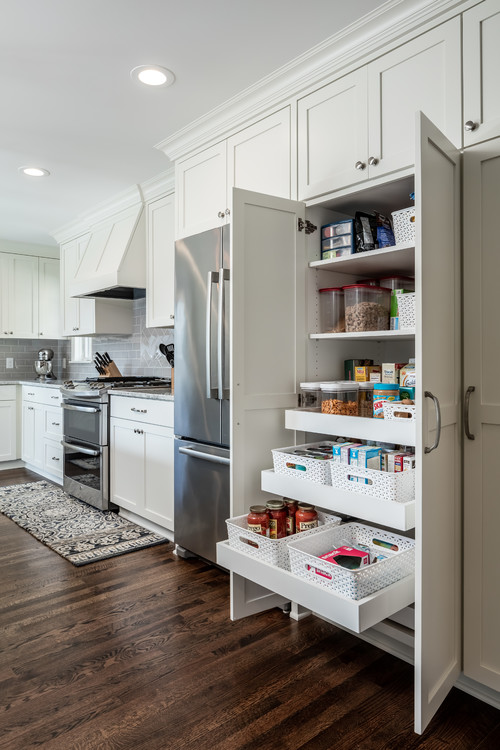 ID# 103108 | Houzz.com – Credit | © Sicora Design/Build
---
White shaker cabinets with stainless steel appliances
Nice natural look! This traditional kitchen has natural vibes right? Having storage near the fridge is very clever. You can have all of your food materials while preparing to cook. Stainless steel Super fast delivery.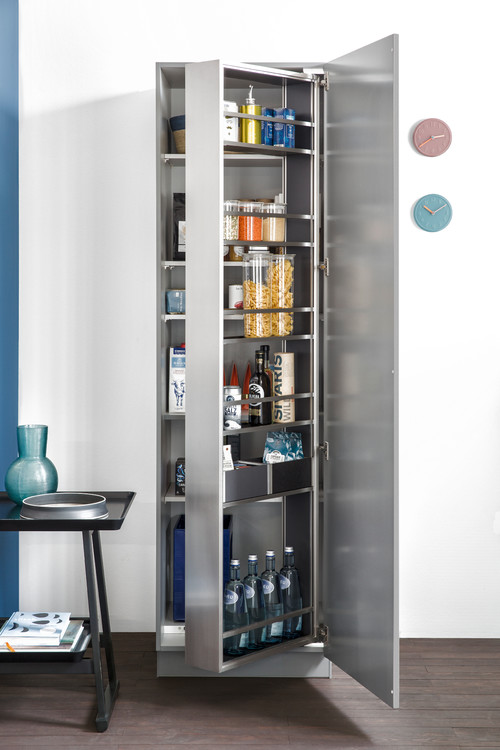 ID# 103110 | Houzz.com – Credit | © Leicht New York
---
Standalone kitchen pantry with metal details
This white kitchen pantry cabinet designed in a very clever way. In a narrow and small pantry, you can have more space to store your stuff sort filter. These mobil shelves are very useful for storage. Very modern and simple.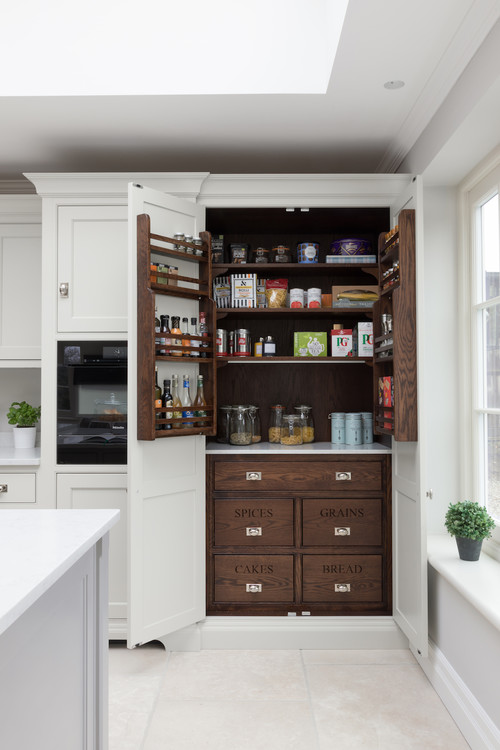 ID# 103113 | Houzz.com – Credit
---
White pantry design with a rustic touch
Different approach to the kitchen pantry cabinet! It is clever to add writings on the face of the drawers thereupon you can know where you are your stuff when you open the closets of the cabinet. Also, little shelves on the inner face of the white closets have ease of use for storage. This kitchen pantry has a beautiful contrast with dark brown wood colour and white.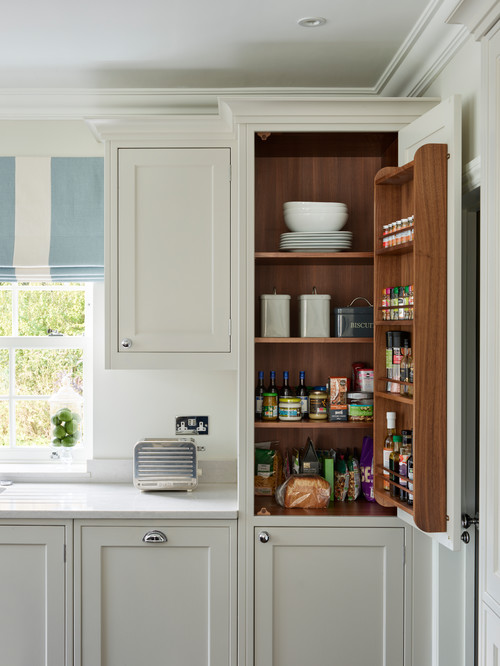 ID# 103114 | Houzz.com – Credit | © Davonport
---
Small and classy pantry cabinet in white kitchen
The elegant and stylish white kitchen has useful pantry cabinets. Nice walnut colour in it creates such a beautiful harmony with together white cabinets. The tiny little spice rack is well thought.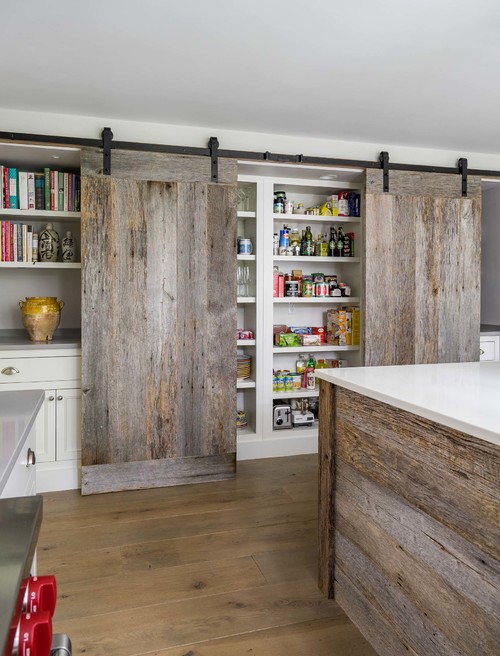 ID# 103118
---
Kitchen pantry with natural wood barn doors
So this kitchen has a very special look with these barn doors indeed. They look so elegant. When you open it white shelves of the pantry cabinet meet you. It has an organized and simple look. The wood texture on the face of the sliding barn doors adds a natural atmosphere to the kitchen.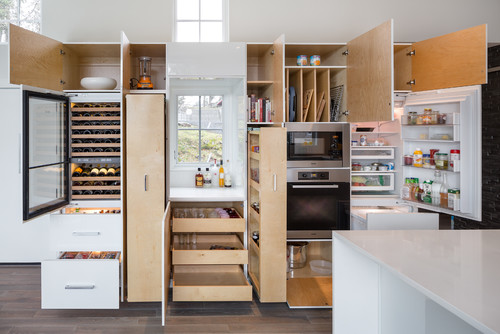 ID# 103120 | Houzz.com – Credit | © Vanillawood
---
White flat panel cabinets with wine cellar
Look at that tiny window as a backsplash for butler's pantry! Simple and minimalistic design for this contemporary kitchen pantry cabinet shipping. The bright and fresh look is added with the help of white colour and lights brown wood colour. It has a very clever storage way with those roll-out wine racks. Nice decoration with nice design idea!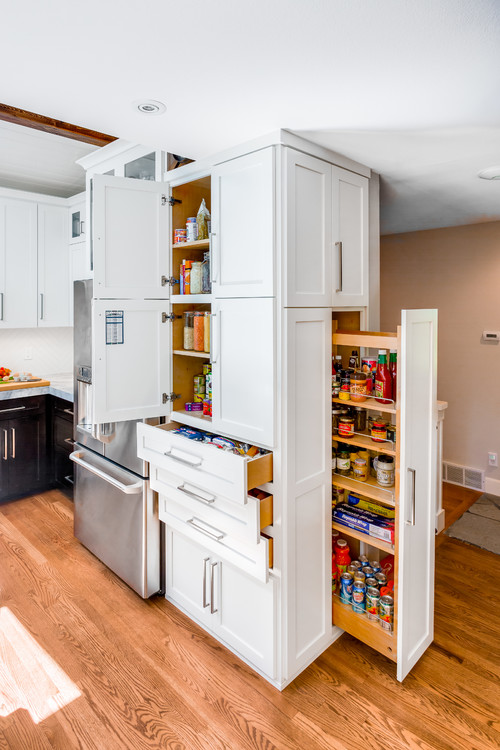 ID# 103117
---
Transitional kitchen with pull-out white pantry cabinet
Transitional white kitchen with a lot of storage parts that offer ease of use. Drawers help the user to store small things and the pul-out part adds much more space to the storage. White shaker cabinets and medium-toned wood floor have nice contrast and light wood inner parts of the cabinets have a beautiful unity with the floor.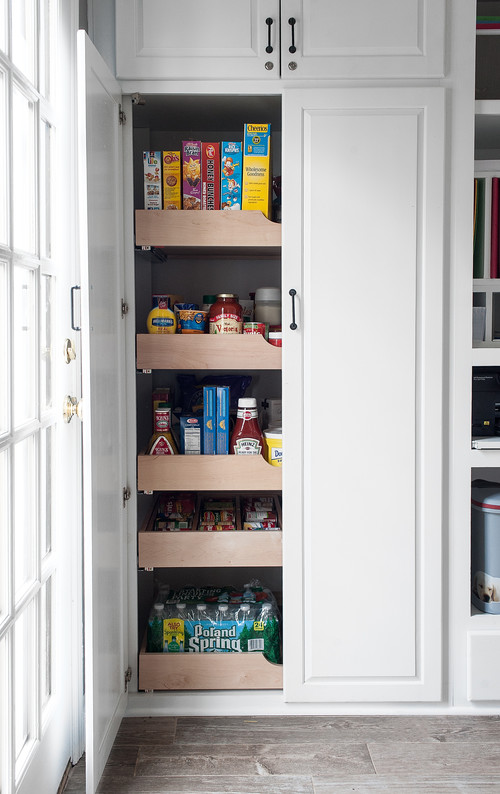 ID# 103102
---
White shaker cabinets with wood drawers
Stunning white coloured shaker cabinets and their beautiful contrast with black handles. This pantry cabinet has wooden roll-outs which serve in a very useful way. Using this kind of roll-outs creates easiness if you want to reach the backside of it. Also, there is a small top part which you can store bigger stuff in it. It looks nice and tidy!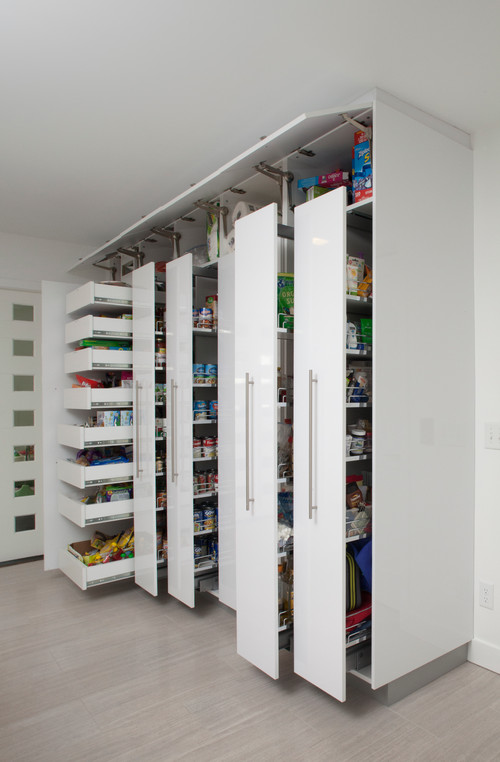 ID# 103104
---
Modern kitchen cabinets with plenty of storage
Tall and narrow but has much more space to store. Technology helps us right? White pull-out pantry cabinets offer ease of use and you can reach even the back parts with this design. This furniture has a very modern and minimalistic look and it provides plenty of storage space.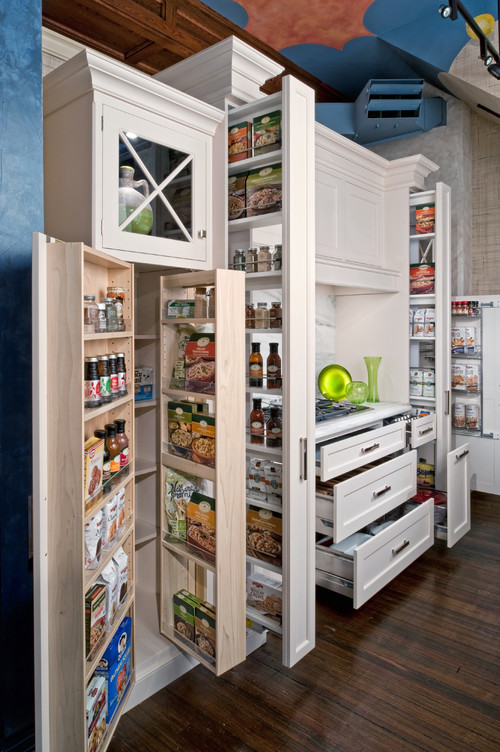 ID# 103105
---
Large kitchen storage with dark wood floor
Wow! This white kitchen pantry cabinet looks like a robot! It has a lot of useful parts which creates ease of use right? Pull-out pants, drawers, shelves and inner shelves. Who needs a room for a pantry? This pantry closet is fairly enough!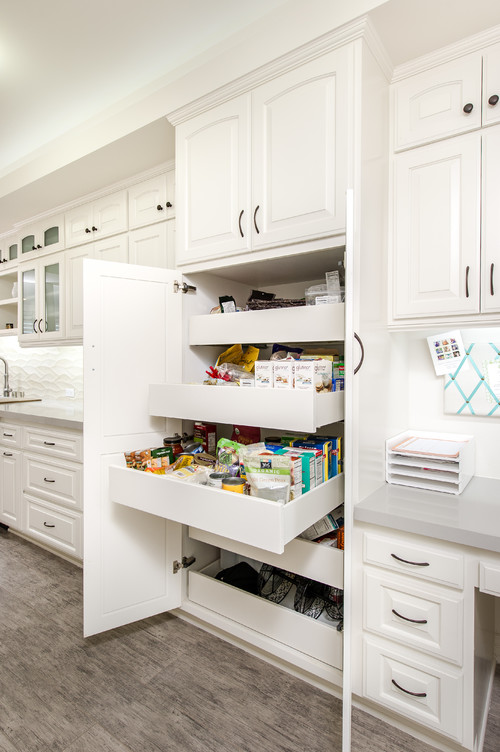 ID# 103107
---
All white kitchen design with hardwood floor
This kitchen has beautiful contrast with its white cabinets and black handles. Handles are simple and elegant which creates an elegant look. Everything is white and this makes the area brighten. The pantry has roll-outs that are white and it seems endless with the white colour customer service.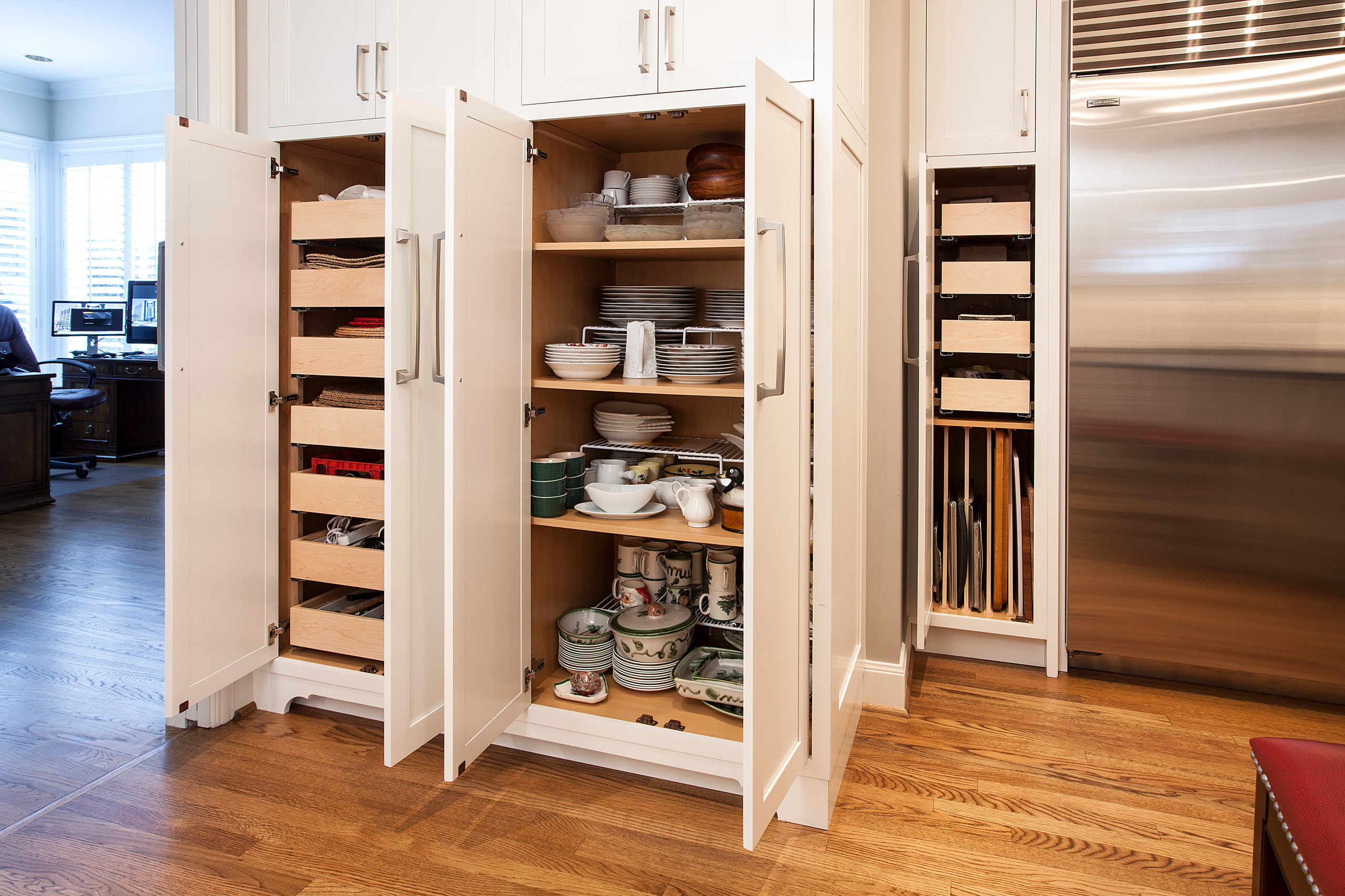 ID# 103112
---
Traditional white pantry cabinets with modern ways
Organized and stylish kitchen pantry! White outer face and wooden inner parts of the cabinetry have a contrast while wooden parts are having beautiful harmony with the middle toned wood floor.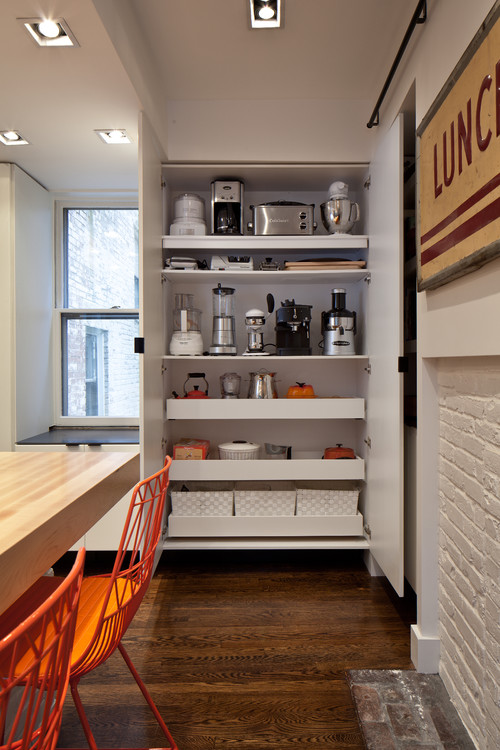 ID# 103115
---
Minimalist storage design with clean lines
Wide shelves and wide roll-outs create space for storage in this kitchen dining space. This flat panelled white cabinets and dark wood floor have a natural look together. They create a warm atmosphere in the kitchen.
---
Contemporary kitchen with white pantry cabinet and wood drawers
The beauty of the dark brown wood and white colour is an indisputable fact. They create both contemporary and rustic look. Spice racks help to have useful storage for spices and little bottles. Handle-less drawers have an elegant style in the design. You can find your goods easily with the help of the small spotlights on the upper side of the cabinet.
---
White contemporary kitchen cabinets with a rack
White colour always brightens an interior. This contemporary kitchen looks very fresh and airy and it has availability for different styled kitchens. Pantry cabinets supply this look. In this pantry cabinet, there are no roll-outs but it is still useful with that rack. Just open and choose whatever you want! It is easy to take and like an amazing menu!