70+ White Cabinets Countertop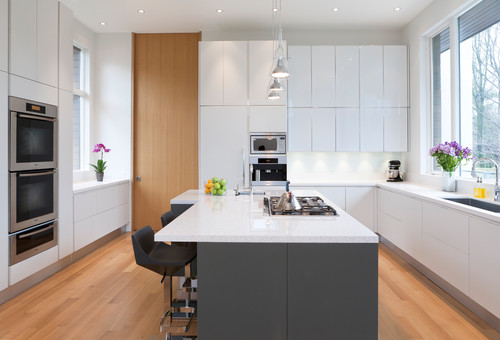 ID# 102901 | Houzz.com – Credit | © South Park Design Build
---
Contemporary Kitchen White Cabinets and White Countertops with Wooden Floor
This enclosed large u-shaped kitchen used light wood floor with white and gray cabinets island and a little bit wooden texture on the door. There are two colors with white and this kitchen looks very modern and cozy at the same time. Wide windows as backsplash makes the kitchen brighter. Modern and simple kitchen with nice colors.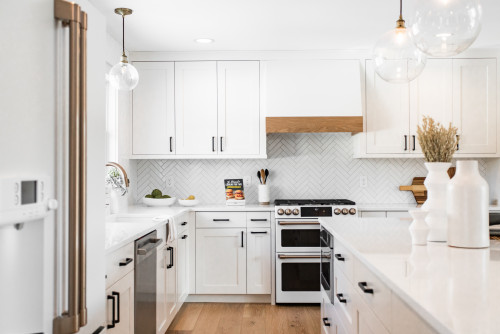 ID# 102907 | Houzz.com – Credit | © Construction2style LLC
---
White Shaker Cabinets and White Countertops With Light Wood Floor
Very clean and fresh kitchen. Diagonal patterned ceramic tiles as backsplash has simple black color and they team up together with black hardware. Very simple usage of three colors and it looks stunning.
Create Every Style with White!
To create spacious and luminous areas white color usage gains importance. It reflects the light and brightens the area. Also white color has a specialty: being able to combine with any color. You can use it with every color in your design. According to style white every time puts a point to the design. For this reason, its era never ends check our white cabinets with white countertop design ideas.
Different Material, Different Style, Same Color
Such a flexible color with different materials on countertops. Quartz, marbles, granites, solid, glossy, matte etc. Mostly modernist interiors and minimalist interiors use white but when it comes to farmhouses or classic kitchens white color has the power! Those shaker cabinets with white color and white countertops look stunning. Because it can be conjoined to every color you can create cozy, modern, cold, warm atmospheres according to the usage of the color.
Choose the style, choose the materials, and use the white color to be trendy every time.