27+ Countertops for Shaker Cabinets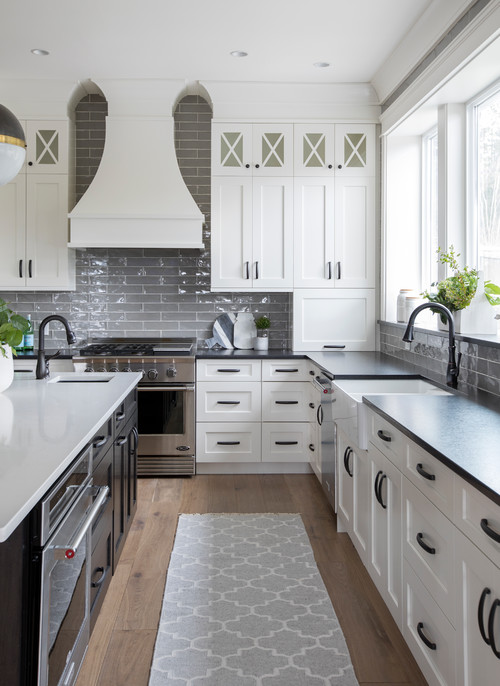 ID# 154102 | Houzz.com – Credit | © PlaidFox Studio
---
White Shaker Cabinets with Gray Subway Tile Backsplash
The white shaker cabinets not only provide functionality but also enhance the overall look of the kitchen with their sleek design!! The shaker cabinets exude a contemporary and resilient aesthetic through their dense, gray brick-shaped tiles and gray countertops. The glossy finish of the subway tiles enhances the airy feel while creating a focal point. The gray and white color scheme is complemented by the warmth of the wooden flooring while the black handle selections add a touch of sophistication to the visual harmony of the cabinets and the rest of the kitchen.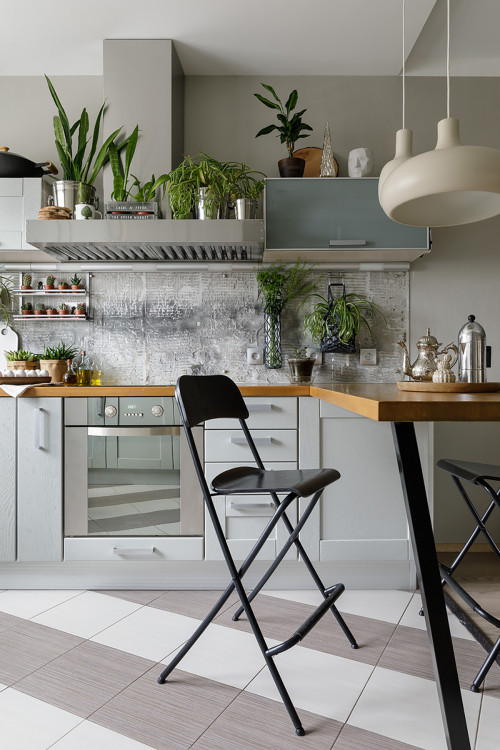 ID# 154122 | Houzz.com – Credit | © Анна Крутолевич
---
Wood Countertops for Shaker Cabinets and Stainless Steel Appliances
The harmony of gray and wood is a very good option in contemporary kitchens. Light gray shaker cabinets are in perfect harmony with the wood countertops. In addition, it is seen that the wooden countertop reveals naturalness. The emphasis on naturalness is maintained with green leafy plants, which are widely used. Black chairs and island details add a characteristic atmosphere to the space. A bright appearance is supported by correctly positioned lighting in the kitchen, where maximum efficiency is obtained from daylight. The very modern backsplash makes the atmosphere of the space enjoyable.
Countertops for Shaker Cabinets
The timeless and refined shaker-style cabinets serve as a blank canvas for a variety of countertop options that will suit any kitchen or bathroom. With its sleek yet understated design, the recessed panel doors offer a versatile backdrop that pairs well with everything from classic marble to contemporary quartz. Shaker cabinets are uncomplicated and uncompromising, giving natural stones the chance to flaunt their intrinsic charm while engineered materials can showcase their sleek and modern edges. Prepare to be inspired by some imaginative design concepts showcasing some countertops for your shaker cabinets!
Choosing the right countertop can transform your space into a functional work of art that stands the test of time. Whether you opt for the inviting warmth of butcher block or the refined elegance of granite, the combination of durable craftsmanship, practicality, and simple sophistication that comes with shaker cabinets will undeniably add charm, character, and durability to any space in your home.
What countertop goes with white shaker cabinets?
Creating a kitchen that feels both classic and trendy can be tough but shaker cabinets make it possible! They seamlessly complement different materials and shades of countertops, resulting in a stylish and pleasing aesthetic. With shaker cabinets, light tones are the way to go. They perfectly balance the rich textures and hues of marble countertops and cabinets, resulting in a space that feels warm and inviting.
Countertops Materials for Shaker Cabinets
When it comes to selecting countertop materials for your beloved Shaker cabinets, options are practically unlimited, giving you the freedom to truly reflect your personal style and functional needs. If you're after a timeless and elegant look that boosts durability, natural stone materials like marble or granite are a great choice. The patterns and veining of natural stone create a unique and luxurious appearance that complements the clean lines of Shaker cabinets perfectly. On the other hand, engineered materials like quartz offer a vast range of patterns and colors to match any aesthetic you prefer. Quartz is known for its toughness, requiring minimal maintenance, and resistance to scratches and stains, making it an ideal option for busy kitchens.
Are you looking for a warm and rustic ambiance? Look no further than butcher block countertops made of wood. These countertops add character and warmth to your space while making sanding and refinishing very easy. Finally, if you prefer a seamless and sleek look, then choose solid surface materials like Corian or acrylic. These countertop materials blend in beautifully with the minimalist design of Shaker cabinets. They're also easy to clean and stain-resistant, making them a practical option for households that are always on the go.
Marble Countertops for Shaker Cabinets
If you're looking to create a kitchen with a classic and elegant appearance, shaker cabinets are a fantastic option. Their distinctive form adds a touch of style to any space, and when paired with natural materials for the countertops, the look is even more beautiful. Those who value function and quality in their kitchen often opt for natural materials to complement shaker cabinets and marble is a popular choice. Not only does it offer a variety of colors and textures, but it also adds a natural aesthetic to your kitchen space!
While marble countertops are a great choice for creating visual harmony in the kitchen, they're especially popular with those who prefer a minimalist appearance. They're remarkably durable and offer a classic, timeless look that will last for years to come – making them the preferred option for those with high quality expectations!
What countertop edge goes best with shaker cabinets?
The choice of countertop edge detail to be combined with Shaker cabinets plays an important role for users who want to reflect their taste in the products they prefer in their kitchen and on small details. Beveled, pencil-cornered standard or rounded details can be preferred in materials such as marble, and quartz, in line with the general appearance desired to be obtained as a bench edge detail. For those who want to add detail to their kitchens with countertop edge details, amorphous or layered designs like ogee gain an elegant and stylish look with shaker cabinet geometry.
Quartz Countertops for Shaker Cabinets
Shaker Cabinets, a timeless piece, give kitchens a modern and stylish look. Thanks to Shaker Cabinets, simple and elegant kitchen preferences are perfectly met. Shaker Cabinets can be easily combined with various counter types and colors. One of these countertop materials is the quartz countertop variety. As it is known, quartz countertops come to the forefront as a material that has many advantages in cleaning. It is also known as a quartz durable structure. Easy-to-clean and durable quartz countertops in the kitchen can be an excellent option, especially for crowded families. Quartz Countertops for Shaker Cabinets are a very stylish choice for contemporary kitchens.
Should countertops be lighter or darker than cabinets?
Choosing the right countertop material and color can bring a sense of satisfaction to your kitchen by achieving a tasteful harmony with shaker cabinets. Most kitchen enthusiasts seek hygiene and spaciousness in their kitchen area, which is why light colors and tones are a popular choice for material and color options. If you prefer darker colors and textures for your countertop, find a shaker cabinet color that can complement the darkness and bring balance to your kitchen space. After all, a well-designed kitchen can make you feel proud and content every time you step into it.
Granite Countertops for Shaker Cabinets
Have you heard about granite countertops? They are absolutely incredible! Not only are they incredibly durable and long-lasting, but they also add a sleek and modern vibe to your kitchen that is simply irresistible. When it comes to selecting the ideal countertops for your kitchen, there is no better option than granite – it's a total game-changer! But wait, there's more! Granite is flexible enough to complement any type of cabinet design you can dream up.
From traditional to contemporary, you can select the cabinets that will perfectly match your gorgeous granite countertops. If you're in the market for a timeless and elegant look, then shaker cabinets are exactly what you're looking for. Not only do they come in a variety of rich colors, like dark chocolate brown, flawless white, and inviting beige, but they'll also enhance the overall aesthetic of your kitchen. Believe me, you'll be beaming with pride at the end result!
Are Shaker cabinets in Style 2023?
Shaker cabinets have an undeniable charm that has wooed countless admirers with their simple yet exquisite design. Their popularity is expected to endure the test of time, serving as a testament to their timeless charm! Their aesthetic appeal is unmatched, adding a touch of refinement and comfort to any kitchen. Indeed, they personify a functional and charismatic style that can create a blend of classic and contemporary decor in any modern home!
Laminate Countertops for Shaker Cabinets
Creating the perfect kitchen aesthetic can be a thrill, and having the right countertops to match is crucial. Luckily, laminate countertops offer the ideal balance of style and functionality for any modern kitchen. The visual appeal of these countertops is undeniable, but what truly sets them apart is their practicality and effortless maintenance. When paired with classic shaker cabinets, laminate countertops add a touch of understated sophistication to your space, without breaking the bank. Achieve the luxurious look of stone countertops, without the hefty price tag, and bask in the timeless elegance of shaker cabinets paired with stunning laminate countertops.
Wood Countertops for Shaker Cabinets
Wood benches inspired by nature are among the trends. Especially when used with shaker cabinets, it creates a natural and elegant look. As the wood countertops can be easily combined with other colors, the color options are quite diverse to reflect the tastes of the users. Users who want to emphasize the clean and natural appearance, prefer wood countertops and white shaker cabinets, maximizing the natural and clean appearance. In addition, the emphasis on luxury is possible with wood counters and shaker cabinets. Therefore, the choice of wood countertops and shaker cabinets allows for very modern designs.
What countertops are outdated?
It can be such a downer to have countertops that just don't cut it for you. Dealing with the never-ending cleaning and upkeep of tile can be a total nightmare. And let's be real, they are so yesterday's news. But fret not, there is a way to make your kitchen a more pleasant place! By selecting warmer and trendier materials like wood, marble, granite, quartz, and metal, you'll be able to craft a kitchen that not only serves its purpose with efficiency but also brings a smile to your face with its stunning appearance.
Metal Countertops for Shaker Cabinets
Metal countertops, which are frequently used in industrial kitchens, are also included in your modern homes. It makes the time spent in the kitchen enjoyable with its stylish and sparkling appearance. In addition, metal counters offer users the feeling of being a professional chef. It is seen that metal benches can be easily combined with cabinet types. Offering many color possibilities, shaker cabinets can be an excellent choice with metal counters. Revealing timeless elegance, shaker cabinets can provide perfect integrity with metal counters.