21+ Beveled Subway Tile Backsplash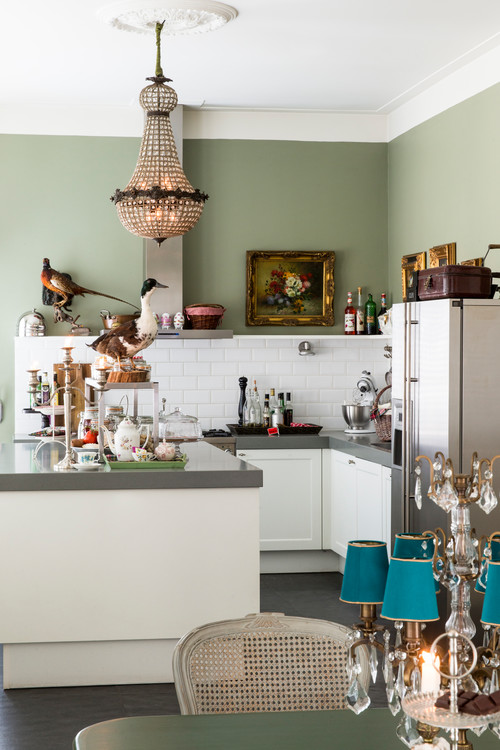 ID# 135701 | Houzz.com – Credit | © Petra Postmus Interiors
---
Beveled Subway Tile Backsplash with White Cabinets and Gray Countertops
Eclectic kitchen designs allow homeowners to juxtapose different textures and items, giving them much more freedom when compared to other designs loyal to their tenets. But sometimes to achieve such combinations, you need an excellent canvas, which is, here, provided by these beautiful white beveled subway tiles. The rest comes in gray countertops and white cabinets that assist the backsplash to prepare a neutral set-up for the whimsical decorative additions. From the duck to the bird perched on the wall, the gilded-frame floral painting, and a suitcase on the refrigerator, each decorative piece adds an old-world charm. And the green-painted top half of the kitchen develops a different perception of the space, creating a bucolic-like setting for the birds and paintings. But of course, no eclectic kitchen would feel complete without an eye-catching chandelier and some elegant ceiling molding.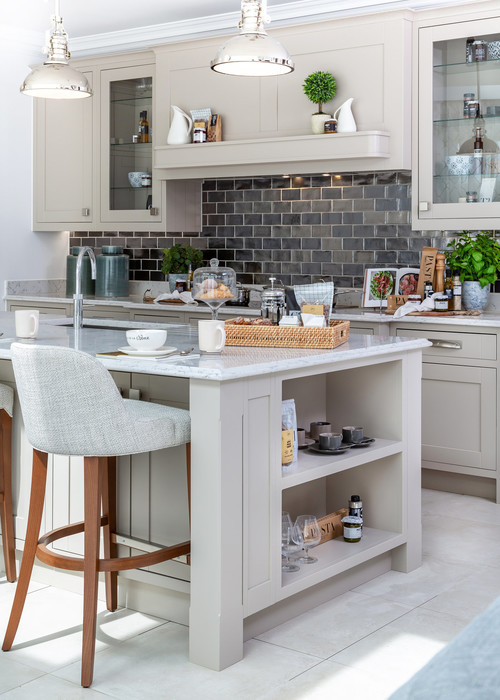 ID# 135716 | Houzz.com – Credit | © Alexander James Interiors
---
Cream Cabinets with Gray Backsplash and White Marble Countertops
We are definitely for this peaceful design rich in shades of cream and gray. This way, this transitional kitchen is filled with a sense of hominess and coziness, even feeling more warmed up with the streaming lights. And it is enriched with glass-front cabinets that bring a moment of transparency, enabling to build of a more intimate relationship with the kitchen and white marble countertops pairing perfectly with the cream cabinets. But above all, it is the dark gray subway tile backsplash that serves as the visual focal point, enveloped by cream cabinets and range hood. The rest features silverish hardware and chrome pendants over the island, adding a punch of character and introducing new textures to accompany the gray backsplash.
Beveled Subway Tile Backsplash
Having originated in the 1900s in England and originally used in the subways, the flat brick tile backsplashes have been part of our lives since then. From the metro stations, they got transported indoors and started sheathing our walls, serving as kitchen and bathroom backsplashes. Today, they are available in many sizes, colors, and materials, and one of them is a beveled subway tile backsplash that comes with sloping edges, adding extra depth to the tiles. This way, the used-to-be flat tiles gain a more dimensional look and create a textured background.
A beveled subway tile backsplash is available in many different colors and materials and can be installed in herringbone and stacked layouts just like the original metro tiles. So, if you are looking for a timeless pattern but desire something different as well, you can go with a beveled subway tile backsplash. This blog has over 20 kitchen designs that encompass traditional, transitional, coastal, and modern designs with beveled subway tile backsplashes. If you want to fire up your imagination on this modern take-on on the subway tiles, just scroll down to discover some amazing design projects.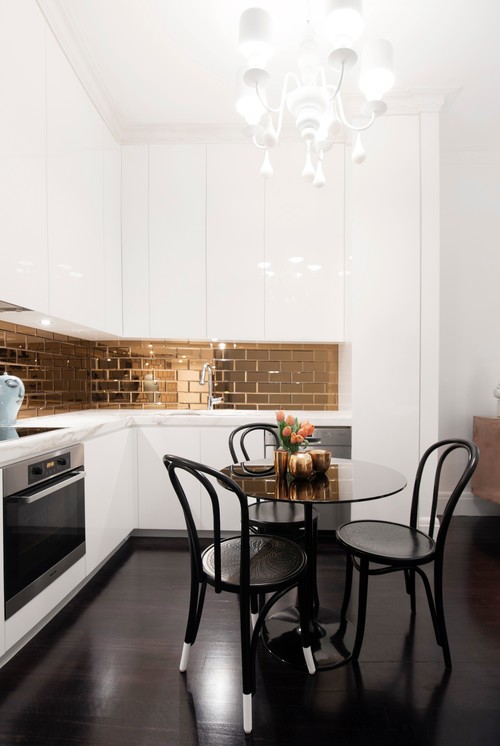 ID# 135702 | Houzz.com – Credit | © Yvette Philips Interior Design
---
White Cabinets with Bold Kitchen Backsplash and Dark Wood Floor Finish
If you have a contrasting color scheme with white cabinets and a dark wood floor finish, a statement backsplash could make a big difference. Here, the gold tile backsplash injects a healthy dose of luxury into the space, oozing opulence. The beveled subway tiles add dimension, while the mirror finish reflects the space, creating a meta-reference. The rest is complemented with an oversized modern chandelier that draws attention to a miniature eating space that exudes elegance. The gold finish accessories placed on the smoked tabletop coordinate with the statement backsplash.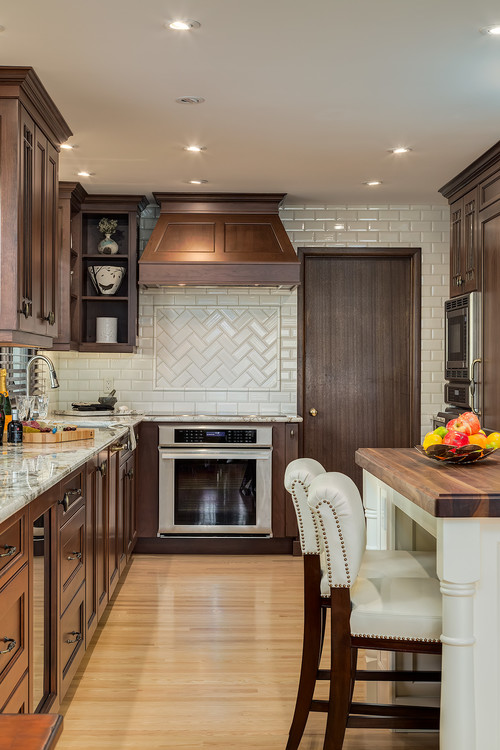 ID# 135703 | Houzz.com – Credit | © Kon-strux Developments
---
Traditional Kitchen with White Beveled Subway Tiles and Granite Countertops
One of the best parts of subway tiles is that you can come up with different layouts. For example, in this kitchen, the walls are lined in two different styles with beveled subway tiles. First, they are laid in a running-bond style to expand the kitchen on the horizontal axis. Secondly, the stove zone is distinguished from the rest with a herringbone layout framed by an inlaid frame. Complemented by dark wood cabinets and beige granite countertops, they constitute a timeless aesthetics for this traditional kitchen.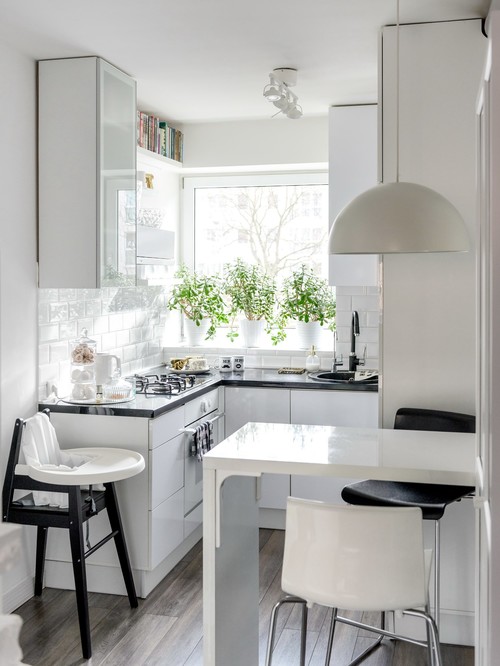 ID# 135704 | Houzz.com – Credit | © Alexander Shevtsov
---
All-White Scandinavian Kitchen with Black Countertops and Floating Shelves
This compact open-plan kitchen is encouraged to feel more spacious with the all-white color palette. From the white cabinets to the beveled subway tile backsplash and white floating shelves, each element works harmoniously to open up the space. The beveled version of the backsplash adds a 3-dimensional feel that brings extra interest. Black countertops add a striking contrast to the otherwise too-white kitchen, and the indoor plants placed on the windowsill add a dash of color to enliven the interior.
Color Options for Beveled Subway Tile Backsplash
Color options for beveled subway tile backsplashes are quite expansive. From whites to blues, beige, yellow, black, and gray, they come in various shades. They can also be given glazed finishes with a polished hue, which is extremely helpful in small kitchens and if you would like to draw attention to the backsplash.
White Beveled Subway Tile Backsplash
White subway tile backsplashes provide a wonderful blank canvas for other colorful and bold pieces to go together harmoniously. Whether you want to increase the brightness of the kitchen or create a feeling of spaciousness, white is a life-saver and multi-purpose color. With beveled subway tiles, you can serve the same purposes. And as a bonus, you can also introduce extra texture and dimension to your kitchen. You can combine them with dark or lighter shades; be it a modern, contemporary, transitional, beach-style, or Scandinavian kitchen, these tiles can be used as the protagonist of the design or as a complementary element for any design.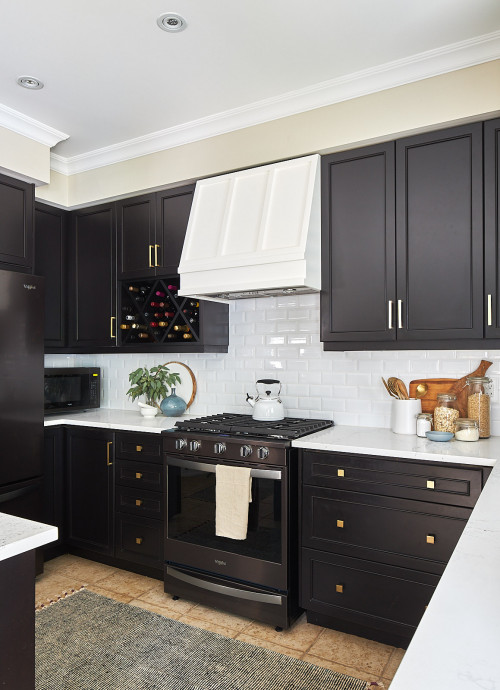 ID# 135705 | Houzz.com – Credit | © Jo Alcorn
---
White Subway Subway Tile Backsplash with Dark Cabinets and White Countertops
Contrasting color schemes are instant statement makers, and this transitional kitchen is a fine example of it. Defined by dark cabinets and white countertops, it executes a well-balanced look. The white beveled subway tiles provide the best background that matches the timelessness of this aesthetic. The brass hardware and a black rug with fringes add softness and warmth both in terms of color and texture to alleviate the solid contrast between the black and white.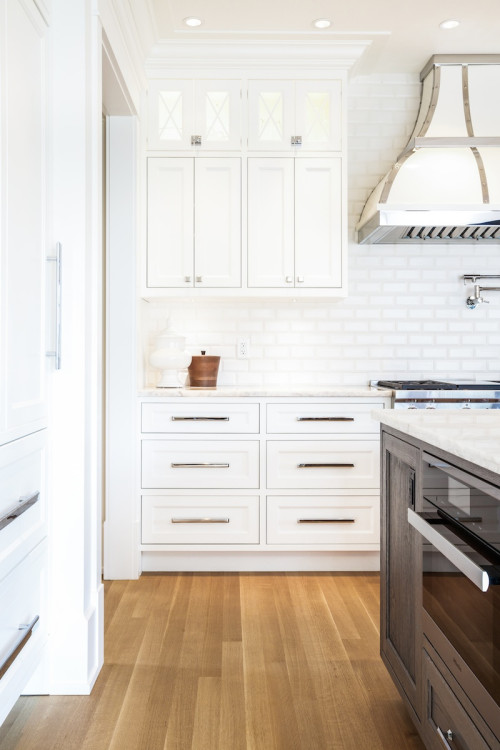 ID# 135706 | Houzz.com – Credit | © Reena Sotropa In House Design Group
---
Monochromatic Transitional Kitchen with White Cabinets and Subway Tile Backsplash
Another timeless monochromatic look that executes an airy and welcoming atmosphere. Dotted by white cabinets and ceiling-height white backsplash, it proposes a lifetime look. The white bulky range hood adds a classy feel, while its chrome stripes coordinate with the chrome cabinet bars, bringing a sense of glow. The built-in spotlight and interior cabinet lighting highlight the top display cabinets with X-detailing. Lastly, the medium wood floor finish along with a dark wood statement island brings in warming shades to the otherwise too-white kitchen, giving the interior a healthier look.
How to install beveled subway tile backsplash?
As another version of subway tile backsplashes, beveled subway tile backsplashes are popular and timeless too. Though the edges are more different, installing the beveled tiles is not that different.
Like usual, start by measuring the application area both vertically and horizontally. Decide how many tiles you are required to cover this area. Also just add some extra supplies in case something goes wrong.
When you are ready to install, remove everything from the countertops and cover them with a plastic sheet. Remove any outlets and switch covers.
Clean the application area. Feel whether the wall has any bumps; if there are, use sandpaper to make it flat and wipe it to remove the dust.
Tape off the boundaries of the application area. It is recommended to use painter's tape because it is easier to remove and doesn't leave any tape marks.
Now your wall is ready for the tile installation. Apply the thin-set with a notched trowel and spread it as a thin layer.
While laying the tiles, you can start with the border tiles and move upward step by step after finishing the bottom row. After placing them on the wall, press on the tiles to make sure that they are properly attached to the wall.
Wait for 24-48 hours to give the adhesive enough time to dry and for the tiles to set properly.
Place the sockets and outlets which you took out before starting.
Now your beveled subway tile backsplash is ready for grouting.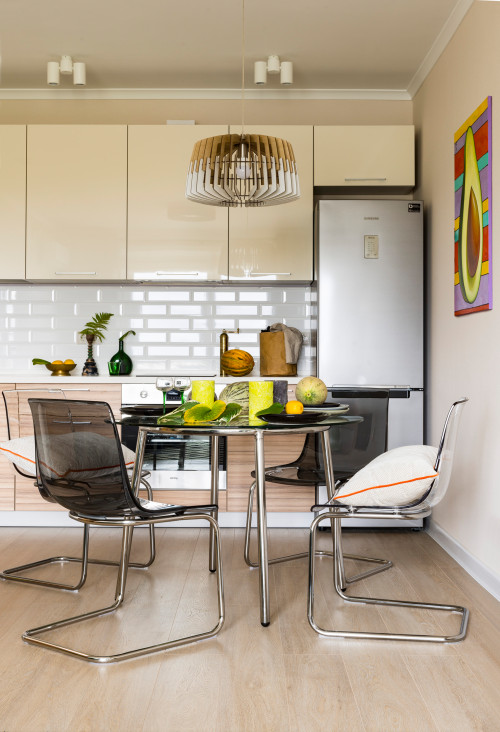 ID# 135707 | Houzz.com – Credit | © Пегасова Елена / Pegasova Design
---
Cream Cabinets with Glazed Tile Backsplash and White Countertops
A Scandinavian-inspired open-plan kitchen in a Moscow apartment that features a weightless and heart-fluttering design. It is fitted with cream and light wood cabinets topped by white quartz countertops. In between, the beveled subway tiles create a timeless backsplash design with extra texture, while its high-gloss finish synchronizes with the gloss cabinetry. This way, a well-curated look is achieved without overwhelming the space while enhancing the spaciousness at the same time.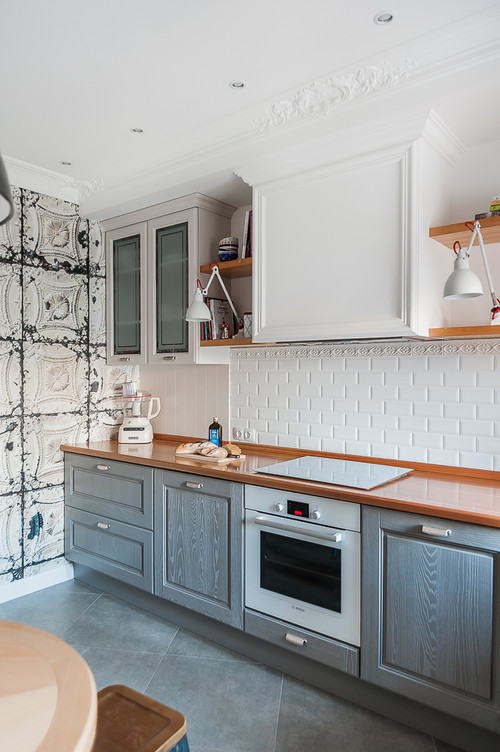 ID# 135708 | Houzz.com – Credit | © Кутепова Марина
---
Transitional Kitchen with Faux Tin Feature Wall and Stained Gray Cabinets
This rustic-modern transitional kitchen is filled with statement materials. Ranging from the faux tin feature wall to the beveled backsplash and richly wood-stained grayish blue cabinets, with each component, the kitchen feels like a study of a juxtaposition of different textures and materials (even though some are faux). The timber countertops and floating shelves enrich this repertoire; the glazed countertops also incorporate a polished hue. The beveled subway tiles give a whitewashed brick look that provides less texture and more ease of cleaning, proving itself as an alternative to brick backsplashes in this transitional kitchen.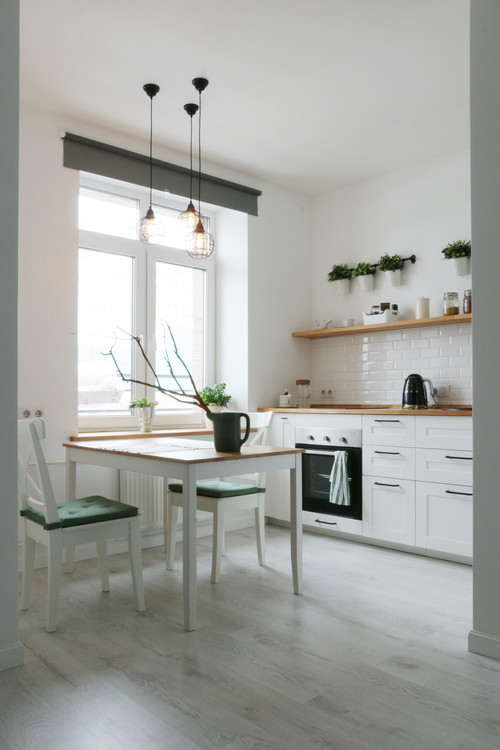 ID# 135709 | Houzz.com – Credit | © Студия SPACE FOR LIFE
---
Scandinavian Kitchen with White Beveled Subway Tile Backsplash and Timber Floating Shelves
Awash with white, this Scandinavian kitchen fosters a peaceful atmosphere, a welcoming place for natural lights to play around. The minimalist palette and light hues ensure a sense of flow, imparting calmness. The wall-mounted kitchen plants give life to the white walls, and the white subway tile backsplash feels sandwiched between the timber countertops and the linear floating shelf. This way, the all-white look is broken up and injected with an organic feel. The dining table mimics the design of the perimeter counters, paired with modern classic stools. The green cushions of the stool coordinate with the green kitchen plants, while the light gray wood veneer floor finish comes as another weightless material. Overall, this Scandinavian kitchen feels like floating.
How to grout beveled subway tile backsplash?
Grouting the beveled subway tile backsplash can be a little trickier due to their shape but the process is the same. Only with a little bit more attention, it can be handled easily.
Preperation
First, start by preparing the grout. Mix the dry grout with water in a bucket by following the manufacturer's instructions. If you want to keep things simpler, you can also get a pre-mixed grout. After stirring the grout-water mixture, let it sit for 10 minutes. Then mix it for the second time until it is homogeneous completely, and you will be ready to apply the grout.
Apply
Now you need a groat float and spread the grout with the float at a 45-degree angle. It is more effective to move it diagonally so that you ensure that the grout goes into the joints properly. Because of the intriguing form of the tiles, this part is a bit more challenging. That's why using a flexible tile float is important. When needed, you can also use your fingers. Also, don't forget to clean the excess grout before it dries. Take your time while working and clean regularly when needed.
Clean
After the application, there is a specific time you need to wait for the grout to cure. It is generally around 20-30 minutes, but to be safe, just check the manufacturer's guidelines. Then by using damp sponges, start to clean the tiles with circular motions. When needed, replace the water and sponges for more effective cleaning.
After 30 minutes, you can come back to clean the tiles one more time. If there is still some haze that remains, you can use a commercial tile-cleaning solution.
Caulk
Now it is time for caulking to cover the joint between the countertop and the backsplash to prevent any water from penetrating. Apply the caulk with a caulking gun and fill the joint. To fill it properly you can also use your finger. After filling, don't forget to smoothen it with your finger. Clean and dry your hands. But you can keep your finger damp a little to help flatten the caulk.
Lastly, seal the grout with a grout sealer. Before starting using it, wait for 2-3 days for the beveled tile backsplash to rest and cure completely.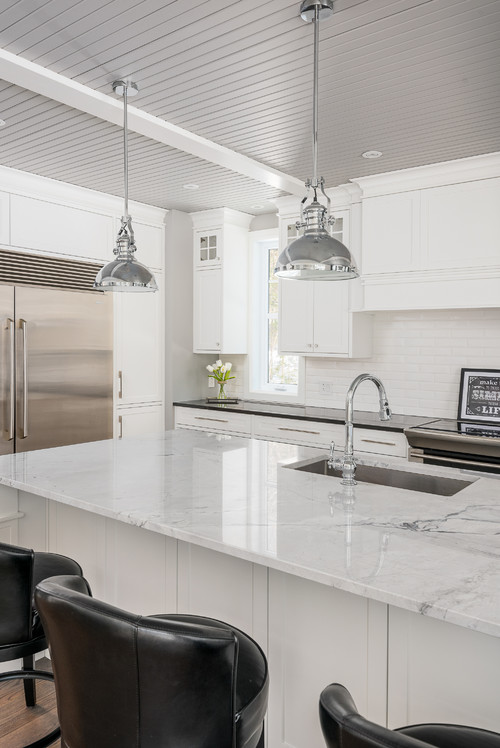 ID# 135710 | Houzz.com – Credit | © Студия SPACE FOR LIFE
---
Beach-style Kitchen with White Cabinets and Black Countertops
This monochromatic kitchen in a Montreal apartment executes an unconventional look for a beach-style kitchen. Lacking warming shades, it delivers an all-white look contrasted by black countertops and stylized with chrome additions. With the stainless-steel appliances, double-door French refrigerator, and galley-style layout, it transforms into a chef's kitchen that looks professional and distant. The white beveled subway tiles bring extra texture and dimension, and the white marble countertops add a more natural vibe. But if you would like to reinforce the chef's kitchen profile, you can use stainless-steel countertops instead of marble.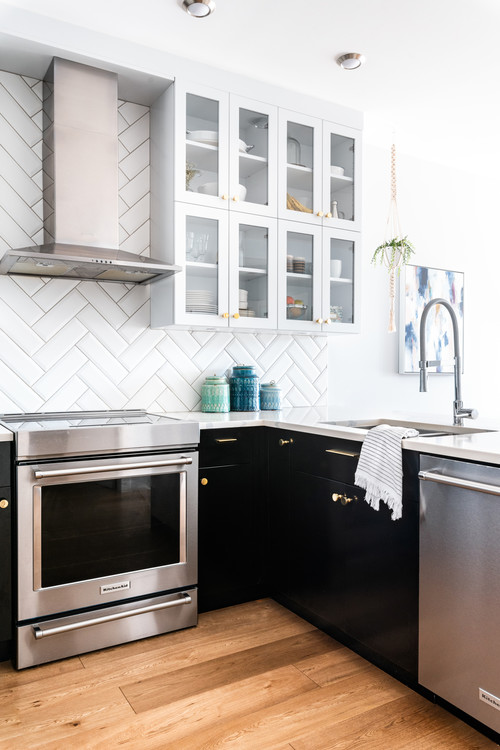 ID# 135711 | Houzz.com – Credit | © Thomas and Birch – Kitchens and Living
---
Herringbone Tile Backsplash and Black Cabinets with Quartz Countertops
If you want to use subway tiles but do something different, you can lay them in a herringbone pattern as here. This way, you can create a sense of movement and give the kitchen a modern spin. This transitional compact U-shaped kitchen does the same and uses black cabinets topped by quartz countertops to demarcate its zone. The sleek profile of the base cabinets is slightly contrasted with white glass-front wall units. By taking the upper units up to the ceiling, the designers extend the kitchen on the vertical axis strategically. And one last touch comes with brass cabinet knobs that add glow and much-needed warmth, offsetting the white-black contrast.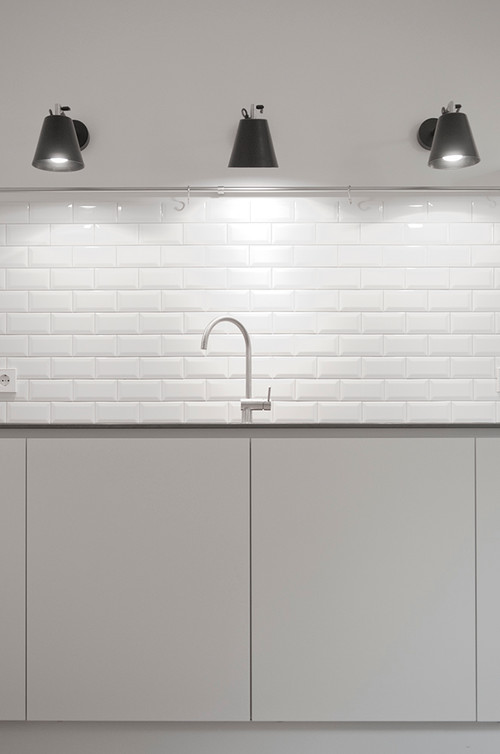 ID# 135712 | Houzz.com – Credit | © 45 KILO
---
All-White Contemporary Kitchen with Black Wall Sconces and Sleek Appliances
All-white looks are still very favorable for their clean look which suggests purity, elegance, and timelessness. And this Berliner contemporary kitchen just goes with that theme to reflect the coolness of the city of Berlin. On close inspection: the handle-free slab-front cabinets populate the kitchen, staying true to the streamlined look of modern kitchens. To serve the same aim, some appliances are hidden inside the cabinets (E.g., fridge), while some (stainless steel hood, oven, and electric hob) are kept minimal with their barely-there existence. Apart from those, the light gray countertops provide a slight shade derivation, coordinating with the appliances. The white beveled subway tiles define the background, bringing extra texture, and the black wall sconces provide task lighting that not only brings contrast but also puts the backsplash in the spotlight.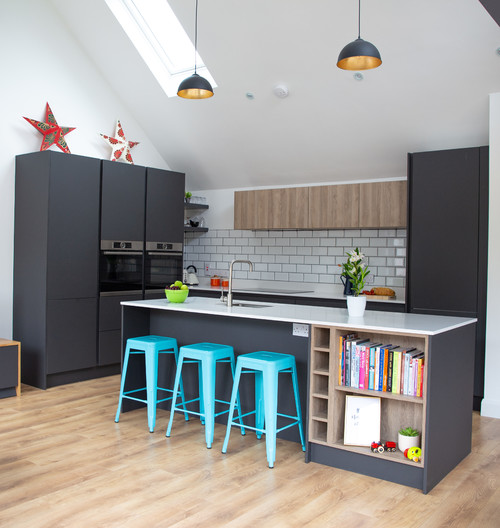 ID# 135713 | Houzz.com – Credit | © House Kitchen & Home
---
Gray Cabinets with White Backsplash and Blue Stools
In this modern kitchen, the light pours in from the skylight inserted in the sloping ceiling, keeping the inside airy and bright. The gray cabinets offer provide ample storage, topped by thin white countertops that add sleek and clean lines. The white subway tiles bordered by black grout lines highlight the beveled form of the tiles, adding a timeless value to the contemporary kitchen. The wooden wall units are coordinated with the island's cabinet shelves used as a bookcase. This way, it turns the eating space and worktop into a reading spot as well. The blue industrial-style stools just bring an unexpected splash of color that exposes the kitchen to a bombardment of colors, while the star-shaped paper lamps seem to be forgotten from last Christmas on top of the gray cabinets.
Gray Beveled Subway Tile Backsplash
A timeless shade, gray has warmer and cooler hues that can be adjusted to any kitchen design. Though it conveys distance and a level of seriousness, it is also sophisticated and can gain a more approachable look when combined with cream cabinets or any warming shades. Also, for those looking for a color except white to keep the space airy and light, the answer is still gray.
The gray beveled subway tile backsplashes do also feature the same characteristics. If you want to warm it up, wooden countertops, timber cabinets, and timber floating shelves can be used along with the white quartz countertops that cheer up the interiors. If you use yellow-based gray shades, it also helps you build a warming ambiance.
But if you want to create a more industrial and utilitarian space, you can combine it with black cabinets, black countertops, and poured concrete floors. The light bulb pendants and black wall sconces could form a good lighting system with under-cabinet LED strip lighting or spotlights for this industrial look.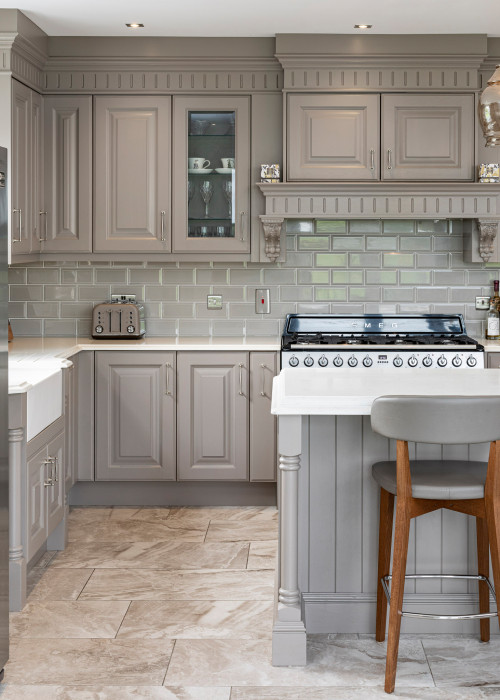 ID# 135714 | Houzz.com – Credit | © Leo Reilly Woodcraft Ltd
---
Gray Beveled Subway Tile Backsplash with Cream Cabinets and White Cabinets
This traditional kitchen starts the design with variegated shades of gray that serve as the protagonist of this kitchen. Though used throughout, this neutral color palette rather feels recessed, while the style of the lines feels more dominant, framing the kitchen in the traditional style. The raised panel cabinets, tongue and grove island base, classic corbels of the range hood, and glass-front cabinets comprise the main furniture vocabulary of the kitchen, while the gray and cream shades set the tone of the design. And to downplay the intensity of the gray shades, the white quartz countertops and a butler sink are used and the subway tile backsplash is given a polished tone to mark it as the statement piece of the kitchen.
Is beveled subway tile in style?
The popularity of beveled subway tiles is as timeless as the original subway tiles, even though the original ones are much more preferred. But for those looking for a more modern and innovative look, beveled subway tiles will always remain to be an option.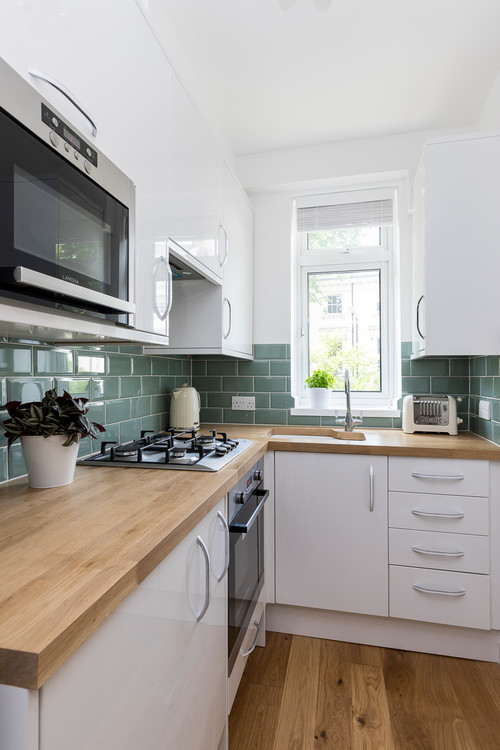 ID# 135715 | Houzz.com – Credit
---
Wooden Countertops and Gray Backsplash with White Cabinets
Grey or green? This subway tile backsplash in this modern kitchen presents an ambiguous shade that suits the natural-inspired design. The white cabinets and wooden countertops provide a great set-up for the backsplash to feel at home. The flat-front style of the cabinets helps the kitchen keep clutter-free. The light wooden floors coordinate with the countertops styled by little kitchen appliances and plants rigorously proportioned to the compactness of the space.
Black Beveled Subway Tile Backsplash
Just like white and gray, black is also a timeless color that has been a welcomed shade in interior design. Bold, dramatic, and characterful, black, unlike white, is just enough by itself. In other words, you can easily create designs to the point with minimalist lines. However, you may only need to add a couple of soft and brighter elements like chrome, timber, and gray. Or better, you can just give the backsplash a high-gloss finish that will also have a brightening effect in turn.
The same goes for a black subway tile backsplash that maintains simplicity and visual drama. The beveled versions also give the walls extra depth and interest with the edges sticking out. You can complement these statement tiles with white, gray, black, and timber cabinets. Seamless rubber and concrete flooring provide a fitting salute to the black subway tiles in modern and industrial kitchens, whereas terracotta, hardwood, and poured concrete replace the rubber floors in rustic and farmhouse kitchens. These dark-colored combinations are especially suitable for industrial, contemporary, rustic, and farmhouse kitchens.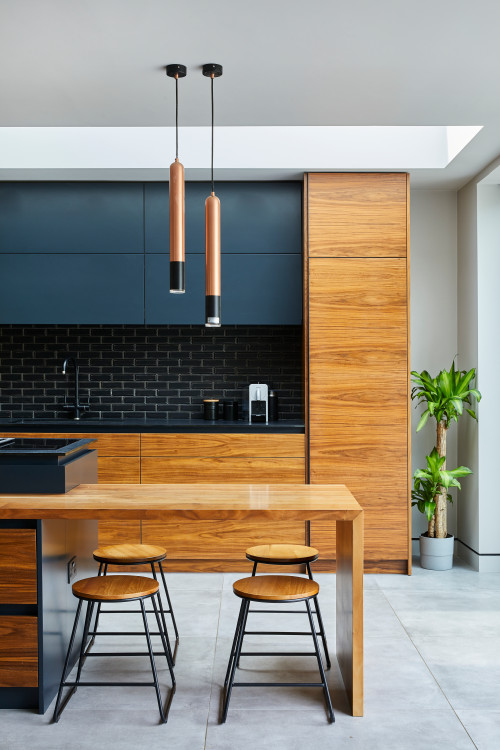 ID# 135717 | Houzz.com – Credit | © AIB Contractors Ltd
---
Contemporary Kitchen with Black Backsplash And Wooden Cabinets
Lover of clean lines, streamlined looks, and a sleek look? Contemporary kitchens are up your alley, and this kitchen is sure to impress you. Opening onto the patio through a glazed door, it is filled with natural lights, which allows homeowners to go bold and darker with the kitchen's color palette. Characterized by a black subway tile backsplash framed by full-height wooden cabinets, it executes elegance. The sleek black countertops merge seamlessly with the backsplash, while the white-bordered backsplash tiles add a soft contrast. And complementing the perimeter site is a stunning cantilevered island that ties together wood and sleek black, reinterpreting the main color scheme in a different form.
The floor features gray concrete tiles that continue on the patio as well, which connect the indoors and outdoors. The kitchen plant is also a translation of the outdoor terrace along with the abundant use of wood. Design hint: If your kitchen is blessed, opening onto a garden, you can take design cues from the surrounding environment to create a natural flow between interior and exterior spaces.
Do beveled subway tiles need spacers?
Yes, it is recommended to use spacers to make sure that you leave even gaps between the beveled subway tiles.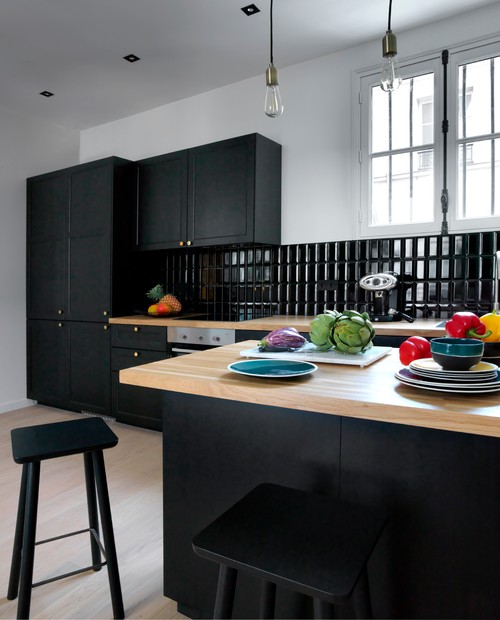 ID# 135718 | Houzz.com – Credit | © Atelier Maureen Karsenty
---
Black Stacked Subway Tiles and Black Cabinets with Wooden Countertops
Modern lines get mixed with industrial vibes in this contemporary kitchen, and the black subway tile backsplash becomes the visual focal point around which the whole design is centered. But what sets apart this kitchen from others is its delineation of vertical and horizontal volumes in a very systematic manner. For example, it uses black for the shaker cabinets and vertically stacked backsplash, while the countertops and the floor finish are made of light wood.
Especially, the stacked layout of the tiles gives the kitchen a modern spin that makes it stand out even among other black elements. Plus, its glazed finish adds a nice sheen that also attracts natural light. And the rest just feels complete with brass hardware and light bulbs that introduce a very basic form reminiscent of industrial context. Overall, the kitchen presents a basic and solid palette tinged with a sense of masculinism.
Blue Beveled Subway Tile Backsplash
Associated with oceans and the sky, blue instills peace, serenity, and calmness, connoting a sense of freedom and the outdoors as well. That's why injecting blue into your kitchen improves the mood of the space, adding a new dynamic to the kitchen. Especially if you want to go classic with subway tile backsplashes but also desire to make a change, you can go with blue beveled subway tiles. For a beautiful shimmering effect, blue glass tiles are very effective. You can use it in many different kitchen designs, including beach-style, traditional, modern, and transitional kitchens.
You can complement them with glass pendants, white countertops, and wooden and white cabinets. To highlight their presence, you can use floating shelves instead of the upper cabinets. This way, you can make more room for beautiful blue subway tiles.
Beige Beveled Subway Tile Backsplash
Even though beige is considered boring by some, it could be an engaging and expressive color, especially when combined with the right elements. Whether you want to go with a neutral and modern look or a bold design, you can do both with the beige tile backsplash. Even very strong shades like yellow and oranges come together with beige, supported by gray, black, and white for a sense of balance. These neutral shades can serve as medium tones to commute between different elements. And for those seeking a refined design, the white, black, and light gray shades assist the beige backsplash perfectly.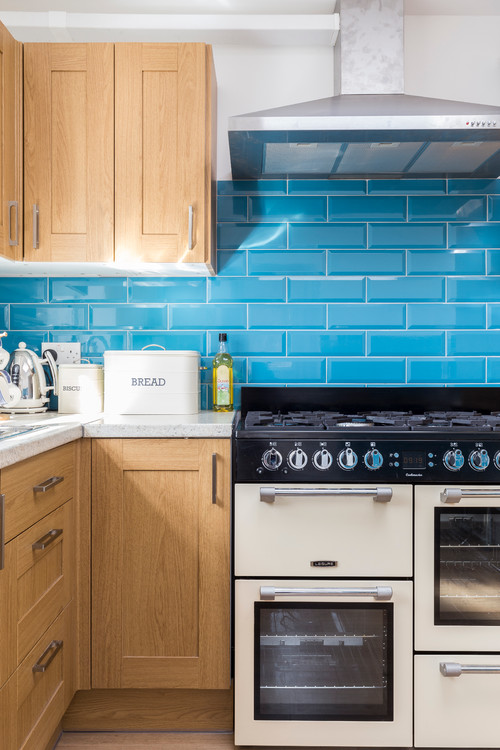 ID# 135720 | Houzz.com – Credit | © MODEL Projects Ltd
---
Blue Beveled Subway Tile Backsplash and Wood Cabinets
Traditional kitchens don't have to be boring, too classical, or distant from modern concept kitchens. By employing more refined color palettes and clean lines, they adapt to ever-changing interior designs. And this kitchen is a fine example of its recontextualized tradition. First of all, a step into this traditional kitchen energizes you right away thanks to the blue glass subway tile backsplash that lends serenity. The timeless classic subway tiles, here, receive a fresh treatment. They are made of shimmering glass, coming with a beautiful sheen and tapping into the spirit of mid-century modern kitchens, this way.
The light wooden cabinets topped by white quartz countertops inject calmness to balance the vibrant shade of blue. Stainless steel appliances and cabinet hardware coordinate effortlessly to create a continuous look. If you don't want the shades of blue to feel lonely, you can also add blue kitchenware that will bring an iconic touch or use blue-tinged glass pendants, stools, or window shades, depending on your preferences.
Is beveled tile hard to clean?
Cleaning a beveled tile is not so different from cleaning any other tile. Unlike the original subway tiles, the beveled versions have sloping edges which give the tile depth, making it more noticeable and pronounced. But it doesn't affect the cleaning process. Warm water, mild soap or dish detergent, and a soft sponge are enough to provide a proper cleaning.
But also, don't forget that like any other tile and pattern, regular cleaning is important for beveled subway tiles. This way, you prevent dirt from building up, which makes the cleaning process easier. And to make it even much easier, you can keep the grout lines sealed regularly.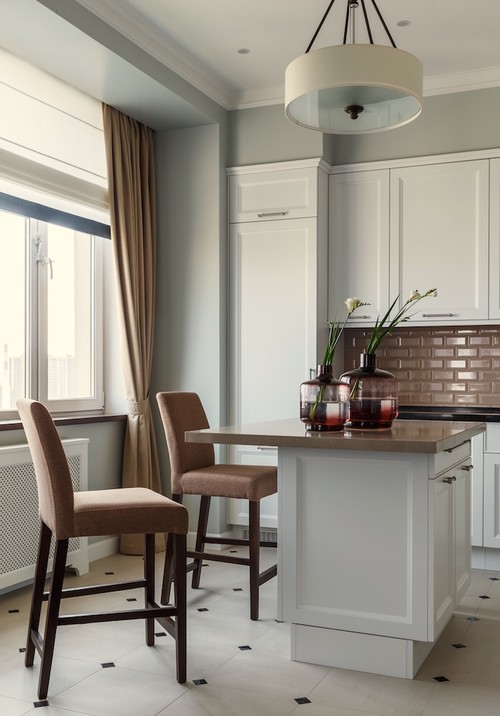 ID# 135721 | Houzz.com – Credit | © Юлия Баршевская
---
Beige Beveled Subway Tile Backsplash And White Cabinets with Black Countertops
To match the timeless beauty of the subway tiles, this transitional kitchen sticks to a basic palette that consists of 3 major colors: beige, black, and white. And these colors come together to highlight the beauty of balanced shades. To start with, the charming shade of the beige subway tile backsplash feels highlighted when combined with white cabinets. The use of heartwarming light shades infuses this small open-plan kitchen with a sense of ease and an airy vibe.
Also, the black countertops bring out the warmth of the backsplash. A small island is placed next to the windows to benefit from the natural lights, paired with beige-cushioned stools that are in perfect synchrony with the backsplash. The variously sized two-glass vases on the island add a nice aesthetic detail, while a drum pendant provides task lighting overhead.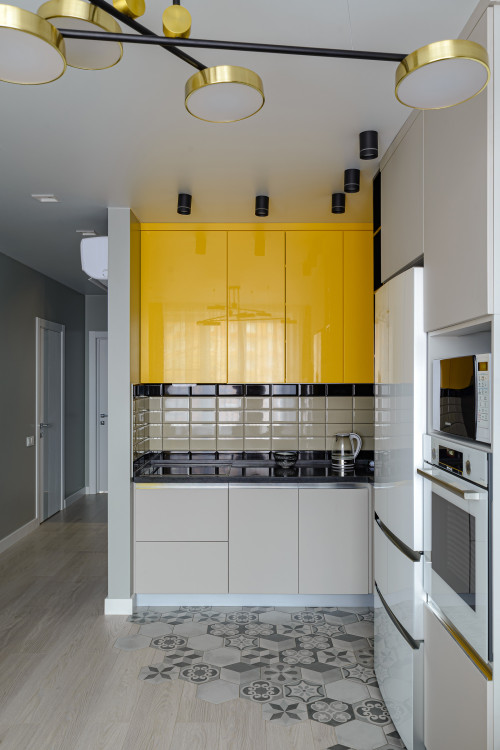 ID# 135719 | Houzz.com – Credit | © Студия 3D дизайн-бюро
---
Contemporary Kitchen with Two-tone Cabinetry and Black Countertops
This contemporary kitchen exposes its users to a fanfare of contrasts and colors, celebrating the beige subway tile backsplash right below the yellow wall units. Nestled in a corner, it offers a clutter-free design where the only decoration is the juxtaposition of different colors. Though the cream, beige, yellow, and black combination is rare to see together, here, these colors come together harmoniously, complemented with geometric pattern floor tiles. But these patterns are kept rather pale like silhouette-like forms whose function seems to zone the kitchen.