23+ Boho Kitchen Backsplash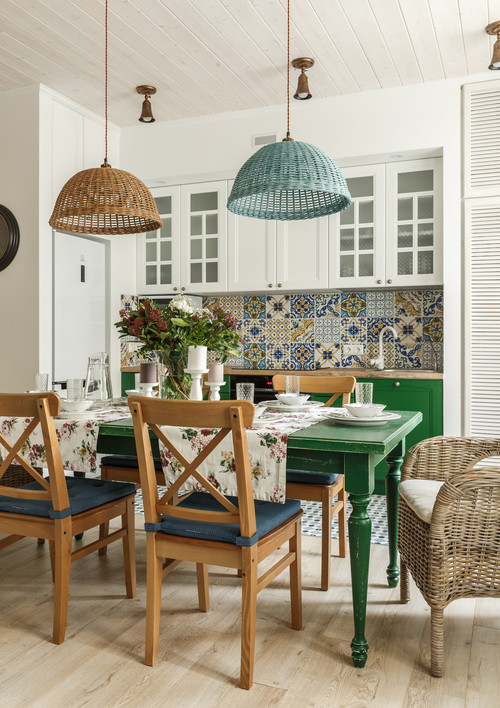 ID# 170106 | Houzz.com – Credit |© Ира Носова
---
Colorful Eat-in Kitchen Design with Shiplap Ceiling
The vibrant shades of this Scandi-inspired kitchen offer a fun and joyful atmosphere! Adorned by eye-catching patterns, the cement tile backsplash creates a striking focal point that enhances the overall look. The white upper cabinets provide a bright look with the white walls while the green base cabinets topped with wood countertops complement the bohemian vibes of the backsplash tiles.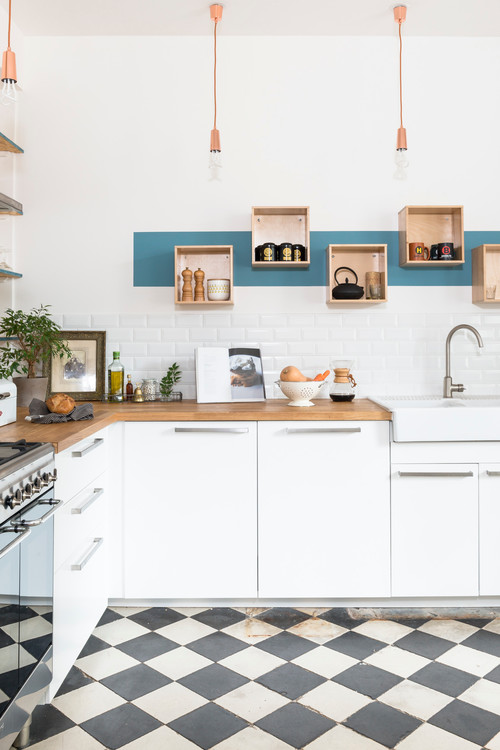 ID# 170113 | Houzz.com – Credit | © Fusion D
---
White Boho Kitchen Backsplash with Black and White Checkered Floor Tiles
Here we have another Scandi-boho kitchen that constitutes a well-curated look that is natural, inclusive, and comforting. From the white cabinets to the wooden countertops, open shelving and space-organizing tricks, the kitchen presents a delightful design. The white beveled subway tile backsplash supplies the kitchen with a canvas-like background while the wooden open shelves make use of the efficient use of space, achieving a multi-layered and cozy atmosphere. The black and white checkered floor tiles add another layer of texture and bring a contrasting look that enhances the overall design!
Boho Kitchen Backsplash
Laid-back, casual, and eclectic! Boho kitchens are celebrated for their abundance of patterns, textures, organic shades, and lush foliage tinged with hippie personality. The best part of boho kitchens is their carefree spirit that not only sets the overall theme of the kitchen but also encourages homeowners to feel freer while designing. Ranging from jungle-inspired accessories to colorful island units, rattan rugs, and verdant plants, everything can be included in boho kitchens that contain nature, warmth, and individuality. But of course, above all, one of the best parts to channel a boho vibe is through a boho kitchen backsplash that can come in light gray shades for a well-lit ambiance or colorful finishes such as navy and emerald green to energize the space.
Backsplash options for boho kitchens vary from stone backsplashes to Mediterranean tiles, authentic handmade terracotta tiles, orange accent walls, mosaic tiles, white hexagon patterns, and wallpaper backsplashes. In short, boho kitchens are very inclusive and encourage one to think outside of the box and add crafty touches as much as possible. So, all you need to do is stick to the ever-changing nature of the boho style and use it to reflect your quirky personality. To show how this round-up consists of 20+ boho kitchen backsplash ideas that both bring in natural shades and colorful hues with various patterns from which you can steal some inspiration. But before that, let's take a closer look at where boho comes from.
What is Bohemian style?
Having come to rise in the 1960s and 1970s with the counterculture movement in the USA or, in other words, the hippy movement that rebelled against the norms of society, the bohemian style created a newfound identity for the interior spaces, too. The resulting scheme was a more casual, independent, and eclectic style with free-spirited looks inspired by different cultures and artistic expressions. Perhaps this also explains why the bohemian style is one of the most forgiving and welcoming designs for personal touches and mix-and-matching.
One of the best parts of this style is that it doesn't necessarily encourage you to do more shopping and spend pockets of money. Instead, it promotes the importance of personal values and memories and designs that foreground these little personal statements. Also, borrowing from a variety of styles, particularly mid-century modern and Scandinavian styles, they collaborate with different mindsets on shared ideals. For example, in recent years, Scandi-boho kitchens have become a thing popularized for their timeless look, sophisticated simplicity, and personalized cooking spaces, which we will be covering a lot in this blog. So, if you are ready, let's start to discover some.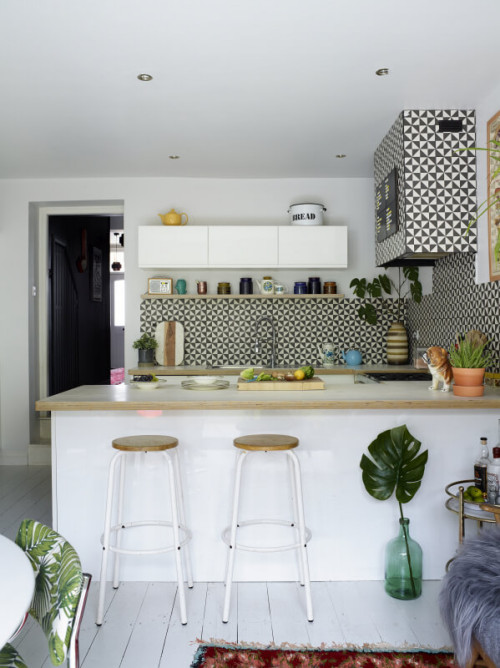 ID# 170101 | Houzz.com – Credit | © Emilie Fournet Interiors
---
Boho Kitchen Backsplash with Butcher Block Countertops and Tiled Range Hood
If what immediately comes to your mind is pops of colors and oranges in Boho-inspired kitchens, that may not always be the case. The neutral color schemes, consisting of organic textures with a black-and-white palette, also deliver a Bohemian vibe. Here, for instance, the main bones of the kitchen are kept as simple as possible with white flat-front cabinets paired with butcher block countertops achieving a timeless aesthetic. However, the complementary elements are chosen carefully to build up the boho feel. The black and white backsplash tiles make a quirky twist to create a striking focal point. The same tiles are also used on the range hood cladding to create a continuous look. Kitchen plants, decorations on the shelves, and the white wood flooring complement the butcher block countertops to pull off that Boho look.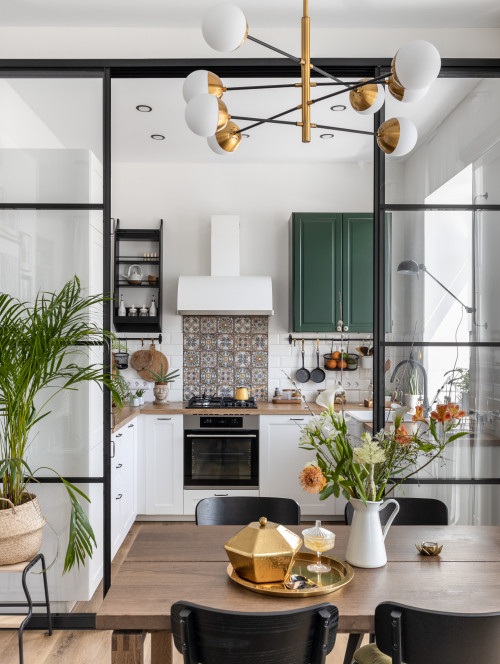 ID# 170102 | Houzz.com – Credit | © Сафина Светлана
---
Warm Kitchen Design with Green and White Cabinets
Even if the overall scheme of this kitchen feels more akin to a modern Scandinavian kitchen, the decorative items drive the kitchen a bohemian look. Starting from the two-tone cabinets to the patterned backsplash, and wood countertops, the kitchen includes a range of texture-rich materials in the company of brighter shades. Particularly, the colorful backsplash tiles behind the stove that are accentuated by the white subway tiles, capture the casual spirit of the boho style. Its colorful patterns and square layout create a focal point that draws attention to the dining area colored with leafy plants.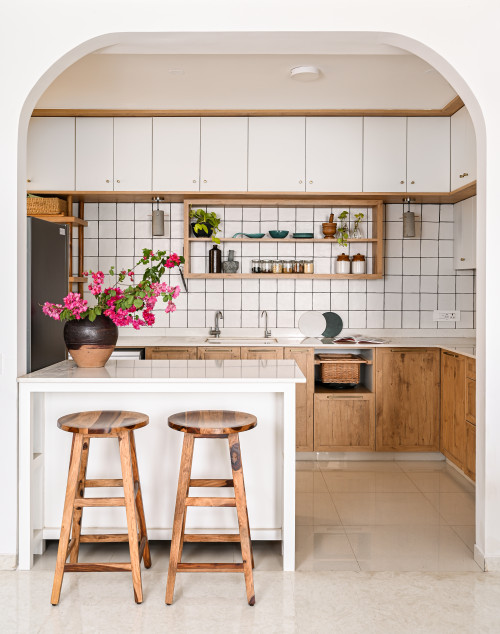 ID# 170103 | Houzz.com – Credit | © Anisha Chandy Design Studio
---
White Square Boho Kitchen Backsplash with Wood Cabinetry and Open Shelving
Here we have another Boho kitchen that thrives on light and natural textures. The combination of wooden cabinets and open shelves brings out the warmth while the white square tile backsplash creates a bright backdrop. The white quartz countertops and beige floor tiles boho-size the space while bringing in lots of freshness.
How do you make a boho kitchen?
Navy and emerald green finishes, traditional rugs, and terracotta floors paired with pale blue cabinetry are some of the key design features of a boho kitchen. But just because a boho kitchen loves colors and mixing and matching doesn't mean that there is no place for light shades. Those who love white looks can use a white-wood-oriented palette. To make it more akin to a boho kitchen, they can use Mediterranean tiles for the floor finish and evoke visual interest overhead with a tracery ceiling. This way, though the main bones of the kitchen are kept pattern-free and light, it still maintains a boho look.
And when it comes to the complementary elements, you can feel free to use fabrics and curtains to make the design more comforting, individual, and inviting. Also, include macramé, ceramics, candles, paintings, quilts, and rugs as part of the design vocabulary.
Plus, in boho kitchens, you don't need to match everything. The imperfections and unconventional infusion of the various patterns and colors are welcome and appreciated for their versatility and unique integration. That's why boho kitchens are very forgiving, letting you project your personality freely. So, don't forget to get some eccentric objects for your floating shelves. You don't need to spend pockets of money on that. You can just visit flea markets, thrift stores, and boutiques to search for vintage pieces that will give your kitchen an instant change.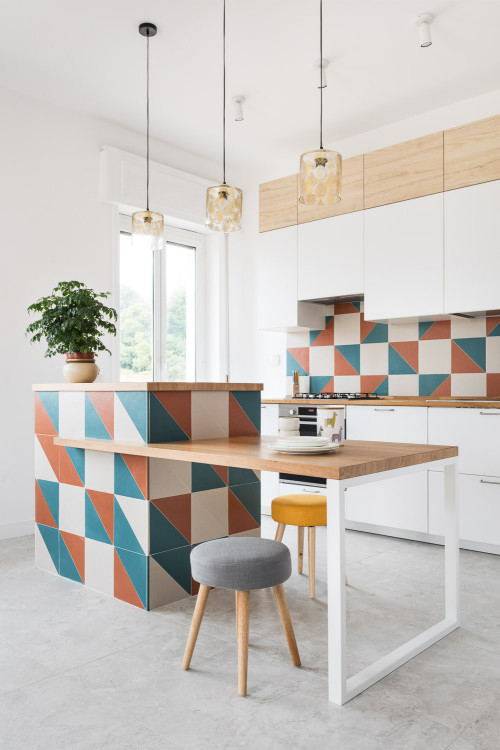 ID# 170104 | Houzz.com – Credit | © studio gamp!
---
Bright White Kitchen Cabinets with Multicolored Backsplash Tiles
The vibrant colors of cement tiles do a favor to this cozy kitchen by energizing it, where eclectic decorative items mingle to make a statement. Indoor plants and wooden textures are reminiscent of jungle life and honed together for a fully-fledged boho feel while the white kitchen cabinets provide a clean and neat look to tie the space together.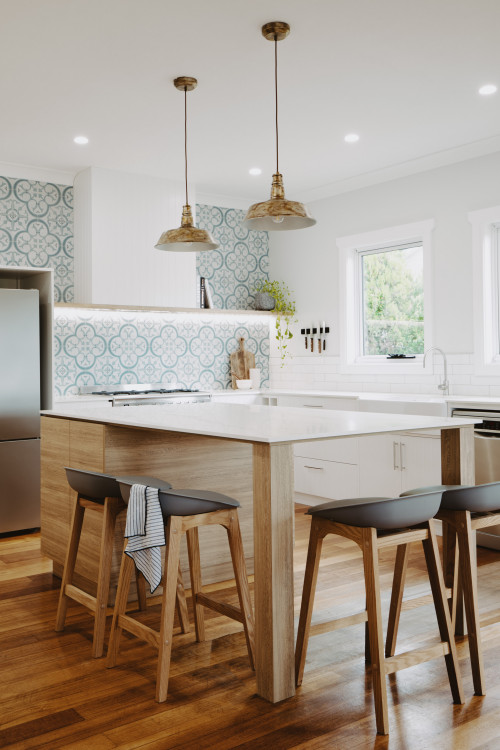 ID# 170105 | Houzz.com – Credit | © Lydia Maskiell Interiors
---
Contemporary Kitchen with White Cabinets and Wood Island
Adorned by minimalistic details, this contemporary kitchen offers a sleek and elegant appeal! Between the plain surfaces of the cabinets, the patterned backsplash tiles make an unexpected twist and bring some Boho vibes. The LED lights under the floating shelf highlight these tiles while the brass pendant lights above the island add a glamorous touch.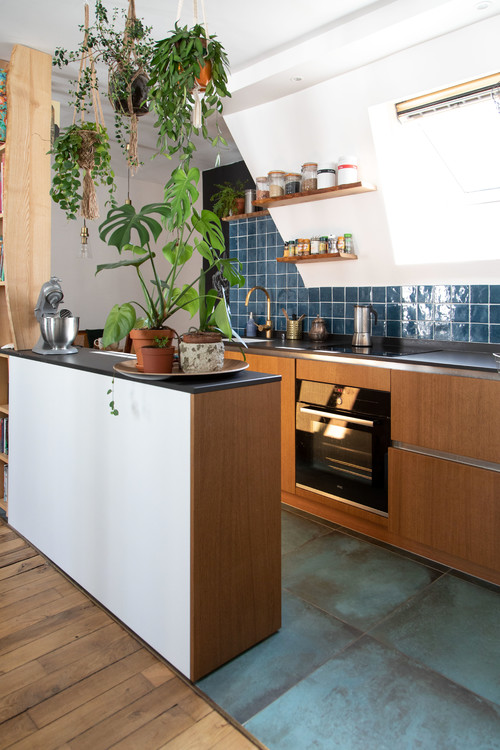 ID# 170107 | Houzz.com – Credit | © Mon Concept Habitation
---
Blue Ceramic Tile Backsplash with Modern Wood Cabinets
With a little boho and a little modern flair, this lovely kitchen is lucky to have some of both. Savoring a visually light look, it employs white walls to ensure the lightness of the space and optimize the use of natural lights while the lack of overhead cabinets opens up the space even more to instill a high level of airiness. Below, the blue ceramic tile backsplash adds a ripple of color to the otherwise monotonic kitchen, also helping eschew all Scandi-feel. Apart from those, other noteworthy features include wood cabinets, black countertops, and wooden shelves that complete the boho feel with pared-look pieces.
Color Options for Boho Kitchen Backsplash
When it comes to boho kitchen designs, there are no rules regarding color options. Thus, you can feel free to immerse yourself in any color, be it dark shades, light hues, or energizing colors. For example, you can mix jewel tones and use lantern patterns, hexagons, geometric patterns, and mosaic tiles for your boho kitchen backsplashes. Also, oranges, pinks, yellows, blues, emerald greens, and dark grays are welcome. You can even mix some of these colors even though they seem unrelated and irrelevant to each other as long as it is done properly.
White Boho Kitchen Backsplash
White is a popular color in boho kitchens, especially because of the harmonious coalition of Scandinavian and boho kitchens. Enhancing openness and creating a blank canvas to offer a visually soothing design theme, white backsplashes celebrate the dynamics which boho and Scandi styles are built upon. Coming in square, subway, herringbone, and hexagon patterns, white backsplashes also tend to generate a movement on the wall surface to add a subtle play of patterns. With a glazed finish, it can easily be accentuated for a glittering effect.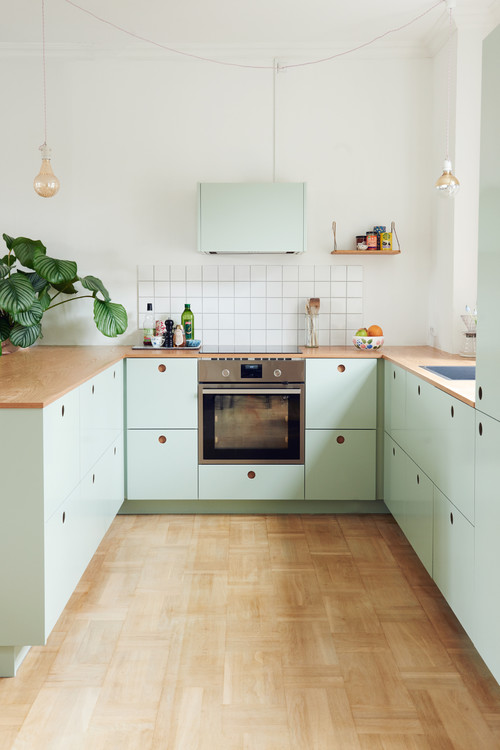 ID# 170108 | Houzz.com – Credit | © Reform
---
White Boho Kitchen Backsplash with Mint Green Cabinets and Wood Countertops
One of the best ways to open up the space is to use lighter shades and ditch the overhead cabinets as in this kitchen. It is supported by the white square tile backsplash that enlarges the kitchen visually while giving it a face-lift with mint green cabinets. What complements them is the incorporation of natural shades, wooden floating shelves, and countertops that bring in the right amount of warmth and character to personalize the space and attach a Boho feel.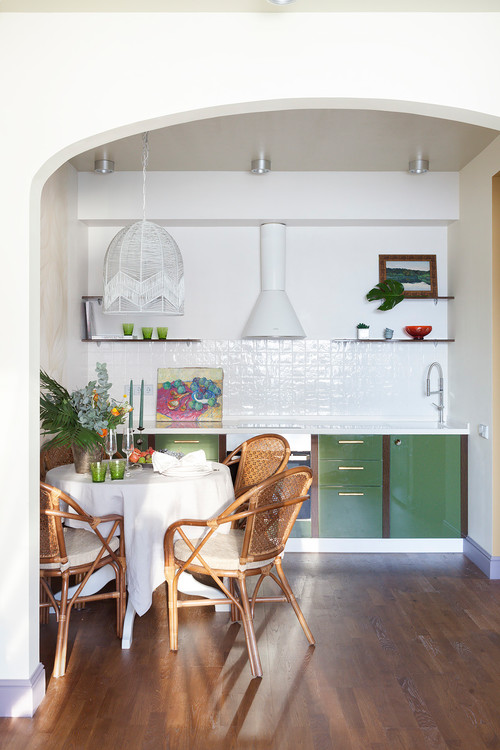 ID# 170109 | Houzz.com – Credit | © Татьяна Харченко
---
Green Cabinets with White Countertops and Wood Floor
Creeping back into our homes, the boho vibes remind us that we need to relax and act carefree sometimes while offering a getaway from the dense city life. And to dress in this attitude, we can just play along, embrace organic textures, and bring outdoors in with indoor plants and timber additions. This kitchen, for instance, utilizes green cabinets and rattan chairs to inject a healthy dose of organic vibes while the glossy white backsplash tiles introduce brightness.
What backsplash goes with a boho kitchen?
When it comes to boho kitchen backsplashes, there is a variety of backsplash types for boho-design kitchens. They range from mosaic tiles to hexagon patterns, wallpaper backsplashes with floral and lemon patterns, terracotta tiles, and Mediterranean tile backsplashes. Lantern patterns, handmade encaustic tiles, or any tile that inhabits a sense of exoticism, vibrant shade, and authenticity could be a perfect fit for a boho kitchen. Thus, distressed-looking tiles along with antique mirror backsplashes would also serve as great additions for a characterful background.
Apart from colorful and dynamic backsplashes, white subway tile backsplashes and beige colors that offer a soothing background are also popularly used to enhance the openness of the space. As boho kitchens thrive on light shades and natural light, homeowners can go with these options that will build upon the brightness borrowed from the outdoors.
Additionally, to emphasize the modern feel, geometric pattern backsplashes can be employed, while for extra texture, the plaster walls colored in oranges and yellow can give the space a new dynamic and create visual accents. Depending on the need, two types of backsplashes can also be used. Statement backsplashes, for example, demarcate certain zones of the kitchen, such as the dining and cooking areas to create focal points.
Above all, at the end of the day, it all comes down to the personal tastes of the homeowners and how they would like to navigate the space. As boho kitchens borrow from different styles, it allows kitchen users to align themselves with a variety of looks and styles, whether it is a farmhouse, modern, mid-century, or Scandinavian design.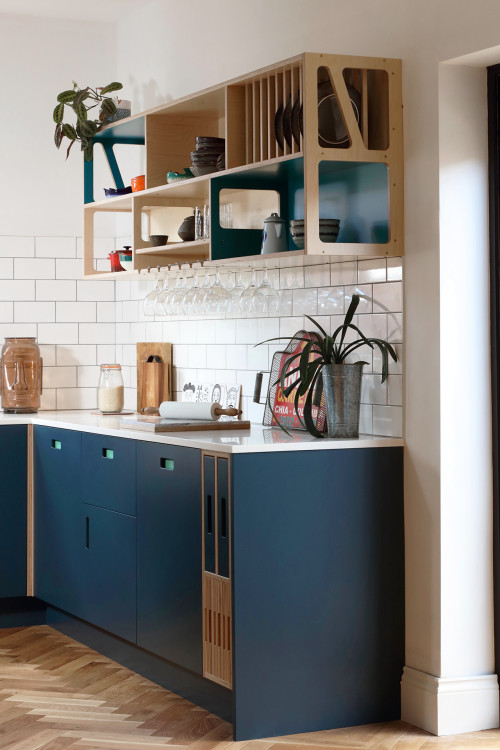 ID# 170110 | Houzz.com – Credit | © Edge
---
White Subway Tile Backsplash with White Quartz Countertops and Navy-Blue Cabinets
Complemented by plenty of plants exhibited on the rustic shelves and white quartz countertops, the kitchen imparts a sense of calmness to its users with a classic white subway tile backsplash. The navy blue kitchen cabinets add complementary eclectic touches that bring in a "worn-in look" to avoid any too-sleek vibes that would kill the boho effect!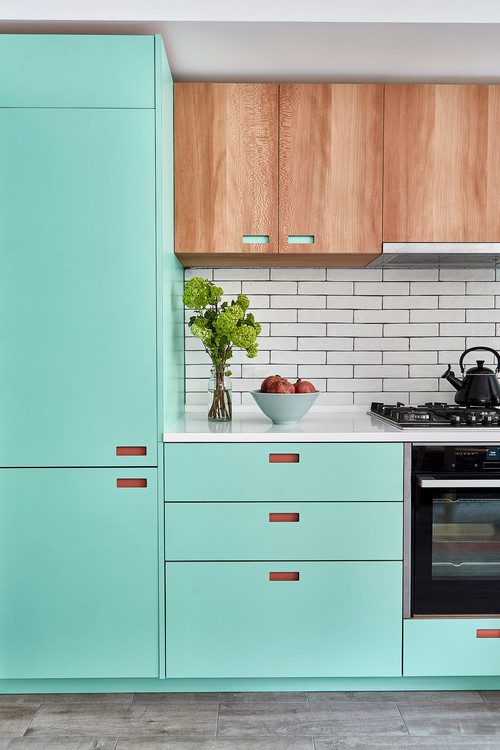 ID# 170111 | Houzz.com – Credit | © UNFOLD architecture + design
---
White Subway Tile Backsplash with Two-Tone Kitchen Cabinets
In boho kitchens, you don't need big design moments! Rather, a punch of texture, lightness, and spirituality are enough to nail the boho look. Dotted with wood and mint green cabinets topped by white quartz countertops, this cozy kitchen executes a similar palette with a fully-fledged interior design. The white subway tile backsplash creates a timeless look between the cabinets while the charcoal grout emphasizes this classic pattern to enrich the overall look.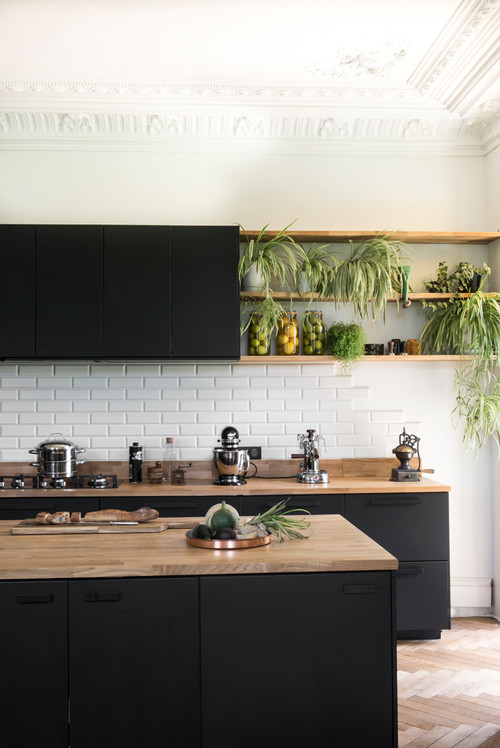 ID# 170112 | Houzz.com – Credit | © Adrien Granchere
---
Scandi-Boho Look with White Subway Tile Backsplash and Black Cabinets
Heard of Scandi-boho kitchens? Though both look different and seem to be based on different philosophies, they also share something in common: the inclusivity of the natural textures and the comfort-oriented spaces that feel casual and organic. Some designers borrow from two looks to create a more soothing and welcoming ambiance, and this kitchen is no exception. The kitchen abundant in light and dark shades and wood textures offers a very welcoming atmosphere. The white subway tile backsplash and wood floating shelves provide enough breathing space for this compact kitchen, while the wood countertops inject the boho spirit skillfully. The black flat-panel cabinets create a sleek modern appeal
Gray Boho Kitchen Backsplash
Famous for being a neutral and versatile color, gray is everywhere! It is confidently used thanks to its distant yet approachable, simple yet sophisticated nature. Like any other design, the boho kitchens also can't forego the gray touches. Ranging from gray subway tiles to gray mosaic tiles and hexagon patterns, any gray touch could serve as a fine backdrop for boho kitchens. You can combine them with wooden cabinets, white and black to reinforce the contrast or soften it with nice warming shades.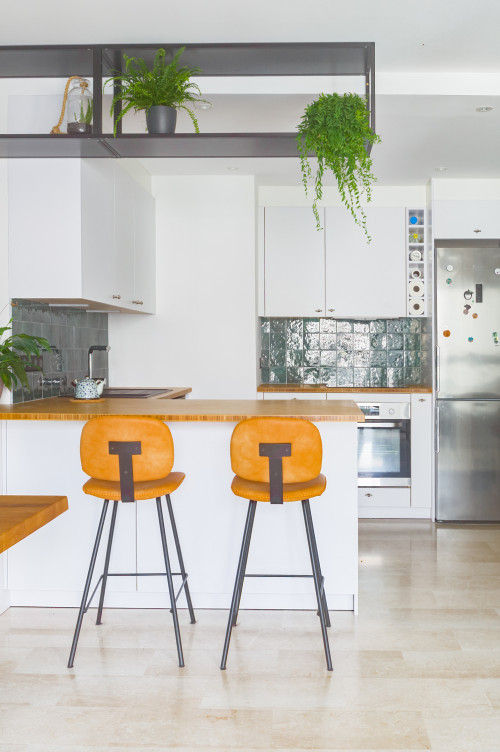 ID# 170114 | Houzz.com – Credit | © Courtier en Travaux LA MAISON DES TRAVAUX
---
Small Kitchen with White Cabinets and Glossy Tile Backsplash
The glossy gray backsplash tiles honor this boho-style kitchen with nature-inspired materials, offering an excellent welcoming entrance! The rest is complemented with white modern cabinets topped by wooden countertops to orchestrate a Scandi-boho feel. And between the cabinets, what stands out is the gray-colored mosaic tile backsplash to add more textures to emphasize the Boho feel. Complementing them are black open shelving and orange leather chairs that make a statement overhead.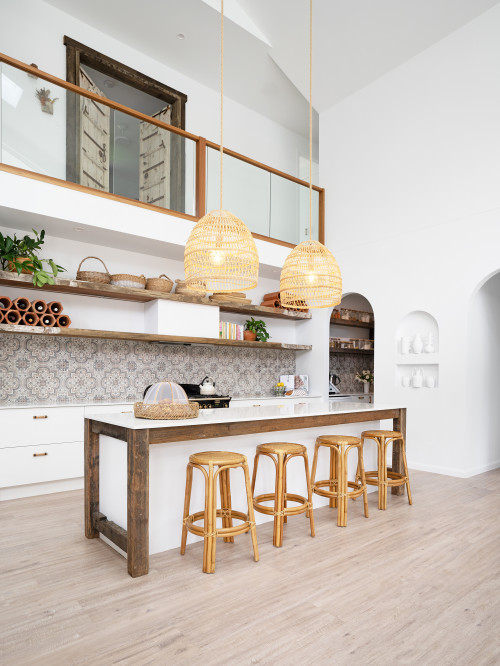 ID# 170115 | Houzz.com – Credit | © Dall Designer Home
---
Gray Patterned Tiles with Wood Floating Shelves
Much different from what we have seen so far, this Boho-Scandi kitchen features a bright color palette that abounds in contrasting shades of dark wood. The dark wood additions just commute between the bright white shades to create soft transitions. To start with, the white cabinets punctuated by wood hardware are paired with white countertops for a cohesive look. The gray boho kitchen mosaic backsplash creates an accent wall while the wood-detailed kitchen island coupled with rattan stools is centered on light wood flooring. The choice of wood for this area offsets the dramatic contrast of white-gray, creating an eating space rich in textures to stimulate the senses of its users. Above all, what this kitchen does best is the way it introduces patterns just on one wall, keeping the rest of the space free for a well-balanced look.
Black Boho Kitchen Backsplash
Black is such a statement color especially if you want to create a visual drama and add depth to the space, which is welcome in boho kitchens as well. In these kitchens, you can combine them with green and light wood cabinets or even wallpapers with leafy designs and silverish hardware. Likewise, the lighting fixtures, the accompanying materials, and counter stools could be used to enrich the look and soften the black boho kitchen backsplash. It is also important to keep in mind how richly pigmented the color black is, which needs to be inserted into the boho mindset with nature-inspired touches and biomorphic additions.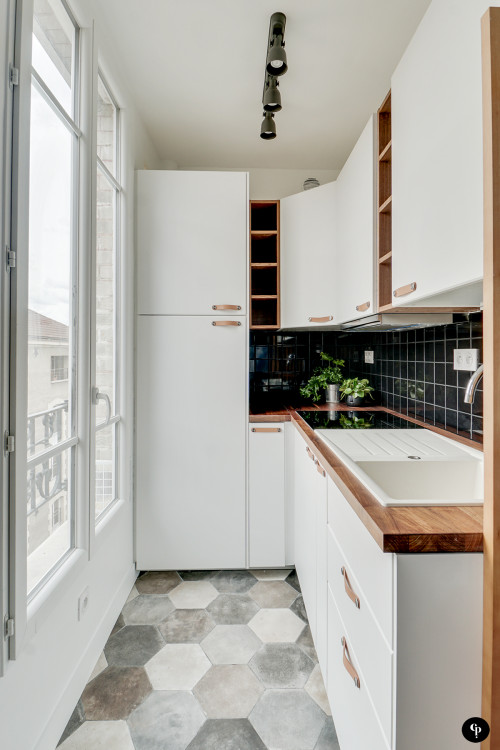 ID# 170116 | Houzz.com – Credit | © CP Design Interieur
---
Black Boho Kitchen Backsplash with White Cabinets and Wood Countertops
Filled with characterful additions, this natural design kitchen invites natural lights through the large window opening! Nestled across this giant window, the kitchen proposes a cozy working space defined by white shaker cabinets, wood countertops and a black square tile backsplash. The multicolored hexagon floor tiles bring in another layer of patterns to nail the Boho look.
Beige Boho Kitchen Backsplash
With an easygoing nature, beige backsplashes are soft and gentle touches that bring out the warmth of the surrounding elements. Mostly combined with wooden countertops and white flat-front cabinets, beige backsplashes especially suit the Scandi-boho design spirit.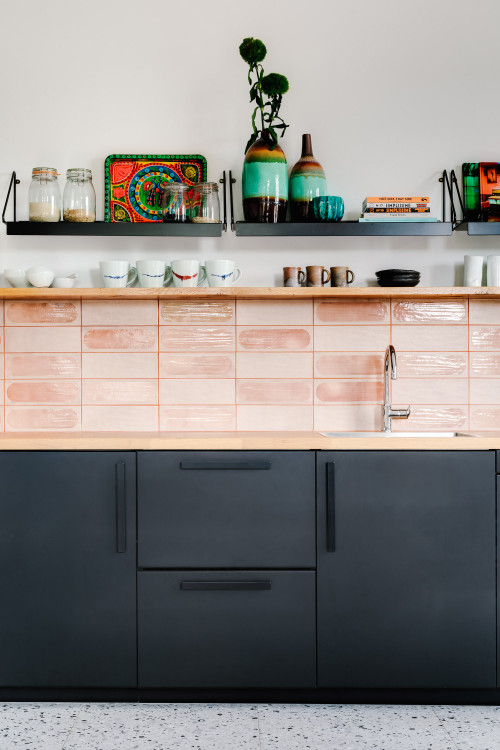 ID# 170117 | Houzz.com – Credit | © Atelier Varenne
---
Beige Boho Kitchen Backsplash with Decorating Shelves
In this modern kitchen with a bohemian flair, the black flat-panel cabinets provide a simple and basic vocabulary for other elements to find some reliance on! To complement them, the wooden countertops, floating shelves, and beige backsplash bring in the right amount of warmth, color, and texture, channeling the boho vibes.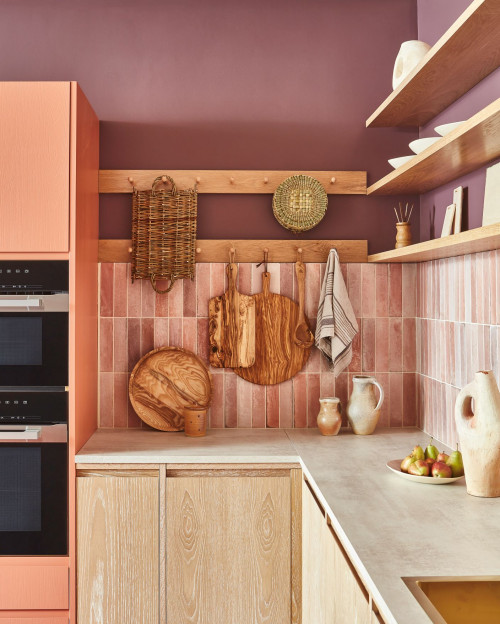 ID# 170118 | Houzz.com – Credit | © Naked Kitchens
---
Wood Kitchen Cabinets with Pinkish-Beige Backsplash Tiles
This Scandinavian-boho kitchen characterized by statement materials and finishes exudes elegance layered on, oxymoronic enough, the sophisticated simplicity. Rich in earthy shades, it delivers a look down to earth with wood kitchen cabinets, gray countertops, and of course the Kit Kat tile backsplash that generates movement, taking its users on a visual and tactile journey. Enriching this soft beige color palette is the purple wall paint that brings depth to the space. How it merges with the boho feel comes through the inclusion of lots of wood shades, textures, and a variety of exhibited decorative pieces that personalize the space.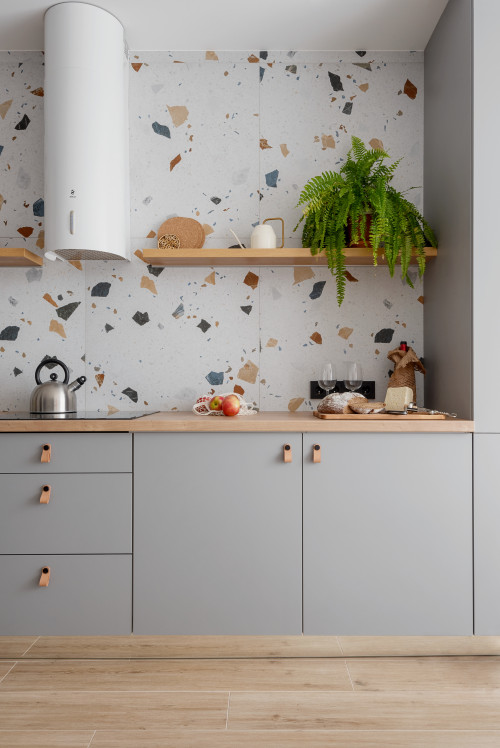 ID# 170119 | Houzz.com – Credit | © KEIS_project
---
Gray Flat-Panel Kitchen Cabinets with Terrazzo Backsplash
Boho kitchens are more than creating a well-functioning design. Rather, they have a lot more to do with how one interprets life, whether it is about creating a nourishing environment with personal design detailing or function-oriented minimalist designs. If you are on the side of the first group, boho kitchens present inclusive designs that feel free and unconfined. Cultivating nature-inspired looks, they love rustic shelves, opened-up spaces that breathe and white backdrops to create visual focal points with statement pieces as in this particular kitchen. Consisting of rustic shelves resting against a beige terrazzo backsplash, and wooden countertops, the overall look of this kitchen nurtures a soothing environment
Green Boho Kitchen Backsplash
As it makes a direct reference to outdoor life and freedom, green is a championed color in boho kitchens., Emerald green is very popular, creating solid and energizing backgrounds for boho kitchens. They can come in modern geometric patterns, classic subway tiles, or more oriental arabesque or lantern patterns. To complement them, you can use rustic floating shelves, statement lighting fixtures, and busy pattern floor tiles.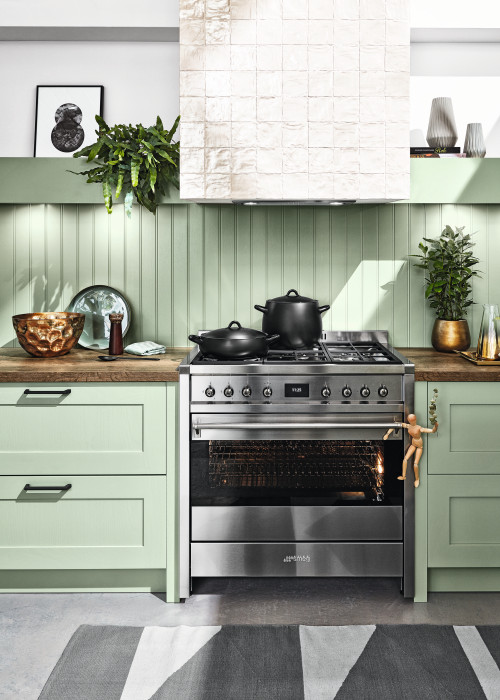 ID# 170120 | Houzz.com – Credit | © Häcker Australia
---
Green Shiplap Wall Panels with Square Tiled Range Hood and Dark Wood Countertop
Deploying a green backsplash is one of the key features of Boho kitchens that not only adds a pop of color but also makes a reference to nature. Here, for example, we have a shiplap tile backsplash that presents vertical lines for visual richness. It is complemented by green shaker cabinets and dark wood countertops that compose a wide scale of textures. Additionally, the white square tiled range hood brings a bright appeal between the natural shades while the stainless steel stove and gray concrete-look floor make a cohesive final touch.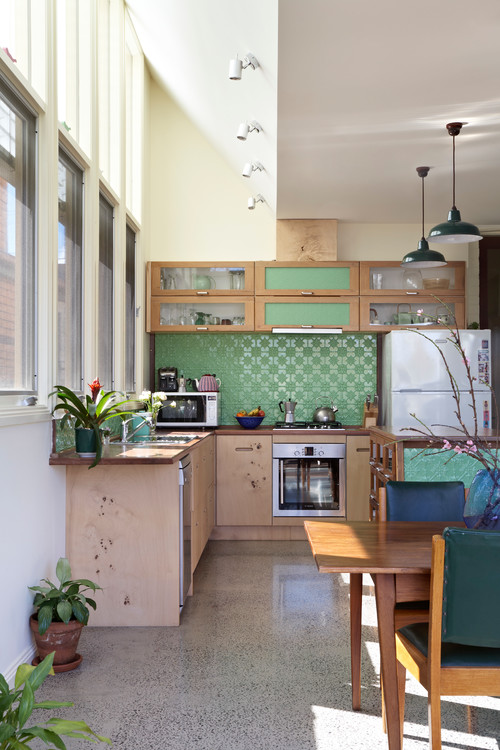 ID# 170121 | Houzz.com – Credit | © Positive Footprints Pty Ltd
---
Green Boho Kitchen Backsplash with Wood Cabinets and Countertops
The green boho backsplash demarcates the cooking zone, framed by wooden cabinets, creating a visual focal point! Adorned by 3D textures, this tin backsplash perfectly completes the rustic flair of the cabinets. Right across, the wood kitchen island is also clad in these tiles to create a continuous look. To keep this couple as the statement pieces, the rest features rather simple profiled furniture, including beige floor tiles, stainless steel appliances and green pendant lights.
What is boho kitchen decor?
A boho kitchen decor is very inclusive, ranging from open storage with curtain fronts to verdant plants, lamp lighting, repurposed wood cabinetry, and quirky additions. Now let's take a closer look at each component of the space.
In boho kitchens, you can use an earthy color palette that brings the design down to earth and sandy shades for a visually lightweight design to set the tone of the kitchen. It is indeed a personal preference whether you want to go with pops of oranges, navy blues, emerald greens, or shades of white and gray. As long as you pick the complementary elements from the boho-inspired textures, the color palette tends to play along. But if you want to emphasize the boho spirit with the color scheme, then you should use orange shades and natural prints of lemon and floral patterns to bring the boho feel to cohere with timber shades and textures.
Lighting fixtures are important to add a dash of Boho spirit. The rattan wicker pendants, vintage-style wall sconces, biomorphic lighting fixtures, and filled lampshades not only illuminate the kitchen but also add splashes of color with characterful aesthetics. In sum, just try to have fun with decorations and project your quirky personality into the kitchen with a few eccentric touches.
Combine Vintage with Modern
You can easily channel boho vibes with a combination of vintage and modern furniture pieces enriched with layered eclectic patterns. Discolored and freestanding cabinets are great additions to integrate variety into the space. You can also borrow from different styles, including mid-century modern, Scandinavian, and Mediterranean.
Boho Kitchen Floor Design
Especially for those who want to keep the most-used space of the kitchen simple, they can bring a touch of eccentricity with floor designs. The Mediterranean floor tiles, checkerboard flooring, herringbone terracotta tiles, and multi-colored floor finishes deliver a sense of warmth and achieve casualness. Discolored rugs with a "worn-in look" and boho-style kilims are also great additions to bring in warmth, texture, and color to deliver contrast to the basic profile of the kitchen's top half.
Make a statement with kitchen islands
Kitchen islands are one of the best workhorses of the kitchens which you can also use to introduce pops of colors. As they are generally centered in the kitchen, they tend to draw attention to the center, creating a focal point.
What other decors can you add?
Lace tablecloths, aromatic herbs aligned on the floating shelves, vintage and colorful glassware, rustic floating shelves, and cabinets with curtain fronts are some of the other decorative pieces to create a Bohemian breeze that envelops the space. Vintage and colorful kitchen appliances could also make a difference easily in the overall statement of the kitchen. Antique candle holders, whimsical hardware brighter, and bolder shades are also very much welcome.
Additionally, exposed wooden beams and concrete floors bring in a sense of rawness that doesn't look tamed or too civil which would contrast the boho spirit. Likewise, the exposed plaster finish walls are great for preserving another layer of texture rather than offering a clean and well-groomed look.
It is also recommended to avoid metal and glass unless they are combined and softened with warming textures and shades. This way, you don't run the risk of looking too serious and distant or modern. Rather, you should aim to create a sentimental look without any need to resort to anything luxurious.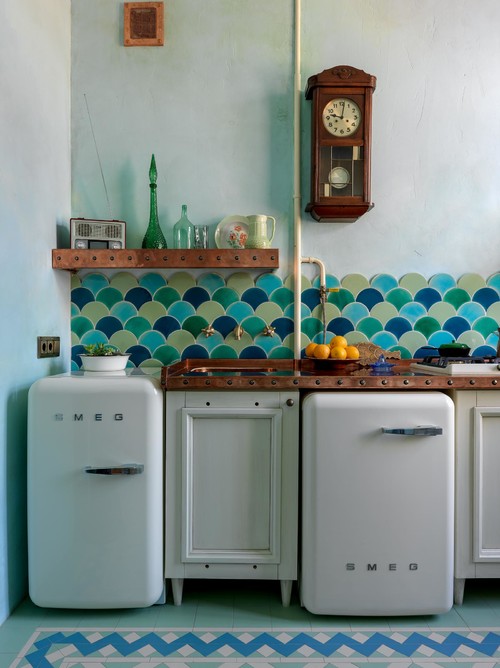 ID# 170122 | Houzz.com – Credit | © Алена Сковородникова
---
Gray Cabinets with Green and Blue Tiles and Copper Countertop
When creating a Boho look, you can keep reminding yourself of its "more is more" principle. But still, it is important to add more as long as your kitchen maintains its decluttered look to avoid any eyesore in the long term. Here, for instance, we have a kitchen design that is fully generous with colors and unrelated decorations, including a vintage clock. As such, it has a lot of fun statements to create an engaging design. Starting from the green and blue backsplash tiles with a mermaid pattern that becomes the focal point to the gray cabinets that radiate a sense of warmth, it has an enriched vocabulary. Adding to those are a copper countertop and floating shelf that brings contrast, and Smeg fridges are a bonus addition that renders an absolute "more is more" boho feel.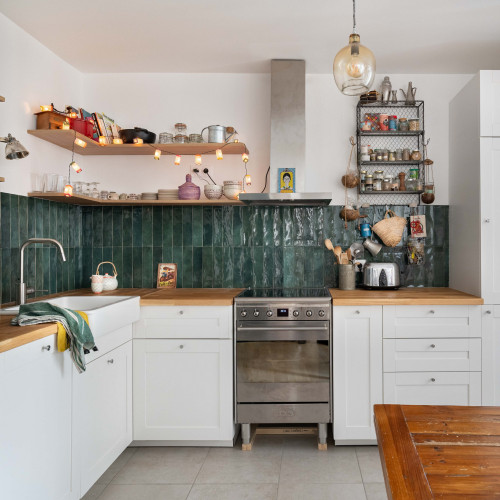 ID# 170123 | Houzz.com – Credit | © Maison Claire Clerc
---
Stacked Tile Boho Kitchen Backsplash with Wood Countertops
Vibrant shades, patterns, and earthy textures make for a fully-fledged bohemian kitchen design as here. The green stacked tile backsplash goes up under the wooden shelves to achieve full impact. It is paired with white cabinets and wood countertops for a well-balanced look while the light gray tiles colonize the floors, expanding the visual scheme thanks to their large format.