12+ Yellow Backsplash Ideas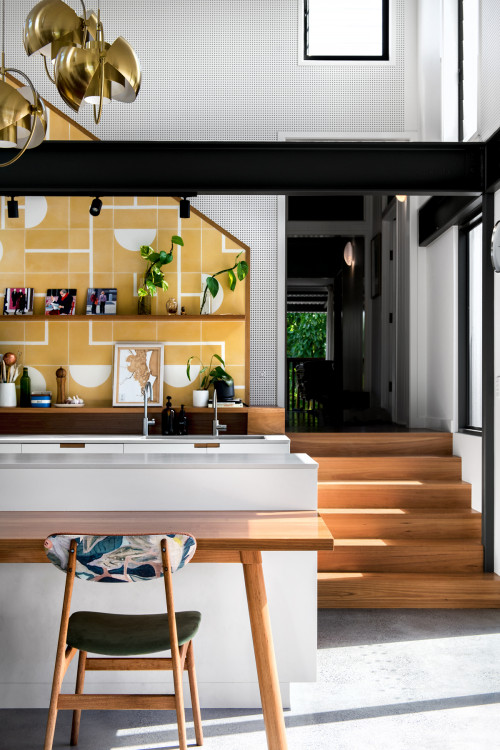 ID# 162802 | Houzz.com – Credit | © Maytree Studios
---
Eclectic Kitchen with White Cabinets and Yellow Tiles
This eclectic kitchen showcases a warm and welcoming atmosphere with its lovely yellow-colored backsplash tiles! The white patterned yellow tiles directly draw attention and create a striking focal point. Using a single floating shelf instead of upper cabinets allows the backsplash to be the star of this design and also provides an open and airy feel. White kitchen cabinets and countertops create a clean and sleek appeal while the wooden expansion of the island serves as a dining table and adds another function.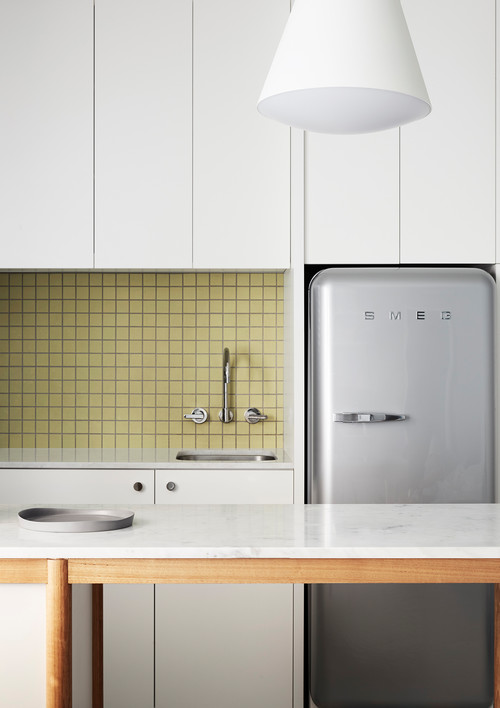 ID# 162806 | Houzz.com – Credit | © Lisa Breeze Architect
---
Contemporary Kitchen with Whtie Flat Panel Cabinets
The clean lines and minimalist details of this contemporary kitchen offer a sleek and elegant appeal! The pastel yellow backsplash stands out between the white cabinets and white countertops, creating a striking focal point. The black grouting highlights the grid pattern of the tiles and adds a retro vibe to the space. The stainless steel Smeg fridge perfectly complements this retro flair.
Yellow Backsplash Ideas
When yellow backsplashes form part of the kitchen repertoire, they bring a magical realm of their own, creating a sanctuary of sorts that ties the space together. That's why it is no wonder why yellow is preferably used in kindergartens, public spaces, cafes, and restaurants to attract attention, keep its users motivated, and whet the appetite of people with dynamic color. Even more than that, yellow shades bring a sense of optimism and cheerfulness, transmitting curiosity and joviality skillfully. For all these reasons, it does suit kitchens very much, creating an inviting and bright atmosphere. Yellow can be integrated into a kitchen through various means such as yellow cabinets, yellow backsplashes, yellow islands, accessories, and yellow countertops. In this blog, our focus will be on the yellow backsplashes, and we have rounded up 12+ yellow backsplash ideas to inspire you.
Inviting Shades of Yellow
Before discussing them let's make it clear how colors affect the environment and our psychology. First of all, colors are essential parts of a design to upload the space with a certain mood and play with the scale of the space. For example, if you keep a space monochromatic, it will highlight the space itself with a sense of purity and evoke a set of emotions. If you use different colors and hues to define specific zones, you can play with the scale and proportion of the space if you wish. And lastly, if you would like to create energizing visual effects that will stimulate your five senses even after a long working day, you can rely on yellow backsplashes that will surely motivate you to cook every day. Now let's get familiar with yellow backsplash ideas that you can integrate into any style of kitchen.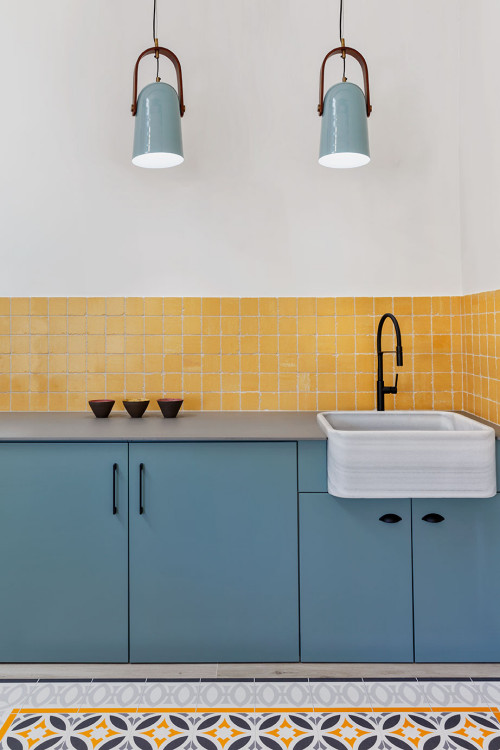 ID# 162801 | Houzz.com – Credit | © POVEDA Studio
---
Scandinavian Kitchen with Blue Cabinets and Gray Countertops
This lovely kitchen evokes a sense of tranquility by seamlessly blending cool and warm elements! The blue-gray cabinets serve as the foundation of a serene ambiance, while the gray countertop exudes an air of sophistication and functionality. In contrast to the neutral color scheme, the yellow square tile backsplash enlivens the space and adds an unexpected touch of cheerfulness. The striking hue of the backsplash fills the room with warmth and vitality, creating a cozy and inviting environment. The kitchen's classic white farmhouse sink provides practicality and a timeless touch while black hardware and fixtures infuse an element of contemporary flair. The blue pendant lights above the kitchen island add a touch of elegance and a sense of cohesion, emphasizing the harmonious color scheme. To convey the kitchen's eclectic charm, multicolored floor tiles contribute a sense of playfulness and creativity, bringing a unique personality to the space.
What color cabinets go with a yellow backsplash?
Cabinets are the main bones of a kitchen design whose style and colors make a great difference. If you wonder what kind of cabinet pairs well with a yellow backsplash, a yellow backsplash is popularly combined with black, gray, yellow, and white cabinets. If you like yellow and want to stick to it, you can make a combination of different yellow shades, which will give you a sophisticated space rich with shades of the same color.You can as well use two-tone cabinetry to achieve a sense of variety within the space. Different shades of green and wood are welcomed to complement a yellow backsplash.
Secondly, another popular cabinet style that makes for a soothing design with a yellow backsplash is solid wood and plywood cabinets. For a sense of drama, there is nothing better than dark wooden counters, while light wood builds a rather visually lightweight and alleviating design theme.
If you are looking for something to ground the look to slightly suppress the energizing vibes of the yellow backsplash, you can achieve that with dark gray and black cabinets. You can likewise make a combination of wood and one of those. For example, you can use both black and wood or gray and wood cabinets to accompany a yellow backsplash. It will in return add a sense of drama and contrast.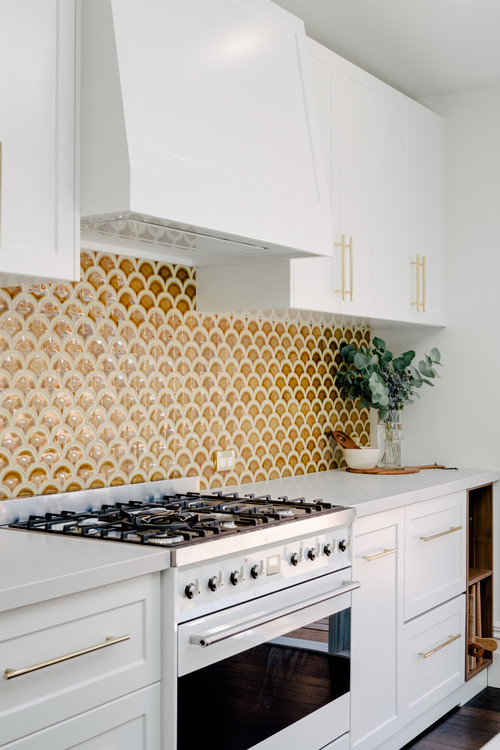 ID# 162803 | Houzz.com – Credit | © Framed Renovations
---
Transitional Kitchen with Yellow Backsplash Ideas
If you want to add a pop of color to your white kitchen, using a vibrant color for your backsplash can make a strong statement! In this transitional kitchen, the yellow fish scale tile backsplash pops against the white features and creates a striking focal point. The clean and sleek appeal of the white shaker cabinets and countertop allows this eye-catching backsplash to stand out. The brass cabinet hardware and wood open cabinets complement the warm appeal of the yellow tiles.
What color countertops go with a yellow backsplash?
The countertop color options for a yellow backsplash are very close to the cabinet colors, including gray, black, blue, yellow, white, and green.
To start with, gray countertops are commonly used countertops to complement a yellow backsplash. They bring a neutral shade, helping cheerful yellow shades settle in. Playing with the shades of yellow and gray, you can create an industrial, contemporary, and vintage look. For example, for a vintage look, combine mustard yellow backsplash with dark gray or black countertops. Or use concrete countertops to pull off an industrial look. For a contemporary look, use gray cabinets and countertops to create a uniform look and entertain the space with a yellow glass sheet backsplash. The backsplash could even be a neon hue given that contemporary kitchens love unexpected pops of color. If you want something more humble, install the subway tiles diagonally to bring more interest.
Navy and turquoise blue countertops come as other interesting options to enrich the color repertoire of the kitchen. Plus, the isolated pops of colors animate the space significantly. If you want to come to a place that will manage to liven you up after a long working day, benefit from yellow and other complementary colorful options of yellow backsplashes.
Thirdly, butcher block countertops contribute warming shades, which you can utilize with wood floating shelves to facilitate sensible relationships within the space. White countertops illuminate the space.
For those who want to employ eco-conscious materials in their kitchens, we have a couple of suggestions, including terrazzo and recycled glass countertops. Let's explore them closely.
Eco-friendly Countertop Options for Sustainable Kitchens with a Yellow Backsplash:
To start with, recycled glass countertops have plenty of design patterns and color options ranging from ice stone countertops to the ones with bigger blue chunks, granite-look countertops, and ones that contain beer bottle pieces. Brought together by cement, these countertops provide durable and highly resistant work surfaces in addition to their mesmerizing look.
These eco-friendly countertops can make for unique designs with yellow backsplashes. To spice the space up a bit more, the variously colored recycled glass countertops featuring small and large chunks will make a difference in your kitchen without a doubt.
As for the terrazzo countertops, they are also made up of recycled materials, just like recycled glass countertops. But their material repertoire is a bit more extensive. Terrazzo can include glass, marble, granite, quartz, and many other aggregates, creating a unique combination brought together with cement or epoxy resin. The resulting scheme is VOC-free and environmentally friendly products. With the advancement of technology, terrazzo features more contemporary designs that will make for impressive designs with yellow backsplashes. For example, if you use two-tone cabinetry, you can use terrazzo countertops whose colors resonate with the rest of the color scheme.
However, the drawbacks of the terrazzo are its expensive prices and requirement of professional installment requirements. As such, it is not suitable for DIY projects, which makes them even more pricy.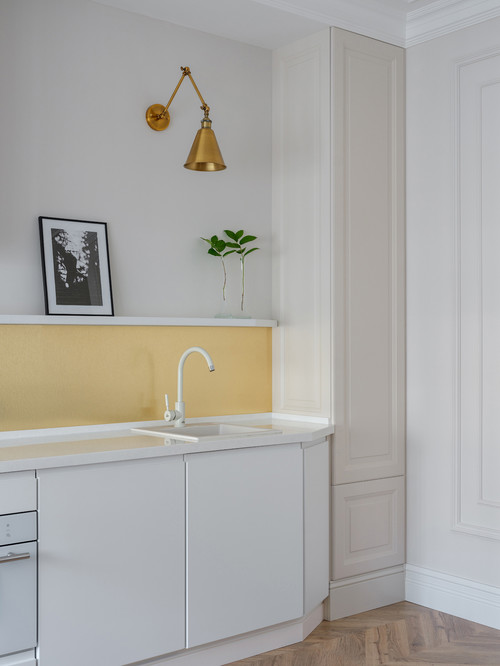 ID# 162804 | Houzz.com – Credit | © Максимова Анна
---
Contemporary Kitchen with Wood Flooring
In this minimalist kitchen design, the yellow wall paint serves as a backslash, standing out between the white features. While the white flat-panel cabinets, countertop, and fixtures create a clean and sleek appeal, the yellow backsplash adds a pop of color, bringing joy to the atmosphere. The brass wall-mounted lighting fixture complements the warm feel of the yellow shade. The tall raised panel cabinet brings some traditional vibe and also provides additional storage space.
Yellow Tile Kitchen Backsplash
Yellow tile kitchen backsplashes come in various patterns and materials. These options range from ceramics to glass, porcelain, zellige, and mosaic that can be finished with glazed and matte touches. With each material and finish yellow tiles gain various looks and character. Benefiting from floral and geometric patterned yellow tiles, you can compose different backsplash schemes to make a statement. For an authentic look, yellow zellige tiles can be complemented with hexagon terracotta tiles that will envelop the kitchen with a sense of warmth. With the right additions, you can even create an encompassing Mediterranean feel with them.
Grout makes a difference!
The advantageous part of tile backsplashes is that you can experiment with the grout color. Depending on the theme and color scheme of the kitchen, you can employ gray, white, gold, and more. To create contrasts with yellow, black grout is the perfect grout color. If you have black floor tiles, black countertops, etc. you can go with black grout.
Yellow Ceramic Tile Kitchen Backsplash
Easy to clean, easy to maintain, affordable, durable, and highly customizable! What else can you expect from a tile? One of the popular tile materials that encompass all those features, ceramic tiles endow homeowners and designers with the freedom to play with tile patterns and colors as much as they want thanks to their highly customizable nature.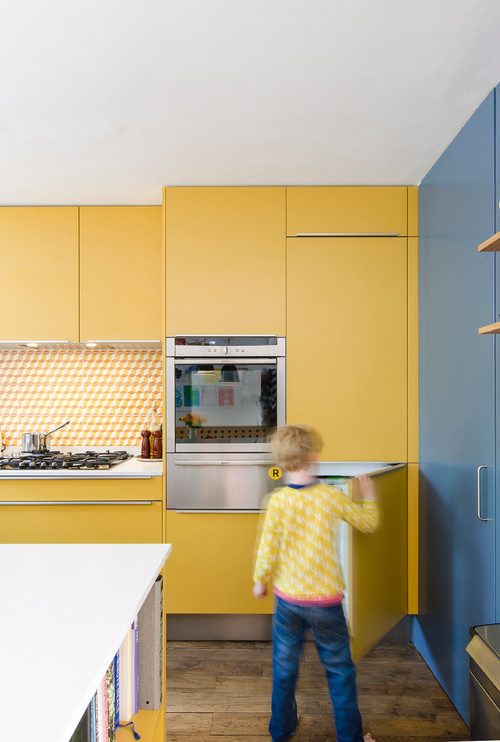 ID# 162805 | Houzz.com – Credit | © R2 Studio Architects
---
Patterned Yellow Backsplash Ideas with Yellow Cabinets
The nostalgic charm of midcentury decor immediately takes hold! The vibrant yellow cabinets exude a playful and personal vibe that is sure to brighten your day. Adding to the retro ambiance is the yellow patterned backsplash that evokes memories of yesteryear, creating a bold focal point in the space. The white countertop, providing a clean and timeless contrast, balances the brightness of the cabinets perfectly. To top it off, the sleek and shiny stainless steel appliances enhance the midcentury vibe and add a touch of sophistication, making for an overall design that is sure to impress.
Is yellow good for kitchens?
Yellow is one of the great colors you can incorporate into your kitchen especially if you want to inject a sense of warmth. Or if your kitchen doesn't receive enough sunlight, incorporated yellow features can easily compensate for this lack. Just make one of the main bones of the kitchen such as cabinets and backsplash yellow, and you will notice the difference immediately. Plus, as yellow is associated with cheerfulness, optimism, and positivity, it has all the good vibes to spread across your kitchen, encouraging engagement with the space.
However, if you are not sure about how to use yellow and keep it less dominant as it is a bold shade, you can either go with lighter yellow shades that come close to beige for a sense of warmth or go with a yellow kitchen island that will introduce a pop of color and be the statement piece of your kitchen. Even if you keep the rest all-white, all-black, or all-gray, bring in a yellow kitchen island or a backsplash that will elevate the overall look and energize the space, providing you with an excellent breathing space.
Yellow Glass Kitchen Backsplash
Glass kitchen backsplashes come both as tiles and glass sheets. If you prefer a seamless and non-tile look, yellow glass sheet backsplashes are great options you can consider. These sheet options are especially popular in contemporary kitchens. While keeping the rest of the space monochromatic, you can integrate a yellow glass sheet backsplash to change the aura of the kitchen with just one touch.
As for tile versions, glass can be given any shape. Depending on your personal preference, you can go with hexagon, diamond, triangle, square, herringbone, chevron patterns, and more. For an ultra-shiny look, glass tiles can be given a glazed finish. The best part of the glass is its reflective nature and playfulness with natural lights, which visually illuminate and expand the space. Also, for a more sustainable design, you can choose yellow recycled glass mosaic tiles that feature a unique texture and beautiful color transitions.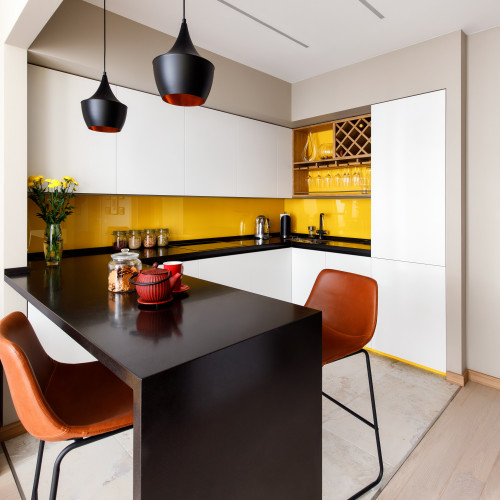 ID# 162807 | Houzz.com – Credit | © Hamiltoun
---
Modern Kitchen with White Cabinets and Black Countertops
In this modern kitchen, the plain white cabinets make the space appear very simple, while the black countertop contributes a sense of elegance and diversity. The countertop stretches effortlessly to produce a tasteful peninsula, giving more room for cooking and informal dining. Partnered with elegant leather chairs, the peninsula highlights the spot for socialization and chats! Injecting a lively burst of color, the yellow glass sheet backsplash brings a cozy and quirky appeal to the area.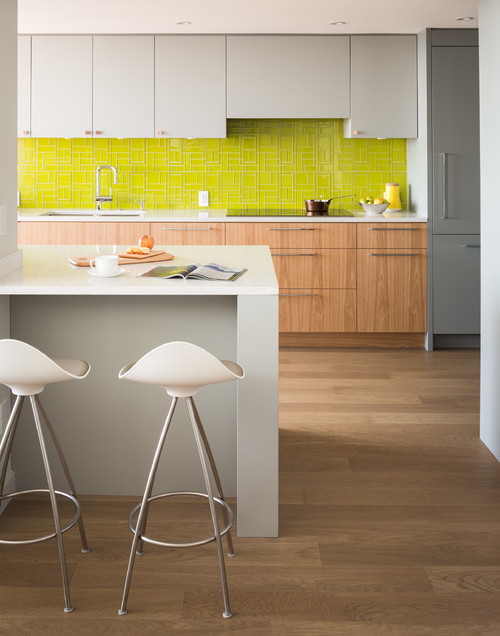 ID# 162808 | Houzz.com – Credit | © Moosehead Contracting Inc.
---
Glass Yellow Backsplash Ideas with Gray and Wood Cabinets
What a beautiful and eye-catching backsplash design! The star of the space, however, is the yellow glass backsplash tiles that offer a striking setting with their vivid color and artistic finesse. Amid this alluring background, the white countertop delivers an immaculate and ageless surface to cook and display food items. The wooden lower cabinets harmonize with the smooth upper gray cabinets and peninsula, providing an eye-catching juxtaposition. To tie everything together and create a modern vibe, the chrome hardware embellishes the cabinets.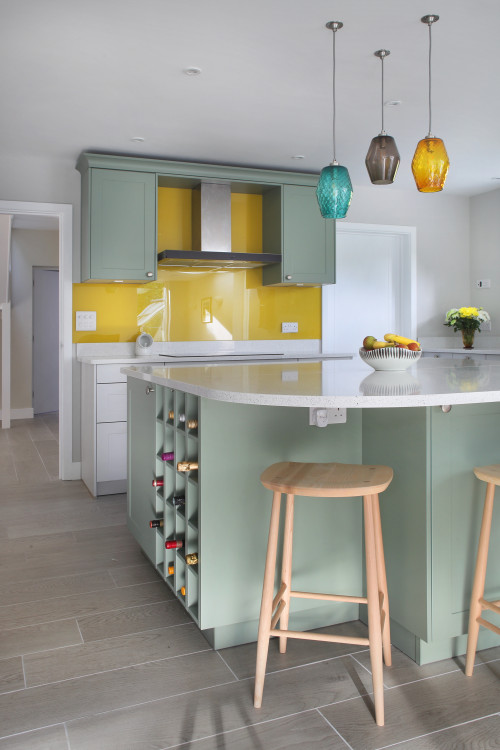 ID# 162809 | Houzz.com – Credit
---
Two Tone Cabinets with Glass Sheet Backsplash and Colorful Pendants
This contemporary kitchen exudes a modern and chic vibe through its beautifully two-tone cabinetry! A lovely yellow glass sheet backsplash adds a vibrant touch to the design. Practicality takes center stage in this kitchen, with an array of storage solutions cleverly crafted into the cabinets. These cabinets are stylish and offer ample space to keep your kitchen neat and organized. The built-in wine racks showcase your collection in an elegant way, providing a convenient way to access your favorite bottles. Plus, the island features additional cabinets, allowing for more storage options for your cookware, utensils, and pantry items. To complete the look, colorful glass pendant lights hang gracefully above the island, casting a warm and inviting glow over the space.
Yellow Subway Tile Kitchen Backsplash
Dating back to the Victorian Age, subway tiles, also known as metro tiles, have a long history and made a name for themselves as easy to clean and utilitarian tiles. Maintaining their fame for all these years, they are without a doubt the most confidently used tile patterns in residential and commercial areas. They adjust to any theme, come in various shapes and colors, and are very functional.
Though a classical subway tile measures 3 by 6 inches, a subway tile has many format versions as well. They can be twice larger and wide as the original ones. And what about subway square tiles? Recently subway square tiles have grown in popularity as an alternative to the original subway tiles for they provide a modern and graphic look. As for the yellow square tiles, you can create a vintage look in the company of some retro appliances and other colorful additions.
Limitless Pattern Options with Subway Tiles
Moving further, in terms of aesthetics, you can get a beveled or a smooth version of subway tiles, or better, you can experiment with them as you wish. For example, you can stack them vertically and horizontally, or install them in a running-bond style, and create herringbones and geometric L-shaped tiles.
The same features apply to yellow subway tile kitchen backsplashes that can be installed in various ways to add movement and bring extra interest as a backsplash. If you choose the material of the yellow subway tiles accordingly and keep it full height, they even give the illusion of a brick wall that adds a very authentic flavor. Now let's take a closer look at some design projects.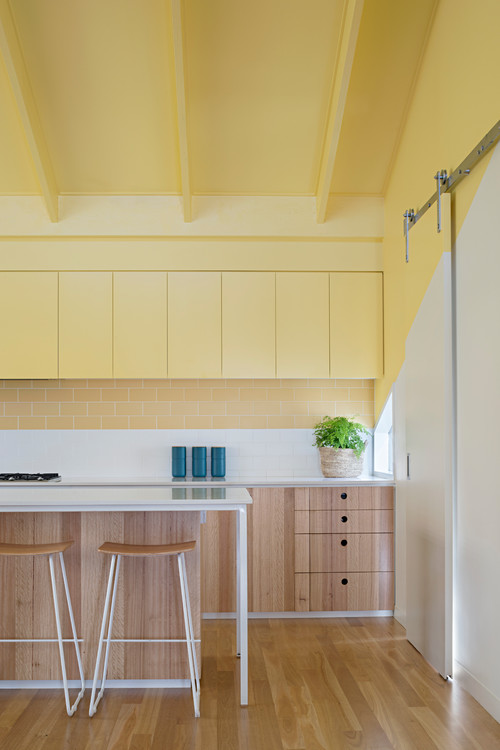 ID# 162810 | Houzz.com – Credit | © Mihaly Slocombe
---
Yellow and Wood Kitchen Cabinets with Subway Tile Backsplash
This kitchen is a remarkable example of a flawless balance between coziness and liveliness. The natural wood base cabinets and island provide an inviting touch of warmth. The subway tile backsplash, featuring an unconventional blend of yellow and white tiles, takes the spotlight as an exciting focal point. The yellow tiles and upper cabinets generate a vibrant pop of color, leading to a bright and cheerful ambiance. To culminate the seamless design, the yellow ceiling completes the look and unifies all the elements into a cohesive whole.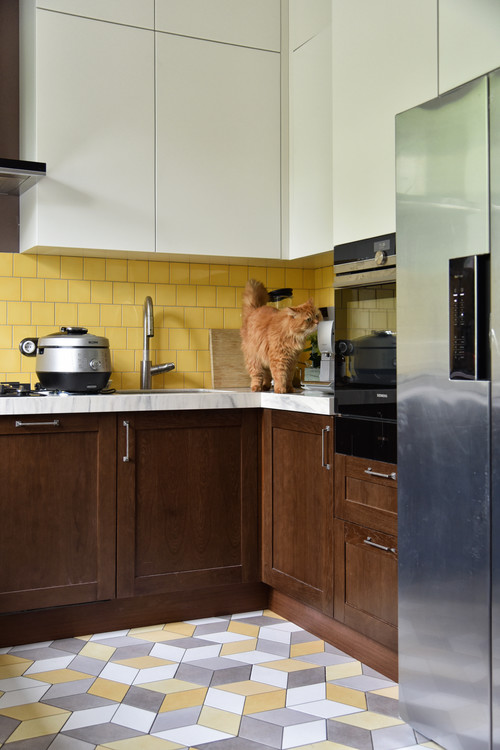 ID# 162811 | Houzz.com – Credit | © TB.Design
---
Yellow Square Subway Tiles with Marble Countertop
In this kitchen, the combination of neutral colors and a pop of yellow offers a warm and welcoming space! The white flat panel upper cabinets exude a clean and sleek aesthetic, perfectly complemented by the dark wood shaker base cabinets that bring a sense of richness and depth. The white marble countertop adds a luxurious element to the space. The yellow subway tile backsplash steals the show with its burst of energy and personality. Its sunny hue enlivens the kitchen and serves as a striking backdrop for culinary adventures. The multicolored pastel floor tiles add a playful touch, completing the space with charm and creating a cheerful atmosphere.
White and Yellow Kitchen Backsplash
If you don't want a pure yellow backsplash, you can create a multi-colored backdrop that brings both white and yellow together. If you want a third color, blue and gray are popularly employed to accompany white and yellow shades. You can confidently utilize such a multi-colored backsplash and combine it with a blue kitchen island, or gray countertops, or come up with any combination of these colors that you can think of. If you choose geometric patterns that mimic Escher style, you can even achieve a 3-dimensional effect with multi-colored tiles to add depth to the design.
Apart from all these options, white and yellow work harmoniously together to brighten up the kitchen, especially compensating at best if your kitchen doesn't get enough sunlight. Together, they build a sense of warmth, enhancing the openness and brightness of the kitchen masterfully.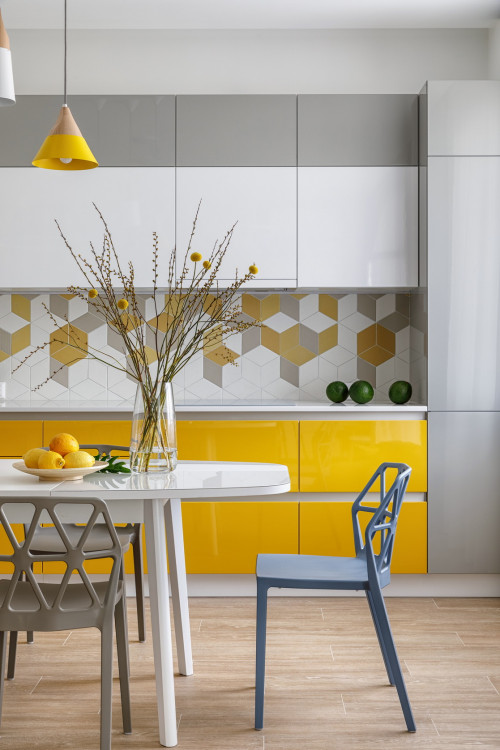 ID# 162812 | Houzz.com – Credit | © iPozdnyakov Studio
---
White and Yellow Backsplash Ideas for Scandinavian Kitchen
A seamless fusion of yellow, white, and gray cabinets in this space demonstrates the Scandinavian design principles of simplicity and minimalism! The backsplash tiles also in geometric shapes and matching shades reinforce the color scheme. Additionally, the wood-look floor tiles project warmth and bring a natural texture to the surroundings.