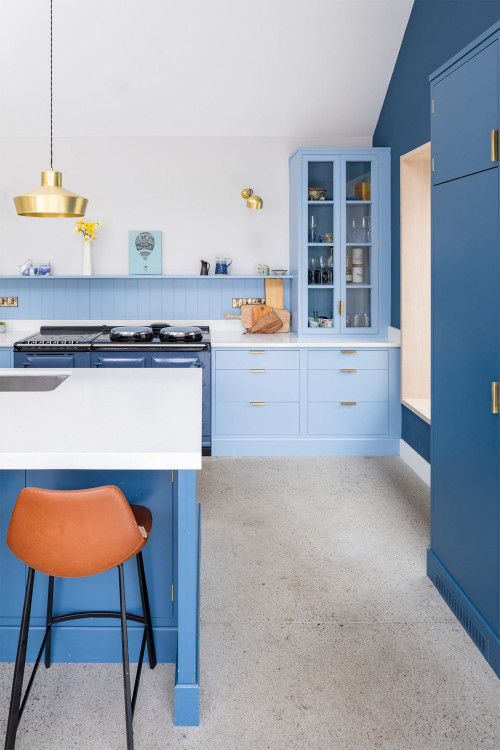 ID# 169609 | Houzz.com – Credit | © Mullan Lighting
---
Modern Farmhouse Kitchen with Concrete Floor
This modern farmhouse kitchen welcomes you with an aesthetic view of the beautiful blue shades. At the back, the baby blue kitchen cabinets and the shiplap backsplash create a homey atmosphere while the white quartz countertops bring a bright and fresh appeal. To enrich the overall look, the dark blue stove and kitchen island take the stage but still complement the lighter shades. The concrete-look floor enhances the modern aesthetic with a sleek touch while the brass accents add a dose of glam that jazzs up the design!
ID# 169616 | Houzz.com – Credit | © Wideline Windows & Doors
---
Beach Style Kitchen with Pastel Blue Cabinets
Sticking to lighter colors and white cabinetry in coastal kitchen designs makes it easy to give the area a seaside feel. For example, in this kitchen, the light blue cabinetry adds just the appropriate amount of color in subtle hues to create a pleasant contrast with the white stacked tile backsplash. The spaciousness is enhanced by the white shiplap ceiling, dining table, and skylights. To enhance the overall aesthetic and give the kitchen a more summery feel, choose glazed glass tiles that intensify the shimmering effect!
Blue Kitchen Ideas
If you're thinking about remodeling your kitchen, blue kitchen ideas have most likely already entered your mind. Blue is a highly flexible color that works well in kitchens of all sizes whether you have plenty of room and a kitchen island or are dealing with a smaller area like a galley kitchen!
Do you Want a Versatile Color, But It is not Gray or White?
Blue kitchen ideas known for their relaxing properties, have encouraged many homeowners to embrace the tone within a cooking environment, as its cool shade provides a tranquil backdrop for contemporary living. These ideas contain real-world examples of how to bring this rich color to life, ranging from majestic navy to gentle coastal colors and jeweled tones! Blue kitchen ideas are such a traditional choice – bolder than grey but yet quite livable – that it's no wonder that it's one of the top options for many renters and homeowners.
Blue is a great kitchen color concept since there are so many various tones to select from, each of which will produce a completely new aesthetic. So, whether you want a sophisticated and elegant navy kitchen, cornflower blue for a more rustic atmosphere or a whimsical pastel – there will be something here to inspire you!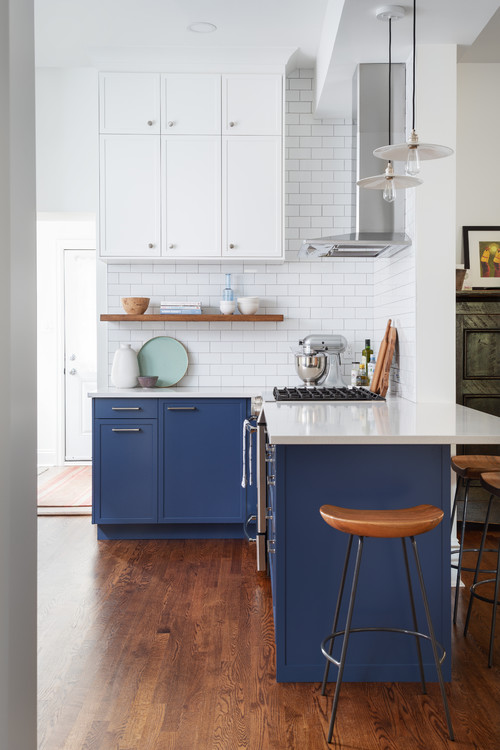 ID# 169601 | Houzz.com – Credit | © Tatiana Wojtan Studio
---
White and Blue Kitchen Ideas with Subway Tile Backsplash
The freshness fills the entire kitchen with the blue and white color harmony in this transitional kitchen design. The white upper cabinets and the white subway tile backsplash match perfectly to create a bright and spacious atmosphere. Adorned by white quartz countertops, the blue base cabinets create a contrasting look to bring depth to the space. The stainless steel appliances enhance the modern aesthetic while the wood accent adds depth to the room!
ID# 169602 | Houzz.com – Credit | © The English Tapware Company
---
Dark Kitchen Design with Bold Colors and Brass Hardware
The deep and dark hues of blue create a sophisticated atmosphere in this kitchen! The navy-blue base cabinets and the brass hardware draw attention with their elegant appeal. Enriched by charcoal grout, the square subway tile backsplash creates a bright and fresh backdrop. Using brass hardware with blue colors is always a good choice since their harmony creates a stunning view. Also, brass and blue enrich the kitchen with a luxurious appeal!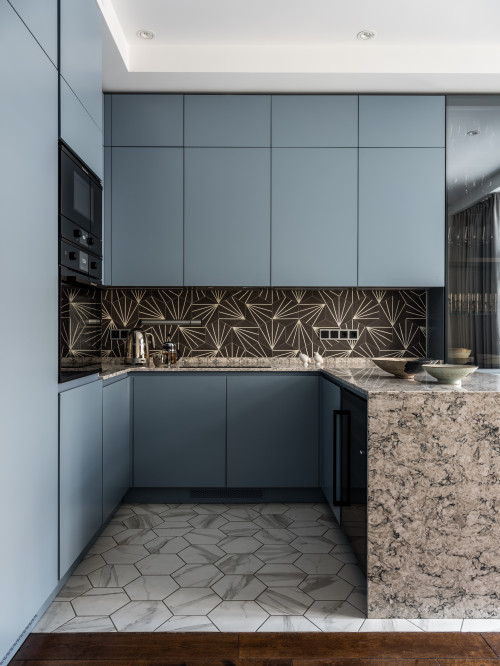 ID# 169603 | Houzz.com – Credit | © PLANKA
---
Contemporary Blue Kitchen Idea with Granite Countertops and Hexagon Tile Floors
This kitchen has all the contemporary design approaches. The blue flat-panel cabinets and the brownish granite countertops create an aesthetic appeal with their contrasting look. The white hexagon floor tiles and the multicolored backsplash put movement to the flat-panel cabinets. Using black appliances is a beautiful choice to increase the contemporary look of the kitchen and create harmony with the blue cabinets!
What colors go with a blue kitchen?
Blue kitchen ideas are always at the top of the list of most popular kitchen color schemes, and it's simple to understand why. Blue is a solid bet that works in most kitchens, whether modern or classic regardless of size. It's also soothing and simple to live with. Blue is a wonderful color for kitchens. Lighter blues work well in smaller kitchens, while darker blues appear dramatic in bigger kitchens without sacrificing the sense of space. Before deciding on a hue of blue for your kitchen, consider the light levels in your room. However, don't only consider dark and bright – a blue's warm or cold tones are vital in making blue kitchen ideas seem welcome.
Most colors will look great in a blue kitchen and will accent it wonderfully. They will, however, have various impacts. Black and white will seem sleek in a contemporary environment, while copper or brass fixtures and fittings will provide warmth. Add lovely yellows and pinks to more classic areas.
ID# 169604 | Houzz.com – Credit | © Room By Room
---
Blue and White Kitchen with Glossy Full-Height Backsplash
Enriched by a glazed finish, the white backsplash tiles reach through the ceiling to create a clean and bright backdrop! The vertically stacked layout of the tiles makes the space feel taller while using the same tiles for the range hood cladding provides a seamless look. For the base, the sky blue cabinets are topped by marble countertops that enhance the luxurious sense.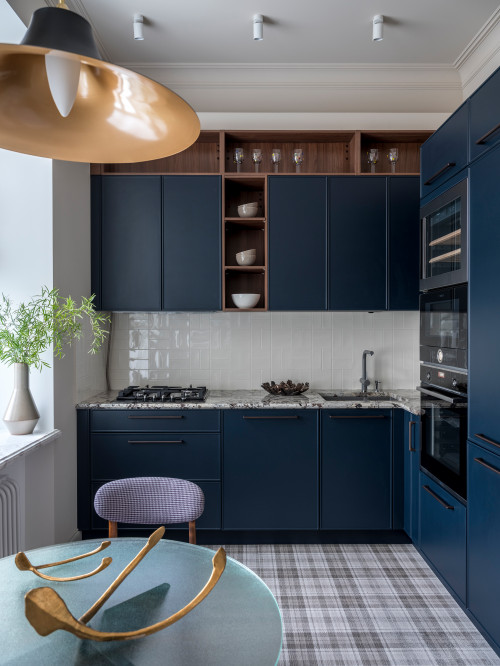 ID# 169605 | Houzz.com – Credit | © Анна Кларк
---
Blue and Wood Kitchen Cabinets with Basketweave Backsplash Tiles
This transitional kitchen design exudes elegance and sophistication thanks to the addition of blue cabinetry with beaded insets! The stark contrast between the blue cabinetry and the spotless white basketweave backsplash creates an appealing visual contrast! While the open wooden shelves between the blue upper cabinets and the gray granite countertop evoke a classic elegance, they also add warmth.
Modern Blue Kitchen Ideas
The kitchen is one of the busiest, and sometimes chaotic, areas in the house and it is quite understandable to want a beautiful design for this place when it comes to choosing a style for the kitchen you can lost in the endless sea of ideas. Before choosing a style, determining the color for your design is an important step, too. If you will go with blue color for your kitchens, you can use one of the good design styles which is the modern design style. Modern blue kitchen design ideas provide a serene backdrop to the chaos of the kitchen. A modern blue kitchen design often includes open areas, minimalist features, and basic color palettes, creating a clutter-free environment in which to relax and entertain.
Modern Design Style Meets Blue Color
Blue evokes feelings of warmth and peace, which, let's be honest, is precisely what you need in your kitchen. And, while the cool color won't immediately alleviate the daily stress of preparing weekday dinners or holiday menus, the soul-soothing tint may surely make it a more warm and inviting space to finish the work at hand (a win in our eyes). When it is used in modern lines, you can have a calm and serene atmosphere with a sleek and aesthetic look. Modern blue kitchen ideas can offer many design solutions with the versatile blue color.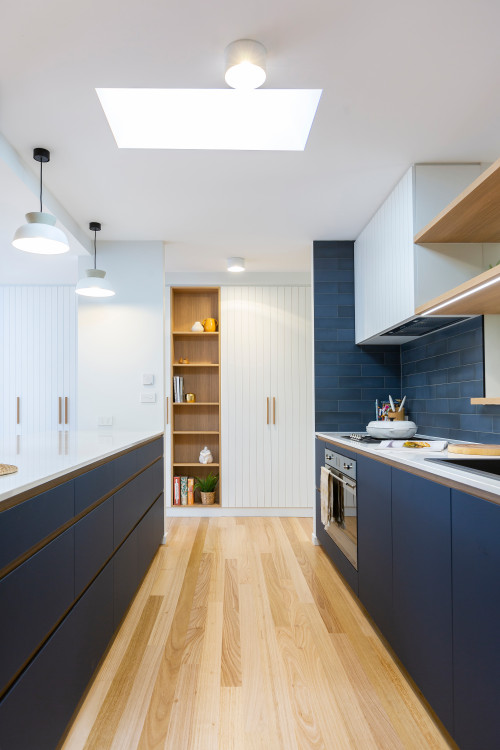 ID# 169606 | Houzz.com – Credit | © Built By Drew
---
Modern Blue Kitchen Ideas with Ceramic Backsplash and Quartz Countertops
Blue, white and a touch of wood… This beautiful harmony looks eye-catching in this modern kitchen! The blue-flat panel cabinets and the blue ceramic tile backsplash create a cohesive and rich appeal that provides a contrast against the bright white features. The white quartz countertops increase the clean and bright look of the kitchen cabinetry while the blue and white harmony freshens up the kitchen environment.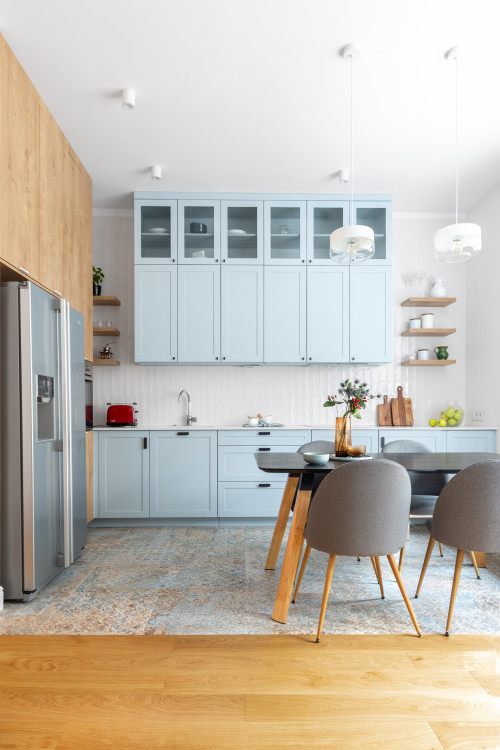 ID# 169607 | Houzz.com – Credit | © EMC&partners
---
Fresh and Serene Kitchen Design with Pastel Tones
The light blue color of the shaker cabinets and the black hardware put a lovely contrast while their stylish look is complemented by the white countertops and the white backsplash. The blue and brown-toned porcelain floor tiles create the ultimate harmony with the light blue cabinets and enhance the overall design!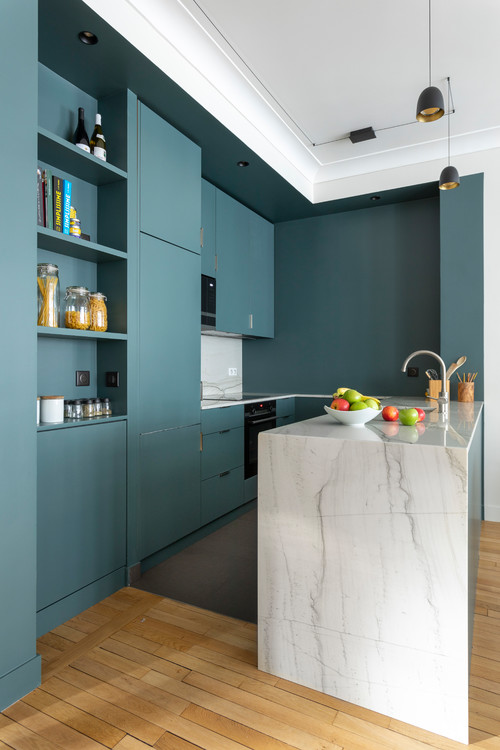 ID# 169608 | Houzz.com – Credit | © Texier et Soulas
---
Modern Blue Kitchen Idea with White Stone Slab Backsplash and Countertops
The natural appeal of the stone material for the backsplash, countertops, and the waterfalls of the peninsula creates a beautiful harmony with the turquoise blue color flat-panel cabinets. Using white stone slab backsplash and the countertops brighten up the blue kitchen with a sleek touch. Light wood floors and the blue color of the cabinets create a beautiful contrast.
Farmhouse Blue Kitchen Ideas
Farmhouse-style kitchens are known for their use of natural materials, simple design and spacious cooking areas that can serve large meals. Guests should always feel welcome and at ease in these areas, even if their boots are still muddy. Farmhouse kitchens have many classic elements, such as big sinks and lovely, cottage-inspired upper cabinets, which convert any kitchen into a cozy hideaway. From cabinet curtains to rustic woods, farmhouse kitchens create an unrivaled sense of warmth in interior design. While this rustic look is often comprised of neutral tones and natural materials, interior designers are increasingly adding blue tints into the kitchen to add a much-needed splash of color. Getting together the natural, home-like appeal and the serene color is the needed design outcome that farmhouse blue kitchen ideas can create.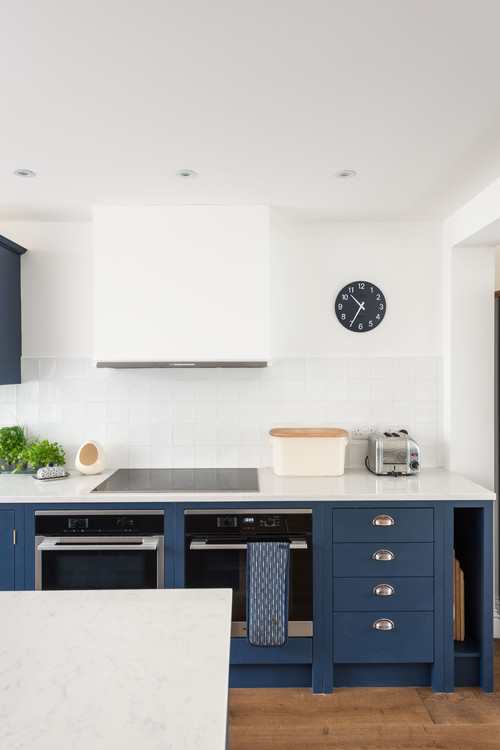 ID# 169610 | Houzz.com – Credit | © MW Architects
---
White and Blue Kitchen Ideas with Square Tile Backsplash
The white cement square tile backsplash gives the area character and a contemporary flair to this farmhouse-inspired kitchen! The blue flat panel cabinets give a bold, traditional touch that complements the white tile wonderfully. The brushed nickel hardware adds a gleaming sheen and sophistication to the space while the white solid surface counters create a clean and smooth appearance that is easy to maintain. The medium-tone wood flooring complements the white tile and countertops by adding warmth and depth.
Is blue a good color for kitchen?
Blue is one of the good colors that work nicely in kitchens. Lighter blue tones may give a crisp, clean aesthetic and are ideal for walls, cabinets, and even the ceiling. Blue is an energizing hue that should be used sparingly; otherwise, it may overrun a room. Gloomy blues also work well in kitchens, but it's vital to include traces of white, gray, or other neutral tones to keep the area from seeming too strong and dark. No color is off-limits for a kitchen, yet blue is the color of choice for the majority of American customers.
The color blue is associated with the sky and the water. That is most likely why it is naturally relaxing and reassuring, and why it is a fantastic hue for the heart of the house, the kitchen.
Modern kitchens are notorious for embracing vivid hues on occasion, and blue is no exception. Cabinets, walls, chairs, backsplash, and even counters are all blue! Blue may be utilized in a variety of ways around the kitchen; the key is not to overuse it. Don't acquire a blue countertop or paint your walls if you have blue cabinets. If you decide to add more blue items to your kitchen, make sure there is enough space between them. Using different shades of the same hue to separate things will make your kitchen feel more coordinated and orderly.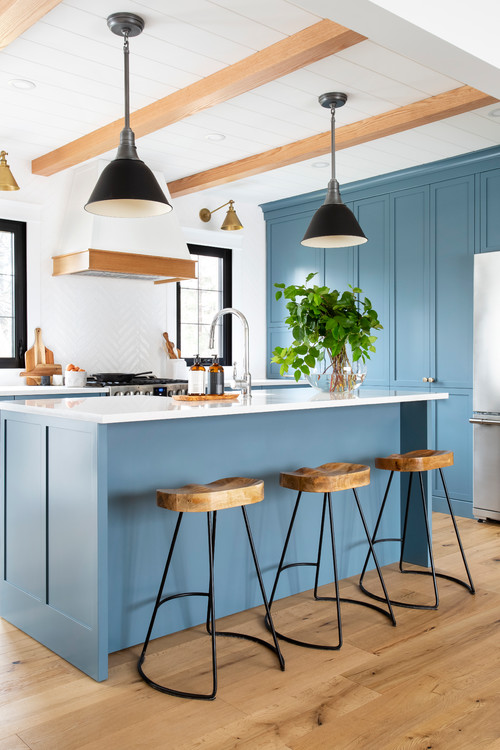 ID# 169611 | Houzz.com – Credit | © Hibou Design & Co.
---
Blue Kitchen Cabinets with White Herringbone Backsplash
Blended with a rustic appeal and modern functionality, this kitchen offers a warm and welcoming atmosphere! The blue shaker cabinets and island add a dash of color to the white herringbone backsplash and worktops while the exposed wooden beams and the wood trim of the range hood enhance the warmth. The black pendant lights above the island provide an industrial vibe to the room.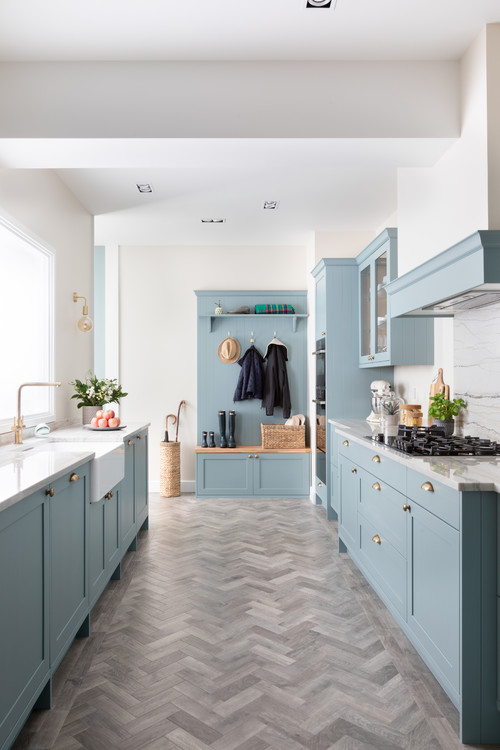 ID# 169612 | Houzz.com – Credit | © Classic Interiors
---
Light Blue Kitchen Cabinets with Wood Herringbone Flooring
This charming farmhouse kitchen design can add a character to any home! The warm and friendly ambiance is created by the soft baby blue shaker cabinets while the white quartz worktops and backsplash provide a contemporary touch. A gorgeous white farmhouse sink perfectly contributes to the classic charm of the design. The brass hardware adds a slight burst of shine to connect it all together. The gray herringbone floor tiles offer a fun touch while keeping the overall appearance conventional.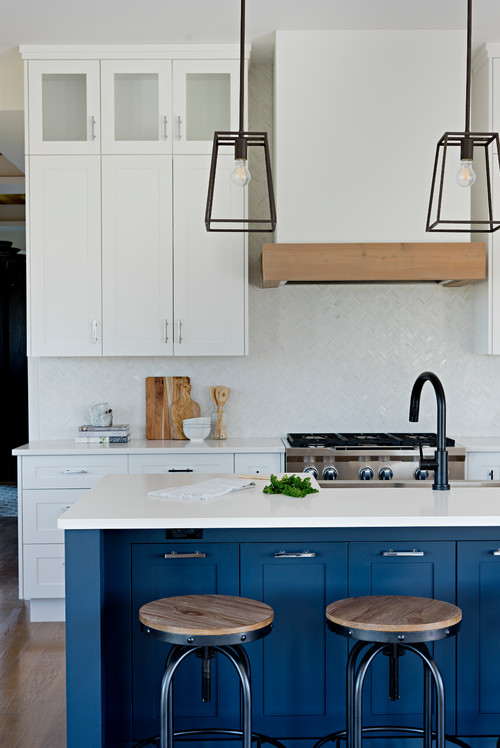 ID# 169613 | Houzz.com – Credit | © Soda Pop Design Inc.
---
White Shaker-Style Cabinets with Blue Island and Black Accents
Enriched by white shaker cabinets and countertops, this farmhouse kitchen exudes a clean and bright atmosphere! Adorned with a glossy finish, the white mosaic tile backsplash perfectly complements this spacious look while the blue kitchen island adds a pop of color to enhance the overall design. Above the island, black pendant lights create a stylish contrast to the light color palette. Wood details, such as the trim on the hood and chairs, provide warmth and natural features to the design.
Blue and White Kitchen Ideas
If you want to liven up your white kitchen decor without going too far out of your comfort zone, blue is the perfect accent color to attempt. There is a blue out there that will perfectly suit your present white kitchen, from deep tones of navy to brilliant blue sky-inspired colors. Though white kitchens will never go out of style and have been a design staple for years, why not personalize the look by adding an accent color, such as blue? The hue will not detract from your design, can be utilized with a variety of interior designs, and will be a color you adore for years to come!
Blue and white kitchen ideas can bring movement to your kitchens with their fresh and clean looks. Thanks to the white color while you brighten up your kitchen you can still have the blue color to accentuate the white and make a difference. Blue is a popular accent color in kitchens, whether it's on a backsplash or painted on the island. Whether you want to add a splash of color by altering the décor or go all out with blue cabinets, there are photographs of kitchen ideas to help you select the style that is best for you.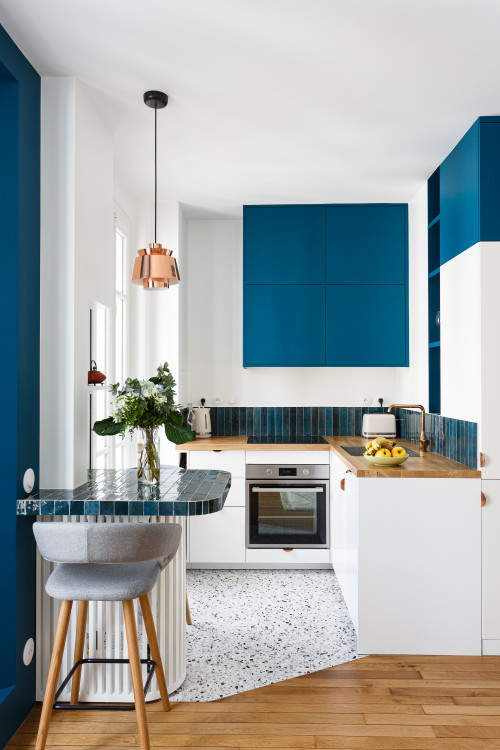 ID# 169614 | Houzz.com – Credit | © Emilie Melin architecte DPLG
---
Blue and White Kitchen Ideas with Wood Countertops and Terrazzo Floor
The wooden counter in the modern compact kitchen design with blue and white flat cabinets creates a pleasant impression while the single-row, blue, vertical subway backsplash provides a unique mood. The use of the same tiles on the dining tabletop creates a lovely sense of consistency. Furthermore, the Terrazzo tiles on the floor complement the contemporary kitchen. The blue cabinets stand out more in this white-dominated environment, creating an energizing design.
ID# 169615 | Houzz.com – Credit | © The Den Interiors
---
Contemporary Kitchen with Marble Herringbone Backsplash
Enriched by an inviting blue and white color combination, this small kitchen provides a stylish appeal! The marble herringbone backsplash creates a harmonious look with the blue and white cabinetry. The black granite countertops boost a contrasting look to bring depth to the atmosphere while the sleek brass handle design of the base cabinets enhances the modern aesthetic and adds a dose of sparkle.
Blue Kitchen Cabinets
The blue tone is not often associated with a modern kitchen, but when you think about it, it is a color that makes sense. When it comes to color psychology, blue paint is a hue that encourages peace, firmness, cleanliness and natural characteristics such as sky and water. As a result, it possesses a variety of characteristics that complement the kitchen environment and produce good kitchen cabinet colors!
A Color That Can Help Your Appetite
A lot may be written about the color blue, particularly its importance in interior décor compositions and mood-defining space layouts for your house. It is a color with a wide range of nuances and hues, each with mood-altering properties – the calming feel of baby blue, the deep submerge of navy blue, the chill nuance of the sea, blue-green hues, and their energizing touch, and it is believed that warm and deep shades of blue kitchen cabinets even stimulate the appetite.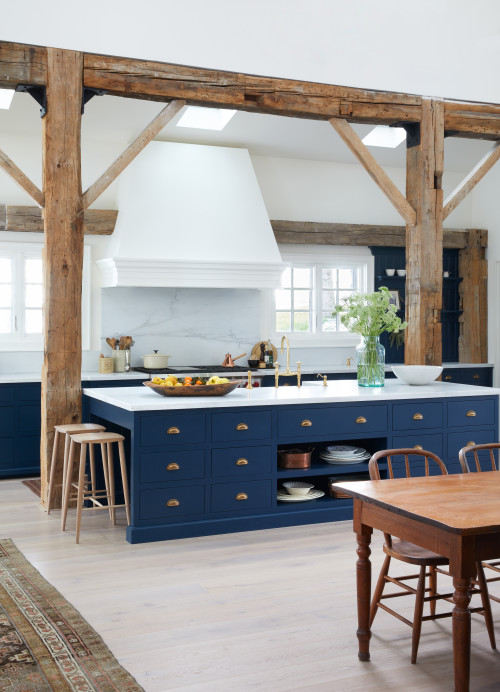 ID# 169617 | Houzz.com – Credit | © Bloomsbury Kitchens and Fine Cabinetry
---
Blue Kitchen Cabinets with Brass Hardware and Stone Slab Backsplash
The navy-blue cabinets and the white countertops with the white slab stone backsplash create a beautiful and fresh atmosphere. The white walls brighten up the kitchen with a clean look and provide a fresh base. You can enrich the kitchen by accentuating the cabinets with brass hardware and decoration elements. The design incorporates naturally exposed oak beams and columns without clashing with the white and blue tones.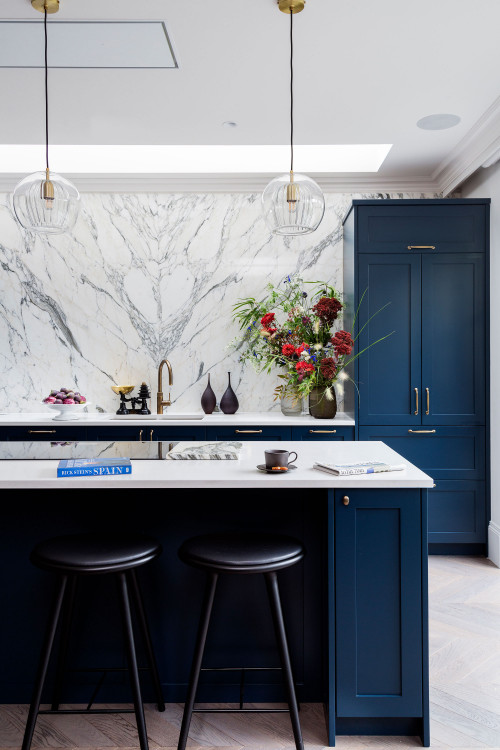 ID# 169619 | Houzz.com – Credit | © Zulufish
---
Luxurious Kitchen Design with Bookmatched Marble Backsplash
To add aesthetic interest, the traditional elements like shaker cabinets and brass finish hardware are incorporated with the modern and streamlined lines! Blue is incorporated into the form of kitchen cabinets and an island that add depth to the area while white quartz counters create a sophisticated contrast with the eye-catching bookmatched marble backsplash. Finally, the area is energized by the glass pendant lights and brass accents which add warmth and soften the reflective white shades.
Backsplash for Blue Kitchen Ideas
Okay, you chose blue cabinets but what about the backsplash? There are so many options for a backsplash for blue kitchen ideas and the first thing you can decide on is the color of the backsplash for blue kitchen ideas. Your kitchen backsplash is a statement item. What is your style? Is it refined or edgy, neutral or loud? The tiles you pick to liven up the wall space between the countertop and cabinets, as well as above the range, should reflect your kitchen's blue color scheme and concept, whether modern or classic. Finally, the backsplash serves as a focus point. It's also an opportunity to be inventive.
Choose a Backsplash for Blue Kitchen Ideas!
It is easy to see why people are drawn to blue cabinets. The blue hue has a wide spectrum of tones, so it is certain to complement other features of your kitchen space. Whether you choose a navy blue kitchen cabinet, a baby blue kitchen cabinet, or a powder blue kitchen cabinet, they all provide the opportunity to express yourself and find a stylish color for a backsplash for blue kitchen ideas. Blue cabinets with white countertops are typically paired with white accent backsplash alternatives. From white subway tile to multi-color tile possibilities, occasionally various hues were employed. With the right lighting, a white backsplash may give your kitchen a new appearance. Blue kitchen cabinets with brown granite are also attractive.
White Backsplash for Blue Kitchen
White is the most popular backsplash color for all kitchen kinds whether it's a basic white subway tile or a white stone slab. And, if you want to create a timeless look with your blue cabinets, a white backsplash is the best choice. You may also create a contrasting effect with a white backsplash for blue kitchens which is vital for interior design projects. The blue and white harmony becomes a classic when you use blue cabinets and white backsplashes. Also, if you do not want to take any risqué while choosing a backsplash for blue cabinets, a white backsplash for a blue kitchen is the perfect fit for you.
ID# 169620 | Houzz.com – Credit | © Suzi Appel
---
White Backsplash for Blue Kitchen and Concrete Countertops
The beauty of the blue-and-white harmony enriches the kitchen with a bright look. The gray countertops and the white subway tile backsplash are a classic for the blue kitchens. Their stylish look is unquestionable, indeed! You can spice up this classic look by adding a statement-maker element such as this tiled kitchen island! The eye-catching tiled kitchen island that emerges to playfully entertain the entire appearance is the most unanticipatedly enjoyable addition.
ID# 169621 | Houzz.com – Credit | © propertylab+art
---
Light Blue Kitchen Cabinets with Glass Sheet Backsplash
Adorned by a light color scheme, this kitchen serves an ultra-modern appeal! The white glass sheet backsplash brings a clean and smooth appearance that enhances the stunning pale blue cabinets. To add visual interest, the multicolored floor tiles make an unexpected twist and enhance the overall look!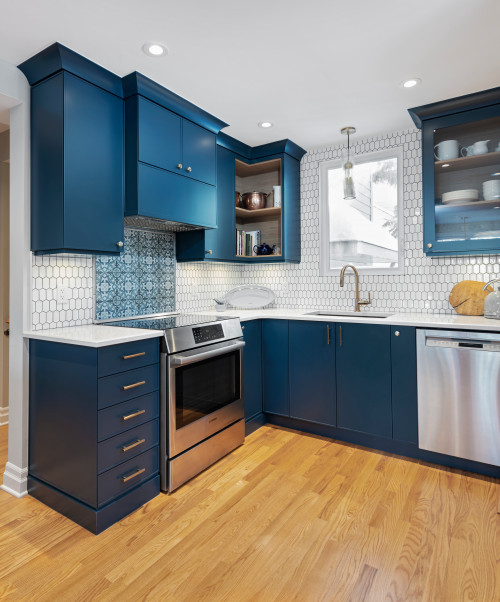 ID# 169622 | Houzz.com – Credit | © StyleHaus Interiors
---
Transitional Blue Kitchen Ideas with Elongated Hexagon Tile Backsplash
The dark blue cabinets contrast beautifully with the vintage inspired white hexagon tile backsplash! The backsplash made of blue mosaic tiles behind the stove serves as a striking focal point and the brass hardware heightens the opulent atmosphere.
Blue Backsplash for Blue Kitchen
Nothing is more lovely and inviting than a stunning kitchen backsplash that draws your attention the instant you come into the room. While there are several utilitarian benefits to installing a backsplash in your kitchen, homeowners are increasingly viewing this feature as an aesthetic addition that enhances the ambiance of the space. One of the ways to create an aesthetically pleasing look is using a blue backsplash for blue kitchens!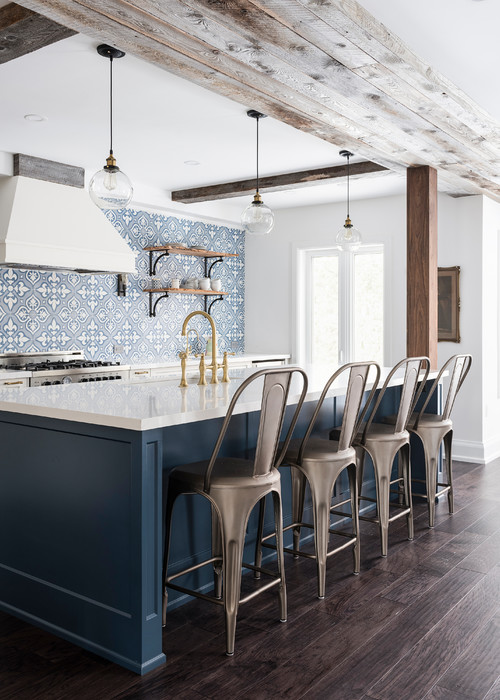 ID# 169623 | Houzz.com – Credit | © Lucvaa Kitchens
---
Blue Backsplash for Blue Kitchen with White Countertops
The blue patterned backsplash and the blue cabinets complement each other stylishly. The dark wood floors and the dark blue cabinets create a beautiful contrast. Stainless steel appliances and chrome hardware modernize the kitchen with their stylish appeal. The wood shelves and the blue backsplash create contrast and stylish views.
ID# 169624 | Houzz.com – Credit | © smarterBATHROOMS+
---
Blue Kitchen Ideas with Herringbone Backsplash and Quartz Countertops
You will adore this design if you want your backsplash to have a significant impression. As you can see, the horizontal orientation of the blue herringbone backsplash and, of course, the white grout color that emphasizes the eye-catching pattern further, make it a dramatic focal point. While the clean white Silestone quartz countertop softens the deep blue colors and adds a contemporary touch, the blue shaker cabinets give the backsplash a coherent effect.
Are blue kitchens out of style?
Blue kitchens are not out of style. The styles can change but the color remains. Since the blue color is timeless and a unique color that can bring a fresh and stylish look you can use it whatever your design style is. Matching them with white color is the perfect and risqué free option for the blue cabinetry. For instance, using white countertops and white backsplash is a well-known solution for blue cabinets that can both brighten up your kitchen and bring a fresh look. A traditional navy kitchen with wood and copper accents is more farmhouse, but a robin egg blue kitchen with brilliant white walls and gold hardware is more contemporary. There is a way to make the blue color work for you, even if it isn't neutral, no matter what your style is.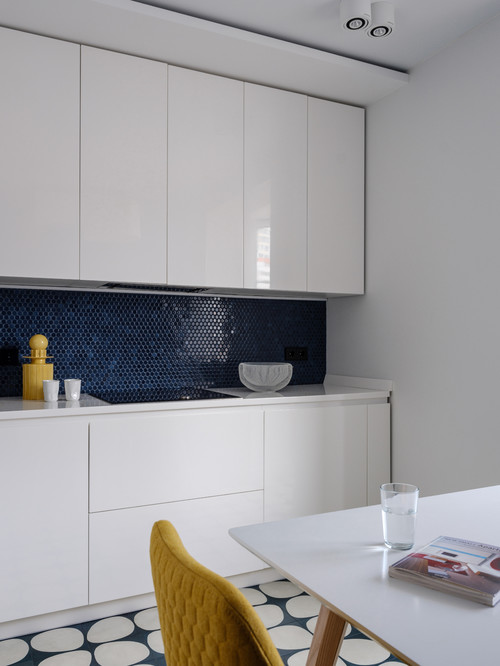 ID# 169625 | Houzz.com – Credit | © Анастасия Туганова и Ярослав Ряжский | Студия 25
---
Tiny Kitchen Design with Blue Penny Tile Backsplash and Lacquer Cabinets
The highlighted geometric aspects of the cabinets, as shown here in the white flat-front cabinets, are the most appealing aspect of modern kitchens! The modern cabinets that define both the upper half and bottom level provide a sleek style that is contrasted by a blue backsplash to keep the kitchen from feeling harsh or sterile. The backsplash's blue glass penny mosaic tiles add a pop of color while also providing visual drama and a tactile surface.
Gray Backsplash for Blue Kitchen
Do you want to make an attractive yet functional backsplash? The color gray is the way to go. A gray backsplash is a welcome alternative to an all-white backsplash since it is a stunning neutral that blends with almost any cabinet color and kitchen design. Best of all, gray comes in a plethora of diverse colors, making it all the more likely that you'll find a color that looks just wonderful in your kitchen.
Gray is one of the most adaptable hues that may be a terrific complement to kitchens because of its sleek beauty. Gray may also be used with a variety of color schemes due to its infinite tints and colors. Consider the color of your blue cabinets when choosing the hue of your gray backsplash. Gray backsplash for blue kitchens will work as a soft version of the black and white. If you're dealing with dark blues, lighter gray tiles will appear better as a contrast. Darker gray, on the other hand, might work well with light blue woodwork. Gray is a versatile color as the blue color, and their shades will complement each other stylishly.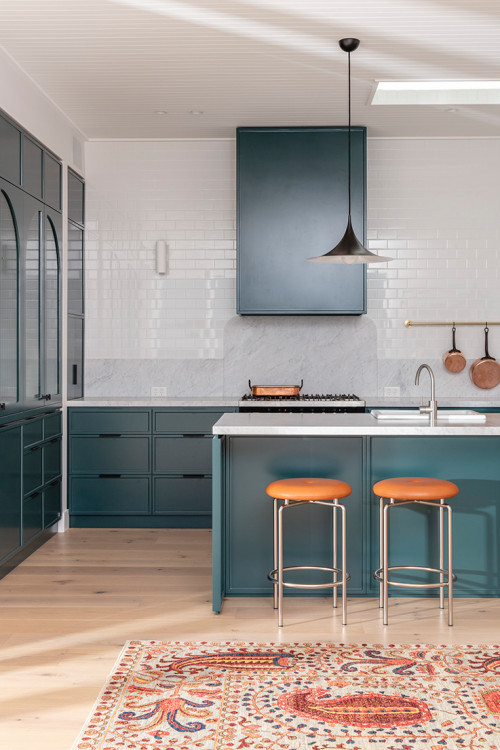 ID# 169626 | Houzz.com – Credit | © Newton Home Improvements
---
Gray Backsplash for Blue Kitchen and White Countertops
The gray backsplash is used in light tones that contrast to dark blue base cabinets. It is a beautiful choice to use matte black hardware with greenish-blue shaker cabinets to enrich the kitchen and enhance the modern aesthetic. Above the marble slab backsplash, the white subway tiles reach through the ceiling to create a clean and fresh backdrop while the blue range hood stands out on the tiles and creates a focal point.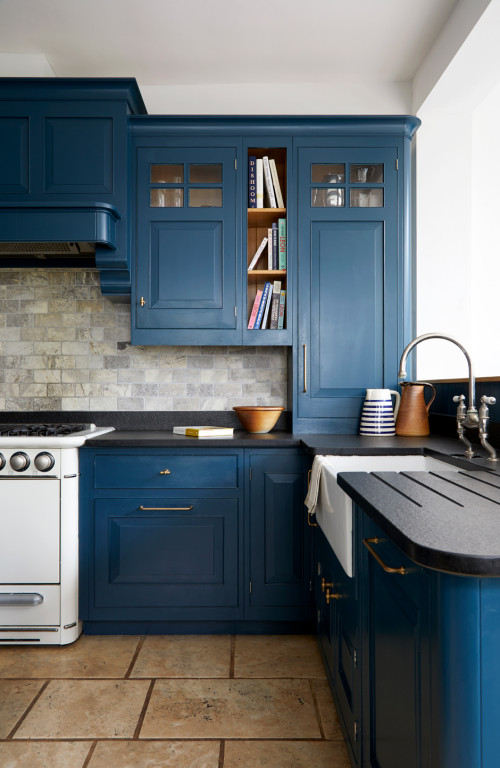 ID# 169627 | Houzz.com – Credit | © Fable Interiors
---
Transitional Kitchen with Marble Subway Tile Backsplash
If you want to accentuate the blue cabinets, it is a perfect choice to use brass hardware! You can also enrich the look of the blue kitchen in this way. The black granite countertops and the marble subway tile backsplash enrich the dark blue kitchen cabinets with a sophisticated touch while the beige floor tiles soften the contrasting color scheme and bring warmth to the atmosphere.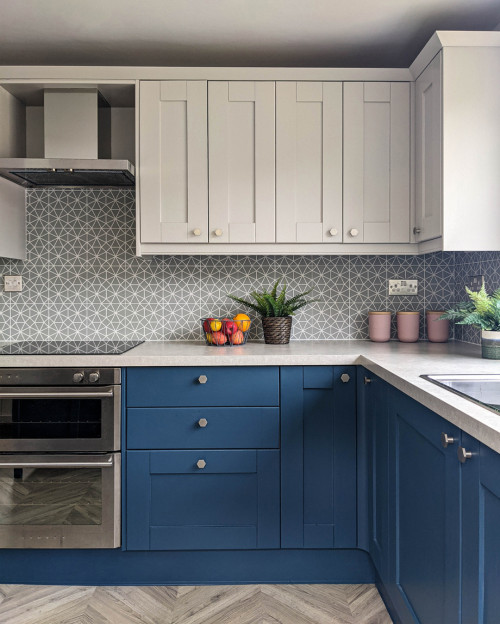 ID# 1696258 | Houzz.com – Credit | © No Space Like Home
---
Gray Patterned Backsplash Tiles for Blue Kitchen Ideas
The patterned backsplash tiles in this beach-style kitchen produce a pattern-rich background with retro feelings that exude comfort. The blue base cabinets add a wholesome dose of color in resonance with the ceramic backsplash tiles to complement the upper white cabinets. The quartz countertops make a cohesive final touch that complements the metallic hardware.