25+ Green Bathroom Vanity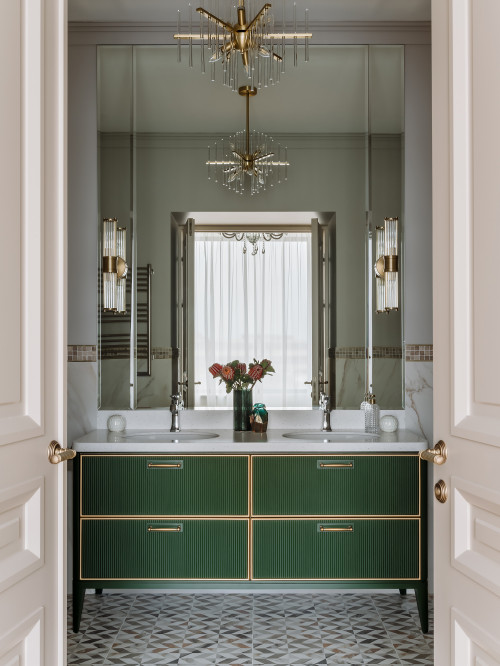 ID# 149107 | Houzz.com – Credit | © Наталья Широкорад
---
Dark Green Bathroom Vanity Harmony in Luxury Accent Bathrooms
When it comes to prioritizing luxury and sophistication in bathrooms, the dark green bathroom vanity reigns supreme. Its rich and sophisticated appearance is heightened in this luxurious bathroom where the green cabinets establish a stunning contrast with the bright walls and floors. The intricate patterns on the floor amplify the sense of opulence to its maximum level. The gold accents and crystal chandelier complement the elegant green hue impeccably and imbue the space with a regal aura. Further adding to the lavish ambiance is the large mirror, which elevates the overall experience of the bathroom.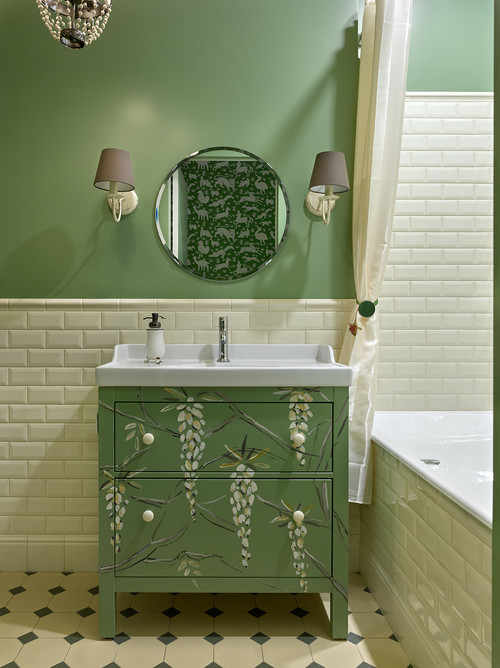 ID# 149123 | Houzz.com – Credit | © Наталья Митракова
---
Bathrooms with Floral Accents
The green-colored small bathroom vanity maintains a serene atmosphere in the bathroom, with floral patterns creating a natural vibe. The green tones on the walls add calmness and balance, combining well with white ceramics. The simple sink design enhances the overall harmony of the space. In conclusion, the Small Green Bathroom Vanity is an excellent choice for creating a peaceful and enjoyable bathroom atmosphere, with its green color and elegant design adding to the retirement home's ambiance.
Green Bathroom Vanity
A green bathroom vanity can instantly add a refreshing and unique touch to your bathroom design. Green is a versatile color that can evoke a sense of nature, tranquility, and vitality. A green-colored bathroom vanity can come in various shades, from soft pastel greens to bold emerald or forest greens, allowing you to find the perfect tone that matches your personal style and complements your bathroom decor. So, if you want to learn more and dive into the green bathroom vanity world, scroll down and find inspirational design ideas!
Imagine entering your bathroom and being immediately captivated by a stunning green-colored bathroom vanity. It's so alluring that it quickly becomes the center of attention in your space. A green vanity can inject a burst of color and create a sense of visual interest that perfectly complements contrasting or neutral colors in the surrounding area, while also evoking a peaceful and calming feeling to your bathroom. Green-colored bathroom vanities come in a variety of styles to suit your personal preference- ranging from sleek and modern to classic and traditional. Not only does the vanity offer a unique aesthetic, but it can also be made from a variety of eco-friendly materials like reclaimed or sustainably sourced resources. Choosing a green vanity displays your commitment to the environment and gives you a sense of satisfaction in making a personal impact on the planet.
Is green good for bathroom vanity?
The beauty of green is its versatility, allowing you to create different moods and styles. If you're looking for a calming and serene space, green can certainly do the trick. On the other hand, if you want your bathroom to pop and make a statement, green can be bold and vibrant. Its connection to nature can bring a sense of freshness and vitality to your bathroom as well!
Green Hues for Bathroom Vanity
Green hues are a fantastic choice for a bathroom vanity, adding a touch of nature and freshness to the space. From soft pastel greens to bold emerald tones, green can create a calming and rejuvenating ambiance in the bathroom! Whether incorporated into a modern or traditional design, green hues can make a statement and elevate the overall aesthetic of the bathroom. With their versatility and ability to complement other colors green hues are a great option for those looking to add a unique and stylish touch to their bathroom vanity!
Sage Green Bathroom Vanity
The Sage Green Bathroom Vanity exudes a serene atmosphere with its gorgeous soft colors. It's a charming piece that blends effortlessly with the overall design scheme, from the accessory, walls, and floors. Its lovely sage green shades give off a calming effect, allowing users to relish a harmonious ambiance in bathrooms with a similar tonal palette. For those who want to add a bit of contrast, it's also easy to achieve by going for complementary tones. Overall, the sage green shade transforms your bathroom into a serene oasis where you can indulge in a moment of tranquility.
What color goes with a green bathroom vanity?
When it comes to bathroom decor, nothing beats the beauty of nature-inspired green hues. Green is a color that evokes a sense of calm and tranquility, bringing a touch of the outdoors inside. The best part is that green seamlessly blends with other colors, allowing for endless design possibilities. Adding wooden accents to the green palette takes things a notch higher, creating a cozy ambiance that's both inviting and relaxing. Try it out for yourself and experience the warmth and earthiness that green brings to your bathroom.
Dark Green Bathroom Vanity
A Dark Green Bathroom Vanity is a show-stopping option for those who love to make a statement with their personal style! The deep, rich hue of the vanity exudes an air of luxury and extravagance, creating a sense of grandeur that will truly inspire you each time you enter your bathroom. Set against radiant walls and floors, the dark green vanity immediately captures your attention, with an unmistakable flair for fragility and charm. The smart use of golden accessories adds to the upscale feel of the space, further heightening the aesthetic elegance of the room.
What is the trend for bathroom vanities in 2022?
Preferences dominated by green tones are among the trends of 2022. The combination of dark and light shades of green can give a modern look.
Should a bathroom be light or dark in color?
Selecting a bathroom style can be a deeply personal choice. Our preferences typically play a significant role in this decision-making process, and the color scheme we select can be equally important. For individuals who enjoy a more subdued ambiance, incorporating a green-toned vanity can add a sense of sophistication and panache. This is a superb option for those who desire to create striking contrasts against lighter-colored walls. However, for individuals who prefer brighter tones, a lighter-toned bathroom would be a fitting choice to help promote a feeling of freshness and giddiness. Ultimately, the decision will depend on which aesthetic style suits your mood and personal preference when you step into your bathroom.
Light Green Bathroom Vanity
Are you looking to create a tranquil oasis in your bathroom? A Light Green Bathroom Vanity might just be the perfect choice for you! The soothing green hues can help melt away the stresses of the day and promote a sense of calm. And with its versatility, you can easily match wall, floor and accessory colors to create a seamless and cohesive look. By adding complementary colors to the mix, you can transform the peaceful vibe into a cozy and inviting space. Plus, the clean and pure aesthetic of the light green shades will leave your bathroom looking refreshed and renewed. For a modern and rejuvenating feel, consider incorporating light green tones into your bathroom décor!
What types of hardware are good for green bathroom vanity?
Choosing hardware for a green bathroom vanity can be a fun way to enhance its overall look and feel. Options such as brushed nickel, brass/gold, matte black, chrome, or wooden/natural hardware can complement various shades of green and add a touch of modernity, warmth, luxury, or rustic charm. Consider the overall design theme and color scheme of the bathroom to ensure that the chosen hardware complements and enhances the green vanity's aesthetic.
Olive Green Bathroom Vanity
Imagine walking into your bathroom and feeling an instant wave of sophistication and uniqueness wash over you. That's the power of an olive-green bathroom vanity. Its earthy and muted tones combine to create a serene and calming atmosphere that's perfect for any modern or rustic bathroom design. But it's not just the color that's captivating – it's the rich and warm hue that adds depth and character to the vanity, becoming the focal point of the space. What's more, an olive green bathroom vanity complements a range of materials such as wood, stone, and metal, offering you endless options for versatile styling.
The natural and organic vibe it exudes is simply irresistible. And let's not forget its inimitable style – an olive green bathroom vanity is sure to elevate the overall aesthetic of your bathroom, creating a statement piece that exudes elegance and charm. Trust us when we say that this is one purchase you won't regret.
Blue Green Bathroom Vanity
A Blue Green Bathroom Vanity is a stunning choice for those looking to make a statement in their bathroom. This unique color combination brings together the calming and refreshing hues of blue and green, creating a mesmerizing look. A blue-green shade can add a touch of elegance and sophistication to any bathroom design whether modern or traditional!
Types of Green Bathroom Vanity
With Types of Green Bathroom Vanity, it becomes very easy to modernize bathrooms. Simple bathrooms made elegant by the green color gain a much more contemporary look. Types of these vanities have a wide range of options in terms of dimensions, but it also has options that can easily adapt to small spaces and add warmth. It is observed that the time spent in the bathroom is much more enjoyable with the Types of Green Bathroom Vanity.
Modern Green Bathroom Vanity
The Modern Green Bathroom Vanity is the epitome of modernity and style, seamlessly integrating with contemporary homes. It's sleek design and vibrant green color add a touch of elegance and sophistication to any bathroom. Whether you prefer light or dark tones, the vanity's perfect harmony with any setting allows the green color to radiate and creates a delightful bathroom experience. This versatile vanity adapts to all tastes in decor, making it a colorful and classic option for those who seek a touch of unique style in their bathroom!
Small Green Bathroom Vanity
A small green bathroom vanity is a perfect solution for compact bathrooms or powder rooms. Its petite size allows it to fit seamlessly into small spaces, while the green hue adds a refreshing and lively touch to the bathroom. The compact design of the vanity offers both functionality and style, providing storage space for essential bathroom items without compromising on aesthetics. This vanity can be easily paired with other accessories and fixtures in the bathroom, creating a cohesive and visually appealing look. With their space-saving design and vibrant green color, small green bathroom vanities are a stylish and practical choice for smaller bathrooms.
Green Bathroom Vanity with Sink
Picture opening your bathroom door to an incredible green vanity accompanied by a gorgeous sink! The scene fills you with a sense of tranquility and calm, turning your usual morning routines into a peaceful and rejuvenating experience. The natural and fresh hue of the vanity brings in a refreshing ambiance, making it impossible not to smile. Having a sink is super practical but the addition of vibrant emerald green or soft sage green elevates the room's overall aesthetic and makes it stand out!