23+ Unique Bathroom Vanity Ideas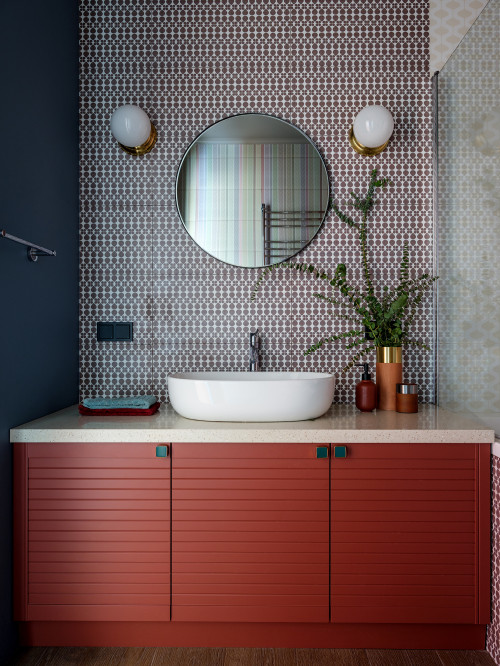 ID# 164506 | Houzz.com – Credit | © Студия Татьяны Архиповой
---
Red Bathroom Vanity with Patterned Backsplash Tiles
With its red vanity and black and white patterned backsplash tiles, this bathroom evokes some Midcentury vibes. While the vanity makes a statement with its strong red shade, the beige granite countertop and the white vessel sink soften the atmopshere. The circular mirror and globe sconces make a cohesive final touch.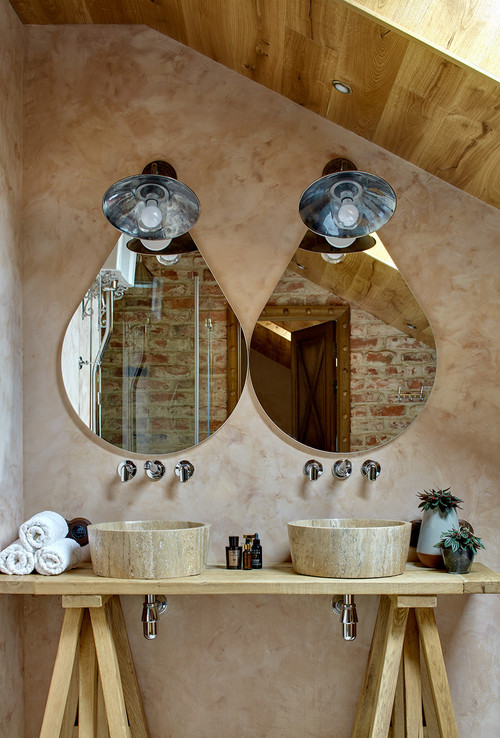 ID# 164517 | Houzz.com – Credit | © Кира Чувелева
---
Unique Mirror Designs with Metallic Sconces
This Mediterranean bathroom radiates timeless elegance and charm! The rustic wood vanity creates a warm and welcoming atmosphere with its beige stone vessel sinks. With their unique shapes, bathroom mirrors reflect the region`s rich artistic heritage while the metallic sconces above the mirrors add a contemporary vibe to the space.
Unique Bathroom Vanity Ideas
From floor tiles to bathtubs, bathrooms feature plenty of different elements and vanities are one of the most important of them. A bathroom vanity serves as the centerpiece of the bathroom and there are many unique ideas to make it stand out! In today's market, from natural wood to bright white, double sink to floating, you can find different unique vanity ideas that will help you to make a statement!
A bathroom vanity serves as a crucial aspect of bathroom design, not just for style but also for storage convenience but conventional bathroom vanities may come across as dull and lacking flair. If you're on a quest to give your bathroom a distinctive feel, then there's no shortage of creative vanity ideas worth exploring.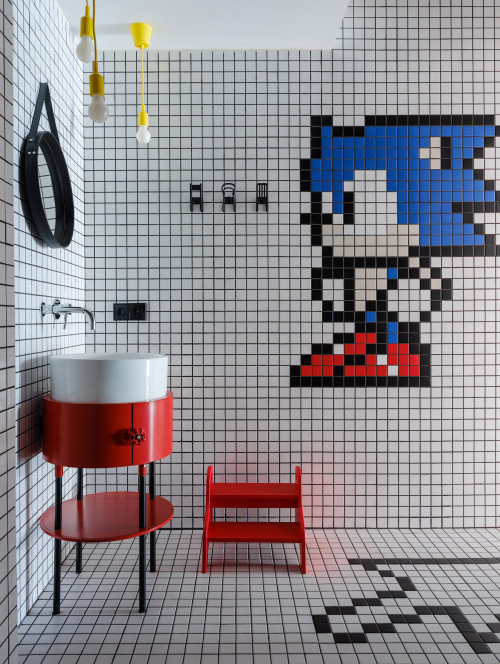 ID# 164501 | Houzz.com – Credit | © Architectural Studio RE
---
Kids Bathroom Design with Unique Tilework
Primary colors, a graphic tile treatment, and a video-game character motif on the wall – what more could a child want in their bathroom? White square tiles already create an eye-catching atmosphere with the black grouts. Also, adding a specially designed Sonic figure to it creates a completely special design. It gives a unique look for sure. But in this bathroom, all the furniture is unique. Red washstand, red stepladder, yellow pendant lights and black framed mirror provide a stunning contemporary appeal.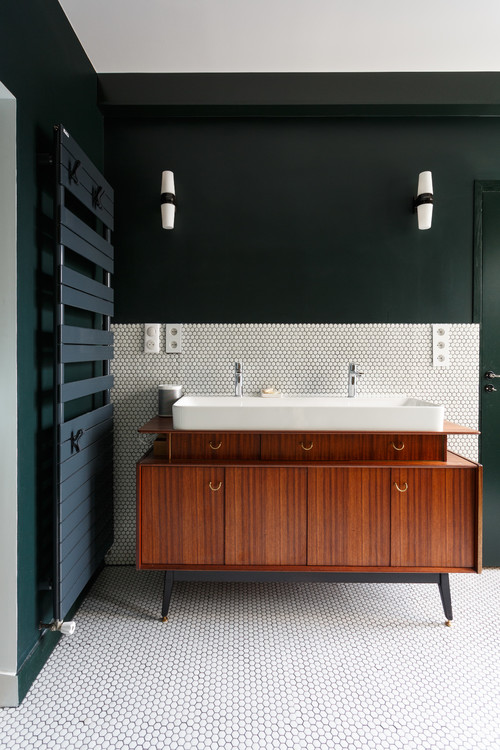 ID# 164502 | Houzz.com – Credit | © Studio Castille
---
Wood Unique Bathroom Vanity Ideas with White Penny Tiles
Enriched by a neutral color scheme, this contemporary bathroom offers a sleek and elegant atmosphere that is boosted with a striking contrast!! The wooden double sink vanity takes the stage in this space and creates a sophisticated appeal. The white penny tile backsplash and flooring add a classic yet timeless elegance while the black wall paint creates a contrast with the penny tiles to bring depth to the room.
What are the trends in bathroom vanities?
Using natural and organic materials, such as wood and stone, is one of the most notable trends for bathroom vanities. By combining these items into your bathroom, you not only bring warmth and comfort but also create a calm and quiet environment. The days of basic and uninteresting bathroom vanities are over. Currently, homeowners like distinctive, one-of-a-kind designs that create a statement and become the focal point of the area. This movement is characterized by asymmetrical geometries, unique finishes, and surprising hues!!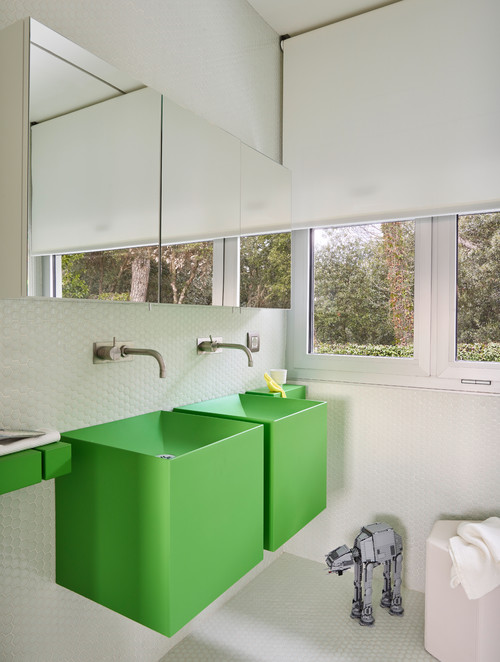 ID# 164503 | Houzz.com – Credit | © YLAB Arquitectos Barcelona
---
White Contemporary Bathroom with Green Vanity
Are you looking for a statement-maker vanity? This unique design might be a perfect addition to your bathroom then! With its vibrant gray shade and unique style this vanity offers a one-of-a-kind appeal. The rest of the bathroom is dominated by crisp whites to allow the vanity to be the star of the show. While the white penny wall and floor tiles create a slight textural look, the mirrored upper cabinets bring depth to the space.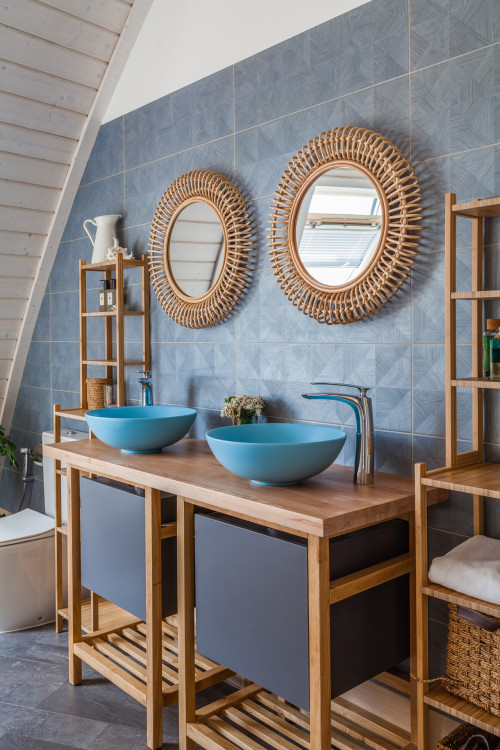 ID# 164504 | Houzz.com – Credit | © VerbaHome
---
Eclectic Bathroom Design with Blue and Wood Color Scheme
This eclectic bathroom serves the unique charm of the maximalist style! Here, the blue wall tiles create a sleek and elegant backdrop. The wooden frames of the vanity and shelves bring a warm sense to the space. The blue vessel sinks and drawers of the vanity complement the tiles and enhance visual interest. Last but not least, the circular mirrors act as a piece of art with their unique frames.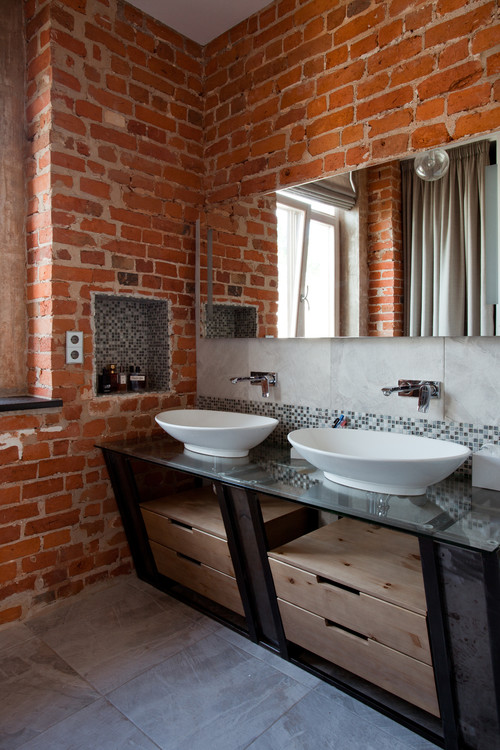 ID# 164505 | Houzz.com – Credit | © ART-B.O.s
---
Contemporary Bathroom with Exposed Brick Walls
In this contemporary bathroom, the exposed brick walls take the stage and bring the organic feel of the raw and unfinished look. The geometrical design of the vanity contrasts with these rustic bricks to enhance modernity!! The glass mosaic tile backsplash adds a nice textural look while the white vessel sinks and the large frameless mirror make the final touch.
Modern Unique Bathroom Vanity Ideas
A minimalist floating vanity is an excellent choice that not only provides a modern touch but also saves space!! Using mixed materials such as a wood base with a concrete or quartz countertop, creates a distinctive and aesthetically stunning contrast on bathroom vanities.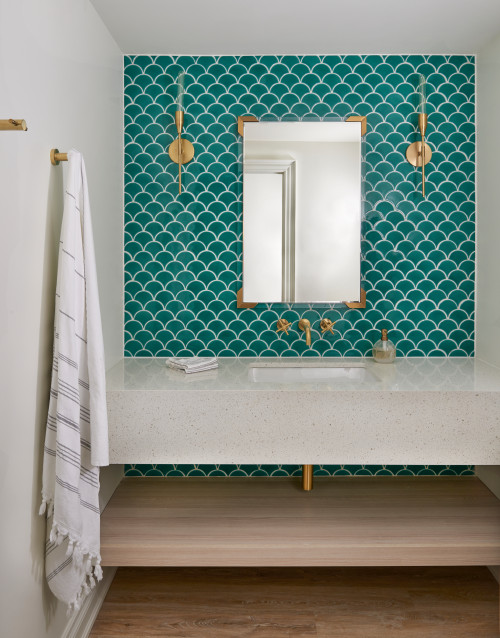 ID# 164507 | Houzz.com – Credit | © rtg designs
---
Teal Backsplash with Gray Floating Washstand
Enriched by a unique shape and gorgeous blue-green color, this fish scalebacksplash instantly elevates this otherwise ordinary bathroom design! Using white grout highlights the beautiful pattern of the tiles. The brass accents such as the faucet and sconces complete the luxurious appeal of the backsplash tiles while the gray floating vanity and the wood undershelf create a sleek and elegant look.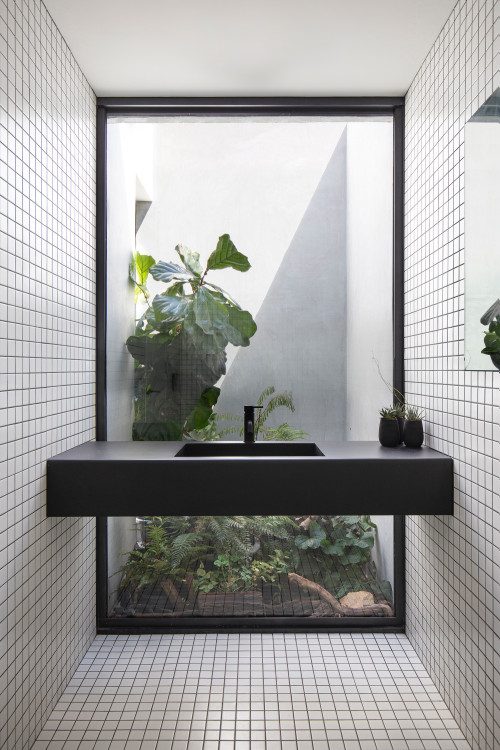 ID# 164508 | Houzz.com – Credit | © Brickworks Building Products
---
Black and White Bathroom with Square Tiles
Even if this bathroom is designed with a classic monochrome color scheme, well-chosen materials offer an elevated design. The white square tiles surround the space and create a nice textural look with their black grout. This grout also adds some retro vibes to the space. On the other hand, the large window is used as a backsplash and the greenery plants become part of the interior thanks to the window. The black floating vanity creates a focal point and provides a modern finish.
Which vanity is best for the bathroom?
When selecting a bathroom vanity it's crucial to find one that caters to both your practical requirements and style aesthetic! Factors like size, storage capacity, materials and design should all be taken into consideration! Moreover, ensuring that the vanity is of superior quality, capable of withstanding frequent use and possible moisture exposure, is equally important.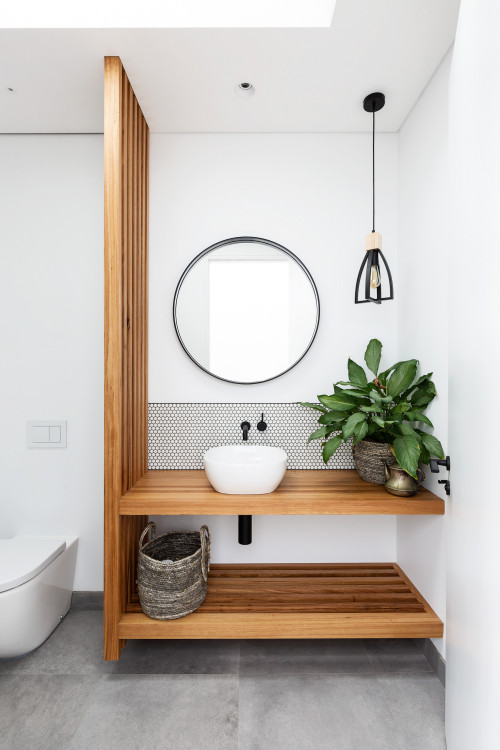 ID# 164509 | Houzz.com – Credit | © Bluestone Homes
---
Small Contemporary Bathroom with Gray Floor Tiles
If you are designing a small bathroom, using wooden slabs as a vanity is a great way to create an open and airy feel. In this contemporary bathroom, the wood panels are used as a countertop an undershelf. The small white vessel sink and penny tile backsplash complete the minimalist aesthetic.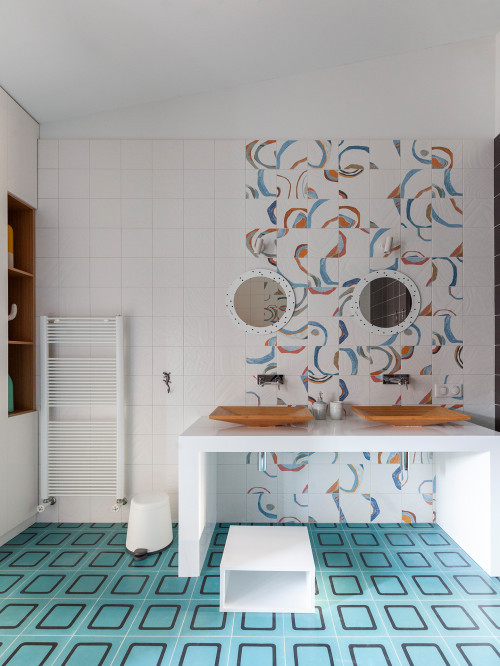 ID# 164510 | Houzz.com – Credit | © Lavka-Design
---
Unique Bathroom Vanity with Accent Wall
In this contemporary bathroom, not only the vanity, all features have a unique design that creates a one-of-a-kind appeal. First of all, the hand-painted colorful tiles create an accent wall behind the vanity. These tiles are accentuated by white ones that provide a bright and spacious atmosphere. The sleek white vanity serves a minimalistic look but the orange vessel sinks enhance the vanity. The blue floor tiles create contrast with the orange details and bring a coastal feel.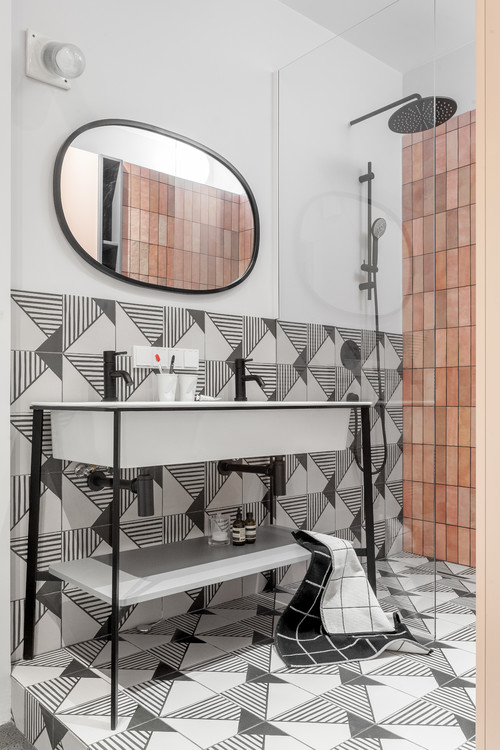 ID# 164511 | Houzz.com – Credit | © DVEKATI
---
Black and White Patterned Tiles with White Washstand
Yes, this white vanity has a unique and stylish design but the real deal is the black and white patterned tiles!! These tiles are used on the floors and the wall behind the vanity. The geometrical patterns of the tiles create an eye-catching effect. The rest of the walls are painted white to balance the dense patterns. On the other hand, the soft pink wall tiles in the shower break the monochrome color scheme and bring warmth to the atmosphere.
Luxury Unique Bathroom Vanity Ideas
When luxury unique bathroom vanity ideas are mentioned, designs consisting of flashy, high-quality, expensive pieces come to mind. It is possible to give luxurious effects in many different concepts, from modern to contemporary, from traditional to classical styles. For example, using marble on the floor, on the walls, and in the bathroom, vanity is the number one address that makes the luxury effect feel in the best way. The stylish stance of marble creates unique designs. Besides, adding gold and copper colors is another popular part of luxury designs. Stylish woods and laths are alternatives to another luxury effect. Luxurious and unique bathroom vanity designs are created with various variations depending on the taste of the users, the size, shape, and positioning of the space, just as a luxury effect is desired.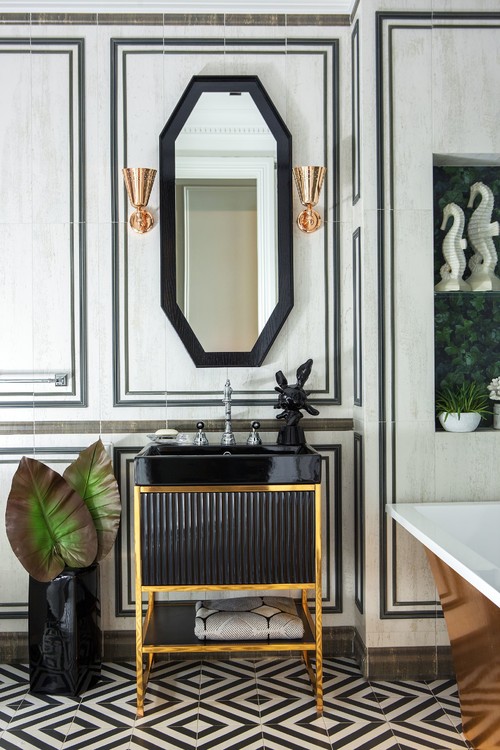 ID# 164512 | Houzz.com – Credit | © Оксана Олейник
---
Luxurious Bathroom Design with Gold Accents
If you love the `More and more` approach, eclectic style might be a perfect match for you!! In this eclectic bathroom, the monochrome color shceme and gold details offer a luxurious threat. The black single-sink vanity creates a focal point and adds a glamorous appeal with its gold accents. The large hexagonal mirror completes the elegance of the vanity while the brass sconces enhance the drama. The black and white patterned floor tiles make a modern touch and add another layer of texture.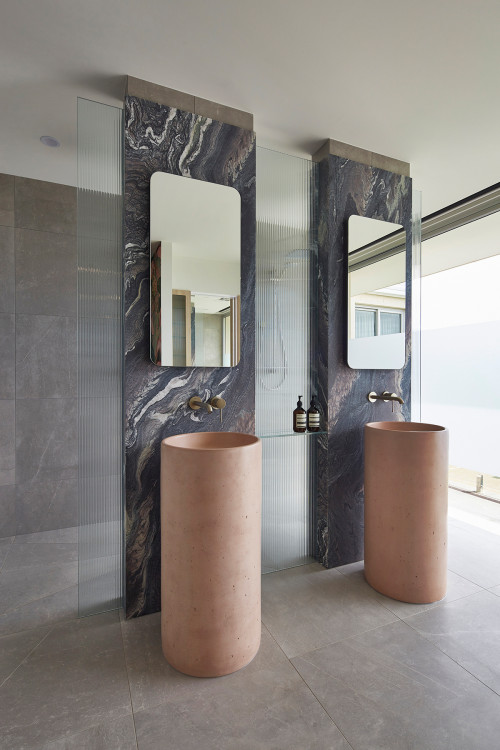 ID# 164513 | Houzz.com – Credit | © smarterBATHROOMS+
---
Pink Standalone Sinks with Marble Backsplashes
The pink stand-alone sinks are the focal feature of this contemporary bathroom!! Elegant marble slabs provide a sumptuous backdrop as a backsplash behind the sinks. The gray floor tiles provide a neutral base for the whole design.
Rustic Unique Bathroom Vanity Ideas
Do you want to make your boring bathroom into a pleasant and inviting space? Take a look at rustic bathroom vanities!! These beauties are ideal for bringing natural aspects into your design while generating a warm and appealing ambiance. Reclaimed wood is a popular material for rustic vanities because it provides character and charm to any area. Use a distressed finish to really bring out the rustic vibe. Consider a vessel sink composed of copper, stone, or porcelain when it comes to sink options. Don't forget about the mirror – a salvaged wood or metal frame would be a great addition to your new rustic vanity. Prepare to soak in style!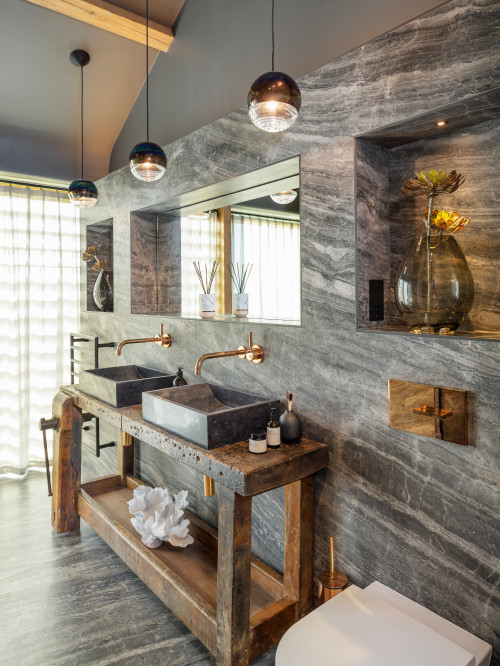 ID# 164514 | Houzz.com – Credit | © Woodford Architecture and Interiors
---
Rustic Unique Bathroom Vanity Ideas with Stone Vessel Sinks
When the rustic aesthetic meets with the luxurious lines, the result is just beautiful! In this rustic bathroom, the giant marble slabs are used as a backsplash and they create a sleek and elegant backdrop. The wood vanity and stone vessel sinks make a rustic twist against the marble and create a warm and welcoming atmosphere. The built-in niches provide a visual interest besides their functional aspects. The globe pendant lights make a warm globe above the vanity and complete the overall look.
What can I use instead of a vanity?
When it comes to choosing an appropriate replacement for a traditional bathroom vanity, there are several possibilities available! Alternatively, you might go with a wall-mounted sink that is sleek and contemporary. If you're feeling very inventive, you may refit an old, retro dresser or cabinet with correct plumbing and a sink, resulting in a beautiful vintage appearance. Then there's open shelving or a ladder shelf which provide storage and show space without the bulkiness of a traditional vanity.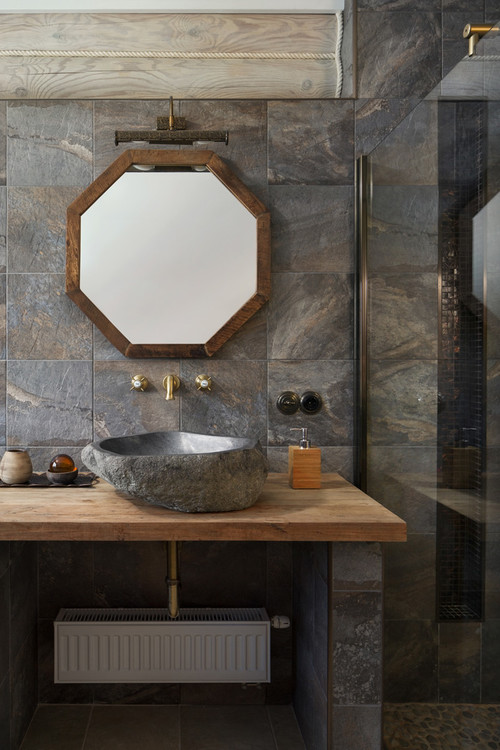 ID# 164515 | Houzz.com – Credit | © ART-LABS Interiors
---
Rustic Gray Wall Tiles with Hexagonal Bathroom Mirror
Natural materials create a coherent look in this rustic bathroom while gray stone wall tiles radiate rustic appeal, still providing a streamlined backdrop. The stunning stone vessel sink makes a focus point with its distinctive design on the wood vanity top. Finally, the hexagonal bathroom mirror offers a modern twist amongst the rustic features!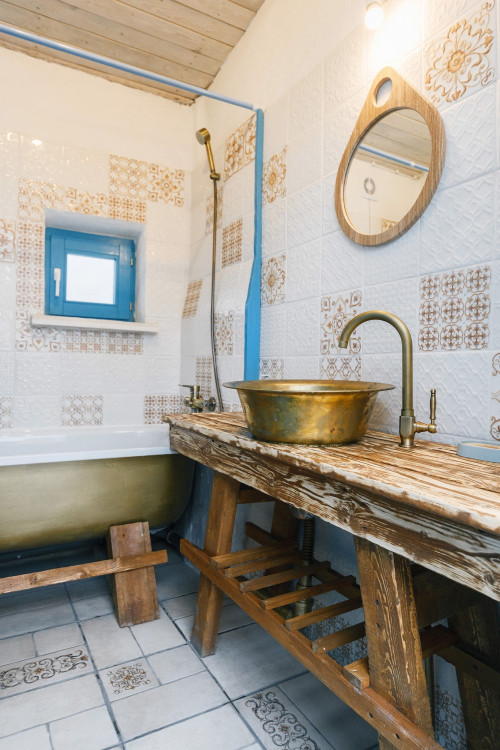 ID# 164516 | Houzz.com – Credit | © Проектное объединение Уникум.Горпроект
---
Vintage Bathroom Design with Gold Vessel Sink
In this rustic bathroom, natural elements create a cohesive look together. The gray stone wall tiles exude a rugged charm and provide a sleek backdrop. The wood vanity top is adorned with the gorgeous stone vessel sink which creates a focal point with its unique design. For a final touch, the hexagonal bathroom mirror adds a contemporary twist between the rustic elements. If you are a DIY lover, you will also love this rustic bathroom because its wooden vanity is repurposed from a table. The gorgeous textures and grains of this wood vanity are adorned with an aged brass vessel sink and faucet which make an unexpected luxurious twist. The beige and white patterned wall tiles complete the vintage flair of the overall look while the green freestanding bathtub adds a pop of color.
Unique Vanity Ideas for Small Bathrooms
If you're dealing with a small bathroom, hunting for the ideal vanity can be quite a struggle. Thankfully, there are numerous uncommon vanity concepts that can perform miracles for a tight bathroom space. For instance, consider selecting a wall-mounted vanity that opens up floor space and makes the bathroom appear more spacious than it actually is. Alternatively, you could go for a corner vanity that fits snugly in the room's corner. This type of vanity cleverly makes use of otherwise neglected space and provides ample storage for all of your bathroom essentials.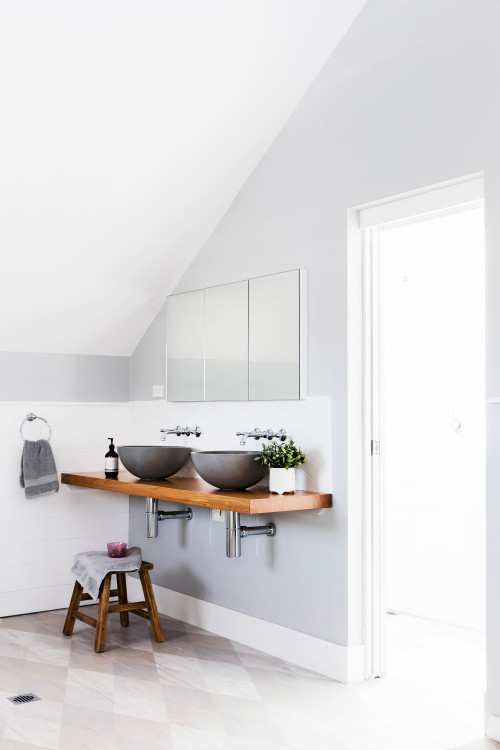 ID# 164518 | Houzz.com – Credit
---
Minimalist Bathroom with Mirrored Upper Cabinets
Simplicity and utility take center stage in this minimalist bathroom design! The wood-floating countertop and black vessel sink mix natural and contemporary features. The mirrored top cabinets give a visual illusion that expands the area.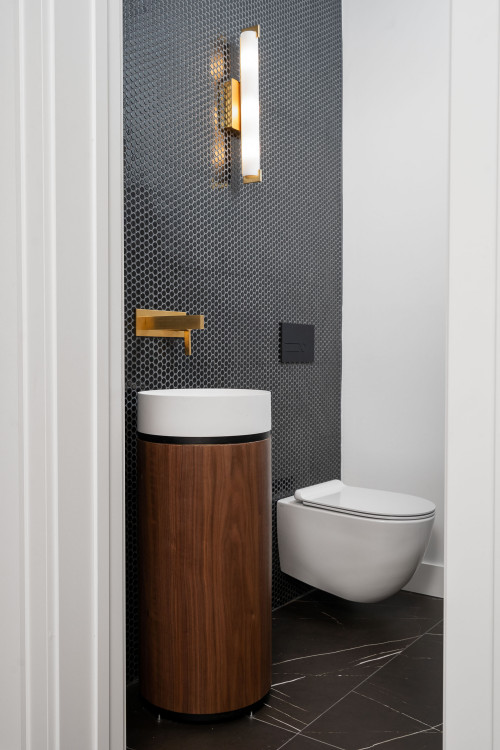 ID# 164519 | Houzz.com – Credit | © Muti Kitchen & Bath
---
Walnut Basin with Black Penny Tiles
Designed with modern lines, this bathroom presents the penny tile as if it were a jewel!! This bathroom creates an extremely stylish design with marble look ceramic on the floor and black round tiles. The black penny tiles provide a sleek backdrop. The brass sconce illuminates the black tiles, making the reflective surfaces clear. The atmosphere gives an intriguing and quality feel. The wooden detailed sink serves a modern and stylish look. The bathroom achieves this impression with simple and clean preferences and also presents it to the user.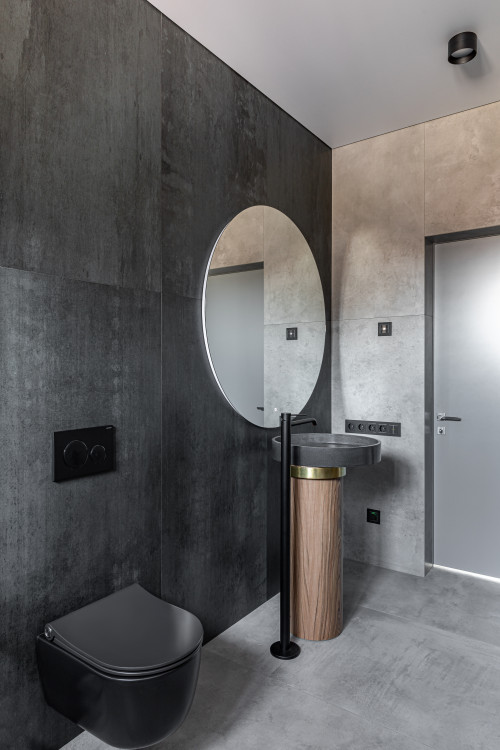 ID# 164520 | Houzz.com – Credit | © Silent-architect
---
Unique Bathroom Vanity Ideas with Large Black Wall Tiles
In this contemporary bathroom, each feature act as a piece of art and create a unique appeal together. The large black porcelain wall tiles provide a sleek and elegant backdrop. The oversized frameless mirror creates a focal point while the stand-alone vanity enhances visual interest. The light gray floor tiles soften the sharp look of the black ones.
What is the most popular bathroom vanity?
Modern and minimalist bathroom vanities have been popular in recent years while classic and farmhouse-style alternatives are ageless and never go out of style. When it comes to materials, solid wood, engineered wood and quartz are particularly sought after because of their long-lasting durability and appealing aesthetic!!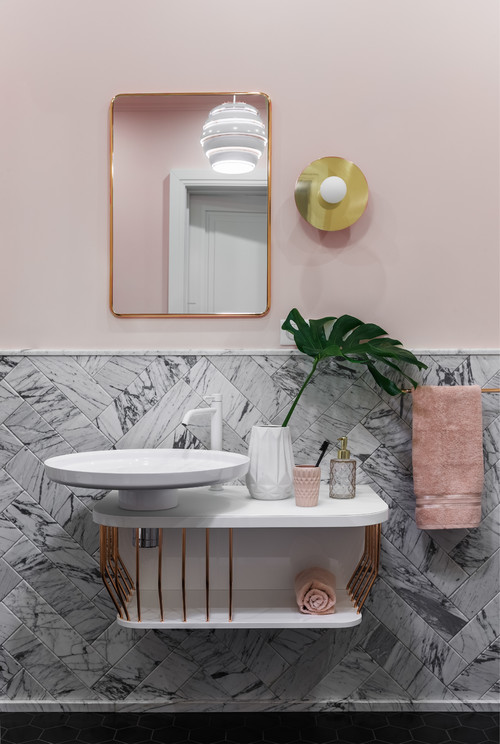 ID# 164521 | Houzz.com – Credit | © Ирина Марченкова
---
Tiny Bathroom Design with Marble Herringbone Wall Tiles
Enriched by a functional design. this tiny white floating vanity design serves elegant and practical usage. The glamorous marble herringbone tiles as bathroom wainscoting create an eye-catching backdrop for the vanity. The upper parts of the walls are painted pastel pink and they provide a joyful and welcoming atmosphere.
Unique Metal Bathroom Vanities
Looking for an amazing bathroom vanity that will impress your guests? Look no farther than one-of-a-kind metal bathroom vanities! These vanities have a one-of-a-kind design, with the whole cabinet made of metal, giving them a fundamentally sophisticated and spacious appearance. With copper, brass, bronze, and classic metal looks available, you may create an industrial atmosphere or a more beautiful, opulent impact. Why not take it a step further and mix & match various materials? You may obtain an unrivaled elegant and individualized aesthetic by integrating wood or natural stones such as marble. Believe us when we say that your bathroom will thank you!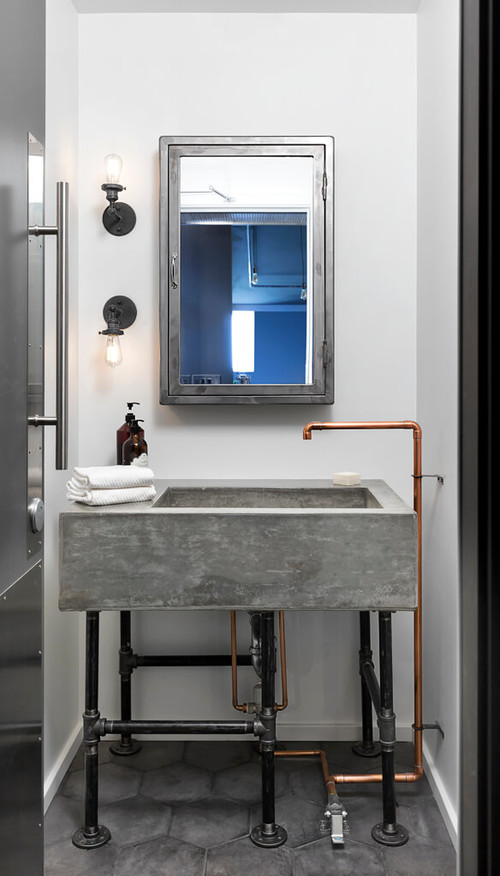 ID# 164522 | Houzz.com – Credit | © Ирина Марченкова
---
Metal Unique Bathroom Vanity Ideas with Concrete Sink
Constructed from black pipes and topped with a chic concrete countertop and basin, this unique bathroom vanity offers a contemporary aesthetic with an industrial charm! Adding convenience and style, the vanity offers extra workspace as well. The glamorous brass faucet adds a hint of elegance to the overall look while the bright white walls provide a beautiful contrast with the industrial design of the vanity.
What color vanity is most popular?
There is not any doubt that white is the most preferred vanity color owing to its pure and clean appearance. Gray tones, on the other hand, are ideal for creating a sleek and sophisticated atmosphere in your bathroom. If you want to create a more dramatic statement with your vanity, choose darker colors like black or navy blue!!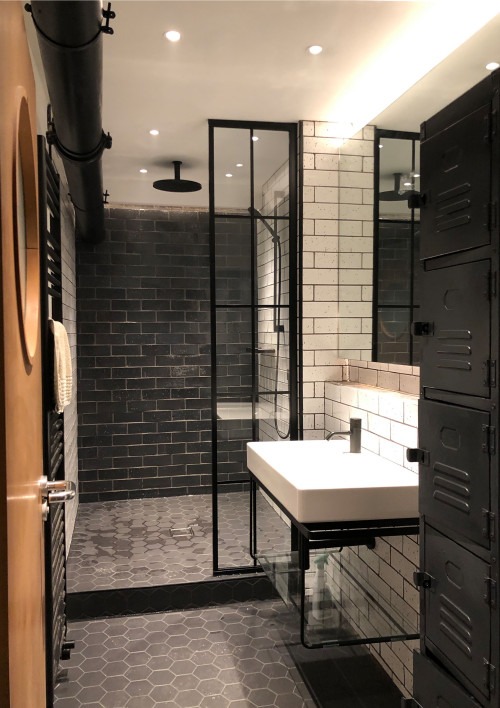 ID# 164523 | Houzz.com – Credit | © Mustard House Design
---
Unique Bathroom Vanity Ideas with Hexagon Floor Tiles
The gray hexagon tile flooring and black and white subway tile walls in this industrial bathroom design are both eye-catching!! The hexagon tile flooring adds a one-of-a-kind and eye-catching dynamism to the room while the black and white subway tile walls of the walk-in shower give a captivating contrast. The monochromatic color palette is emphasized by the wood door, which creates a warm environment in the room. The black hexagonal tiles' white grout gives a complimentary touch to the black-and-white contradiction.