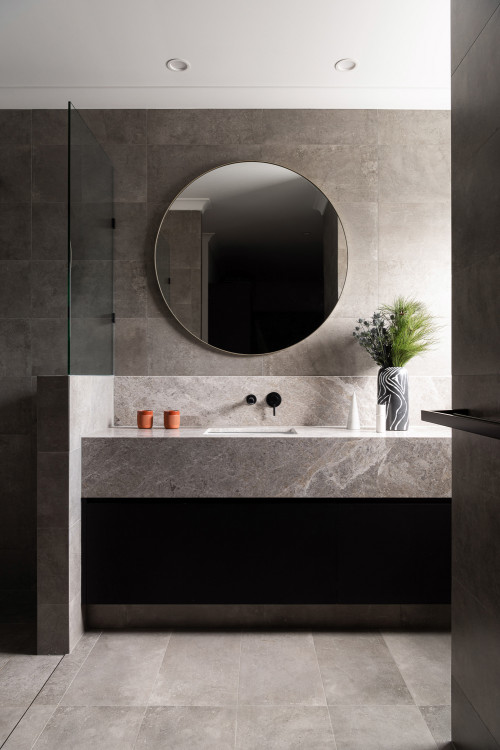 ID# 150604 | Houzz.com – Credit | © Limitless Building
---
Contemporary Style with Gray Marble Countertops
The use of gray porcelain floor and wall tiles provides a sophisticated and polished look, while the gray marble countertops and backsplash bring a luxurious, high-end feel! The black wall faucet adds a dramatic hint of flair and pizazz, while the round frameless mirror helps to create a unified atmosphere. This bathroom exudes a sense of meaningful design, inspiring comfort, and relaxation, which would make it an ideal place to start or end your day. The stylish combination of both natural materials and modern design elements forms a cozy and inviting ambiance, whilst the neutral colors and sharp lines give it a timeless and classic feel.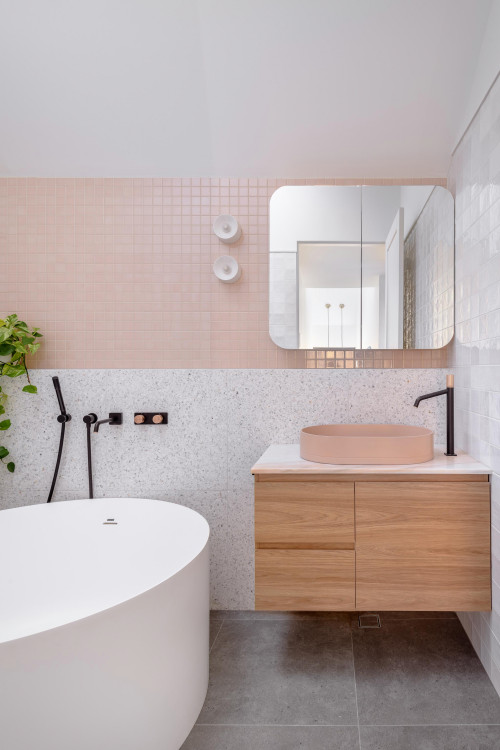 ID# 150615 | Houzz.com – Credit | © Spec Design Studio
---
Pink and White Tiles with a 30 Inch Bathroom Vanity
There is a sense of refinement and flair in this modern bathroom! The white freestanding bathtub and gray floor tiles give the room a clean and modern appearance, while the white and pink tile backsplash adds a touch of playfulness. The pink vessel sink gives a splash of color and the light wood flat-panel floating vanity lends warmth to the room. The frameless mirror helps to open up the room, while the brass and black accents provide a bit of glitz.
Bathroom Vanity Size
Choosing the proper bathroom vanity size may be the most crucial decision you have to make throughout your bathroom renovation, even though it's not the easiest. Your vanity will not only offer storage for extras but also serve as the focal point of your room's fresh decor. Once you become aware of the mind-boggling array of designs, sizes, materials, forms, and combinations available on the market, you will start asking yourself a lot of questions about what you want and what you need.
Consider how the vanity will be utilized while choosing the bathroom vanity size. A double-sink vanity can be the greatest choice to provide different spaces in a common space if you are redesigning a primary bathroom. Although some double vanities are as tiny as 48 inches wide, most are between 60 and 72 inches wide. Let's scroll down and learn more about the bathroom vanity size!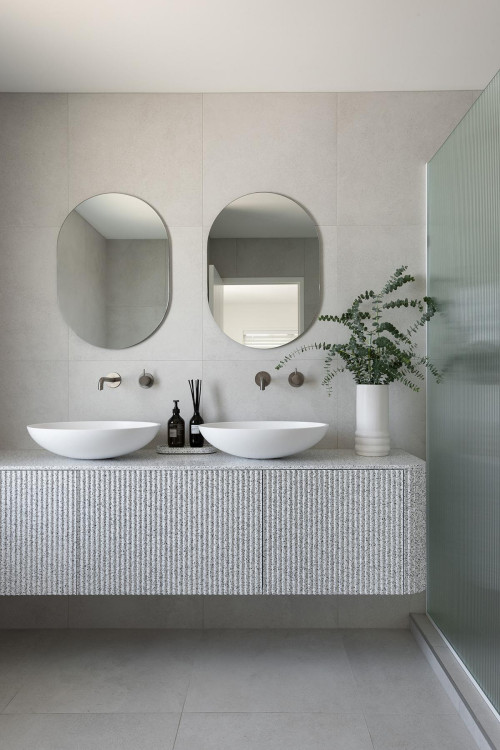 ID# 150601 | Houzz.com – Credit | © Small Bathroom Renovations Perth
---
Bathroom Vanity Size Decision with Curved Edges
The use of natural and man-made materials creates an inviting and welcoming atmosphere that fills one with a sense of calm and relaxation! The modern, yet timeless, design elements of the gray floating vanity with curved edges, the marble countertops and the white vessel sinks, add a touch of sophistication and style. The neutral colors and clean lines give the bathroom a warm and tranquil atmosphere, while the design elements provide a luxurious and high-end look. Together, the elements in this bathroom create an inviting and cohesive space that would be the perfect place to start and end each day; making it a beautiful and functional living space with a timeless, classic feel.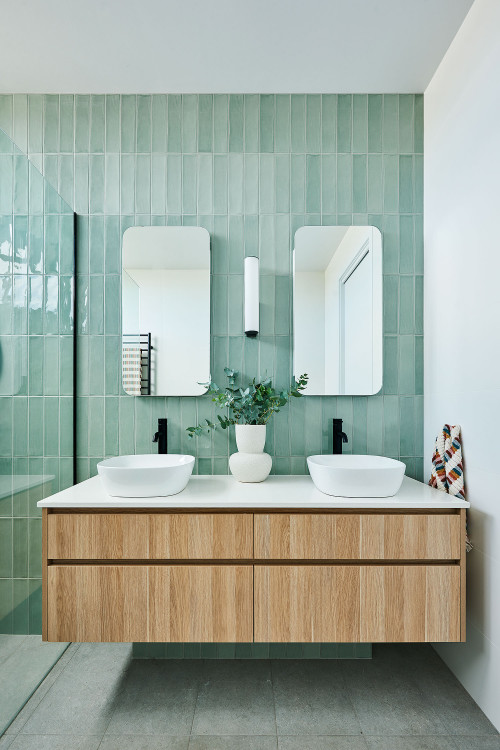 ID# 150602 | Houzz.com – Credit | © Dylan Barber Building Design
---
Green Tile Backsplash with Light Wood Flat-Panel Cabinets and White Countertops
In this roomy beach-style master bathroom, flat-panel light wood cabinets provide warmth and character to the space. The cabinets and the open shower give the bathroom a sensation of space and openness. The green ceramic tile backsplash gives a punch of color and visual interest, while the gray porcelain floor tiles lend a sleek and modern touch. The light wood cabinets provide a bit of seaside appeal, and the brilliant white laminate top helps to lighten and refresh the room. This spacious master bathroom in a beach-style design has a fashionable and unified appearance thanks to the combination of light wood, green tiles, gray flooring, and white laminate countertops.
How do I choose the right size bathroom vanity?
When it comes to selecting a bathroom vanity, size is an important factor to consider. The vanity should fit harmoniously within the space of the bathroom, and the size should be proportionate to the number of people who will use the bathroom. Taking into account your storage needs and desired style can also help to choose the right size vanity. Remember to stay within your budget – larger vanities are often more costly. Ultimately, investing in a vanity that meets your needs and complements your bathroom will bring a sense of satisfaction and contentment.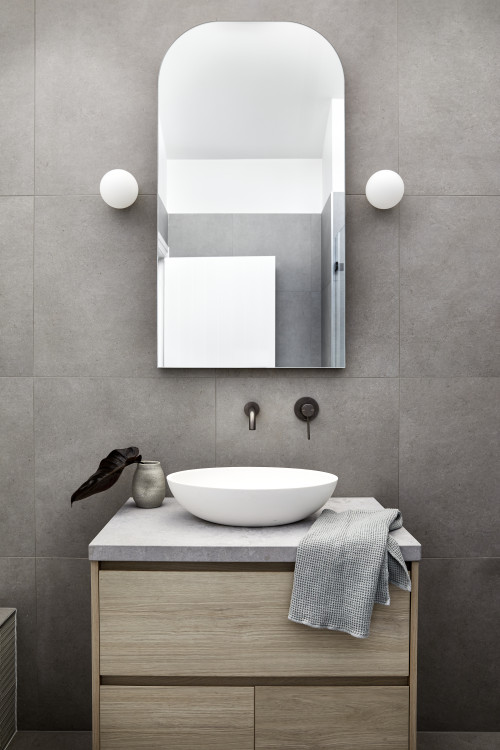 ID# 150603 | Houzz.com – Credit | © Covemade.
---
Small Bathroom Vanity Size With Gray Countertops and Light Wood Cabinets
The bathroom has a serene atmosphere with its neutral colors, crisp lines, and modern design. The floating vanity and light wood flat-panel cabinets give a sleek and contemporary touch, and the gray countertops provide a clean contrast. The white vessel sink adds a touch of whimsy and character, while the brass wall faucet brings in warmth and creates a pleasant visual texture. The dark gray tile walls, complemented by the frameless mirror with wall lighting, bring the space together beautifully and create a harmonious and cohesive look!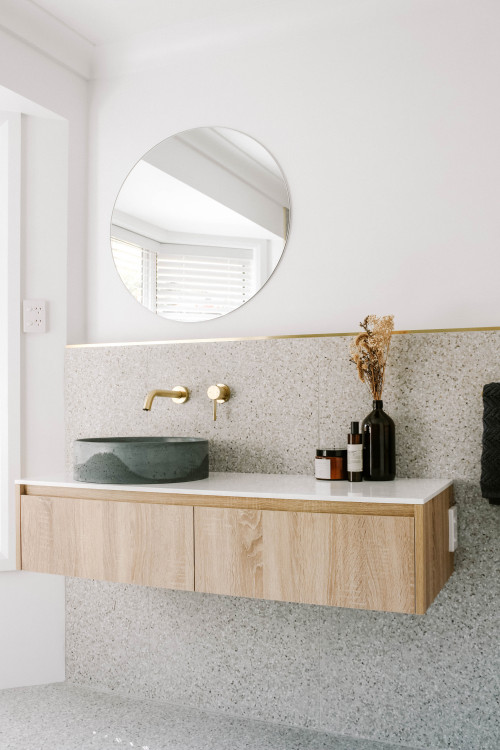 ID# 150605 | Houzz.com – Credit | © ABI Interiors
---
Industrial Bathroom Vanity Size with White Countertops and Gold Details
The light wood flat-panel vanity design blends well with the brass embellishments in a stylish way. This creates an extravagant impression for the bathroom in this industrial design style. The gray vessel sink and frameless round mirror complement each other geometrically. A gray backsplash and sink stand out clearly against white counters.
What size vanity for a small bathroom?
When it comes to selecting the proper size vanity for a small bathroom, it is essential to take into consideration how much space is available and how many people it will be utilized by. Here are some suggestions for choosing the perfect-inch vanity for a small bathroom with human feelings in mind:
For single person use: If this bathroom is mostly used by one individual, a vanity with a width of 24 inches or less should suffice. For shared use: If it is utilized by two people contemporaneously, a vanity with a length of 36 inches or more should be viewed as adequate.
For extra storage: If you have numerous toiletries, towels, and items that need to be stored adequately, a larger vanity with more storage is likely the perfect choice.
For those in a constrained space: If the area is particularly constrained, seeking out a corner, wall-mounted, or floating vanity can cut down on the total space taken up.
Choosing the right size vanity for a small bathroom can be a daunting task, yet considering all perspectives and human feelings can lead to the perfect vanity for one's space.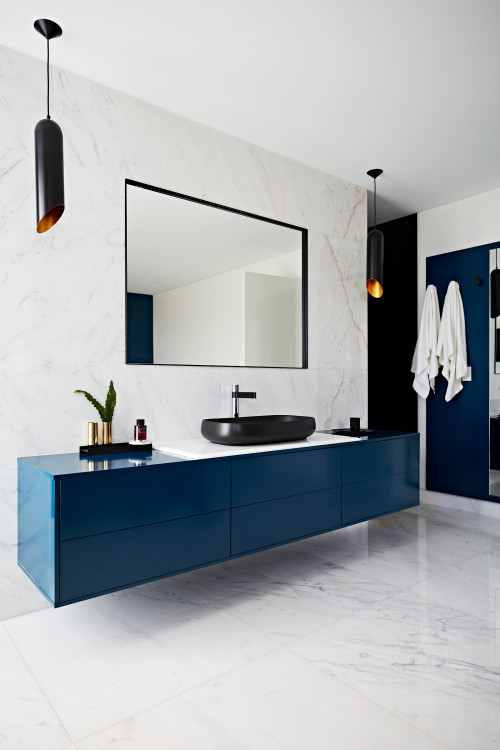 ID# 150606 | Houzz.com – Credit | © Some Studio
---
Blue Flat-Panel Cabinets and Black Details for a Contemporary Style
The floating vanity's blue flat-panel cabinets catch the eye. The blue floating vanity gives a splash of color and sticks out against the room's white walls and floors. The black embellishments complement the vanity's dark blue color while offering a chic counterpoint to the white surroundings.
What Are The Standard Bathroom Vanity Sizes?
Bathroom vanities come in a variety of sizes, allowing everyone to keep their comfort, space and needs in mind. No matter the size of your bathroom, you can find a standard vanity size to fit. 
Single-sink vanities:
Single-sink vanities are the ideal size for smaller bathrooms. Coming in sizes that range from 18 inches all the way up to 60 inches, they provide just the right amount of space to meet your needs. If you have a small powder room or a modest-sized master bathroom, these vanities can make all the difference in providing ample storage and organization.
Double-sink vanities:
Double-sink vanities create a few more possibilities for households with multiple people. These types of vanities typically range from 60 to 72 inches wide and come complete with ample storage and two sinks. This makes them great for families who need more room in their bathroom to accommodate multiple users. With double-sink vanities, bigger really is better for accommodating everyone's needs.
When it comes to selecting a bathroom vanity, size and layout of your bathroom are essential factors to consider. As personal tastes and storage requirements differ, weighing these elements carefully can help decide if a larger or smaller vanity is more suitable. Whilst a bigger vanity may be ideal for extra counter space or if you have many belongings to fit, a more modest vanity may be better for a restricted bathroom or for those who don't need many items stored.
18 Inch Bathroom Vanity
18-inch bathroom vanities are a great pick for small bathrooms and powder rooms. These compact, narrow options can make all the difference when it comes to creating a more open and airy feel, as well as offering a more manageable storage solution. Not only are 18-inch vanities super-efficient in terms of taking up minimal space, but they can also be fabulously stylish – choose from a range of traditional, contemporary, wall-mounted and freestanding designs that are perfect for expressing your individual style. Plus, they're ideal for those who don't necessarily need ample storage space.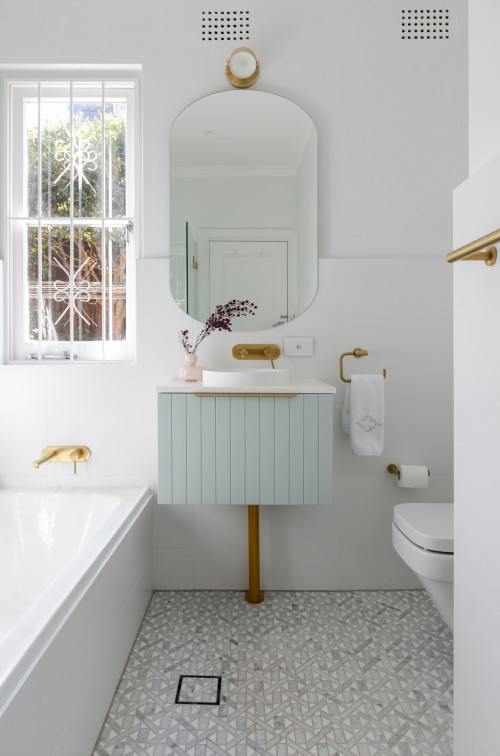 ID# 150607 | Houzz.com – Credit | © KENZ INTERIORS Interior Designer
---
18 Inch Bathroom Vanity Design with Blue Cabinetry and Brass Accents
This bathroom radiates chicness with its brass accents, blue cabinetry and white countertop. This intimate vanity measuring 18 inches is both efficient and stylish. The light gray tiling and white walls further heighten the aura of a clean and refreshing space. The white vessel sink beautifully finishes the classic, yet contemporary design — a truly delightful addition.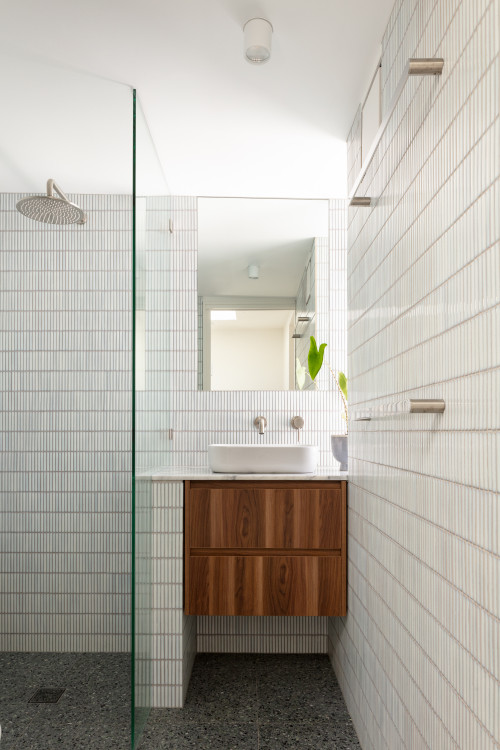 ID# 150608 | Houzz.com – Credit | © Architect George
---
Minimalistic Backsplash Tiles with Wood Cabinets
The wood vanity and tiles give the room a beautiful, harmonious ambiance. The white bathroom backsplash and walls reflect the light from the windows, illuminating the area. Drawing further attention to the vanity and walls, a deeper hue can be used to add even more appeal. The frameless mirror adds a sense of depth and space that can be appreciated on an emotional level.
What is the most common size bathroom vanity?
Typically seen in most bathrooms, the standard bathroom vanity size is 30-36 inches in width, offering plenty of counter space and storage for a single person, and with a matching mirror and lighting, it can really complete the look. For those with shared bathrooms or those with a larger footprint, double vanities are a great choice. Generally, these are 60-72 inches in width, with two sinks and an array of storage and counter space – perfect for families.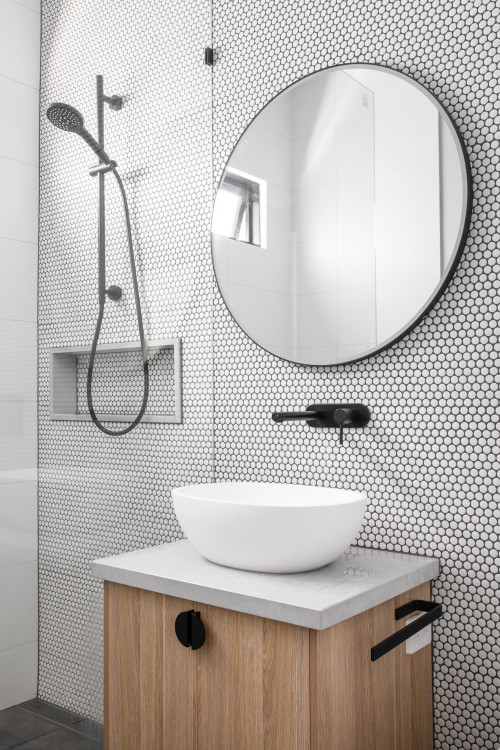 ID# 150609 | Houzz.com – Credit | © Kube Constructions
---
Hexagon Tiles and an 18 Inch Bathroom Vanity with Wood Flat Panels
Thanks to the small hexagonal wall tiles, this modern bathroom exudes beachy emotions that make you feel alive. The hexagonal tiles' black grout adds depth and character. The mirror frame and the black accents strikingly harmonize with one another. The bathroom has a bright and airy appearance thanks to the white worktops and light wood vanity cabinets.
24 Inch Bathroom Vanity
Considering a 24-inch bathroom vanity? With its miniature size, yet stylish elegance and useful storage, it can be the perfect addition to your small bathroom, half bath, or powder room. Whether wall-hung or freestanding, this small vanity can bring an inviting, cozy feeling to your space, making it the perfect piece for busy homeowners to tuck away their personal items and get ready for the day. With its versatile size, 24-inch bathroom vanities bring a sense of comfort as you freshen up and make sure you're looking your best.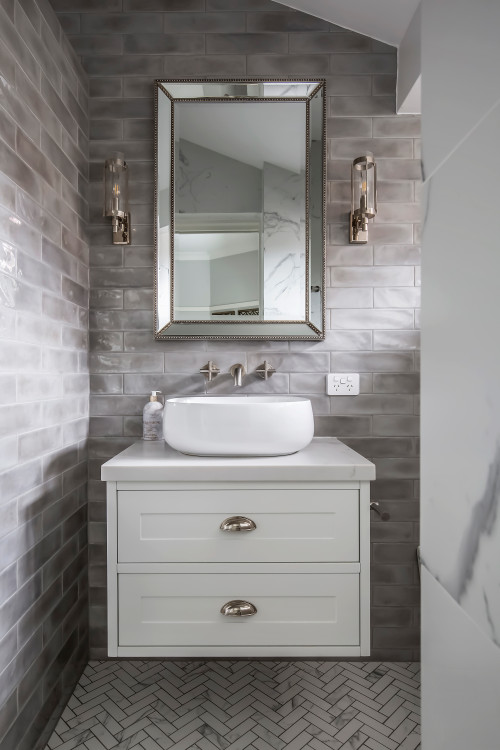 ID# 150610 | Houzz.com – Credit | © Gallery Living
---
24 Inch Bathroom Vanity with White Shakers and Polished Nickel Hardware
With its white worktops, white vessel sink, and white shaker cabinets, this bathroom exudes brightness and cleanliness. The design is given a warm, inviting touch by the cabinets' timeless and conventional shaker form. The polished nickel hardware complements the white worktops and vessel sink while adding a contemporary and streamlined touch to the design. Together with the white shaker cabinets and counters, the gray subway tile walls give the decor a little of texture and intrigue.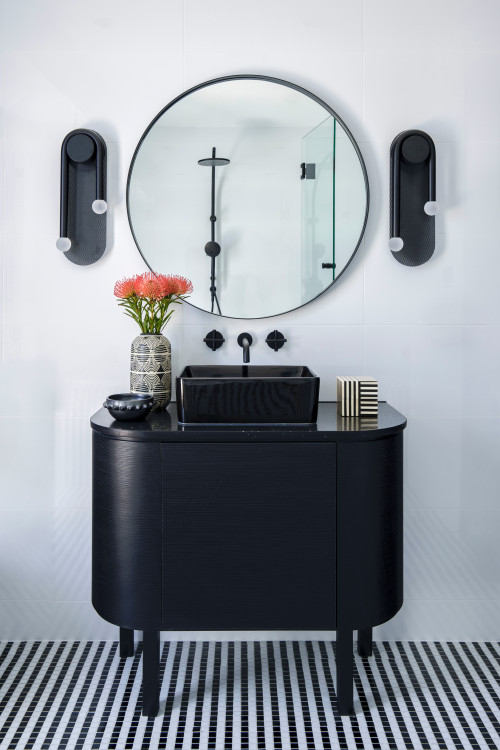 ID# 150611 | Houzz.com – Credit | © Kaiko Design Interiors
---
Black Cabinetry and White Walls for a Contemporary Design
This contemporary bathroom emanates a bold and striking sophistication, with a single freestanding black vanity serving as the main attraction. The vanity, paired with black granite countertops, exudes luxury and style, while the
black and white
mosaic tile floors lend visual interest and bring a touch of pattern. The white walls provide a clean and fresh canvas, and the black vessel sink atop the countertop rounds out the monochromatic scheme, perfectly encapsulating the sophisticated ambiance.
Is 18 inch vanity too small?
Considering an 18-inch vanity for your bathroom? It all depends on the size and style of the bathroom, the number of people using the space, and their individual storage needs. It can be a challenge to find the perfect fit, but here are a few things to consider when determining if an 18-inch vanity is right for you.
Size of the bathroom: If your bathroom is on the larger side, it may be best to opt for a bigger vanity, especially if you're sharing it with others. However, an 18-inch vanity could be the perfect solution for a small half-bathroom or powder room.
The number of people using the bathroom: For shared bathrooms, an 18-inch vanity may not be suitable, but it could be just right for a single user.
Storage needs: If you can't live without your array of toiletries, towels and other bathroom items, an 18-inch vanity may not have enough storage space for you.
Style of the bathroom: An 18-inch vanity will fit perfectly in a small bathroom with a modern or minimalist aesthetic, however, it may not work as well in a larger, more traditional space.
Figuring out if an 18-inch vanity is a right size for your bathroom can be overwhelming, but evaluating your space objectively can help you determine if this size is the best fit for you.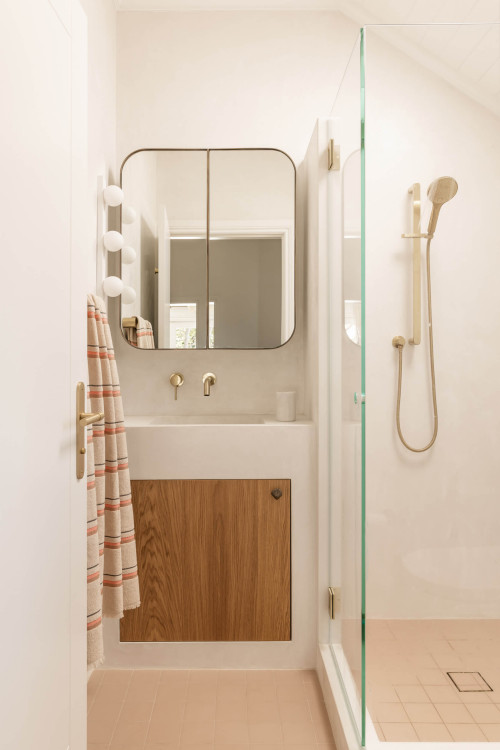 ID# 150612 | Houzz.com – Credit | © iSpace Solutions
---
Mediterranean Design with a 24 Inch Bathroom Vanity
This bathroom radiates warmth and serenity, with its inviting white walls and beige floor tiles offering a classic Mediterranean feel! The single built-in vanity brings a sense of orderliness and convenience with its light wood cabinetry and brass accents adding a luxurious touch. An undermount sink is the perfect finishing piece, infusing the space with elegance and poise. Overall, the neutral color scheme and Mediterranean-inspired design elements create an atmosphere of calm and tranquility.
30 Inch Bathroom Vanity
A 30-inch bathroom vanity is a perfect balance between storage and counter space, providing both in a medium-sized format. Looking for something that expresses your individual style? Choose from a broad selection of traditional, modern and personalized vanity designs. Materials like wood, marble and ceramic offer varied looks and textures, calming the senses while providing plenty of storage in a compact and beautiful size. Whether trying to capture a traditional or modern feel, there is a 30-inch vanity to invoke the desired atmosphere, creating a space that evokes a feeling of joy and serenity.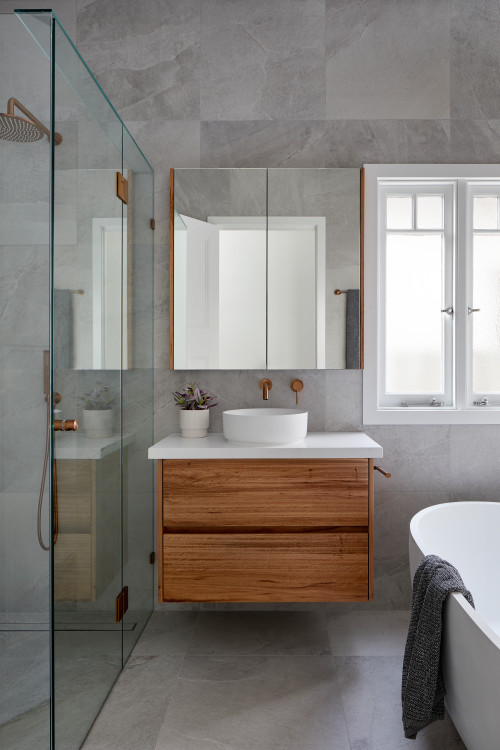 ID# 150613 | Houzz.com – Credit | © Demardi
---
Contemporary Design with a 30 Inch Bathroom Vanity
The white freestanding tub brings a sense of luxury and indulgence, while the floating vanity with light wood flat panels and white quartz countertops is a delightful source of warmth and natural beauty. The white vessel sink atop brings a sense of cleanliness and clarity, and the mirror panel upper cabinetry and brass accents add a touch of sophistication and a brilliant glimmer. Completing this, the matching mirror helps create an atmosphere of light and space, giving you the feeling of a grandiose expanse!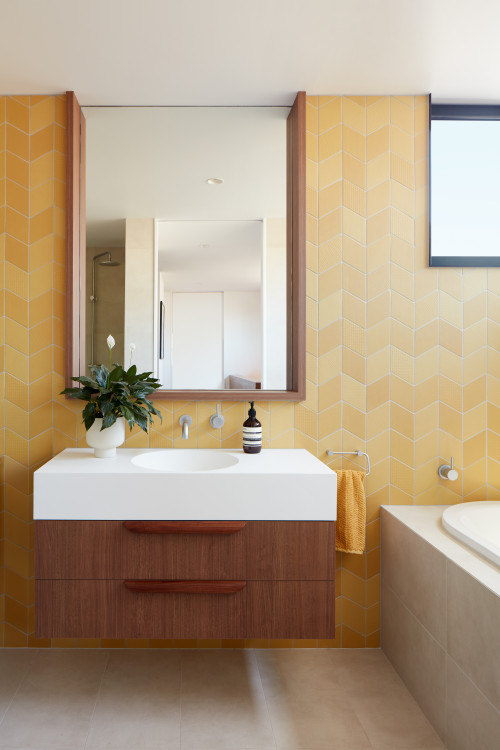 ID# 150614 | Houzz.com – Credit | © Bryant Alsop Architects
---
Yellow Ceramic Chevron Wall Tiles with Wood Cabinets
This bathroom offers a stunning and modern design, boasting a floating wood flat-panel vanity that brings a look of natural warmth and beauty to the space. The white integrated sink countertops give the area a pleasingly unified and tidy look, while chrome wall mount tapware provides some extra shine and elegance. Providing a neutral background, the beige floor tiles contrast delightfully with the yellow ceramic chevron wall tiles, giving the space a bold and eye-catching flair that can't help but draw admiration. All these features make it difficult not to feel a sense of admiration for the stylish and attractive design.
36 Inch Bathroom Vanity
Considering the design of a bathroom, taking into account a 36-inch bathroom vanity can be critical. With its ample storage and counter space, it is often the perfect fit for bigger bathrooms, functioning not only as a storage and organizational device but also as a focal point. Feeling overwhelmed by the sheer variety of choices? 36-inch bathroom vanities come in a range of styles, from traditional to modern. With so many options, it's easy to find one that matches the unique needs and preferences of you and your home.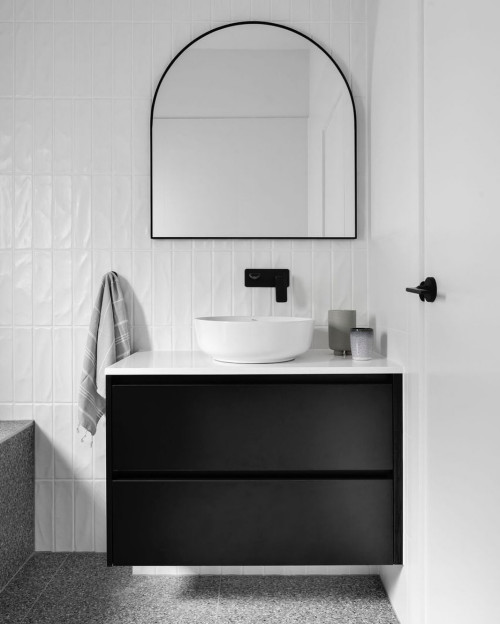 ID# 150616 | Houzz.com – Credit
---
36 Inch Bathroom Vanity with Black Flat-Panel Cabinets
The black flat-panel cabinets and white countertops of the vanity create a chic and cohesive look. The white round vessel sink adds an element of clean crispness and the black accents bring a touch of drama and sophistication to the bathroom. The white wall tiles and grey floor tiles provide a neutral, unifying base. The arched-top black framed mirror enhances the cohesiveness of the space while also helping to create the illusion of a more expansive room and reflecting light all around, inspiring feelings of warmth, welcome and comfort.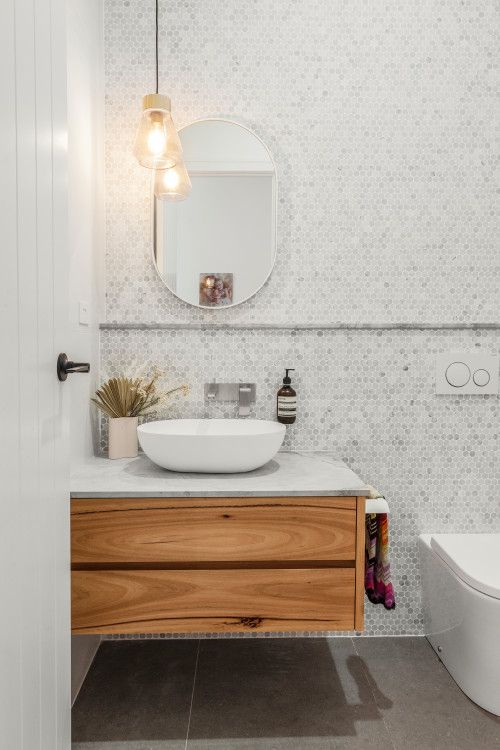 ID# 150617 | Houzz.com – Credit | © Everlong Constructions
---
Marble Mosaic Tiles and Light Wood Cabinets
The white marble vanity top and the gray marble mosaic backsplash wall improve the bathroom's overall design. The floating vanity made of a light wood with a flat panel adds to the bathroom's appeal as a contemporary setting with its straightforward design. The darker gray floor tiles emphasize the vanity and gray mosaic backsplash wall.
48 Inch Bathroom Vanity
Bathroom vanities are available in a variety of sizes, the majority of which have been standardized into a number of categories. Sizes range from 18 inches up to 48 inches or even longer. One of the first sizes that are reassuringly big enough to handle a second sink without making a tight area is a 48-inch bathroom vanity. It's still tiny enough, though, that a single, bigger sink may look nice. Alternatively, you might make the most of the counter area.
You may easily accommodate two smaller sinks for a "his and hers" type appearance in a 48-inch bathroom vanity. You must determine whether you require the extra sink, whether you have the plumbing, and whether you can install it. If they aren't undertaking a significant bathroom renovation, folks frequently decide to keep what they already have. It might take a lot more labor than people think to run new plumbing lines or remove existing ones. Thankfully, there are many different models available now that come with a 48-inch bathroom vanity and cabinet with single or dual sinks. Consequently, at this size, it ought to be simple for you to locate what you want.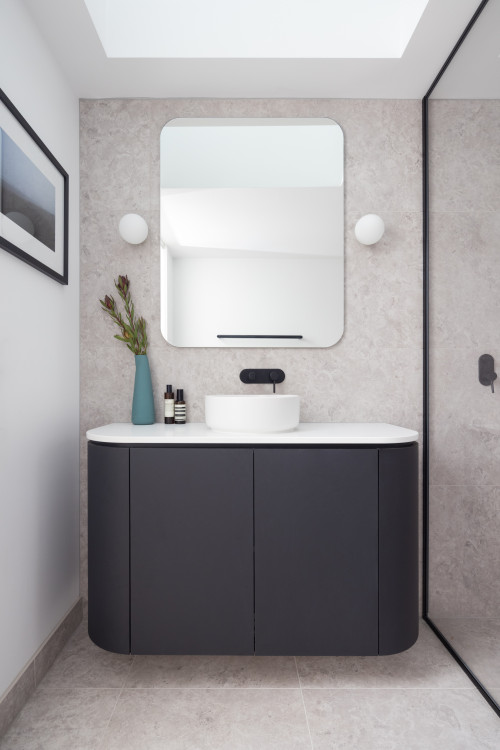 ID# 150618 | Houzz.com – Credit | © TP Interiors
---
48 Inch Bathroom Vanity with Gray Flat-Panel Cabinets and White Countertops
A cozy and serene atmosphere fills this bathroom, where style and sophistication prevail. It's the perfect escape to relax and rejuvenate, with a timeless combination of white and gray colors, along with a vanity with curved edges and a frameless mirror adding a modern touch. The frameless mirror enhances the minimalistic design, beige floor tiles providing a harmonious and unified base. Meanwhile, the white walls add to the refreshing and bright ambiance, making the bathroom seem larger and more open. All-in-all, this bathroom evokes an aura of peace and tranquility.
How many inches should a vanity be from a mirror?
Considering the height of the viewer, it is essential to ensure the distance between the vanity sink and the bottom of the mirror is between 5-10 inches, to provide a functional and aesthetically pleasing visual ratio. This ensures that the vanity mirror is positioned at eye level, allowing for the best way to use and appreciate its size and shape. Ensuring the vanity mirror is suitably placed at eye level with pleasing proportions can be a daunting task, but it is essential to creating a space of comfort and functionality within your bathroom. Taking into account the size and shape of the mirror, in addition to the height of the viewer, will help create a beautiful and timeless experience.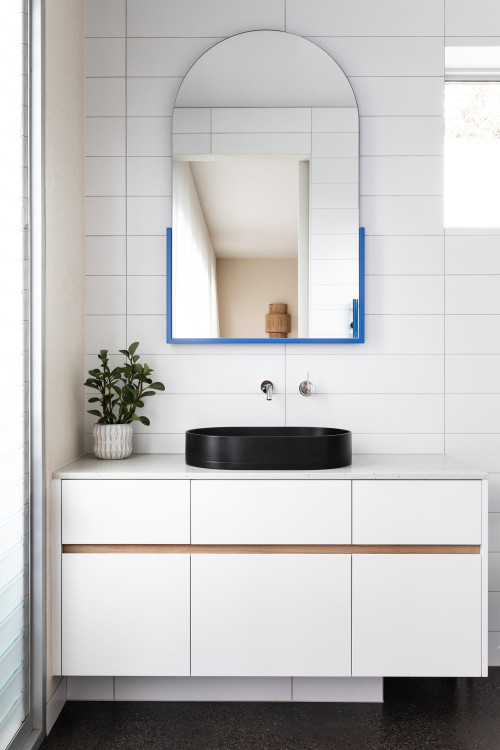 ID# 150619 | Houzz.com – Credit | © eat.bathe.live
---
White Flat-Panel Cabinets and White Tile Walls with a Black Vessel Sink
In this bathroom, the white
porcelain tile backsplash
and white floating vanity blend together to create a feeling of harmony and unity. The clean lines and geometric shapes of these elements are a perfect compliment, giving them a charming and stylish fit. The black vessel sink and flooring contribute a touch of sophistication and poise, creating a sense of uniformity and cohesion. The blue frame of the mirror completes the look, adding a splash of life and lushness to the room while also providing a delightful contrast to the monochromatic scheme.
60 Inch Bathroom Vanity
A sixty-inch bathroom vanity is a luxurious and impressive addition to any home. Whether you're furnishing a large master bathroom or simply want to create a modern and sophisticated look, there's a range of design styles to accommodate this stunning piece of furniture. From traditional to contemporary and wall mount to double vanities, the options are nearly endless. And, as any homeowner knows, the size of the vanity is measured in inches with respect to the width of the countertop.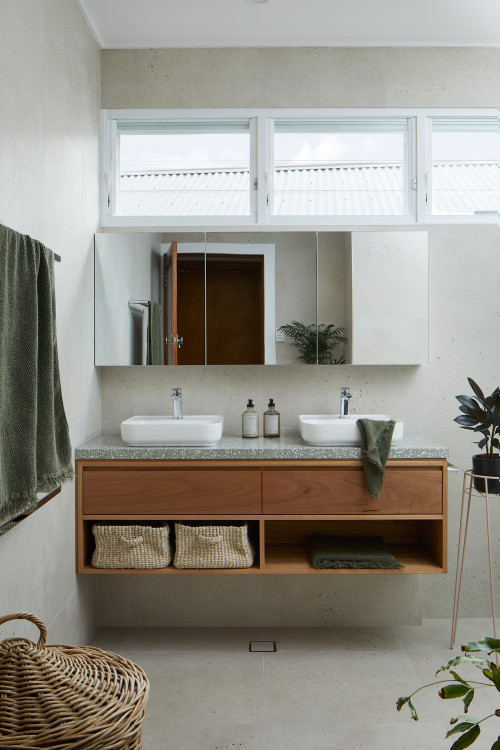 ID# 150620 | Houzz.com – Credit | © EKAH Studio | Architecture + Interiors
---
60 Inch Bathroom Vanity Design with Vessel Sinks
This bathroom is a perfect harmony of bold and serene! The floating vanity is the standout focal point, with its 60-inch size, two white vessel sinks, gray worktops and a flat panel in a mid-tone finish. The olive-gray accents add depth and drama, while the light beige walls and floors create a soothing atmosphere. The combination elicits a feeling of ease and comfort, creating a chic and welcoming space.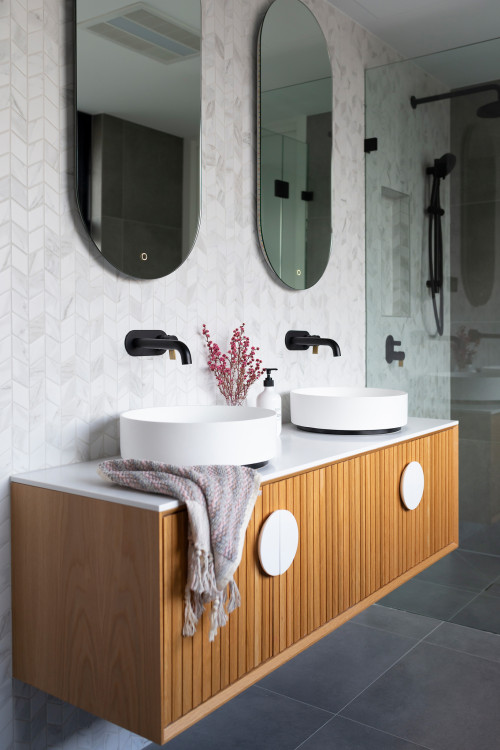 ID# 150621 | Houzz.com – Credit | © Studio Black Interiors
---
Gray Porcelain Chevron Tile Backsplash Wall with Wood Cabinets
This bathroom brings warmth and natural beauty with its furniture-like vanity and wood cabinets, crowned by white quartz countertops and a white vessel sink, while the black tapware adds drama and sophistication. Frameless mirrors contribute to a minimalistic, cohesive look, and gray floor tiles create a neutral foundation. A light gray porcelain chevron tile backsplash wall adds texture and a hint of character, breaking up the monochromatic color scheme and bringing a unique touch of personality to the space. This bathroom truly radiates a feeling of contentment and coziness.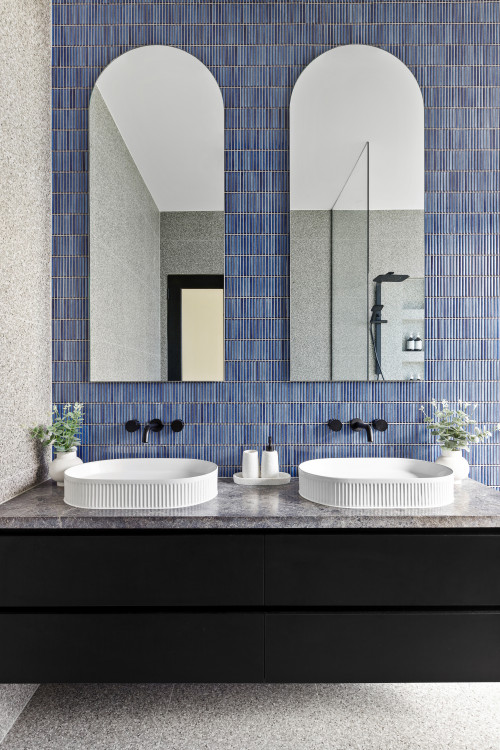 ID# 150622 | Houzz.com – Credit | © Daniela Fulford Photography
---
Blue Stacked Tile Backsplash with a Black 60 Inch Bathroom Vanity and Gray Countertops
This bathroom boasts a sleek and modern design, with a blue stacked tile backsplash wall adding a pop of color and visual interest to the space. Black tapware adds a touch of drama and sophistication, while white vessel sinks create a clean and crisp look. A double sink floating black flat-panel vanity serves as the focal point of the bathroom. It provides plenty of storage and counter space. Gray stone countertops add a touch of natural beauty and warmth to the space. The gray floor tiles and gray wall tiles provide a cohesive and neutral base.
72 Inch Bathroom Vanity
A 72-inch bathroom vanity is a grand, spacious piece of furniture that can bring plenty of style, functionality and storage to a bathroom. Excellent addition to large or master bathrooms, it can act as a stunning visual centerpiece. If a vanity of that size is desired, it is generally best to opt for one with at least one sink. But if the bathroom is shared or has plenty of floor space, a double-sink vanity would be the more optimal choice. For a timeless and quite marvelous look, one might try a 72-inch vanity featuring bespoke detailing and an appealing hue.
Alternately, a black granite top and matching white undermount sinks can create a chic, classic look. To add even more storage space, consider one with raised panels and craftsmanship to add an air of classic elegance. To further complete the look, one might opt to add a harmonious tile or stone backsplash and flooring, then add gorgeous mirrors and sconces to bring the desired sentiment to life.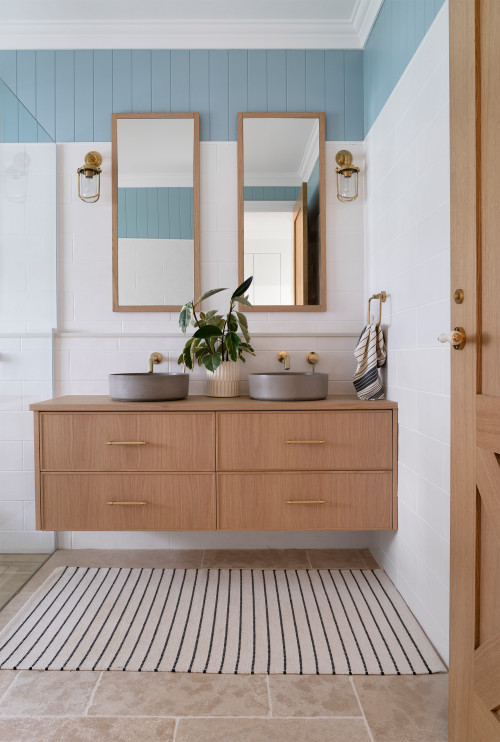 ID# 150623 | Houzz.com – Credit | © Intrim Group Pty Ltd
---
72 Inch Bathroom Vanity Design With Gray Vessel Sinks and Brass Accents
To add a little bit of nature to your house, consider installing a beach-style bathroom with a floating wood double sink vanity. The gray vessel sinks in a circular form lend a contemporary element, while the wood flat-panel cabinets and worktops give off a natural, rustic vibe. The brass accents and thin wood frame mirrors give the appearance of a polished finish. This serves as the ideal finishing touches. In this bathroom, the brass cabinet hardware is a lovely finishing touch. The warm, golden tone of brass provides a sense of opulence and harmonizes with the vanity's wood tones. It's a terrific option for anyone who wants to give their beach-themed bathroom a touch of glitz!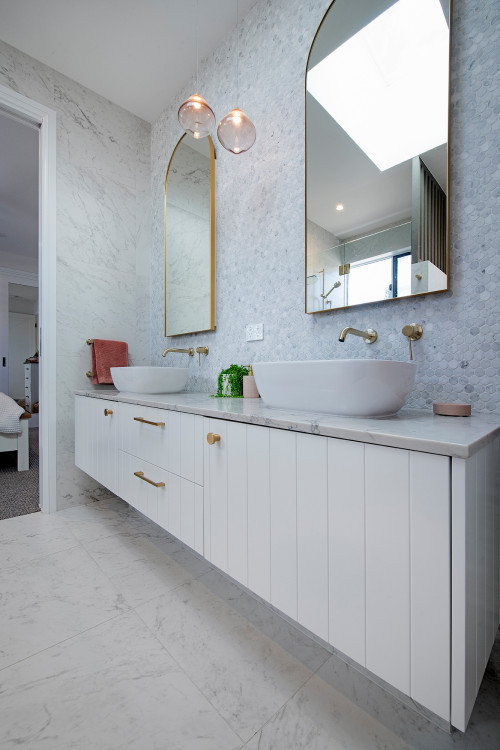 ID# 150624 | Houzz.com – Credit | © Just Wardrobes & Storage
---
Stone Countertops and White Beadboard Cabinets with Brass Hardware
The vanity features white beadboard cabinets and brass hardware, creating a chic and cohesive look! Stone countertops add a touch of natural beauty and warmth to the space. White vessel sinks complete the clean and crisp look of the vanity. Brass tapware adds a touch of drama and sophistication to the bathroom. The thin brass framed mirrors add to the cohesive and minimalistic look of the space. White tile floors and a marble penny tile backsplash wall provide a neutral and cohesive base, while also adding texture and visual interest to the bathroom.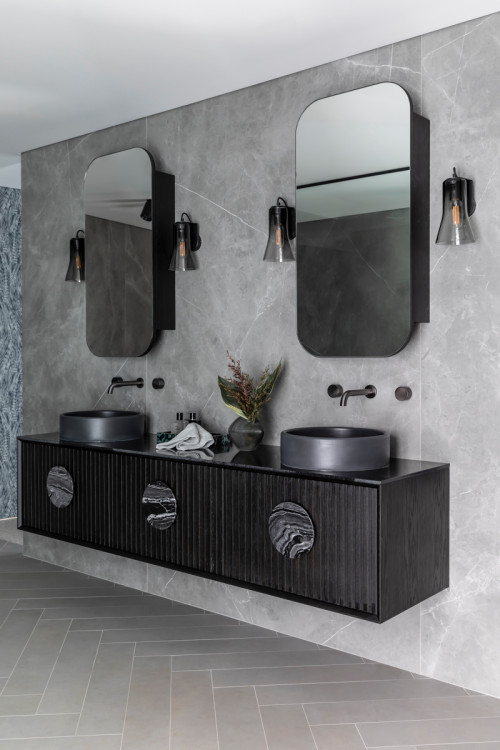 ID# 150625 | Houzz.com – Credit | © IOANNA LENNOX INTERIORS
---
Black 72 Inch Bathroom Vanity with Black Countertops and Gray Backsplash Tiles
This
modern bathroom
has a striking, floating vanity with black worktops, cabinets and custom-made black hardware – creating a look that evokes both beauty and awe. The rounded vessel sinks and black wall faucets flow perfectly with the all-black colour palette, adding to the sophistication. The grey
herringbone
floor tiles and grey wall tiles bring a pleasing contrast that completes the contemporary appeal. Truly, this is a space that radiates a sense of awe and opulence!