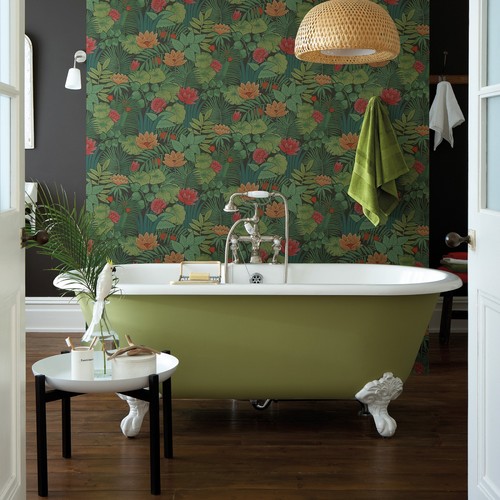 ID# 118402 | Houzz.com – Credit | © Period Property Store
---
Green Clawfoot Tub with Tropical Wallpaper and Wicker Pendant
White tubs are classic and beautiful, but what about colorful ones? Today, bathtubs are coming in an extensive range of colors. So, if you want to add color and make your bathroom stand out, colorful freestanding bathtubs are a great place to start. In this Victorian bathroom with 70's inspired interior decoration, the green clawfoot tub makes a statement. The tropical bathroom wallpaper complements the bathtub while the wicker pendant lamp completes the natural feel of the green. Dark green flooring enhances the elegance of the design.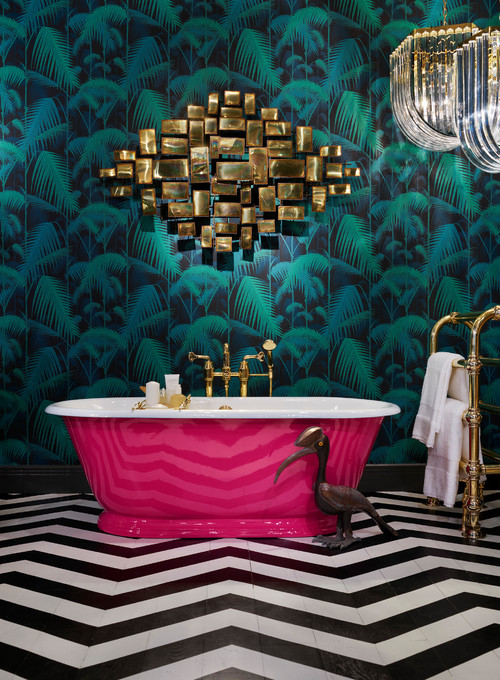 ID# 118411 | Houzz.com – Credit | Maurizio Pellizzoni Ltd | © Darren Chung
---
Pink Freestanding Bathtub with Gold Faucet Kit and Tropical Wallpaper
The combination of the pink bathtub, tropical wallpaper, gold artwork, crystal chandeliers, and black and white chevron floor creates a refined maximalist bathroom without overwhelming. The neon pink pedestal tub is paired with a gold faucet kit, and it creates a focal point. The dark tropical wallpaper provides a dramatic backdrop while other gold details make a luxurious touch. The black and white chevron floor adds a pattern and brings a movement to the design.
Freestanding Bathtub
Bathrooms are the places of renewal and refreshment and offer a personal spa session. When creating this relaxing sanctuary, material, color, and style choices are important and a freestanding bathtub is one of the most popular design features that help to create a relaxing atmosphere. If you are considering a bathroom remodel, adding a new freestanding tub is a great way to add visual interest. Check these freestanding bathtub ideas to draw extra attention to your bathroom!
As the name suggests, freestanding bathtubs stand their own without any attachment. These bathtubs serve as a focal point and give a spacious and luxurious feel to the bathrooms. The sculptural structure acts as a piece of art and turns the bathroom into a personal spa. A freestanding bathtub always brings a luxe and sophisticated vibe to bathrooms. Generally, they are coming in organic shapes that add striking visual impact.
Also, Freestanding bathtubs come in a wide range of styles, materials, and color options. So, from modern to traditional, they can be suitable for different styles. Unlike the built-in tubs, these tubs also allowing you to be more creative and flexible with placement. You do not need to place them against the wall. You can centralize the room and place the tub under a skylight or against a window to enjoy the beautiful views. Whether you go with a clawfoot tub or a Japanese soaking tub, this bold, eye-catching centerpiece will transform your bathroom!
Is a freestanding tub worth it?
Actually, it depends on a personal aesthetic but thanks to their striking visual impact, freestanding bathtubs can instantly change and elevates the overall look of the design and lend sophistication and luxurious feel to the room. Yes, it may cost a little more than a normal tub but, this investment will definitely be worth it.
Freestanding Bathtub Material
In today's market, freestanding bathtubs come in a wide range of material options. According to your taste and the style of your bathroom, from concrete to acrylic, copper to fiberglass, there are plenty of material options.
Fiberglass Freestanding Bathtubs
Fiberglass is one of the most popular bathtub materials on the market which is made from reinforced plastic. It is molded then formed into a bathtub shape. It can be shaped for different styles, sizes, and spaces. Also, fiberglass is the most affordable and lightest material. But, fiberglass is quite porous which makes it less durable than other materials. The average cost of a fiberglass freestanding bathtub is between $250-350. This price can go up according to the size of the tub.
Porcelain Freestanding Bathtubs
Porcelain freestanding bathtubs are made from either cast iron or stamped steel which is covered with a coat of porcelain enamel. These tubs have a harder surface that makes them extremely durable and more scratch-resistant. Another great advantage of these tubs is that they provide easy-to-clean surfaces. For routine cleaning, you can use any mild non-abrasive cleaner or baking soda as a paste. So, whatever the style is, a porcelain bathtub will be a perfect addition to your bathroom. Porcelain tubs are more pricer than acrylic and fiberglass ones. You may expect to pay 500-2,000 for a porcelain freestanding bathtub.
Acrylic Freestanding Bathtubs
In today's market, acrylic tubs are the most popular choice by homeowners and interior designers. Acrylic freestanding bathtubs are made from sheets of acrylic which is laid over a fiberglass base. They come in a wide range of styles, colors, shapes, and sizes which can be adaptable for different design aesthetics from modern to traditional. Thanks to its non-porous surface, an acrylic tub won't absorb the water which makes it an extremely durable material. Also, these tubs are relatively lightweight which makes them easier to install and remove. A 60-inch acrylic freestanding tub will cost you between $500 to $900 without the installation cost. Of course, this price may vary according to the size or style of the tub.
What is the best freestanding tub?
In the market, there are endless freestanding bath options for every budget. Here are the most popular tubs in today's market that you can choose according to your style and budget:
Woodbridge B-0006 Acrylic Freestanding Tub
American Standard Townsend Acrylic Freestanding Bathtub
Anzzi Jarvis Whirlpool Air Jetted Acrylic Freestanding Tub
Empava Luxury Acrylic Freestanding Bathtub
Woodbridge Traditional Oval Acrylic Freestanding Tub
Natural Stone Freestanding Bathtubs
Natural stone freestanding bathtubs definitely have a "wow factor" and they are a great way to make a strong design statement for bathrooms. These tubs can be hand-carved from natural marble, travertine, granite, and other stones. Whether you choose a luxurious marble or dark stone model, a natural stone tub will help you to create a one-of-a-kind bathroom with a spa feel. Because of the exclusive materials, these tubs can be more expensive than the other materials. You may expect to pay between $1000-$2200 for a stone tub.
Concrete Freestanding Bathtubs
Concrete itself is a beautiful material. When this stunning material meets with the luxurious feel of a freestanding bathtub, the result is just perfect. Concrete bathtubs offer style and functionality at the same time. The material's versatility allows for creative freedom. This means you can use a concrete tub in almost limitless shapes and forms. Also, concrete is durable, being able to withstand great pressure, and is fire-resistant. A concrete bathtub varies between $5000 and $20000.
Copper Freestanding Bathtubs
Durable, practical, and visually pleasing. Copper freestanding bathtubs are made of, as the name suggests, copper. The warm allure of copper can instantly change the overall look of the design and help you to create a one-of-a-kind kitchen. These stunning hand-crafted tubs typically come in a wide range of unique shapes, styles, finishes, and textures. So, if you are looking for something more special, look no further than a copper tub. The average cost of a copper standalone tub is between $900 to $5,000.
Cast Iron Freestanding Bathtubs
Cast iron freestanding bathtubs are known for their durability. These heavy bathtubs are made of iron with a coating of porcelain enamel which provides easy to clean surfaces. Because of their classic appeal, cast iron tubs are generally used for traditional renovations in historical homes. According to size, the average cost of cast iron tubs is between $500-$2500.
Freestanding Bathtubs Styles
One of the biggest advantages of a freestanding bathtub is that they come in different style options. From classic clawfoot to modern round tubs, the wide range of style options allows you to design your dream bathroom. When choosing the style, you need to consider what purpose the tub will serve and what kind of impact you will expect.
Freestanding Soaking Bathtub
Japanese soaking bathtubs have been used in Japan for centuries as an indoor extension of bathing. These unique soaking tubs can be made from acrylic, composite, stainless steel, and copper, and they have become one of the most popular design elements for modern bathrooms in recent days. Because of their taller stature, generally, these tubs contain an integrated seat which provides functionality. Also, they are smaller than other tub styles which makes them an ideal solution for small spaces. This type of bathtub can cost you between $5,000 to $10,000.
Where to buy a freestanding bathtub?
You can check the local stores or distributor or check the websites like Amazon, Home Depot, Wayfair, etc.
Where to put freestanding bathtub?
When installing a freestanding tub, you need to consider the size and layout of your bathroom. Generally, freestanding tubs centralize the room to create a focal point. But if the shape or size of your bathroom doesn't allow this, there is still plenty of options. If you have a large window, you can place the tub next to the window to take advantage of the view. If you have a small space, you can install it against a wall. But, it is important to leave a space between the wall and tub. You may also consider putting the tub inside enclosed showers if space allows it.
Modern Freestanding Bathtub
Modern style is all about simplicity, clean lines, and sharp edges. The wide range of materials and today's technology allows freestanding bathtubs to be made in organic shapes. Thanks to these organic shapes, freestanding bathtubs look more modern and acts as a piece of art. From single slipper to Double Ended, circular shapes to totally unique design, modern freestanding bathtubs are on the top of the rising trend lists.
How much to install a freestanding bathtub?
The cost of the installation of a freestanding bathtub depends on the modifications to be done in your bathroom. The average installation cost is between $1000-$1500.
Clawfoot Freestanding Bathtub
Clawfoot freestanding bathtubs are iconic for bathroom designs since the 1800s and remain a popular style of the 1800s and remain a popular style of today. These tubs feature clawed feet instead of a floor installation base which provides a unique appeal. Thanks to their versatility, these tubs can be suitable for different design aesthetics from modern or traditional, rustic, or farmhouse bathrooms. Single-ended, double-ended, single-slipper, or double-slipper. The options are plentiful. Also, they come in a variety of size that means, you can even use a clawfoot tub in your small bathroom. The average cost of clawfoot tubs is between $2000-$6000.
Freestanding Bathtub Measurements
A standard dimension for a freestanding bathtub is 60 inches long, 30 inches wide, and 19 inches of water depth. But, in today's market, freestanding tubs come in a wide range of size options. According to the space of your bathroom, you can go with smaller sizes like 55×27 inches with a water depth of 15 or larger ones like 72×32 inches with 20 inches of water depth for larger bathrooms.
Freestanding Bathtub Faucet Installation
For a freestanding bathtub, faucets are available in deck mount, freestanding, and wall-mount. When choosing a faucet you need to consider the style, material, and size of your bathtub. Freestanding faucets, as the name suggests, stand on their own and they are anchored to the floor and towers up and over the rim of the bathtub. Deck-mounted faucets are mounted to the upper rim of the bathtub. For a deck-mounted faucet installation, two faucet holes are required. Some types of tubs come with drilling holes but if there is no hole, you need to drill the faucet holes into the tap deck. If you are thinking to install your tub next to the wall, a wall-mounted faucet can be another good option for you. Wall-mounted faucets don't need any holes or connections to the tub. Also, if you don't have underfloor access, these faucets are the best solution.