61+ Bathroom Wallpaper Ideas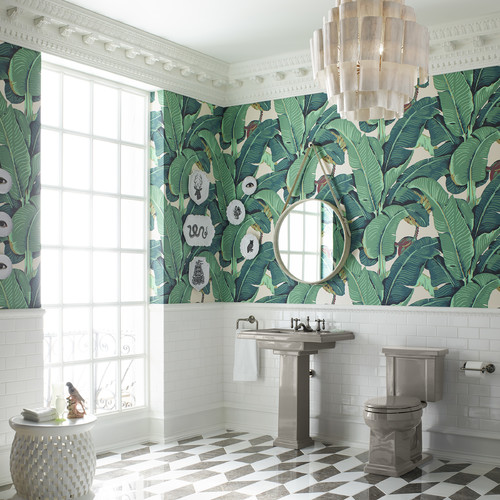 ID# 106801 | Houzz.com – Credit | © Kohler
---
Tropical Bathroom Wallpaper Ideas with White Subway Tile and Gray Furniture
The beautiful tropical wallpaper design makes a definitive statement in this contemporary bathroom. The leaf patterns bring the tropical island into the room. The glossy white subway tiles accentuate the wallpaper design on the lower walls and create a clean and fresh look while the gray pedestal sink and toilet completing this unique look. The gray and white floor complements the gray furniture and white subway tiles and completes the look by adding a nice pattern.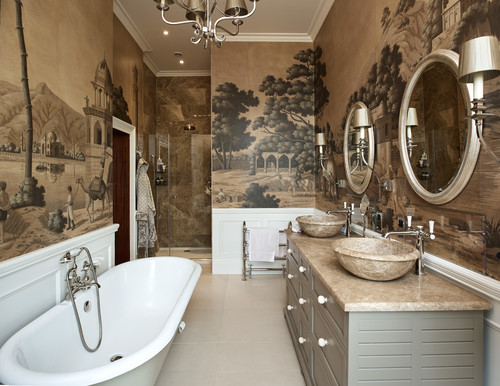 ID# 106804 | Houzz.com – Credit | © Etons of Bath
---
Traditional Bathroom with Gray Vanity and Stone Countertop
You might think that covering the whole bathroom with wallpaper is overwhelming but this wallpaper design will change your decision! With its neutral tones, the wallpaper takes you to the old times. The gray washstand with stone countertop and vessel sinks, round mirrors, and wall sconces contribute to the design of the wallpaper. The white bathroom wainscoting accentuated the wallpapers and brings a fresh look between the brown shades.
Colorful, Neutral, and Stylish Bathroom Wallpaper Ideas
You might think that wallpapers are a bad choice for bathrooms because of the water spillage and humidity levels but with the right material choice, you can transform your bathroom walls into an eye-catching design element. Here are some beautiful and inspiring bathroom wallpaper ideas!
Make a statement with distinctive wallpaper
When it comes to wallpaper, from colorful, distinguished patterns to neutral textures there are endless style, design, and pattern options. A well-designed wallpaper can turn the bathrooms into an indulgent sanctuary. Also, besides the visual statement, wallpapers can save you spend a fortune on a bathroom renovation. But you need to avoid using wallpaper too near the shower, bath, or other wet areas. If you want to see more bathroom wallpaper ideas, scroll down and find a wallpaper that suits your taste!
New wallpaper designs are developing every year with different choices to suit any budget, style, and color scheme!