29+ Bathroom Wainscoting Ideas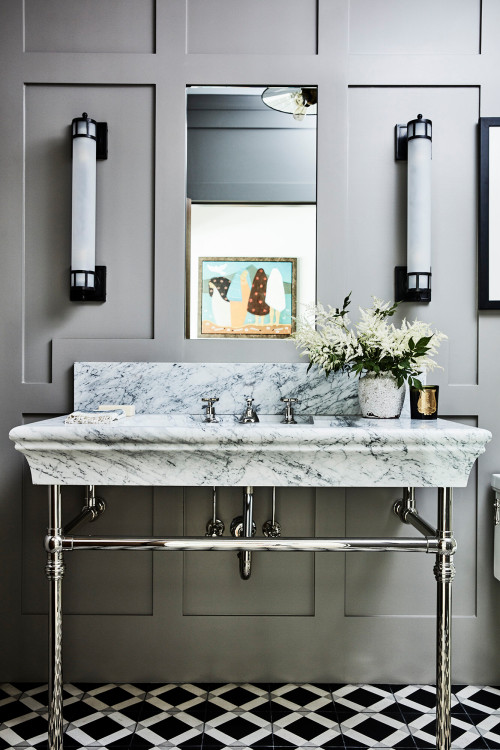 ID# 119725 | Houzz.com – Credit | © Interiors by Patrick
---
Grey Wainscoting Walls with Marble Console Sink and Cement Tile Floor
This monochromatic sophisticated powder room has full grey wainscoted walls, two big sconces, a chrome leg console sink with molded edge marble countertop, and complementary black white, and grey diamond-patterned cement tiles. The faucet and fittings are also chrome to catch the harmony.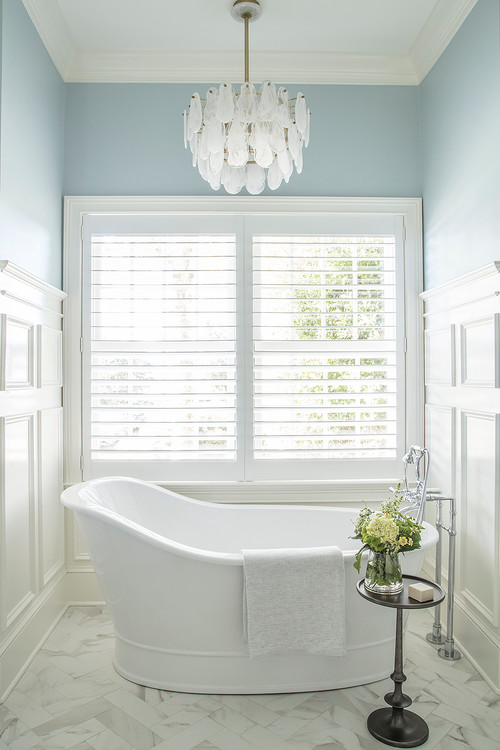 ID# 119702 | Houzz.com – Credit | © Pillar & Peacock
---
Freestanding Bathtub in White and Blue Elegant Wainscoting Bathroom
Classics are always trendy as we see in this example with white classic freestanding bathtub, white half wainscoted walls, white framed sliding window with white blinds, dark gray metal authentic coffee table, chrome floor mounted bathtub faucet, white ceiling, gray veined white marble herringbone floor tiles, and white chandelier. Upper walls are painted light blue, this breaks the whiteness a little bit and brings a touch of serenity to the atmosphere.
Sophisticates, Stylish, Polished; The Richest Way to Style a Bathroom, Wainscoting!
Wainscoted walls will always look very rich and elegant in bathrooms regardless of the style and color preferences, they are easily adaptable with various styles; traditional, modern, farmhouse, coastal, etc. Check out these stunning bathroom wainscoting ideas to find some inspiration for your home!
Timeless stylish bathrooms
There are many kinds of wainscoting; picture frame, raised panel, board & batten, barn door style, beadboard, or mixed style, each one of them gives different vibes to the spaces, it depends on the desired outcome.
Bathrooms are a little bit controversial in terms of styling with wainscoting because they are wet spaces but beauty comes with its price, with paying enough attention it's possible to use a bathroom with wainscoting for a long term of time without any damage.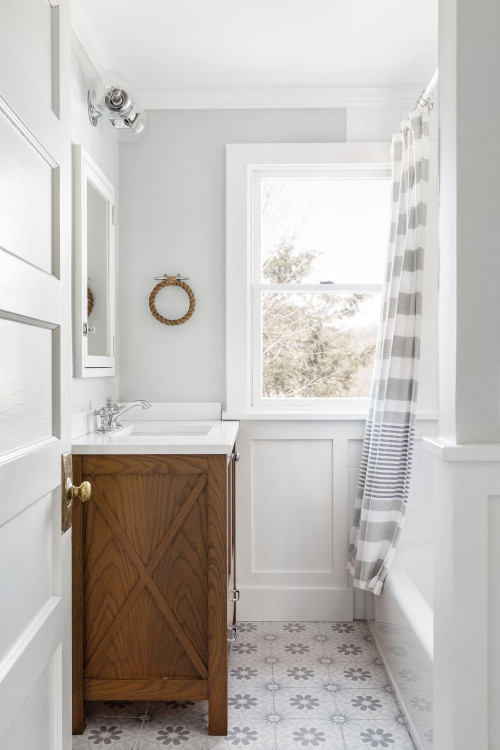 ID# 119703
---
White and Gray Farmhouse Wainscoting Bathroom with Oak Vanity
In this white and bright bathroom, wood cabinets warmed up space and the whole atmosphere is relaxed and sophisticated with white wainscoting, custom oak vanity with white quartz countertop and under-mounted single sink, gray cement tile floor, light gray painted walls, white panel door, white and gray shower curtain and rope accent that catches the color with the oak cabinets.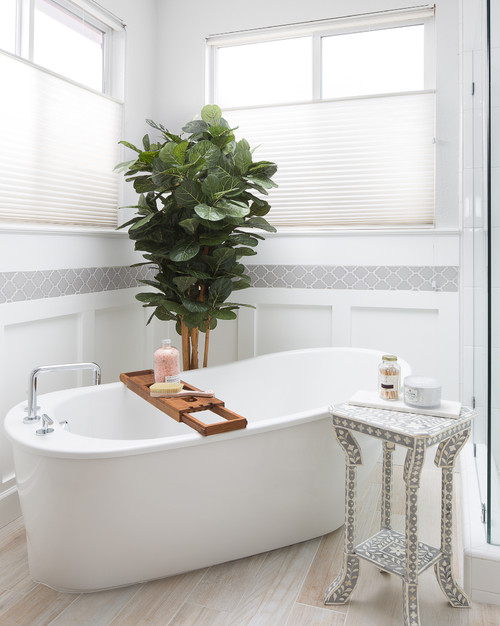 ID# 119704 | Houzz.com – Credit | © Design Shop Interiors
---
Large White Bathroom Wainscoting Ideas with Freestanding Bathtub and Traditional Patterns
This transitional large white bathroom is generally modern but has some traditional touches with freestanding free-placed bathtub, light wood-look porcelain ceramic tile floor, white wainscoted walls, white painted walls and ceiling, large windows, big artificial plant, one traditional white and gray patterned band through the room and white and gray graphic floral patterned interesting coffee table.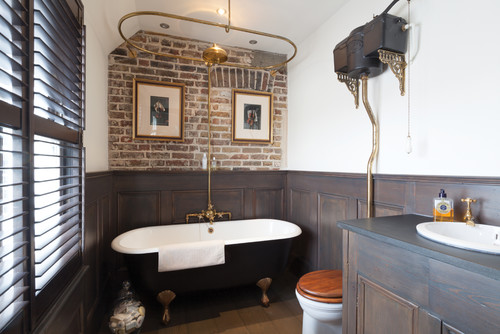 ID# 119705 | Houzz.com – Credit | © Domus Nova
---
Sophisticated Victorian Bathroom Wainscoting Ideas with Black Freestanding Bathtub
Victorian style shows its magnificence in this bathroom with black and white clawfoot freestanding bathtub, hardwood floor, roughly gray painted dark wood wainscoting, white painted and brick covered walls, golden framed artworks on the brick background, and the star of this composition; integrated golden showerhead, faucet, and oval shower curtain rod.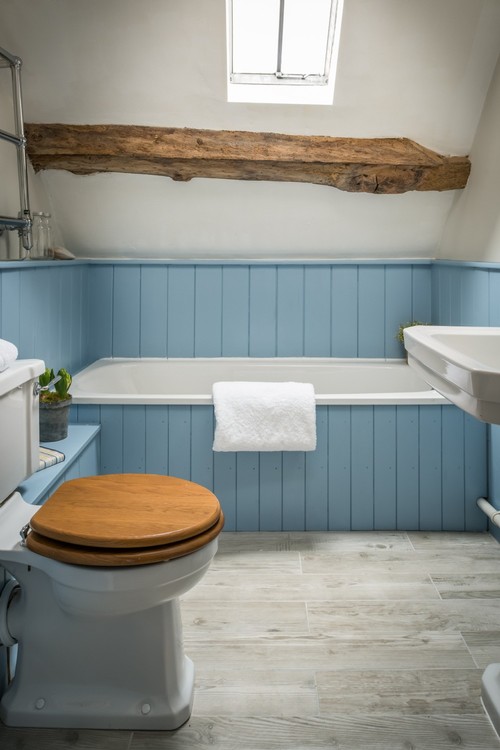 ID# 119707 | Houzz.com – Credit | © Unique Homestays
---
Farmhouse Bathroom Wainscoting Ideas with Light Blue Wainscoting and Wood Accents
This bathroom is one of the rare examples that wainscoting is not applied to create an elegant atmosphere, this time in a farmhouse, the lateral surface of the integrated bathtub, the seating area near the bathtub, and the half of the walls are wainscoted with light painted vertical wood pieces, also natural wooden accents jazzed up space a little bit. The rest of the room is very plain with gray porcelain tiles on the floor, white walls, and a white pedestal sink.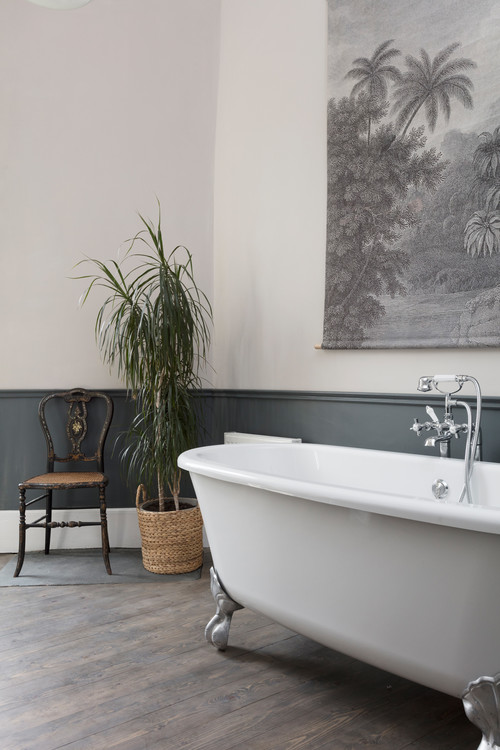 ID# 119709 | Houzz.com – Credit | Fantoush | © Susie Lowe
---
Elegant Vintage Bathroom Wainscoting Ideas with Claw-foot Bathtub and Gray Palette
This large transitional bathroom has a little bit of every style in it, simple and modern dark gray beadboard paneling with the light beige upper part, vintage dark hardwood floor and vintage chair, bohemian rattan flowerpot with dragon plant and a classic freestanding clawfoot bathtub with chrome legs and chrome floor mounted faucet.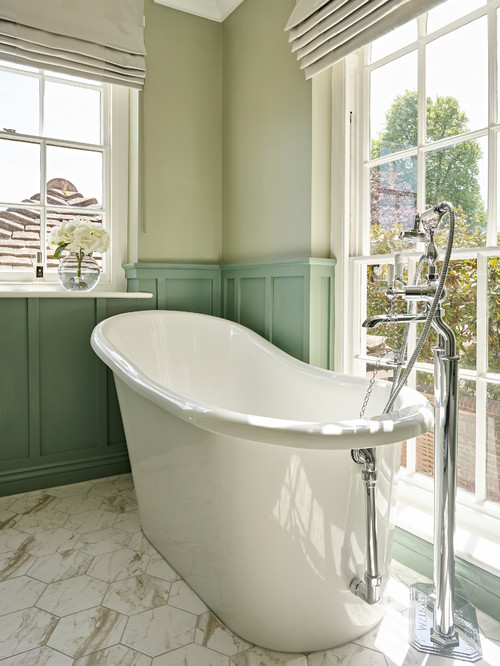 ID# 119710 | Houzz.com – Credit | © Leivars
---
Freestanding Bathtub Idea with Hexagonal White Marble Floor and Green Walls
Classic freestanding bathtub idea is here with us in this very bright bathroom which has tone-on-tone green wainscoted walls, hexagonal brown veined white marble floor, floor-mounted chrome bathtub faucet, and very large white framed windows that let so much sunlight in.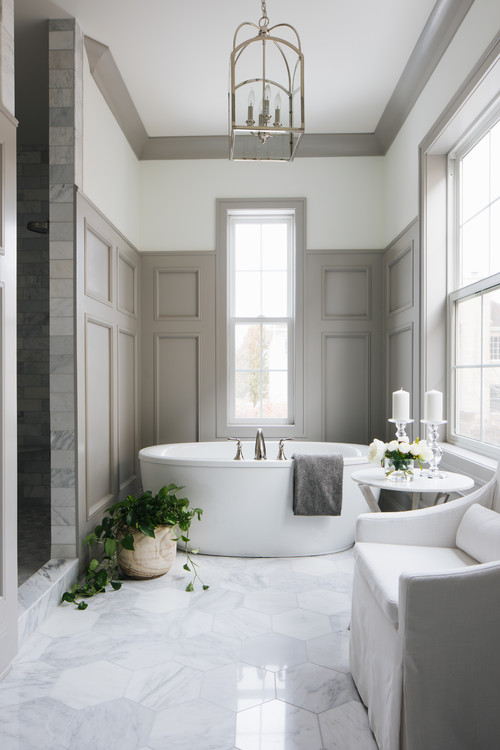 ID# 119712 | Houzz.com – Credit | © Timber Trails Development Company
---
Elegant White and Beige Master Bathroom with Separate Shower
Such a large bathroom requires luxury and this bathroom has almost everything that comes to mind for an elegant luxury bathroom; hexagonal white marble floor, freestanding large bathtub, a white classic armchair and coffee table with flowers and candles, separated marble shower area, large windows to get the natural light, beige half wainscoted walls and a big cage chandelier.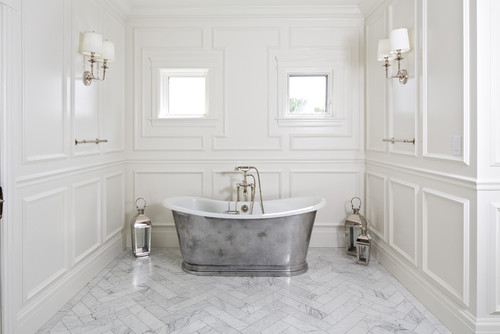 ID# 119713 | Houzz.com – Credit | © The Fox Group
---
White Large Bathroom with Marble Herringbone Floor
This rustic distressed metal freestanding bathtub here adds a different vibe to the design which is a timeless classic white bathroom with herringbone white marble floor, white full wainscoted walls, two symmetrical square windows with molded frames and crowns, chrome lanterns around the bathtub, and chrome floor mounted bathtub faucet.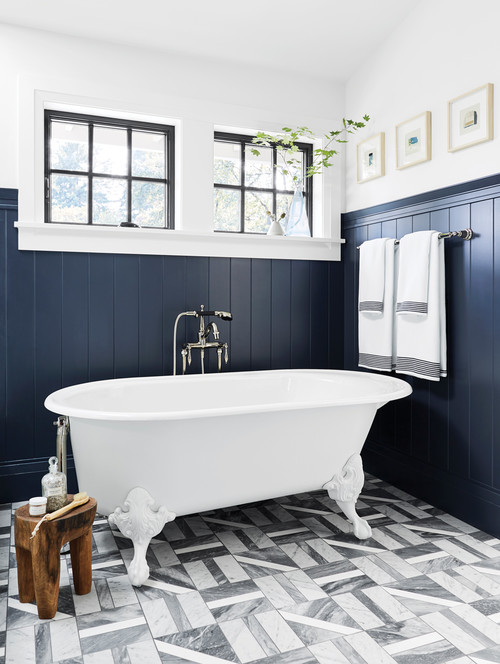 ID# 119715 | Houzz.com – Credit | © Milgard Windows & Doors
---
Farmhouse Bathroom with Navy Wainscoting and White Claw-Foot Bathtub
This masculine farmhouse bathroom has so much contrast with geometrical patterned grayscale marble floor, navy blue ship-lapped walls, black square-framed awning windows, white clawfoot freestanding bathtub, white upper walls with the ceiling, chrome floor mounted bathtub faucet, gray and white towels, and a dark warm wooden stool.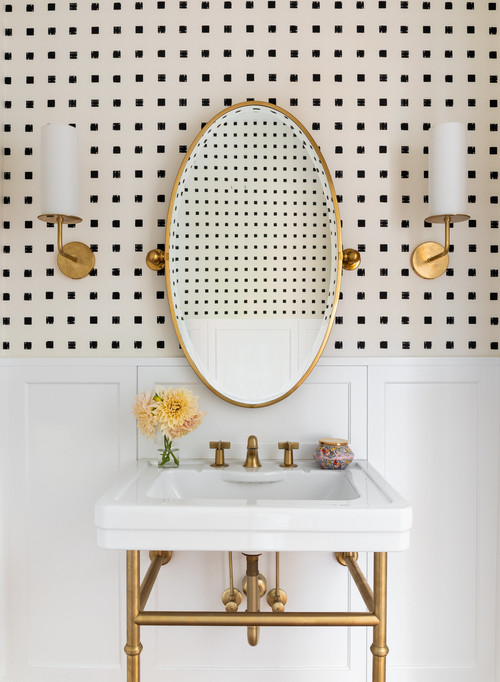 ID# 119716 | Houzz.com – Credit | © Casework
---
Shabby Chic Bathroom with Brass Accessories and White Wainscoting
The richness of the brass and elegance of the white wainscoting have met here to create this shabby chic bathroom. White console sink has brass legs, brass faucet, and brass fittings, walls are covered with half white wainscoting and half black square-patterned beige wallpaper which adds a lot of dimension to the room, two wall lamps are symmetrically placed which are also brass and white simple shaped ones and mirror is also a brass framed oval one. Some flowers and vintage accessories are added to romanticize the environment.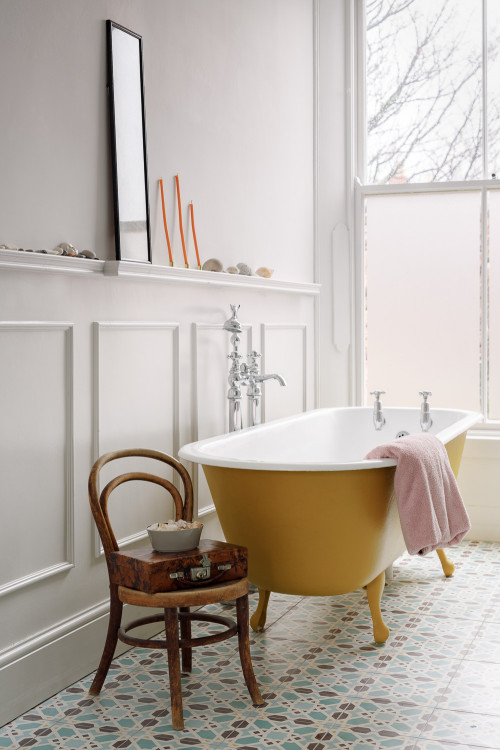 ID# 119717 | Houzz.com – Credit | © Mortar & More Ltd.
---
White Eclectic Bathroom with Cement Tiles, Thonet Chair, and Mustard Bathtub
This bathroom is very elegant, luxurious but jazzy at the same time with harmonious multiple colors and material preferences such as turquoise and brown patterned white cement tiles, natural walnut Vienna Thonet chair, mustard claw foot freestanding bathtub, chrome floor mounted bathtub faucet, and vintage suitcase on a very plain and calm background as white wainscoted walls, ceiling, and white framed large window.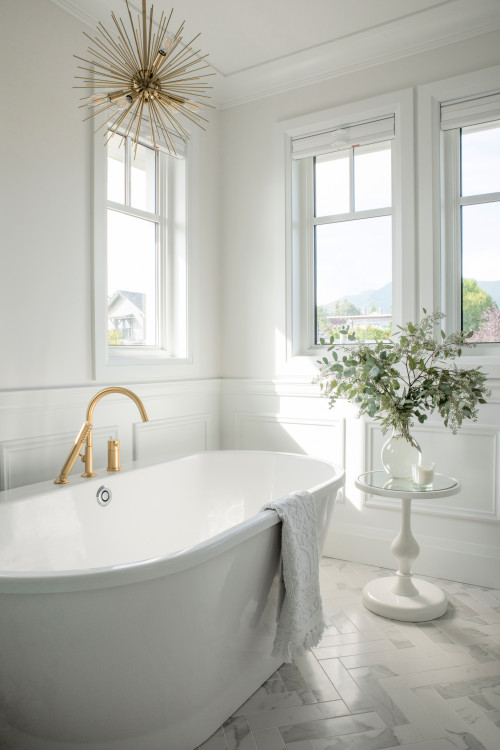 ID# 119718 | Houzz.com – Credit | © Karly Kristina Design
---
Freestanding Bathtub in All White Elegant Bathroom Wainscoting Ideas with Gold Accents
All-white interiors are timeless and they never get boring as we see in this example; it's pure, clean, elegant, and peaceful with a white freestanding bathtub, marble-look herringbone porcelain tile floor, wainscoted walls, framed windows, single baluster leg coffee table and to cheer up the atmosphere a little bit; golden faucet and chandelier are combined with the white elements of the design.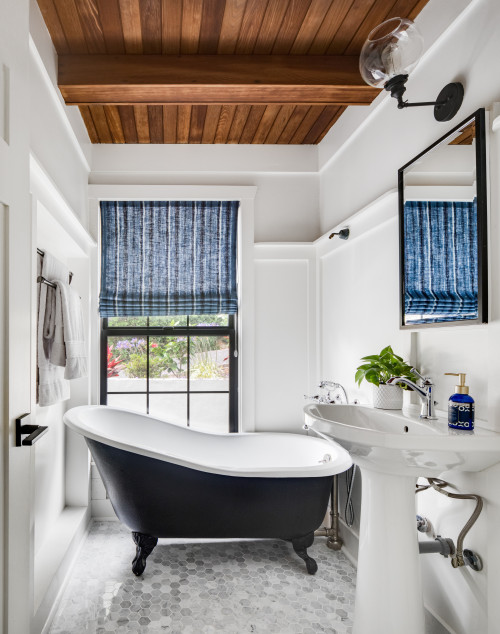 ID# 119719 | Houzz.com – Credit | © Chelsea Lauren Interiors
---
Coastal Bathroom with Black Claw-Foot Bathtub and Wooden Ceiling
This bathroom is actually black and white but with some additions it becomes coastal and cozy. It is very high contrast and eye-catching with gray hexagonal marble mosaic floor, white pedestal sink, white wainscoted walls, chrome faucets, black-framed gridded sash window, black, and white matte claw foot freestanding bathtub, and black lighting fixtures are combined with serene blue curtains and contrasting cozy wooden ceiling; only two elements can change the whole atmosphere like this.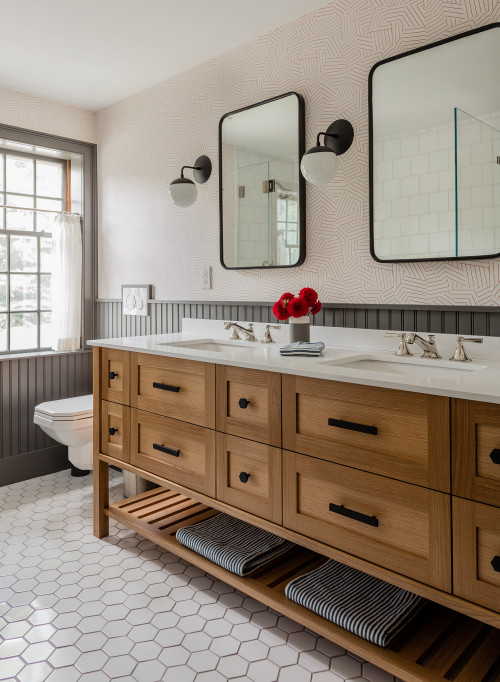 ID# 119720
---
Grey Wainscoting and Red Geometrical Wallpaper with Natural Wood Vanity
This bathroom is very eye-catching with the right amount of color preference and harmonious material choices. A large natural wood recessed-panel vanity cabinet is placed in the center with a white quartz countertop and under-mounted double sink, cabinets are very large but it doesn't look heavy because it has an open shelf under the drawers. Walls are covered with gray ship-lapped wainscoting and red linework patterned white wallpaper and the floor is a white hexagonal porcelain tile mosaic. Mirrors, wall lamps, and knobs are black and have sharp geometrical shapes. Lastly, as a small but effective detail, red artificial flowers are used as an accent.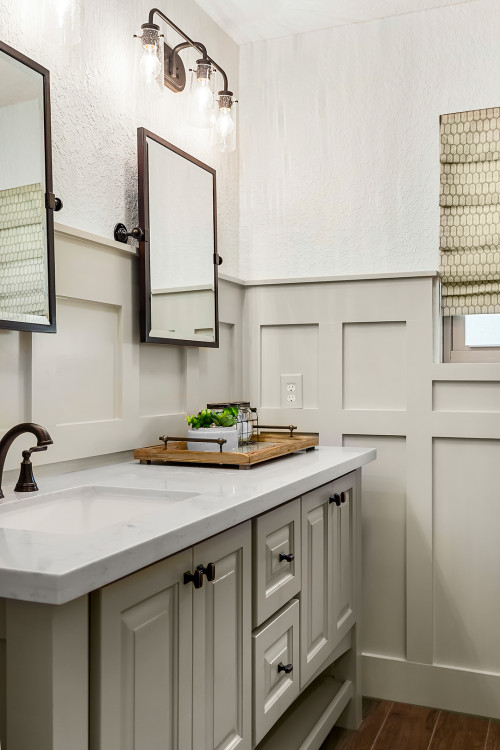 ID# 119721 | Houzz.com – Credit | © JC Remodeling & Restoration, LLC
---
Grayscale Elegant Bathroom with Black Contrast Accents
In this small monochromatic bathroom; dark wood-look porcelain ceramic tiles, recessed-panel warm gray cabinets, warm gray wainscoted walls, white marble countertop with undermounted sink, white rough stucco walls and ceiling are combined and enriched with the contrasting black vintage faucet, lighting fixtures, knobs, and mirror frames.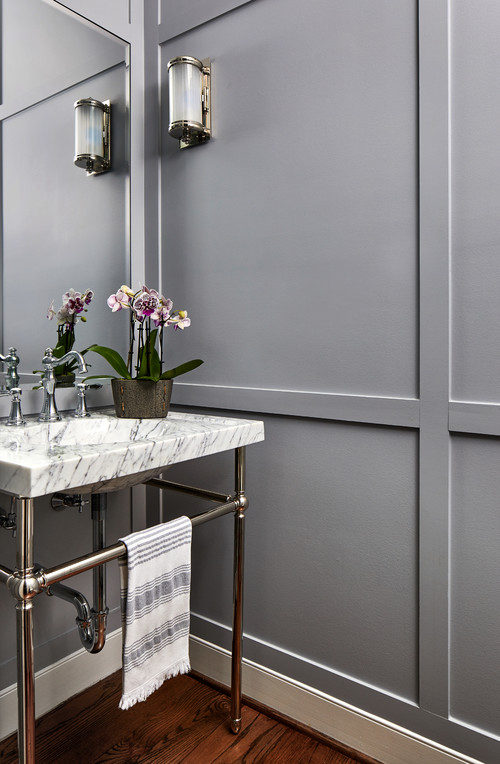 ID# 119723 | Houzz.com – Credit | © Haus Interior Design
---
White Marble Console Sink with Gray Wainscoted Walls and Walnut Floor
In this gray elegant bathroom, walls are wainscoted and painted to a mid-tone gray, white marble chrome leg single console sink is placed with chrome faucet, the mirror is inserted into the wainscoting and the floor is covered with dark warm wood to bring some coziness to the cool environment.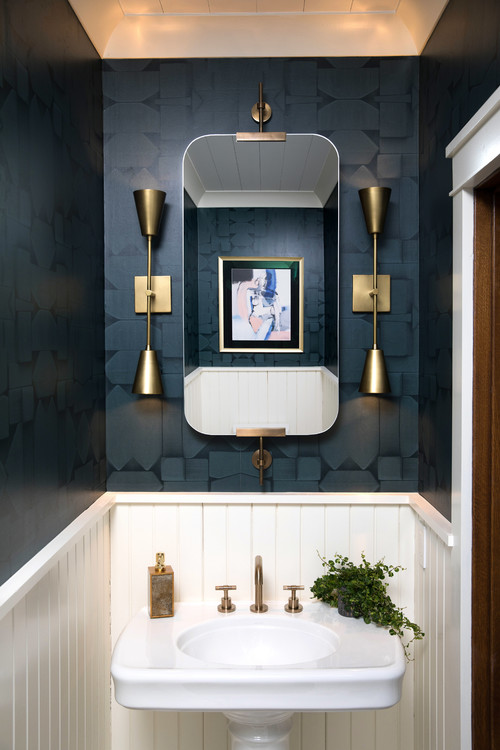 ID# 119726 | Houzz.com – Credit | © Gathered
---
Navy and Brass Elegance in Small Powder Room with White Wainscoting
Navy color and metallic brassy tones always associate with richness and elegance, especially when complemented with dark wood. Even in a small powder room such as this, navy blue wallpaper, brass faucet, mirror, and wall lamps are combined with white painted wood beadboard paneling, white ceiling, and white pedestal sink, also a walnut door which is installed in the white interior casing. White color is used with the elements which are already elegant, such as wainscoting.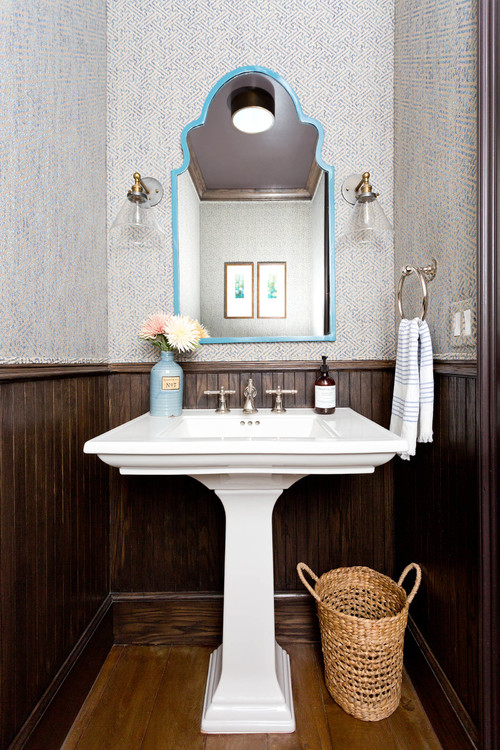 ID# 119727 | Houzz.com – Credit | © Kate Lester Interiors
---
Beachy Wooden Powder Room with Light Blue and White Wallpaper
This powder room is beachy and vintage at the same time with dark distressed ship-lapped wooden wainscoting, warm dark wood floor parquets, and ceiling, white pedestal sink with brushed nickel faucet, rattan coastal basket on the floor, two symmetrical glass and chrome wall lamps, light blue framed mirror in the center and one last touch with light blue vase and pastel flowers.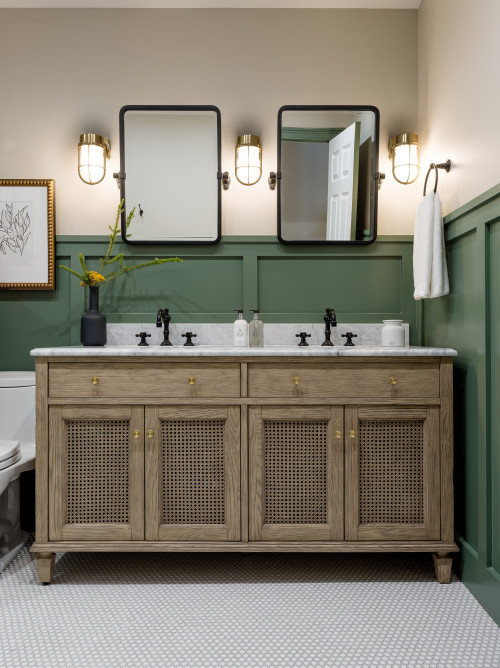 ID# 119729 | Houzz.com – Credit | © Rae Duncan Interior Design RDID
---
Wooden Vanity with Rattan Doors and Pastel Green Walls in Master Bathroom
This transitional bathroom design is associated with nature by its color palette; pale leaf green half wainscoting, mid-tone natural wood cabinets with rattan recessed-panel doors and gold knobs, beige painted upper walls, white penny mosaic floor, white marble countertop, and black accessories such as faucets and mirror frames.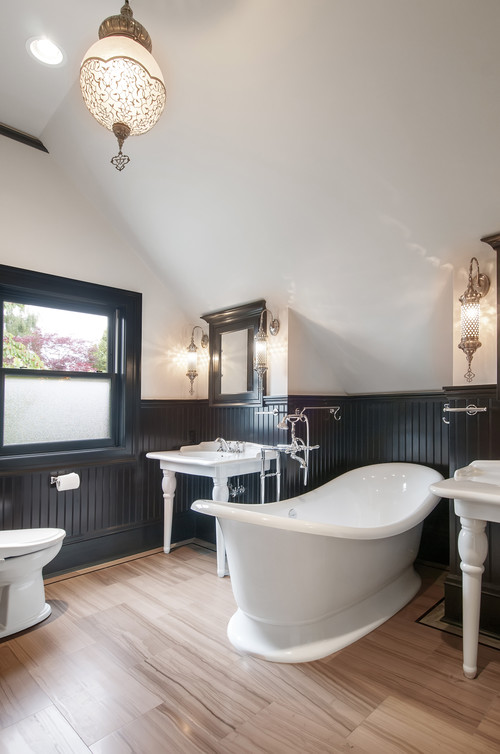 ID# 119701
---
Elegant Black and White Attic Bathroom with Wooden Floor
Black and white elegancy take a further step with black ship-lapped wainscoting, black molded framed mirrors with crown and black-framed double-hung window which are combined with ashy parquet flooring and all-white sanitary ware such as symmetrically placed two white ceramic console sinks and freestanding bathtub in the middle, white toilet, white walls, and white ceiling. Lighting fixtures are some authentic metal and glass pieces.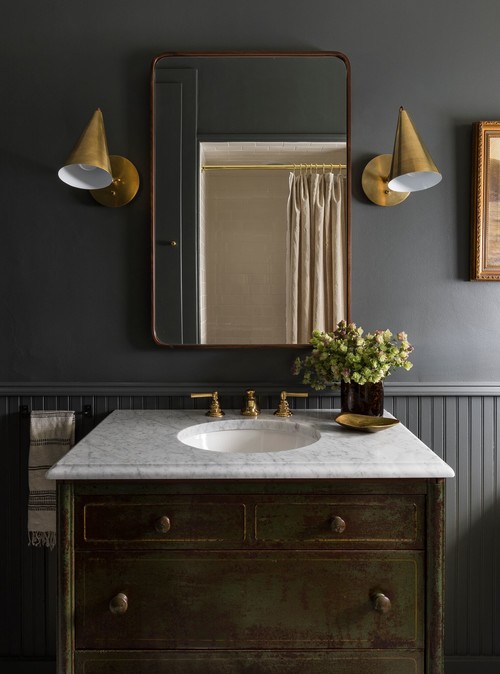 ID# 119711
---
Timeless Bathroom Wainscoting Ideas with Furniture-Like Distressed Cabinets and Gray Walls
This dark traditional bathroom feels very timeless with dark gray half-wainscoted walls, dark wood distressed furniture-like cabinets, white marble countertop with under mounted sink and vintage brass faucet, thin dark wood framed rounded edge mirror, two conical brass wall lamps, and some vintage accessories.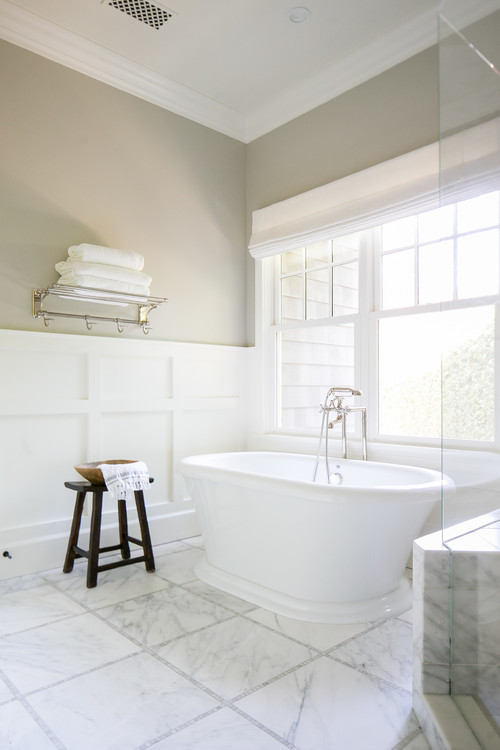 ID# 119706
---
Timeless White and Beige Elegant Bathroom Wainscoting Ideas with Marble Floor
White and beige elegancy is a very timeless design idea. In this large master bathroom, beige is preferred to use on the wall paints with other all-white elements such as half white wainscoting, two large white single-hung windows, freestanding white bathtub, grayish-white marble, walk-in shower area, and white painted high ceiling.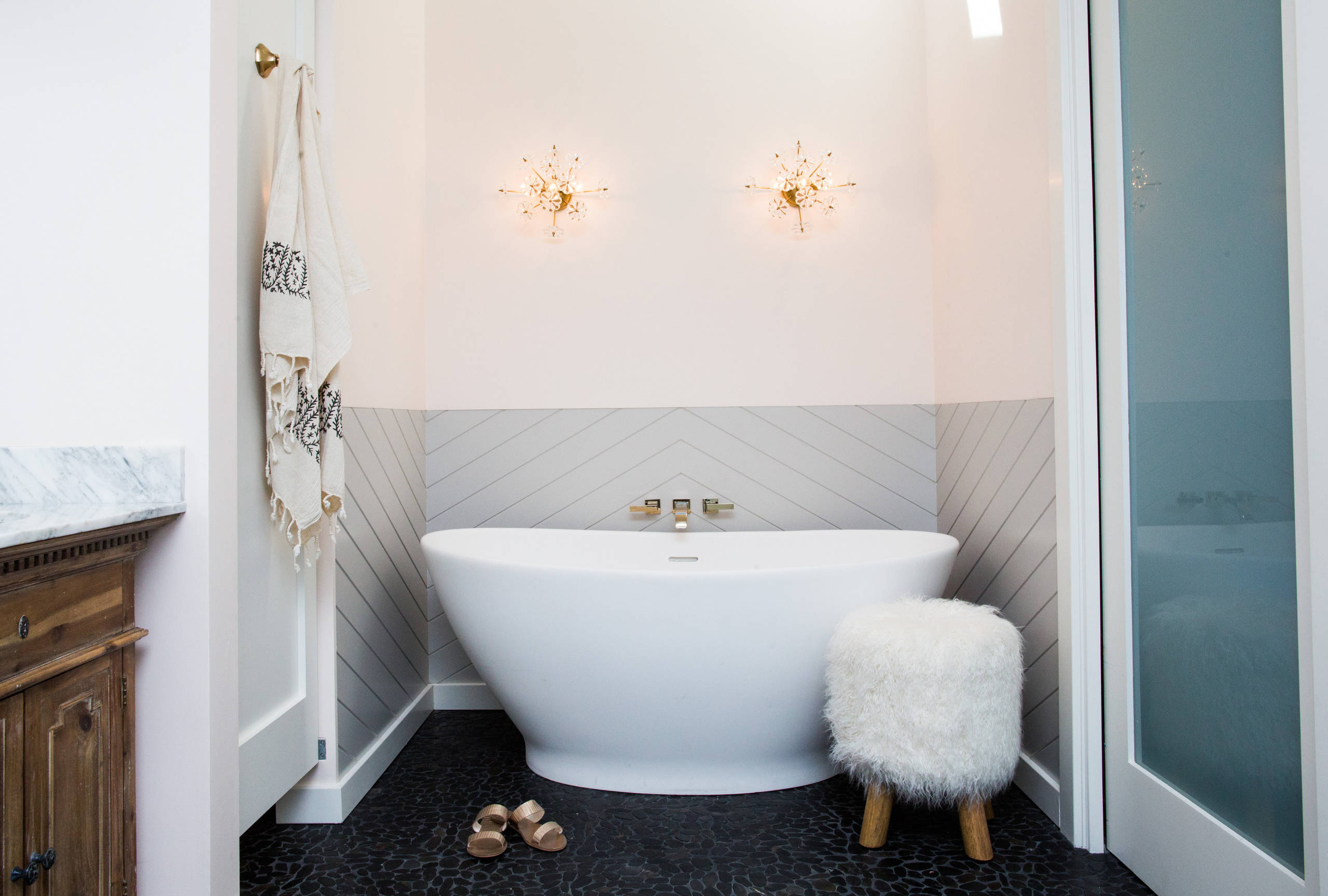 ID# 119708
---
Freestanding Bathtub in Gray Wainscoting Bathroom
This bathroom is neat, feminine, and elegant with light gray triangular wainscoting, light pink wall paint, white freestanding bathtub, black pebble floor, shag stool with wooden legs, white thin plinth, wall mounted gold faucet, and two symmetrically placed gold floral sconces on the wall.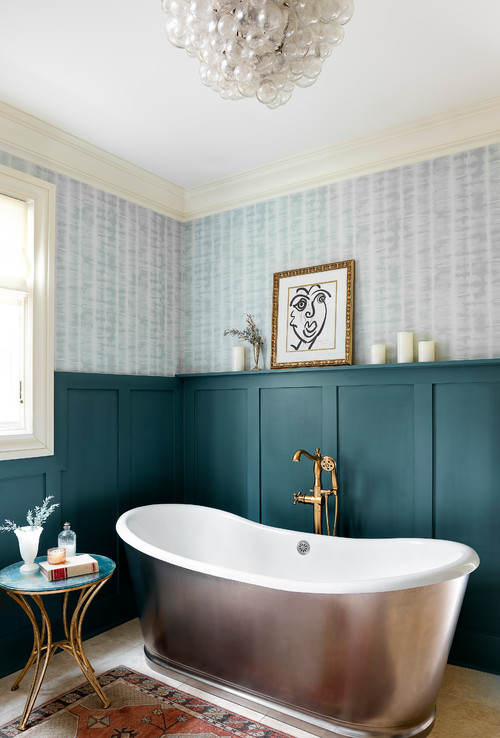 ID# 119714
---
The Rich Harmony of Petrol Green Half Wainscoted Walls and Bronze Bathtub
Traditional bathroom designs usually don't contain too much color but when colors are used properly in a traditional design it becomes mesmerizing like this example. Petrol Green half wainscoting, light green patterned white wallpaper on upper walls, Verde Guatemala marble coffee table, gold floor mounted faucet, bronze freestanding bathtub, beige marble-look porcelain ceramic tile floor, white framed window, and vintage rug all complement each other to create this composition.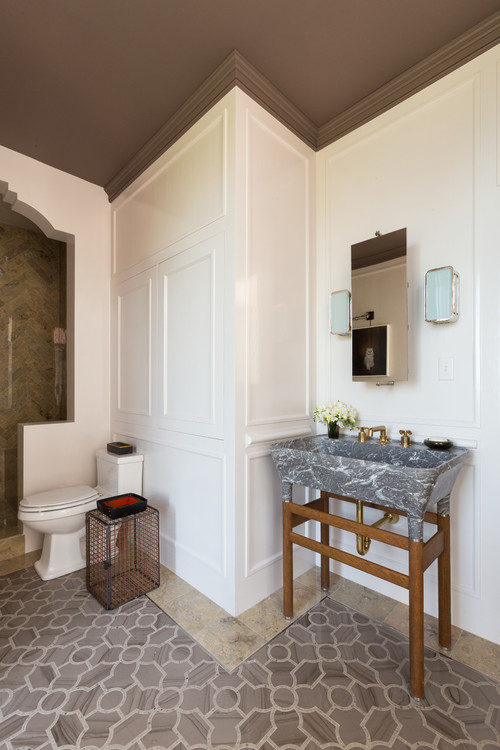 ID# 119722
---
Vintage Bathroom with White Walls, Brown Ceiling, and Brown Tile Floor
This bathroom is very different and has an intense style. Walls are full white wainscoting, the floor is covered with beige marble on the edges and brown geometrical-shaped tiles in the center. A single console sink is placed with wooden legs, a gray marble sink, a brass faucet, brass fittings, a simple frameless mirror, and two symmetrical chrome vintage sconces. The ceiling is painted brown as a different preference of design.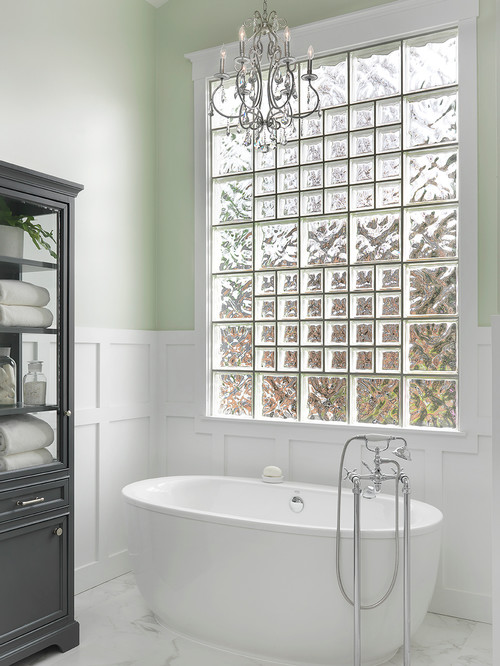 ID# 119724
---
Traditional Master Bathroom with Freestanding Bathtub and Glass Blocks
Mint green and white create a very fresh appearance as we see in this example with mint green painted walls, white wainscoting, white modern freestanding bathtub with chrome floor mounted faucet, glass blocks on the wall, and white marble floor. A black traditional glass door furniture-like cabinet is placed near the bathtub and it creates a rich contrast with the bright environment.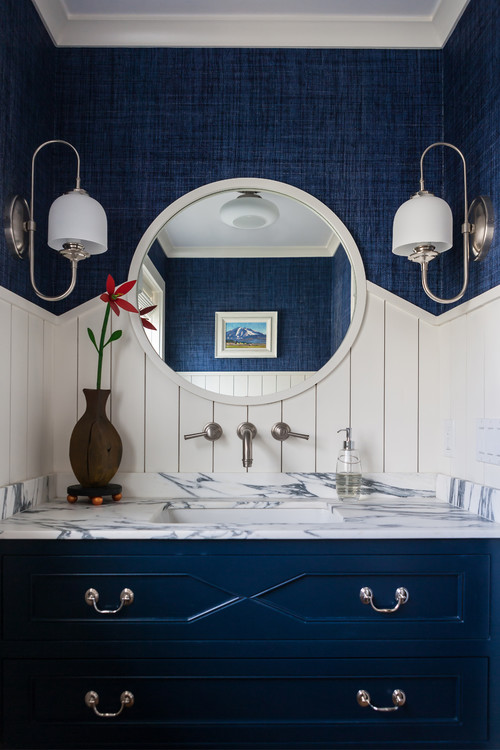 ID# 119728
---
Coastal Bathroom with Only Two Colors: Marine Blue and White
This is a two-colored coastal style bathroom with white ship-lapped wainscoting with round white framed integrated mirror, navy blue textile textured wallpaper, navy blue furniture-like cabinets with steel knobs, blue-veined marble countertop with undermounted square sink, wall mounted brushed nickel faucet, and two symmetrical wall lamps which are also steel and white as the rest of the bathroom.