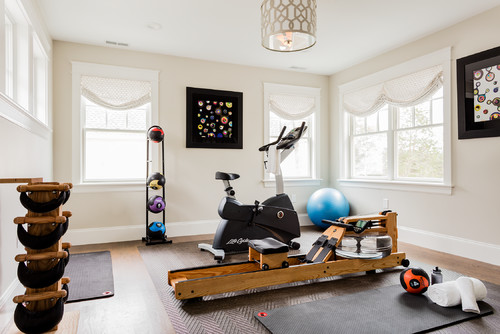 ID# 102145 | Houzz.com – Credit | © Landry & Arcari Rugs and Carpeting
---
Indoor Exercise Area
While white and beige tones are preferred on all surfaces of this exercise area in the house except the floor, light wood flooring material is preferred on the floor. Also, space can get enough fresh air and daylight thanks to the windows.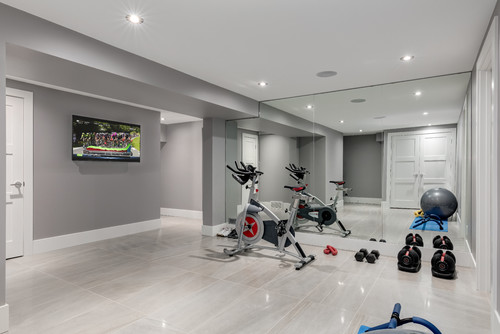 ID# 102153 | Houzz.com – Credit | © Premium Renovations Ltd.
---
Gym Room at Home with Mirror and Gray Walls
One wall of the space, whose walls are gray in color, is completely covered with a mirror and the volume of the space is perceived as large. The ceramics used on the floor were preferred in light colors and made the space brighter.
Comfortable Modern and Stylish Home Gyms
Wouldn't you like to have an area where you can do sports in your home? In fact, designing this area may not be as difficult as it seems. We gather out some stylish home gym ideas for you!
Choose the right floor and the right color harmony
First of all, even if it is inside the house, the ground to be used for sports should be formed with a correct floor covering. One of the important issues is that the space has natural lighting and natural ventilation. The use of color in the space changes all the energy in the area where you will do sports and affects you, so you should choose colors suitable for your sport.Test out some of our home gym ideas, below, to get the look in your own home!
Below you can find several ideas in many different styles where you can create the space that suits your style and the sport you do.