TRAVERTINE BACKSPLASH IDEAS
103+ Travertine Backsplash Ideas (Top Trend Tile Designs!)
You want your home to look like the timeless designs you see in magazines with travertine kitchen backsplash ideas. Creamy whites and beiges swirl together to create a look whose style never fades. If elegance is what you've been searching for, travertine backsplash tile ideas are sure to align with your imagination.
Classically Beautiful Travertine Kitchen Backsplash Ideas
Feel inspired with our gallery of design tips for travertine backsplash. You'll feel right at home in these sophisticated spaces with soft and muted color choices. Keep your kitchen light with white cabinetry to medium brown cabinetry to complement the inherent beauty of travertine in your kitchen backsplash.
Beige, brown color came from nature
When elegance is paramount for you, travertine backsplash tile ideas can make your design dream a reality. This soft color palette that emphasizes the natural striation in the travertine stone will never fade from style. Classic colors like this remain in vogue for centuries, easily adaptable for new paint colors or accent pieces throughout the years.
Natural look travertine stone tile
Clean elegant touch travertine
Traditional to modern designs
Making the Most of Travertine Tile Backsplash
How do you know what would look best with our superior travertine tile backsplash ideas? You can concoct any number of combinations that will make your home feel chic and glamorous. Try on a few of these ideas for size:
Keep it light with white cabinetry, stainless steel pendant lighting, and light beige quartz countertops.
Go more traditional with medium brown cabinetry and a Santa Cecilia granite countertop.
Mix it up with mosaic tiles that provide pops of glittering glass or sparkling colors that create movement in your space.
This low-maintenance tile provides plenty of design ideas for any functional space. Easy to install and easy to upkeep, travertine kitchen backsplash ideas will keep you coming back for more.
Allow travertine backsplash to influence your space towards a more elegant design. You won't regret your decision to go with a timeless piece like this.
Tumbled Travertine Backsplash
Travertine is a form of limestone which has an understated and sophisticated appeal. Tumbled travertine has an aged finish that is developed through the tumbling process. The rough textured surface of a tumbled travertine backsplash is a great way to add visual interest with a rustic attraction!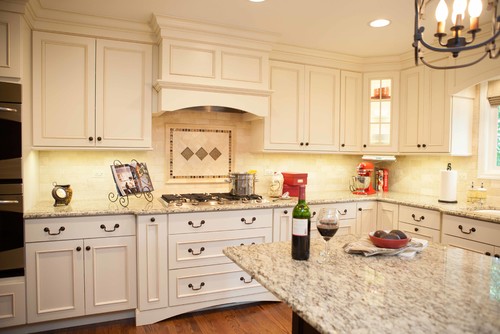 ID# 128601| Houzz.com – Credit | © Advance Design Studio, Ltd.
---
Traditional Kitchen with Tumbled Travertine Backsplash and Granite Countertops
Natural touches come from those stylish materials such as the busy granite countertops of the island and perimeter cabinets, dark wood floors, and beige tumbled travertine backsplash. The warm look created by the natural materials adds a beautiful contrast to white kitchen cabinets. Also, it is a good choice to use a travertine backsplash with white kitchen cabinets to have natural vibes.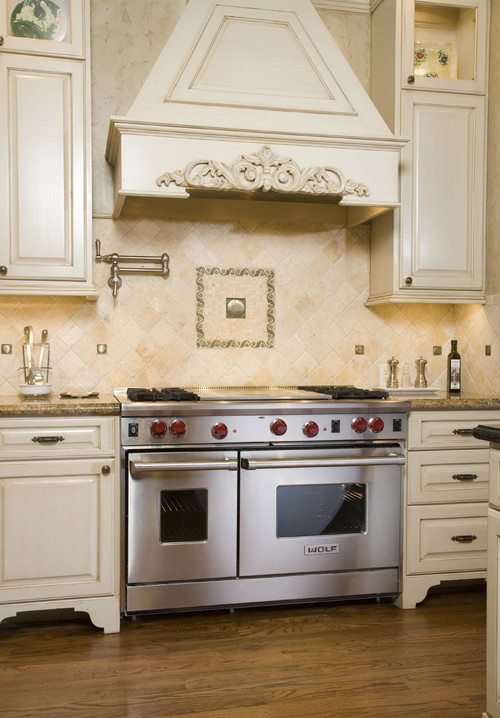 ID# 128602| Houzz.com – Credit | © Hann Builders
---
Antique White Raised Panel Cabinets with Beige Busy Granite Countertop
The ornamented hood and its gorgeous view diffuse all beauty to the interior. Using raised panel cabinets and giving them a movement is a nice choice when you want to design a traditional kitchen. This movement complements the natural feeling of the tumbled travertine backsplash. Also, wooden floors go with the harmony of the natural view of the travertine backsplash. Dark countertops add soft contrast to this elegant kitchen.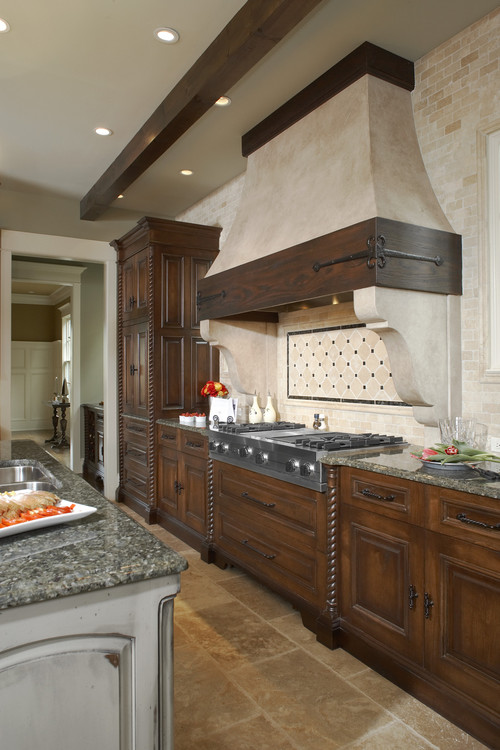 ID# 128603| Houzz.com – Credit | © The Furniture Guild
---
Rustic Kitchen with Dark Wood Cabinets and Bronze Hardware
Rustic kitchens are a design style that gives you an air of feeling at home. It gives a warm atmosphere to the environment with its dark wooden cabinets. The large hood covering the wall and the wooden touches on it create an incredible harmony with the tumbled travertine backsplash and dark wood cabinets. The stone flooring also joins this harmony and completes the natural and friendly atmosphere in the kitchen.
Honed Travertine Backsplash
A honed finish is the most common finish for travertine backsplashes. It is not as smooth as polished travertine but honed travertine also provides flat and uniform surfaces that are created by grounding and sanding. Even if this backsplash has a uniform surface, because of its porous surface, a hone travertine backsplash is prone to blemishes. But this is not a problem, with regular sealing, you can maintain the beautiful appeal of your tiles.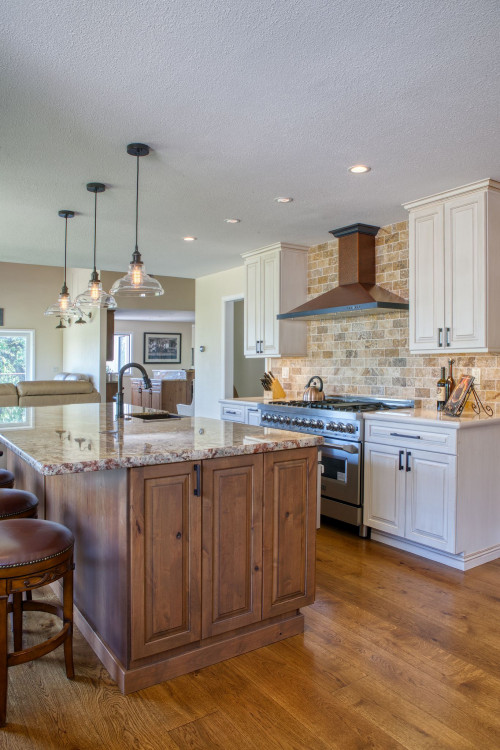 ID# 128604| Houzz.com – Credit | © Design Showcase
---
Multicolored Honed Travertine Backsplash with Natural Touches
To create a friendly and warm environment, you can go for natural materials, such as wooden surfaces and natural stone materials. In this kitchen, the harmony of the counters with the honed travertine backsplash, which gives a natural touch to the white kitchen cabinets, creates a wonderful unity.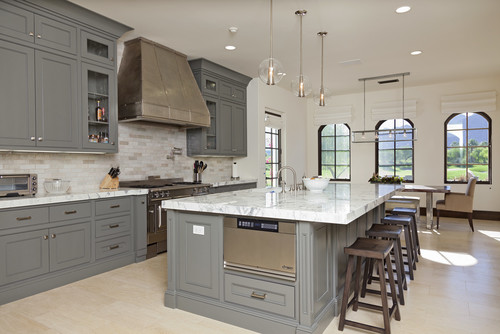 ID# 128605| Houzz.com – Credit
---
Contemporary Kitchen Design with Dark Gray Cabinets and Quartz Countertops
Yes! This spacious kitchen has beautiful daylight thanks to the wide windows! The dark gray shaker cabinets serve a classic traditional look while the white Silestone quartz countertops make a fresh touch and modernize the design. The hone travertine backsplash creates a nice textural look. The oversize metal range hood completes the traditional style of the cabinets.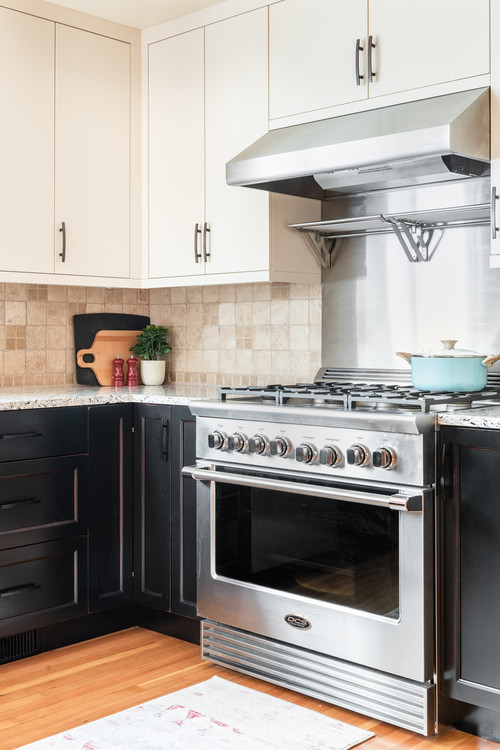 ID# 128606| Houzz.com – Credit | © Thomas and Birch Boutique
---
Black and White Kitchen Cabinets with Honed Travertine Backsplash
In addition to the sharp contrast of black and white, wooden floors and honed travertine backsplash form a complete team. Their natural and warm appearance contributes to the dynamism in the kitchen. Amid this black and white contrast, Stainless steel appliances dazzle and create harmony with the naive brushed nickel hardware.
Polished Travertine Backsplash
Polished travertine is very similar to marble. It provides a smooth and glide-like appeal. Also, a polished travertine backsplash is more resistant to stains and scratches than tumbled and honed finishes. To protect the glossy appeal requires regular polishing.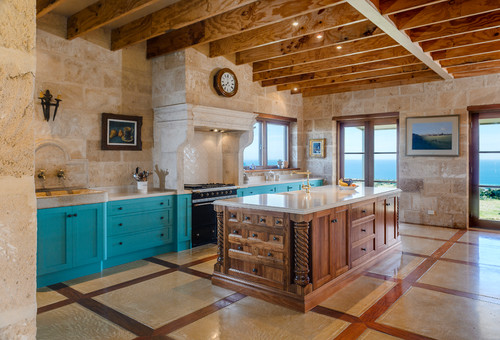 ID# 128607| Houzz.com – Credit | © Alby Turner and Son
---
Blue and Brown Kitchen with Polished Travertine Backsplash
The harmony of blue cabinets with the traces of the magnificent sea view, and beige and brown tones reveal the breathtaking kitchen design. The polished travertine material on the walls also serves as a backsplash and there is a warm atmosphere created with wood and travertine.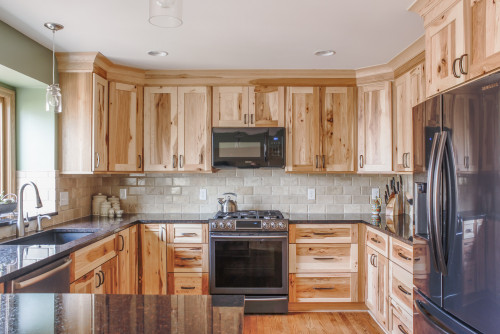 ID# 128608| Houzz.com – Credit | © Dream Kitchens
---
Rustic Kitchen with Natural Wood Cabinets and Black Countertops
This kitchen welcomes you with warm and bright air. With the natural texture of light wood cabinets, wooden floors help create a warm atmosphere. Dark countertops and black stainless appliances balance the modern vibe. This modern vibe is also complemented by a polished travertine backsplash.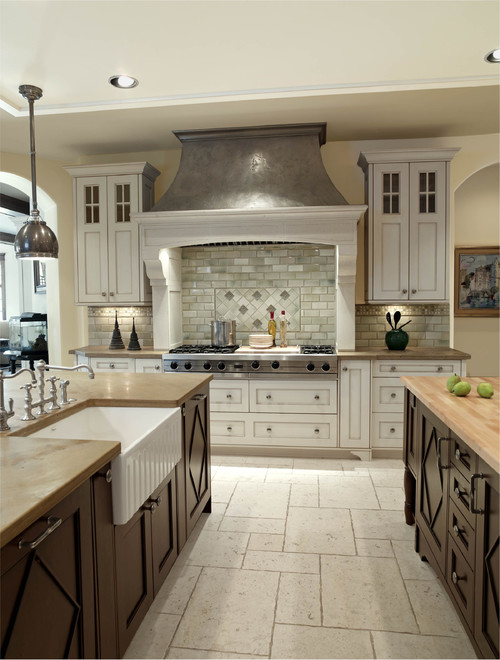 ID# 128609| Houzz.com – Credit | © Angela Otten – Inspire Kitchen Design Studio
---
Farmhouse Kitchen with Stone Floors and Polished Travertine Tiles
Natural materials create a perfect warmth with their textures of course. The stone floors go well with the wooden lower cabinets and they add beautiful harmony together. The polished travertine backsplash and white upper cabinets team up together. The stone hood's white crown moldings balance the movement of the kitchen with the cabinets.
Ivory Travertine Backsplash
Ivory travertine is a cool-toned natural stone that is the most popular travertine color. With its sleek and elegant appeal, an ivory travertine backsplash can instantly elevate your kitchen. You can bring a soft touch with ivory tiles to your white cabinets or create a neutral color palette with wooden cabinets. Thanks to its versatility, it can work well with different colors and styles. Also, you can find it in both honed, polished, and tumbled finishes.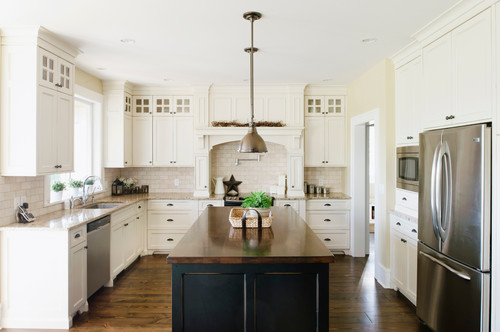 ID# 128610| Houzz.com – Credit | © Rockridge Fine Homes
---
White Kitchen Cabinets and Natural Countertops with Ivory Travertine Backsplash
The navy blue island that has wood countertops creates a perfect harmony. The charming look comes from the contrast of the light and dark colors. An elegant and stylish view is created with the help of lovely shaker cabinets. Stainless steel appliances and handless team up together. Ivory travertine backsplash and white kitchen cabinets create harmony with the natural countertops.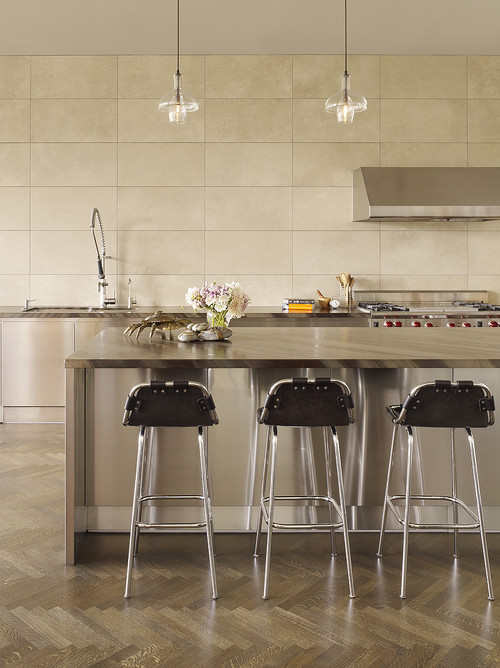 ID# 128611| Houzz.com – Credit | © Chloe Warner
---
Contemporary Kitchen Design with Metalic Cabinets and Large Ivory Tiles
The dance of artificial and natural materials creates a movement in this contemporary kitchen. You can feel the cold from the metallic surfaces and feel the warmth from the ivory travertine backsplash and wooden floors. Such an interesting design is created in this kitchen.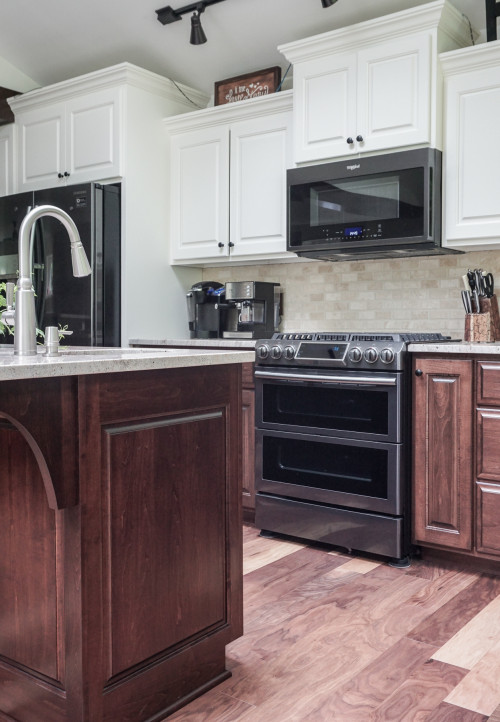 ID# 128612| Houzz.com – Credit | © Schrock's Woodworking
---
Two-Tone White and Wood Kitchen Cabinets with Black Appliances
Although the wooden lower cabinets give a rustic feel, we can feel the traditional kitchen design with the white upper cabinets. Modern and traditional looks are created in a balanced way in this transitional kitchen. The use of natural materials helps to create a pure appearance, while stainless steel appliances reveal the modern look of today's technology.
Beige Travertine Backsplash
Beige travertine is a slightly darker shade than ivory. Just like the ivory, a beige travertine backsplash is also great to add elegance for kitchens. Its warm appeal works well with other neutral shades and for a final touch, metallic hardware will be perfect!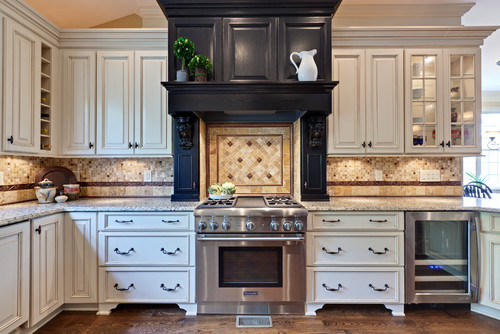 ID# 128613| Houzz.com – Credit | © Turan Designs, Inc.
---
White Kitchen Cabinets with Beige Travertine Backsplash and Black Hardware
The raised panel white kitchen cabinets and their black hardware create a movement in the kitchen. Those lovely black handles and the black ornamented wooden hood looks perfectly completed together. You may like to use stone-like materials with these kinds of kitchens which is a brilliant idea! The balanced appeal of the beige travertine backsplash and wooden floors complements the interior with their warm vibes.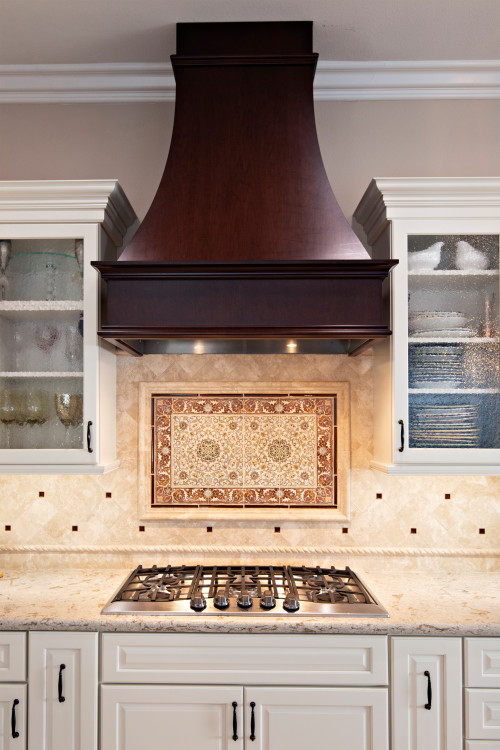 ID# 128614| Houzz.com – Credit | © La Costa Cabinets & Design
---
Light Quartz Countertops with Beige Travertine Backsplash and White Kitchen Cabinets
The focal point is the wooden hood and the beige travertine backsplash, of course. The patterns of the backsplash are complemented by the stylish black handles. The gorgeous ribbon trim of the backsplash is a perfect touch to add movement to this kitchen. The painted mural creates an atmosphere as If you are in ancient roman houses with the help of the travertine backsplash. The quartz countertops keep this look with their beautiful surface and color.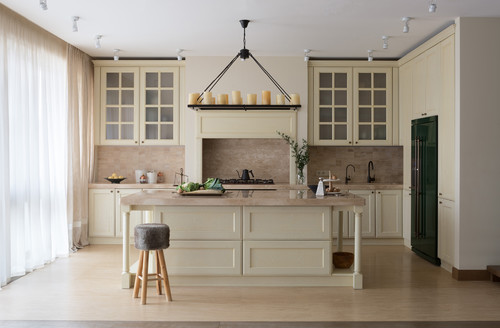 ID# 128615| Houzz.com – Credit | © Daria Lukovnikova Interiors
---
Marble Countertops with Beige Travertine Backsplash and an Island
There is a magnificent unity in this transitional kitchen, which has a completely plain and minimalistic look. White kitchen cabinets and marble countertops are a perfect match in this simple kitchen. The soft atmosphere coming from this kitchen, which feels like everything is in its place, is complemented by a beige travertine backsplash.
White Travertine Backsplash
White travertine is a beautiful stone quarried from Italy. Because it is a natural stone, there is no pure white travertine. However, its stunning veinings and flecks can add visual interest and create a slight textural look. Also, a white travertine backsplash is a great way to add a sense of luxury!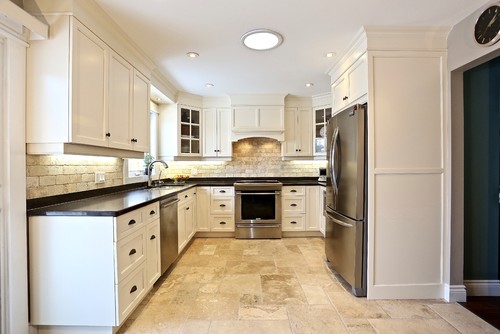 ID# 128616| Houzz.com – Credit | © Pay less Kitchens
---
White Kitchen Cabinets with White Travertine Backsplash and Black Countertops
The sharp contrast between black hardware and countertops with white cabinets is balanced with the natural look of stone materials. You can feel the natural atmosphere with the help of stone floors and travertine backsplash in this kitchen, where pieces from modern and classical styles come together.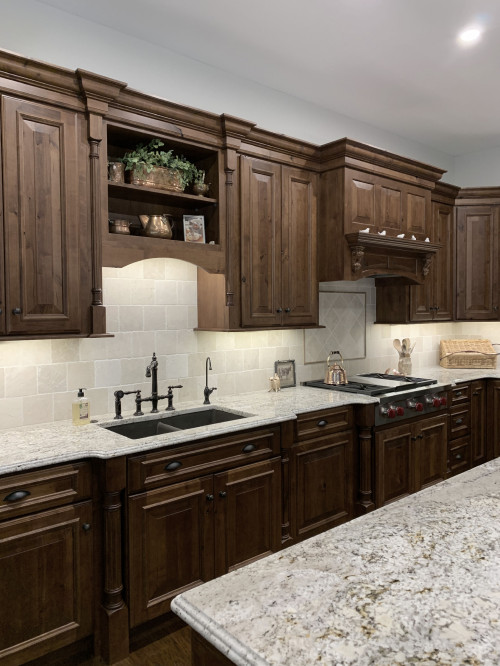 ID# 128617| Houzz.com – Credit | © Mauk Cabinets by Design
---
Dark Wooden Cabinets with White Granite Countertops and Travertine Backsplash
Nothing is missing in this traditional kitchen design, which offers us a sincere and warm look. Dark wooden cabinets, white granite countertops, and white travertine backsplash team up and create harmony together. These dark-colored kitchen cabinets, which you can use with light-colored walls, create a very balanced contrast with white travertine backsplash and granite countertops.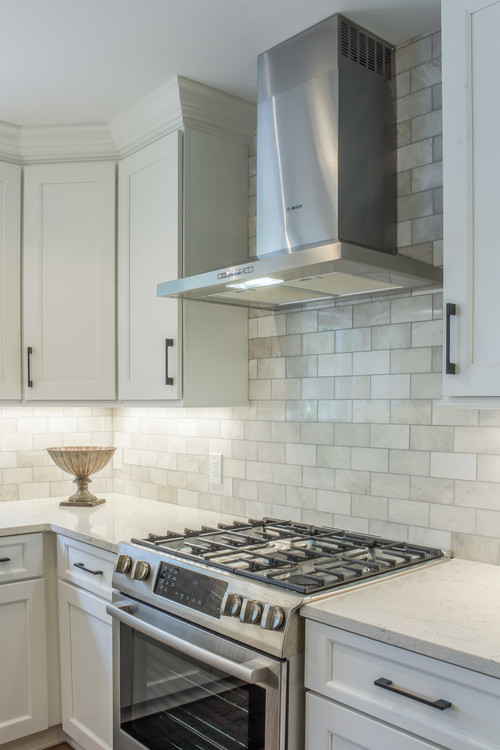 ID# 128618| Houzz.com – Credit | © Dream Kitchens
---
White Shaker Cabinets and Black Hardware with White Travertine Backsplash
Simple, beautiful, and completed view welcomes us with a charming white travertine backsplash. To have natural look it is a good choice to use natural materials such as a travertine backsplash. White shaker cabinets and black hardware create a soft contrast and stainless steel appliances continue this contrast. There is a movement that is added by the style of the shaker cabinets. You may like to use white quartzite countertops with this kind of backsplash which serves a simple but stylish look.
Travertine Subway Tile Backsplash
Subway tiles are classic for all kitchen types. They come in different materials and travertine is one of them. A travertine subway tile backsplash provides not only a functional characteristic kitchens but also creates an undeniably beautiful appeal!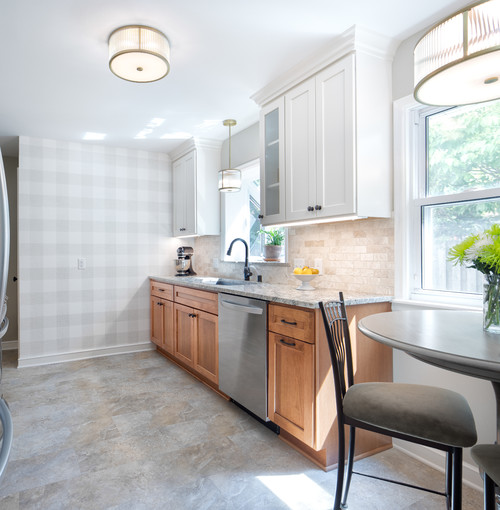 ID# 128619| Houzz.com – Credit | © Castle Building & Remodeling
---
White and Wooden Kitchen Cabinets with Travertine Subway Tile Backsplash
What a stylish kitchen! Floors, walls, and kitchen cabinets blend in harmony. While the white upper cabinets and the wooden perimeter cabinets create a sweet harmony together, the black cabinet handles put a gentle contrast. The wooden cabinets and the travertine subway tile backsplash create a very good pairing and harmonize with the floor. A bright and spacious kitchen design was created with stylish materials.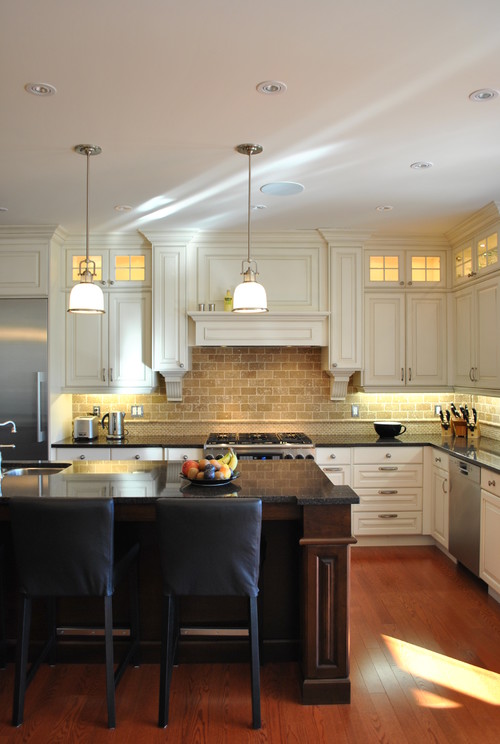 ID# 128620| Houzz.com – Credit | © Tanner Vine – 2Go Custom Kitchens Inc
---
Traditional Kitchen with Beige Wall Tiles and Black Countertops
Black and white colors create a stylish and sharp contrast that gives an identity to the kitchen. Black countertops create a match with the island and give a balanced look with the white kitchen cabinets. To soften the sharp contrast it is a good choice to have a light-colored travertine backsplash as in this kitchen. A well-done illumination helps this kitchen to look stylish.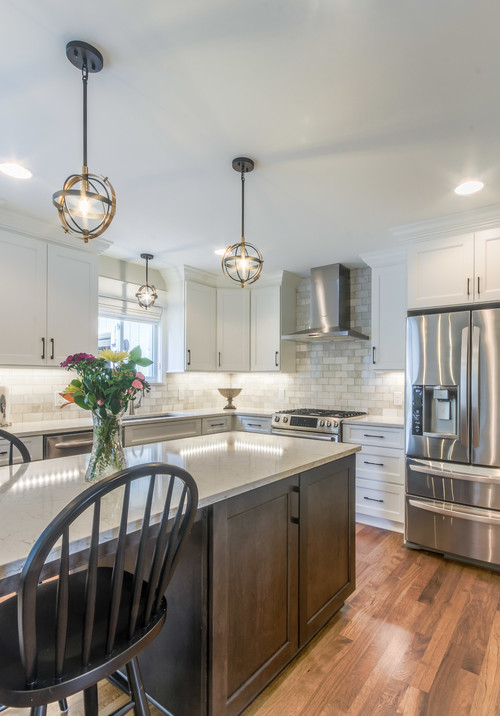 ID# 128621| Houzz.com – Credit | © Dream Kitchens
---
White Transitional Kitchen with Wood Kitchen Island
A bright kitchen impresses with its lively look. White countertops, which complement the white kitchen cabinets, are complemented by a white travertine subway tile backsplash. A bright and luminous look comes to life in this kitchen. The dark wood kitchen island stands out between the whites and creates a nice contrasting look.
Travertine Herringbone Backsplash
A herringbone pattern is created from the classic rectangular tiles laid in a fishbone pattern. The small twist on the subways creates visually impactful looks. Whether it's hones, polished, or tumbled finish, you can make an unexpected twist with a travertine herringbone backsplash. Thanks to its sleek appeal, it can be used in different styled kitchens from traditional to rustic.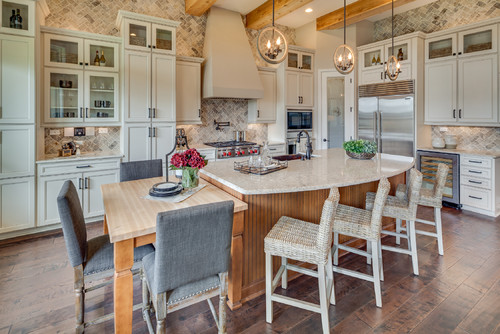 ID# 128622| Houzz.com – Credit | © Dream Finders Homes
---
Traditional Kitchen with Off White Cabinetry and Range Hood
This kitchen design serves the classic beauty of the traditional style! The off-white cabinets, travertine herringbone backsplash, and beige granite countertops create a harmonious look. The natural look of the wood kitchen island completes the warm and welcoming atmosphere. The oil-rubbed bronze hardware nicely contrasts with the cabinets to emphasize them.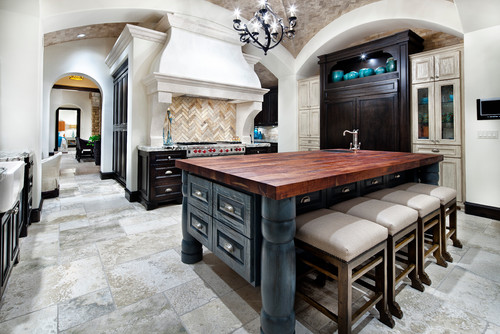 ID# 128623| Houzz.com – Credit | © JAUREGUI Architecture Interiors Construction
---
Dark Wood Cabinets with Gray Granite Countertop and Chrome Hardware
In this transitional kitchen, the herringbone travertine backsplash creates a striking focal point between the white range hood and dark wood cabinets with a granite countertop. The wood countertop of the kitchen's large black kitchen island complements the warm appeal of the travertine. The black chandelier completes the traditional style of cabinetry.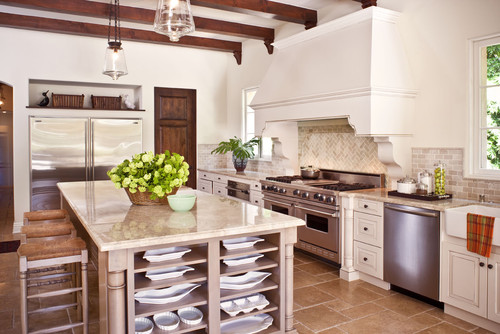 ID# 128624| Houzz.com – Credit | © Christopher Gaona Design Studio
---
Mediterranean Kitchen with Oversized Range Hood and Stainless Steel Appliances
With its soft neutral color scheme, this Mediterranean kitchen offers a warm and welcoming atmosphere. The white oversized range hood and the tumbled herringbone travertine backsplash behind the stove create a focal point. The white Raised panel cabinets and beige granite countertops create a traditional appeal.
How to install a travertine backsplash?
The installation of a travertine backsplash is not harder than other materials. Before the installation, you need to measure the backsplash area. This way you can know how many tiles you need. Also, for a proper installation, before attaching the tiles, the surface needs to be smooth. Sand the area with sandpaper to create a uniform surface. And you need to prepare the layout of the tiles before installing them. Lay the tiles on the counter and define the layout. This way you will avoid some unmatched pieces.
For the installation, you need thin-set mortar, tile spacers, trowel, wet tile saw, and grout. Once these materials are available you can start the installation process. Mix the thin-set mortar according to manufacturer directions and spread a small part of the wall. Apply the tiles on the mortar, press against it with a rubber float, and repeat this procedure until covers all surfaces. Using tile spacers, make sure that the gaps between the different tiles are uniform before thin-set dries. After all, tiles are installed, wait 24 hours and then prepare the grout. Remove the spacers, fill the spaces between the tiles using the grout and allow it to dry. Wipe down the tiles with a damp cloth and wait for overnight. After the grout has cured, apply a suitable sealant for travertine tiles.
How to grout tumbled travertine backsplash?
Mix up the sanded grout according to manufacturer directions. Scoop up a small amount of grout with the end of the grout float. Apply the grout along the grout joints of the tiles using a 45-degree angle. Repeat this process until cover all fills. Wait 10 minutes to let the grout dry then wipe down the tile surfaces with a damp cloth. Let the tiles dry for 24 hours.
How to clean travertine tile backsplash?
Travertine is a porous material that requires more maintenance than some other materials. The first thing you need to do to keep clean your travertine backsplash is regular cleaning. You can clean the travertine tiles with a mixture of warm water and dish soap. Apply the mixture with a spray bottle and allow it to settle for a few minutes. After, gently wipe the tiles with a soft cloth or sponge. If you are struggling with stubborn stains, you can prepare a paste with water and baking soda.
Is travertine backsplash outdated?
Travertine is one of the most popular materials in the '80s but it still is? Marble and quartz materials sat at the top of the trend lists in recent days. However, with its warm allure, travertine still remains its position.