70+ Rustic Kitchen Cabinets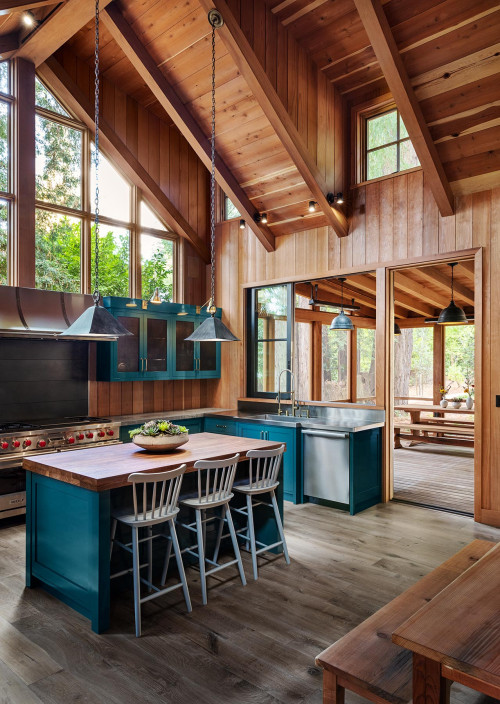 ID# 116205 | Houzz.com – Credit | © Dotter & Solfjeld Architecture + Design
---
Blue Shaker Cabinets With Gray Wood Floor
Large open concept kitchen photo with an integrated sink, gray wood floor, shaker cabinets, blue cabinets, glass cabinet doors, stainless steel appliances, metallic backsplash, exposed beam, vaulted ceiling, metal pendant lightings, an island, wood island countertop, gray countertops, and granite countertops.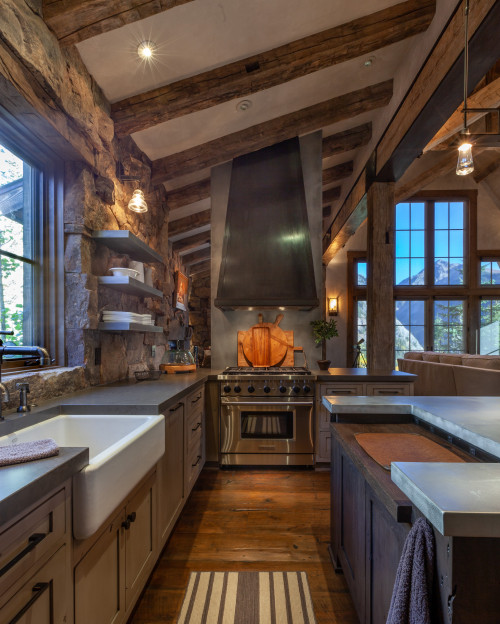 ID# 116235 | Houzz.com – Credit | © Artisan Builders LLC
---
Rustic Kitchen Cabinets With Brown Stone Tile Backsplash
Mid-sized mountain style u-shaped enclosed kitchen photo with a farmhouse sink, dark wood floor, exposed beam, shaker cabinets, black and beige cabinets, an island, gray countertops, distressed cabinets, concrete countertops, brown backsplash, stone tile backsplash, and paneled appliances.
Combination Of Country Cottage And Farmhouse Decoration: Rustic Kitchen Cabinet Ideas
The rustic design aesthetic has been front and center on the editorial stage for many years, but that doesn't mean the trend can't be given a seasonal upgrade and improved upon. Next door to shabby chic, rustic kitchens derives its inspiration from organic, often antiquated textures, colors, and forms, with a particular devotion to country cottage and farmhouse interiors. Rustic home decor is all about comfort and effortless appeal, blending the spirit of resilience with a more refined approach to town & country living.
Decorations inspired by nature!
Rustic cabinets often showcase the wood for a natural look. Complement this look with other natural elements, such as a stone backsplash in a kitchen. Raw and weathered, and at others softly distressed, this warm and relaxed design style brings the charm of the outside in. Using natural materials, carved woods, heavy copper or iron, and a hodge-podge of textures and embellishments, design elements come together to tell a uniquely long and rich story. Here are some rustic kitchen cabinet ideas to find some inspiration!
Take this unique and natural journey with us!