33+ White Kitchen with Gray Backsplash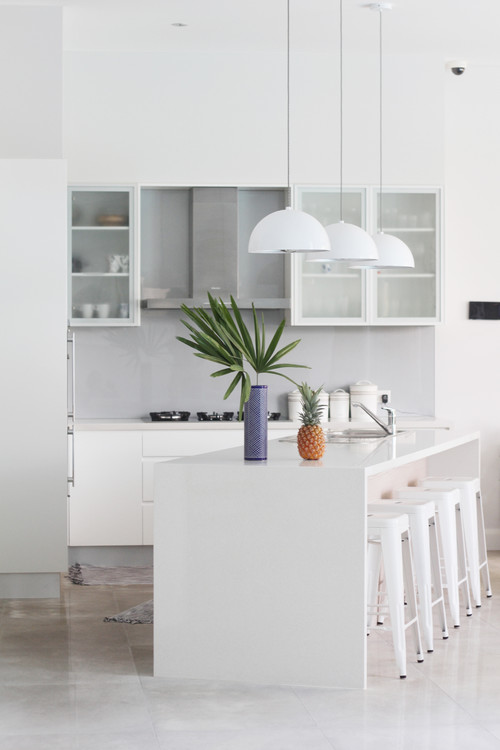 ID# 143014 | Houzz.com – Credit | © Vivian Panagos Interiors
---
Glass Sheet Backsplash and Industrial Stools with Waterfall Island
This contemporary kitchen embraces gray marble as the protagonist of the overall design. Its custom-cut design falls over the white cabinets, creating an incomplete waterfall effect, while the white ribbed island and walls generate movement and add extra dimension. Right across the main zone are the full height cabinets that lean contemporary and pose as a singular volume. The built-in black appliances add a striking contrast, while the dark wood planks coat the floors to build a sense of visual drama. Doing so makes the kitchen more approachable and also helps the gray-and-white combination pop out.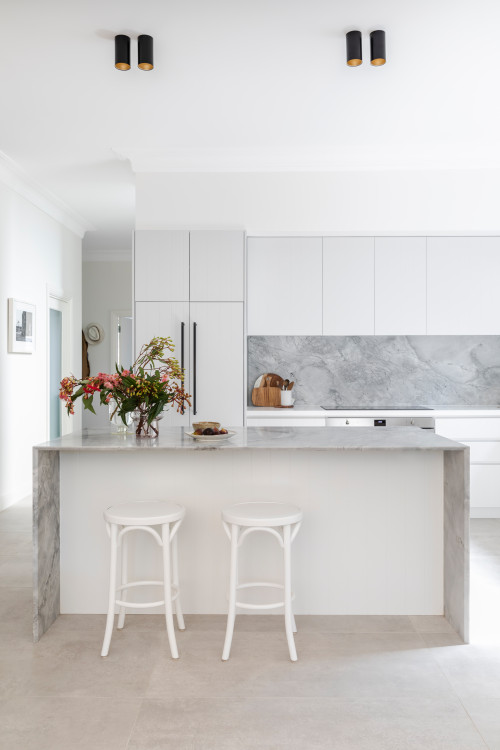 ID# 143029 | Houzz.com – Credit | © Blue Tea Kitchens and Bathrooms
---
White Kitchen with Gray Backsplash and Waterfall Island
Here we have another combination of white cabinets paired with a gray marble slab backsplash and marble countertops. It also uses another staple element of contemporary looks, which is a waterfall island. It is paired with backless stools that create an informal eat-in space and black flush mounts that draw eyes upward to evoke interest.
 White Kitchen with Gray Backsplash
No other kitchen exudes elegance like a white kitchen with gray backsplash does. Not only that this very combination of two versatile and neutral shades is stylish and timeless but it makes the next home upgrading project easier. In other words, when you have such a canvas-like setup, you can upgrade this look while coloring it a bit with warming and energizing details and make everything look anew effortlessly. Plus, these kinds of renovations neither create a big mess nor cost you an arm and a leg. And from that point of view, even though a white kitchen with gray backsplash sounds like a typical kitchen, it is not supposed to feel that way at all.
If you want to create a difference in a white kitchen with gray backsplash, you can choose statement materials (E.g., marble, marble-look granite, printed tiles, etc.) and eye-catching patterns (hexagon, chevron, herringbone, and mermaid). Likewise, natural additions such as bricks, wood, and stones can elevate the overall feel in neutral color palette kitchens easily. All you need to do is to figure out what kind of impact you are after and what kind of looks you prefer most. Is it the masculine vibes that embrace edgy looks or nature-inspired designs? Or do you like feminine touches or prefer warming shades like light yellow and beige?
To be able to decide whatever it is that you are looking for, just take a closer look at this list that offers a specific focus on a white kitchen with gray backsplash ideas. A variety of looks in different kitchen designs is available here just to give you a solid idea of how this neutral color combination can be more personalized.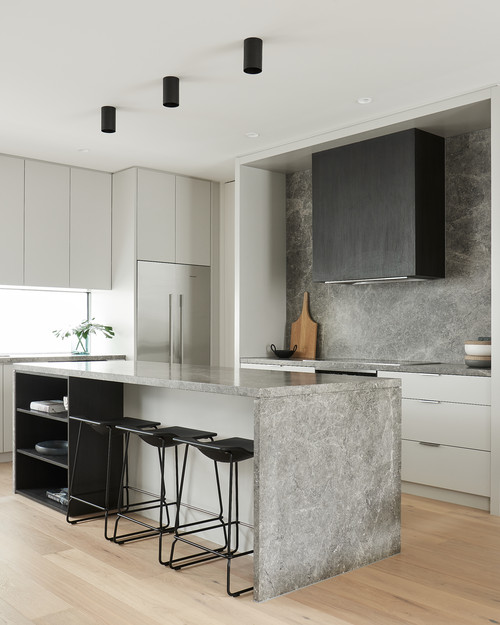 ID# 143001 | Houzz.com – Credit | © S&K Group
---
White Kitchen with Gray Backsplash and Countertops
If you want your design to look rich and luxurious, invest in a high-end material like marble. Here the gray marble slab backsplash pairs perfectly with white flat-front cabinets. The barely-there lip-pull notches add a tiny gesture to the cabinet drawers to allow for an easy grip. The black hood fixture, black low-back counter stools, and black-interior open cabinet island shelf constitute a contrast, adding a third dynamic to highlight the harmony between the white and gray.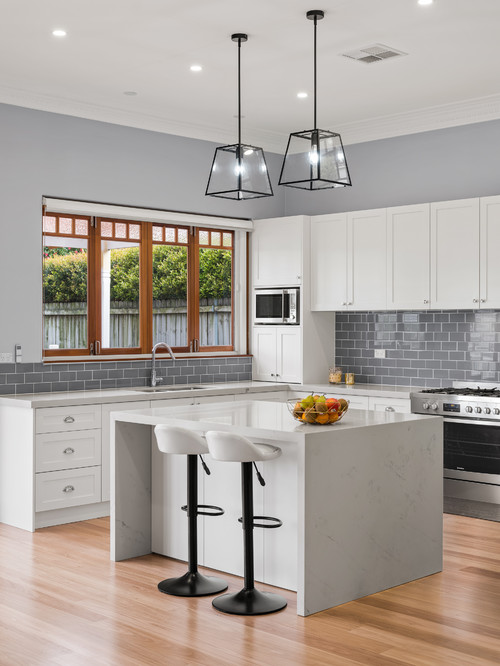 ID# 143002 | Houzz.com – Credit | © Balnei & Colina
---
White Shaker Cabinets And Gray Subway Tile Backsplash with White Countertops
This neutral color palette kitchen is given a traditional spin with white shaker cabinets and a duo of black caged pendants anchoring the island. In the background, the gray subway tile backsplash creates a focal point, while the white grout between the tiles highlights the patterns themselves for extra interest. Doing so also coordinates the backsplash with the white shaker joinery and countertops. Adding to that are the wood floor finish and wooden window beams that add warmth, letting the neutral color scheme pop out. And the white cool lights diffused by built-in spotlights bounce off around the room thanks to the gloss finish on the gray backdrop.
Does gray backsplash go with white cabinets?
Gray backsplash is one of the most popular shades that is paired with white cabinets. Whether it comes in dark, light, warm, or cooler shades, it always has something to contribute to the white cabinets. This might be a sense of edginess, elegance, sophistication, and lightness, depending on the shape, pattern, and shade of the backsplash. In short, a gray backsplash goes well with white cabinets; and this combination is used in all kitchen designs, be it contemporary, modern, traditional, transitional, or Scandinavian.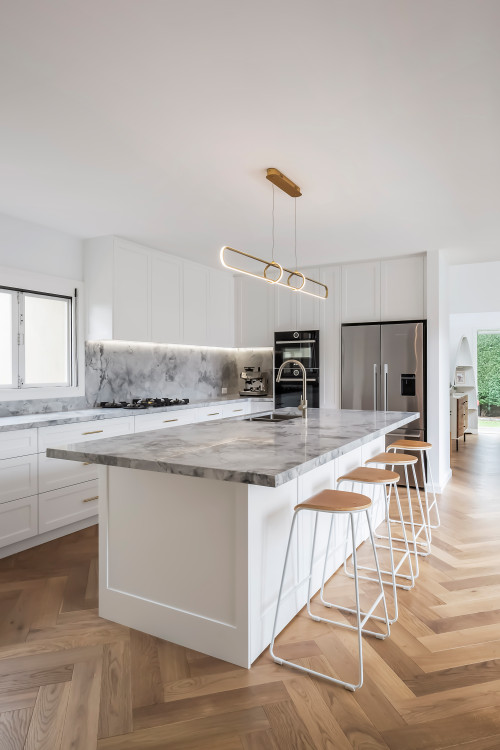 ID# 143003 | Houzz.com – Credit | © Northern Beaches Kitchens and Bathrooms
---
White Flat-Front Cabinets with Marble Slab Backsplash and Brass Fixtures
Marble is a winning material when the aim is to achieve elegance and opulence. It creates focal points visually while making strong visual statements, especially when it features pronounced veins. In this contemporary kitchen, we have a perfect example of it installed in an otherwise all-white setup. The white flat-front cabinets provide a blank canvas-like frame for the gray marble splash-back to shine, while the LED strip lighting emphasizes this opulent backdrop. Also, the brass lighting fixture and wooden bar stools just get brought in to pepper the gray-and-white look.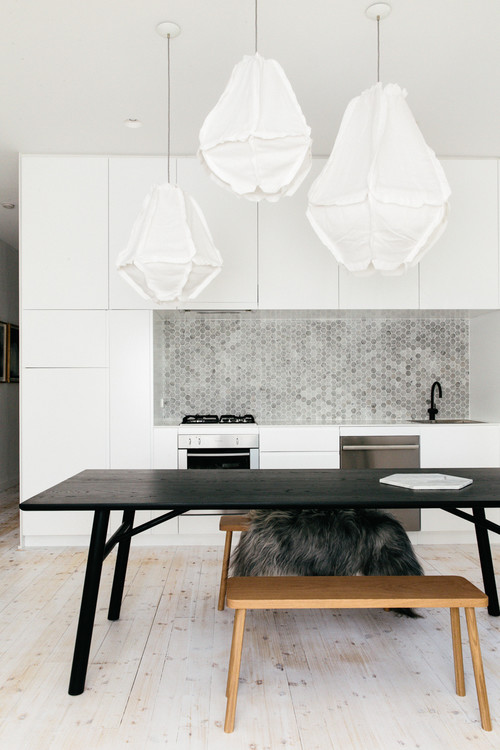 ID# 143004 | Houzz.com – Credit | © Caroline McCredie
---
Scandinavian Kitchen with Hexagon Tile Backsplash And White Cabinets
This stunning kitchen unfolds itself in two layers: a single wall layout and a bench dining space. The former is defined by an eye-catching gray backsplash and white cabinets that reach the ceiling to provide ample storage. This hexagon tile backsplash, also known as honeycomb, introduces a biophilic pattern as a reference to nature. Likewise, the trio of oversized not-blossomed-yet petal-like lighting fixtures adds another layer of natural reference, paired with wooden benches, a nod to Nordic aesthetics and its inclusivity regarding nature. This approach is finally honored with a black fur-like fabric that adds a soft touch.
How do you warm a white and gray kitchen?
Timber floating shelves, LED strip lighting that radiates white warm lights, kitchen plants, brass hardware, and wood accents are some of the ways to warm a white and gray kitchen. But when choosing a warm element, first, consider the overall design aesthetic. For example, if you have a country or a farmhouse kitchen, feel free to use ceiling beams, salvaged wood, wood trim for the range hood, and a ceiling-mounted rack to exhibit your gorgeous copper cookware. As for modern and contemporary kitchens, you can use a wood panel backsplash, floating shelves, brass wall sconces, and gold hardware. In short, just focus on integrating warm shades and play with the different materials that come with texture such as red-brown brick tiles with which you can create feature walls.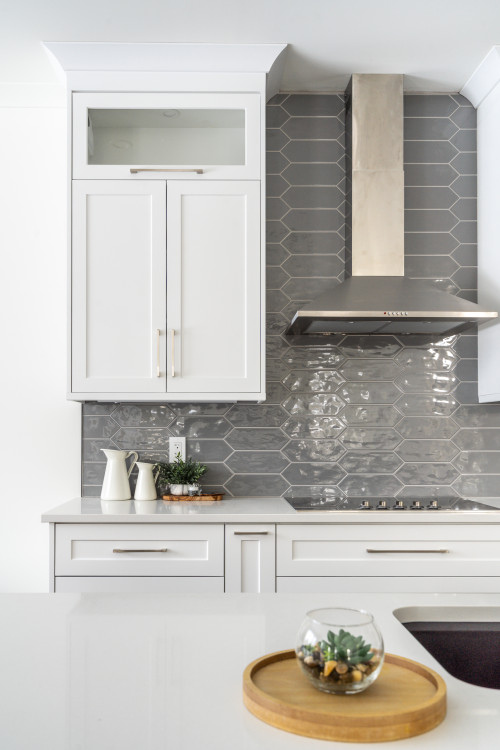 ID# 143005 | Houzz.com – Credit | © YourStyle Kitchens Ltd
---
Transitional Kitchen with Gray Picket Tile Backsplash and White Shaker Joinery
You know what they say: "a backsplash can make or break a design." Here it definitely makes one with the gray picket tiles taken up to the ceiling that peek out behind the stainless steel range hood. The satin finishes on these geometric patterns, even if not the same as the gloss finish, add a nice sheen to the backsplash to constitute a contrast to other matte-finish white shaker joinery.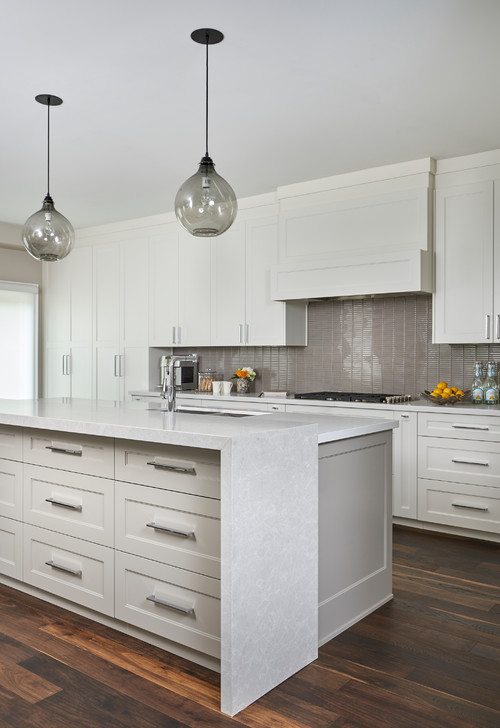 ID# 143006 | Houzz.com – Credit | © Casa Perfecta Inc
---
White Kitchen with Gray Backsplash and Smoked Glass Pendants
Standing between something modern and classic, this transitional kitchen has a bit of all. The shaker cabinets give the kitchen a classical spin challenged by the modern kit-kat mosaic tile backsplash. The island's form, again, feels contemporary with the additional drawer extension hidden under a white marble waterfall edge. Overhead, the smoked glass pendants coordinate with the gray backsplash tiles and light gray island base to create visual integrity.
Gray Backsplash Materials for White Kitchens
Gray as a versatile color is always a safe choice whether it comes in glass sheets, brick tiles, ceramics, marble, quartz, and granite. With all these materials, you can create impactful and expressive combinations for white kitchens that deliver soothing aesthetics to any kitchen. Whether it is a natural stone slab or a classic subway tile, a gray backsplash offer timeless appeal for white kitchens.
White Kitchen with Gray Ceramic Backsplash
Ceramic tiles stand apart from their counterparts thanks to their high customizability and affordable prices. Available in countless patterns, designs, textures, and colors, they ensure that you get what you want. Even if you prefer more textured and natural-looking ones, handmade ceramic tiles, though a bit more expensive, expand the design possibilities with ceramics. And surely, gray ceramic tiles find a place for themselves among all the ceramic tile options, making smooth additions to white kitchens.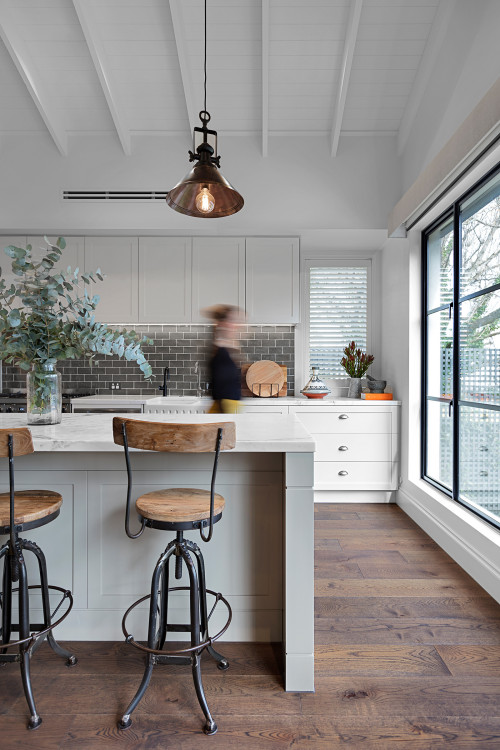 ID# 143007 | Houzz.com – Credit | © Glenvill Homes
---
Modern Country with Gray Ceramic Backsplash And White Cabinets
Color combinations should complement finishes especially when your design is supposed to have a more rustic edge like country kitchen designs require. This one-we have here-nestled under the gabled ceiling proposes a modern country look, carrying rustic influences with a rustic floor finish, bespoke bar stools, and bell-like oxidized metal pendant. The white cabinets and gray subway tile backsplash create a modern setup without making a total counterpoint to the rustic vibes of the kitchen. In addition to the varying design styles, the scalloped butler sink invites a farmhouse flair, while the whitewashed ceiling beams and the ceiling provide a clean look.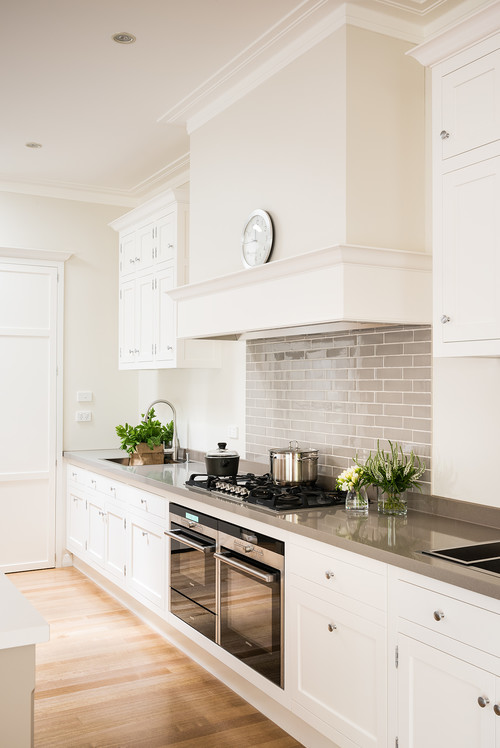 ID# 143008 | Houzz.com – Credit | © Steding Interiors & Joinery
---
White Kitchen with Gray Backsplash and Countertops
If you want to keep things simple and classic, subway tiles are the route to go- as this traditional kitchen demonstrates. Here the gray subway tile stove splash-back orchestrates a timeless look with white shaker cabinets, and dark gray countertops and built-in appliances bring a modern and sleek edge to the kitchen. Yet what makes this traditional kitchen break away from the typical kitchen looks is the size of the upper wall units. They neither adjoin to the range hood nor go up to the ceiling, looking suspended and being treated as a wall accessory. This way, the cream-painted walls get more chance to emanate warmth, adding a sense of coziness and intimacy to the interiors.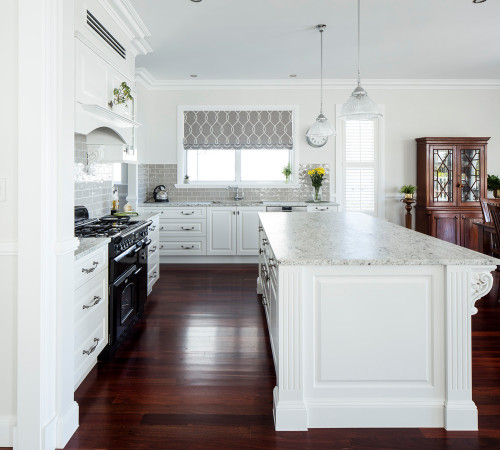 ID# 143009 | Houzz.com – Credit | © Lindon Homes Pty Ltd
---
Traditional White Kitchen with Granite Countertops and Raised-Panel Cabinets
Though open-plan, this traditional kitchen stays loyal to its classical roots with millwork and corbels on the island and hood that delivers ornate aesthetics. The oversized metal hardware and granite countertops also serve to the traditional ideals, while the gray subway tile backsplash doesn't come as a surprise, having proven itself as a classic pattern. In addition to those, the black stove and medium-tone wood floor finish offer a contrast, making the white-dominant kitchen's provocative presence more felt.
What color countertops go with white cabinets and gray backsplash?
White and gray countertops are generally the preferred countertop color options for white cabinets and a gray backsplash. But if you want something stronger, black countertops are also welcome. For texture lovers, butcher block countertops can also be paired with a white-and-gray backsplash that will also warm up this neutral color palette immediately.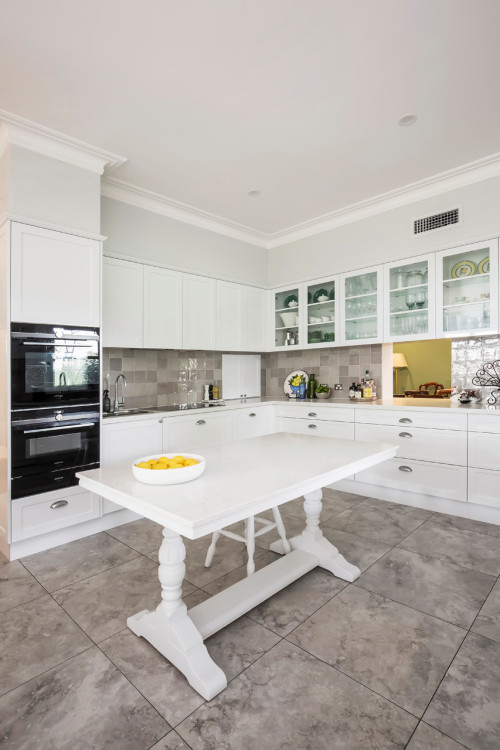 ID# 143010 | Houzz.com – Credit | © Nouvelle Kitchens & Bathrooms
---
Gray Ceramic Square Tile Backsplash and Display Cabinets in White Kitchen
Trending colors and patterns come and go, but gray-white combinations and ceramic tile backsplashes never go out of style. And this country kitchen in Sydney chooses to play safe by using a gray ceramic square tile splash-back and white cabinets topped by white countertops. Overhead, the display upper wall units enrich the cabinet repertoire, helping with navigation while providing a glimpse into the cabinets due to their glass fronts. The further enriching elements stand out to be brushed nickel hardware and understated color variations on the ceramics that inject a sense of naturalism into the overall design aesthetic.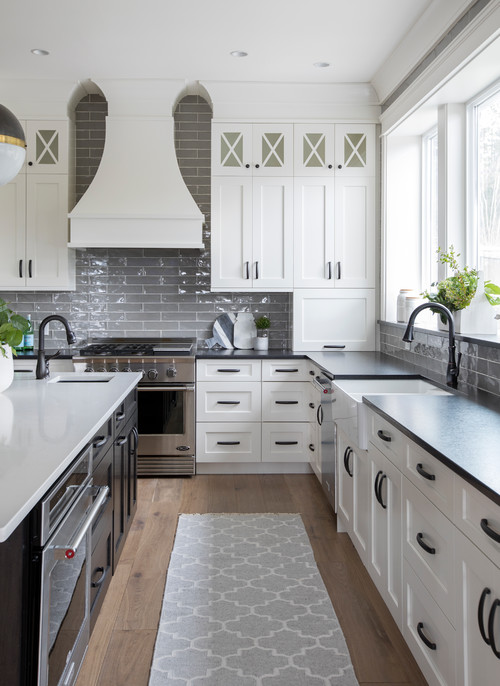 ID# 143011 | Houzz.com – Credit | © PlaidFox Studio
---
Country Kitchen with Black Countertops and White Cabinets
The contrasting color scheme and rigorously proportioned color planning throughout the space characterize this country kitchen outfitted with white cabinets topped by black countertops. Yet, this color combination is reversed with an island that features a white countertop and black base, creating a central focal point. The X-details on the display cabinets, oversized black hardware, and gray arabesque-pattern runner gives the kitchen a true country feel. And in the background, the gray subway tile backsplash comes with a nice sheen that adds a nice contrast.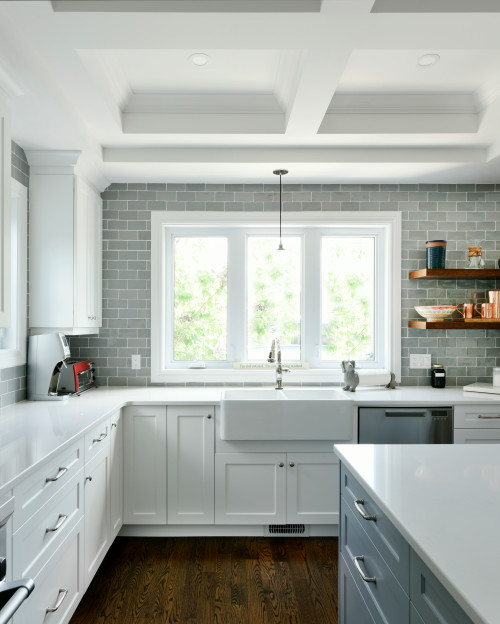 ID# 143012 | Houzz.com – Credit | © Darren Walker – Kitchen Craft
---
White Kitchen with Gray Backsplash and Floating Shelves
Nestled under the coffered ceiling, this craftsman kitchen in Ottawa has a large workspace that is made feel wider with white cabinets, white countertops, and the lack of upper cabinetry in favor of a counter-to-ceiling backsplash. These gray subway tiles laid in a running-bond pattern traverse the kitchen walls, serving as a wraparound backsplash without overwhelming the kitchen. The oversized island creates a more utilitarian workspace and organizes human traffic to make use of the leftover space to the fullest. Going back to the walls, the wood floating shelves add dimension to the backdrop, channeling warmth and giving the kitchen a healthier look.
White Kitchen with Gray Glass Backsplash
Even though glass backsplashes are expensive, they ensure that they are worth it. While their durability, pore-free surface, heat resistance, and ease of maintenance are among their functional benefits, what adds up to those is also their aesthetic value thanks to their eye-catching sheen and shimmering effect. The same goes for gray glass backsplashes available in glass sheets and tiles. And you can integrate them into white kitchens confidently, adding a subtle hint of color that comes with a nice sheen. In case you prefer a matte finish, such glass finishes are also available.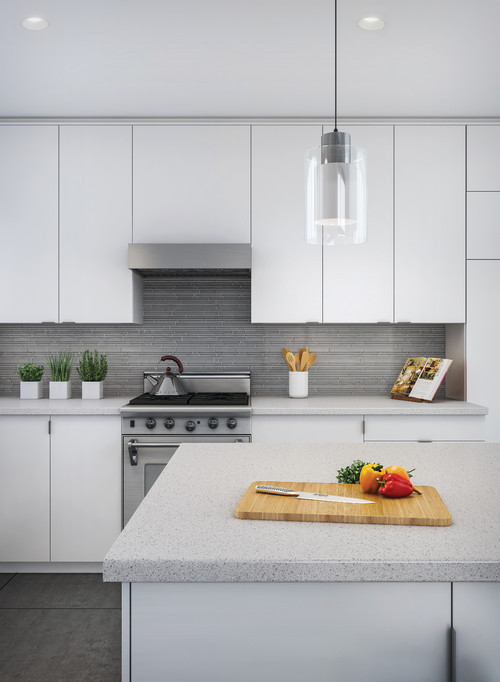 ID# 143013 | Houzz.com – Credit | © Arborite Australia
---
White Cabinets with Gray Glass Backsplash and White Countertops
Bored of subway tiles and looking for something more modern? Here is the answer: slimmer glass tiles. This contemporary kitchen prefers these tiles' gray version to match its white flat-front cabinets, preserving a distant yet still approachable look. The speckled finish white quartz countertops jazz up an otherwise too-plain look while hiding small stains amidst other speckles. The gray large-format floor tiles expand the floor level, while glass pendants provide task lighting for the island unit.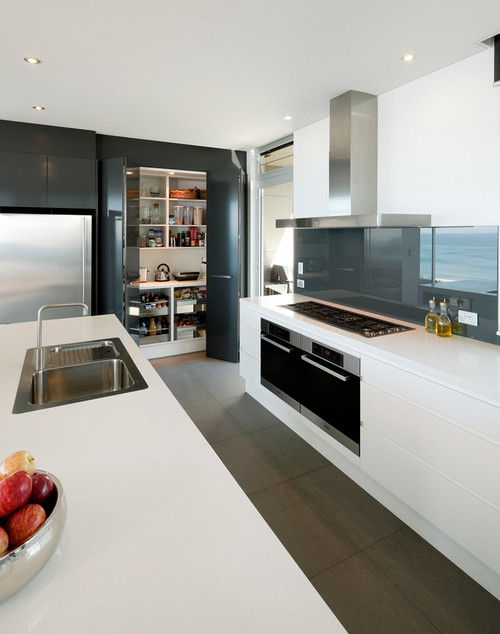 ID# 143015 | Houzz.com – Credit | © Fred Tabet @ Wonderful Kitchens
---
White Kitchen with Gray Backsplash and Green Cabinets
This color-blocked contemporary kitchen ties together white and green cabinets, giving the kitchen a linear appeal and dividing the space into sections according to their functions. For example, the pantry door and storage cabinets are defined by green, while the main prep and cooking zone are kept white. With the integration of the glazed gray glass sheet backsplash, the space is also treated with a mirror effect via which you can almost enjoy an outdoor view. Adding to that are also the sleek range hood and built-in appliances that make further contemporary additions to the overall look.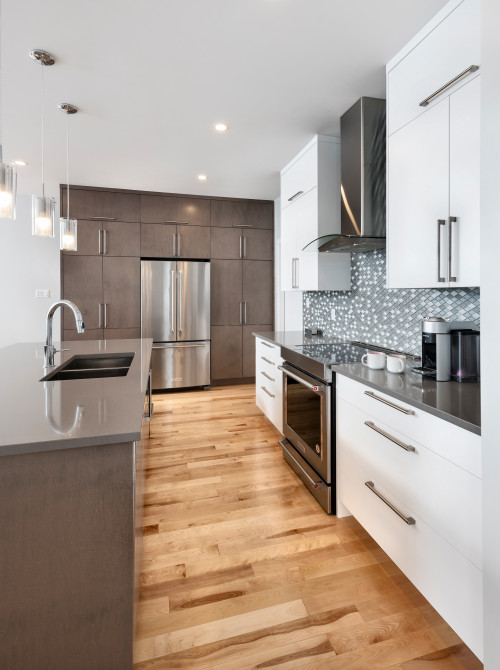 ID# 143016 | Houzz.com – Credit | © Ardington and Associates Design Inc.
---
Contemporary Kitchen with Two-Tone Cabinets and Diamond Tile Backsplash
If you want to enrich a white-and-gray palette, you can integrate a third color with a color-blocking technique. This contemporary kitchen, for example, chooses white cabinets for the stove part, while the island and full-height cabinets reserved for storage are kept brown. And this color harmony is also celebrated with a diamond glass tile backsplash that adds glam and extra luxe to the kitchen.
White Kitchen with Gray Marble Backsplash
Gray marble backsplashes are elegant, stylish, and sophisticated. Thanks to their natural marble patterns, they can turn into focal points easily. That's why contemporary kitchens love integrating them into white kitchens to add a subtle touch of color and benefit from the eye-catching streaks on the marble that will add enough character to the space, lessening the need to bring something extra.
Are white kitchens timeless?
White kitchens are popular and indispensable for a good reason. First, they amplify the available space, encouraging the kitchen to feel taller, wider, and lighter. In other words, if you have a small kitchen or a kitchen that doesn't receive enough sunlight, creating a white kitchen would solve most of the problems. Thirdly, you can always feel the need to upgrade your kitchen. And in white kitchens, even if you make a small change such as replacing counter stools, cabinet hardware, and lighting fixtures, it, in most cases, is enough to make your kitchen feel totally anew. Considering all these functional and aesthetic benefits, it wouldn't feel wrong at all to state that white kitchens are timeless and are not likely to go out of style anytime soon.
Different Gray Shades for White Kitchens
Gray shades can be light or dark and feel warm and cold depending on their undertones. But in all cases, they provide the white kitchens with expressive additions and adjust to any kitchen look, be it modern, contemporary, traditional, or country.
White Kitchen with Dark Gray Backsplash
If you are looking for something more solid and dramatic, you can choose dark gray to pair with your white-dominant kitchen. It can come in ceramic tiles, geometric patterns, glass sheets, and brick tiles. Depending on the impact you aim for your kitchen, you can go with whatever suits your interest best.
White Kitchen with Light Gray Backsplash
For those who prefer light and airy kitchen designs but with subtle tonal variations, white kitchens with light gray backsplashes are the way to go. When two light shades come together, they instill calmness and serenity that provide comfort for the eyes. And you can always enrich this timeless couple with pops of colors with colored glass pendants, colorful and patterned island stools, and color-blocked volumes of furniture.
Should the backsplash be lighter or darker than the cabinets?
Choosing darker cabinets is one of the best ways to anchor a lighter backsplash. Especially if your kitchen doesn't receive enough sunlight, it might be wiser to keep the working area (which includes countertops and backsplash) lighter. This way, you can also lessen the need for artificial light during the day.
But if you have a vast kitchen that is filtered with natural lights throughout the day, sure, you can also choose a darker backsplash and get white cabinets, for instance, to constitute a striking contrast. For instance, contemporary and some Scandinavian kitchens use this combination frequently to make visual statements without adding extra elements.