39+ Hardware for White Cabinets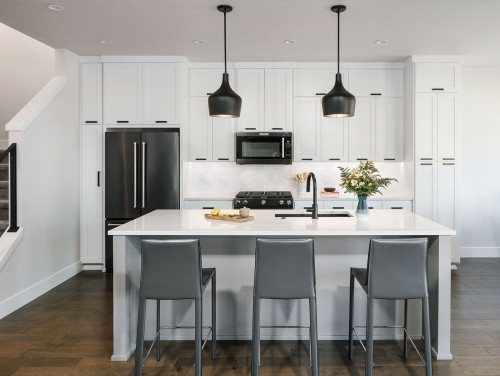 ID# 128209 | Houzz.com – Credit | © Jordan Iverson Signature Homes
---
Black Hardware for White Cabinets and Chevron Backsplash
The perfect dance of white and black with sweet contrast creates a very nice look in this kitchen. Black appliances, black pendant light fixtures, and black sink and faucet complete each other beautifully. Adding black matte hardware to this completed look creates a striking kitchen design. White cabinetry and the white chevron backsplash provide a clean and bright atmosphere.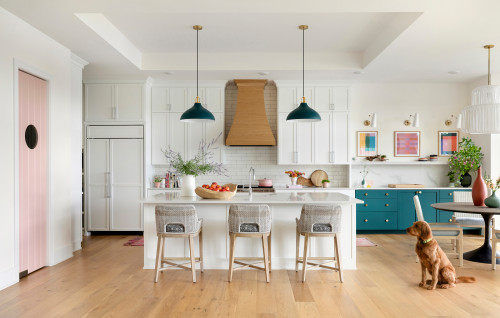 ID# 128224 | Houzz.com – Credit | © Zawadski Homes Inc.
---
Brushed Nickel Hardware for White Cabinets and Wood Range Hood
A sweet kitchen welcomes us with a cute design. White cabinets and blue cabinets are in perfect harmony with the light wooden floor. There is no need to even mention the warm contrast between wood colors and blue tones. Although the kitchen seems to be divided into two zones, it has a separate harmony within itself. The harmony they have achieved with brushed-nickel hardware is striking.
Hardware for White Cabinets
When it comes to designing a kitchen, from cabinets to backsplash, countertops to lighting fixtures, there are too many decisions that you need to consider. But what about the small details like the hardware? You might think that it is the very small part, yes it is. However, the cabinet hardware is the jewelry of the kitchen cabinets which is the unsung hero, especially for white cabinets. Well-chosen hardware can easily elevate your white kitchen cabinets and drastically change the style of your space. If you are ready to explore different hardware for white cabinets, scroll down and find a 41 cabinet hardware design that you can easily recreate in your own home!
How to choose the right hardware for the white cabinets?
When choosing the hardware for white cabinets, the style of your cabinets is an important point that you need to consider. You can complete the overall look or make an unexpected twist. If you have warm accents, black, gold, or bronze hardware can provide the perfect match. On the other hand, if you have cool gray shades, stainless steel hardware will be a better option.
What are the different types of cabinet hardware?
Cabinet hardware is both functional and decorative. Yes, we are talking about cabinet hardware, but what are the different options? In today's market, cabinet hardware comes in two basic forms: pulls and knobs.
Knobs are smaller pieces that are designed to be easy to grab and are mounted to the exterior of the cabinet door. From round to square, mushroom to oval, knobs come in different shapes and styles that can provide different visual impacts. They require only one screw to install which provides easy installation than pulls.
Pulls are larger pieces than knobs which are generally used for drawers and larger cabinet doors. Just like the knobs, they also come in different styles and shapes such as bar, arch, ring, cup or, finger. Pulls require two screws to install.
You can go with only knobs or pulls or mix and match them to give more visual interest. Also, knobs and pulls both come in different materials and finishes which can impact the style and feel of the space.
Cabinet Hardware Finishes
While brushed nickel and chrome are the most common finishes for many homeowners, there are plenty of different finishes. When choosing a hardware finish, you need to consider the color of your cabinets and the other finishes. White cabinets serve a clean and simple look for the hardware and they can look beautiful with all finishes. If you want to create a contrasting look, go with black. If you want to make a warm touch, brass will be the perfect match!
Black Hardware for White Kitchen Cabinets
Black and white is the most classic and timeless color combination of all time and you can't go wrong with white cabinets with black hardware. You can go with classic round knobs to complete the traditional look or use matte black pulls to make a modern touch!
What hardware looks best on white cabinets?
Thanks to their clean and fresh look, white cabinets can work well with any type of cabinet hardware. In recent days, matte black and satin brass finishes are the popular choice for white cabinets.
Bronze Hardware for White Cabinets
Bronze cabinet hardware has a vintage appeal that adds charm to kitchen cabinets. Also, bronze hardware can create a nice contrasting look with the white kitchen cabinets to emphasize them. Because of its vintage look, brass hardware generally is used in traditional or farmhouse kitchen styles.
Gold Hardware for White Cabinets
Brass finishes are trendy remodel picks for years in the '80s and the brass or gold hardware trend is back in recent days! Also, a brass finish is a great way to add warmth to the atmosphere and soften the bright look of the white cabinetry. You can complement your gold hardware with other features like lighting fixtures or appliances.
Chrome & Brushed Nickel Hardware for White Cabinets
Chrome or brushed nickel hardware is the most popular material for many years. They can work with different design aesthetics and give different visual impacts. The sleek beauty of these finishes perfectly matches the bright look of the white cabinets!
Cabinet Style
Knobs and pulls come in many different styles which affect the overall look of the kitchens. That's why, when choosing the hardware, the door style of the cabinets is an important point. Some hardware works well with modern style and some of them are better than traditionally styled cabinets.
Hardware for White Shaker Cabinets
With their sleek beauty, shaker-style cabinets are the most timeless and classic type of cabinetry and they can be suitable for different styled kitchens from modern to traditional. The most popular hardware choice for white shaker cabinets is chrome or brushed nickel pulls but other options can also work well with them. You can give a more traditional look with nickel pulls, add a vintage vibe with oil-rubbed bronze or brass, or modernize them with matte black color hardware.
Hardware for White Flat-panel Cabinets
With their clean, simple, and minimalistic appeal, flat-panel or slab-door cabinets are generally used for modern or contemporary kitchen designs. To complete this sleek modern appeal, pulls are a better option than knobs. Stainless steel bar pulls are the most popular option for white slab-door cabinets. On the other hand, flat bar pulls or recessed pulls also work well with these cabinets.
Hardware for White Raised-panel Cabinets
Raise-panel cabinets are one of the most formal designs, generally used in traditional kitchens. Just like the shaker cabinets, raised panels can also work well with knobs and pulls. Also, these cabinets are like a piece of furniture that you can pair with more detailed hardware.
Can you mix knobs and pulls on kitchen cabinets?
Each of them has different appeals but of course, you can use knobs and pulls together. When using different types of hardware, generally, knobs are preferred for cabinet doors and pulls for drawers because it is much more comfortable to open a drawer with pulls. Besides the function, using two types of hardware is a great way to add more visual interest.