28+ White Cabinets with Black Hardware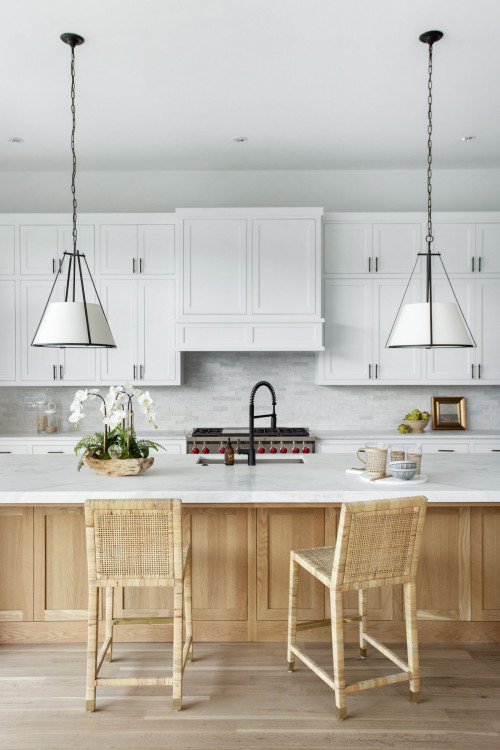 ID# 126901 | Houzz.com – Credit | © Jessica Koltun Home
---
Beach Style Kitchen with White Cabinetry and Wood Island
This beach-style kitchen serves a sleek and elegant look with its white shaker cabinets, gray subway tile backsplash, Silestone quartz countertops, and wood island. The full-height white cabinetry provides a clean and sleek backdrop with he light gray backsplash. The black hardware nicely contrasts alongside white kitchen cabinets and modernizes the design. The wicker counter chairs complement the wood island while the black and white pendant lights enhance the modernity.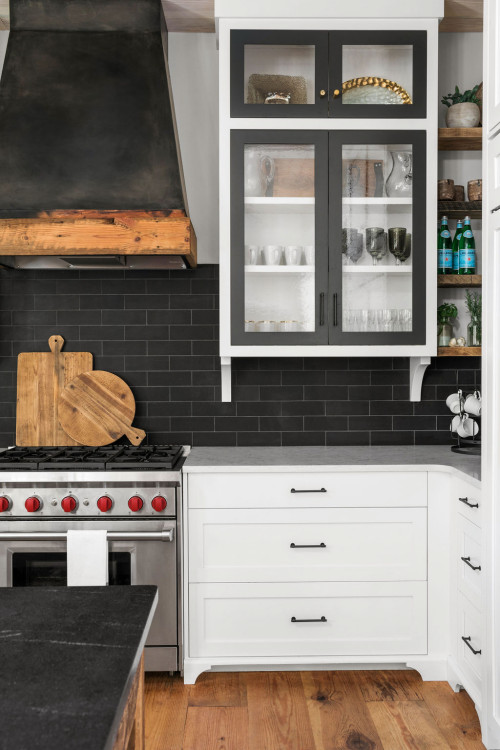 ID# 126923 | Houzz.com – Credit | © Webber Coleman Woodworks
---
Farmhouse Kitchen Design with Black and White Color Scheme
This farmhouse kitchen features a black, white, and wood color palette. The black subway tile backsplash creates a striking focal point between the white kitchen cabinetry while the black hardware and the black frames of the glass-fronted upper cabinets complement the backsplash. The black range hood with a wood trim brings a rustic vibe.
White Cabinets with Black Hardware
Designing a kitchen is not an easy job and there is a lot of important decisions to make. Choosing the right hardware is one of these decisions that catches people off guard. Besides its function, cabinet hardware also provides to make a final touch to your cabinets and creates a completed look. Styles, colors, and finishes are endless for cabinet hardware, but, when it comes to white kitchen cabinets black hardware is the most classic and timeless option. This contrasting look both provide to emphasize the cabinets and give a characteristic appeal to any kitchen. So, are you ready to dive into stunning kitchen ideas with white cabinets and black hardware? Scroll down and find some inspirational designs to create your dream kitchen!
Yes, cabinets are the backbones of the kitchens but, hardware is the jewelry of the cabinets. Well-chosen kitchen cabinet hardware is capable of an extreme 'wow' factor and it can easily change the style of your space. While gold or brass hardware is being used lately, with its timeless appeal black hardware remains the most popular choice for white kitchen cabinets. You can go with classic black knobs to complete the traditional look of white shaker cabinets, or use matte black pulls with white flat-panel cabinets to add a modern vibe or mix different types of hardware to give a kitchen lots of character. Whether it's a knob or pulls, glossy or matte, both last for the life of the white cabinetry!
What are the different types of cabinet hardware?
Knobs and pulls are the most popular two types of cabinet hardware. Both of them come in a wide range of material, color, and finish options. If you are looking for small yet impactful, knobs are perfect for you. Round, oval, square, and rectangular knobs are the most common shapes. Also, they are easy to install that require only one mounting screw to make installation simple. On the other hand, pulls come in two different types, handle pulls and bin pulls. Handle pulls offer sleek and elegant appeal and just like the knobs come in different shapes, styles, finishes, and colors. Bin or cup pulls are handles that have a dome shape. It is easy to grasp from the bottom. But unlike the knobs, pulls require two or more screws for securing. Also, pulls are a better and safer choice than knobs for heavier loads.
Does black hardware go with white cabinets?
The short answer is definitely yes! Black hardware is the most classic yet timeless option for white cabinets. Whether it's tiny black square knobs or a matte black linear pull, black hardware will be a failsafe addition to any white kitchen cabinet!
How to choose the right hardware for the white cabinets?
When choosing hardware, first you need to decide that whether you want knobs, pulls, or both! Each of these has its advantages and different styles. So, you need to also consider your cabinet style. You can choose accomplishment hardware for your cabinetry or make an unexpected twist with it. Also, using knobs for doors and pulls for all drawers is a popular choice these days.
After deciding the style, it is time to choose the color. From glamorous gold to rustic bronze, cabinet hardware come in a wide range of color option for every style. However, are you looking for the most timeless option, there is no better choice than a black. Your white cabinets with black hardware will never go out of style!
What hardware looks best on white cabinets?
White cabinets are all-time popular for kitchens and it is essential that the hardware needs to elevate the cabinetry's natural beauty. Brass, bronze, silver, and more. Every hardware color con works with white kitchen cabinets but for a timelessly elegant finish, black hardware will be a perfect addition. Whether it's glossy or matte, black hardware will provide a chic and sharp contrast against the white cabinetry and make a sophisticated touch!
Cabinet Door Styles
Cabinets are the backbones of kitchens and they define the overall look of the designs. And when designing a kitchen, choosing the door style is one of the most crucial decisions that you need to make. By choosing a door style, you will give the aesthetic that you want in your kitchen. And finding the right hardware for your cabinets is important as the door style. With the well-chosen black hardware, you can emphasize the style of your cabinets!
White Shaker Cabinets with Black Hardware
With their clean and sleek appeal, white shaker cabinets can provide a variety of styles and offer a timeless look for kitchens. From classic traditional to sleek modern style, white shaker cabinets are the perfect choice for kitchens. And, the style of the black hardware will define the style of your white cabinetry. If you want to create a more traditional feel, black knobs can give this. Sleek and plain black pulls are perfect to add a modern vibe to the white shaker cabinets. Or even you can combine black knobs and pulls to create a balanced look and emphasize more your white cabinets!
White Flat-panel Cabinets with Black Hardware
Because of their clean, sleek, and minimal look, flat-panel or slab-door cabinets are often used in modern and contemporary kitchens. This style is all about minimal embellishment and a simple black linear-pull on a white flat-panel cabinet not only completes the modern look but also might be a strong statement!
Kitchen Styles
When you are designing your dream kitchen, from cabinetry to lighting fixtures, there are plenty of elements that define the overall style of the kitchen and the hardware is one of them.
Farmhouse White Kitchen Cabinets with Black Hardware
Farmhouse style is a perfect blend of the old and new that evokes a warm nostalgic feel. Also, if you want to go with a more modernized look, clean and minimalist details can work well with the warm feel of the farmhouse style. Using white cabinets with black hardware is a great way to add a modern feel with a contrasting look.
Modern White Kitchen Cabinets with Black Hardware
Definition of modern is very widely but clean lines, minimalist details, sharp edges are the first things that come to our minds. And white cabinets are a perfect choice to emphasize the sleek and minimal vibe of the modern style. Pair your white high-gloss kitchen cabinets with plain black handles to reach an ultra-modern look!