29+ Bathroom Vanity Hardware Ideas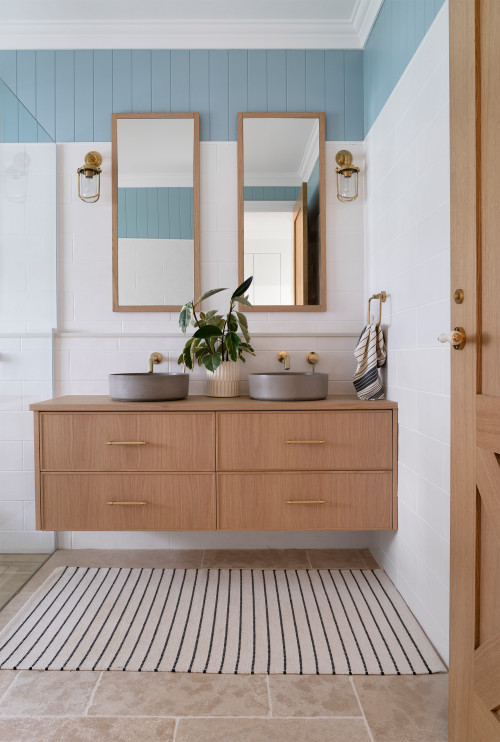 ID# 149701 | Houzz.com – Credit | © Intrim Group Pty Ltd
---
Bathroom Vanity Hardware Ideas with Wood Flat Panels
The floating wood double sink vanity gives you the feeling of being surrounded by nature, bringing warmth and a touch of the outdoors into your home. The flat-panel wooden cabinets and natural countertops evoke a rustic, earthy ambiance while the modern round-shaped gray vessel sinks offer a refreshing counterbalance. The thin wooden frame mirrors and shiny brass accents complete the look, providing an extra boost of soothing elegance. Every detail has been thoughtfully chosen, with the chic brass hardware on the cabinets accentuating the vanity's natural warm tones and giving it a touch of opulence. For those seeking to infuse their beach-inspired bathroom with a hint of glamour, this is an excellent choice.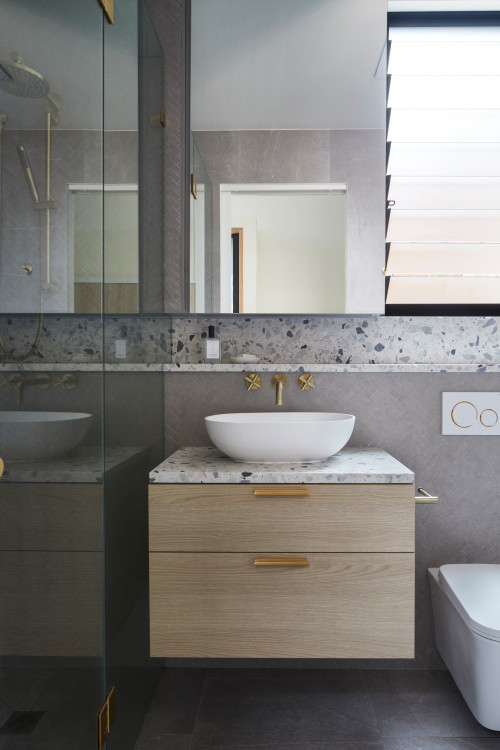 ID# 149721 | Houzz.com – Credit | © Align Concepts
---
Light Wood Cabinets and a White Vessel Sink
This small floating bathroom vanity has a stylish and cohesive look with its light wood flat-panel cabinets and brass hardware. The white terrazzo countertops add a bright and clean touch to the design, while the vessel sink creates a bold and contemporary look. The brass wall faucet adds a touch of warmth and traditional style, while the white terrazzo backsplash coordinates with the countertops and adds texture and interest to the design.
Bathroom Vanity Hardware Ideas
Bathroom vanity hardware refers to the various accessories and fixtures that are used to adorn and enhance the appearance and functionality of a bathroom vanity. These can include items such as drawer pulls, knobs, handles, hinges, towel bars, soap dispensers, faucets, and other decorative or functional elements that are attached to or integrated into the vanity. Bathroom vanity hardware is not only functional, providing practical use in terms of opening drawers, doors, or hanging towels, but it also contributes to the overall aesthetic and style of the bathroom. So, if you want to learn more about this jewelry, scroll down and find bathroom vanity hardware ideas!
Stylish & Functional Hardware Designs
When selecting bathroom vanity hardware, it's important to consider the overall style, color scheme, and materials of the bathroom to ensure a cohesive and harmonious look. Mixing and matching different hardware styles or finishes can create a unique and personalized look that reflects your personal style and enhances the overall aesthetic of your bathroom. From modern matte black to glamorous brass, there are plenty of different hardware ideas for vanities. Keep reading and learn how to choose the right hardware for your bathroom vanity!
Types of Bathroom Vanity Hardware Ideas
Choosing the right hardware for your bathroom vanity can be a daunting task, but don't worry! Let's break down the two main types: pulls and knobs. Are you feeling bold and in need of a statement piece? Try out pulls. These long, horizontal bars are perfect for larger cabinets and drawers – and they come in a variety of styles and materials! Feeling classic or sophisticated? Pulls have got you covered.
For smaller cabinets and drawers, consider knobs. These small round handles are easier to grasp and take up less space. Go for a modern and minimalist look or choose a style that compliments your bathroom design.
Remember to take into account the size and style of your cabinets and drawers when choosing the hardware. Let your personality shine and choose the perfect hardware for your bathroom vanity!
Bathroom Vanity Knobs
Looking to spruce up your bathroom vanity? Look no further than the small yet impactful addition of bathroom vanity knobs. These little round handles add both functional ease and style to your cabinets and drawers. They're especially ideal for smaller bathrooms, as they take up less space than pulls. The best part? There are countless styles of bathroom vanity knobs to choose from, meaning there's an option for everyone. If you're drawn to traditional looks, go for a knob made of timeless materials like brass, chrome, or bronze. On the other hand, modern knobs made of unconventional materials such as ceramic, wood or glass can add a funky, fresh feel to your space. And for those looking to inject some personality into their bathroom, shaped knobs come in a range of sizes and designs, from simple circles to intricate styles that'll make you smile every time you reach for them.
Should you put knobs or pulls on bathroom cabinets?
Deciding whether to use knobs or pulls for your bathroom cabinets is a personal decision that involves your tastes and the style of your bathroom. Knobs and pulls can both offer functional and trendy solutions for your bathroom cabinets!
Knobs are compact and smaller than pulls, with subtle round or cylindrical shapes. They are easy to grip and operate, and they work well for smaller cabinets or drawers. If you're looking for a traditional or classic style, knobs can add a touch of timeless elegance to your bathroom.
On the other hand, pulls are longer and wider than knobs and project a modern and contemporary look. Like knobs, they are also easy to grip and operate, but they work well with larger cabinets or drawers. If you're going for a modern vibe with your bathroom, pulls can add a touch of sophistication that complements the contemporary style.
Does Vanity hardware have to match the faucet?
Deciding whether to match your vanity hardware with your faucet can be a dilemma. There are no strict rules about this question and it ultimately depends on your personal preferences. If you desire a cohesive and coordinated look, opting for matching hardware and faucet is the way to go. This approach not only helps with selecting other design elements like countertops and backsplashes but also creates a sense of harmony in your bathroom's overall appearance.
On the other hand, if you're adventurous and want to create a unique and personalized look, try mix and match method! Choosing complementary finishes can draw the eye and add a touch of style to your space. Regardless of your decision, your bathroom will be a reflection of your personality and taste, showcasing your individuality.
Bathroom Vanity Pulls
Enhance your bathroom with sleek and practical vanity pulls, also known as handles, that are attached to the front of cabinets and drawers. These horizontal bars provide a comfortable and secure grip for easy use, making them particularly beneficial for individuals with mobility issues. Beyond their functional advantages, vanity pulls also offer an opportunity to elevate the style of your bathroom with a wide range of materials and finishes to choose from, including brass, chrome, or bronze. When selecting vanity pulls, it's important to consider the overall style and size of your cabinets and drawers to ensure a perfect fit. Opt for high-quality pulls that are durable and easy to maintain, guaranteeing long-lasting performance in your daily routine.
Finish Options for Bathroom Vanity Hardware
When it comes to choosing the right finish for the bathroom vanity hardware, you can find different options. Black finishes are popular for those seeking a sleek and modern look. On the other hand, brass finishes offer a classic choice with warmth and elegance, perfect for a sophisticated ambiance. It's important to carefully consider the finish that best suits your desired look and feel for your bathroom. Let's scroll down and take a look at some stylish design options for bathroom vanity hardware ideas below!
Black Bathroom Vanity Hardware
Black bathroom vanity hardware offers a sleek and contemporary look to bathrooms. It provides a bold contrast against lighter vanities and adds a touch of modernity and sophistication. Versatile in design options, it can complement various materials and colors, making it a popular choice for different bathroom styles. Its durability, resistance to tarnishing, and easy maintenance make it a practical and stylish option for modern bathrooms!
Brass Bathroom Vanity Hardware
Looking to add some traditional style and warmth to your bathroom vanity? Consider opting for brass hardware. This durable hardware comes in different styles from simple and understated to ornate. Plus, brass hardware is practical, easy to grip and operate, and resistant to rust and corrosion, ensuring it'll be a long-lasting choice for your bathroom. Upgrade your space with brass bathroom vanity hardware and enjoy a simple yet impactful change that will leave you feeling satisfied with your bathroom's new look.
What color hardware is in style 2023?
It is difficult to predict with certainty what color hardware will be in style in 2023 as trends in home design and decor can change quickly and vary depending on location and personal preference. That being said, some colors and finishes that are currently popular for hardware include black, brass, chrome, and nickel.
Chrome Bathroom Vanity Hardware
Chrome bathroom vanity hardware is an alluring and trendy option for plenty of bathrooms as it provides a sleek, modern appearance. Its shiny and reflective surface creates an exquisite and neat ambiance in the bathroom, giving a touch of luxury and refinement. It can match a wide array of bathroom styles, from contemporary to classic ones, and prove to be long-lasting and effortless to clean. Moreover, chrome hardware can be mixed with various colors and finishes, either for creating vivid contrasts or harmonious blends that perfectly fit the bathroom decor. It is not surprising that homeowners and designers alike choose chrome bathroom vanity hardware over others, as it conveys sophistication and style, turning the vanity area into an exquisite space.
What hardware finish is timeless?
Brushed nickel is a hardware finish that is renowned for its timeless appeal. With a classic and versatile look, brushed nickel complements various interior styles and color palettes. Its warm, muted sheen adds an air of elegance and sophistication without being overly flashy or trendy. Brushed nickel hardware seamlessly blends with both traditional and modern designs, making it a flexible choice for diverse home styles. Moreover, brushed nickel is prized for its durability and resistance to tarnishing, ensuring it remains a long-lasting option that withstands the test of time. As a result of its enduring charm, brushed nickel is a favored choice among homeowners and designers alike for a wide range of applications, from bathroom vanities and kitchen cabinets to door handles.
Polished Nickel Bathroom Vanity Hardware
Furthermore, polished nickel bathroom vanity hardware is not only stylish but also practical! The durability of nickel ensures that the hardware will withstand daily use and resist tarnish or corrosion, making it a long-lasting option for your bathroom. The high shine polished finish adds a touch of luxury and elegance to your vanity, creating a statement piece that enhances the overall aesthetic of your bathroom.
Bronze Bathroom Vanity Hardware
Bronze is a metal that exudes sophistication and glamour, with its traditional and inviting look. Not only is bronze easy to maintain, but it also resists rust and corrosion. This makes it a durable and practical choice for your bathroom hardware. You can find bronze vanity hardware in a wide range of designs, from subtle to elaborate. Whether your bathroom style is classic, modern or somewhere in between, bronze hardware can complement it perfectly!