19+ Gray Cabinets with Brass Hardware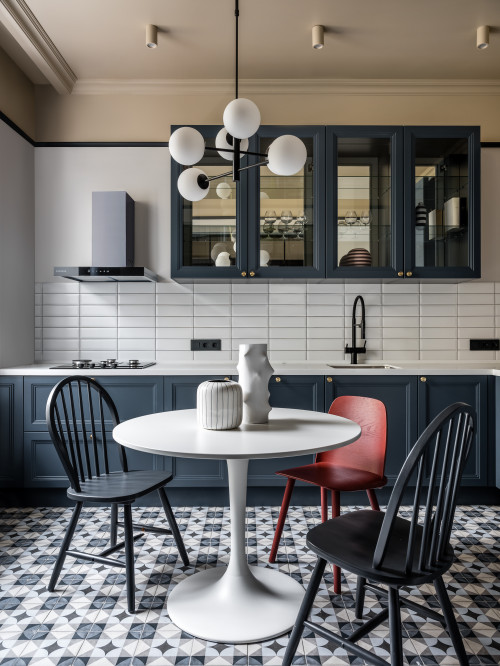 ID# 162507 | Houzz.com – Credit | © Зуева Анна
---
Gray Cabinets with Brass Hardware and White Backsplash
In this visually stunning kitchen, gray stops being gray but almost turns into a forest green that portrays a natural scene with brown-painted walls above. The vertically stacked white backsplash catches a regular rhythm and suggests a sense of order and regularity. The matte-finish cabinets, backsplash, and countertops form a serious ambiance, which is upscale in the meantime. The colors are complementary to each other, preserving a rigid look, but still feeling inviting. The greenish-gray cabinets are accentuated by brass hardware knobs. They look like small buttons adding gestures and a warming tone to the overall color scheme. A small, white round-shaped table introduces a different geometric form to soften the visual scheme while lightening it up in the meantime.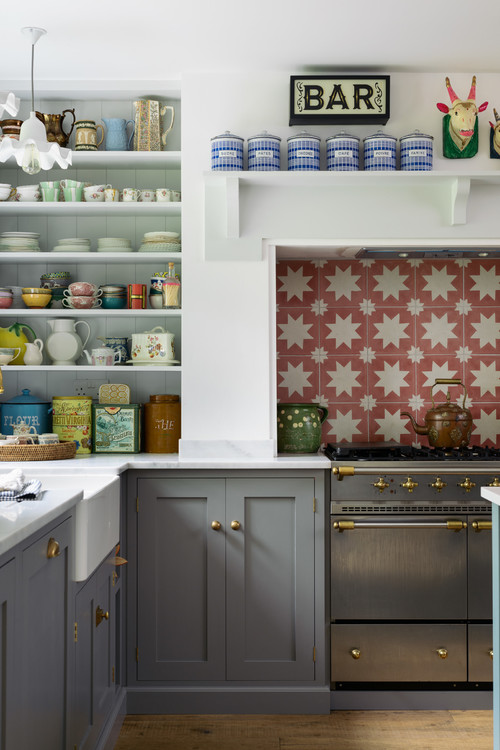 ID# 162511 | Houzz.com – Credit | © deVOL Kitchens
---
Red Backsplash Tiles with Open Shelving and Gold Hardware
With its unique details, this farmhouse kitchen showcases a one-of-a-kind appeal! The red backsplash tiles with a star pattern are the first things that draw attention by creating a focal point. Even dough the backsplash tiles have a vibrant color, this red hue perfectly complements the gray color of the shaker kitchen cabinets. The aged brass hardware and the stainless steel stove add a vintage flair to the space while the open shelves create a visual feast with the kitchen essentials on them!
Gray Cabinets with Brass Hardware
Gray cabinets with brass hardware are one of the most favored couples, mostly employed in transitional and farmhouse kitchens. But, of course, depending on the shade of the gray, you can benefit from gray cabinets in various contexts. So, in a nutshell, this beautiful couple can build different effects as both gray has a large scale of hues and brass has a wide range of finishes to create impactful and diverse designs.
Embrace the Elegance with Brass Cabinet Hardware
Gray-themed kitchens are a great alternative to all-white kitchens. With light-gray cabinets, especially, you can almost capture the same impact even with an additional refined beauty. On the contrary, the dark cabinets create visual drama, while building up some depth simultaneously. For example, if the cabinets go all the way up to the ceiling, they bring grandeur to the kitchen drawing your eyes up, which is welcomed in industrial kitchens.
Also, for those who love monochromatic kitchens, gray-on-gray does it wonderfully without overwhelming the space. It adopts different characters depending on the complementary elements used. The brass hardware, at this point, is a great addition to lend warmth without breaking up the uniformity within the space. If you are curious about more kitchen trends and how gray cabinets with brass hardware accomplish unique and stylish looks, stay with us until the end of the blog to make exciting discoveries.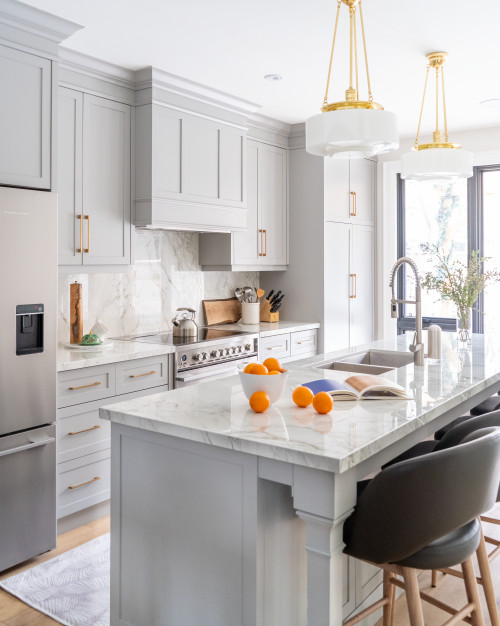 ID# 162501 | Houzz.com – Credit | © Alair Homes Lorne Park
---
Brrushed Brass Hardware for Gray Cabinets and Marble Backsplash
Indulge in culinary creativity or host your guests with effortless grace, as this transitional kitchen seamlessly blends style with function! The light gray shaker cabinets exude refinement and lend a versatile appeal to the space. The marble backsplash and countertops ooze natural beauty and pamper you with a dash of luxury, elevating the overall look of the kitchen. The gray kitchen island stands out with its commanding presence while the chic black chairs infuse a dash of panache. The brass hardware adds a dose of warmth and elegance, whereas the stainless-steel appliances lend a contemporary vibe to the space.
What hardware looks good on grey cabinets?
Silver, bronze, brass, stainless steel, chrome, and nickel-finish hardware make for stylish designs with gray cabinets. Though silver handles are the most common and popular ones, it wouldn't be fair to think of silver as the best-suiting material. To decide what looks better on gray cabinets, you need to look at your kitchen from a wider frame and see every element in itself and its interaction with other materials thoroughly. It is particularly important because you can only compose a harmonious look when the contrasts and pairings work well together. And this is achieved with the interaction of thoughtfully chosen elements. So, it resembles cooking in one sense. Just like if you put too much salt or a different spice that doesn't go well with other ingredients in your dish, then it will ruin the whole taste.
Before deciding what looks good on gray cabinets, check your whole kitchen theme, the color palette, and the cabinets' door styles.
Brass, copper, and bronze, for instance, contribute warm tones and suggest a lived-in look and feel. The antique brass, for instance, features an aged look. If you love traditional elements, wood countertops, or need sparkle to suggest warm, brass, copper, and bronze are great options. Farmhouse, beach-style, transitional, and traditional kitchens love integrating them. However, if you want a more stylish and shiny look, chrome finish hardware might be what you are looking for. Lastly, it is also important to consider the tone of the gray cabinets. If they feature light shades, the brass or gold-finish handles serve much better with them. On the other hand, stainless steel, silver, and chrome finish hardware look better with dark gray cabinets in most cases. But this, of course, isn't a rule of thumb.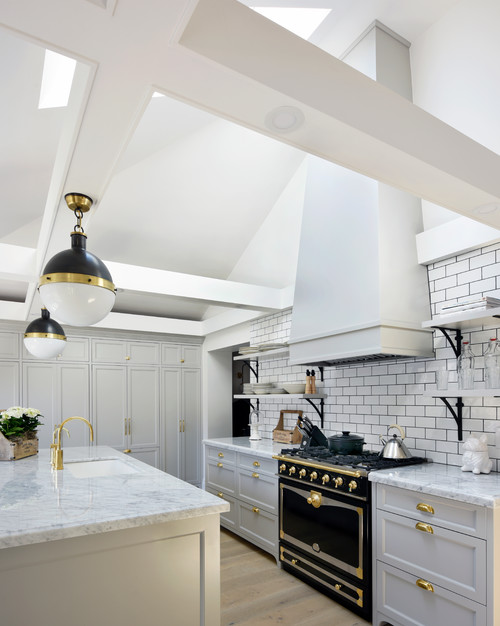 ID# 162502 | Houzz.com – Credit | © Tanya Collins Design Inc.
---
Transitional Kitchen with White Subway Tile Backsplash
In this unique transitional kitchen design, the exposed beams overhead add a touch of architectural interest, creating a warm and inviting atmosphere! The gray shaker cabinets deliver an ultra-modern and timeless appeal, perfected by the crisp white subway tile backsplash with black grout that brings in an audacious and trendy contrast. Uncovered shelving grants you a chance to flaunt your cherished dinnerware and artistic creations. The black stove immediately catches the eye, and its grandiose gray range hood commands attention, creating a dramatic effect. Marvel at the luxurious gray marble countertop that embodies sophistication and yields a robust and stunning work surface. The pinnacle of elegance is achieved with polished brass hardware, elevating the overall aesthetic and exemplifying impeccable taste in style.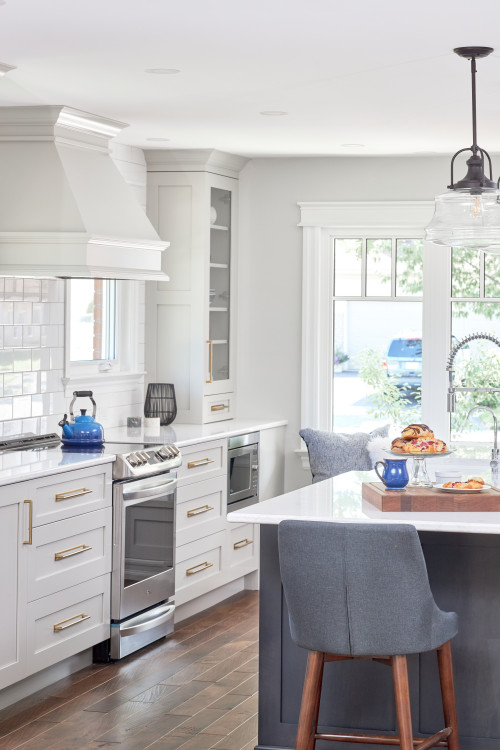 ID# 162503 | Houzz.com – Credit | © Paragon Kitchens
---
Bright Kitchen Design with White Countertops and Dark Wood Flooring
In this bright gray kitchen, the elegant light gray cabinets with brass hardware create an atmosphere of refined sophistication. The classic white subway tile backsplash adds a touch of timeless beauty while the pristine white quartz countertops offer a sleek and durable surface for meal preparation. The dark gray island provides a unique contrast, becoming a central point of focus that adds depth and visual interest to the space. And to round out the design, dark wood flooring provides a warm and inviting foundation, making this kitchen truly irresistible.
Does gold hardware go with gray cabinets?
Yes, definitely. Gold hardware is used to accentuate gray cabinets, either dark or light-tone ones. It evokes warm feelings and earthiness that offer an antithesis to the cool vibes of the gray cabinets. So, gold cabinet handles help bring out the warmth that is implicitly present in the space to make a counterpoint and emit cozy vibes.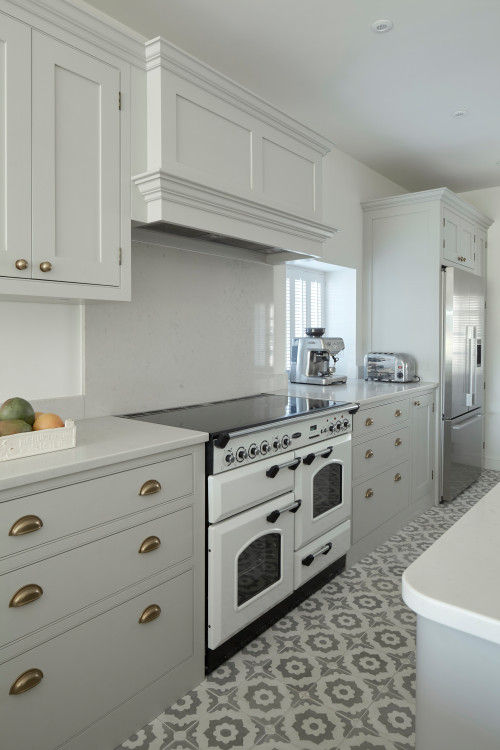 ID# 162504 | Houzz.com – Credit | © Higham Furniture
---
Transitional Kitchen with Gray and White Floral Floor Tiles
This transitional kitchen offers a sleek sophistication with its gray color scheme. The combination of the light gray cabinets with brass hardware creates a simple yet effective appeal. The white quartz backsplash behind the stove and countertops perfectly completes this elegant look. The gray and white flower-patterned floor tiles make an unexpected twist and enhance visual interest. The white stove makes a beautiful final touch and completes the vintage flair of the overall look.
Hardware Style
Over time, the hardware styles have gone through an evolution and responded to the artistic movements which changed drastically how they looked throughout time. Ranging from embellished handles to knobs, barn-inspired pulls, and bin pulls, today, we have come to a point that we don't even use them anymore. In contemporary kitchens, particularly, the hardware is replaced with lip pull notches, channels, and tiny round or rectangular holes to offer homogenous looks with no visual intervention.
Though, hardware styles preserve their popularity since they add personality to the kitchen's design. Barn-inspired pulls are reminiscent of farmhouses, while bin pulls are more traditional ones with an ergonomic design allowing an easy grab. Knobs, likewise, beautifully accentuate the cabinets and can be paired with display cabinets.
When we talk of hardware styles, there are three things to keep in mind. The first is the hardware style or how they are shaped. The second is the material, whether they are stainless steel, chrome, nickel, or brass. The third is the finish if it is polished, lacquered, or weathered. Deciding for each step is essential for it impacts the look drastically. For the same reason, if you want to make small changes in your kitchen without making a mess, you can start with your hardware. Even a tiny playful change like this does make an impact on the overall look.
Gray Kitchen Cabinets with Brass Hardware Pulls
Hardware pulls are practical and ergonomic, offering easy grabs and preventing your cabinets from getting dirty. They are especially beneficial in zones like kitchens where human traffic is dense. These pulls, coming in various styles, also add a stylish look. Sleek line, tube, square, and barn-inspired pull finished with brass are some of the most popular ones. They pair well with gray cabinets, bringing out the warmth of the gray.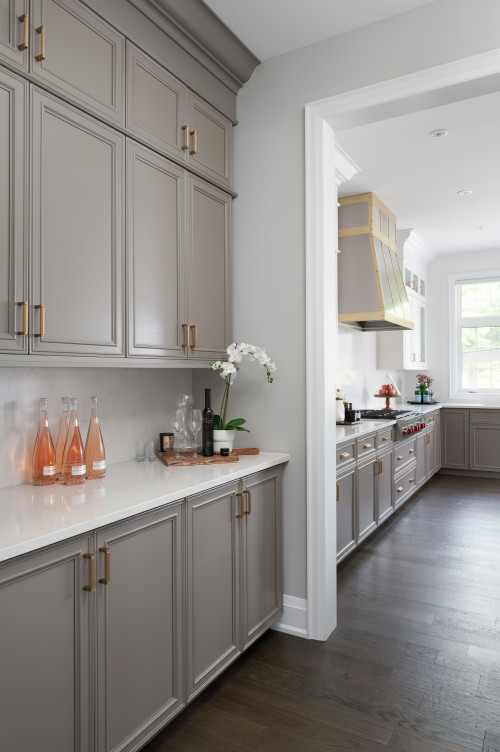 ID# 162505 | Houzz.com – Credit | © Sonia Sudan Interiors
---
Gray Cabinets with Brass Hardware and Quartz Backsplash
This naturally well-lit kitchen knows how to feed on natural light while the white and gray combination provides the kitchen with a fresh background. In this context, the gray suggests a lilac shade that adds a sense of warmth, making the kitchen feel more approachable. The brass pull hardware and dark wood flooring also help bring out the warmth of the cabinets' colors. The ceiling height white quartz backsplash with slight veins creates the illusion of naturally cracked silhouettes that adds depth to the space, while white quartz countertops bring optimism and joie de vivre with their homogenous look.
Is brass kitchen hardware trendy?
The answer to this question is YES! Brass kitchen hardware is around and most likely will be around too. It is mainly because they lend a sense of warmth to the space. Even if the whole color theme is built upon the neutral colors of gray, white, and off-white! Plus, they serve as very characterful additions and are adaptable to any context with a high level of flexibility. Depending on the complementary elements, for instance, they can bring stylish looks or rustic flavor.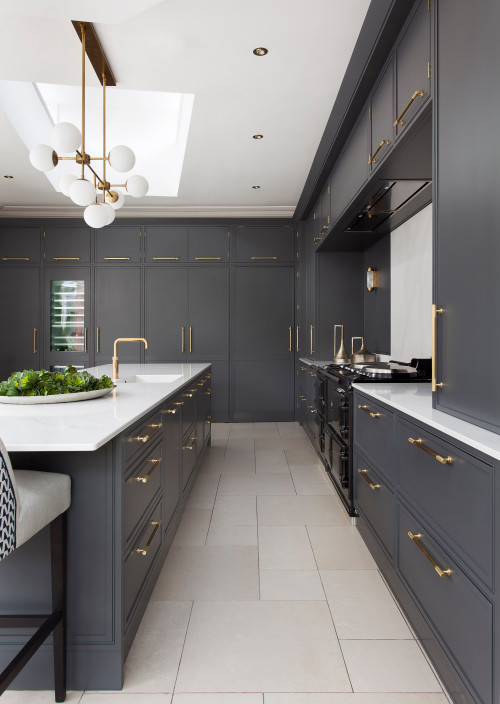 ID# 162506 | Houzz.com – Credit | © The Design Yard Dublin
---
Industrial Kitchen with White Quartz Backsplash and Dark Gray Cabinets
Not too bold, not too boring. This kitchen captures a feeling somewhere in the middle. The combination of crispy white worktops proposes an anti-thesis to the dark gray cabinets that dominate the kitchen without overwhelming the space. The cabinets frame the white quartz backsplash, which lends a modern appeal. The brass pull handles add a sense of warmth to cancel the dark cabinets' gloomy effect.
On the floor level, the variously sized off-white ceramic tiles coat the ground. Their larger and smaller sizes give the impression of natural stones to evoke the ambiance that the outdoors would exhibit. It also helps build a more industrial feeling that loves concrete and wood. However, if you like a melancholic and moody atmosphere, you can choose dark wood flooring to create more drama and wood countertops instead of white quartz.
Gray Kitchen Cabinets with Brass Hardware Knobs
Knobs are stylish and cute features that add a modest look to the cabinets with various design options. Brass hardware knob is one of them that makes for an impactful look with gray cabinets. Together they do create homey and cozy vibes, making you feel welcomed from the first moment you enter the kitchen.
When compared to bar pulls, they are easier to apply and don't require a complex measurement. But on the other hand, they are not as ergonomic and functional as the pulls because they are harder to grab.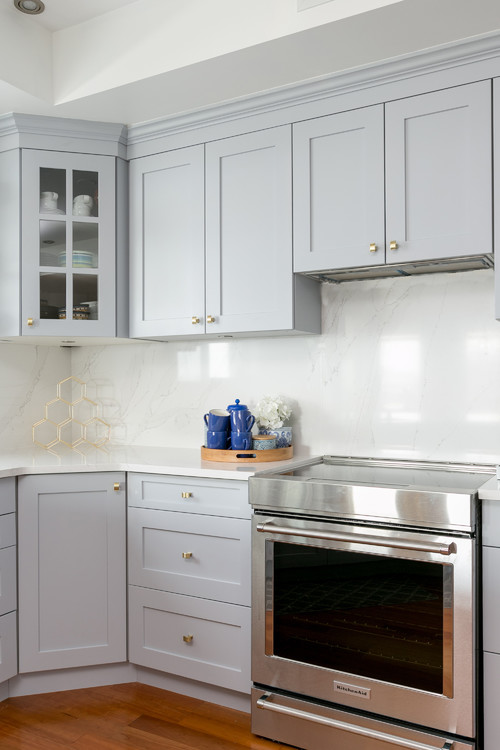 ID# 162508 | Houzz.com – Credit | © Clean Lines Design
---
Gray Kitchen with Stainless Steel Appliances
Clean, sleek and timeless! This gray kitchen offers a classic appeal with beautiful details. The light gray shaker cabinets are combined with polished brass knobs that add a dose of sparkle. The white quartz backsplash and countertop perfectly complete the sleek appeal while bringing a luxurious feel with their marble-look texture. The stainless steel appliances make a perfect final touch and add a contemporary flair.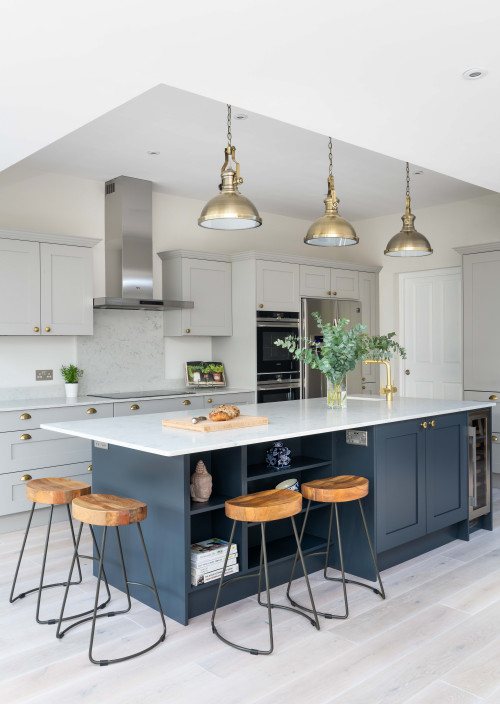 ID# 162509 | Houzz.com – Credit | © Veronica Rodriguez Interior
---
Black Kitchen Island with Open Storage and Wood Stools
This kitchen design exudes timeless elegance and sophistication with its harmonious blend of high-quality materials, intricate details, and a warm color scheme! The shaker cabinets in light gray color paired with brass hardware perfectly complement the beautiful marble countertops and backsplash. At the heart of the kitchen, a bold black island with ample storage takes center stage and is accented by chic wood stools creating a gathering spot for loved ones. The gold lighting fixtures above the island emit a welcoming atmosphere, while the stainless steel appliances integrate seamlessly with the classic aesthetic, infusing modern functionality into the design without compromising its traditional charm.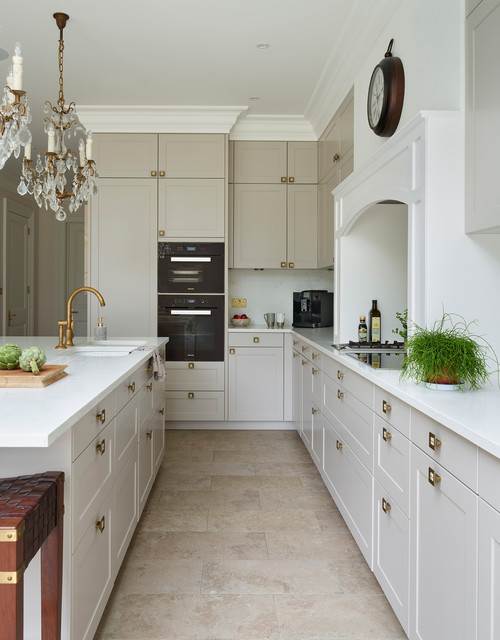 ID# 162510 | Houzz.com – Credit | © Connaught Kitchens
---
Gray Cabinets with Brass Hardware and Crystal Chandeliers
In this traditional kitchen, the warm gray shade of the shaker cabinets offers an inviting atmosphere. The brass cabinet knobs and faucet perfectly complete this warm sense, adding a dose of sparkle. White countertops and backsplash bring a fresh look while the beige stone floor tiles add a rustic flair. The crystal chandeliers above the island with the undermount sink make a luxurious twist and create a striking focal point!
Hardware Finish
Hardware finishes, ranging from polished to brass, antiqued, satin-brushed, and lacquered, are what make the hardware more characterful. Let's see what kind of personality they feature. To start with, unlacquered finishes develop a patina over time, suggesting a lived-in look. Satin-brushed provides a matte finish while lacquered and polished hardware features a glossy look. The con of the polished hardware is that it shows water stains and fingerprints and needs to be cleaned regularly. When choosing hardware, you should also consider what kind of textures you prefer most. Silky smooth or textured? If your answer is silky smooth, polished, and lacquered finish is what you are looking for. For the latter, antiqued and satin-brushed finishes will offer a more textured surface that will evoke actuality.
Gray Kitchen Cabinets with Brushed Brass Hardware
Brushed brass hardware, unlike other finishes, offers a textured surface with a matte look. Without looking too glossy, they bring warmth to the gray cabinets to make the design more inviting. If you like matte looks, the satin finish is also another option. The difference between the two is that the brushed brass reveals brush strokes, while the satin doesn't.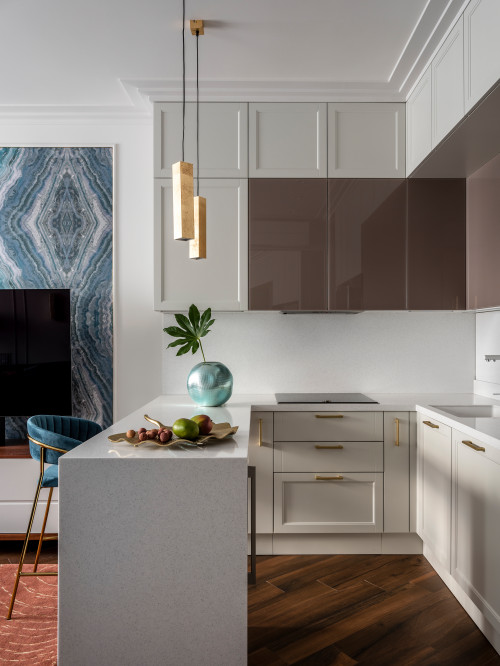 ID# 162512 | Houzz.com – Credit | © ANDdesign / Александра Дашкевич
---
Small Kitchen with Two-Tone Cabinetry and Quartz Countertops
The color and material vocabulary of this small kitchen are refined which lends sophistication to the space. Small yet functional, it captures a stylish look, evoking different feelings. Dialoguing with the living area, it exposes its users to an intimate living zone, where the functions of socializing, cooking, and eating are mixed.
To look at the elements one by one or in groups, the off-white and brown cabinets, and matte and glossy finishes all coordinate well to make a statement. White quartz backsplash and countertops encourage the space to feel more spacious, blending seamlessly with the white walls. So, they are a smart addition to give an illusion of a more spacious area. To accompany the rest, brushed brass hardware is added to orchestrate a sense of warmth, while the diagonally-laid medium wood flooring creates a visual drama, complementing the overall look of the kitchen.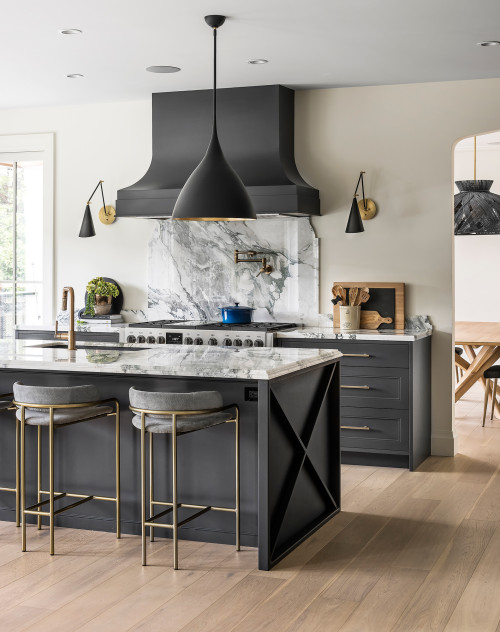 ID# 162513 | Houzz.com – Credit | © Esq Design
---
Dark Gray Cabinets with Brass Hardware and Marble Countertops
The kitchen boasts a sophisticated and timeless look, anchored by dark gray cabinets adorned with elegant brass hardware! The same rich hue flows seamlessly to the kitchen island and range hood, creating a perfectly balanced and cohesive aesthetic. A stunning marble backsplash behind the stove serves as the centerpiece of this stunning space. To enhance the ambiance, a black pendant light above the island emits a soft warm glow, while the wall sconces next to the hood provide additional ambient lighting.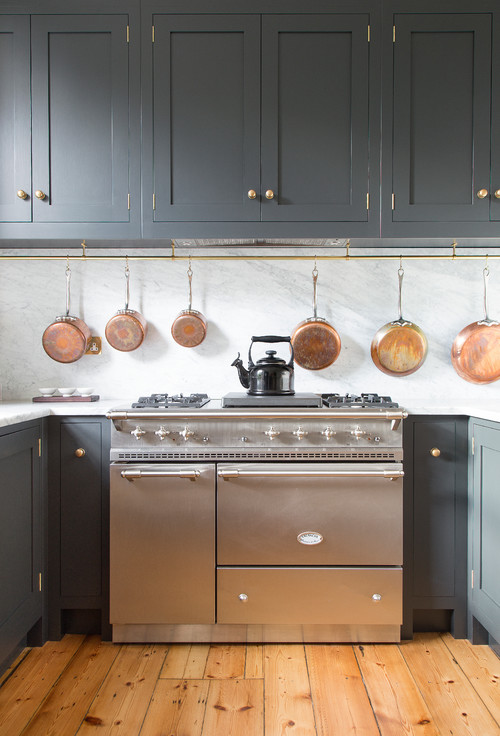 ID# 162514 | Houzz.com – Credit | © Sculleries of Stockbridge
---
Farmhouse Kitchen with White Marble Backsplash and Under Cabinet Pot Rack
This inviting farmhouse kitchen oozes warmth, character, and timeless charm! The dark gray shaker cabinets with brass knobs provide the perfect setting for a cozy and homey atmosphere. These cabinets not only offer ample storage space but also bring sophistication and elegance to the room. A sleek stainless steel stove draws attention as the focal point. The white marble backsplash and countertop create a breathtaking backdrop while delightfully contrasting with the cabinets and appliances. An under-cabinet rack for pots and pans optimizes functionality while adding an everlasting farmhouse touch.
Gray Kitchen Cabinets with Polished Brass Hardware
Polished brass hardware features a chic look that communicates a sense of luxury and highlights the cabinets' presence. Especially when you have gray cabinets, which are versatile yet neutral elements, you can effortlessly make a statement by coupling them with polished brass hardware. They will, in return, liven up the space and add some glamour. Plus, they together also grab a sense of sophistication that can be used in many different contexts, ranging from traditional to transitional and contemporary kitchens.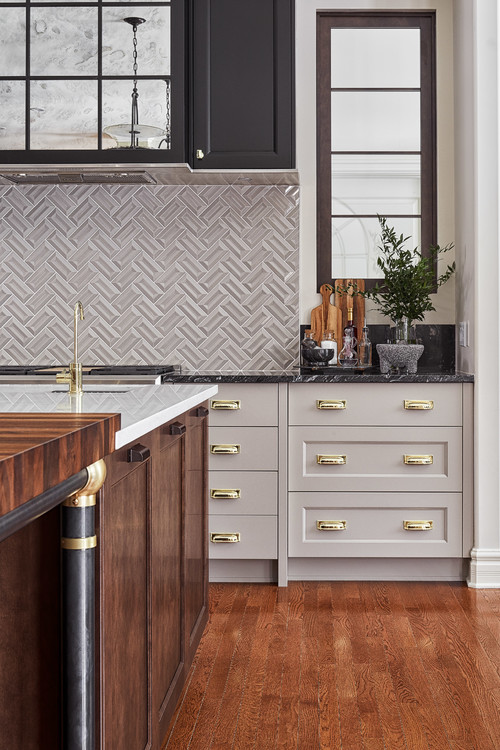 ID# 162515 | Houzz.com – Credit | © Astro Design Centre
---
Traditional Kitchen with Two-tone Cabinetry and Black Backsplash
This traditional kitchen ties together a heightened level of refined lines with classic beauty. Combining a variety of materials and firm elements, ranging from a walnut butcher block to the granite worktops and distressed wood cabinets, it achieves an ageless look. Though the dark tones and wood exhibit a masculine identity, it is offset with polished brass hardware and patterns.
To take a closer look at each element, the overhead black cabinet with mirrored doors reflects the kitchen with a meta-reference to add a dynamic. Beneath, the gray 3D backsplash evokes a tactile feel that nudges the homeowners and guests to feel it. This most eye-appealing part of the kitchen features a black and gray palette complemented with black granite countertops and base gray cabinets. Responding to this look, the brass hardware is what softens the firmness of this zone in addition to the under-cabinet lighting fixtures.
Does antique brass go with grey?
Yes, it does. Especially if you would like to bring a flavor of an aged look that gives you hints about the past, antique brass does it while entertaining the space. It also goes well with gray. For a sense of airiness and lightness, you can combine antique brass with light gray cabinets. Also in such kitchens, antique brass has more potential to be a statement piece as it changes the aura of the kitchen. But if you seek a visual drama, you can couple dark cabinets with antique brass and use them to lighten up the space in a way.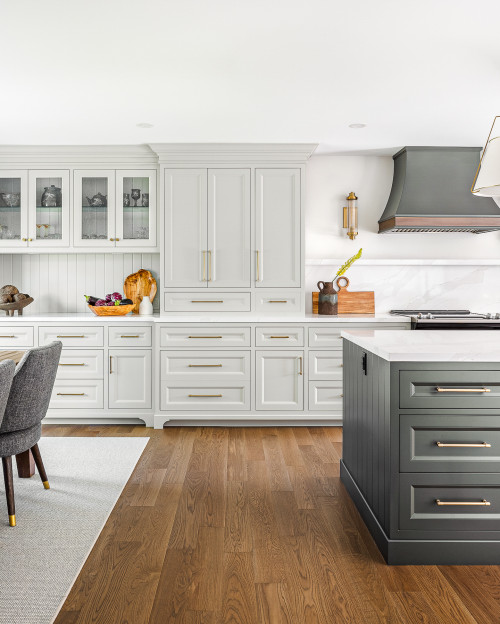 ID# 162516 | Houzz.com – Credit | © Patti Wilson Design Inc.
---
Gray Cabinets with Polished Brass Hardware and White Quartz Backsplash
This gorgeous and roomy kitchen unfolds in various textures and patterns cocooned in a white-gray palette. As the kitchen oozes in whites and grays, it also drags wood, beadboard panels, and textured materials with itself. Ranging from brass hardware to sconces and dark gray range hood, everything is well-coordinated and in harmony with each other.
Secondly, the spatial distribution of the space is cleverly designed. While the island is placed right across the stove region, the dining table is opposite the display shelves. The perimeter of the kitchen is equipped with white cabinets that are accentuated with polished brass hardware. The gray island, on the other hand, is placed in the heart of the space as an organizing object, also anchoring the design.
Gray Kitchen Cabinets with Antique Brass Hardware
Antique brass hardware, also known as weathered brass hardware, is an excellent fit for traditional, farmhouse, beach-style, and transitional kitchens. They suggest a sense of time, building up delightful designs while mixing with other elements. Since gray cabinets, depending on the context, can give the image of a discolored or distressed look, they go well with antique brass hardware.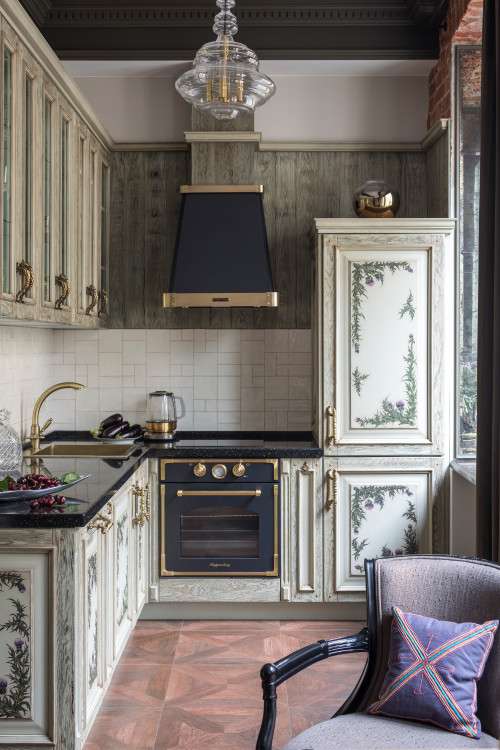 ID# 162517 | Houzz.com – Credit | © Татьяна Иванова I Interior Designer & Decorator
---
Victorian Kitchen Design with Basketweave Backsplash and Granite Countertop
This Victorian kitchen transports you to a bygone era with its timeless elegance and intricate details! The soft off-white cabinets form the perfect canvas to create a classic and refined aesthetic. The cabinet doors are adorned with floral paintings that beautifully showcase the delicate craftsmanship and attention to detail that are synonymous with Victorian design. To create a visually striking contrast, the black granite countertop provides a fantastic backdrop. The white basketweave tile backsplash adds vintage charm to the area with its intricate pattern creating a feast for the eyes. Finally, the black stove and range hood with gold details take center stage and evoke a sense of grandeur and refinement. The addition of antique brass hardware to the cabinets is the finishing touch that completes the vintage-inspired look and adds a touch of nostalgia to the overall feel.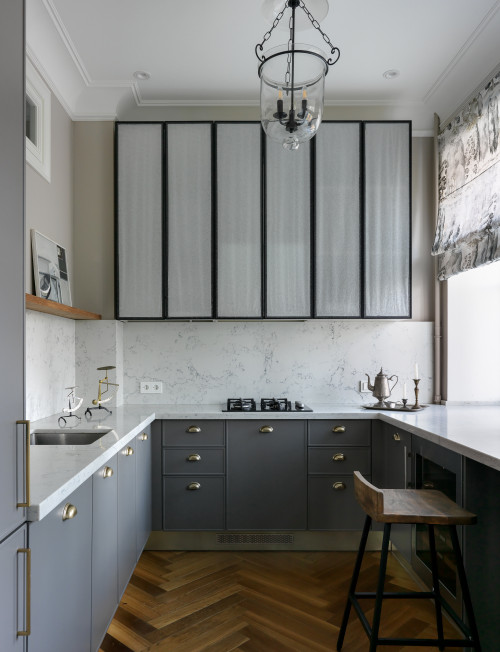 ID# 162518 | Houzz.com – Credit | © Мария Пилипенко
---
Gray Cabinets with Brass Hardware and Wood Herringbone Floor
In this u-shaped kitchen, the gray base cabinets, accentuated with brass knobs, exude understated sophistication and offer ample storage for all your kitchen essentials! The long upper cabinets, featuring frosted glass doors, create an element of tasteful elegance and grant a sneak peek into your meticulously curated collection. The white backsplash and countertop instill a sense of timeless grace and purity. But what adds a delightful touch of warmth and character to this kitchen are the wood herringbone floor parquets, which impart a natural and inviting vibe to the area. Not only does this intricate pattern of herringbone design create visual interest, but it also enhances the flooring with a hint of refined opulence.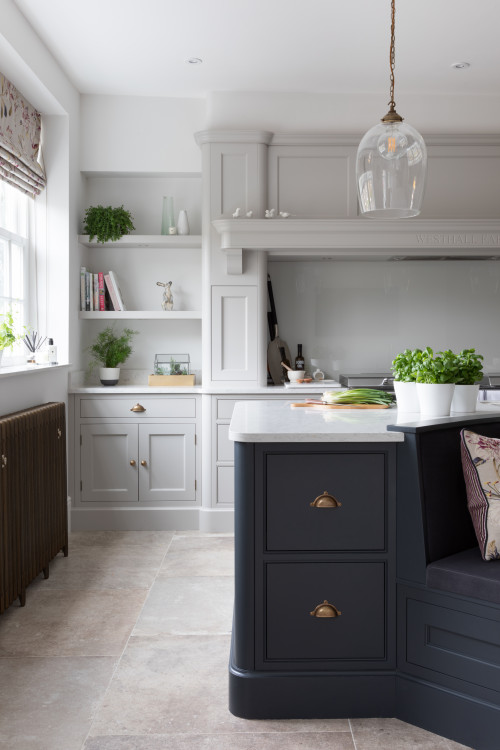 ID# 162519 | Houzz.com – Credit | © Krantz Designs
---
Traditional Kitchen with Black Island and Glass Pendant
This traditional kitchen is adorned with elegant shades of gray! While the light gray cabinets, white backsplash, and countertop create a sleek and fresh backdrop, the black island creates a focal point by making a statement. The open shelving provides a visual interest besides its storage function. The stone-look floor tiles and the glass pendant lights above the island make a beautiful final touch.