23+ Modern Kitchen Cabinet Hardware Ideas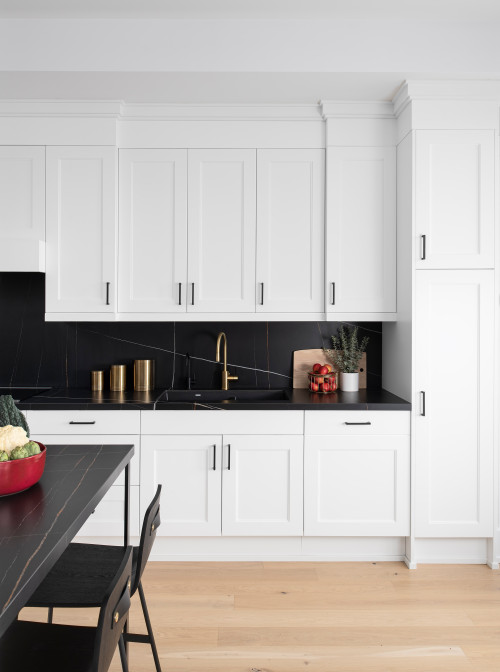 ID# 164601 | Houzz.com – Credit | © Lesley Brookes Design
---
Modern Kitchen Cabinet Hardware Ideas with Soapstone Backsplash
If you want to make a statement with your cabinet hardware, using black handles for white cabinets will give you the stylish and at the same time timeless appeal that you want! In this Scandinavian kitchen, the pure and clean appearance of the white shaker cabinets surrounds the space. The black soapstone backsplash and countertop create a striking focal point between the whites. For a final touch, the light wood floor softens the sharp contrast of the monochrome color scheme and brings warmth to the atmosphere.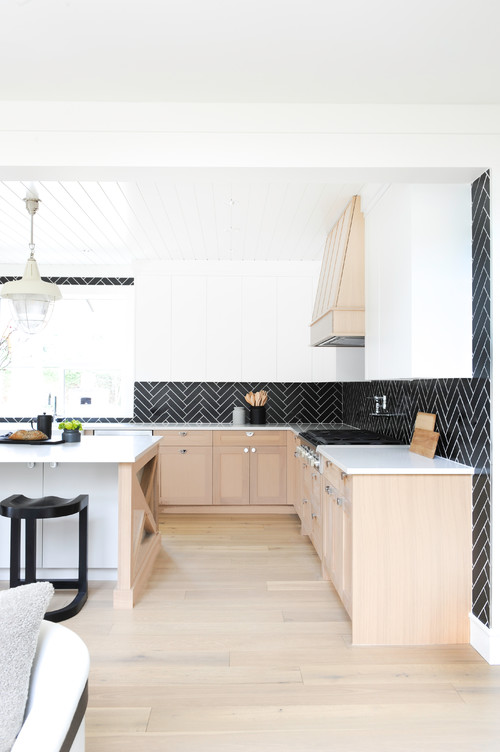 ID# 164616 | Houzz.com – Credit | © PlaidFox Studio
---
White and Wood Cabinets with Chrome Knobs
Two-tone cabinetry featuring wood base cabinets and white upper cabinets offers a classic yet modern touch. The black herringbone tile backsplash serves as a statement maker in the space with white grout beautifully highlighting the intricate pattern. This eye-catching backsplash also creates a focal point between the cabinets and elevates the design instantly!
Modern Kitchen Cabinet Hardware Ideas
We spend most of our lives opening and closing cabinets, and drawers, and not paying attention to the details that accompany the action. These details are the hallmark of great kitchen cabinet hardware. And according to the chosen model, it affects the whole atmosphere of the kitchen. From brass handles to simple silver knobs or black cool handles, modern kitchen cabinet hardware ideas will make the final touch for your kitchen to elevate the overall look. Scroll down and find stunning cabinet hardware designs that might inspire you for your next design project!
In the realm of modern kitchen design, the appropriate cabinet hardware can make a big statement. Modern kitchen cabinet hardware ideas embrace sleek and minimalist aesthetics, focusing on clean lines, stunning finishes, and distinctive designs. Brushed nickel handles and pulls have an understated elegance, whilst matte black knobs provide a sleek and futuristic appearance. Stainless steel accents and satin-finished brass hardware lend a refined touch. To add avant-garde flair to your kitchen, experiment with geometric patterns and asymmetrical designs. Between these options, choosing the right hardware for your cabinets might be overwhelming but don't worry! Keep reading and find stylish modern kitchen cabinet hardware ideas to create a visually beautiful and functional masterpiece!!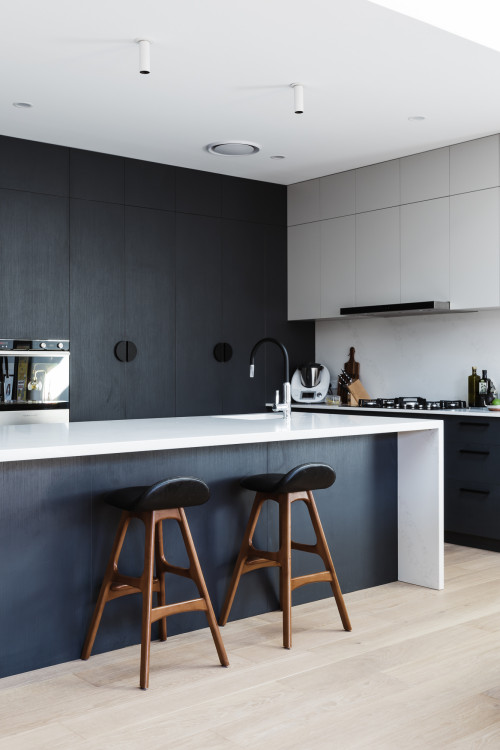 ID# 164602 | Houzz.com – Credit | © Coswick
---
Black and White Kitchen Cabinets with White Quartz Countertops
The contrasting black and white cabinetry in the contemporary kitchen elevates its look with depth and refinement!! The white backsplash and countertop provide brightness and cleanliness to the kitchen. The spacious kitchen island with a waterfall countertop that flows down the sides and creates a visually pleasing effect is the highlight feature. The cabinetry is accented with sleek and discreet matte black cabinet hardware to add a contemporary touch.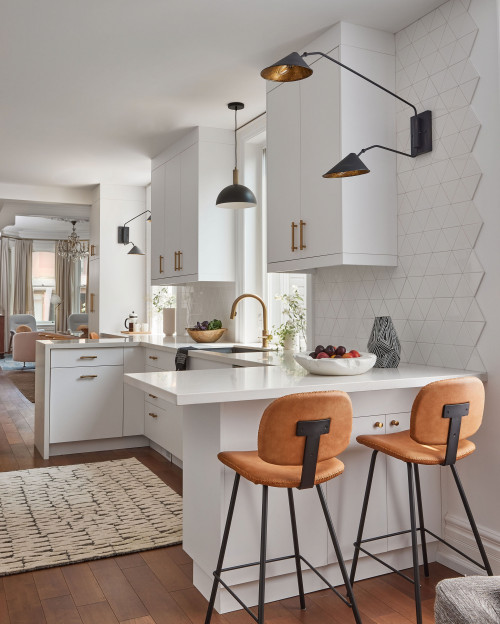 ID# 164603 | Houzz.com – Credit | © Two Birds Design
---
All-White Kitchen with Diamond Backsplash Tiles
If you want to spruce up your al-white kitchen, brass handles will be an excellent addition! In this contemporary kitchen design, the white flat-panel cabinets and white quartz countertops serve a clean and sleek appeal. The white diamond backsplash tiles complete this bright look while adding a nice texture. The brass cabinet hardware breaks the white domination and adds a dose of glam. The orange chairs of the peninsula complement the warm look of the hardware. For a final touch, the black wall-mounted lighting fixtures and the pendant light above the sink area enhance visual interest by creating contrast.
What kitchen hardware is in style in 2023?
Black is at the top of the list of the most trendy colors for 2023. Whether you like knobs, pulls or a combination, black hardware can quickly update your cabinets. Satin and matte black are the most popular black finishes for a sleek and sophisticated aesthetic, particularly in light-colored cabinets!!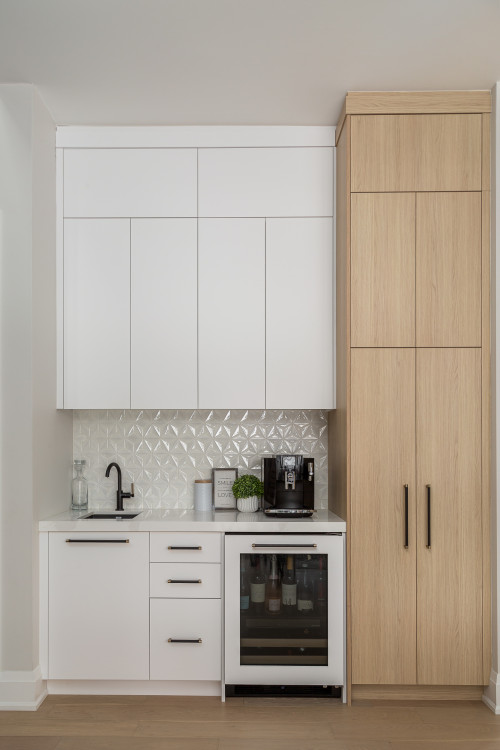 ID# 164604 | Houzz.com – Credit | © Olympic Kitchens
---
Contemporary Home Bar with White and Wood Cabinets
This contemporary wet bar has a clean and timeless appearance thanks to its white and light wood color palette! With the white quartz countertop and white wet bar backsplash, the white flat-panel cabinets create a bright and expansive ambiance. The light wood tall cabinets, on the other hand, offer an excellent tactile appeal and reinforce the warm vibe.
Cabinet Hardware Finishes
Although the cabinet hardware may appear to be a small concern, they are crucial aspects that influence the overall aesthetic of the establishment. Simply changing the cabinet knobs in a kitchen may make a big difference. Finishes for cabinet hardware include chrome, brass, polished nickel, satin nickel, antique brass, oil-rubbed bronze, and matte black. You may achieve good outcomes by selecting the one that best matches your preferences and design. It is available in an infinite number of variations and models that will readily complement various modern, classic, fashionable, and rustic designs.
Modern Black Kitchen Cabinet Hardware
When it comes to modern kitchen designs, black is one of the most popular color choices for hardware!! The sleek and elegant appeal of the black kitchen cabinet hardware can make a stylish final touch and instantly elevate your overall design. It is also a great option especially for families, as it does not show easily dirt, fingerprints, or abrasions.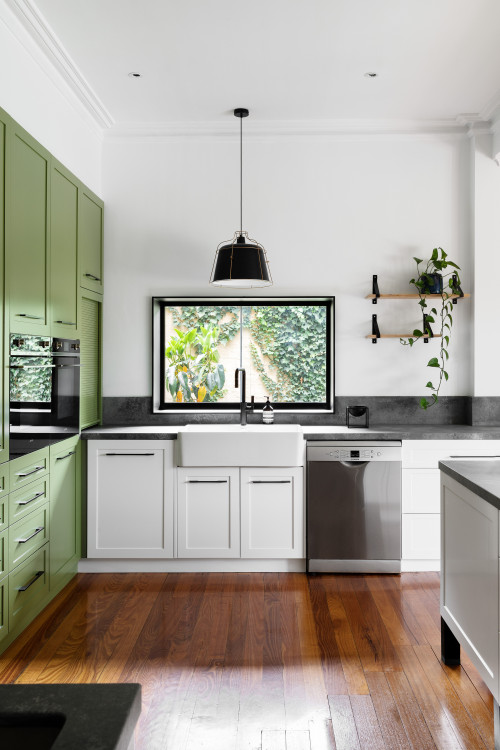 ID# 164605 | Houzz.com – Credit | © Peter Schaad Design Studio
---
Monochrome Kitchen Design with a Pop of Green Color
Enriched by a farmhouse sink, the white shaker cabinets bring a timeless beauty to this kitchen. The 4-inch gray granite backsplash and countertop provide a sleek that adds depth and character to the space!! The tall green cabinets make an unexpected twist with a splash of color and height. while the modern black hardware provides a refined touch to the aesthetic and connects the design together.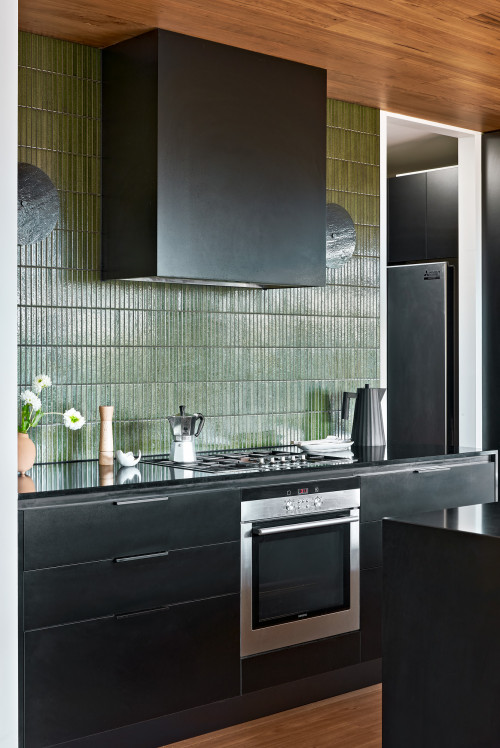 ID# 164606 | Houzz.com – Credit | © Jasmine McClelland Design
---
Green Kit Kat Tile Backsplash with Black Cabinetry
Boosted by the black cabinets and green Kit Kat tile backsplash, this extraordinary kitchen seamlessly blends classic design with modern flair, The pièce de résistance is undoubtedly the stunning black range hood which commands attention and radiates an air of sophistication.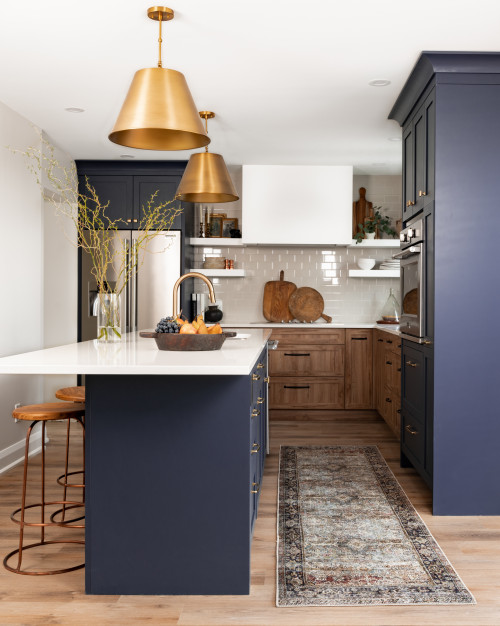 ID# 164607 | Houzz.com – Credit | © Synergy 3 Construction
---
Modern Black Cabinet Hardware Ideas with Beige Subway Tiles
The wood base cabinets offer an undeniable sense of authenticity while tall ones and island boast a rich and deep navy blue hue that creates a bold contrast against the wood!! The white countertops lend a bright and airy atmosphere while the floating shelves and range hood give off a contemporary vibe. Adding a touch of subtle texture and warmth to the kitchen is the beige subway tile backsplash.
Modern Brass Kitchen Cabinet Hardware
Modern, brass kitchen cabinet hardware creates stylish, luxurious effects in the applied areas. It can be used even in an authentic atmosphere according to the concept of kitchens. There are several different types such as glossy, matte, and antique. Polished brasses come in a standard glossy gold tone, slightly more matte, and antique brass hardware that has gained a lot of popularity lately creating a historic air effect. Some antique brass finishes consist of lightly brushed brass, and others are dark and brown options almost as much as oil-rubbed bronze. has. Brass is also a much warmer material than chrome, and in plain white kitchens, it can break that all-white stance and turn it into an eye-catching design.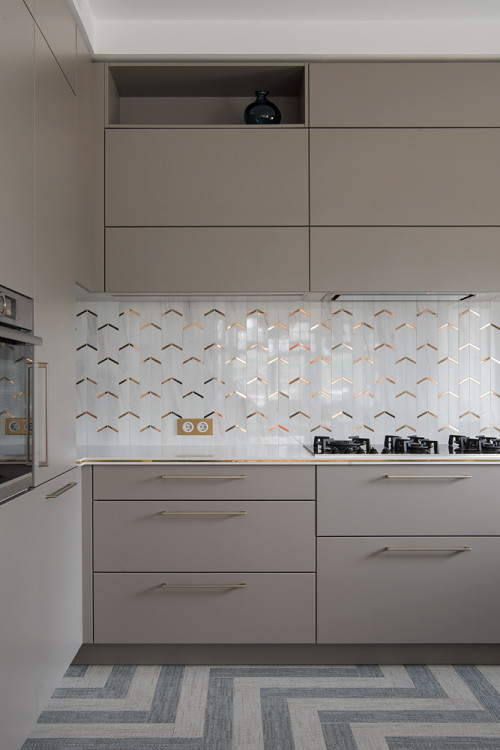 ID# 164608 | Houzz.com – Credit | © ItalProject
---
Gray Kitchen Cabinets with White and Gold Backsplash
Embrace with a silky texture and subtle tone, these gray kitchen cabinets ooze refinement. The white marble chevron backsplash with gold accents matches the exquisite cabinets while also adding a vibrant and geometric look. The magnificent veins of the marble exude timeless beauty while the subtle tones of gold add a sense of wealth and extravagance to the space!
Are pulls or knobs more modern?
Due to their sleek designs, pulls have a more modern appeal than knobs. However, in today's market, you can find endless style and shape options for cabinet hardware. This means that knobs can also serve as a modern flair for your kitchen according to their style.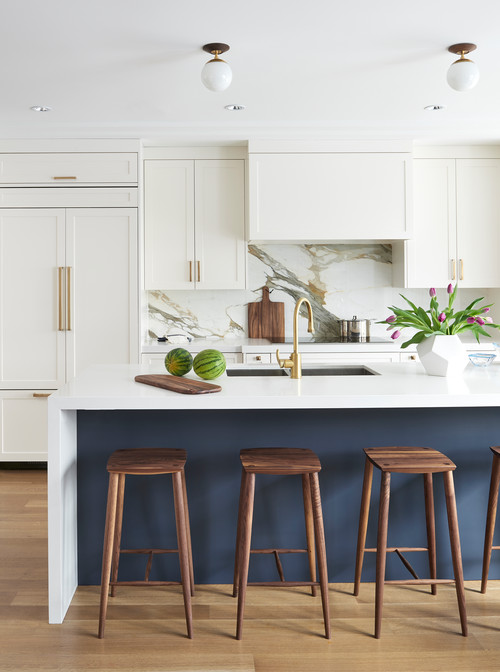 ID# 164609 | Houzz.com – Credit | © Shirley Meisels
---
Off-White Shaker Cabinetry with Blue Island and Gold Hardware
Complemented by a stunning marble slab backsplash, the off-white shaker cabinets the ideal foundation for a classy and versatile ambiance. The deep blue kitchen island brings an added depth of intrigue and individuality while the opposing colors create an attractive aesthetic balance.
Should cabinet and drawer pulls be the same size?
It is typically advised that the length of the pull be roughly one-third the width of the cabinet or drawer. Small drawers 12″ or less usually work best with a 3″ to 4″ long pull or a 1″ diameter knob.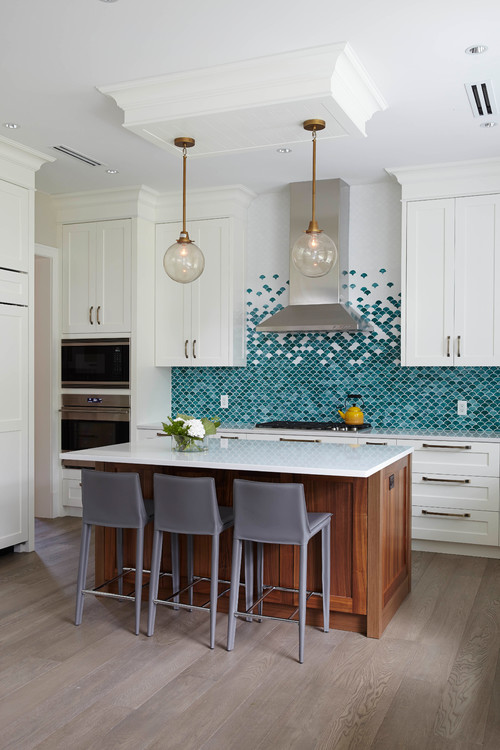 ID# 164610 | Houzz.com – Credit | © Dakota Homes
---
Blue Mosaic Tile Backsplash with Brass Modern Cabinet Hardware Ideas
The blue fish scale tile backsplash simply steals the show in this transitional kitchen, acting as the unmistakable focal point. It adds a distinct and eye-catching aspect that is difficult to overlook. The tiles blend in with the white upper wall, creating an effortlessly cohesive and visually stunning backdrop. The shaker-style cabinets incorporate classic design characteristics. The wooden island, on the other hand, adds a touch of natural refinement. For a final touch, the warm gold tones of the cabinet hardware complement the blue and white color scheme!!
Modern Chrome or Brushed Nickel Kitchen Cabinet Hardware
Both chrome and brushed nickel alternatives for modern kitchen cabinet hardware have a clean and contemporary appearance. Chrome hardware has a glossy and shiny finish that compliments a wide range of kitchen designs! Its gleaming appearance gives a sense of refinement and looks well in minimalist and monochrome decor. Brushed nickel hardware on the other hand, has a softer, matte finish that is both contemporary and adaptable.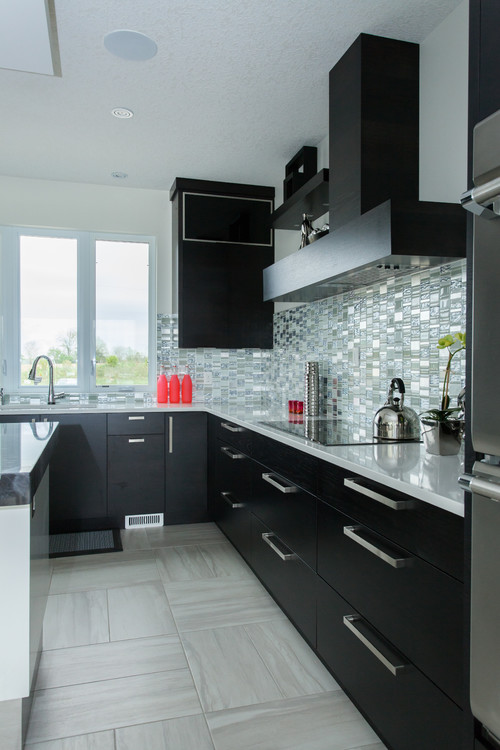 ID# 164611 | Houzz.com – Credit | © Dynamic Kitchens
---
Black Kitchen Cabinets with Gray Glass Mosaic Backsplash
The glossy glass backsplash tiles add a dazzling effect while enhancing the brightness thank's to the reflective surface. The matte black kitchen cabinets provide a sleek and elegant frame for the backsplash and add depth to the space! The white Caesarstone quartz countertop and brushed nickel hardware complement the fresh feel.
Does kitchen hardware have to match the faucet?
No, it does not have to be appropriate. But often, kitchens and bathrooms pair hardware finishes with faucets to tie the finishes in the room together. Pairing cabinet hardware with your faucet produces beautiful results, creating a cohesive look.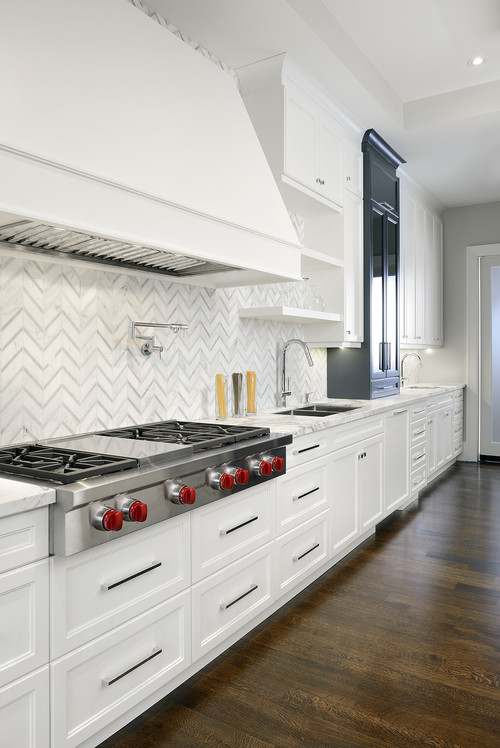 ID# 164612 | Houzz.com – Credit | © Evelyn Eshun Design Inc.
---
Transitional Kitchen with Modern Kitchen Cabinet Hardware Ideas
Luxurious, timeless, classic, yet absolutely current and contemporary! Enriched by the dark wood floor, the white shaker cabinets are a perfect canvas that offers a bright and spacious atmosphere. The marble chevron backsplash perfectly completes this sleek look while adding a nice texture without overwhelming it. The chrome hardware and fixtures enhance the contemporary feel to finalize the overall look.
Modern Hardware for White Kitchen Cabinets
White kitchen cabinets, with their timeless elegance, can leave a beautiful effect in any space. The naive, plain stance of white can be given a completely different look with modern hardware. If you want to make a statement with your hardware choose matte black ones and create a striking contrast with your white cabinets. On the other hand, you can add a warm sense with the glamorous brass.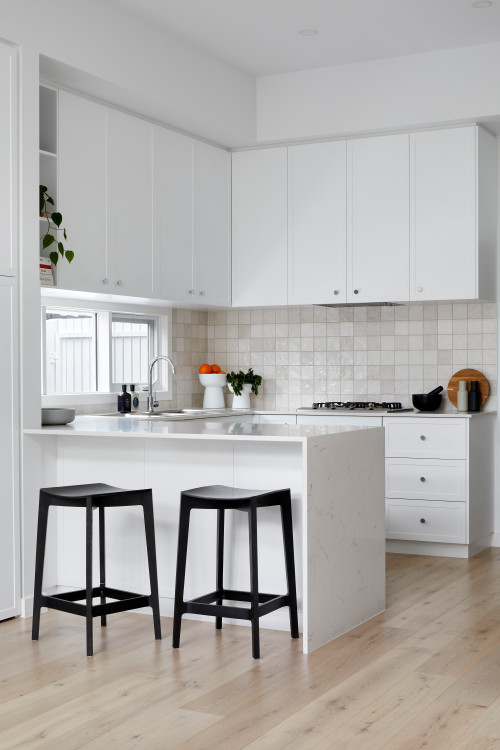 ID# 164613 | Houzz.com – Credit | © Demardi
---
White Kitchen Design with Square Backsplash Tiles
The sleek white cabinets provide the foundation of the décor in this spotless kitchen that offers an unobtrusive yet classy aesthetic! The white quartz countertops add to the kitchen's opulent air while a the perfectly positioned glossy white square tiles give the area a feeling of homogeneity and a hint of textural character.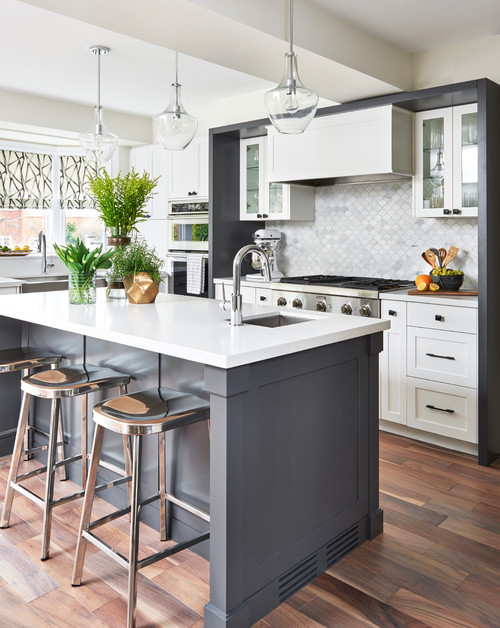 ID# 164614 | Houzz.com – Credit | © Kinkaid Construction
---
Black and White Kitchen with Wood Floor
Complemented by a black frame, the white shaker cabinets create a lovely backdrop that nicely matches the space's contemporary aesthetics. The black island steals the show and becomes the focal point of the kitchen. Not to mention the marble mosaic backsplash which emanates elegance and refinement with its timeless design!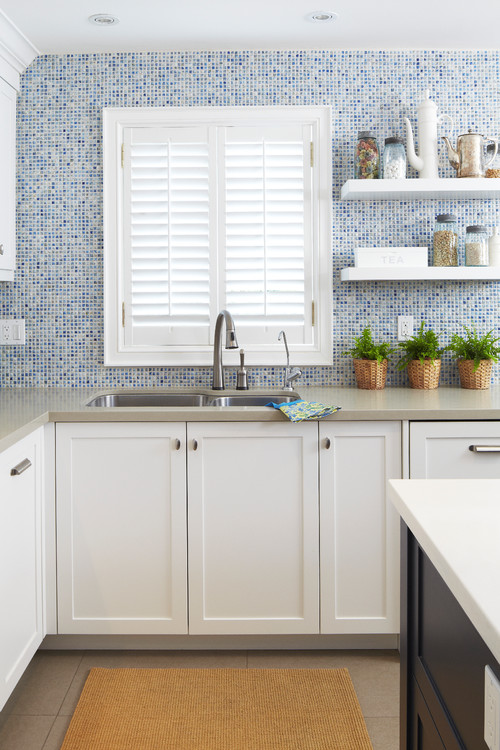 ID# 164615 | Houzz.com – Credit | © Sealy Design Inc.
---
White Cabinets with Blue Mosaic Tile Backsplash
If you want to create a calm and relaxing atmosphere for your kitchen, opt for serene blue shades! In this contemporary kitchen, the blue mosaic tile backsplash does this job and brings a coastal feel. The white shaker cabinets and the gray laminate countertop create a classic and timeless appeal that provides a unified overall look. Using floating shelves instead of upper cabinets enhances the impact of the lovely mosaic tiles.
Modern Farmhouse Kitchen Cabinet Hardware
The proper cabinet hardware in a modern farmhouse kitchen may provide beauty and usefulness to the overall design!! Choosing hardware that mixes rustic and contemporary components may complement the farmhouse style well. Consider utilizing cabinet hardware in oil-rubbed bronze or black matte finishes to produce a modern farmhouse effect. These finishes have a vintage feel to them while being sleek and elegant. On the other hand, knobs and pulls with a hammered or weathered appearance can help to complete the farmhouse look.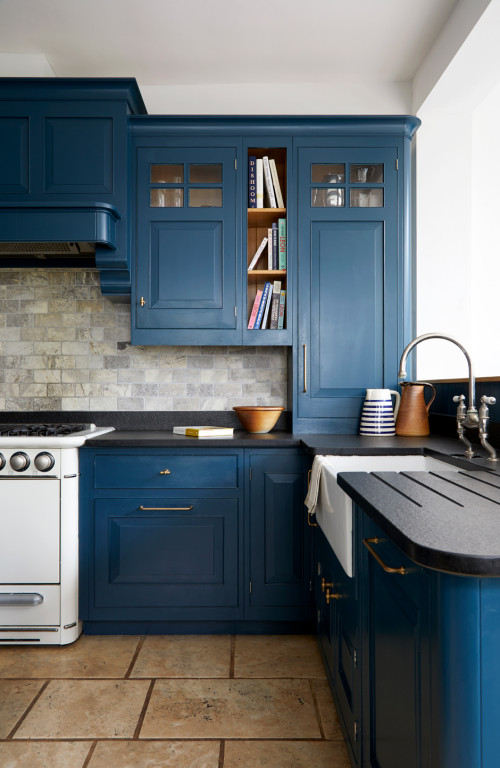 ID# 164617 | Houzz.com – Credit | © Fable Interiors
---
Modern Kitchen Cabinet Hardware Ideas with Blue Cabinets
The cabinets' deep blue color generates a soothing and serene atmosphere in this Scandinavian kitchen concept!! The black granite countertops and 4-inch backsplash offer a remarkable contrast to the navy blue cabinets while the marble subway tile backsplash exudes elegance and timelessness into the design. To finish the aesthetic, beige stone floor tiles are used to anchor the entire area.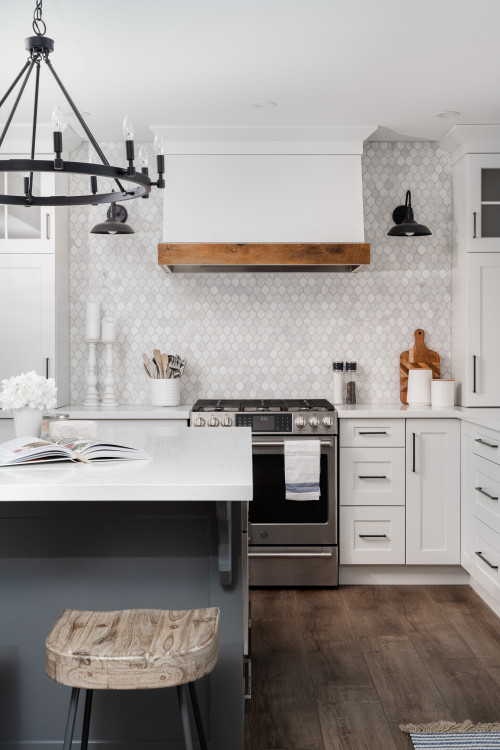 ID# 164618 | Houzz.com – Credit | © Lindsay Schultz Kitchens and Cabinetry
---
Farmhouse Kitchen with Marble Hexagon Backsplash Tiles
The light gray shaker cabinets provide a relaxing and welcoming ambiance. The lovely gray hexagon tile backsplash wonderfully matches the area and makes it feel even cozier. The dark gray island, on the other hand, not only creates contrast but also gives lots of important storage space. To top it all off, the sophisticated black hardware and sconces around the kitchen give the area a sleek, contemporary edge while the Castile chandelier over the island provides a touch of vintage elegance that flawlessly ties everything together.
Mid Century Modern Kitchen Cabinet Hardware
Mid-century modern kitchen cabinet hardware embraces the timeless elegance of the mid-twentieth century while incorporating a contemporary twist. Using hardware with clean lines, geometric shapes and a mix of natural and industrial materials is crucial to achieving this style. Because it conveys warmth and elegance, brass or gold-toned hardware is a popular choice!!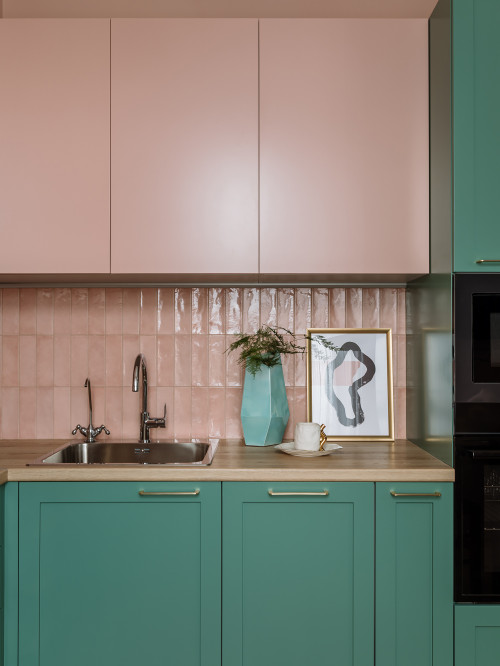 ID# 164619 | Houzz.com – Credit | © bellager design
---
Modern Kitchen Cabinet Hardware Ideas with Green and Pink Color Palette
If you are looking for colors that can match pink and green is one of them. As you can see in this Midcentury kitchen, the green and pink cabinetry harmoniously create a stylish look. The pink handmade backsplash tiles complement the upper cabinets, adding a nice textural look. The wood countertop completes the natural sense of the green while the brass hardware adds a dose of glamour.
What is the most popular finish for cabinet hardware?
Silver hardware is probably the most common type of finish you see in kitchens and bathrooms. Satin/brushed nickel took the world by storm many years ago and is still very popular. It's very on-trend as it's a nice complement to wood cabinets and all kitchen and bathroom colors.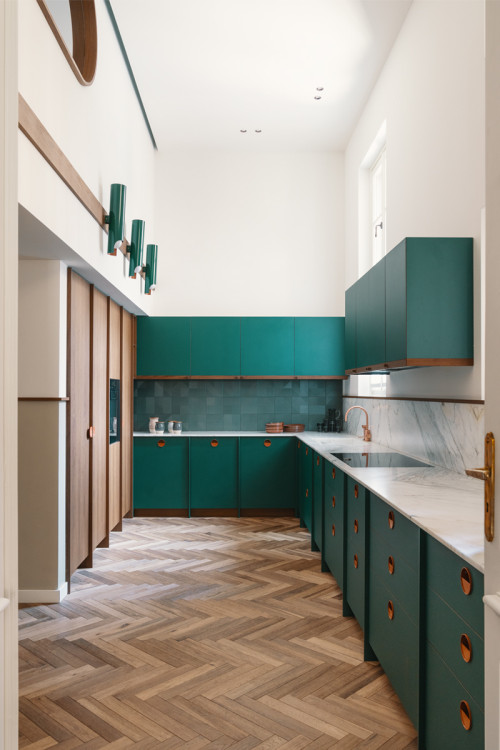 ID# 164620 | Houzz.com – Credit | © Arch. FABIO FANTOLINO Studio
---
Wood Modern Kitchen Cabinet Hardware Ideas with Green Cabinetry
The emerald green cabinets and square tile backsplash create a cohesive and bold look while geometrical patterns of the green tile backsplash add visual interest. The white marble countertop and backsplash add a bright look against the dark green shades while the wood handles complete the elegant overall look. The wood herringbone floor adds another layer of texture and creates a continuous look with the tall wood cabinets!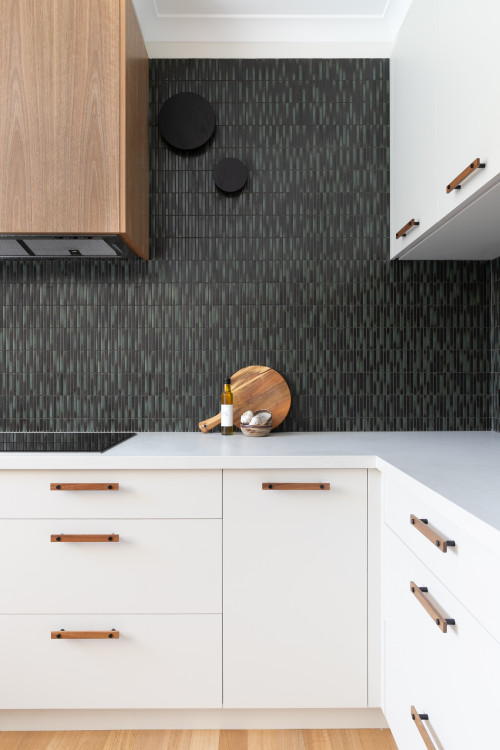 ID# 164621 | Houzz.com – Credit | © Susan Cleveland Design
---
White Kitchen Cabinetry with Black Full-Height Backsplash
Black backsplash with white countertops come together with wooden details to form a perfect whole. In the kitchen, which captures the modern line with classical preferences, the patterns and details on the black backsplash create elegance. The white countertop provides a unique harmony with the white cabinets. The black splashback is a perfect complement between the wooden cabinets and the white countertop, like a puzzle piece. The warmth that the wooden cabinets add to the environment continues on the white cabinet handles. The warm tones preferred on the floor also ensure that every detail is in harmony. In terms of the preferred hearth color and very modern design, it achieves a unique harmony with the black backsplash.
Contemporary Modern Kitchen Cabinet Hardware
Sleek and minimalist designs with a hint of refinement are the main point when it comes to picking contemporary modern kitchen cabinet hardware. Choose hardware with clean lines, smooth surfaces and simple designs. Popular finishes include brushed stainless steel and chrome which provide a polished and contemporary appearance!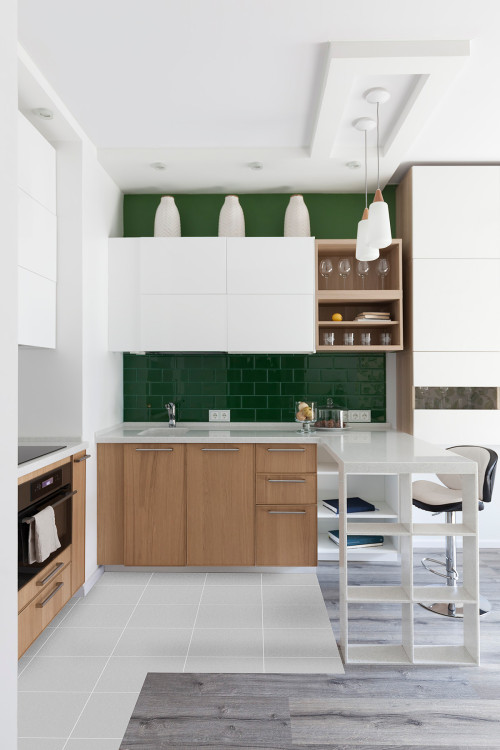 ID# 164622 | Houzz.com – Credit | © YU Dsgn Галкина Юлия и Беляева Юлия
---
White and Wood Cabinets with Green Subway Tile Backsplash
In this contemporary kitchen, the glossy green subway tile backsplash takes the stage and transforms the dull space into a stylish kitchen! The sleek and clean look of the white and wood cabinets creates a cohesive look with the green tile backsplash. The white countertop is expanded to create a peninsula to add an additional counter and dining space. The brushed nickel hardware and light gray floor tiles complete the contemporary design style.