29+ Backsplash for Wood Cabinet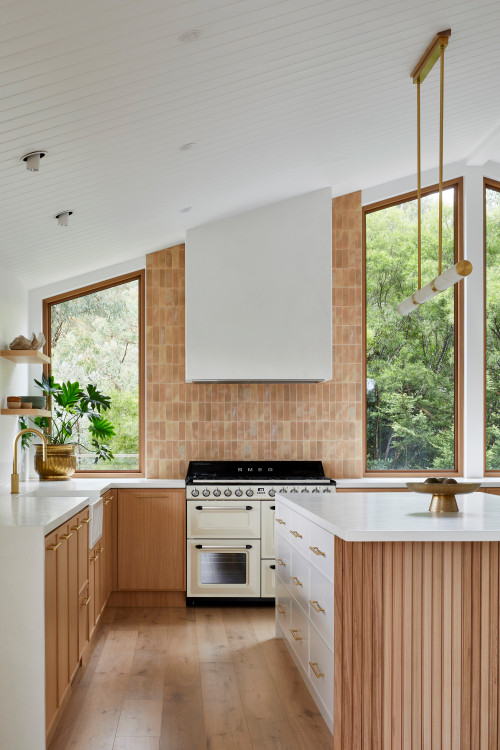 ID# 165402 | Houzz.com – Credit | © Demardi
---
Full-Height Backsplash for Wood Cabinets and White Countertops
This modern kitchen exudes a warm and inviting atmosphere with oversized windows and a neutral color scheme! Thanks to these large window openings, the beautiful green nature view becomes part of the kitchen and serves as a piece of art. The first element that draws attention is the full-height backsplash behind the stove! With its stone look texture and grid pattern, this stacked tile backsplash creates an eye-catching backdrop. The wood base cabinets provide a cohesive look with the tiles while the pristine white quartz countertops complete the spacious feel. The vertical paneled sides of the kitchen island complement the white shiplap ceiling, adding another layer of texture.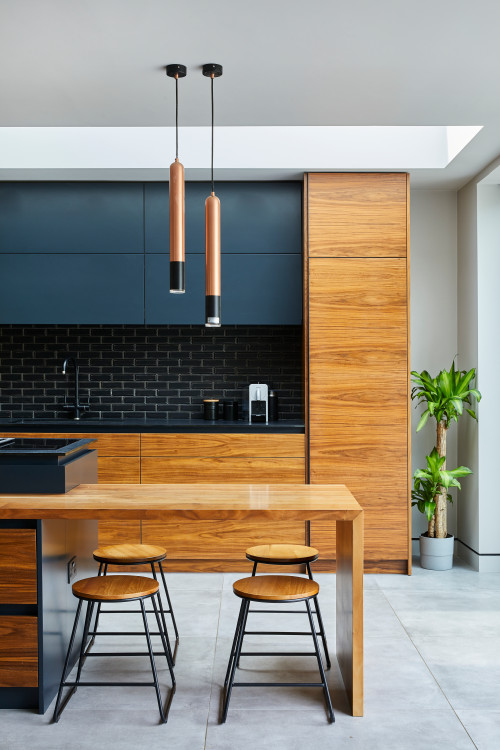 ID# 165424 | Houzz.com – Credit | © AIB Contractors Ltd
---
Black Subway Tile Backsplash for Wood Cabinets and Gray Floor Tiles
The black subway tile backsplash makes a strong and fashionable statement and brings drama and refinement to the space! The kitchen is given a cozy, natural charm by the base cabinets made of natural wood. The upper cabinets in matte black up top give a dash of contemporary elegance. The wood kitchen island takes on a central role in the room. The island becomes a multipurpose center for both culinary endeavors and social events.
Backsplash for Wood Cabinet
There is more to protecting the kitchen walls between the cabinetry than just putting a substance. This little area of the kitchen walls serves as a decorative feature while guarding against water, moisture, and food splashes. Choosing a backsplash and countertops might be difficult work whether your design style is contemporary or classic, rustic or farmhouse. Slab stone or tile backsplash can be used as a backsplash for wood cabinets to maintain the aesthetic appeal of the room as a whole.
Complete the Natural Charm of the Wood Cabinets with Trendiest Backsplash Tiles
Nothing works better than a black backsplash for wood cabinets and black countertops to offer a masculine and upscale look. This will give the wood kitchen cabinets more dimension. You may use a white backsplash for wood cabinets and worktops to give the room a bright and airy appearance. This pairing combines a clean appearance with a Scandinavian minimalism charm. Gray backsplashes are the ideal choice if you want to maintain natural adaptability. Scroll down to view some amazing backsplash design ideas for wood cabinets.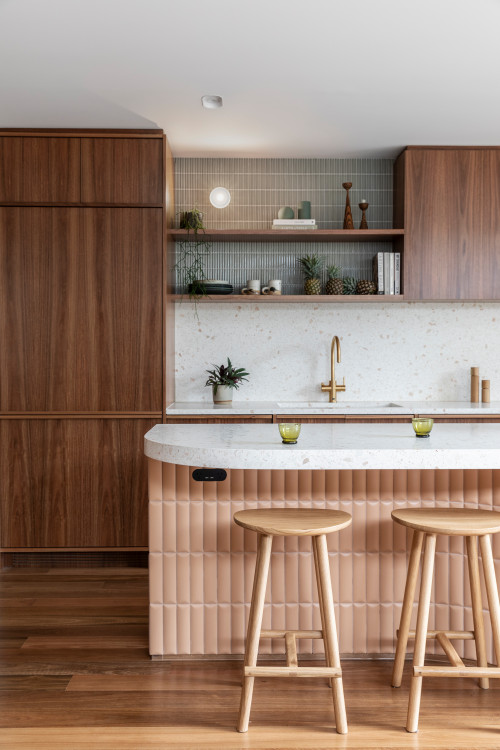 ID# 165401 | Houzz.com – Credit | © Kitty Lee Architecture
---
ontemporary Kitchen with Tiled Island
Thanks to its neutral color scheme and pastel pink accents, this modern kitchen emanates a sophisticated and pleasant aspect. The dark wood cabinets form a clean and sumptuous backdrop for the kitchen's other aspects. The terrazzo backsplash and countertops provide a wonderful texture and a bright, airy appearance in contrast to the dark cabinetry. This tiled kitchen island is without a doubt the showpiece. It boosts the entire appearance with its 3D tiles, creating an eye-catching focus point!!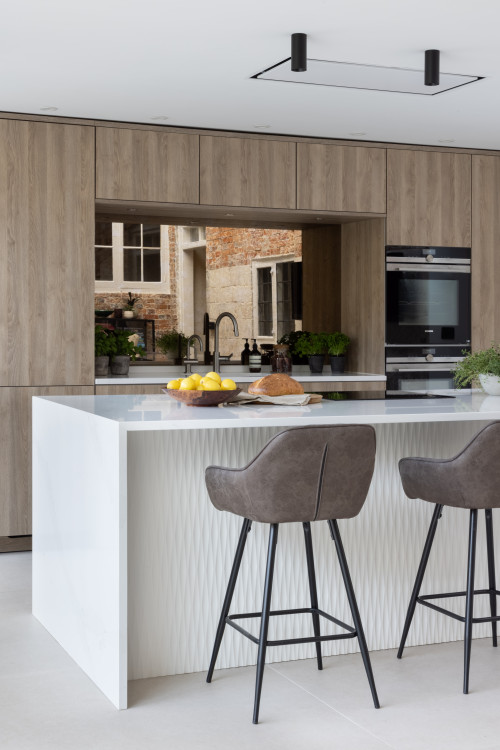 ID# 165403 | Houzz.com – Credit | © The Myers Touch
---
Scandinavian Kitchen with Mirror Backsplash and White Island
If you want to create a conversation piece for your kitchen, a mirror backsplash might be the element that you are looking for!! a mirror backsplash not only provides a stylish and elegant appeal but also helps to make the space feel larger by bringing depth. In this Scandinavian kitchen design, the mirror backsplash creates a visually striking focal point between the dark wood cabinets, adding drama to the atmosphere. The white statement maker island with plenty of storage creates a practical and sociable layout while the integrated sink area and appliances are designed to keep the look uncluttered and without visual distraction.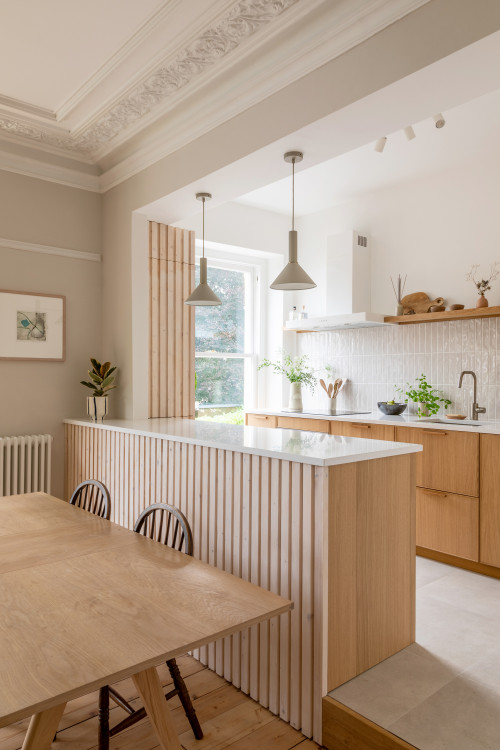 ID# 165404 | Houzz.com – Credit | © E J Studio Ltd
---
Open Concept Kitchen with Peninsula
The medium-tone wood cabinets act as an anchor and offer a touch of natural appeal. The beige stacked tile backsplash in the back emanates modest beauty while complementing modernism with its vertical orientation. The tiles' gentle neutral tint produces a peaceful and adaptable canvas that allows you to easily personalize your environment! The clean white quartz counters reflect light and add to the open-concept atmosphere. The huge kitchen peninsula completes the entire design while providing more workspace.
What kind of backsplash goes with wood cabinets?
White backsplashes, tile, or slabs, are perfect for wood cabinets. They enlighten the wood cabinetry and create a clean appeal. Gray is a versatile color that you can go with if you do not like the stark white appeal. For contemporary or modern design style kitchens, we can recommend black backsplashes which bring depth and sophisticated appeal when combine with wood cabinets.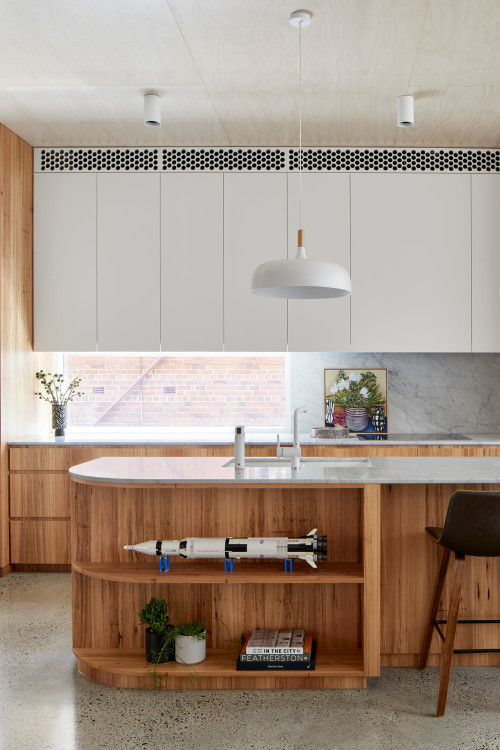 ID# 165405 | Houzz.com – Credit | © Mihaly Slocombe
---
Two Tone Kitchen Cabinetry with Window Backsplash
The foundation is set by natural wood base cabinets and an island that insufe the space with warmth and rustic charm. White top cabinets provide a touch of lightness and contrast against the wood grain, creating a harmonious balance. The window backsplash covers the half of the wall, adds a unique design element and invites the beauty of nature indoors. Terrazzo floor tiles introduce texture to the modern aesthetic as a cohesive final touch.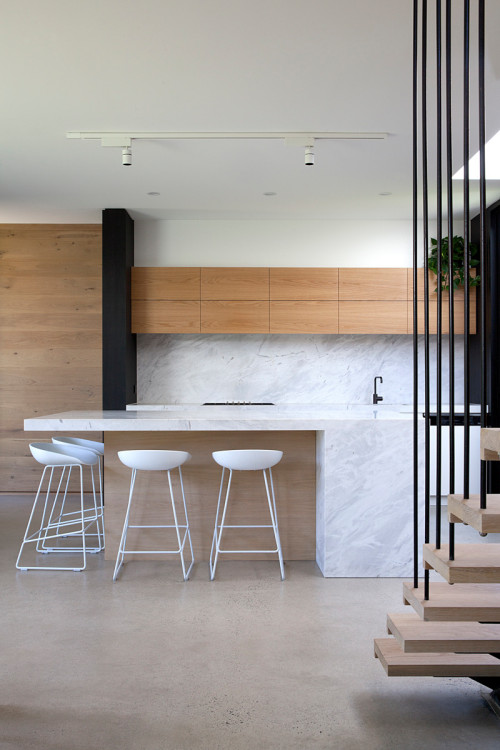 ID# 165406 | Houzz.com – Credit | © thomas+williams architects>
---
Marble Countertops and Backsplash for Wood Cabinets
This contemporary kitchen envelops you in its arms thanks to the combination of natural components and a relaxing neutral color! The medium-tone oak cabinetry takes center stage while cocooning the room in an inviting embrace. The combination of marble, however, raises the design to extravagant heights – the backsplash and countertops materialize as magnificent embellishments, emanating an atmosphere of grandeur and increasing the overall charm of the kitchen.
Wood Cabinets Types
From light wood to natural, or dark wood to cherry wood cabinets, the wood cabinet types can change the result of your design aesthetic. The dark wood cabinets can help you to create sophisticated kitchen designs with a classy appeal, or light wood cabinets can bring Scandinavian minimalism when they are paired with a white backsplash and countertops. Let's see what are the wood cabinets types and get inspired by them!
Backsplash for Light Wood Cabinets
Light wood cabinets feature sleek, utilitarian designs that go well with practically any worktop, backsplash, or furniture style in the area. A trendy backsplash for light kitchen cabinets is ideal for those who like a neutral-colored kitchen that may be accented with different hues. As these cabinets demonstrate, modern designs do not have to be austere and drab. A wonderful wood kitchen with a perfect backsplash design is a terrific place to start if you want to have a variety of design possibilities!!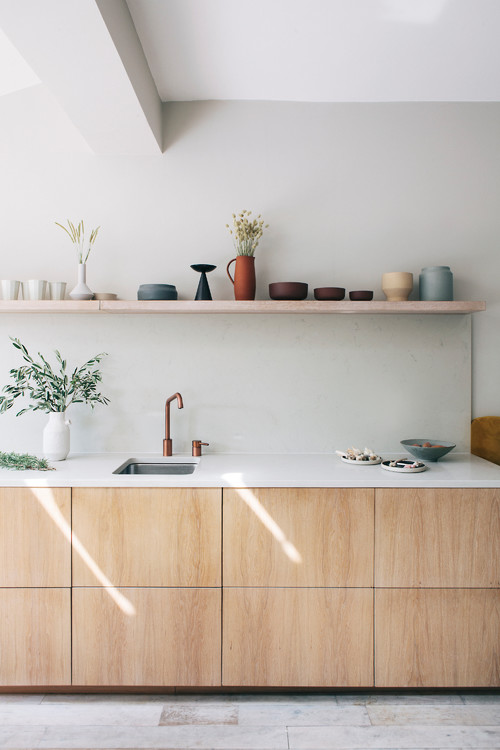 ID# 165407 | Houzz.com – Credit | © Portman Studio
---
Minimalist Kitchen with Single Wood Floating Shelf
Light-colored wood cabinets radiate a soothing and organic sense that complements the overall design! Quartz slabs adorning the backsplash and countertop exude luxury with their smooth surfaces and beautiful patterns. A single floating shelf at the end of the quartz slab serves as a discreet yet fascinating focal point as well as a functional display place for kitchen products.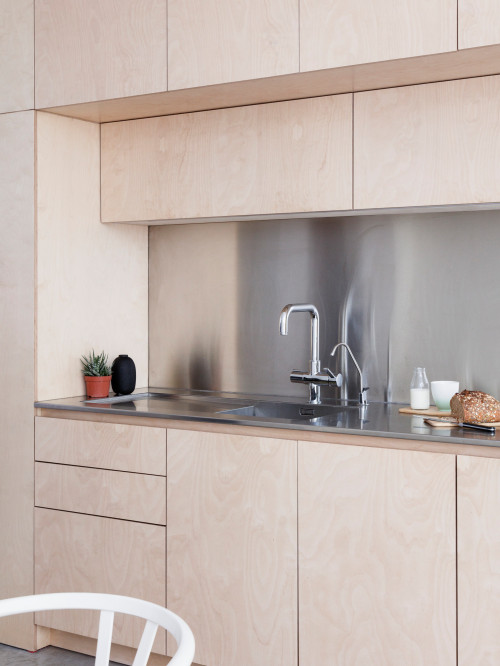 ID# 165408 | Houzz.com – Credit | © Larissa Johnston Architects
---
Stainless-Steel Backsplash for Wood Cabinets
A metal backsplash might be an excellent accent to your minimalist kitchen if you're searching for a statement-making piece. The light wood cabinetry in this streamlined modern kitchen has a straightforward yet elegant look. The stainless steel backsplash and countertop give the room a wow element without detracting from its simple design.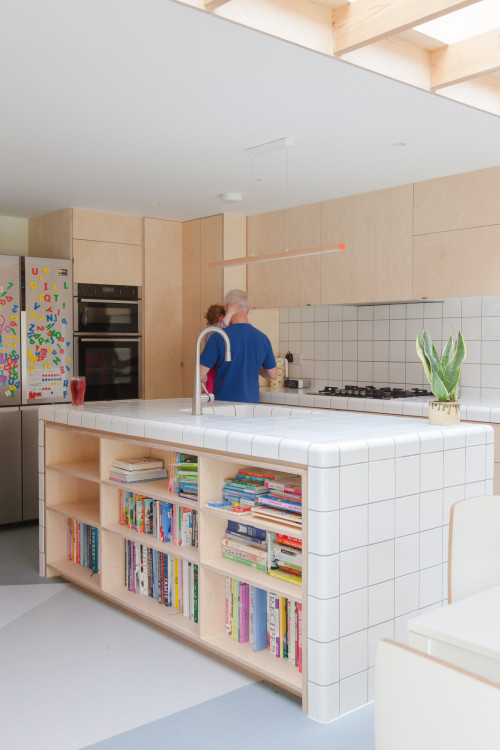 ID# 165409 | Houzz.com – Credit | © nimtim Architects
---
Square Tiled Kitchen Island with Open Storage Cabinets
When tiling a kitchen island, there are more design options besides just the front. If you want to create a statement with your decor, consider tiling the countertop of your island like in this contemporary kitchen! White square subway tiles are used to clad the island's sidewalls and countertop in this instance. To give the backsplash a continuous appearance, the same tiles can be used. The open shelves on the island serve as both storage and a visual treat with colorful books. The square tiles stand out against the clean, uncomplicated appearance of the light wood cabinets.
What wood is good for cabinets?
A varied range of typical cabinet wood alternatives provides a tapestry of individual characteristics and benefits! Oak's striking grain patterns complement both traditional and contemporary designs. Cherry's deep reddish-brown color lends a touch of sophistication to upscale and classic kitchens, while maple's smooth surface and tight grain give a versatile canvas for painted or stained treatments. When stained, alder mirrors the beauty of cherry, while hickory's robust hardwood character and distinctive grain patterns find a home in rustic or country-style settings. The deep brown tone and lovely texture of walnut elevate and exude grandeur in high-end kitchens. Each wood invites you to create an atmosphere that reflects its individual personality while also blending seamlessly into your vision and style.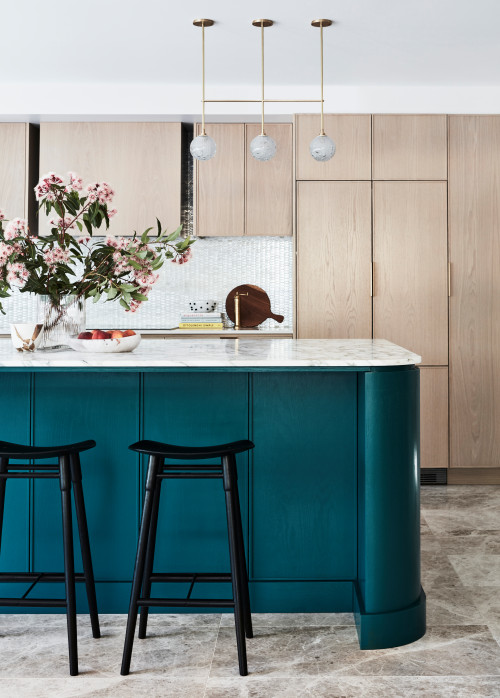 ID# 165410 | Houzz.com – Credit | © Catherine de Meur Interiors
---
Dark Green Kitchen Island with Marble Countertop
Dark green tones may be a wonderful complement to your kitchen if you want an exquisite and dramatic color with a royal appeal!! The dark green kitchen island makes a bold statement and provides a wow element to this modern area. The marble countertop, with its natural veining, nicely completes the opulent feel of this green. The light wood kitchen cabinets give a sleek and clean backdrop in the rear, while the white glass tile backsplash provides a great textured touch.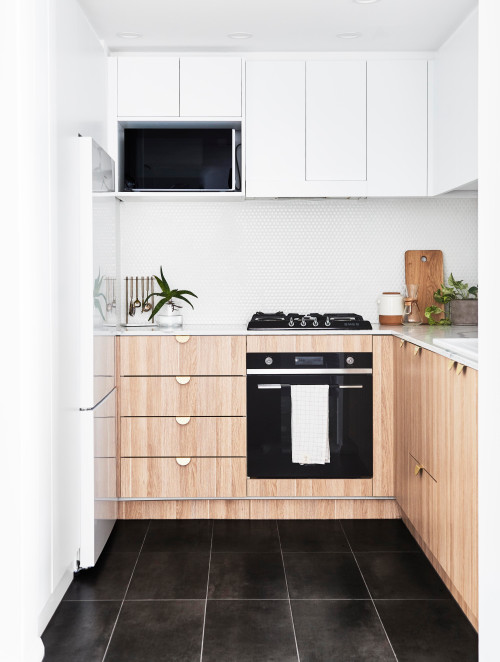 ID# 165411 | Houzz.com – Credit | © STUDIO OSCAR LEA.
---
White Penny Tile Backsplash for Wood Cabinets
Wood, white, and black blend together beautifully in this contemporary kitchen. A white countertop and black stainless steel appliances mix well with the simple wooden base cabinets and their attractive gold handles. White penny tile backsplash with white grout stands out and dazzles with its brightness. On the other hand, the kitchen shines out due to the contrast produced by the black floor tiles. 
Backsplash for Dark Wood Cabinets
Even though light or white kitchens have historically and now been fairly popular for their bright and airy ambiance, dark wood cabinets with a stylish backsplash in your kitchen still have a comforting and warm feel to them. Dark wood cabinets may give the impression that your kitchen is smaller, but some contemporary kitchens use them to achieve an elegant, chic, and practical appearance with a sleek designed backsplash. Even while they could be a terrific method to add color and character to your area, dark wood cabinets aren't as versatile as those in lighter tones would be. According to this, you can have a lighter backsplash for dark wood cabinets to enlighten them.
You'll see that kitchens with a well-designed backsplash for dark wood cabinets may have a number of different looks that might inspire the perfect interior décor for your home. Dark wood kitchen cabinets are a great way to bring some personality and originality to your kitchen because they are one of the main focal points of the room. You can boost and blow up this focal point with a perfect backsplash. They are also good for hiding spills and stains. The kitchen is one of the most often used rooms in a house, so it should represent your style and be designed to meet your requirements and those of your family. Your kitchen will appear cozier and more distinctive with a sleek design style if you use a stylish backsplash for dark wood cabinets.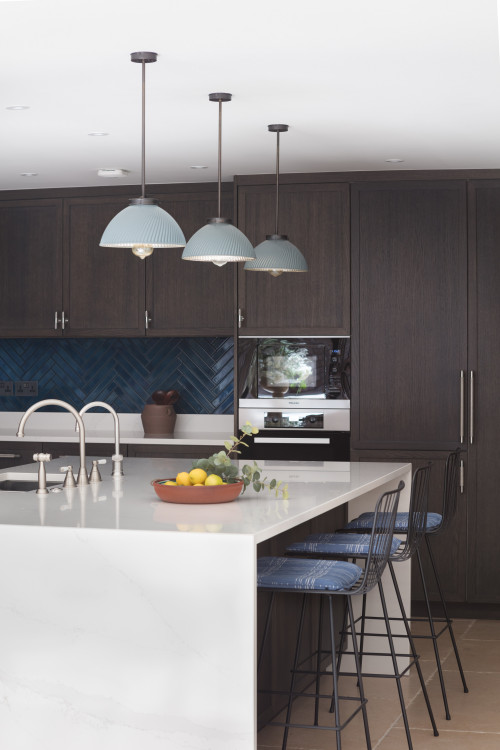 ID# 165412 | Houzz.com – Credit | © Margot Tsim Interiors
---
Blue Herringbone Backsplash for Wood Cabinets and Quartz Countertops
The dark wood shaker cabinets that serve as the structure of this contemporary masterpiece provide a sophisticated touch and a classic air of elegance!! The bold color choice of the dark blue herringbone backsplash not only offers a burst of color but also gives the room a dynamic energy that takes the design to new heights. The smooth, lustrous finish of the white quartz countertops contrasts with the dark shades to give it a light and airy appearance. The brushed nickel hardware adds a touch of modern sophistication as a final touch.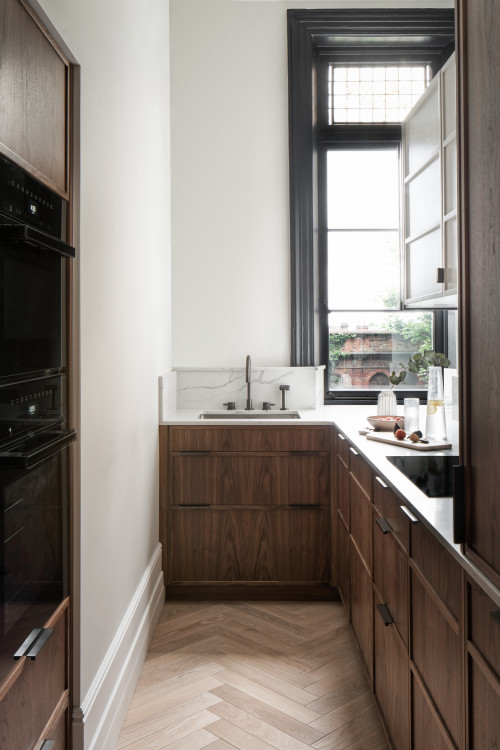 ID# 165413 | Houzz.com – Credit | © NW3 Interiors Ltd
---
Small L-Shaped Kitchen with Dark Wood Cabinetry
This little l-shaped kitchen looks stylish and appealing! While the white granite worktops and dark hardwood cabinets give the kitchen a rustic appearance, the black stainless steel appliances give it a contemporary feel. The herringbone-patterned light-colored hardwood floors and white walls allow light. Thus, using dark cabinetry prevents the room from feeling cramped or small. Additionally, this l-shaped small kitchen has a rich appearance thanks to the dark mahogany cabinets and black kitchen appliances.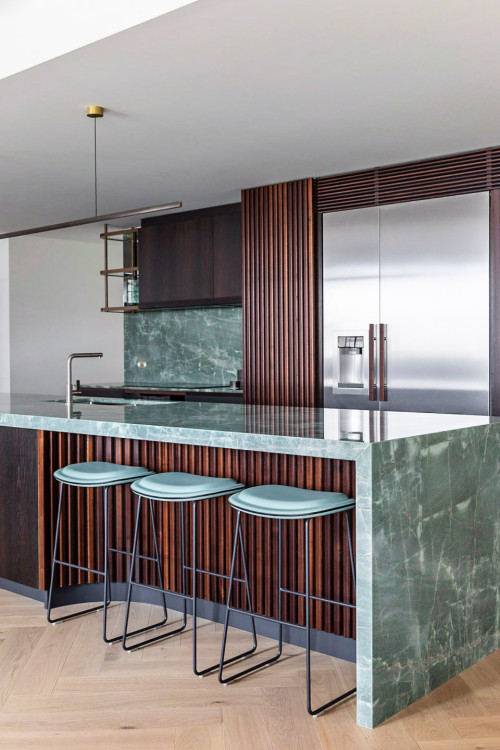 ID# 165414 | Houzz.com – Credit | © atter Design & Make Pty Ltd
---
Smoky Green Marble Slab Backsplash for Wood Cabinets
You have to see these green marble slabs – they're incredibly stunning!! The dark wood kitchen cabinets complement the marble's inherent elegance while also adding depth to the overall space. The light wood kitchen floorboards are the ideal partner.
Backsplash for Natural Wood Cabinets
It makes sense why cabinets made of natural wood are constantly in style. Because they are traditional, simple, and clean, they may be used with other design styles to create a kitchen that is appropriate for gatherings with family and friends. Even if color is one trend in kitchen cabinets, there is something about leaving the wood in its natural tone with a stylish backsplash that makes a busy kitchen into a calm haven. Despite the widespread use of natural wood, some colors and species are more prevalent than others. To increase this naturality you can choose a plain or busy backsplash for natural wood cabinets which will make the kitchen cabinets a focal point.
Because it is renewable, environmentally friendly, and usually relatively affordable, natural wood cabinets are the perfect material and design alternative for renovators on a budget. Natural timbers, when combined with modern equipment and a minimalist style, make a distinctive statement in modern design. Natural wood cabinets provide you with a lot of possibilities for matching adjacent finishes, giving you versatility in terms of design. If you want to add a little variation to your kitchen, place painted cabinets next to the wood cabinets and have that perfect backsplash for natural cabinets! Let's scroll down to get inspired by those perfect backsplashes for natural wood cabinets!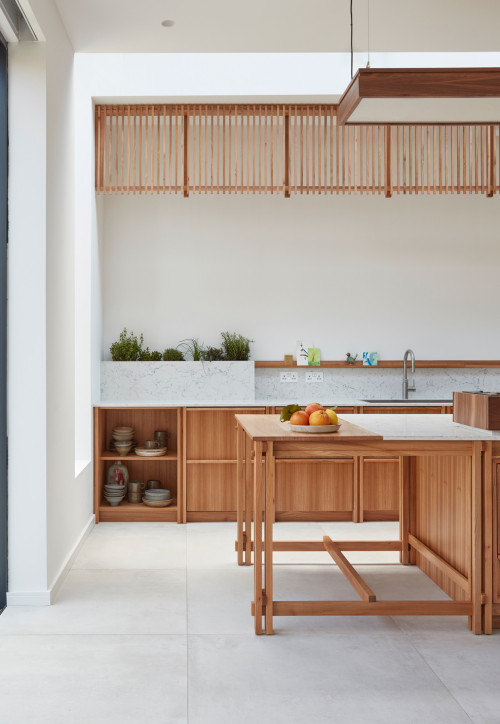 ID# 165415 | Houzz.com – Credit | © H. Miller Bros
---
Scandinavian Kitchen with Medium Tone Wood Cabinets
This bright kitchen design serves a sophisticated Scandinavian approach with refined Japanese detailing! The wood kitchen cabinetry and the marble backsplash and countertop provide a sleek and elegant look at the back. At the center of the design, the large wood kitchen island takes the stage, maximizing functionality. The plant shelf above the backsplash brings the space to life, making the most of the high ceilings and light in this lovely room!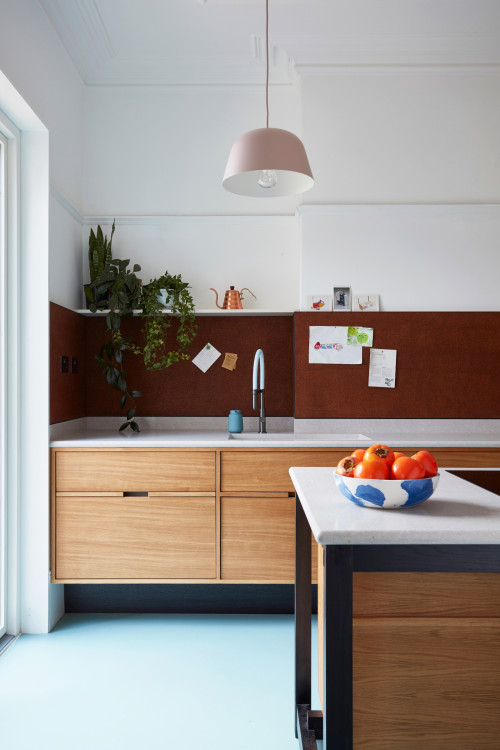 ID# 165416 | Houzz.com – Credit | © H. Miller Bros
---
Brown Backsplash for Wood Cabinet and White Countertops
This beach-inspired kitchen radiates warmth and a friendly atmosphere that takes you to a coastal getaway! The warm tones and texture of the wood cabinets which have an organic and natural feel, give the room a cozy vibes. The light gray countertops provide a subtle contrast to the wood cabinets. The reddish-brown backsplash is distinctive and gives a dash of color and charm since it is suggestive of driftwood or rustic Beachwood. The white floating shelf above the backsplash adds a touch of the coast to the whole design and makes the ideal place to display your beach-themed decor or keep your kitchen necessities.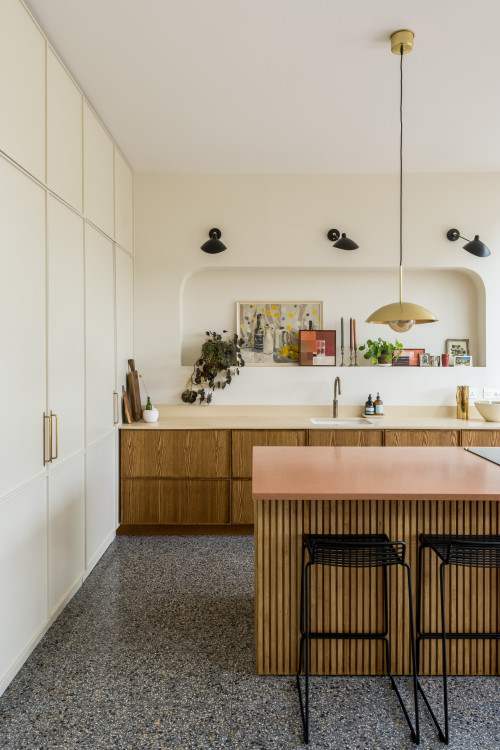 ID# 165417 | Houzz.com – Credit | © Matthew Giles Architects
---
Natural Wood Kitchen Cabinets with Large Built-in Niche
For your kitchen, you may consider built-in niches if a shelving system is not to your taste. In this modern kitchen, the built-in niche with curved edges acts as a work of art by housing paintings and other decorations, creating an accent wall. Above the nook, the black sconces draw attention to this space and increase visual intrigue. With wooden kitchen cabinets and beige counters, the design's gentle neutral color scheme also creates a cozy and friendly ambiance. Off-white tall cabinets enhance the storage space on the left.
Backsplash Color Options for Wood Cabinets
Wood is a common material for cabinets because of its distinctive and frequently unanticipated aging process. Another benefit is that it settles to a smooth surface and receives stains and finishes well. Whether you start with a lighter color variation and finish or choose a classic, deep wood glaze, wood kitchen cabinets will make your home look warm and welcoming with the ideal color alternatives. Since the alternatives are endless, you may wonder about the backsplash color options for wood cabinets to complement your kitchen design. White slab backsplashes or colorful tiles? Black ceramic or blue glass? Because of the alternatives and combinations, you can create stunning views in your kitchens.
White Backsplash for Wood Cabinets
A nice and timeless complementary hue for wooden surfaces is white. It gives the space a natural, clean, and fresh feel. Whether your wood cabinets are lighter or deeper in color, a white backsplash for wood cabinets can brighten them up and give your room a more polished appearance. For a contemporary appeal, you can use a slab white backsplash for wood cabinets, or with the picket tiles, it is possible to give the kitchens an elegant and minimalistic effect.
Kitchens that are open and roomy are certainly everyone's favorite. However, it wouldn't be a big thing to inject some fun into your kitchen. You may add color to your wood cabinets by surrounding your wood countertop with colorful chairs in addition to a white backsplash. From décor items to their colors, a white backsplash for wood cabinets can create a perfect canvas for you to have unique kitchen designs.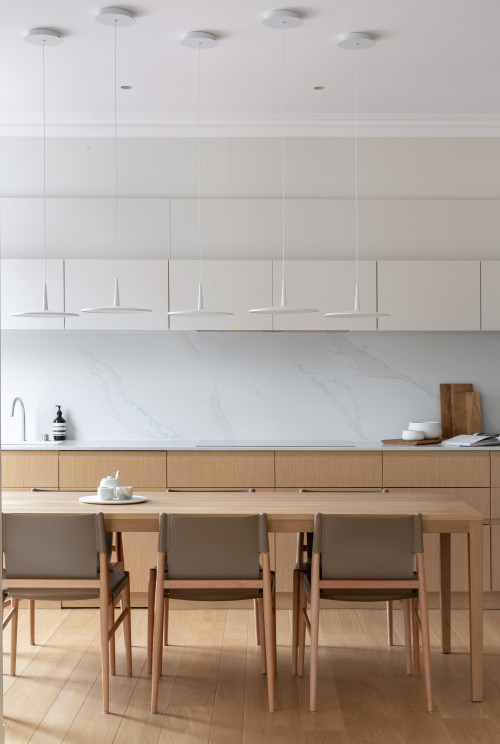 ID# 165418 | Houzz.com – Credit | © Uliana Grishina
---
White and Wood Cabinets with Marble-Look Quartz Slabs
The wood base cabinets in this modern kitchen add an organic beauty and connection to nature to the area. Above, the white upper cabinets emit a bright and open vibe, providing a pleasing contrast to the wood textures. The white quartz backsplash and countertop give a touch of refinement and luxury to the area. The huge wood dining table with six seating spots becomes the focal point of the kitchen and gives plenty of space for large family gatherings!!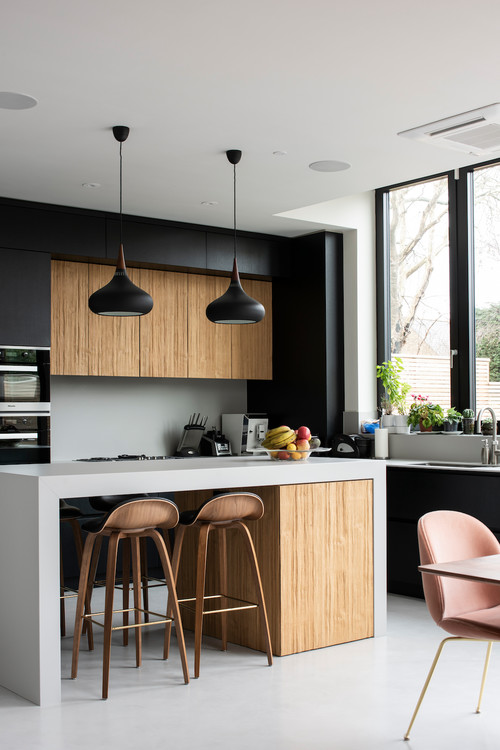 ID# 165419 | Houzz.com – Credit | © MIV STUDIO
---
Modern Kitchen Island with Concrete Waterfall Countertop
The wood upper cabinets bestow a rustic charm and infuse the design with welcoming warmth! A stunning kitchen island takes center stage as a focal point of captivating allure. Its sleek contours harmonize seamlessly with the modern ambiance while the concrete waterfall top introduces an industrial chic dimension that elevates the aesthetic.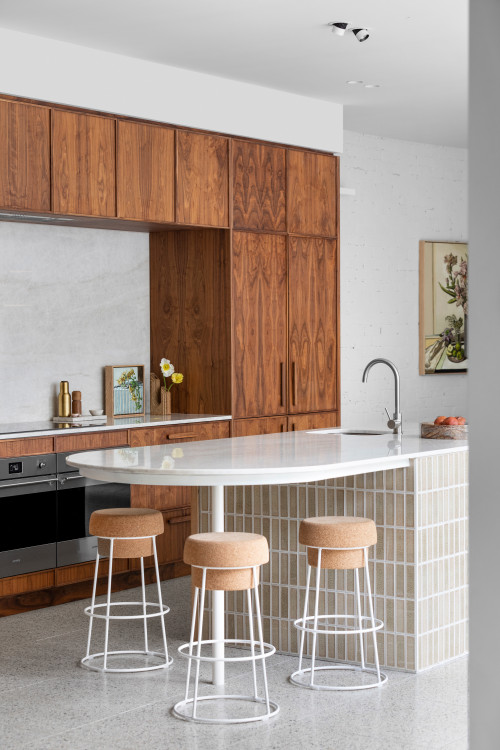 ID# 165420 | Houzz.com – Credit | © BuildHer Collective
---
Dark Walnut Cabinetry with Beige Tiled Kitchen Island
This modern kitchen pays homage to the 1970s style by keeping the dark wood cabinets and pairing them with a gray marble backsplash! The former comes in a polished slab shape, while the latter has flat-front cabinets. They layer warmth and texture into the kitchen, giving it a smooth and gentle definition. The room's refined ambiance is enhanced by the white narrow counters. Contrarily, the curved island is tiled with pale beige subway tiles. The island seems longer on the vertical axis due to the vertically piled tiles, which gives it a tidy appearance. The island is made more interesting by the backless stools that resemble cork stoppers.
Are solid wood cabinets worth the money?
Plywood, laminate, MDF cabinets, plywood, and other types of cabinet materials are more costly than solid wood cabinets. But wood is more priceless, more attractive, and more durable. And it is unquestionably the best option for mansions. Cabinet builders value solid wood as a superior material. Whether you choose oak, cherry, maple, or alder, solid wood offers many advantages.
Here are 5 advantages of having solid wood cabinets to assist you in making the best decision for your house:
Incredibly durable solid wood is used to construct homes and bridges all around the world. Solid wood offers unparalleled strength and longevity for your cabinets. Solid wood is the best material to choose when installing cabinets that will last for decades. Do your homework to ensure you are choosing the proper wood species for your home, keeping in mind that different wood species have different degrees of strength.
You'll be getting the best value for your money with solid wood cabinets because they can last for many years. Wood cabinets are more durable and won't need to be replaced for a long time, despite the fact that they might be more expensive initially. Your cabinets will last a lifetime if you take good care of them.
Solid wood has lovely, organic grain patterns that can add warmth and charm to any space. Different varieties of wood have various aesthetic qualities, similar to how strong and long-lasting they are. Choose cherry, maple, or oak if you want a strong wood with a beautiful grain.
Whatever kind of wood you select, you may modify it to meet your demands. Using solid wood cabinets will allow you to completely customize your kitchen, from the shape to the finish.
You will have a wide variety of solid wood cabinet alternatives to select from because there are many different types of wood. You may pick a wood that fits your needs, preferences, and budget.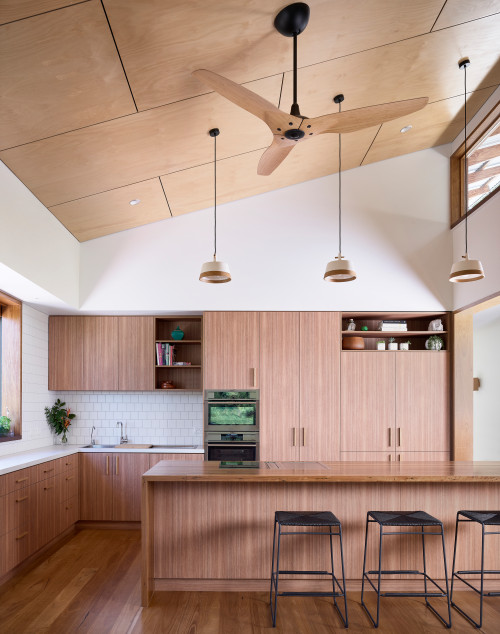 ID# 165421 | Houzz.com – Credit | © Arcke Pty Ltd
---
High-Ceiling Modern Kitchen with White Square Tiles
The wood flat panel cabinets infuse this modern kitchen with a timeless appeal while the striking contrast between the white square tile backsplash and the warm wood cabinets generates a bright and airy backdrop. At the heart of the space, the expansive kitchen island stands as a focal point, a vibrant hub where functionality and style converge! Enhancing the feeling of spaciousness, the high ceiling creates an open and light-filled atmosphere.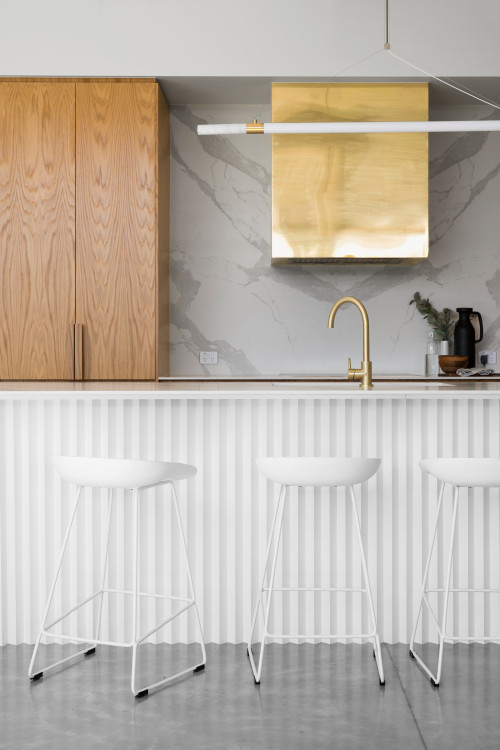 ID# 165422 | Houzz.com – Credit | © Urban Kitchens and Joinery
---
Bookmatched Marble Backsplash for Wood Cabinets and Gold Range Hood
Infused with the inviting essence of Scandinavian design, this charming kitchen seamlessly marries simplicity and beauty, epitomized by the natural allure of the wood cabinets. The striking contrast comes to life with the gold range hood, a glitzy focal point that adds a touch of opulence to the space! The book-matched marble backsplash amplifies this luxurious ambiance as an eye-catching final touch.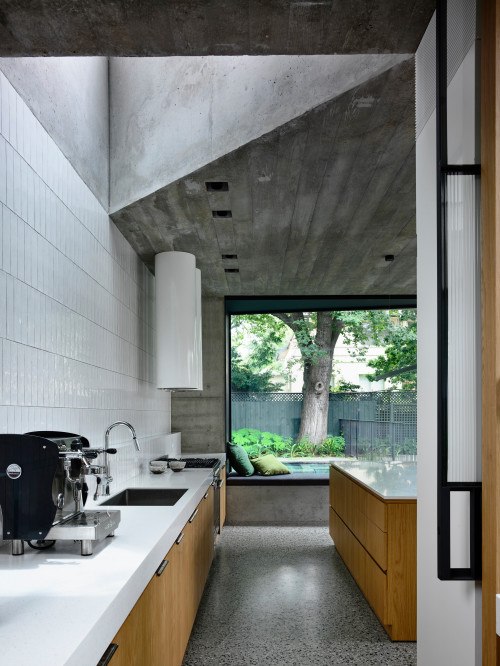 ID# 165423 | Houzz.com – Credit | © Taylor Knights
---
Glossy White Backsplash Tiles with White Quartz Countertops
Natural wood cabinets in this contemporary kitchen design bring the beauty of the outside in, creating a welcoming and pleasant atmosphere! The wood cabinetry contrasts wonderfully with the white quartz counters because they are both sleek and polished. The backsplash, which is glossy white, gives the space a contemporary and chic feel. The huge window provides a stunning view while the concrete walls and ceiling give the kitchen a contemporary feel.
Dark Backsplash for Wood Cabinets
From dark gray to navy blue, deep green to black colors, a dark backsplash for wood cabinets can be a perfect choice when you want a contemporary and serene appeal. Black is a classic color that will never go out of style; it may give the space a sense of sophistication as well as help to create a contrast or a sad ambiance, for instance. A black kitchen backsplash is a fantastic way to bring a dramatic accent to a neutral or pastel space or to round off a dismal space. You could wish to have these aspects and wood cabinets with a black backsplash. Or you can create an aesthetic contrast with a dark blue backsplash for wood cabinets. It is possible to have a neutral and warm atmosphere with a gray backsplash for wood cabinets.
Given their ease of maintenance and ability to add texture to the space, tiles are the most popular material for kitchen backsplashes, and there are a variety of dark tiles available. Among them are stylish hexagon tiles in various widths, long and narrow herringbone tiles, edgy black subway tiles, matte honeycomb tiles, glazed square tiles, and others. When you're ready, check out these gorgeous pictures of dark backsplashes for wood cabinets!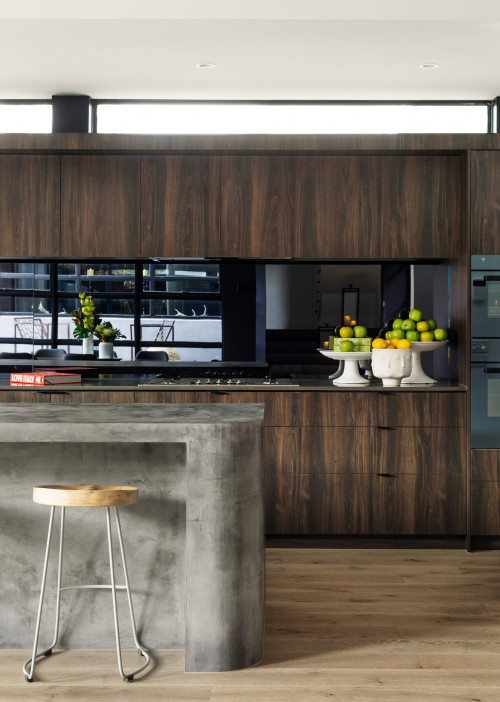 ID# 165425 | Houzz.com – Credit | © Alternative Surfaces
---
Black Glass Sheet Backsplash with Concrete Kitchen Island
This modern masterpiece is built around dark oak cabinets which exude sophistication and a hint of timeless charm. The backsplash of black glass sheets gives the room a hint of drama and grandeur! The concrete kitchen island becomes the pinnacle of modern chic at the center of this culinary haven. It's industrial appeal and smooth surface combine to provide a stylish centerpiece that is both useful and eye-catching.
Colorful Backsplash for Wood Cabinets
To guarantee that the undertones and temperature of your colorful backsplash for wood cabinets match the color scheme of the rest of the space, choose it carefully before making a purchase. It's also helpful to decide which finish is ideal for your home. Backsplash surfaces can be glossy or matte. While a matte backsplash presents a sleek, modern appearance, a shiny backsplash is easier to maintain clean. By selecting the ideal finish, color, and design for your space, you can choose a kitchen backsplash that has style and functionality for the long run.
Knowing the many types of colorful backsplash for wood cabinets is crucial since patterns, materials, and lines may change a lot of things. You might choose to use a colorful subway tile backsplash or you can use one to give the personality of the wood kitchen. The sorts of colorful backsplash for wood cabinets are vital, too, to compliment the overall design aesthetic, just as the color scheme does. For more wonderful and lovely ideas for colorful backsplashes for wood cabinets, scroll down.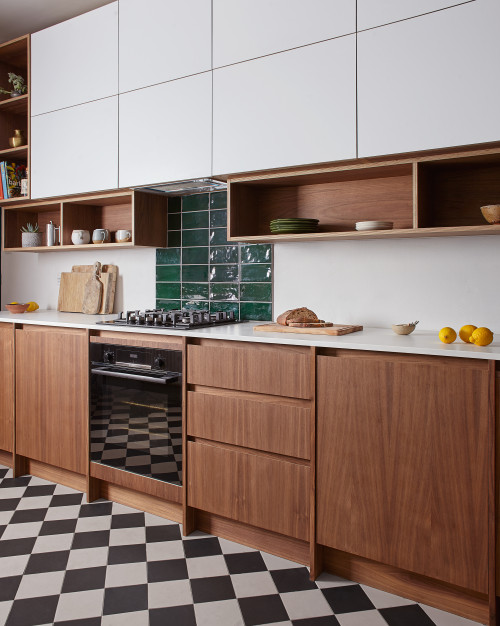 ID# 165426 | Houzz.com – Credit | © Green Bird Workshop
---
Green Stacked Tile Backsplash for Wood Cabinets and Checkered Floor Tiles
The kitchen is gorgeous, with a combination of white and wood accentuating the spirit of modern living! The cabinets offer sufficient storage for your kitchen's needs in addition to being attractive. A distinguishing design element is gracefully merged with the white countertop's immaculate cleanliness to stand out against the two-toned cabinets. The backsplash behind the stove in a striking shade of green truly jumps out. While the delicious tone gives the kitchen a feeling of freshness, the vivid splash of color gives it a humorous touch. The backsplash's sleek, modern, and eye-catching appearance is a result of the stacked subway tile design.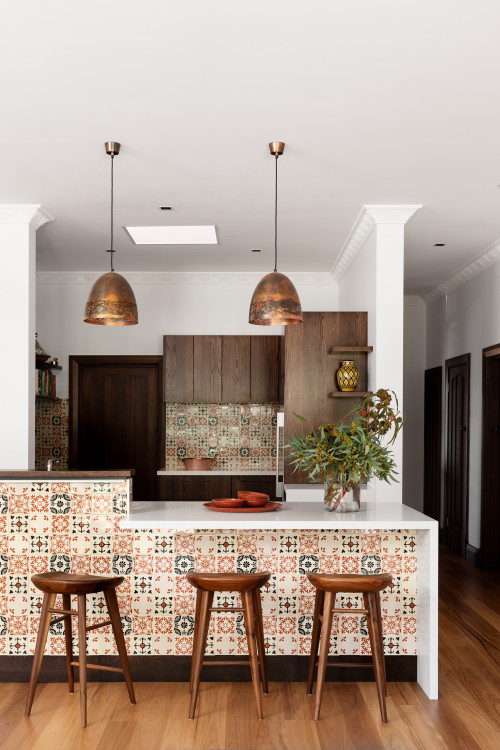 ID# 165427 | Houzz.com – Credit | © Peter Schaad Design Studio
---
Colorful Cement Tiles with Dark Wood Cabinetry
If you want to create a vibrant backsplash, you should think about cement tiles!! These tiles are available in a broad range of colors and designs and may easily create a statement. The colorful square tiles are employed as a backsplash and island surround in this Mediterranean kitchen, improving the overall aesthetic. The dark wood kitchen cabinets dominate the rest of the kitchen, creating an exquisite and dramatic environment. The copper pendant lights above the island wonderfully complement the earthy color scheme's rustic flare.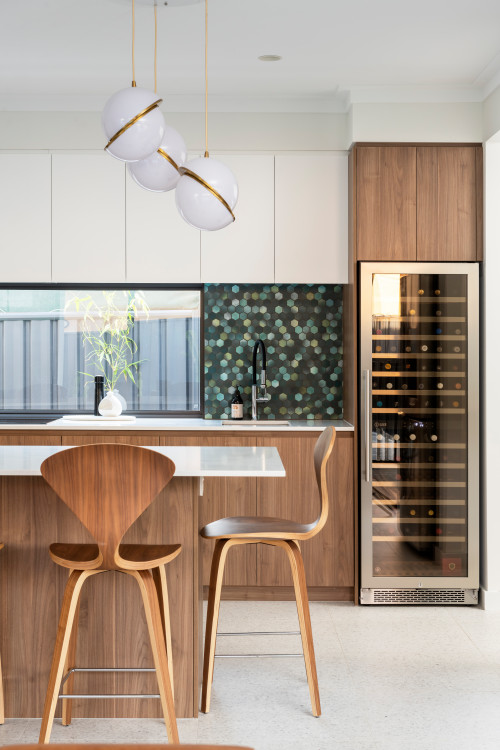 ID# 165428 | Houzz.com – Credit | © Residential Attitudes
---
Two Tone Cabinetry with Colorful Hexagon Tiles
Wooden cabinets and chairs set the stage for a nostalgic yet fresh ambiance! A vibrant backsplash injects a burst of energy, while pristine white accents provide a clean and inviting contrast. Natural wood cabinets lend depth and character to the area while white upper cabinets and worktops create an appealing radiance that is both timeless and friendly. Amidst this carefully curated tapestry, a mesmerizing focal point takes center stage – a kaleidoscope of multicolored hexagon tiles adorning the backsplash.
How much are real wood cabinets?
Real wood cabinets range in price from $100 to $300 per linear foot. For a full kitchen cabinet installation solid wood kitchen cabinets can cost anywhere from $5,000 to more than $25,000!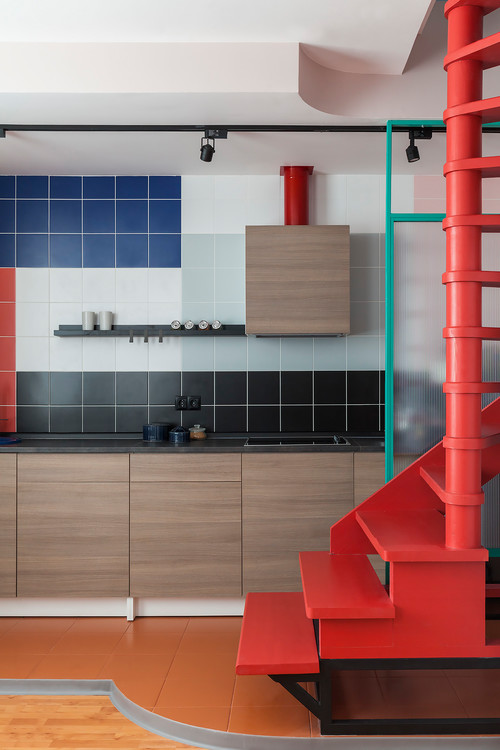 ID# 165429 | Houzz.com – Credit | © M – buro
---
Colorful Ceramic Tile Backsplash for Wood Cabinets
In today's market, there are virtually limitless alternatives for kitchen backsplash tiles. If you're having trouble deciding on a color for your design, why not use several? The use of blue, black, green and white tiles in this modern kitchen demonstrates how blending colors may appear sophisticated without being overbearing. The wood cabinets and range hood's minimalist design allows the backsplash tiles to take center stage. Not just the backsplash tiles, but every component in this kitchen has a brilliant color, such as the orange floor tiles and the red stairs, and this colorful design has a distinct appeal.