37+ Modern Kitchen Island Ideas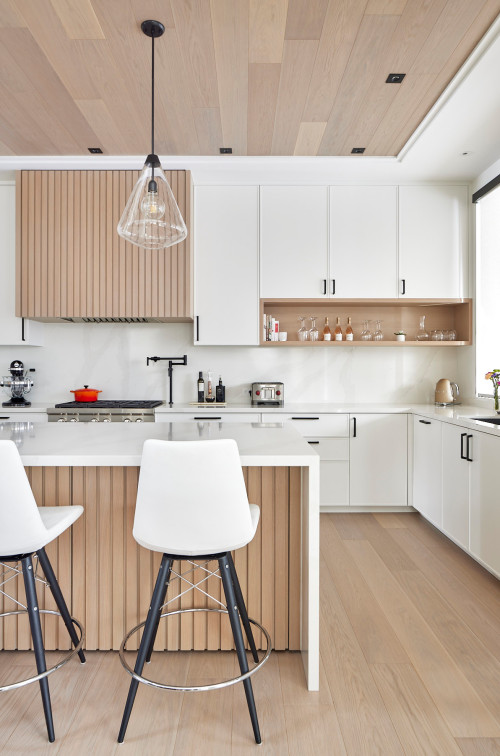 ID# 158014 | Houzz.com – Credit | © New Age Design
---
Modern Kitchen Island Ideas for Farmhouse Kitchens with Glass Pendants
Both modern and farmhouse, this kitchen design abides by modern aesthetic principles with its clean-lined joinery. Yet the open cabinet shelving, fluted-design island, wood-clad ceiling, and exposed appliances create a farmhouse flair. The black hardware, again, is kept emphasized to add depth to the design. The waterfall island with glass pendants and modern stools further the modern aspect of the kitchen.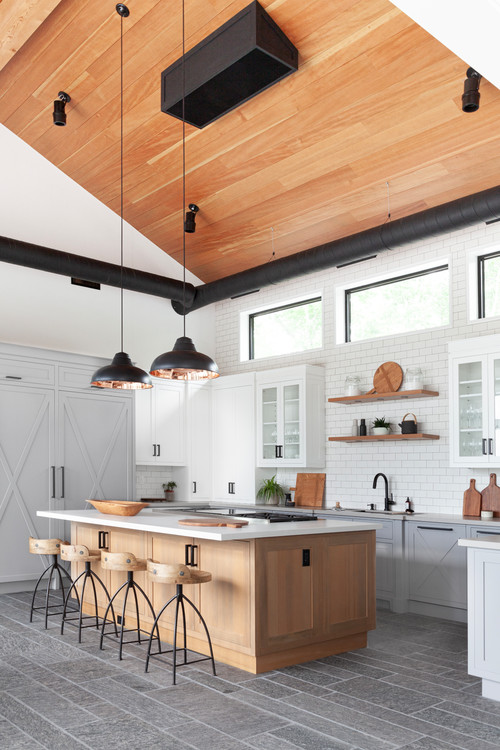 ID# 158017 | Houzz.com – Credit | © STUDIO 8 DESIGN INC
---
Modern Kitchen Island Ideas with Wood Island and Black Pendants
Illuminated by clerestory windows, this modern kitchen is also blessed with a high ceiling clad in wood. This way, it easily radiates warmth and is put into an intimate conversation with the wood kitchen island. Consisting of cabinets and a hefty countertop, the island, here, serves as a multi-functional object. It even accommodates a stove and seats for 4, serving as an informal dining space. And lastly, overhead, the black pendants bring an industrial edge, synchronizing harmoniously with the black hardware.
Modern Kitchen Island Ideas
Designing a kitchen requires several decisions, including kitchen islands as well. Given the variety of options, choosing the right size, material, and style can turn into a firm dilemma and a daunting task. Thus, to guide you on that and give you a solid idea about the recent island trends, in this round-up, we take a closer look at modern kitchen island ideas.
From waterfall islands to units with cantilevered extensions and multi-layered designs, modern kitchen island ideas are various. Each one is unique in itself and the impact it gives on the interior. Here, we gathered a myriad of modern island designs. You will also be broadly introduced to various island sizes, colors, and styles while observing them in different contexts. So, keep reading to explore those inspiring design projects more closely!
Are kitchen islands outdated?
Kitchen islands are still in style, featuring a high potential to turn any kitchen design into a more viable version. Better put, a kitchen island, can increase the utility of one's kitchen. It offers storage and a benchtop and can be a house to a sink, wine rack, or beverage cooler. And that is not even the entire story. In addition to those functional benefits, it also increases the aesthetic value of the room. You can tile it, play with its format and structure, and add seats to create a socialization area. So, having a kitchen island is like having another kitchen within a kitchen. Even if it may not be for everybody, it is also not likely to go out of style. From tiny ones to the mobile kitchen island, there are plenty of different types that can fit your style!
Types of Modern Kitchen Island Ideas
Modern kitchen islands vary in style, color, and design options. From farmhouse style to rustic, these islands can work with different design aesthetics and bring an elegant look. If you want to integrate them into a certain design look, there are some key features according to the style. For example, a farmhouse kitchen might have X features, while a rustic island is made of reclaimed wood. Or a modern island may have a waterfall countertop or a cantilevered extension. Islands can also be painted any color and given a distressed finish. For more complicated designs, they can also be custom-designed.
Modern Small Kitchen Island
Generally measuring 2 and 3 feet, modern small islands still benefit kitchens drastically. They can be used for seating, food prep, and storage. And if you want to add more dimension to them, you can use a waterfall countertop. Also, if you have a very small kitchen space, a movable kitchen island can be a great addition!
What is the best use of a kitchen island?
The best use of a kitchen island rather depends on the needs of a kitchen design and homeowners. For example, do you need extra storage or an extra cabinet to accommodate a sink? Or do you want it only for its looks? So, it rather depends on the needs of the individuals. Though, if there is one thing that makes the island more popular is probably its storage capacity.
Modern Waterfall Kitchen Island
Modern waterfall islands feature countertops falling over the edges and reaching down to the floor, which is where the name comes from. Associated with modern designs, they allow you to show off your marble/quartz countertops due to their larger surface area. Plus, they add a sense of fluidity to any design. You can also find their half-waterfall versions with countertops falling only over one edge. These versions are generally preferred for extra-large and split-level islands.
What are the disadvantages of an island kitchen?
Everything has pros and cons; the same applies to kitchen islands as well. Despite all the benefits they offer, they may end up taking up too much space. The working triangle might be interrupted. And when it is not proportioned to the room, it might overwhelm the space, intervening with human traffic and circulation.
Midcentury Modern Kitchen Island
Midcentury modern kitchens are fond of wood and pristine white, using them in abundance. This choice applies to islands as well. To give a more specific example, for example, you can use a walnut island topped by a white Silestone quartz countertop. And to complement it, you can use mid-century lighting fixtures such as sputnik chandeliers and orb pendants. Starburst lighting fixtures and ergonomic designs with flexibility also add to this list, helping you achieve a fully-fledged mid-century flair.
Modern Farmhouse Kitchen Island
Among the most characteristic features of modern farmhouse kitchens, we can count clean lines, polished finishes, and waterfall countertops. Neutral color schemes and soft earthy color palettes also add to those features. Some designers and homeowners prefer modern farmhouse islands to be in wood to introduce warmth to the design. Those are generally topped by white polished Premium Natural quartz countertops. Some go with all-white modern farmhouse islands, pairing them with glass pendants.
Luxury Modern Kitchen Island
What makes a modern kitchen island more luxurious is generally the material it is made of and the complexity of the design. For example, islands carved out of upscale natural stone materials, such as marble, add a high-end feel to the room. The same goes for large multi-layered islands with cantilevered extensions that ooze opulence.
Modern White Kitchen Island
Already have an all-white kitchen? A modern kitchen island can complete your already white kitchen seamlessly. And if you want to add more interest to it, you can benefit from colorful stools and statement pendants. They help your kitchen island to pop against a white backdrop. Plus, when you get bored, you can change them without spending a fortune.
Is it better to have a stove or sink on a kitchen island?
Having a stove or sink on a kitchen island requires a wide array of arrangements, from water supply to electricity. Thus, it is a topic that also needs to be negotiated with a plumber and electrician. But generally speaking, if you have a large island, you can even have them together. It also helps with the working triangle and workflow. However, if you prefer to use your island for food preparation, it would be better to keep the sink on the island. And if you prefer socialization and regard the island as a dining zone, then it is better to have a stove on the island.
What is the best size modern kitchen island?
Islands measuring 36 inches in width and 24 inches in depth provide multiple options to be designed in different combination possibilities. But it is also essential to consider the kitchen's overall area. According to experts, the island should be about 10 % and 15 % of the total area for a well proportioned look. If you are not short of space, you can use other cues. For example, if you want your kitchen to serve as a breakfast bar, decide on how many seats it should accommodate. And reserve 24 inches for each seat and multiply it by the number of seats. It will give an ideal size for your dream kitchen island.
Modern Black Kitchen Island
Dramatic and immersive, modern black kitchen islands are favored by contemporary, industrial, and rustic designs. To offset their all-black body, you can add open storage and accentuate them with gold hardware. Statement pendants and stools, again, are very helpful, as well as polished finishes to balance out the black island.
Modern Kitchen Island with Seating
Modern design homes tend to feature open-plan kitchens that directly open onto the lounge. In such designs, modern kitchen islands with seating are extra beneficial for two reasons. First, they allow for a smooth transition from the kitchen to the lounge, offering another socialization spot. Secondly, they develop a sense of space by acting as a space-dividing utility object.
Modern Kitchen Island Lighting
Modern lighting ranges from linear chandeliers to dimmable LED pendants and geometric-shaped lighting fixtures. Cluster pendants, glass shades, and many more are also included in this list. Indeed, the repertoire of modern island lighting is quite extensive, promoting experimentality with forms. So, feel free to play with materials and buy pendants of abstract forms to create a visual focal point.
Should I put a waterfall on my kitchen island?
A waterfall countertop is not a necessity. It is rather something preferred for its aesthetic value. Especially if you want to show off your quartz or natural stone countertop, it gives you more surface area. And due to its waterfall effect, it adds a sense of fluidity to the room.