35+ White Kitchen Island Ideas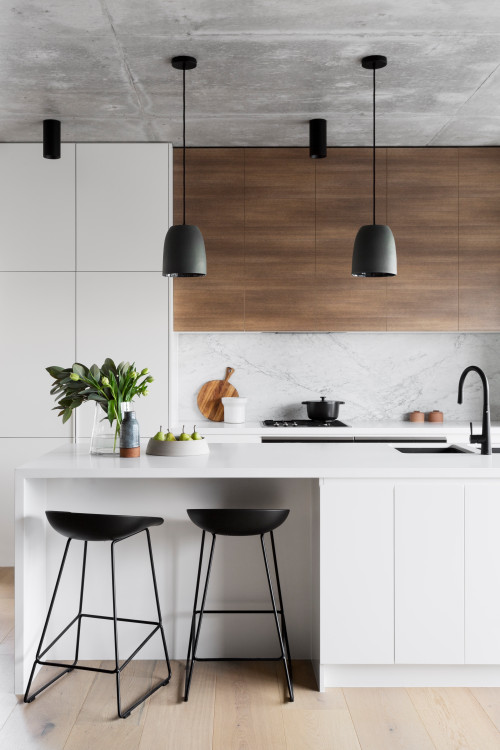 ID# 146606 | Houzz.com – Credit | © Heartly
---
White Kitchen Island Ideas with Marble Backsplash and Two-tone Joinery
Nestled under the exposed concrete ceiling, this contemporary kitchen uses a multi-functional island design that accommodates a sink and offers a laid-back dining space. Doing so not only increases the utilitarian aspect of the kitchen but also creates an intriguing form. It is skillfully complemented with the white flat-front cabinetry topped by white quartz countertops. Additionally, the timber upper joinery channels warmth and softens the white-and-black union, while the white Carrara marble backsplash makes for a sophisticated look.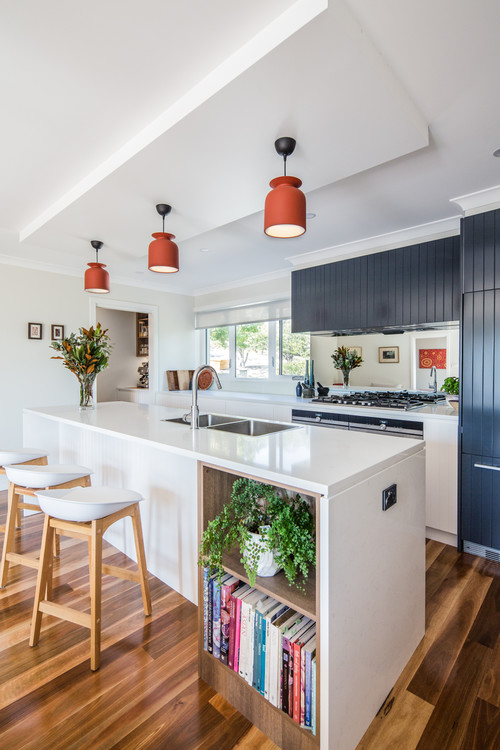 ID# 146621 | Houzz.com – Credit | © Bella Vie Interiors
---
Blue Beadboard Cabinets and White Kitchen Island with Storage
Even though this modern kitchen is mainly dominated by white furniture pieces, it manages to look much more colorful than it is, thanks to the blue beadboard cabinets and orange ceiling lamps that bring pops of color. Adding to them are also the kitchen island's cabinet shelves that evoke curiosity. The meticulously placed cookbooks and the kitchen plant further stylize the kitchen. Also, using a different material for the cabinet shelf-coating, along with a false ceiling overhead, add depth and dimension to the overall design aesthetic.
White Kitchen Island Ideas
Kitchens are not only for cooking but also for socializing and coming together with family members and guests to chat over the conversation. And one of the best ways to create and celebrate such moments is getting kitchen islands that provide a sociable spot. Kitchen islands offer extra worktops and storage, in addition to serving as gathering-around spots, while white kitchen island ideas keep the design options almost limitless. To learn these endless design opportunities, scroll down and find inspirational white island designs!
Ranging from typical versions to cantilevered, two-tiered, and waterfall islands, white kitchen island ideas are suitable for any kitchen design. As such, apart from their functional benefits, they come with high aesthetic values that can be enriched in a wide array of ways. Fluted-design cabinets, ribbed-design doors, wood-clad, and tiled island options are only some of them. To get a solid idea and imagine concrete examples, check out this list we prepared for you to make you feel inspired by these white kitchen island ideas so that you can come up with your own version.
What is the most popular color for a kitchen island?
Even though kitchen islands are available in a wide range of color and material options, the most popular color is white. It is particularly because white kitchen islands are used in all kitchen designs, be it contemporary, traditional, transitional, beach-style, farmhouse, or modern. Plus, it is easy to match and combine them with the perimeter counters, countertops of various shades, and multiple backsplash designs. If you are looking for something extra luxurious and have the budget, white marble-carved islands are popular options that ensure timelessness simultaneously.
Should the kitchen island be lighter or darker than the cabinets?
It could be both. If your kitchen receives enough sunlight and you love dramatic looks, you can keep the perimeter counters darker and the island lighter. But if you have an all-white look and want to create a striking contrast, you can get a darker kitchen island. This way, you also draw attention to the kitchen island and make it a centerpiece. If you wish, both the cabinets and the island could be dark and light at the same time as well. In other words, you can imagine your island to be a mirror image of your perimeter counters to create a continuous design.
Modern White Kitchen Island Ideas
Modern white kitchen ideas include marble-carved, waterfall, and cantilevered island ideas as well as curved-edge ones. To jazz up the look, wood panels and fluted designs decorate the front of the islands and deliver artsy aesthetics, taking the modern vibes of the kitchen to the next level!
Should your kitchen island match your cabinets?
If the aim is to create a monochromatic look and continuous design, then it would be great to match your island to your cabinets. But there is no rule of thumb stating that the cabinets and islands should match. If you wish, you can use the kitchen island to create a contrast or add a pop of color to elevate the aesthetic mood of the kitchen.
Small White Kitchen Island Ideas
Small kitchens can naturally accommodate small kitchen islands that make lovely additions. You can even use these islands to create a seating spot and even to accommodate hobs and sinks to lessen the burden on the perimeter counters.
What color cabinets go with a white kitchen island?
Since white as a neutral shade goes with any color, a white kitchen island also goes with a wide range of color options. From black to white, gray, brown, green, blue, and cream, you have many design possibilities. Thus, all you need to do is to consider what kind of look you aim for. Do you want something colorful, a black-and-white theme, serenity (muted green and blue shades, cheerfulness (yellow cabinets), or edgy (gray and black cabinets)? Depending on the mood you want to create, you can make the right color combinations and keep it lightened up with a white kitchen island!
All-White Kitchen Island Ideas
For those who love achromatic looks, white kitchen islands are the route to go in all-white kitchens. But it doesn't necessarily mean that you end up with a boring look. Just keep things spiced up with different forms and materials. For example, cantilevered and waterfall islands or marble-carved island units can make the all-white look more interesting. The oversized hardware on the cabinets and the exaggerated thick countertops on the islands also serve the same mission.
What color countertop goes with a white kitchen island?
A white kitchen island is a blank slate waiting to be adorned with the perfect countertop. Luckily, the top color choices are here to steal the show and make your heart skip a beat. Imagine the sleek elegance of black, the soothing neutrality of gray, the crispness of white, and the warmth of wood top all gracing your island. These colors have got you covered and will never leave you feeling lonely or uninspired in your kitchen!
White Kitchen Island with Seating
Kitchen islands are also beneficial when it comes to creating a social hub of sorts. You can keep them extended on the edges to pair them with bar stools even if it is only for two or three people. This way, you can create a sociable spot to host your guests while cooking.
White Kitchen Island with Storage
Another function of kitchen islands is storage. Especially in small kitchens, they can be used to provide extra storage for cookware and even serve as a pantry. This way, you can keep the most needed items within arm's reach, which makes food preparation convenient and practical for you.
Black and White Kitchen Island Ideas
The contrasting color schemes of white and black apply to kitchen islands as well. Honed or gloss finish black countertops create a striking contrast with the white cabinets of the island. But if you want to be more adventurous, irregularly formed islands that consist of different layers and forms can create a balanced look with a white and black color palette like yin-yang.
Gray and White Kitchen Island Ideas
Kitchen islands don't necessarily have to feature one shade. For a well-balanced and more intriguing look without going too bold, one can benefit from a white and gray combination for visual diversity. For example, gray quartz, marble, and granite countertops can make white kitchen islands look fresher and new.
White Waterfall Kitchen Island
Associated with modern, contemporary, and transitional kitchens, waterfall islands create a seamless look by flowing over the sides to the floor. They can be made of various materials such as marble, quartz, stainless steel, and butcher block. Additionally, it is also possible to encounter the half-waterfall kitchen islands. Some contemporary kitchens, for example, prefer to keep one of the edges in a cantilevered form, while the other one is a waterfall edge.
Are kitchen islands outdated?
Kitchen islands will never go out of style as they make great additions for multi-tasking. From the functional perspective, they provide much-needed additional worktops and storage. They accommodate sinks, hobs, beverage coolers (serving as home bars), and dishwashers and provide seating spaces when they are designed to do that. Thirdly, in open floor plans, you can benefit from them to demarcate the kitchen from the rest of the room. As such, it develops a sense of space.
In terms of aesthetics, the design options with contemporary and futuristic design models have increased. From the waterfall islands to irregular forms, curved edges, two-tiered versions, and cantilevered forms, kitchen islands vary significantly. This also proves that they can adjust themselves to the new standards of kitchen design, which keeps them on-trend. Furthermore, you can always have them custom-designed according to your kitchen plan and use them as an informal cozy seating space. All in all, keeping all those benefits of kitchen islands in mind, it wouldn't be wrong to assume that a kitchen island will always find a way to make a return to the heart of our homes.