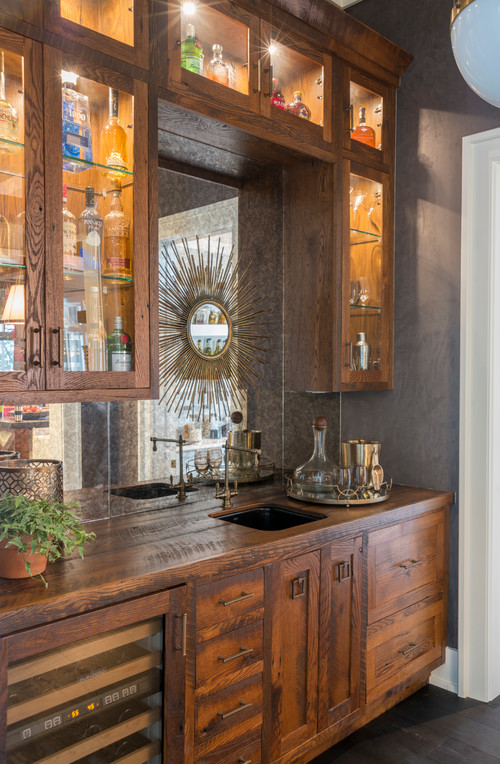 ID# 118601 | Houzz.com – Credit | © Arlene Williams
---
Transitional Home Bar with Dark Wood Cabinets and Antique Mirror Backsplash
This home bar offers a warm yet sophisticated design with its dark wood cabinets and antique mirror backsplash. The backlit lights highlight the beautiful bottle collection in the glass-fronted cabinets and add a dramatic appeal to this bar. The starburst frame of the mirror creates a focal point on the backsplash.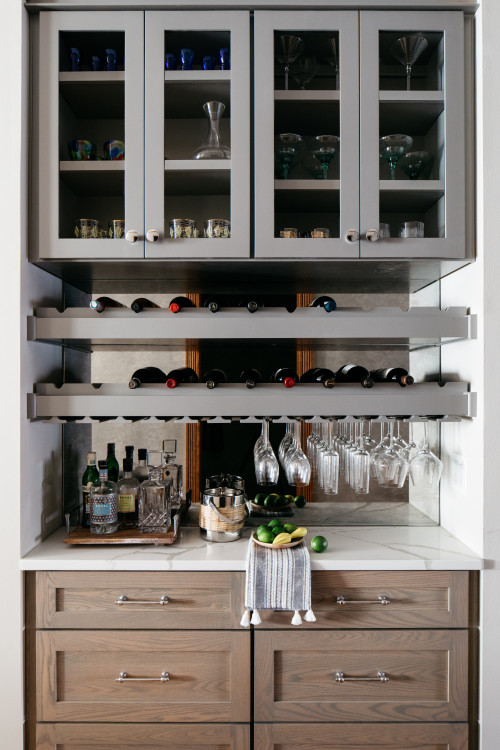 ID# 118636 | Houzz.com – Credit | © Honsen + Flemming Interiors
---
Gray Glass-fronted Cabinets with gray Shelves and Mirror Backsplash
If you are working on small spaces like this design, clever storage options will save your design. Here, glass-fronted cabinets and gray shelves provide additional storage space above the light wood cabinets without overwhelming. Adding a mirrored wall as a backsplash makes the space feel larger.
Mirror Backsplash
A backsplash needs to protect the wall against water and food spills. But besides its function, a backsplash is one of the most important key elements for a kitchen and it is a perfect way to add style and personalize the design. There is a wide range of material, colors, and finish options for backsplashes. If you are looking for something different than classic looks and add something special, a mirror backsplash can be the thing you might be looking for. Scroll down and find some design tips and tricks about the mirror backsplash!
From beveled tiles to aged mirrors, classic subway tiles to mosaic tiles, there are plenty of ways to incorporate a mirror backsplash into your kitchen. Whatever your choice is, a mirror not only provides a visual illusion, but it is also a great way to add style to your kitchen. Also, thanks to its reflective surface, a mirror can add light, space, and bling, and create a dimension that can make space feel larger.
Mirror backsplashes can work with different aesthetics. You can complete your modern kitchen cabinets with a mirror backsplash or make a twist and bring a clean and fresh look to your traditional kitchen. Besides the kitchens, these backsplashes are a popular choice for home bars. A mirror can easily adapt to the dramatic atmosphere of the bars and offers a beautiful backdrop for bottle collections. Here, different types of mirror backsplash ideas that you find some inspiration for your kitchen and home bar.
Antique Mirror Backsplash
Using a mirror as a backsplash is a great way to open up space by reflecting the light and give a dimension to space. But if you want to give a unique and vintage appeal to the mirror, an antique mirror backsplash will be the best choice. You can purchase an antique mirror backsplash from your local home improvement stores, or you can add a rusted appeal to a modern mirror by distressing it with some products. From small tiles to one large piece of mirrors, there are different size options to use for an antique mirror backsplash.
Can you use a mirror as a backsplash?
A mirror backsplash does not only provide a stylish look for kitchens, but also it makes the space feel larger by bringing a dimension to the space. They perfectly reflect the natural light and add brighten up the space. Also, this reflective surface can work with any style that means it can look beautiful with any material, color, and style. So, yes you can use a mirror as a backsplash without hesitating.
Mirror Subway Tile Backsplash
Subway tiles are classic for kitchen backsplash. They come in a wide range of colors, materials, and size options. Between these endless opportunities, a mirror subway tile backsplash offers a unique and stylish look for kitchens, and you can't go wrong with it. Mirror subway tiles offer a timeless look that can work well with any kitchen aesthetic and instantly add a bunch of character to the design.
How to install mirror backsplash?
The installation process of the mirror backsplash is the same as the other backsplash materials. When installing a mirror tile backsplash, first you need to prepare the walls for the application. Sand the roughness and patch the holes on the wall and clean it with an all-purpose cleaner. Define the boundaries of the backsplash with painter's tape and prepare the layout of your tiles.Apply the mortar with a trowel in small sections. Whether your tiles come with a mesh or individual pieces, applying the mortar in small sections is important. If you apply it to all the surfaces it will dry until the last piece. Then stick the tile on the mortar.
Repeat these steps until cover the all-backsplash area. If you need to cut tiles, use a proper cutting tool for the material that you used.Insert the spacers per tile side and wait overnight to dry. Sweep the grout over the tiles with a float using a 45-degree angle and make sure to fill all the spaces. After waiting about an hour to set the grout, wipe the tiles with a wet sponge. If you are using one large piece of mirror, locate the sockets and cut these parts of the mirror and apply the adhesive behind the piece. Attach it to the wall and wait overnight to dry.
Beveled Mirror Tile Backsplash
Unlike the flat surface of the classic subway tiles, beveled tiles slope down to the edges. These raised beveled edges add depth and dimension to a tiled backsplash and make the beautiful pattern more noticeable. And when this characteristic look is combined with the eye-catching appeal of the mirror, the result is undeniably perfect. Beveled mirror tile backsplash offers something amazing that can instantly elevate your design.
Home Bar with Mirror Backsplash
A home bar is a powerful design statement that adds a sense of luxury to any room and a backsplash is the key element of this design. A well-chosen backsplash can instantly elevate the overall look of the bar and help to create an elegant design. A home bar with a mirror backsplash is a popular choice for homeowners and interior designers because of its charming appeal that can work well with any style.
Can I use a mirror for a stove backsplash?
Yes, if you will do regular cleaning, you can use a mirror backsplash behind the stove. But rather than a clean mirror, an antique mirror might be a better option.
Do you grout mirror backsplash?
Grouting is optional for mirror tile backsplashes, but backsplash is a wet area, so it is better to grout tiles for waterproofing. Even the mirror tiles are fitted perfectly, the adhesive still absorbs the water, and it may occur mold and bacteria.
Bronze Mirror Backsplash
Using a mirror backsplash is not only offers a modern and sleek look. but also make a kitchen larger appeal. Rather than a regular mirror, if you want to use some warmer shade, bronze mirrors might be your solution. The warm allure and earthy tones of the bronze mirror backsplash can transform any kitchen and create a distinctive focal point.
How much does a mirror backsplash cost?
Depending on the size and style, the average cost of a mirror backsplash is between $8-$15 per square foot.
Gold Mirror Backsplash
Gold is a glamorous material that provides both visuality and functionality. When the glam of the gold meets with the eye-catching appeal of the mirror, this combination offers a unique and one-of-a-kind appeal. You can use a gold mirror with flat-panel cabinets to create an ultra-modern look or bring a fresh look into your transitional kitchen. Whatever your choice is, a gold mirror backsplash creates a kitchen or home bar that will be discussed for years.
How to install antique mirror backsplash?
The installation process of the antique mirror backsplash is the same as a regular mirror backsplash. Prepare the wall behind the backsplash, apply adhesive, lay down the tiles, and let it dry. After the adhesive dries, apply the grout with a trowel and wait half an hour to grouts dry. After cleaning the tiles with warm water and a soft sponge.
Aged Mirror Backsplash
A coating at the back of the mirror oxidizes over time and takes on an aged look. Although some people do not like this view, some people find this antique look very pleasing. You can make a vintage twist with an aged mirror backsplash in your modern kitchen or enhance the dramatic atmosphere in your home bar. Whether you have a modern or traditional styled kitchen or home bar, this backsplash will make a beautiful final touch.
What color grout for mirror backsplash?
Generally, these tiles are placed adhering to each other. Because of the adjoining placement of the mirror tiles, grout is not so visible between the mirror tiles. But if you want to show off the grout more, white, gray, and black colors are suitable for this material.