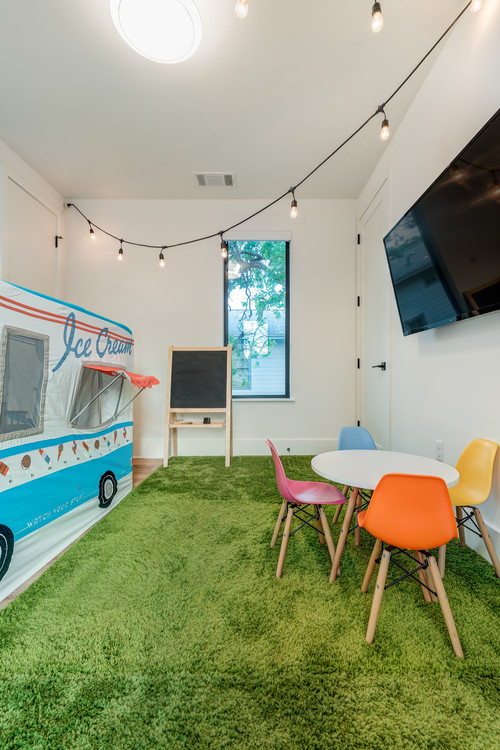 ID# 109304 | Houzz.com – Credit | © FAB Architecture
---
Kids Game Room With Grass Carpet
What an interesting and beautiful choice for carpet! Carpet changes the whole environment of room. Ice cream bus tent and colorful chairs with white table make kids feel like they are in picnic! String lights support this look perfectly.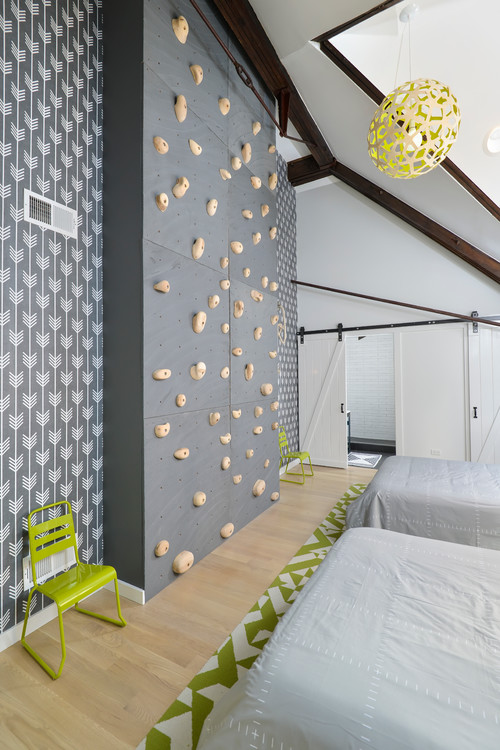 ID# 109355 | Houzz.com – Credit | © Lincthelen Design
---
Kids Game Room With Climbing Wall
Climbing wall helps to blow out the energy of kids. So why don't you use it in the kid's room! Love the arrow patterned wallpaper placed two sides of the climbing wall. Handles of the climbing wall matches with the light wooden floor.
Kids Game Room ( LETS PLAY! ) Stunning space for your kids!
The kids game room in your home is naturally vibrant and full of playfulness. You can get your kids attraction with innovative and charming room designs and provide a space for your kids to enjoy their freedom. Here are the most stunning game room ideas for you!
Choose delightful and enjoyable themes!
A carefully chosen theme can turn a playroom into a realm of fantasy for children and a magical family escape for adults. There is an endless choice to make your dream playroom for your kids. Also, the walls are really what can set the playroom apart from other areas in the house. You could also consider adding a table for arts and crafts. Bringing both these things into one space is not easy. You can start your design with useful tips in our kids' game room gallery.
Don't afraid to add some storage to keep toys, books or craft materials!