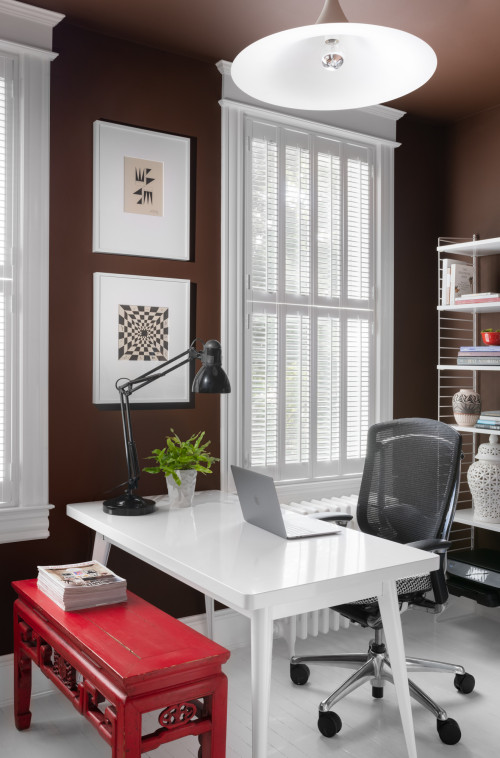 ID# 110210 | Houzz.com – Credit | © Evelyn Pierce Design Studio
---
Modern Study Room with Red Bench and Brown Walls
Brown paint is not a primary choice for the walls. However, this modern home office perfectly shows us the sleek and elegant beauty of the brown. The paint is also used on the ceiling to enhances the impact. White window frames and a white desk pop up between the dark shades and create a fresh look. The white desk, black chair, and black desk lamp make a modern twist between the more traditional features. The large pendant light highlights the study area. The red bench elevates the design.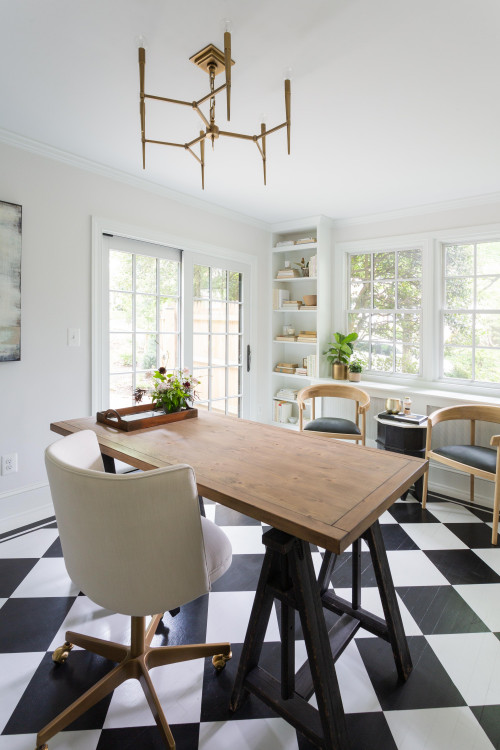 ID# 110201 | Houzz.com – Credit | © Residents Understood
---
Transitional Office with Black and White Floor Tiles
In this transitional study room, black and white tiles make a statement and enhance the traditional feel with the brass accents. The wooden desk and cream chair are paired with two wooden chairs and a black coffee table between them. The furniture brings a modern appeal. The built-in bookshelf provides storage space and evaluates the unused corner between the windows.
Sleek, Minimalist, and Modern Study Room Ideas
A study room should give privacy to concentrate on your work and feels comfortable. But it doesn't mean it has to be boring. The modern style can easily adapt to a study room and create the sleek and peaceful environment that you want. Let us now look at a few latest modern study room design ideas that will inspire you to design a place for working.
Clean lines, sharp edges, fresh looks
When designing a study room, the main features of a perfect design are a good desk, a comfortable chair, and natural light or well-designed lighting fixtures. Also, these rooms must contain cabinets or libraries for storage. Clean lines, sharp edges, and fresh looks of the modern style can work well with the relaxing feel that we want in the study rooms. So, if you are lucky enough to dedicate a space for studying, this helps to increase productivity and minimizes distraction. Whether you are working on a dedicated room or just a small corner, you can decorate a modern study room that reflects your personality. In addition, you can also create a small resting nook with a cozy sofa and fireplace, in your study room.
Scroll down and find more information and inspiration about the modern study room designs!